Learn how to play roulette online with our comprehensive guide. We cover how to play roulette, the rules, how to place a bet, the different bet types you can make, and more. We also include some handy tips, plus a list of the best casinos where you can play roulette online.
Roulette Rules: Understanding the Basics

How do you play roulette? You need to understand the rules of roulette before you start placing any bets. The good news is that roulette rules are easy to understand and can be broken down into just a few bullet points:
The aim: predict where the ball is going to land on a numbered wheel.
The bet: place chips on the number/s or groups of numbers.
The payouts: win between 1x and 35x your bet based on how specific your prediction was.
That's a quick overview of how to play roulette. Essentially, you're aiming to predict where the ball will land by placing bets on a numbered board and, if you get it right, you win.
How Does Roulette Work?
Roulette works by matching the numbers on a spinning wheel with those on a betting board. This dual setup means you can place bets that correspond to spots on the wheel. If your bets match where the ball lands, you win a prize.
The beauty of learning how to play roulette online is that it's a game everyone can play. What we mean is that you've got scope to make general picks or specific predictions. This dynamic means you've got a certain amount of control over the risk you're exposed to.
For example, if you prefer to make low-risk bets, you can make picks that cover large areas of the board. If you prefer to make higher-risk bets that offer larger payouts, you can zone in on single numbers. This will become more obvious in the next section of this roulette guide when we outline the types of bets you can make.
The point you need to understand now is that roulette is a game of options. You can choose to lower your risk and play for small payouts or you can shoot for the stars by accepting more risk. Very few online casino games give you this level of flexibility and control, which is why roulette is so popular.
How to Play Roulette: Your Betting Options
You need to know how to bet on roulette if you want to play any of its many variants. As we've said, you can be general or specific with your predictions. In practice, this means you can try to predict the exact number the ball will stop on.
Alternatively, you can bet on a group of numbers that share common characteristics. If the ball stops on any of these numbers, you win.
Before we give you a breakdown of how to bet on roulette, it's important to note that some variants have slightly different rules. For example, if you play lightning roulette at BetMGM Casino, you'll notice that the standard payout for a single number is 30x. If you play European roulette at BetRivers, the payout for a single number is 35x.
This is because the rules of each game are slightly different and that affects the payouts. We'll talk a bit more about the different variants you can play later on in this roulette guide. Before that, here are the standard betting options and their associated payouts:
Inside Bets aka Specific Picks
| | | |
| --- | --- | --- |
| Inside Bet | Example | Payout |
| Straight Up (one number) | 27 | 35x |
| Split (two neighboring numbers) | 17/20 | 17x |
| Street (three numbers in a line) | 1/2/3 | 11x |
| Corners (four connected numbers) | 20/21/23/24 | 8x |
| Six-Line Bet | 1/2/3 + 4/5/6 | 5x |
Outside Bets aka General Picks
| | | |
| --- | --- | --- |
| Outside Bet | Example | Payout |
| Column | 12 numbers in a column | 2x |
| Dozen | 12 numbers on a third of the board | 2x |
| Odd | All the odd numbers | 1x |
| Even | All the even numbers | 1x |
| Red | All the red numbers | 1x |
| Black | All the black numbers | 1x |
| 1-18 | All the numbers from 1 to 18 | 1x |
| 19-36 | All the numbers from 19 to 36 | 1x |
We've labeled the types of bet you can make as inside (specific) and outside (general). This should give you a clear idea of how to implement a roulette strategy based on your own tolerance for risk.
Again, if you're happy to accept a bit more risk in return for higher payouts, go for the inside bets. If you'd prefer to lower your exposure at the expense of top-end value, go for the outside bets.
How to Place a Bet
By now, you should have a clear idea of how to play roulette in any setting. Of course, there are some differences between playing roulette online and in a land-based casino.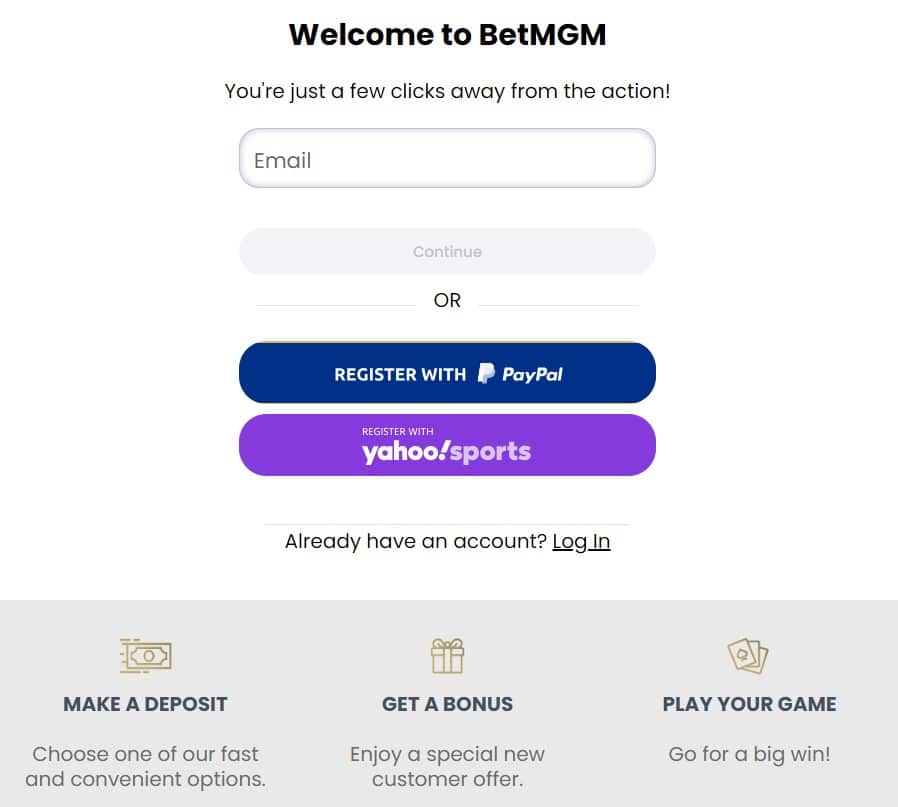 We'll walk you through the process of joining one of our top-rated US online casinos and placing bets in a moment. Before that, here's a quick recap of how to bet on roulette and what the table looks like:
A roulette wheel showing black and red numbers from 1 to 36 + the number zero (which is green).
A roulette board showing a corresponding set of numbers to the wheel.
A ball that gets dropped onto the spinning wheel and settles in a slot to determine the outcome.
Chips used to signal where you think the ball will stop.
The only thing missing from our list is you. The ball is dropped onto the spinning wheel by a croupier, but only if someone has placed a bet. You're a fundamental part of the equation, so here are the steps you need to follow in order to play roulette online:
Use our secure sign-up links to join your chosen online casino.
Complete the registration process using any exclusive promo codes to unlock a welcome bonus.
Log into your casino account and go to the cashier page.
Choose a secure payment option and make a deposit.
Go to the game lobby and use the quick link to call up a list of roulette games.
Choose a roulette game and choose a chip denomination.
Place chips on squares that match where you believe the ball will stop.
Wait for the wheel to stop spinning and see if your bet is a winner.
How to Play Roulette in Different Ways
This online roulette guide has focused on the fundamental structure of the game, how to place bets, and the way payouts work. All of these tips apply regardless of the context.
However, it's important to understand that roulette isn't a singular game. There are many different types of roulette you can play online. The main variants to look out for at our top-rated US online casinos are:
American Roulette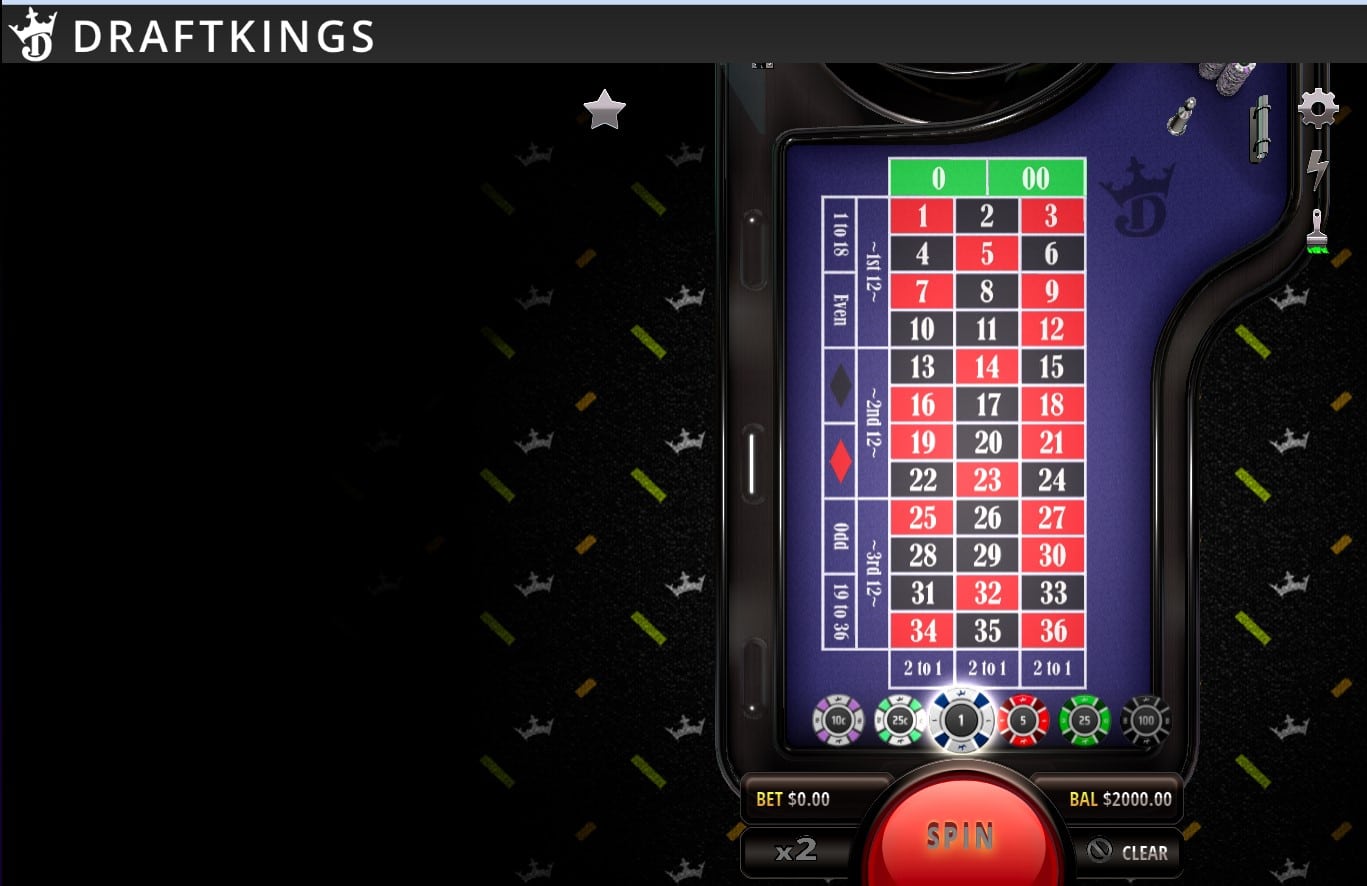 American roulette tables feature 38 numbers. This fact distinguishes American roulette from its European cousin. The reason there are 38 numbers is the addition of a double zero (00). This number sits next to zero (0), which means the numbers run from 00 to 36.
The maximum payout for a single number in American roulette is 35x. This payout, when you consider the fact there are 38 numbers in play, means the house edge for American roulette is 5.25%.
European Roulette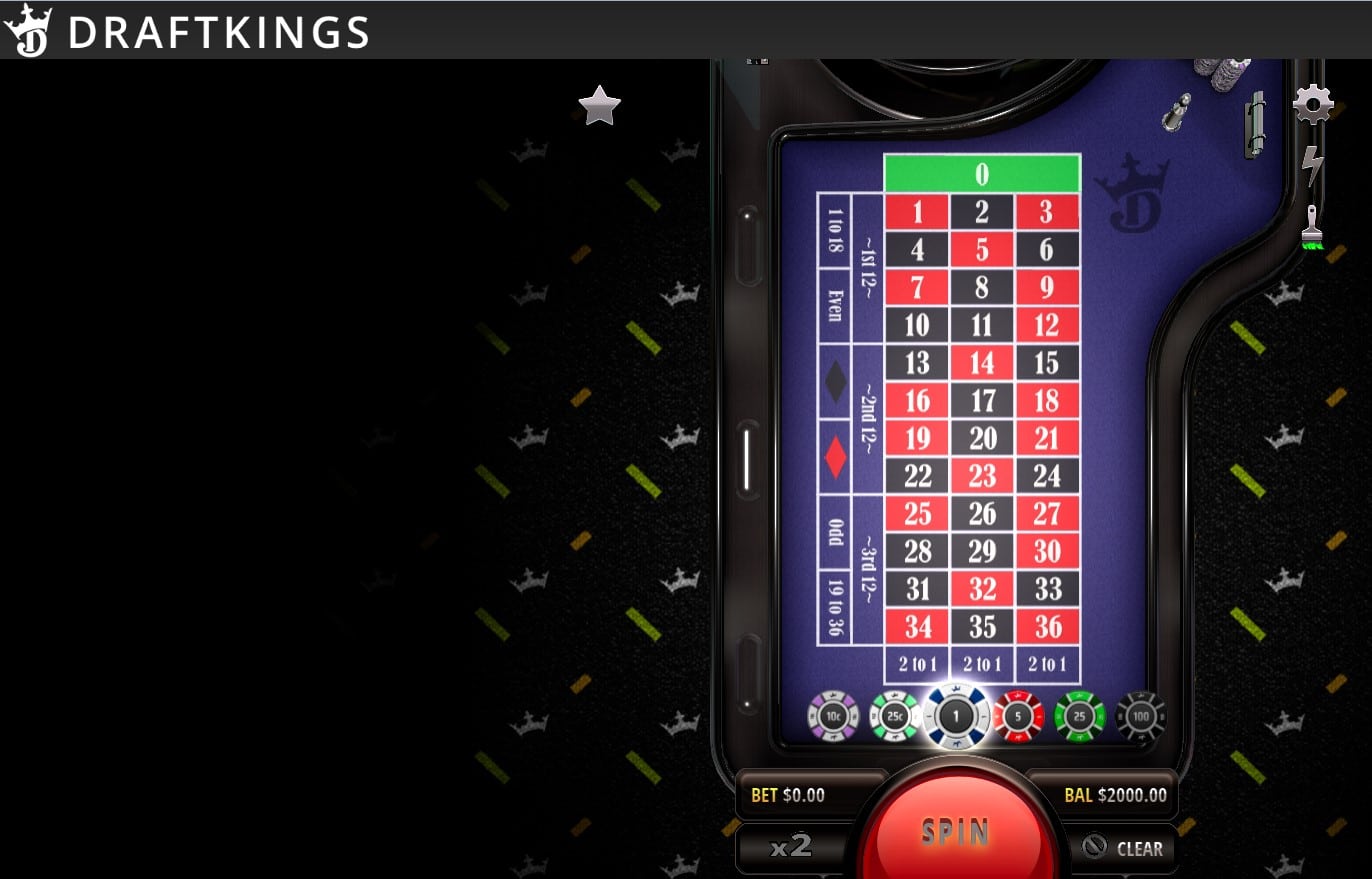 A European roulette table looks almost identical to an American one. The only difference is the fact it doesn't have a double zero (00). This means there are 37 numbers in play. The numbers run from 0 to 36 and, because the maximum payout is 35x, the house edge in European roulette is 2.7%.
French Roulette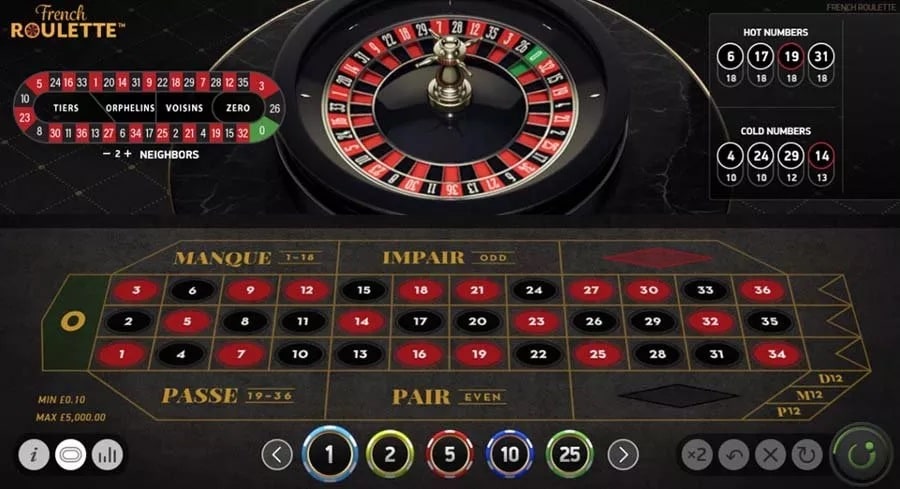 The outside bets are in a different position on French roulette tables, but that doesn't affect the ways you place bets. Overall, a game of French roulette plays out in the same way as American and European roulette. There are 37 numbers on the board and the maximum payout is 35x.
There are some unique features to look out for. Firstly, there is a racetrack betting option. This basically allows you to cover groups of numbers under these headings:
Voisins du Zéro (neighbors of zero) – this is a group of 17 numbers that are positioned between 22 and 25 on the wheel.
Tiers du Cylindre (a third of the wheel) – this group covers all the numbers between 27 and 33 on the wheel.
Orphelins (orphans) – this is a group of eight numbers located directly left and right of number zero (17, 34, 6, 1, 20, 14, 31, and 9).
The other difference between French roulette and other variants is a feature known as La Partage. This feature gives you a 50% rebate on even-money bets if the ball lands on zero. For example, if you bet $10 on red and the ball lands on zero, you'll receive $5 back.
100/1 Roulette
100/1 roulette takes roulette's fundamental structure and adds more numbers to the mix. Specifically, there are 100 numbers on the board as well as five symbols (star, circle, triangle, square, and diamond). Everything else is the same as other roulette variants, ie you're trying to predict where the ball will stop. But, because there are more numbers in play, you can win up to 100x instead of the usual 35x.
Multi-Wheel and Multi-Ball Roulette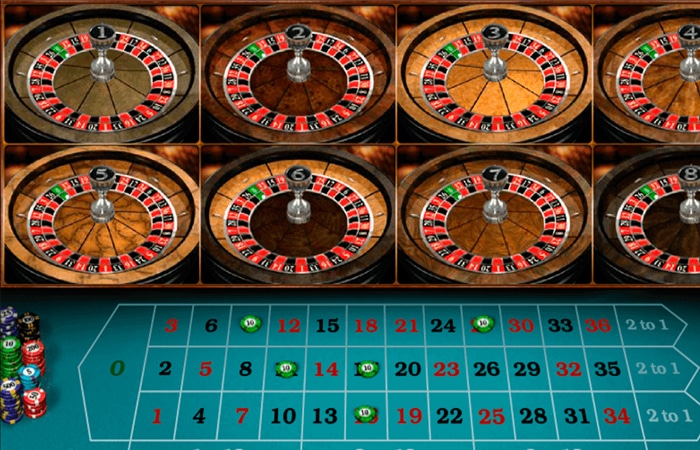 Some of the best US online casinos push the boundaries when it comes to roulette. They do this by offering games that have multiple wheels or multiple balls.
Multi-wheel roulette gives you the ability to place bets that can be spread across up to six different wheels. Each new wheel you activate increases your bet by one.
For example, if you stake $10 on one wheel then activate another, the cost per round goes to $20. The benefit of adding more wheels is that you've got a better chance of hitting your picks. Multi-ball roulette operates on a similar premise. The cost per round is slightly higher because you've got multiple balls and, therefore, more chance of hitting a pick.
Double Bonus Spin Roulette
Double Bonus Spin Roulette adds an extra betting option to an American table. This means there are 39 betting options. The extra bet activates a bonus game.
The bonus game takes place away from the main betting board and contains two bonus wheels and two balls. The prizes each ball lands on get combined to give you a combined payout. The top payout in double bonus spins roulette is 1,200x, and it's triggered when both balls land on the bonus spot.
Lightning Roulette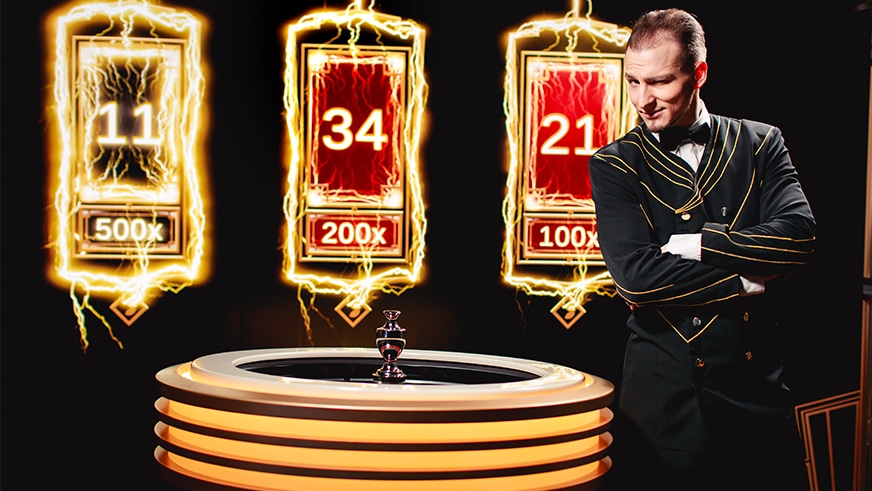 Take a standard European roulette table, reduce the maximum payout to 30x but add in some bolts of lightning and you've got one of the best live dealer casino games available online. Lightning roulette adds bonus payouts to random numbers before the start of each round. Lightning bolts strike the board at random points.
The numbers they hit become supercharged. This means their payouts are boosted up to 500x. If you've bet on a supercharged number and it hits, you win the enhanced payout. The cost of having this feature is that fact standard single-number wins are worth 30x instead of the standard 35x. However, the counterpoint here is the fact you can win up to 500x your bet, which makes things very exciting.
Roulette Tips and Strategy
Learning how to play roulette is one thing, but playing it well is another. That's why a lot of players look to use one of the many tried and tested roulette strategies, such as the Martingale system. We won't go into too much detail on strategy in this guide, though. Instead, we've listed some of our top tips for you to use the next time you play roulette online:
1. Balance Risk and Reward
Think about your betting preferences before you play roulette online. What we mean is that you need to decide how much risk you're prepared to accept. There will always be risk, but you can control the amount you're exposed to by making different bets. As we've said, certain bets have a better expected value (ie the amount you're likely to win in the long run) than others.
Single-number bets are higher risk than bets that cover groups of numbers. The more risk you accept, the bigger the payouts are. Therefore, when it comes to roulette strategy, the main thing you're focusing on is risk vs reward.
We can't tell you which strategy is best, so take the time to think about your own preferences then choose the bets that align with them.
2. Take Advantage of Bonus Features
Our recommended online casinos offer new players welcome bonuses as well as ongoing promotions. These offers unlock bonus credits that can be used to play roulette and win real cash (once you complete the wagering requirements). Along the same lines as claiming bonuses, you should take advantage of a game's special features.
For example, if you're playing French roulette, you can get a 50% refund if you make even-money bets and the ball lands on zero. This is where it pays to know how to play roulette online. Basically, if you understand the rules of a game, you'll be able to get maximum value from it by taking advantage of its bonus features.
3. Always Stick to Your Limits
The final roulette tip to keep in mind is bankroll management. Specifically, you should only bet money you can afford to lose. A bankroll should consist of disposable income, and each bet you make should be a small percentage of your available funds. For example, if you've got $500 to play casino games with, each bet should be less than 1% of that figure (ie $5 or less).
Implement our roulette betting tips when you register for an account at FanDuel Casino, or any of our other top-rated roulette platforms.
FAQs
How do you play roulette?
Is roulette an easy game?
What is the safest bet in roulette?
How many numbers are on a roulette wheel?
What is the best strategy to win at roulette?