In this comprehensive guide on how to play video poker, we break down the rules and explain how the game works, ensuring you grasp the essentials and acquire the skills to play video poker confidently.
We'll also explore different types of video poker games, explain how the payout tables work, and share some proven strategies and useful tips to help you enhance the chances of winning. To make sure that you have the best video poker online experience, you'll also find a top list of the best online casinos for video poker.

How to Play Video Poker: Step-by-Step Guide
This step-by-step guide on how to play video poker for beginners demonstrates how simple it is to start playing video poker at an online casino. Despite the fact that there are different variants, you need to follow the same steps more or less for all of them.
Step 1: Select your Video Poker Game
The first step in playing video poker involves selecting your preferred game type. With around nine different video poker variations available, each game has its unique set of video poker rules. However, these variations have the same foundational principle: players aim to build their best hand, similar to traditional poker.
Step 2: Select your Pay Table
Once you choose your preferred game, you'll need to choose your pay table and familiarize yourself with its specific rules. The pay table outlines the winning hand combinations and their corresponding payouts. By understanding these rules for video poker, you set the stage for a potentially rewarding video poker experience.
After determining your chosen paytable and rules, the fundamental gameplay remains the same. It's good to note that you can choose the 'SEE PAYS' option to check the pay tables of each game, opt for 'MORE GAMES' to switch pay tables and rule sets or enhance the pace of the game with the 'SPEED' button.
Step 3: Select your Bet
The next step is to choose how much you want to wager by using the 'BET UP' and 'BET DOWN' buttons. You can start playing video poker with a minimum bet of $0.10 and the maximum bet goes up to $100. Choose your bet carefully as this affects how much money you can potentially win. 
Step 4: Start Playing
To start playing, click on 'DEAL' to launch the game and receive your hand. Choose the cards you want to keep and then discard the ones you don't want to hold on to. Then click on 'DRAW' to receive new cards and see if you have a better hand and a potential winner.
The top-rated online casinos offer video tutorials on how to play poker if you want to familiarize yourself with the rules and gameplay. This might be handy to ensure that you master the rules of video poker. 
Basic Rules
The video poker rules at online poker sites are very similar to the classic poker game. Let's go through the basic rules to help you familiarize yourself with the gameplay:
Initial Deal

: After placing your bet, you will be dealt five cards by the machine. This is known as the initial deal.

Holding Cards

: You decide which cards to keep ("hold") and which to discard. This decision should be based on the probability of creating a winning hand.

Drawing Cards

: Any discarded cards are replaced with new ones from the deck, a process known as drawing.

Final Hand Evaluation

: The final hand is then evaluated, and if it matches any of the winning combinations on the paytable, you receive the corresponding payout.

Winning Hands

: Winning hands can range from a pair of Jacks or better, to a Royal Flush, depending on the variation of video poker you are playing.

Betting Limits:

Each game has minimum and maximum betting limits. Ensure you are aware of these before starting your game.

Double Up/Gamble Feature

: Some games offer a chance to double your winnings through a separate high/low or similar card guess game.

Progressive Jackpots

: Certain variations feature a progressive jackpot that grows with each game, provided the jackpot is not won. 
How to Play Video Poker at a Casino – Hand Ranks
Understanding hand rankings is essential when learning how to play video poker, as payouts are determined based on the strength of your hand. Below is a list of hand rankings found in video poker, ordered from highest to lowest: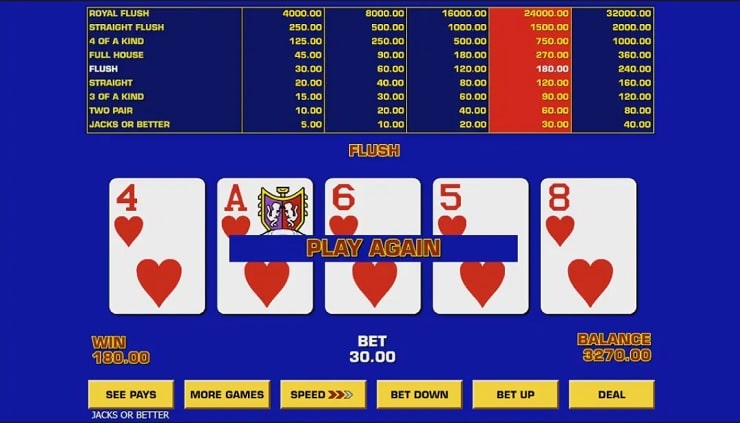 Royal Flush:

The best hand you can have. It's made up of an Ace, King, Queen, Jack, and 10, all belonging to the same suit (eg hearts or spades).

Straight Flush

: This is five cards in a row (eg 5, 6, 7, 8, 9) all in the same suit. It can be any sequence, as long as they're consecutive and share the same suit.

Four of a Kind

: As the name suggests, it's having four cards of the exact same number or face (eg four Queens or four 2s).

Full House

: A full house is when a hand has three cards of one number or face and two of another (eg three Aces and two 6s).

Flush

: This is when you have five cards, all in the same suit, but they don't need to be in any specific order.

Straight

: A straight hand has five cards in a sequence (eg 2, 3, 4, 5, 6), but they can be of different suits.

Three of a Kind

: This is simply having three cards of the same number or face (eg three 7s).

Two Pair:

When your hand contains two pairs of cards with the same number or face (eg two 8s and two 4s).

Pair (Jacks or Better)

: This means you have a pair of Jacks, Queens, Kings, or Aces. A pair of anything lower (like 10s or 9s) usually doesn't count as a winning hand in most video poker games.
Video Poker Pay Table
In video poker, the potential return on your bet increases with the strength of your hand. The table below provides an example of a typical 9/6 video poker payout structure, expressed in dollar amounts based on the bet size ranging from one to five coins:
| | | | | | |
| --- | --- | --- | --- | --- | --- |
| Hand | 1 Coin | 2 Coins | 3 Coins | 4 Coins | 5 Coins |
| Royal Flush | 250 | 500 | 750 | 1,000 | 4,000 |
| Straight Flush | 50 | 100 | 150 | 200 | 250 |
| Four of a Kind | 25 | 50 | 75 | 100 | 125 |
| Full House | 9 | 18 | 27 | 36 | 45 |
| Flush | 6 | 12 | 18 | 24 | 30 |
| Straight | 4 | 8 | 12 | 16 | 20 |
| Three of a Kind | 3 | 6 | 9 | 12 | 15 |
| Two Pair | 2 | 4 | 6 | 8 | 10 |
| Jacks or Better | 1 | 2 | 3 | 4 | 5 |
Types of Video Poker
Video poker has numerous variations, each offering a unique twist to the standard rules and payout structure. These variations not only keep the game fresh and exciting, but also provide opportunities to apply different strategies and potentially earn different payouts.
With the help of our video poker guide, we'll explore some of the most popular video poker game variants. Here's an outline of their unique rules and features to help you find a version that suits your playing style and preferences:
Jacks or Better
Jacks or Better is often considered the standard variation of video poker and is the version most beginners start with. The game's name derives from the fact that the smallest winning hand is a pair of Jacks.
Jacks or Better is popular due to its straightforward gameplay and good odds, making it a great choice for both novices and experienced players. Its paytable is easy to understand, and strategic decisions are often more transparent than in other variants.
Deuces Wild
In Deuces Wild, all twos ("deuces") function as wild cards, meaning they can substitute for any card to help you form a winning hand. This feature dramatically increases the number of winning combinations and introduces additional hand rankings like Five of a Kind and a Wild Royal Flush. However, the minimum qualifying hand is usually a Three of a Kind. 
Despite the seemingly liberal rules, it requires a unique strategy to optimize your returns. So if you're still a novice learning how to play video poker, we suggest that you watch a video poker tutorial and practice in demo mode before you start playing for real money at online gambling sites.
Double Bonus Poker
Our video poker guide highlights this type of video poker game as an exciting variation of Jacks or Better, renowned for its bonus payouts for distinct Four of a Kinds. Players can earn extra winnings for combinations of four Aces, four 2s, 3s, 4s, and four 5s through Kings.
While this variation holds the potential for high payouts, it alters the conventional pay table, demanding a unique strategy to optimize returns. These attributes contribute to the game's complexity, making it an exciting option for video poker enthusiasts.
Joker's Wild
In Joker's Wild, the deck includes a Joker which acts as a wild card. The wild card introduces new winning combinations like Five of a Kind and a Wild Royal Flush.
However, the increased number of winning possibilities is counterbalanced by the higher qualifying hand – usually a pair of Kings or better. This game variant adds an interesting twist and requires a modified strategy.
Bonus Deuces Wild
This video poker variation game combines the excitement of Deuces Wild with bonus payouts. In this variant, all 2s are wild, and special payouts are offered for Five of a Kind hands and four deuces.
Bonus Deuces Wild includes the special hand of a Royal Flush with Deuces, which provides a high bonus payout. Due to the bonus payouts and deuces being wild, it requires its own strategy.
Double Double Bonus Poker
Double Double Bonus Poker is an advanced version of Double Bonus Poker, offering additional bonuses for specific Four of a Kind hands. The game rewards players for four Aces with a 2, 3, or 4 as the fifth card.
However, the increased bonuses come with a trade-off: lower payouts for lower-ranked hands. This variant is attractive for players seeking high-variance games with the potential for large wins.
Types of Bets
Understanding the types of bets is fundamental when learning how to play video poker to enhance your chances of winning. Different betting options can influence both the risk and potential return on your wager. 
Whether you're a beginner looking to get started with small bets or an experienced player aiming for the top payouts, understanding your betting options can make a significant difference. 
We created the following list to explore the most common types of bets you can make when playing video poker:
Single Coin Bet

: This is the smallest bet you can make in video poker. It means you're betting only one unit or coin. The payout for a winning hand is proportional to a single coin bet.

Multi Coin Bet:

In most video poker games, you can bet more than one coin at a time, usually up to a maximum of five coins. The payout for a winning hand is proportional to the number of coins bet, except for a Royal Flush in a maximum coin bet where the payout is significantly higher.

Maximum Coin Bet:

This is the largest bet you can make in a game of video poker, usually five coins. As mentioned, the payout for a Royal Flush at maximum bet is often disproportionately higher, making this bet potentially the most profitable in the long run, albeit riskier.
How to Place a Bet
In our guide on how to play video poker at a casino, we wanted to highlight how easy it is to place a bet and start playing. We created the below step-by-step guide based on one of our top-listed video poker sites, BetMGM.
Create an Account
To get things started, first, you'll need to create an account on the BetMGM website or casino app. Click on the button 'Register' and you will be asked to provide some personal details to verify your identity and age.
Deposit Funds
Once your account is set up, navigate to your account page to deposit funds. Choose your preferred payment method, enter the amount you wish to deposit, and confirm the transaction.
Select the Game
Navigate to the casino section of the site and select 'Video Poker' from the game categories. Browse through the options and click on the game you wish to play.
Choose Your Bet
Once the game loads, you will see a button that allows you to choose the number of coins you wish to bet. Most video poker games allow you to bet between one and five coins.
Place Your Bet
Once you've chosen the number of coins, click the 'Deal' button to place your bet and start the game.
Tips & Strategy: How to Play Video Poker for Beginners
Learning how to play video poker involves more than just understanding the rules—it's about strategy, patience, and informed decision-making. As a game of chance and skill, it offers players the opportunity to influence the outcome by making smart choices. 
Check out the following quick tips and strategies that can significantly enhance your playing experience and potential winnings in video poker:
Learn the Basics
Before you start playing, make sure you understand the basic rules and hand rankings of video poker. Understanding the fundamentals is crucial to developing a solid strategy and making informed decisions during a game. We also recommend watching a video poker tutorial to familiarize yourself with the gameplay.
Play Maximum Coins
If your budget allows, consider betting the maximum number of coins. This is because the payout for a Royal Flush is disproportionately higher when you bet the maximum number of coins.
Understand the Pay Tables


Each video poker variant has a different pay table. It's essential to understand the pay table for the specific game you're playing, as this will affect your strategy and the potential return on your bet.

Use a Strategy Chart
Video poker strategy charts provide you with the optimal play for every possible hand you could be dealt. While it might seem complex at first, with practice, it can become second nature.
Practice with Free Games


Before you start betting real money, consider practicing with free or low-stake games. This can help you familiarize yourself with the game and develop your strategy without risking too much.
How Video Poker Differs to Poker
Video poker and traditional poker share some basic elements, such as the ranking of hands. However, there are significant differences between the two games. Here are a few key ways in which they differ:
1. Player vs Machine and Player vs Player
In video poker, you play against a machine, not other players or a dealer. Your goal is to make the best five-card hand possible, according to traditional poker hand rankings.
In regular poker, you play against other players and the objective is not just to have the best hand, but to make strategic bets that encourage your opponents to fold or to bet less advantageously.
2. No Betting Rounds
Video poker does not have betting rounds like traditional poker. Instead, you make a single bet at the start of the hand and then you're dealt five cards. You decide which to hold and which to discard, then your final hand is revealed and payouts are made according to the pay table. 
3. No Bluffing or Reading Opponents
Since you're playing against a machine in video poker, there's no need to bluff or try to read your opponents. You simply try to make the best hand possible. In contrast, bluffing and reading other players are critical elements of traditional poker.
4. Fixed Payouts
In video poker, payouts are fixed based on the pay table of the machine. The better your hand, the higher the payout. In traditional poker, the amount you can win depends on the size of the pot, which can change drastically throughout the hand based on players' betting behaviors.
5. Strategy Differences
Given these differences, the strategies for video poker and traditional poker are distinct. Video poker strategy revolves around knowing which cards to hold or discard to maximize potential payouts, while traditional poker strategy involves understanding betting, bluffing, and opponent reading, among a ton of other factors.
Top Video Poker Online Casinos
Video poker stands as a favorite amongst online casino games, combining elements of luck and strategy in the gameplay. However, the video poker experience can vary widely depending on where you choose to play. To help you choose the best online casino that suits your preferences, we've highlighted the top 10 video poker online casino sites below.
FAQs
How do you play video poker?
How does video poker work?
What are the basic rules of video poker?
What cards should you hold in video poker?
How do you play video poker well?
Is it better to hold a low pair or high card in video poker?