Live betting continues to be one of the fastest-growing forms of gambling and the right live betting strategy can be the key to consistent success. While standard sports betting principles apply to this form of gambling, everything moves at a faster pace.
But we've got the best live betting tips to get you one step ahead of the game. Read on to see live betting explained for those new to sports gambling and we'll provide some of our tried and tested strategies that the sharpest of bettors have used to great success.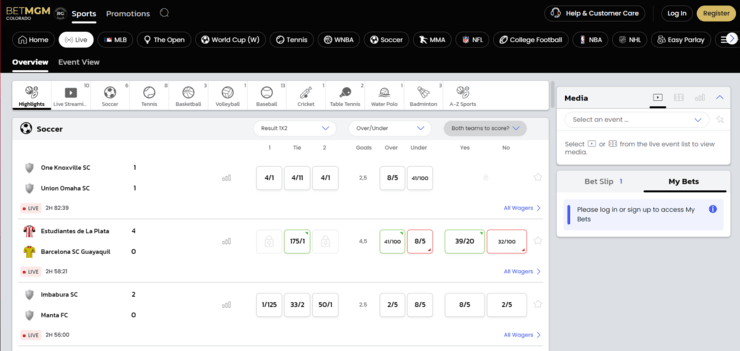 What is Live Betting?
Sometimes referred to as "in-play" betting, live betting is the concept of wagering on sports in real-time, rather than placing your bets before the match begins and waiting for the outcome. You get to use unique live betting strategies and enjoy the thrill of betting on your favorite sports as the action unfolds.
You'll get the opportunity to bet on numerous parts of a game as it happens. This includes shorter outcomes that occur during a single quarter or half or even bet on various aspects of the match covering minute to minute.
How does Live Betting Work?
Live odds work the same way as any other pre-match market. The difference is that they move in real-time with the outcomes of the event.
For example, if a team is priced at +400 to win but suddenly scores two touchdowns to equalize, that team's odds might quickly shift to +250.
The odds move dynamically with the game situation. Traders are constantly pricing the action using special techniques and algorithms. Most of the best live betting sites will adjust the odds within seconds of major change in the game and make incremental shifts over the course of a game too.

Examples of Live Betting vs Pre-Match
Imagine a basic pre-match bet. You would find some great odds ahead of time and place your bet. Your odds are locked in and now you simply wait until the event concludes. In most instances, you cannot amend your bet. As soon as the event begins, all markets will close and no further pre-match bets can be made.
For live betting, you would wait for the match to begin. Odds for the various available markets offered would then be displayed in real-time. These odds will move as the action unfolds and the prices will reflect the state of the event.
For example, you could bet on Real Madrid to win a game after kick-off but before the first half, the opposition scores. You could now place a totals bet of over three if you think Real Madrid might bounce back or the opposition will dominate in the next half.
Or imagine a totals bet of over five goals – with every goal scored the odds for the over five selection will get stronger. Alternatively, if the scores remained 0-0 through the first half, the odds for the over five selection would get longer and longer.
Who Sets the Odds?
Bookmakers have teams of individuals commonly known as traders who set, monitor, and adjust the odds that you bet on. They use a combination of historical data, statistics, algorithms, and betting trends to determine the most accurate probability possible. Some sportsbooks rely heavily on their consistently successful sharp bettors to help determine the best odds.
Why is this information important for live betting? Statistical data and trends are a good indicator of potential outcomes when setting pre-match odds, but outcomes during an actual sporting event are far more nuanced.
This is why odds can vary so greatly when live betting and why bettors can find significant advantages when the odds fail to consider factors that statistical thinking often does not.
Top Tips for Successful Live Betting
Before we start to reveal a live betting strategy you can use today, we thought we'd set you up for success first. Below are six of our best live betting tips that will make sure you are prepared before the game begins.
Use live streaming – If your sportsbook of choice offers live streaming, it is the perfect companion when betting on the go. You'll be able to watch the action and bet on the very same screen.
Close all your tabs on PC – Reduce your PC's RAM consumption when live betting. Speed is key. Stop any unnecessary apps in the background and close any browser tabs that are not essential and might slow things down.
Use a betting app – Using a dedicated sports betting app is the best way to deploy a live betting strategy.
Make use of virtual scoreboards – It's not the perfect live sports betting strategy, but if you can't watch the game at all, use the bookmaker's virtual scoreboard. It will often provide more real-time data than following an event on the radio or via an online commentary.
Shop around – This could be considered an advanced live sports betting strategy too just because you need to take in a lot of information. Keep a few bookmakers open and chase the best lines possible at any given moment. This is best done on a desktop screen rather than mobile.
Never chase losses – Just like when pre-match betting, you should never chase losses by live betting. It's always a better idea to take a break and choose another game to bet on at a later date. All successful bettors have good bankroll management.
Know your sport – Really get to know your sport or stick to sports you are knowledgeable about. As quick as live odds can be, they are data-driven and often fail to predict possible game changes such as comebacks. Extensive knowledge can put you at a massive advantage when live betting.
Best Strategies for Live Betting
There are tons of different live betting strategies you could leverage at any one time. It is a really good idea to research a few and develop a repertoire of approaches. We'd recommend researching and practicing each live in-game betting strategy explained below.
Place live moneyline bets for better odds – The live moneyline often moves sharply when an event begins. You can often take advantage of this shift to get remarkably better odds than if you had placed a pre-match moneyline. Simply wait until the event begins and place a live moneyline.
Watch in person – Some bookmakers might be slow to adjust the live lines. Watch the game in person if you can. That way there will be no delay in viewing what happens in the match and you can be sure to take advantage of the shifting lines quickly.
Bet on the opposite outcome – Can you see the writing on the wall early? Reverse your incorrect bet by quickly betting on the other team. This live betting strategy won't always yield big payouts but it can help recoup some losses.
Hedge your bets with middling – You can hedge an early bet and have both bets win. This is known as middling. Imagine backing a 4-point spread on the Chicago Bulls as underdogs and then a later spread on the opposing NY Nicks to notch a 2-point spread. If the Nicks win by 2-4 points, you'd win both bets.
Bet on over 1.5 goals – This is a popular and consistent soccer live betting strategy. Find a game that looks like an over 2.5 game and wait for the start, since the over 1.5 odds will likely be around +120. The longer a goal isn't scored, the more valuable the over 1.5 odds will become. Time your bet just right to claim maximum odds.
Use arbitrage betting – Bookmakers price certain markets differently and have their own biases. Have a few live bookmakers open and you'll often be able to find opportunities to cover the right markets that will result in guaranteed profit using arbitrage betting.
How to Place a Live Bet
It doesn't matter if you've placed a pre-match bet in the past or you're completely new to sports betting, using an in-game betting strategy is far easier than you might think. Ultimately, you are just betting with dynamically shifting odds but the principles of sports betting still apply. Check out our easy five-step guide below.
Step 1: Sign up and deposit
If you are not already registered, choose a top online sportsbook from our recommended list and sign up for an account. Make a deposit and choose to claim a bonus if you wish.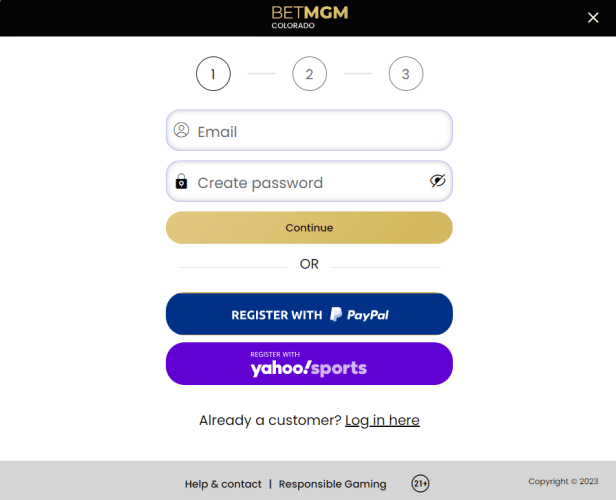 Step 2: Check out the markets
US sportsbooks showcase the markets ahead of time. Although some micro-markets – like those offered during MLB games – thye may not appear until the game begins. Get familiar with the layout as time will be crucial later on.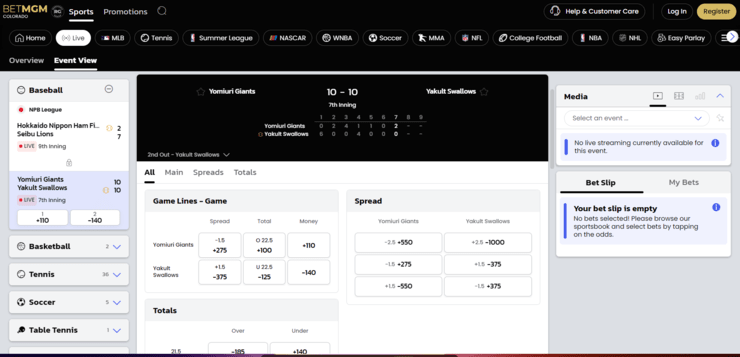 Step 3: Place a bet
Watch the markets closely and look for a selection of value. Click on the selection to drop it in the bet slip. Nominate a bet amount and click "Bet" to complete the wager.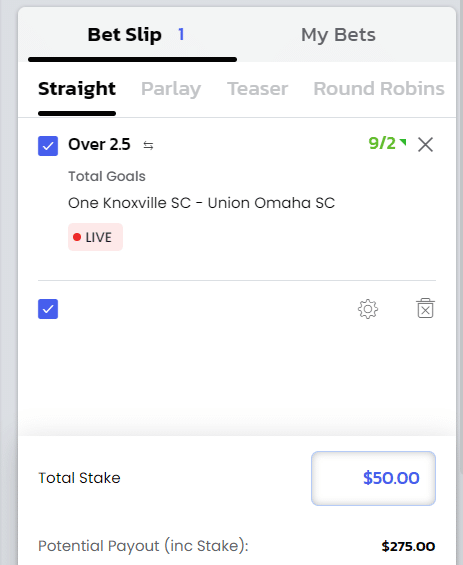 Step 4: Continue to place bets or cash out
You can continue to bet on the game, take an early cash out if your bet is looking unlikely, or choose to wait for the outcome and receive a payout if it's a winner.
Step 5: Withdraw your winnings
Remember, you'll need to clear any play-through requirements if you have any bonus funds. Head to the cashier, select a withdrawal method and nominate the amount you wish to withdraw. Follow the prompts to complete the transaction.
Types of Live Bets
The types of bets available to you for live betting are not that different from pre-match betting. The major difference is the dynamic shifting of the odds.
For those who are new to sports betting or feel like they need a refresher, we've explained live betting wager types below.
Moneyline: This is a simple bet on who will win a game. For example, the Toronto Blue Jays to beat the Chicago Bears.
Spreads: Spreads are the winning margin of the favorite and therefore, the losing margin of the underdog. As the scores change in a game, spreads can also alter and so will the odds.
Micro betting: Micro markets are small in-play markets that let you bet on very incremental and specific moments of a game. This could include the next pitch, running play, or point.
Totals: This refers to the combined total of the final score in a game. You'll get to bet on whether the total will be over or under a set amount. For example, over 3 goals in a soccer game would mean at least four goals scored, while under 28 points in an NFL game would need the combined score of both teams to be 27 or less.
Prop bets: Almost like micro markets but on a bigger scale. Prop bets are specific outcomes that are not tied to the overall result of the match. For example, "Tua Tagovailoa to throw three touchdown passes" is a prop bet and the result of the match doesn't mean anything.
Types of Sports for Live Betting
Every year, more and more sports receive live markets and there are very few major tournaments that you cannot bet on live. Whether you're into baseball, soccer, football, or even snooker, you'll be able to find live betting markets at your favorite US sportsbooks.
NBA
Live betting on the NBA is all about points spreads. The game can change so much from quarter to quarter, let alone half to half. You can use your intuition as home teams can power through deficits and defy the odds.
NFL
Sportsbooks are big on offering prop bets and micro markets for NFL games. Totals are another popular live betting option with the odds for the over/under on the final score regularly shifting and you can sometimes bet on each quarter too.
MLB
You can develop a live betting strategy for micro-betting markets on MLB games. This includes betting on the next pitch or run. Additionally, spread betting on the "Run Line" is quite common for in-play bettors.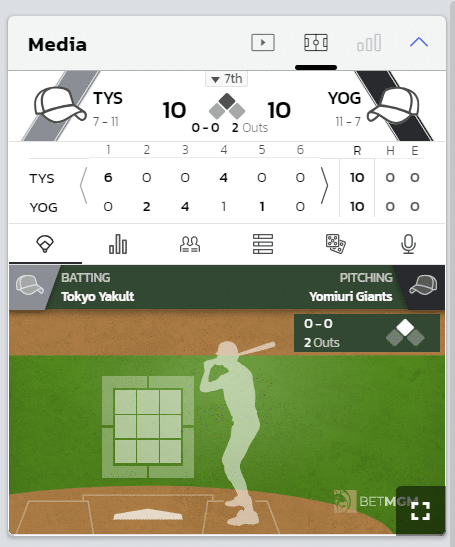 NHL
Totals and spreads will likely be the focus of your NHL live betting strategy. Pay close attention to the dying minutes where the puck line and totals can be affected by a late goal due to the trailing team's goalie leaving to play the role of an additional attacker.
Tennis
Tennis live betting strategy is usually all about spreads and totals. However, some sportsbooks do offer micro-betting on single points during a set.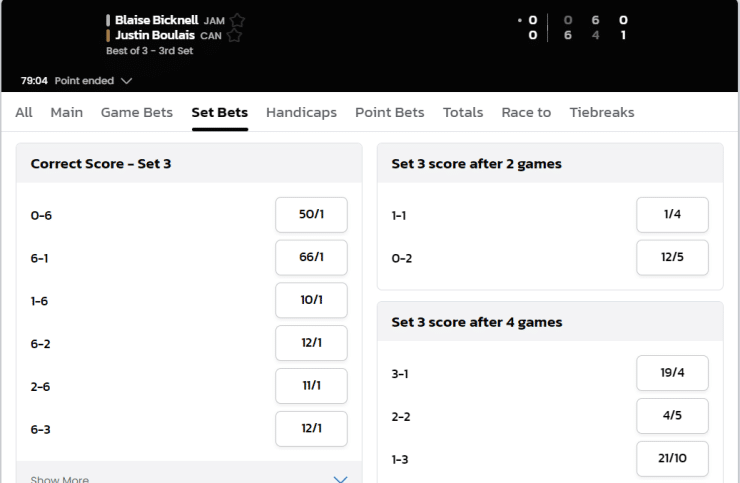 Soccer
Soccer is a popular sport among live bettors even if they don't like soccer itself. The over 1.5 in-play betting strategy is a strong one and bettors won't need a lot of soccer knowledge to take advantage. Betting on totals and spreads is the most popular way to enjoy live betting on soccer in the US.
Golf
Golf is a long game and live betting gives you ample time to place strategic bets. Think back to 2005 when Tiger Woods won the Masters as a favorite but he slumped seven shots of the lead after the first round. His live odds would have shifted wildly in value if live betting was available.
Other
Numerous international leagues including Nippon Pro Baseball, Championship League Snooker, ATP and WTP tennis, and Australian Aussie Rules are all regularly available for live betting.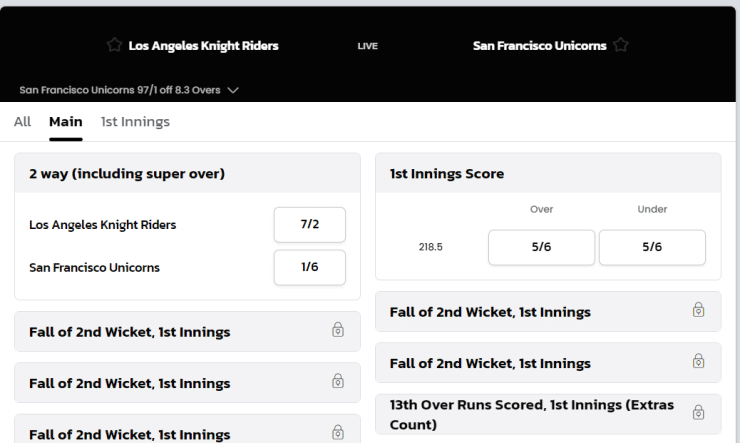 Pros and Cons of Live Betting
As a more reactive form of gambling that takes some of the advantages away from the algorithms and techniques used by traders to produce the odds, in-play betting provides an enormous advantage to sports bettors who have a great knowledge of their chosen sport. If you can read a game, live betting will provide distinct advantages.
Pros
:
Less statistic-based and more reactive betting
Can easily convert a losing bet into a winning one
Odds favor bettors more than bookmakers
More arbitrage betting opportunities
Cons
:
Odds can move quickly, and you need to pay close attention
Live betting strategy won't always match up with the game situation
Live Betting vs Pre-Game Betting – Which is Better?
Frankly, live betting is the better option. It is far more difficult for bookmakers to generate odds that are both accurate and advantageous to their handle when the action unfolds so quickly. When pricing pre-match markets, it is all too easy for bookmakers to provide a wide probability margin resulting in tight odds that are not exceptionally valuable.
Just watch a live game and observe the odds. You'll likely see how slow the odds can be to accurately reflect what is potentially going to happen in a game because the odds are data-driven and are fixated on the immediate occurrences.
For example, it is not uncommon for live odds to inaccurately reflect a big comeback. Say the LA Lakers score a couple of points while facing a deficit. You know it, everyone watching at home knows it, the way the points were scored is signally a massive comeback. However, the data just shows a couple of points against a larger deficit and so the odds reflect that data.
You can place a bet with incredibly valuable odds before the live odds truly reflect that comeback. And this is merely one example of how live betting is superior to pre-game betting.
FAQs
How does live betting work?
Are live bets profitable?
What is the most profitable live betting strategy?
What is the most successful betting strategy?
What are the pros of live betting?
What are the disadvantages of live betting?
Is it better to bet live or before the game?