If you're looking for an edge or a new betting strategy, you might be ready for middle betting. "Middling" is a popular strategy among sharp bettors but this advanced strategy is much easier to take advantage of than most casual bettors would think.
Read on as our sports betting experts explain the middle betting strategy. We'll provide our hottest tips and reveal how you can find the middle with ease at top US sportsbooks.
What is Middle Betting?
Middle betting is an advanced strategy that most casual bettors haven't ever heard of. Middling a bet is a strategy that aims to obtain significant profit by betting on two sides of an outcome by taking advantage of the changes in spreads and totals with the added possibility that both bets could win.
While middling betting is very popular as a live betting strategy, betting the middle is still useful during pre-match since the lines can still move dramatically over a week before a match, or suddenly, due to circumstances such as late injuries.
Enjoy fast paced live betting at BetOnline.
Spreads vs. Totals
Since knowledge of spread and totals betting is essential to middling in sports betting, we'll provide a quick rundown for those who are yet to expand their strategies beyond the moneyline. Top online sportsbooks offer two markets that let you bet on the points scored in a match.
Depending on the sport, this can refer to different things. For example, runs in cricket, points in football, goals in soccer, or points/sets/games in tennis.
Spread betting
Spread betting refers to the difference in scores between two teams or players. For example, the spread in a football match that ended 28 – 32 would be four. You can bet on whether you think a team will win or lose by a number of points.
For example, a -10 point spread bet on the Cincinnati Bengals means you need the Bengals to win by 11 points, or more, in order to secure a winning bet. Conversely, a +10 spread on the underdog, New York Jets, would mean the Jets need to either win or lose by at least 10 points for the bet to be successful.
Another way of looking at it is to think of the spread as a handicap. If the final scoreline is 30 – 19 with a Bengals victory, the addition of their 10-point handicap would make the score 30 – 29 meaning the Bengals would still win, and the +10 spread bet would be a winner.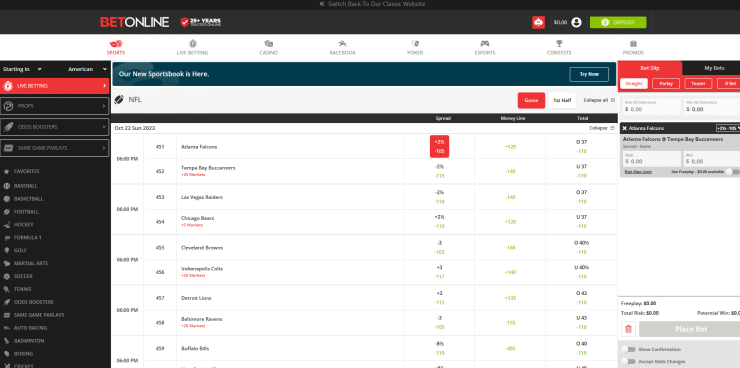 Totals betting
Totals betting refers to a bet that predicts the total combined scores of both players or teams. For example, a football scoreline of 30 – 32 would be a total of 62. These bets are often called "over/under" bets, because a totals bet asks you to predict if the combined scores will be over or under a number.
For example, a bet of under 50.5 would lose if the total was 58, but a bet of over 60.0 would be a winner.
Find excellent odds for US major league totals betting at Bovada.
How to Find the Middle?
Let's look at some example bets utilizing the middle betting strategy to showcase how you can find the middle.
Consider a Sunday night football match between the Miami Dolphins and Chicago Bears. On Monday, the Dolphins open as +8 point favorite. So, you bet on the Dolphins with a -8 spread. By Friday, the Dolphins have become even stronger favorites so you now bet +10 on the Bears.
That two-point difference is the middle. Both bets can win but both bets can also lose.
| | | |
| --- | --- | --- |
| Bet 1: -8 | Score: Dolphins v Bears | Bet 2: +10 |
| Win | 29 – 20 | Win |
| Lose | 29 – 26 | Win |
| Loss | 10 – 31 | Win |
| Win | 30 – 19 | Lose |
Middling betting strategy also applies to totals bets. Let's take that same game. The over 60.5 market opens with valuable odds and both teams seem strong, so you bet on that market. Later in the week, you detect an edge in the under 65.5 market. The middle is now a +5 point spread.
| | | |
| --- | --- | --- |
| Bet 1: Over 60.5 | Score: Dolphins v Bears | Bet 2: Under 65.5 |
| Win | 30 – 31 (61) | Win |
| Win | 34 – 40 (74) | Lose |
| Loss | 10 – 12 (22) | Win |
| Win | 30 – 33 (63) | Win |
Middle Betting Odds
The odds are very important when it comes to finding the middle as the payouts will directly affect your profits.
Consider a Sunday night football match between the Miami Dolphins and Chicago Bears. On Monday, the Dolphins open on sportsbook lines as +8 point favorite. So, you bet on the Dolphins with a -8 spread. By Friday, the Dolphins have become even stronger favorites thanks to betting spread shifts, so you now wager +10 on the Bears.
Bet 1: -135 at $100 = $174
Bet 2: +145 at $100 = $245
If only Bet 1 wins, you'll lose $26, but if Bet 2 is the only winner, then you'll win $45. If, on the other hand, you nail the middle and both bets are successful, you stand to make $219. Therein lies the risk of middle betting but also the gain.
Best Sports for Middle Betting
While middle opportunities are possible in loads of different sports, only a handful are ideal for consistent middling betting strategy. Check out the sports that we know are perfect for finding the middle at US sports betting apps.
Football
The NFL is the most popular sport for middle betting and the large potential scorelines and fairly consistent outcomes really lend it to betting the middle. Point spreads can be very lucrative due to the great difference in odds that can be obtained.
Additionally, totals betting can be very favorable due to consistency of NFL scorelines. The most common margin of victory is only three points which can make profitable over/under's very reliable.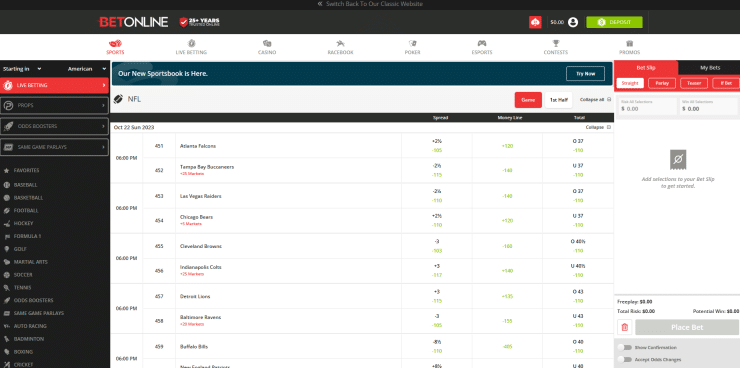 Basketball
Middling is also very popular among basketball bettors in the US. A common strategy is to place an initial bet, either pre-match or live after the clock starts, and then wait until halftime. You can then place a second live bet covering the other end of the spread or totals market. This method can also be used as a kind of hedge where you can attempt to mitigate a loss if your initial bet was way off.
Bet on a wide range of markets at basketball at BetNow.
NCAA
Both college football and basketball are great sports for middling. Thanks to the odds provided by US sports betting apps being typically far looser than NFL and NBA odds, it's a good arena for middling a bet. With bookmakers less focused on NCAA odds, you can often find some wild differences in odds for spreads and totals that are perfect for middling in sports betting.
Other sports
It's quite difficult to try a middle betting strategy in most other sports. Generally most sports don't have much volatility in how points are scored. Think about hockey or soccer where the scorelines are usually very small, reducing middle bet opportunity.
That's not to say it's impossible in other sports, but you'll want to look for sports with high scoring opportunities and high volatility. For example, Major League Cricket possesses the up-and-down, and high scores, required for middling a bet.
Middling the Moneyline
Some bettors will tell you middle betting is possible on a moneyline wager but that's not exactly true. Similar principles can apply but in reality you'd just be hedging your bet since one side is guaranteed to win, and the other will lose.
For example, in a football game, you could bet on the Dolphins to beat the Jaguars during pre-match. Next, take the Jaguars to beat the Dolphins during live betting when the odds are favorable. This way you ensure yourself a small profit betting with moneylines, no matter the result.
Middling vs. Hedging
On the other hand, you could employ an arbitrage betting strategy for hedging a moneyline bet. You could bet on the Dolphins to win at one bookmaker, and the Jaguars to win at another, using the difference in odds to guarantee a small profit.
It's worht knowing that neither "middling the moneyline", nor arbitrage strategies could be considered middle betting. Neither strategy finds the middle since neither strategy has the possibility of both bets winning.
Middle Betting Tips and Strategies
Now that you understand the basics of middling, we can provide a few insider tips that can help you place consistently solid middle bets. Consider these five tips to enhance your middle betting strategy.
Consider live betting middling – It's much easier to find more favorable odds when middling betting on spreads live. With the odds set by algorithms are reactive, a keen eye can grab seriously valuable odds before they adjust to the specifics of the game.
Use a calculator – Specifically, use a middle betting calculator. This is an online tool that allows you to enter the particulars of your proposed bets to determine their value as a middle bet. Just enter the stake, odds, and spread/total to receive the potential payouts.
Use casual sportsbooks – You want to avoid seriously sharp bookmakers. You'll find the lines will often be too tight for middling while more recreational books will have better underdog odds. Thankfully, most US sportsbook apps cater to a wide userbase.
Get in early – The trick to middling is to get that first bet in early. Betting on the opening line as soon as possible is how you'll beat market movement by getting ahead of the masses who can influence the lines.
Study form – The same principles of sports betting still apply. Be sure to research player and team performance, consider overall league data, and be aware of performance trends within the league and individual teams.
Does Middle Betting Guarantee Profit?
Unfortunately, no. Hedge betting is a strategy that attempts to guarantee profit by covering all the possible outcome. This is largely only possible on two way moneyline markets where there will always be a winner and a loser.
It's not impossible to guarantee profit but the payout for each bet would need to also cover the cost of the subsequent losing bet. In most cases, there'll be one bet that if won alone, will result in a small loss.
It's possible for the odds and the stake size to cover the loss of the other bet. This way you'll guarantee a small profit, but this isn't the point of middling.
Betting the Middle Step by Step
It only takes a few short steps to register for a betting account for the first time and start middling.
1. Register for an account
On the homepage, click "Join" and complete the simple web form by providing the required personal information.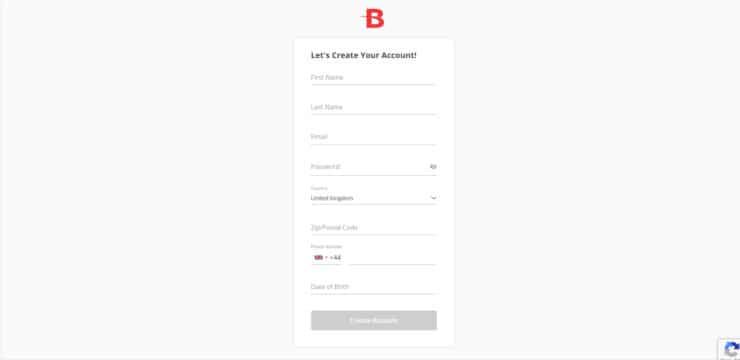 2. Make a deposit
Head to the cashier section and choose a preferred payment method. Nominate a deposit amount and follow the prompts to complete the transaction. You'll likely automatically claim the welcome bonus too.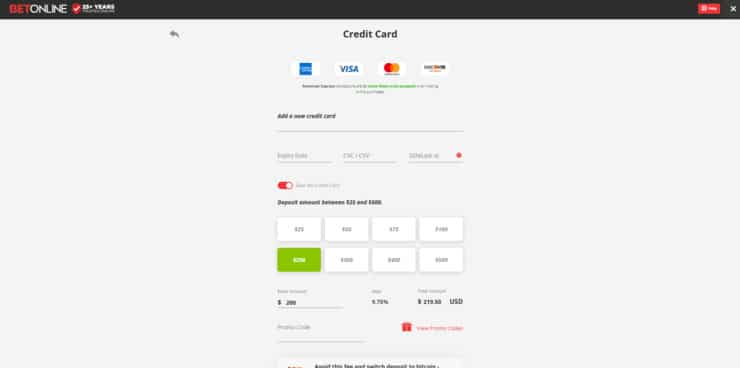 3. Find a market
Go to the sportsbook and choose a match to bet on that still has suitable time for the odds to shift. Alternatively, you could bet on a game using live betting middling. Find a spread or totals bet that appears attractive and place a bet. Be sure to consider your research about the teams, conditions, and form.

4. Find the middle
Continue watching the spread or total market you have bet on and look for a middling opportunity. If an opportunity arises, place your second bet and consider your bet amount to ensure your strategy can provide the value you're after. You can use a middling betting calculator to help.

5. Wait for the outcome
All you can do is sit back and enjoy the game. With any luck, both your bets will be successful and you'll be able to claim a big payday.
FAQs
What is middling in sports betting?
What is the best sportsbook for middling?
What does middle line mean?
What is an example of middling a bet?
Is betting the middle profitable?
How do you find the middle in betting?
What is a middle in sports betting?
Resources