The moneyline is the most common betting option on sports such as baseball, hockey, soccer, MMA, boxing and tennis. It is a very simple market, as you just need to predict the outcome of a sporting event. Moneyline betting can also be highly lucrative when you make astute picks.
This guide will arm you with all the information you need to make a success of moneyline betting. We will explain precisely what the bet entails, how to place a moneyline wager and how to read the odds. You will also discover our top tips and the best sites for placing moneyline bets, so continue reading to learn more.
What is a Moneyline Bet?
A moneyline bet is a simple prediction on the result of an upcoming sports event, such as a baseball game, MMA fight or tennis match. It is normally one of the top three betting options displayed when you click on a game at an online sportsbook.

The image above displays the main betting options on an NFL game at BetOnline, one of the top offshore sportsbooks in America. The moneyline is the option displayed in the middle, sandwiched in between the spread (run line) and the total (over/under).
Moneyline betting simply requires you to predict the straight-up winner of a game. You do not need to guess the winning margin or make a prediction on how many runs, goals or points will be scored. Just guess who will win.
The moneyline tells you two things:
The profit available if you place a correct bet on either team.
The implied probability of that team winning.
As such, the moneyline bet meaning specifically refers to the available payout on a winning wager.
Bet on the moneyline with sharp betting odds at BetOnline.
How Does a Moneyline Bet Work?
There are two types of moneyline wager:
A two-way moneyline
A three-way moneyline
A two-way moneyline is the most common option, as there are only two potential outcomes in most sporting events. For example, if the LA Lakers are playing the Golden State Warriors in an NBA game, there are two possible results: the Lakers win or the Warriors win.
However, some events have three potential outcomes. For example, a regular season soccer game could result in a home win, a tie, or an away win. Meanwhile, a boxing match could end in either fighter winning or a tie.
In those events, you will find a three-way moneyline, but sportsbooks may also offer a two-way moneyline called tie no bet. That means if it ends in a tie, the result is a push and you get your money back.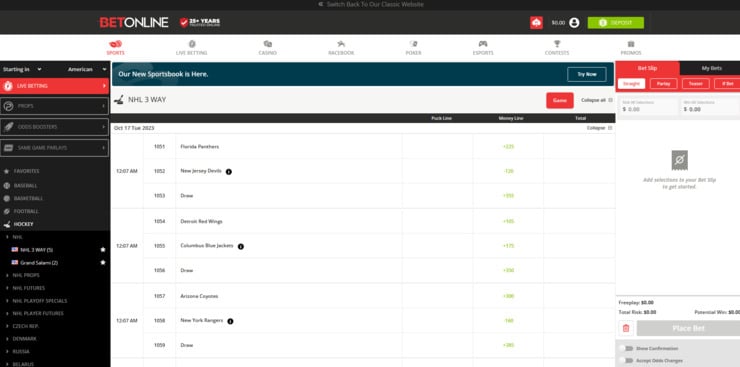 You can sometimes choose from a two-way moneyline or a three-way moneyline. For example, you could bet on the Minnesota Wild to beat the Vegas Golden Knights (including overtime) at -134, which is the option at the top of the image.
Alternatively, you can bet on them to win in 60 minutes at +110. That would earn you a larger payout. However, it is naturally harder to call the winner without overtime included, which is why you get a larger potential return if successful.
Who Sets Moneyline Betting Odds?
The top US sportsbooks have their own oddsmakers, who set the moneyline betting odds. They assess each team (or each player in a tennis match, each fighter in a UFC bout, and so on) and gauge their strengths and weaknesses.
The oddsmakers then offer odds on either team winning. There is normally a favorite and an underdog. Every so often, the teams will be evenly matched, and you will see identical odds on both of them winning, but there is normally a clear favorite.
Get outstanding moneyline odds on the underdog at Bovada.
Moneyline Movements
The odds can then change as the game approaches. If one team loses a key player to injury, the odds on that team will grow longer, and the odds on the opposing team will grow shorter.
Public betting trends also move the odds. If one team proves very popular, the sportsbooks normally respond by offering less appealing odds on that team and more enticing odds on the other team. That is designed to encourage a similar amount of action on both teams, allowing the books to balance out their liabilities.
How to Read Moneyline Odds?
Moneyline odds will invariably be presented in the American format at online sportsbooks. Here is an example of three-way moneyline odds on an MLS game:

If the odds begin with the minus symbol, they explain the amount you need to risk to win $100. A $120 bet on Charlotte if the odds were -120 would net you $100.
When they start with the plus symbol, they explain the profit you would get from a $100 bet. Charlotte would pay out $150 from a $100 bet. A $100 bet on the tie at +300 would net you a $300 profit, whereas a $100 bet on Inter Miami would pay out a $160 profit.
This explains that Charlotte is the favorite. The larger payout on Inter Miami shows you that it is the underdog, with a lower implied chance of winning than Charlotte. However, underdogs often cause an upset.
Best Sports for Moneyline Bets
The moneyline is the main betting option on relatively low-scoring team sports, such as baseball, hockey, and soccer. It is also the most popular option for individual sports. These are some of the main sports and leagues on which you might consider placing a moneyline wager:
MLB – The moneyline is the most common betting option among MLB fans. You can opt for a "listed pitchers" moneyline wager, which only goes ahead if the specified pitchers start for each team.
NHL – The moneyline is also very popular on hockey games. As mentioned earlier, you can go for a standard two-way moneyline, or you can opt for a three-way moneyline, which is settled after 60 minutes and introduces a third option: the tie.
Soccer – You will find a three-way moneyline on soccer games. If you want to place a two-way moneyline bet, look out for the "draw no bet" or "tie no bet" market. If it is a soccer game taking place within a knockout competition, all moneyline bets will be settled after 90 minutes, unless you go for a "to qualify" bet.
Tennis – Moneyline wagers are available on all tennis matches. It is a popular option when the players are relatively close in terms of ability, but a handicap (spread) bet may be more appealing if there is a clear favorite.
Boxing – A moneyline on boxing just requires you to call the outcome. There are three potential outcomes, although ties are reasonably rare. If you want more value, go for a "method of victory" bet, such as a fighter to win by KO/TKO or DQ or a fighter to win by a decision.
UFC/MMA – The same markets apply to MMA matchups, although there are more potential methods of victory (decision, knockout, submission).
NFL – The moneyline is not a particularly common option on pro football and college football games. However, it can appeal when the teams are evenly matched.
NBA – The same is true of basketball, as moneylines are uncommon and bettors generally prefer spreads and totals.
Golf – You can also find moneyline betting options on 2 ball matchups within a golf tournament. The sportsbook will group two players together, and you just need to predict who will shoot a lower score.
Additional Sports – Aussie Rules, cricket, darts, handball, lacrosse, rugby league, rugby union, snooker, table tennis, and volleyball are additional sports with moneyline options.
Moneyline vs Spread
The moneyline is normally the most appealing market when you are predicting the outcome of a baseball or hockey game. However, you might like to consider a spread bet – known as the run line on baseball or the puck line on hockey – if there is a large gulf in class between the teams.
The spread is the most common option on football and basketball. It gives the moneyline favorite (the superior team) a points handicap, which then allows the sports betting sites to offer similar betting odds (normally -110) on either of the teams covering the spread.

This image highlights the odds available on the 2023 National Championship game. It illustrates why the spread is a better option on a high-scoring sport like basketball.
A $100 moneyline wager on UConn would only net you $27.40, which is not very appealing. Meanwhile, a $100 bet on UConn covering the spread (winning by 8+ points) would pay a far more attractive $90.91.
A $100 moneyline wager on San Diego State would result in a $300 profit. However, it was a huge underdog, so it had a low probability of winning the game. Betting on San Diego +7.5 would have resulted in a smaller potential payout, but your chances of success would have been a lot better. As such, a spread bet is the best option on games where there is a clear favorite, and a moneyline works best on tighter games.
Live Moneyline Betting
You can continue betting on the moneyline after a game has started. The sportsbooks will adjust the moneyline throughout the game, reflecting the score and how well each team is playing.
For instance, a team might start out as the -135 favorite to win an MLB game, but it may become a +150 underdog if it is losing midway through the game. You can continue wagering on the moneyline until the game is nearly over.
Moneyline Selections in Parlays
A parlay bet requires you to make two or more picks and combine them to form a single wager. Each pick is known as a leg, and your potential parlay payout increases with each leg you add. The winnings earned from each leg roll over to the next one, resulting in large cumulative odds.
Moneylines are common picks within parlays. For example, you might like three particular bets:
Miami Marlins to beat Minnesota Twins (-140)
Philadelphia Phillies to beat New York Yankees (+135)
Cincinnati Reds to beat Chicago Cubs (-120)
If you had $30 to play with, you could bet $10 on each team. If all three won, you would earn a total net profit of $28.97. However, if you rolled all three teams together for a $30 three-leg parlay and they all won, you would get a total net profit of $191.57.
That highlights the wonders of compounding within a parlay. However, if one team loses, the bet fails, so it is harder to land a successful parlay than a standard moneyline.
How to Place a Moneyline Bet
Follow these steps to set up a sports betting account and place your first moneyline wager today:
1. Create an Account
Visit BetOnline, the best online sportsbook for moneyline wagers, choose your state, and click "Join." Enter an email address, set up a password, and fill in the form with the contact and personal info requested.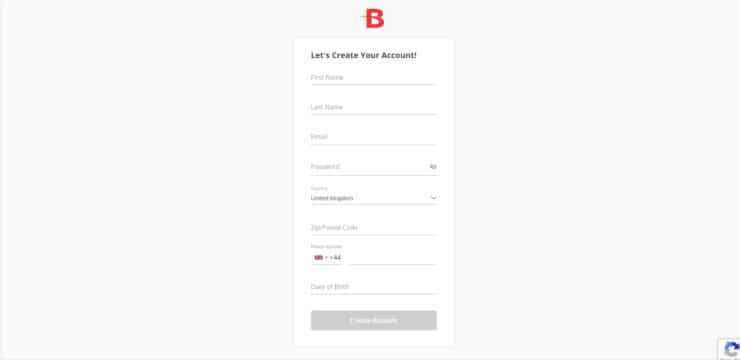 2. Make a Deposit
When BetOnline has approved your account, open the online cashier and make a deposit. There are numerous deposit options available, including cryptocurrencies and credit cards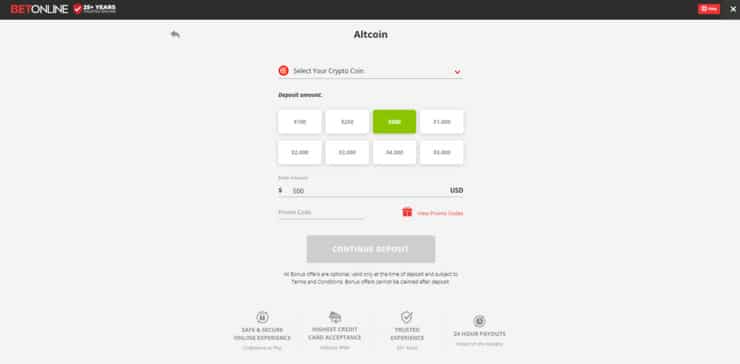 3. Find a Game to Bet On
You can download the app at Google Play or the App Store to place your first bet or continue on the website. Choose a sport and then a league, and select a game. Tap or click on the moneyline odds next to a team, and that pick will be added to your BetOnline bet slip.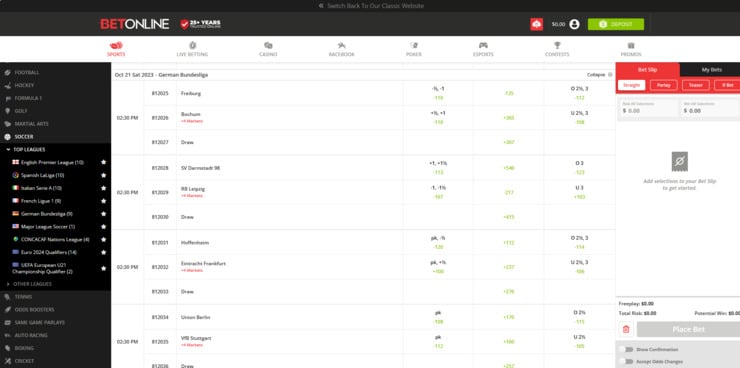 4. Place Your Moneyline Bet
Tap the "Betslip" icon at the bottom of the app. Type in a bet amount and the slip will highlight your possible winnings. You can then confirm the bet. If you are using the website, the betslip will be displayed to the right of the screen. Once again, just type in a bet amount and place your wager.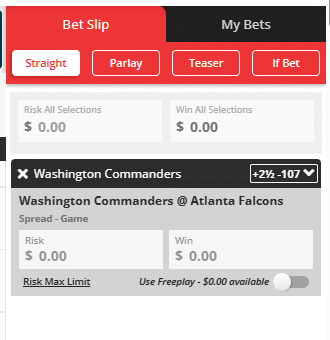 Pros and Cons of Moneyline Bets
Pros
Simplest betting option available
The top sportsbooks offer sharp moneyline odds
Can be combined with other markets for same game parlays
Cons
Not a good option when there is a heavy favorite
Spreads and totals are more appealing on NFL and NBA games
Get great moneyline odds for MLB betting at BetNow.
Top 5 Moneyline Betting Tips
These are our top five tips for successful moneyline betting:
1. Find the Best Odds
Sign up with at least three sportsbooks in your state. You can then compare their moneyline wagering odds on each game. Head over to the site with the best odds on the team or player you like, and that will maximize your profits whenever you win.
2. Know When to Use This Bet
The moneyline is often the best option on a hockey, soccer, or baseball game. However, other options such as the spread, double chance, or a same-game parlay can be more appealing at certain times, so use the moneyline wisely.
3. Find Value on Unpopular Teams
If a team starts out as the +120 underdog and it proves unpopular among bettors, the odds on that team might drift out to +150. At that point, you might decide to pounce, as you could receive an artificially inflated payout if the team proves the betting public wrong.
4. Conduct Research
It is helpful to delve into key stats before placing moneyline wagers. Map out how you think the game will unfold based on each team's offensive and defensive strengths and weaknesses. You can then make smart betting decisions. Make sure you watch a lot of the sport you are betting on too, as your expertise can pay dividends.
5. Look for Expert Picks
Expert betting picks from proven, established handicappers can help you successfully bet on the moneyline. NFL and NBA cappers rarely offer moneyline picks, but experts focusing on baseball, hockey, soccer, and various other sports will suggest moneyline options. Check a capper's credentials before taking his or her advice, and conduct independent research too.
Best Moneyline Betting Site
BetOnline is the best site for moneyline betting. It offers the best moneyline odds on many games each day, and it is a very easy-to-use site. BetOnline is also licensed by the Panama Gaming Commission, so you will receive a safe betting experience and a guaranteed payout when you win.
New customers will receive a welcome bonus worth up to $1,000 by signing up with BetOnline. Follow the link below to redeem your welcome offer today, and you can then start placing moneyline bets on your favorite sports.
FAQs
What does moneyline mean?
How does a moneyline bet work?
What is a 3 way moneyline?
What does a 200 moneyline mean?
What does a moneyline +1.5 mean?
What does a negative moneyline mean?
What happens if you bet $100 on a 220 moneyline?
Is it better to bet moneyline or spread?