Parlay betting is one of the most popular bet types in the United States. It's one of few bets that allow you to be creative in terms of controlling the selections you include and the odds you want to receive from that bet.
The caveat of the parlay bet is that they are notoriously hard to win. In this guide, we're going to look at how parlay betting works, what you need to know about the structure of the bet, and include tips and strategies to enable you to become more profitable from this bet type.
What is a Parlay Bet?
A parlay bet is sometimes known as a combination bet where you include two or more selections to create a single bet. The basis of this market is that you need all the selections to win for the bet to be successful. If just one selection loses, the whole bet loses.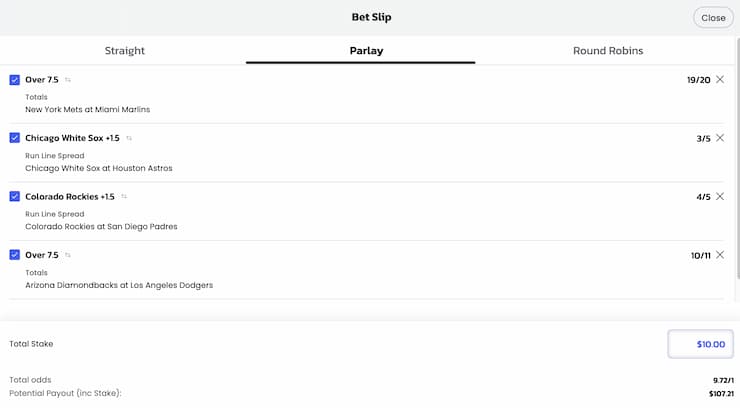 The bet is popular as it allows players to be creative about what selections they want to include and to determine the overall payout of the bet. The more picks that are in the parlay, the higher the odds will be.
It's possible to create a parlay bet across multiple sports and markets. For example, you could have a single parlay that would cover moneyline bets in the NBA, NHL, MLB, and NFL. Alternatively, you can include picks from an NFL game week.
The only limitations come with correlated markets. This is where two or more selections are dependent on each other, meaning that the result of one, would affect the odds of the other. We talk in-depth about this and the best parlay bets later in the article.
How Does a Parlay Bet Work?
A parlay starts with choosing the sportsbook you want to place the bet on. You're looking for the best odds possible, as this can impact the final payout massively with these bet types. Any betting sites from our top 10 list (above) will be solid choices.
The bet needs to include two or more selections to become a parlay. There are no limits on the number of picks you can include and the more that are included, the higher the odds will be.
Your bet is classed a single. Even though it includes multiple selections, you need all these selections to win for your bet to pay out.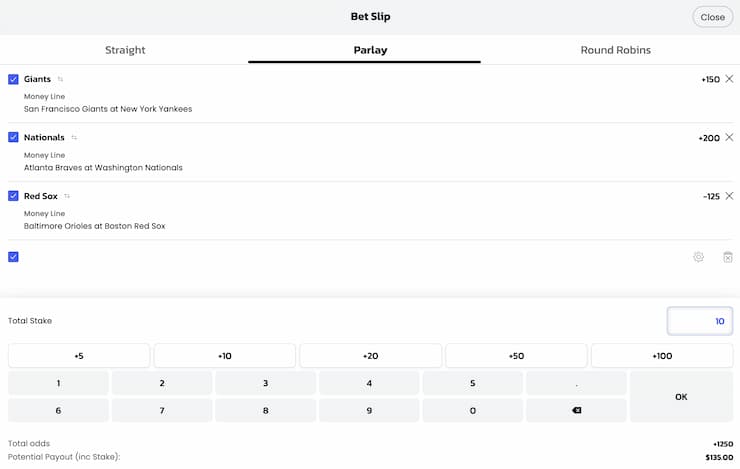 Let's look at the parlay that we've included above which has three picks; San Francisco, Washington, and Boston all to win their upcoming MLB games on the moneyline.
As you can see, the bet slip is going to show us the payout (at the bottom) for the stake that we've entered. In this case, it's a $135 return for a $10 stake. We need all of these selections to win for this parlay to pay out.
Parlay Odds – How they are Calculated
Most US sportsbooks are going to provide their odds in an American format by default. This is represented as two numbers, with one being positive and the other negative.
The positive number is the amount of money you will win for every $100 wagered. So, odds of +400 mean that if you staked $100, you would get $400 back plus your original stake of $100.
The negative number is the amount you need to wager to make $100 of profit. So, odds of -125 mean that you need to wager $125 to make a $100 profit.
To determine parlay odds the best strategy to work it out is to switch the odds from American to Decimal (European). The reason for this is that the odds are simply multiplied by each other to get the final price. With American odds to do this without a calculator is almost impossible, but with decimals, it's much easier, if only to get a ballpark figure.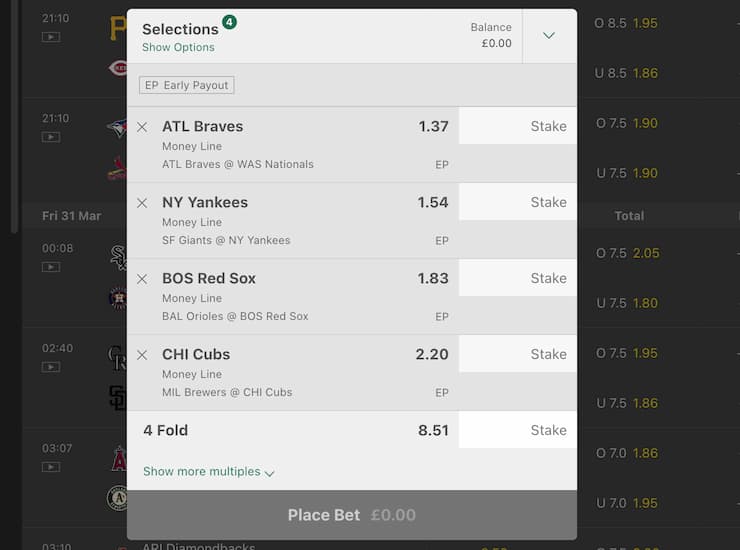 The example above highlights a 4 team parlay and with it, we've selected decimal odds to get a better look at how they are calculated.
All this bet slip is showing is a multiplication of each of the odds. For example:
Atlanta Braves to win @ 1.37
New York Yankees to win @ 1.54
Boston Red Sox to win @ 1.83
Chicago Cubs to win @ 2.20
Total odds = 1.37 * 1.54 * 1.83 * 2.20 = 8.51
The total odds for this bet are 8.51. This means that for every $1 you stake, you get $8.51 back (which includes stake).
While it's important to know how the odds work, it's not imperative as most sportsbooks will automatically work out the odds as you include selections to your bet slip. They will also allow you to enter a stake to see returns before confirming your bet.
How to Place a Parlay Bet
In this section, we're going to show you how to place a Parlay bet. We've used BetMGM as our example, but the process will work in much the same way using any other betting site.
1. Open an Account
First, you need to open a betting account. You can do this on BetMGM but clicking the gold "Register" button at the top of the page. Follow the instructions to sign up or use a PayPal or Yahoo Sports account.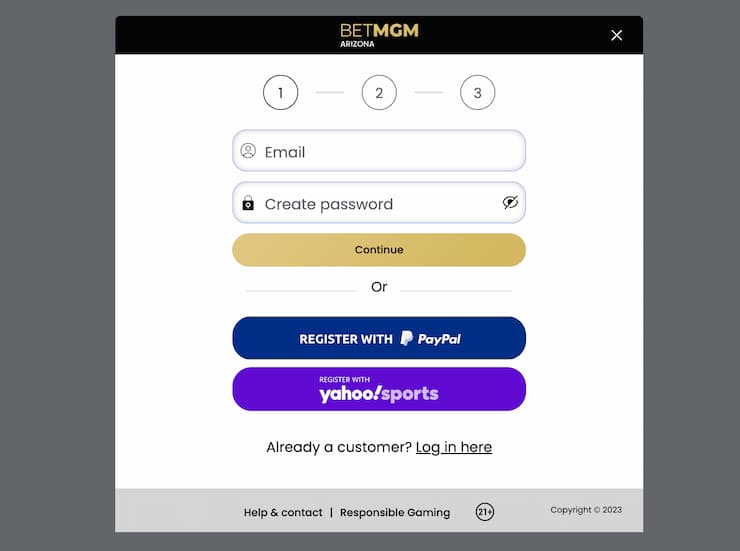 2. Make a Deposit
Once the account has been opened, head to the cashier to make your first deposit.
3. Head to the Sportsbook to Start Your Parlay
Once the account is funded, head to the sportsbook and choose the games and markets you want to bet on. Remember, you can include markets from different sports for these bets if you wish.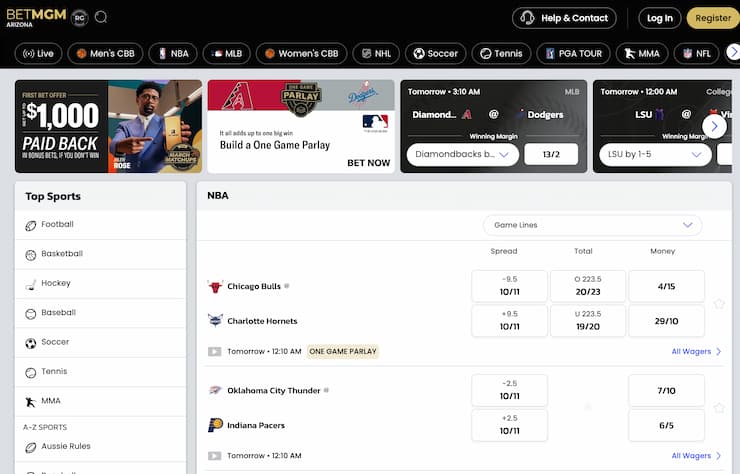 4. Enter Picks into the Betting Slip
To add picks to your betting slip just click on the odds. You can remove unwanted picks by simply clicking on the odds again.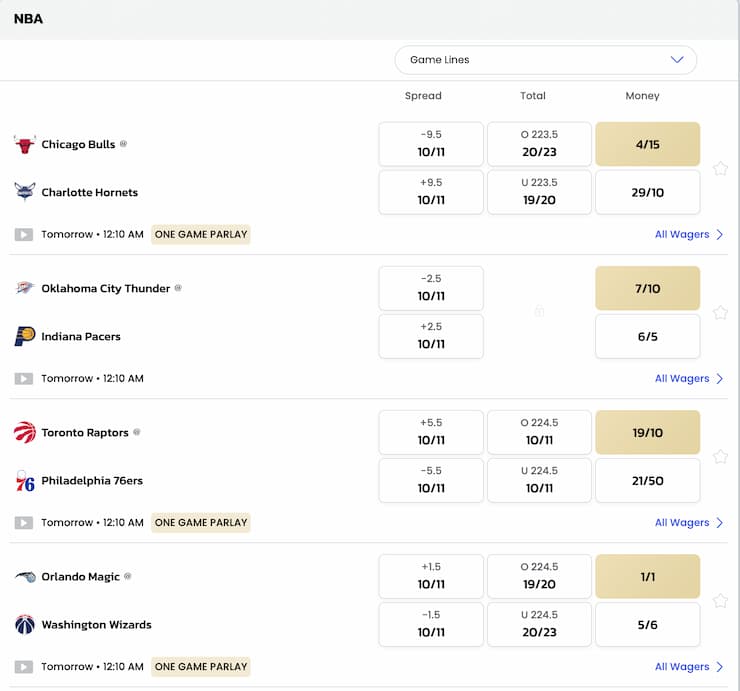 5. Check Selections in the Bet Slip and Place Bet
Once the bets have been picked, check the selections in the bet slip and select the Parlay tab at the top of the page. Then choose your stake and confirm your bet. You can check the bet has been placed in your account.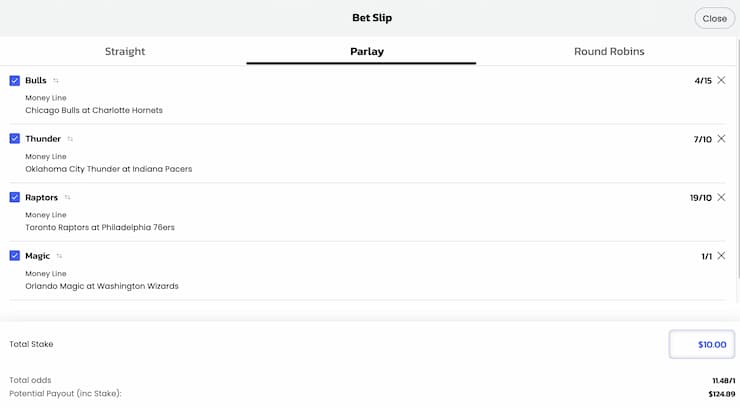 Best Sportsbooks for Parlay Betting
The list below includes what we think are the best sportsbooks for parlay betting. We've been able to test dozens of betting sites, all linked to parlays and the brands included in our top 10 list were clear standouts.
Real-World Parlay Bet Examples and Payouts
The range of bets that you can place with a parlay is endless. There are technically unlimited combinations, however, the most common come from 2, 3, and 4-game bets.
In the section below we've included real-world examples of how these work by parlay definition.
2-Team Parlay
A 2-team parlay is where there are just two selections in the bet. The term "team" is often used, but it can include a range of bets across the sportsbook that aren't necessarily teams. For example, you might choose the most running yards from two players within an NFL game.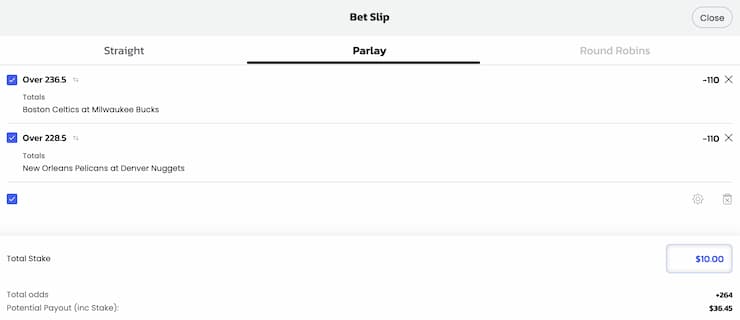 The example above is one of the most common parlay bets that you can place. This includes two picks that cover the points spread from an upcoming NBA game between the Boston Celtics and Milwaukee Bucks and the New Orleans Pelicans and Denver Nuggets.
Both bets are priced at -110 which is typical for this market, and both cover the "over" on the spread. As you can see, the parlay odds for the bet are +264 meaning that a $10 bet would return $36.45, which includes the stake.
3-Team Parlay
The 3-team parlay is where you have three selections for your bet. As per parlay betting rules, the bet needs all three selections to win for the bet to pay out.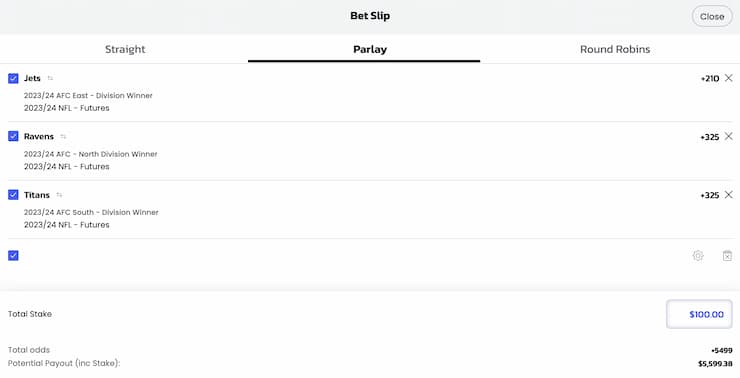 We've mixed it up a little with this example and included three futures bets on potential winners from the respective conference division winners from the NFL. One of the key things to note here is that even though the odds for each pick individually aren't that huge (largest at +325) combined they can create a large payout from just three picks.
As you can see, a $100 stake at the parlays odds of +5499 will return a massive $5,599.38. We aren't saying that this bet is a dead cert, but it does show that this bet type can offer huge returns on a collection of picks that seemingly individually offer value.
4-Team Parlay
A 4-team parlay is simply another extension of the examples above. As we've stated, there are no limits on how many selections you can include, which is one of the best features of this bet type.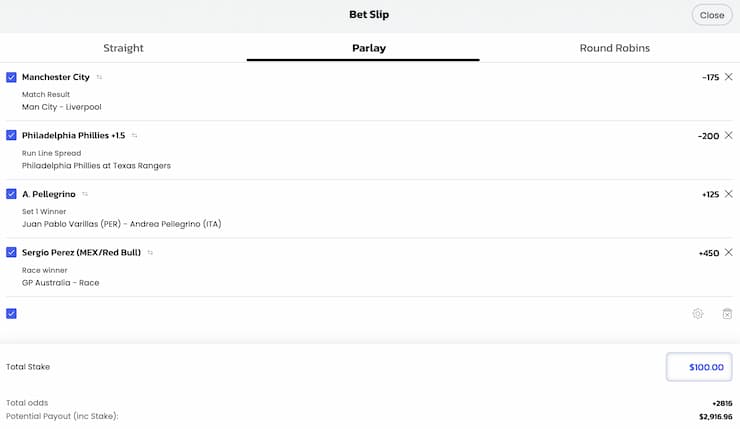 For the final example, we wanted to get creative to show that a parlay can be placed across multiple sports and multiple markets. Here you can see we've included Manchester City to win their Premier League tie v Liverpool, the Phillies to win on the run line spread v the Rangers, Pellegrino to win the first set v Varillas (tennis) and Sergio Perez to win the Australian Grand Prix (Formula 1).
The odds come to an impressive +2816, which means a $100 return bags $2,916.96.
Types of Parlay Bets
Parlay betting has a couple of variations that work similarly. However, they are different so you must understand the difference between the two. We've outlined these below.
Round Robin
A round-robin is one of the best parlay bets and is made up of multiple selections that form smaller parlays. They are designed so that your total liability is not linked to all results and instead you can still profit from one or more selections that win.
These types of bets are highly flexible and the more teams that you add, the more money you can make. The easiest example to work through is a three-team round-robin, which might look something like this.
Team 1 and Team 2 to win
Team 2 and Team 3 to win
Team 1 and Team 3 to win
All three teams win
Your stake will be split based on all four outcomes. So, if you wanted to bet $10 per line, then the total here would be $40.
Payouts are based on the odds for each result. The odds are simply multiplied by each other, just as you would a parlay. If we assume that all three teams are priced at even money (2.0 or +100) then you would multiply 2 *2 to make odds of four. For the final line, you multiply all three odds, so it would be 2 * 2 *2 = 8.00 (+700).
You can choose how many picks you want to include and the number of bets you want to make. It's possible to make hundreds of combinations with just a handful of selections.
Teaser
Teasers are designed to work with spread or totals bets. You're not able to use these with moneyline bets as they move the line/spread in favor of the team you choose. The tradeoff is that you get lower odds as a result, but you get a much more favorable line and by combining them into a parlay, can still create lucrative odds.
Lines can move between +6 and +10 points, depending on the sport and market you're betting on. NFL, for example, will tease the line by +6 points, meaning you get 6 more points in your favor.
If the spread for Green Bay Packers to win was +4.5, then this would be adjusted to +10.5, an increase of +6 points.
Parlay Cards
Parlay cards are popular in casinos, especially in the likes of Las Vegas, Nevada. They are essentially a long list of bets that can be placed to create a parlay but instead of the odds being dependent on the price set by the sportsbook, they are instead a fixed price.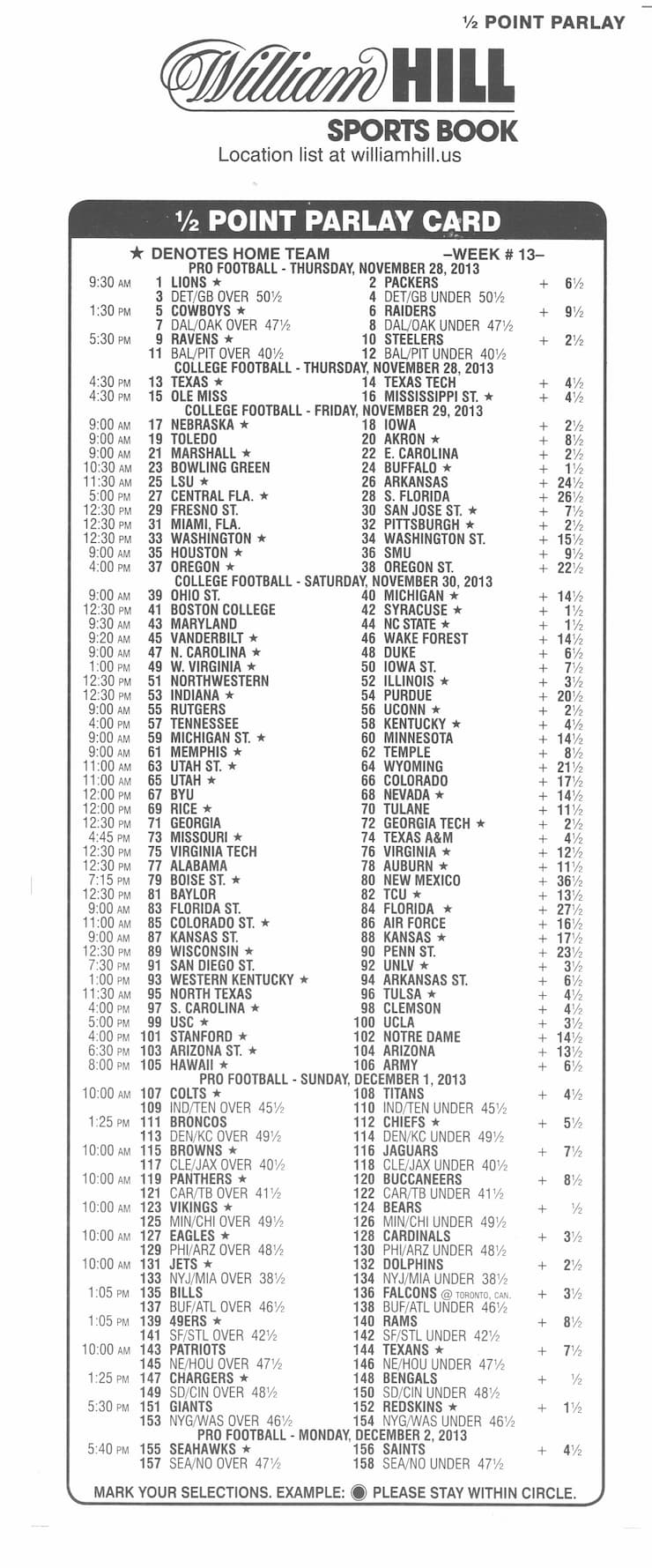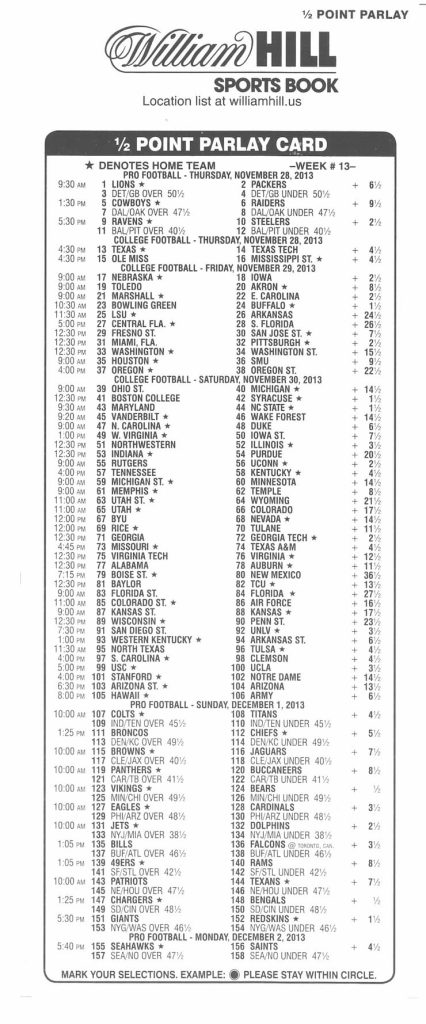 For example, there might be 30 teams that you can pick from on the card and the more picks you make, the more the odds will increase. 3 picks might pay +500, 4 picks + 1100, 5 picks +2500, and so on.
Parlay cards can offer value based on the spread that you're betting on. It might be that the fixed price pays more than if you were betting on each line individually or it could be that the line is more favorable using this method.
To get the most value from this, you need to compare the odds to the card and then to the online odds.
Pros and Cons of Parlay Bets
Like all bet types, parlay betting has its pros and cons. In this section, we've outlined reasons for and against using this betting method.
Pros
Huge returns – It's one of the few bet types that allow you to win huge sums of money for a relatively small outlay.
Highly flexible – You can include bets from different sports and markets to create a unique bet.
Increased excitement – The bets can last a long period. For example, you could have a parlay that covers all the weekend NFL games, allowing you to watch games that usually you would have no connection to with great interest.
Best used with extensive research – These bets are ideal for punters who like to spend a lot of time finding value. When odds are low, but the bet looks strong, you can combine them into bets that will offer a much more enticing payout.
Cons
Enhanced juice – All bets come with juice applied by the sportsbook. As you add more selections in, the juice that you're paying only multiplies, giving the sportsbook a bigger edge.
Low success rate – The increased number of picks means that success rates on these bet types are low. The more picks you include, the less likely it is you will win.
Parlay Betting Tips and Strategy
To increase your chances of winning more frequently with parlay bets, we've included a list of tips and strategies that you can apply.
1. Use a Parlay Odds Calculator
A simple, but important first step is to use a parlay odds calculator. This will allow you to see how the odds change based on the selections that you include or remove. Most sportsbooks will have this, but if not, try Ace Odds which has one of the best in the business.
2. Increase Exposure to Weak Lines
Weak lines are relatively common in US sports just from the sheer volume of games and sportsbooks. When a betting site gets a large wager on one result, they balance it up by offering a more lucrative line on the opposing result to generate a more balanced book.
Ideally, you want to be betting the max on the weaker line, but this is not always possible due to bankroll limitations. To maximize returns in the long run you can add this to a parlay (preferably with additionally weak line picks) to generate a better price and larger returns.
3. Hedge Bets
To hedge bets, you can use a parlay that includes a short-priced favorite and an underdog. The favorite will likely offer little value to most punters based on smaller bet sizing, but the inclusion of the underdog will boost the overall profit that can be made.
When it comes down to the last leg of the parlay (assuming that all other picks have won and the bet is still live) you can bet on the opposite side of the profit that can be made. For example, if you're waiting on the New England Patriots to win as part of your 5-fold parlay on Monday Night Football, you can back against them as a single to either lock a profit on all results or limit exposure to make sure you get your money back.
4. Use a Betting Bonus
Parlays are tough to win, but one of the ways you can limit liability is by using a betting bonus. Most online sportsbooks have some form of welcome offer or reload bonus that allows you to use this with a parlay.
Instead of using your own cash, you can use the betting bonus to run the free money up to a sizeable bankroll. If you choose to do this with a 3-team parlay, then doing so will give you a bigger return from a single bet than you would if you were to place three singles and roll over the cash into each pick.
Correlated Parlay Bets
Correlated parlays are where you have two picks that are tied together. Basically, if one of the picks comes in, it means that the other is much more likely.
These bets are generally linked to same-game bets. For example, if you bet on an NFL to cover +10 points spread then it's likely the game is going to be high scoring. This means that as a result, the totals market will have a much stronger chance of winning.
Sportsbooks generally don't allow correlated parlay bets as a rule. It means their exposure would be huge to markets that are correlated and would likely mean they would lose a considerable amount in the long run.
However, there are times when you can place correlated parlays as part of a feature on the sportsbook. These are generally part of a Bet Builder or Parlay Builder feature that allows you to pick bets from multiple markets for the same game.
By doing so, the bookmaker can adjust the odds for the bet, which allows punters to still place the bet, but at reduced odds from the standard lines for those markets.
Best Parlay Betting Site
BetMGM is our pick for the best parlay betting site on the market right now. The main reason is due to the competitive betting lines, which on average, are about as strong as you will find. This means that you get much better odds as even small adjustments can add up when it comes to these types of bets.
New accounts to BetMGM can get a risk-free bet worth up to $1,000 which can be used on parlays. All you need to do is make an initial deposit and then your first bet of $10 will be refunded if it loses in the form of a bet bonus.
FAQ
How does a parlay bet work?
Is parlay betting worth it?
What does an 8-pick parlay pay?
What are the disadvantages of a parlay bet?