Roulette is one of the most versatile games in a casino, providing players with a very wide range of betting options. This makes it the perfect candidate for betting systems and the right roulette strategy can result in impressive wins. In this guide, we will cover the most popular strategies and see how successful they really are.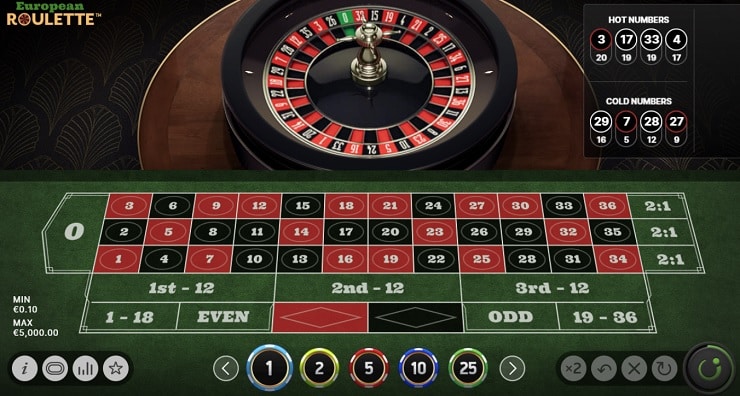 The Best Roulette Strategies
Martingale – For beginners and newcomers to the little wheel
D'Alembert – For players with a large bankroll available
Fibonacci Sequence – For experienced roulette players
Parlay – For players who don't like taking big risks
Double Street Quad – For those looking for larger wins
Finding the Best Roulette Strategy
In order to better understand how these strategies work, we will go through each one in more detail. This will help you find the most successful roulette strategy that fits your playstyle and let you have fun. While the main goal is to win, you should also enjoy the session and some of these systems can definitely provide a thrilling experience.
The Martingale Roulette Strategy
This is the simplest and most popular betting system for casino games with even money payouts, but not really useful for casino games like slots. This means that you will have to stick to the outside bets, like odd/even, red/black, or low/high.
When using the Martingale strategy in roulette, you have to double the size of the bet after a loss. When you win, you reset the stake to the initial amount.

For example, let's say that we are betting $2 on black for the first spin. If we win, we receive a $4 payout, which includes our initial $2 bet and a $2 profit. With a loss, we increase the bet to $4 for the next spin. If we lose again, we bet $8 for the following round. Again, if we get unlucky and lose, we keep going and bet $16.
Now, if we win, we receive $32, which covers all of our previous bets ($2+$4+$8+$16=$30) and even includes a $2 profit. After a win, we reset the betting system and start again with a $2 bet.
In order to make Martingale the winning roulette strategy, we recommend having a substantial bankroll. The initial bet should be 2-3% of the total amount available for that session. This will help you avoid situations where you can no longer afford to double the bet after a bad streak.
D'Alembert Roulette Strategy
Next up, we have the D'Alembert betting system, which is a more advanced strategy for roulette. Similar to Martingale however, this system can only be used on bets with even money payouts.
Before you place your first bet, you need to establish the size of a betting unit based on your available bankroll. We recommend using 1% of the bankroll as the best bet in roulette for one unit for D'Alembert. Then, you start with an initial bet of five units and subtract one unit if you win, or add one unit if you lose.

For example, we have a $100 budget and we set the unit to $1, so the first bet is $5. If we win, the next bet will be $4. If we then lose, we are back to $5, and if we lose again, we will bet $6 on the following round.
The advantage to the D'Alembert strategy over the Martingale strategy in roulette is that it is not as punishing for multiple losses in a row. Since we are only increasing the bet by $1 every time, we can survive a bad streak and recover later on.
The Fibonacci Sequence in Roulette Betting
The Fibonacci sequence is a popular series of numbers where each new number is calculated by adding up the two numbers before it. While it can go on forever, the Fibonacci roulette betting strategy mostly uses the first ten numbers. These are 1, 1, 2, 3, 5, 8, 13, 21, 34, and 55.

Again, only even money bets are available for this strategy, so make sure to only place chips on the most outside options on the roulette table. For this to be easier, we recommend setting a bet unit. You start with one unit and then move to the next number in the sequence after a loss. If you win, you jump back two positions to the corresponding number.
So, let's start with a $1 bet and say we lose it. The start of the Fibonacci sequence is a bit slow, so we recommend jumping straight to a $2 bet. Another loss means that we have to bet $3, and then $5, and then $8 due to a string of unlucky spins. If we win now however, we receive $16 and jump back two numbers to a bet of $3.
It is certainly one of the more complicated roulette strategies, but it does have its benefits. First of all, it doesn't require a massive bankroll since the climb in stakes is not as fast as in other betting systems. Moreover, you don't have to reset after just one win, which means that consecutive wins can be more profitable.
Parlay Roulette Strategy
Parlay is a simple betting system that is popular among casino players who don't want to take big risks. It is also known as the parole betting system and it is designed to reward winning streaks. The parlay roulette strategy is the opposite of the Martingale system because you double the bet when you win, and reset after a loss.
For a more cautionary approach, it is best to add a profit target to help make it the best roulette strategy. We recommend stopping after winning four in a row and no longer doubling the bet.
Double Street Quad
This roulette strategy is quite different from the other betting systems covered above. Instead of telling you how to bet, the Double Street Quad approach tells you what to bet on. As the name suggests, you need to place two double street bets, one corner bet, and an additional straight bet. These shouldn't overlap so that your bet covers 17 different numbers.

The payouts will be different based on which bet is successful since a double street covers six numbers, a corner is on four numbers, and a straight bet is on one. This is where the Double Street Quad stands out as it can generate smaller wins to keep the action going, but also has the potential for a huge payout if that one straight bet is successful.
Choosing the Right Roulette Game
In order to make the most out of the best roulette strategy, you have to find the perfect game. Luckily, the little wheel is very popular at online casinos and players can take their pick from multiple options. These can come with slightly different mechanics, extra features, and even multiplier wins.
One factor that is very important to consider ahead of time is the house edge, especially if you plan on playing for long.
Roulette House Edge
The house advantage in roulette is the expected value that the casino makes from every bet. This is given by the slight difference between the probability to win and the payout offered for a wager.
The best way to see this is with even money bets that pay 1:1, despite the fact that the chance to win is lower than 50%. If you want to bet on the color of the winning number, you will see that there are 18 red pockets, 18 black pockets, and one or two green pockets, depending on the version of the game. The green pockets give the house the edge in roulette.
If we take a straight bet on any number on the wheel, the payout will be 35:1. However, the odds of winning that bet are 36:1 or 37:1, depending on the version. This variation with one or two outcomes being off when compared to the payout is available for all bets. It also makes it very important to choose the right game based on the house edge.
European Roulette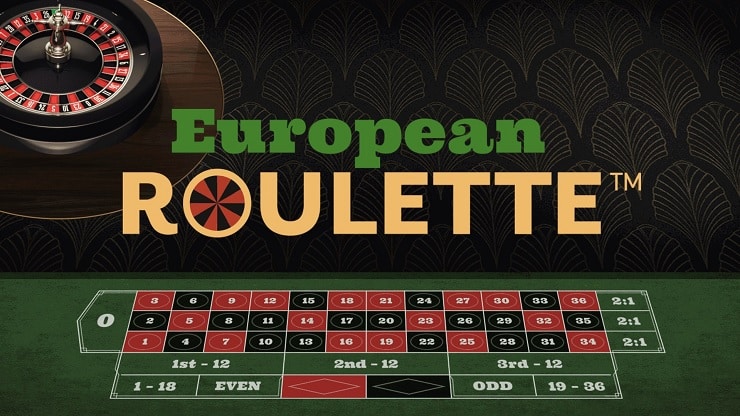 European roulette is one of the best games for using any of the betting strategies covered in this guide. This is because it only has one green pocket, which means that it has a low house edge of 2.70%. As a result, it is one of the best games in a casino, although still behind blackjack with a proper strategy.
American Roulette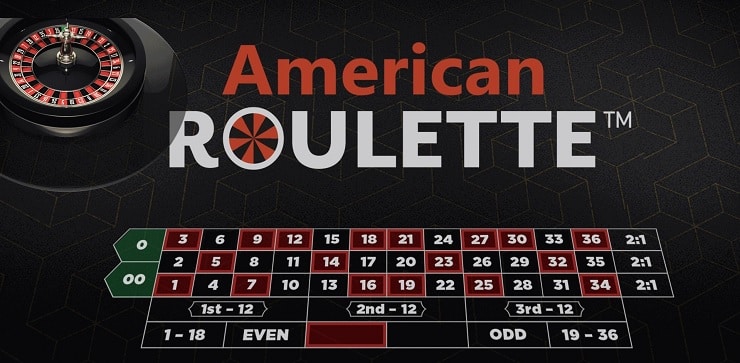 American roulette is popular in casinos throughout the USA, but it has a higher house edge than the European version. This is because the wheel here has two green pockets, one for 0 and another for 00. Despite having a total of 38 pockets, the payout for a straight bet is still 35:1. We recommend avoiding the American version when using the best strategy for roulette.
French Roulette
French roulette is a variant of the standard European game, but with an added "en prison" rule. Here, if a player places an even-odds bet and the winning number turns out to be zero, the bet doesn't automatically lose. Instead, the chips remain in the same position for another round.
Another variation of French roulette is with a "la partage" rule. Here, an even-odds bet that loses to a winning zero only pays half, giving the other half back to the player.
Having any of these rules improves the house edge even further, dropping it to just 1.35%. Of course, this only applies for the most outside bets, making it ideal for a roulette strategy to win more. French roulette is available online, including at some of the best New Jersey online casinos.
Live Dealer Roulette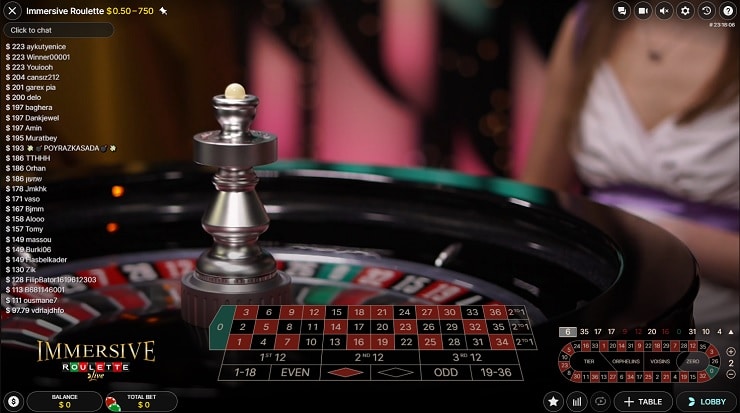 Live roulette allows players to enjoy the thrill of the game and follow the action live as the deal spins the wheel and throws the ball. All bets are done on the online interface, which is similar to the standard layout found in online roulette. As a result, using a roulette strategy is very simple. However, you will have to time your bets with the provided windows.
Evolution Gaming is a leading developer of live dealer roulette, powering some of the best real money online casinos. Tables are available around the clock and the lobby features multiple versions of the little wheel. Not only can you play the standard options, but there are also specials, such as Lightning Roulette, which has multipliers.
Joining the Best Roulette Casino
An essential aspect to playing roulette online for real money is joining a reliable casino. Given the regulations in the US, the available sites can vary greatly from one state to another.
We recommend checking the local laws regarding online gambling and only joining licensed gaming sites. Sweepstakes casinos can be exceptions where you can play for fun and practice in various games for free.
Best Online Casinos for Using a Roulette Strategy
In order to securely learn how to win at roulette and take advantage of a strategy, you need a secure site with safe banking. These are the best online casinos, offering a wide range of games and the perfect online environment to enjoy them at any time:
BetMGM – Best Online Casino for Online Roulette in the US
FanDuel – Top Live Dealer Roulette Tables from Evolution
BetRivers – 100% Casino Welcome Bonus in Regulated States
DraftKings – Best Mobile Casino Apps for Playing Roulette on the Go
Caesars – Exclusive Benefits through the Caesars Rewards Program
WynnBET – Multiple Versions of Online Roulette with Wide Betting Limits
PointsBet – Fast Banking via Cards, PayPal, and Other Options
Bet365 – Impressive Variety of Roulette Games from Top Developers
Barstool – Take Advantage of 24-Hour Insurance After Joining
FOX Bet – Unique Live Roulette Tables and Other Exciting Options
How to Play Roulette
If you are new to roulette, it is best to first learn the basics before trying out any strategies. Luckily, this is one of the easiest casino games and it only takes a few minutes to understand the game rules and mechanics.
For starters, roulette is a game where players can bet on the outcome of a spin. The roulette wheel has numbered pockets that range from 0 to 36. Every pocket also has a color, which is either black or red, with the exception 0 and 00, which are green.
The game is played with a small white ball, which jumps on the roulette wheel while this spins around. As it slows down, the ball eventually lands in one of the pockets, thus determining the winning number for the round.
In online roulette games, the outcome is determined by a random number generator (RNG). However, premium games will also keep the animation to recreate the authentic casino experience.
Roulette Betting Options
Roulette provides a wide range of betting options as players can group multiple numbers in the same bet. There are two categories for bets in roulette: inside bets and outside bets.
Inside Bets are:
Straight – a bet placed on a single number by placing the chips in the center of a square.
Split – a bet on two adjacent numbers, with the chips being placed on the common edge.
Corner (Square) – a bet on four adjacent numbers that meet at the same corner, with the bet placed on the common corner.
Street – a bet on three numbers located on a horizontal line on the table by placing the bet on the line at either end.
Six Line (Double Street) – a bet on six numbers as part of two adjacent horizontal lines, with the chips being on the shared corner at either end.
Outside Bets are:
Low or High – a low bet covers 1-18, while a high bet is for 19-36; normally displayed in the corners of the table.
Red or Black – a bet on the color of the pocket of the winning number, marked accordingly on the table.
Even or Odd – a bet on the winning number being odd or even.
Dozen Bet – a bet that covers 12 consecutive numbers, with three options available.
Column Bet – a bet that covers an entire column with 12 numbers.
How to Bet
Now that you know how the game works and what are the available bets, let's quickly go over the actual playing process. We will be using a premium NetEnt European roulette game for this example, but the controls are usually similar in other versions as well.
The first step is to select the size of the chips you want to use. The table betting limits are usually between $0.10 and $5,000, so there are plenty of chip denominations to choose from. Scroll left and right and click on the one you want to use.

Place the chips on the table for the preferred bet. You can bet on one number or on up to all of them. Keep in mind that if you want to use a roulette betting strategy, you will have to bet on the most outside bets. Click once to place one chip.
Once you are happy with the bets on the table, you just have to press the spin button, located in the bottom right corner. This will spin the wheel and the winning number will be determined in a few seconds. Payouts are granted automatically if you win.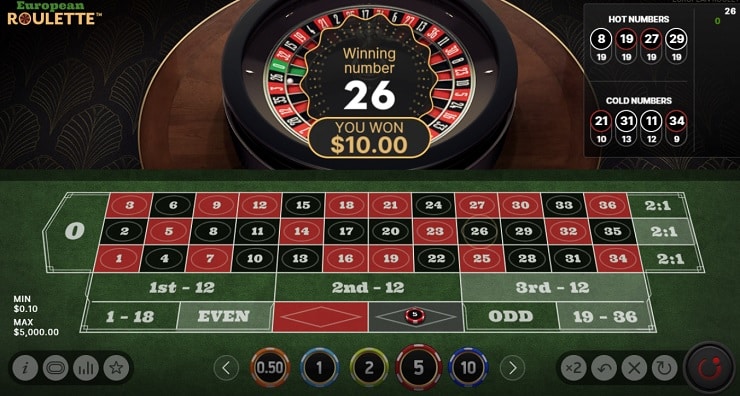 Roulette Tips
These expert roulette tips sum up some of the key aspects for winning more at the table:
Play European/French Roulette – Online casinos normally have both European and American versions. It is best to stick to the former given the lower house edge. If French roulette with an additional rule for zero wins is available, this is the best choice.
Have a Budget – Set an amount of money that you can spend for the session. From here, you can establish the best bet in roulette for each strategy. Make sure the budget is made out of funds that can be lost and are not required for other expenses.
Practice for Free – You can play free roulette to practice strategies using demo credits. This is great for getting accustomed to the rules and you can even see the results over a longer session.
Play at Legal Casinos – Regulated online casinos are now available in multiple states. These provide safe and secure betting options, while making sure users can withdraw their winnings without any worries of being scammed.
Take Advantage of Promotions – Another advantage to playing online is having access to bonuses and promotions. Make sure to read the terms and conditions to see what deals can be used on roulette. The extra funds can be very useful when also using a winning roulette strategy.
Roulette Strategy FAQs
How to play a roulette strategy?
What is the most successful roulette strategy?
What is the safest strategy in roulette?
What are the most often winning numbers in roulette?
Where can I practice my roulette strategy?