When wagering on baseball games, there are three major bet types: moneyline, total, and run line betting. The run line is the same as a point spread in sports like the NFL and the NBA. There are, however, some differences in how the run line generally works compared to what you will see in other popular American sports, and we will delve into the details here.
How Does Run Line Betting Work?
Baseball's equivalent of the point spread is the run line. When placing a wager on the run line, in most cases, the favorite is favored by -1.5 runs against the underdog, who will be listed at +1.5 runs.
If you bet on the favorite, your team must win a single game by two runs or more. On the other hand, if you bet on the underdog at +1.5, your side can win or lose by one run, and your ticket will still be paid out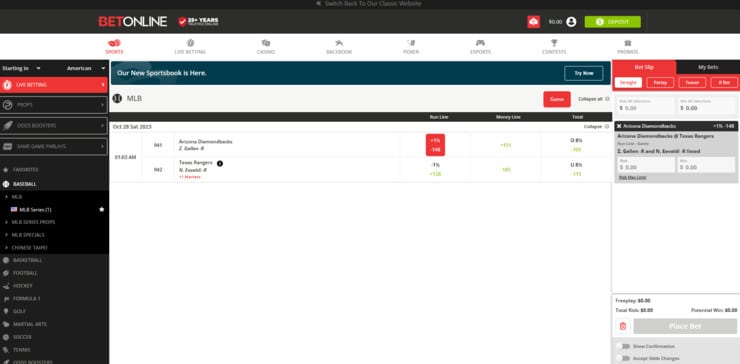 Betting on the run line enables the equalization of uneven matchups in the MLB. This way, you can bet on a clear underdog and still have a decent chance of winning based on the run line, which serves as a handicap.
Next, we will look at real-world examples to help you better understand how run line betting odds look in practice.
Get exceptional run line value at BetOnline.
Run Line Betting Example
Let's take a look at an example of a run line bet to give you a better understanding of how to go about placing an MLB run line wager.
In the below example, we have the Arizona Diamondbacks favored by +1.5 against the Texas Rangers, who are listed at -1.5.

The primary way of looking at this is that if place runline bets on the Diamondbacks, they must win by at least two runs for you to cash your bet. If you wager on the Rangers, they can lose by one, and you still cash your wager. Yet, you may note that MLB run lines are almost always set at 1.5 (except for alternate run lines, which we will discuss later).
Due to this, you will note that there are wildly differing odds to further even the action. In this case, the Rangers pay out +128 on the run line, meaning a $100 winning bet garners you $128 in winnings. On the other hand, a winning Diamondbacks wager will take a $148 bet to win $100 at -148.
What To Consider Before Run Line Betting
Before betting on the run line, here are some key considerations to make:
Are you in a state where online sports betting is legal? This will be necessary to place a legit run line bet.
Which legal online sportsbook do you want to register with? Only use the best online sportsbooks.
Which MLB game are you interested in, and when does it occur? Are there weather considerations?
Consider the run line odds. Analyze if you are better off betting on the favorite or underdog.
Only bet responsibly. This is the most paramount consideration of all.
Looking for the run line on more than just MLB? Bet at Bovada.
How To Bet on the Run Line
Take advantage of our detailed instructions to learn how to place an MLB run line wager. Let's analyze the process below, using the best offshore sportsbook BetOnline for our sign-up example.
1. Join or log in to your chosen sportsbook
An email address and a username and password must be supplied/created by new registrants. You will be expected to provide your name, address, date of birth, and email address, among other personal data.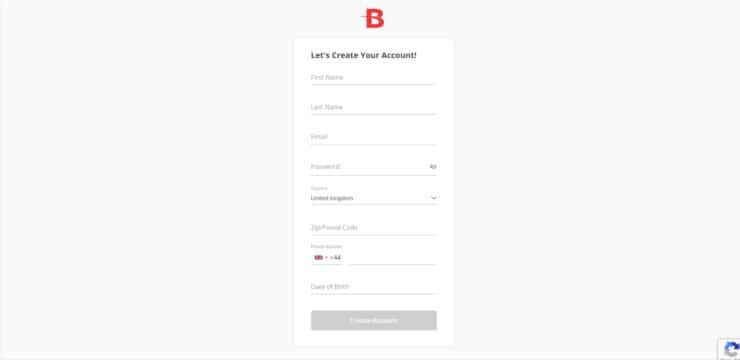 2. Go to the MLB section
Go to the MLB betting section after creating and validating an account and signing in. You can typically access this section by using a drop-down menu on the left side of the screen at sportsbooks. These options may be prominently featured on the homepage throughout the regular season, along with exclusive MLB promotions.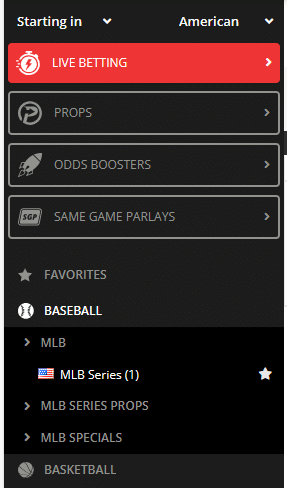 3. Choose an MLB run line betting option
Select a game you want to bet on from the MLB wagering options. Choose the run line wager you wish to place, and it will appear on the sportsbook's bet slip, which frequently appears on the right side of the screen.

4. Enter the wagering amount
Once you've chosen an MLB run line bet to place, you can now decide how much you wish to stake on the wager. The sportsbook bet slip will display your possible winnings as you enter your wager amount. You can generally also combine multiple betting choices into a parlay.
5. Submit your MLB run line bet
Using the sportsbook's bet slip, you can place your MLB run line bet once you are happy with the inputs.
Types of Run Line Bets
When looking at run line betting, there are not too many variations. You will deal with the standard run line, generally set at 1.5. The other type of run line bet is the alternate run line, and here, we will explain both types.
Standard Run Line Betting
Betting on the run line is one of the most popular forms of baseball betting. The run line is the equivalent of the point spread in sports like football and basketball, but it is considered a run line in MLB betting.
The standard run line is almost always set at 1.5 runs for MLB games, unlike point spreads for the NFL and NBA, which vary significantly.
While betting on MLB run lines, you typically give or receive 1.5 runs. For instance, if the Braves are -1.5 runs and are facing the underdog Phillies, at +1.5:
If you bet on the Phillies, you will win your bet even if they lose by one run.
If you bet on the Braves, for your bet to win, they must win by a margin of at least two runs.
With MLB run line betting, both sides will have odds that can differ more than you would generally see in a football point spread wager. You can see from the aforementioned example that the Phillies are given -175 odds on a +1.5 run line, while the Braves are given +145 odds on a -1.5 run line.
Alternate Run Line Betting
A variation on standard run line betting are alternate lines. Several different numbers will be available for the games in addition to the regular line of 1.5 runs.
There are alternative run lines available where the line is turned around. On the run line, the favorite becomes the underdog, and vice versa. The odds for the wager will change to consider the likelihood of events.
A -3.5 line, for example, requires the favorites to win by a margin of victory of at least four runs. Alternate line bets like these provide different markets and odds from betting sites.
Take the Los Angeles Dodgers with a 1.5-run advantage over the Arizona Diamondbacks as an illustration. The odds will be set for the alternate run line to reflect that the script has been reversed so you might see something like this.
Los Angeles Dodgers +1.5 (-170)
Arizona Diamondbacks -1.5 (+150)
The sportsbook will pay more if the standard run line underdog Diamondbacks win by two runs or more because they are less likely to cover as a favorite. There is, however, another example of alternate run line betting in baseball.
You may be able to move the run line to anything between 0.5 runs to 2.5 runs or more. The odds will be changed to reflect the lower or more considerable amount on the run line. As you move the line more, the odds shift dramatically.
Get great alternative run lines at BetNow.
Run Line Betting Tips and Strategies
We'll review four fundamental suggestions to help you better understand how to wager on MLB run lines. The perfect MLB run line betting strategy does not exist, but we can offer helpful advice for casual bettors and those just starting.
1. As an alternative to moneylines, bet run lines
Due to the smaller payoff, many novice baseball bettors will steer clear of expensive MLB moneyline favorites. The run line provides a good option with more risk and a higher payout. If you have strong feelings for a heavy favorite, choose the -1.5 run line rather than placing a moneyline bet with sizable outright odds.
2. Get the greatest run line odds by comparing prices
Run lines for MLB are dynamic and change when bets are placed, like other MLB odds. Having many accounts and shopping around for the best odds is preferable because different operators will have varying run line prices. This is one of the best run line betting tips we can give and applies to all types of bet.
3. Do your homework before placing a wager
Baseball run line bettors should investigate the batting lineups, starting pitchers, injuries, umpires, home/away splits, and the weather, just like they would when evaluating moneyline bets. All of this information, including run line statistics and returns, can be crucial in determining the highest-value wagers you can make.
4. Read the run line stats of the teams
Looking at a team's record versus the run line doesn't tell the whole story. Due to the hefty management fee on such +1.5 spreads, even a club with a strong run line record may only be earning a small profit. Instead of prioritizing any team's run line record, consider the units won as a favorite or underdog. Remember, one team will have home-field advantage for every individual game.
FAQs
What is the best way to bet on the run line?
What does the run line indicate when betting on baseball?
Moneylines or run lines for baseball betting?
Does baseball's run line account for extra innings?
How are run line odds read?
Is the run line the easiest MLB bet?
Resources