Sportsbooks come with a host of rules attached. There are multiple reasons as to why, but it's mainly down to the unpredictability of sport and the need to cover their backs when things don't play out as intended. This guide will walk you through a series of sports betting rules you must familiarize yourself with before betting online.
General Sports Betting Rules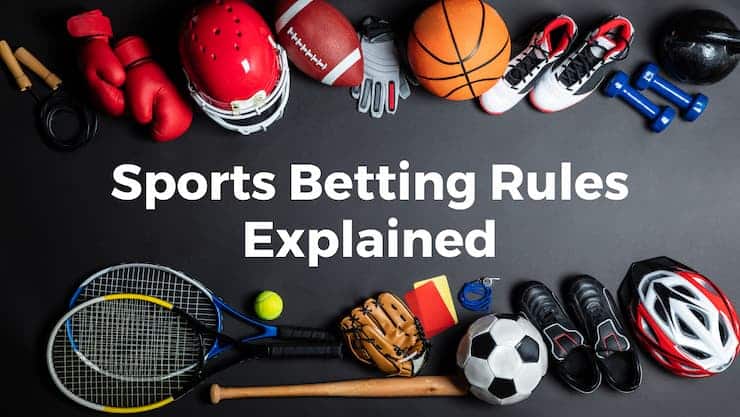 Each sport at the top sportsbooks will have a specific set of rules that we will expand on later in this guide, but any not covered fall into a "general" rules category. This section will cover the majority of general sports betting rules, explaining how they work and what they mean.
Bet Settlements
All bets are settled on the final result of the sport's governing body. This includes the likes of the NFL, NBA, MLB, and NHL. The NTRA oversees all horse racing in the United States, and their final result will be binding.
Once the result has been confirmed, any disqualification or corrections after confirmation of this result will be ignored. Bets will not be settled in situations of "hindsight."
Dead heat rules will come into play in markets where no tie or draw has been offered, where needed.
Rule 4 can be applied to all sports where one of the participants has been withdrawn. This rule is not designed only to cover horse racing.
For events that aren't completed (abandoned, postponed, etc.), all bets that have been confirmed will be classed as void, and stakes will be returned. This will not apply to markets already settled following the event starting but not completing.
Dead Heat Rules
Dead heat rules will apply to events where two or more participants finish in the same position. These rules state that for every participant in that position, the stake will be divided by that number.
For example, if a horse race has been deemed a dead heat with two horses crossing the line simultaneously, then bettors' stakes will be divided by two to determine the payout. So, if you'd bet $100 on a horse at 10/1, dead heat rules would reduce your stake to $50 and payout accordingly.
Please note that you will not receive a refund on the part of your forfeited bet.
Change of Venue
In the rare events when there's a change of venue, all bets will continue to stand. The only time bets will be made void is if the home team becomes the away team.
It's worth noting that this will still be the case even if the change is to a neutral venue.
Related contingency is where the bet contains more than one selection that directly influences the other bet. For example, if you were to bet on the draw for a soccer game and bet on the correct score being 1-1.
Most sportsbooks won't allow you to place these bets, but where they have been accepted, this will be deemed an error on the sportsbook's part, and the bet will be void. This will also apply to multiples that include the same team—for example, a treble for a soccer team to win three different linked competitions.
However, this will not apply to bets taken as part of a same-game parlay within a designated section within the sportsbook. This is because these sections take related contingency into account, and the odds are adjusted accordingly.
Ante-Post
Ante-post bets differ from your standard betting market in that any bets you place on ante-post will be settled regardless of whether the selection takes place.
For example, you place a bet on a horse to win the Kentucky Derby, and the bet is placed in January. By the time the race comes up, the horse has been scratched for whatever reason; then this bet will count as a loser.
There are exceptions, but the sportsbook must state that the market is a "Non-runner, Non-loser." When this happens, any bets that don't participate will be deemed void, and your stake will be refunded.
Cash Out Betting
Most online sportsbooks have a cash-out function where you can close a bet before the market closes. Several rules apply to these bets, which we've outlined below.
Bets can be cashed out when the sportsbook runs this feature. Each bet will have live returns for the cash out that can be claimed.
Bets are "cashed out" once confirmation is placed by the sportsbook. In most cases, this is instantaneous, but it can take a few seconds for markets in play or live.
When a bet is cashed out, this is acceptance on the bettor's part that the wager is now settled. It will then qualify for any sports betting rules that apply to settled bets with the sportsbook.
Live bets that are cashed out will be subject to in-play betting delays
Any bets incorrectly cashed out can be reversed if there was an error on the sportsbook's end. For example, the wrong cash-out price was promoted or priced wrongly.
Cashouts do not apply to all sports and markets.
Cashouts cannot be used with free bets, and most bonuses/promotions.
Sportsbooks will reserve the right to suspend or remove cash out on any bet at any time.
Non-Runners
As a general rule, non-runners will be classed under the "all bets stand" banner; therefore, if any team or horse were deemed a non-runner, that bet would be lost. There are exceptions to this rule, which covers if a tournament/event is canceled, the venue is changed, or a tournament/event has been postponed and will run more than 72 hours after the initial start time.
If these bets form part of a multiple, such as a parlay, these legs are removed from the bet, and the remaining selections will continue to run. For example, if you bet on three horses each to win their race, and one is a non-runner, this bet will be removed, and the remaining two horses will form a double.
Errors
Errors are more common than you would think with online betting, and sportsbooks go to great lengths to ensure they will not be out of pocket if an error arises. Common errors include:
Technical problems.
Bets placed on events that have already concluded.
Bets placed on markets with the wrong participants.
Wrong odds displayed.
Incorrect settlement.
Incorrect allocation of free bets.
In most circumstances, the sportsbook will contact the customer to inform them that the bet will be deemed void. However, some sportsbooks will rectify the error and settle the bet on the correct terms. For example, if the wrong odds were displayed, they might settle on the correct odds instead of voiding the whole bet.
Suspicious Betting
When suspicious betting patterns emerge, sportsbooks have a range of actions they can take. Suspicious betting actions include, but aren't limited to:
Excessive frequency of bets over a short period.
Unusual betting patterns.
The integrity of one of the events has been called into question.
Reasonable ground to suspect a string of bets has been placed robotically or automatically.
Bettor has influenced the result through external factors.
Bettor is acting on someone else's behalf.
Use of the sportsbook from a location or device other than the bettor's actual location (use of a VPN from a prohibited area, for example).
If any of these suspicions has been raised, then the following actions may be taken:
Request for further information.
Suspension of the account in question.
Withholding of betting funds.
Withholding of winnings.
Cancellation of withdrawals.
Voiding of bets.
Limitations placed on winnings.
Termination of the account.
Seeking of recovery of losses from the player.
Contacting the authorities if there are suspicions of any foul play.
Maximum Payouts
All sportsbooks will have a maximum amount that can be won from a bet. These limits will vary based on the sportsbook and the sport/market the bettor has wagered on.
Generally, more popular sports, such as the NFL, NBA, NHL, soccer, and tennis, have higher maximum payouts than less popular sports. It's the customer's duty to know what the limits are and stay within those limits.
Sportsbooks will accept bets with a higher payout than the maximum but will only pay the maximum amount. For example, if the sportsbook had a limit of $100,000 payout on the NBA, and a bettor wagered $50,000 at odds of +500 and won, the bet would be accepted, but if it's won, it would only pay $100,000.
Account Corrections
Sportsbooks have the right to correct account balances when errors are made in terms of payments. For example, you win a bet worth $10,000, but the sportsbook pays you $20,000 by mistake. The sportsbook will correct this amount with your account and remove the additional $10,000.
Examples of errors come from incorrect pricing and where results have been incorrectly entered. These will lead to an account correction.
Void Bets
When bets become void, the sportsbook will refund the initial stake. This will be applied regardless of the sport or market you're betting on.
If the void bet makes up part of a multiple, such as a parlay, then the bet will be removed, and the stake will roll over into the remaining selections to continue the bet. For example, if you've got a five-team parlay and one game is void, this bet will be removed, and your parlay will run with four teams and have the odds adjusted based on this accordingly.
Multiple Accounts
Having more than one account with a sportsbook is strictly prohibited. Bookmakers do not look kindly upon this, and you'll be at risk of losing your account.
Generally, the sportsbook will suspend the second account that's been created and run an investigation. If the second account has been created in good faith and as a mistake (such as forgetting your password), this account will be suspended and eventually removed.
However, suppose they deem the accounts were both active and the player was trying to gain an advantage in some way by using multiple accounts. In such circumstances the sportsbook would revoke any winnings, withhold funds, remove both accounts, and ban the user.
Sports Betting Rules by Sport
Sports betting rules will differ depending on the sport you're betting on. They have to adapt to fit around how markets work and the likelihood that something may go wrong.
In this section, we've broken down the most common sports betting rules linked to a series of major sports across the United States. Any rules not mentioned in this section will be subject to general sports betting rules.
American Football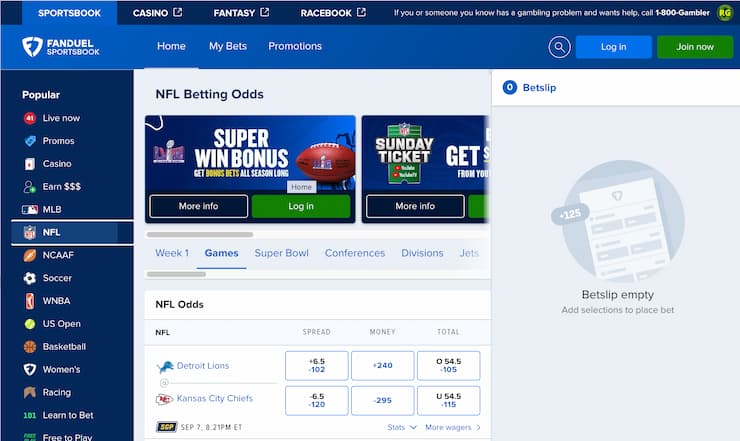 General Rules
All bets are settled on the official result of the game as determined by the NFL, NCAA, or official governing body. Results include overtime scores.
If a game is abandoned, all bets will be void and stakes returned unless the market has already been settled before abandonment. For example, bets on the first scoring play, first touchdown, quarter/half-time scores, etc.
All players must start the game in markets that include two or more players for match bets. If one or more players fail to start, the market will be void regardless of whether or not they enter the game after the start.
Any single bet will be live under the rule "All in, Run or Not." The only exception to this is for players who are officially deemed "inactive" before the start of the game. Players who do not play but are eligible to play will be classed as a losing bet.
In two-way markets, such as the moneyline, the market will be deemed void in the event of a tie. Markets that include the tie bet will be paid out accordingly.
Prop bets on player markets will be live unless the player is deemed inactive by the NFL at the start of the game. If the player is in the squad but does not play, the bet will be a loss.
Run or Pass Attempt
A player must attempt to pass or run the ball to settle this market. The pass or run does not have to be successful and incomplete passes will count toward this market.
If a player is sacked then this market won't be settled. An attempt to run or pass the ball must be made. The quarterback can, however, run with the ball, which will count.
Team Score Drive
Both defensive touchdowns and safeties will not count toward settling a team score drive.
The market will only cover specific scoring plays. Any scoring plays made that aren't listed (kick-off return, interception, etc.) will mean that pending bets remain in play until the next scoring drive.
Next Rush
A sack won't be considered part of a rush attempt.
First Down Rules
If a touchdown is scored, this will be considered a first down.
If a field goal is scored, this won't count as a first down.
If a punt is made, this won't be deemed to be a first down. However, a botched attempt to punt, or a fake punt that makes a first down, will be included.
The offence must complete the play for it to be considered a first down. If they make the yards and then fumble/turnover the ball, this will not be a first down.
Field Goal
Field goals will only count if an attempt is made to score the field goal. For example, any fake plays, botched attempts, or fumbles that do not lead to a kick at goal will not count, and the bet will roll over into the next attempt.
Next Scoring Play
Missed field goals will not count.
Safeties will not count.
An interception by the opposing team will not count as a completed pass.
A pass must be made and completed for the bet to be settled.
Baseball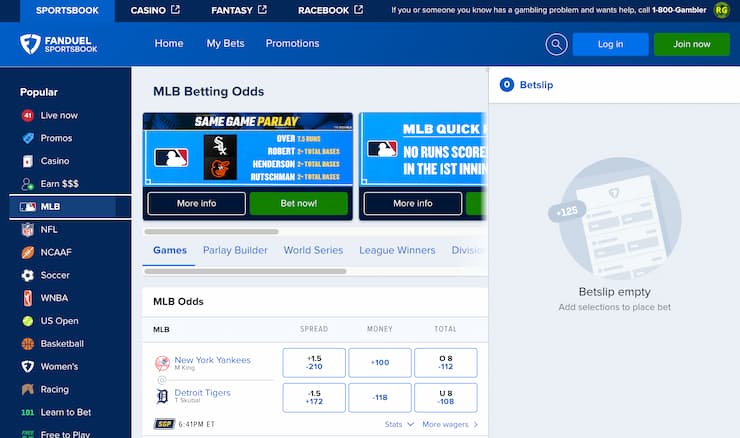 General Rules
All bets are settled based on the final result outlined by official governing bodies such as the MLB.
Any game that is postponed or abandoned before the start of play, and no play is made at all, will see bets voided and stakes returned. Unless the game is rescheduled and played the same day, bets will continue to stand.
If a game starts and a minimum of four and a half innings are played, then all bets on the winner's market are settled as a winner if the home team is ahead. If they are behind, all bets will be void and stakes returned.
Games that have seen five or more innings completed before being abandoned will see the result at the time as the final result, regardless of whether it's the home team or the away team.
All bets will stand if games are abandoned and restarted within 24 hours. After 24 hours, any bets placed that have not been settled will be void.
Any games that run into extra innings, where needed ,will include all betting markets.
Any bets made on the totals market need to reach the ninth innings to stand unless the home team is ahead, where bets will be settled after eight and a half innings.
Basketball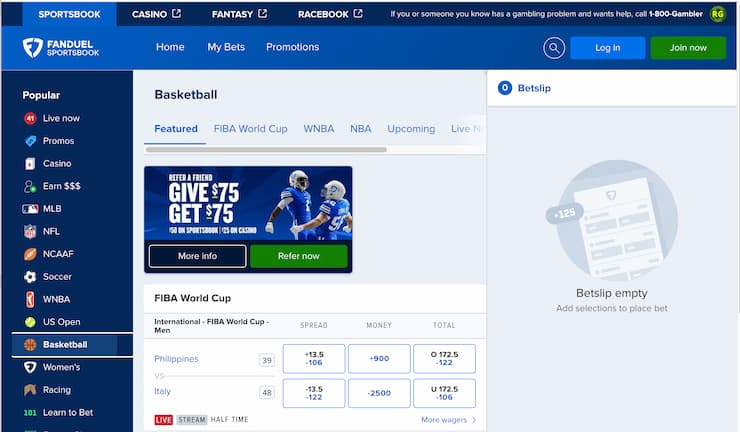 General Rules
All bets are settled based on the final result from governing bodies such as the NBA and NCAA. Any changes to these results after the initial declaration will be ignored.
Overtime will count for all markets unless otherwise stated. These won't include markets such as quarter or half betting.
For abandoned games, any settled bets will still be honored, but those that aren't settled will be void.
Players need to take the court for player-specific bets to be in running. If they don't, then the bet will be void.
Any games that finish in a tie on markets, where no tie was one of the choices, will be voided.
All bets will stand if a game is suspended and played within 24 hours. If the game is not replayed within 24 hours, all bets will be voided.
Any team name changes or relocation will not affect outright/tournament winner markets. These bets will stand under the new name/location.
Boxing
General Rules
For boxing betting, markets will be live from the first bell in the fight.
All results will be paid based on the official result as posted by the governing body for that fight. Any appeals or amendments after the initial result won't change the outcome for betting purposes.
Any fight that is postponed for whatever reason will see bets voided unless the rescheduled fight takes place within 24 hours of the initial start time.
If a fighter pulls out of the fight before the start and is replaced by another fighter, bets on the original fight will be void.
Any changes to the format of the fight, such as the number or length of rounds, will see all bets voided.
In total rounds on the over/under market, the time that the fight is stopped will determine which round that is. Any time over halfway in the round will count.
If a boxer is not able to start the next round and is retired from the fight, the result will be based on the fight being over in the previous round.
Bets will be paid out on the round that the fight ends. This includes if a boxer retires or is knocked out and any disqualification from either boxer.
Any bets placed on the "to win on points" market will only be settled if the full allocation of rounds has been completed.
Bets are voided on all decisions where a "no contest" was declared.
Soccer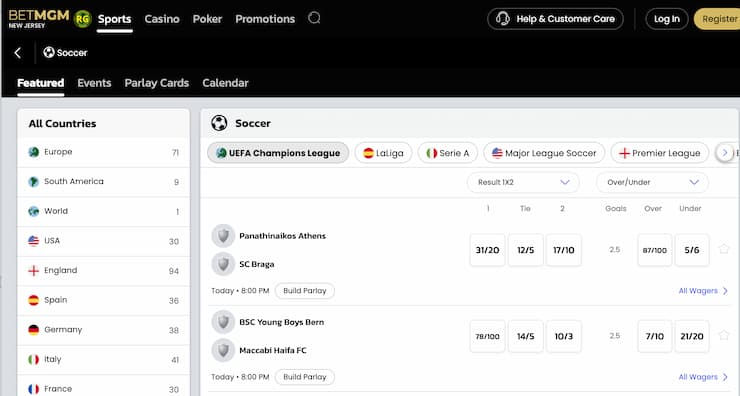 Match Rules
For soccer betting, bets are settled on the official result of the game from the governing body of the competition the teams are playing in.
Unless otherwise stated, bets are settled based on the 90-minute result, which includes injury time in both halves. Extra time and penalties are not included.
Postponed games will see all bets voided unless the rescheduled time is within 24 hours.
Games abandoned before the 90 minutes being played will see markets voided unless they have already been settled. For example, first goalscorer bets where a goal has been scored prop to abandonment of the game.
Any games that have a late ground change will stand as long as the game hasn't been changed to the opponent's game. For international games, this will stand true unless the ground is located in a different country.
In markets where official results are not always possible, the sportsbook reserves the right to use evidence from trusted sources to determine the result. This can include markets for corners and tackles made.
Outright Rules
Any outright bets on leagues or tournaments will be based on the winner of the tournament or the official league table. Amendments made after the final table, such as points dedications, will not change the outcome.
If a league or tournament has not been fully completed, results will be based on the official outcome.
Points dedications made at the start or during a season will be included.
At least one game must be completed by the team for bets to stand.
For cup competitions, markets will be payout based on the team that immediately lifts the trophy. Any changes in the result after this will not count.
Other General Rules
For goalscorer markets, own goals will not count.
Any changes made to the validity of a goal scored by a player after the tournament is complete, will not count. Changes made mid-season or mid-tournament will count.
For top goalscorer markets, goals scored in penalty shootouts will not count. Goals scored in regular time or extra time via a penalty will count.
Dead heat rules will apply in the event of a tie for top goalscorer markets.
Any games outside of the main league will not count for top goalscorer markets. These include play-offs.
With handicap bets, any result that ends in a tie will be deemed void.
Only active players on the pitch will count toward the total number of points for booking points markets. Substitutes and coaching staff who are booked will not count.
For a corner to be eligible, it must be taken. Any corner that has to be retaken will only count as one.
Own goals will not count toward any goalscorer market.
If a player is not on the pitch when the first goal is scored, or the market they are involved with has already settled, bets will be void.
If a player plays no part in the game, bets will be void.
Unless otherwise stated, extra time and penalties will not count toward the goalscorer markets.
Once the final whistle blows, any changes to the players who have scored will be ignored for the sake of these markets.
Any bets placed on timings within a game are settled based on the time the ball has crossed the line (goals, goal kicks, corners, etc.) or when the referee blows their whistle (freekicks, penalties, etc.).
Horse Racing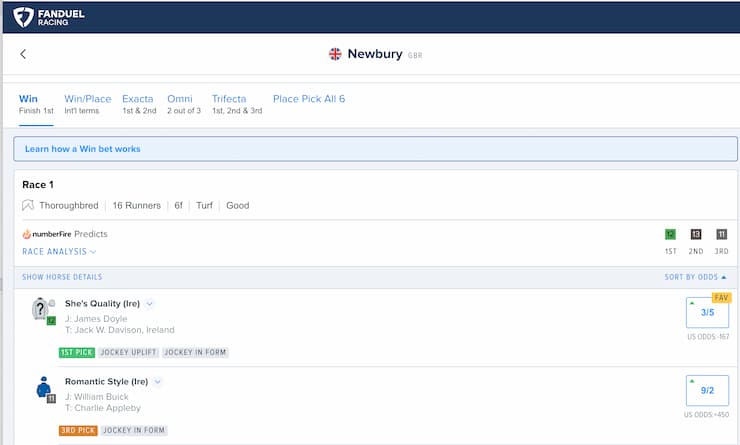 General Rules
For horse racing bet settlements, rules are subject to the territory in which the bet is placed.
Win bets are settled based on the horse that is first past the post. Bets will be altered following any disqualifications or stewards' inquiries.
Bets will be void if the race is canceled or abandoned, terms of the race change, a walkover is declared, or if all runners fail to complete the race (take the wrong course, miss a jump, etc.)
Only bets placed on postponed races that take place later the same day will stand.
In a dead-heat situation, the original stake will be divided by the number of horses involved. For example, if two horses are in a dead heat, the bet pays at the original odds with the stake halved (divided by two).
Where needed, horses withdrawn from the race will see bets refunded, except for ante-post markets, where they will be deemed a loss.
Rule 4
Rule 4 will be applied when horses are withdrawn from the race on markets other than ante-post.
The horse's odds before the withdrawal will determine the deductions for the race.
Rule 4 deductions are as follows:
| | |
| --- | --- |
| Odds | Deduction |
| 1/9 or shorter | 90p (in £/$) |
| 2/11 to 2/17 | 85p |
| 1/4 to 1/5 | 80p |
| 3/10 to 2/7 | 75p |
| 2/5 to 1/3 | 70p |
| 8/15 to 4/9 | 65p |
| 8/13 to 4/7 | 60p |
| 4/5 to 4/6 | 55p |
| 20/21 to 5/6 | 50p |
| Evens (1/1) to 6/5 | 45p |
| 5/4 to 6/4 | 40p |
| 13/8 to 7/4 | 35p |
| 15/8 to 9/4 | 30p |
| 5/2 to 3/1 | 25p |
| 10/3 to 4/1 | 20p |
| 9/2 to 11/2 | 15p |
| 6/1 to 9/1 | 10p |
| 10/1 to 14/1 | 5p |
Ante-Post Rules
Ante-post bets stand regardless of whether a horse runs or not.
Withdrawals on the ante-post market will stand as a losing bet, and stakes will not be refunded.
Ante-post bets are not subject to Rule 4 deductions.
Some sportsbooks may have non-runner, no bet for ante-post bets, meaning stakes will be refunded. But this is a promotion and will be outlined in the racebook.
Ante-post bets are declared void on races that are abandoned.
Ice Hockey
General Rules
For ice hockey, bets are settled based on the outcome outlined by the league or competition's governing body.
Games that are canceled or postponed must be played within 24 hours, otherwise bets will be deemed void, and stakes will be returned.
Bets on the Eastern and Western conference winners will be determined as the teams representing the conference in the Stanley Cup. This is not determined as the outright winner for the regular season.
If a team changes its name or location after the bet has been placed and before the market has settled, all bets will stand.
All bets in ice hockey will include overtime and shootouts unless otherwise stated.
All overtime scores will contribute to the overall total for total bets such as games, periods, and teams.
The Puck Line describes the handicap market, often called the "Spread" in other sports. These lines will all include overtime scores.
Players must start for prop bets wagered on that player. If they don't start, the bet will be void, and the stakes will be returned.
Tennis
General Rules
All tennis bets are settled on the result outlined by the governing body for that game.
All tennis bets will stand if any of the following circumstances arise:

Change of venue.
Change of surface.
Change in the originally scheduled start time of the match.
Any delays mid-match due to external factors, like the weather.

When a game is postponed or abandoned, bets will be void. This is unless the market has already been settled. For example, the first-set winner market for a game that gets abandoned in the second set.
If a player retires, bets will be void unless already settled.
Dead heat rules will be applied in markets where a tie is not offered and the match finishes as a tie.
Rule 4 deductions may apply to outright winner markets.
For set betting, the set must be complete in full, or bets will be deemed void.
Any changes made to the number of sets originally outlined for the game will see bets voided.
Sportsbook-Specific Rules
Sportsbooks will each have different rules for how they approach certain betting situations. In this section, we've highlighted a handful of the best betting sites on the market and included notable betting rules that may differ from the general rules outlined in this guide.
BetMGM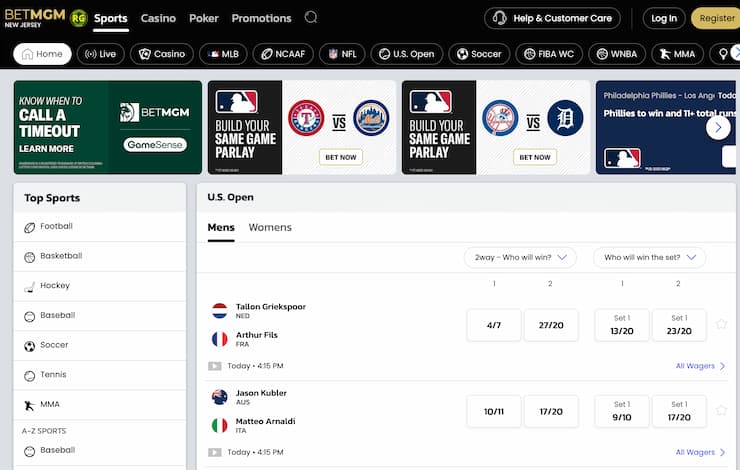 General Rules
Only players aged 21 years or over can wager at BetMGM.
Processing payouts and withdrawals can take up to five days for security checks to be completed.
Only players physically present in the state that legally accepts BetMGM wagers can place a bet.
Players are not permitted to place bets for anyone other than themselves.
In the event of an obvious error in terms of settlements, BetMGM can either settle the bet of the correct adjusted odds, or void the bet and return the stake to the bettor. These include wagers on already known outcomes and odds that are extremely different from competitors.
BetMGM will set minimum/maximum betting limits for every market on-site.
Once placed, bets will not be manually voided or altered, except under the discretion of the management and within 15 minutes of placing.
Players may be asked to present physical ID should payouts exceed a maximum threshold (based on the state in which they reside).
Bets cannot be voided once the market has started.
BetMGM prohibits betting on collegiate and amateur teams based within the state where the player resides. For example, New Jersey residents cannot bet on New Jersey-based college sports teams.
FanDuel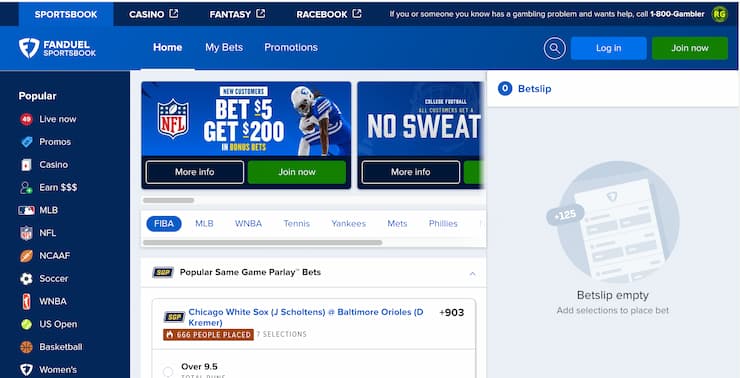 General Rules
Players need to be 21yo+ to play at FanDuel.
In markets without official governing bodies, markets will be settled by the FanDuel Sportsbook.
Where selections are removed from a market after the start of an event, for a virus or other disease, bets will be deemed void, and stakes returned.
All-in betting markets will be settled regardless of whether the selection starts or takes any involvement in that market. Bets placed before the start will be settled regardless.
Player markets will only stand if all the players listed in that group are active in the game. If one or more are inactive, the bet is void.
Any human or technical error that occurs in a market will mean that bets are void.
Non-runners will see bets voided unless otherwise stated.
Bonus Betting Rules
As part of our guide on sports betting rules, we wanted to include a section on bonus betting rules. This will cover the general rules attached to bonuses that can be claimed from various sportsbooks, giving an overview of what they are and how they work.
Deposit Bonuses
Eligibility – Players will have to meet eligibility criteria for a deposit bonus. This usually includes new accounts and the location where the player is located. Some deposit bonuses will be accessible to existing players, such as reload bonuses.
Minimum deposit – Players must make a minimum deposit to trigger the bonus.
Bonus percentage – Each bonus will be a percentage of the first deposit made. For example, a 100% match bonus worth up to $1,000 means that if a player were to deposit $500, they would get $500 in bonus.
Maximum bonus – The bonus will come with a limit on how much can be claimed.
Wagering requirements – Wagering requirements are how much you need to bet to withdraw the bonus money as cash. Most bonuses will have this as a multiple of the bonus amount. For example, a $100 bonus with 10x wagering attached would need $1,000 worth of bets placed.
Time limit – This is the amount of time a player has to clear the bonus before it expires. If you don't clear the full amount within this timeframe, then the player will lose the bonus.
Qualifying bets – Not all bets are eligible to clear the bonus. Only bets/markets outlined by the sportsbook will count toward clearing.
Odds requirements – Qualifying bets will have minimum odds that must be adhered to to count toward clearing the bonus.
Game/Market restrictions – Bonuses will be limited to the games or markets you can bet on. For example, exotic bets are generally prohibited from counting as a qualifying bet.
Bonus code – A unique code might be needed to claim the bonus.
Withdrawal restrictions – Withdrawals may be limited until the full bonus is cleared. If a withdrawal is made before this, it might forfeit the bonus completely.
Geographical restrictions – Geographical restrictions may be in place to limit what bonuses players can claim based on where they live. For example, the deposit bonus might be different or unavailable for New Jersey players compared to New York players.
Second Chance Bet
Eligibility – Second chance bets are generally awarded to new players once they have placed their first bet with the sportsbook.
Qualifying bets – Qualification means that the bettor places a bet and that bet loses to have it refunded as a bonus.
Refund amount – The amount refunded will be based on the promotion.
Maximum refund – A second chance bet will come with a maximum refund amount.
Timeframe – Qualifying bets must be placed within a set timeframe from the point of opening an account. They may also need to be settled within a set timeframe.
Bet settlement – The first bet must lose to get a second chance bet.
Bonus format – The refund is usually placed as a single-use bonus in the account.
Wagering requirements – These offers rarely come with wagering attached, however, if they do, the bettor will need to wager the bonus a set number of times before they can withdraw it as cash.
Odds restrictions – The first qualifying bet must be placed at minimum odds outlined by the promotion.
Live Betting Rules
Live betting comes with a different dynamic to pre-game betting, and therefore, a different set of rules can apply to these markets. Given that it can be fast-moving, most sportsbooks cover their back with a broader definition of how they apply the rules.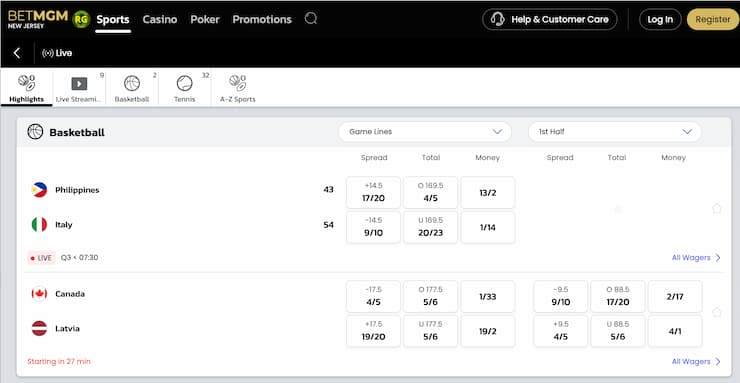 In this section of our sports betting rules guide, we will highlight what live betting rules you can expect to find and how they work across multiple sportsbooks. These rules may differ depending on the sportsbook you're using but will provide an overview of what to expect.
General Rules
If an event is abandoned or not completed, the sportsbook will void all markets that have not been settled. For example, if you've bet on the first scorer in a soccer game and the match is abandoned after at least one goal has been scored, this market will be settled, but a bet on the game-winner will be void.
Any errors in odds will be settled at the "correct" price. This is generally where books are priced lower than 105%.
When the sportsbook believes that a bet has been placed live after the result of the market has been completed, it reserves the right to void the market and refund bets.
For handicap bets, where an obvious error has occurred (- instead of +, for example), the sportsbook will pay at the correct handicap line and odds when the bet was placed.
Sportsbooks will suspend markets in play when major events occur that will change the outcome of most markets in play. For example, if a touchdown is scored in an NFL game.
Some games may run at a delay of up to 30 seconds.
Bets placed on live betting markets are subject to a delay before confirmation of up to 30 seconds. Only confirmed bets will stand.
If odds change after the bet has been submitted but not confirmed, the sportsbook will pause it, ask the bettor if they want to take the newly adjusted odds, or allow them to cancel the bet.
FAQs
What are sports betting rules?
How do I understand sports betting rules?
Can sports betting rules vary between different sites?
What is a push in sports betting?
How are bets settled in case of a postponement or cancellation of an event?
What happens if a selection in my parlay or accumulator is voided?
How can I cancel a bet after placing it?
How are disputes resolved for betting sites?
Can sports betting rules change over time?