Spread betting is one of the most popular ways to bet on sports, including football, soccer, and basketball. By giving one team or player an advantage from the outset, it's possible to even up the most lop-sided of encounters, making for an entertaining betting experience.
On this page, you'll find spread betting explained. We'll look at how to bet the spread, where you'll find the best sportsbooks for the popular wager, and more.
What is Spread Betting?
Spread betting is a way to even the odds, making what could be one-sided affairs into competitive fixtures. The point spread represents the number of points or goals the online sportsbook believes the favorites will win by. You can bet on the favorites, who will have points deducted, or the underdogs, who will have points added to their score.

For example, in the game above, the Rockets start with +4.5 points, while the Magic start with -4.5. This means that the Heat are the favorites to win the game.
You'll find both two-way and three-way spreads at many sportsbooks. Two-way only allows you to bet on one of two teams, while three-way adds in the tie. If you bet on a two-way market, you're likely to find the point spread ending in .5, so that there's no possibility of a draw. In three-way betting, it will be a whole number.
Get great odds for spread betting at BetOnline.
How Does Spread Betting Work?
Examples are often best when you're looking to have spread betting explained, so we've made up a couple for you below.
Example #1: Chicago Bulls vs Toronto Raptors
In this game from April 2023, the Toronto Raptors started with -5.5 points, denoting that they're the favorites for the game. The Chicago Bulls started with +5.5, showing they're the underdogs. So, if you bet on Toronto, they have to win by 6 points or more for the bet to be a winner. If you bet on Chicago, they mustn't lose by more than 5 points for your wager to be successful.
Let's say the game ends 117-114 in favor of the Toronto Raptors. If you bet on Toronto, your bet would lose. Why? Because subtracting the spread from their score leaves it at 111.5, which is less than the Bulls managed to score.
If you bet on the Bulls, your bet would be a winner. This is pretty easy to work out, as whenever the underdog wins the moneyline contest, they also win the spread.
Example #2: Golden State Warriors vs Sacramento Kings
In this game, also from April 2023, the point spread is 1.5, the with Sacramento Kings the slight favorites. This means you can bet on Golden State to win with +1.5, or Sacramento to win with -1.5. So, Golden State mustn't lose by more than 1 point, while Sacramento must win by 2 points or more.
The game is a close one, ending 110-109 in favor of Sacramento. But if you placed the spread bet on the Golden State Warriors, you'd be a winner. Why? Because once you add the 1.5 point spread to the score, it becomes 110-110.5, making them the winners.
If you bet on Sacramento, you'd lose – whenever a favorite loses a game, those placing a spread bet on them will always lose.
Spread Betting Rules
All sportsbooks will have house rules for wagering, and specifically for spread betting. The rules at most sportsbooks are generally similar. Below, you can see some of the more common terms and conditions.
Odds might adjust after you've placed your bet. Regardless of how the odds move, your spread bet will be settled using the odds you accepted.
If the game is a tie after the spread has been applied and it's a two-way spread bet, the result of the wager will be a push and your stake is returned.
If the game is postponed or canceled, your bet will be refunded.
Bets are settled using official league data. Sportsbooks do not permit any disputes regarding this data.
You should, of course, ensure that you understand all terms and conditions before placing a bet.
Why Choose Spread Betting?
It's often the case that sporting contests are incredibly one-sided. This means that placing a moneyline bet is pointless – you'll either be betting on something incredibly unlikely to happen or on something with exceptionally low odds.
When games are one-sided, spreads even them up. Essentially, spread betting makes any game into a close contest. This not only makes a game worth betting on but also increases the excitement of watching the game.
Spread betting is also the perfect place for sports fans to show their knowledge. It's easy to predict when a strong team will beat a weak team, but figuring out how much they'll win by is a much tougher task. Only the most knowledgeable will be able to consistently place winning spread bets.
Find exceptional value betting on underdog spreads at Bovada.
Live Spread Betting
Did you know that you can also place a spread bet live? Nearly every major game, be it NFL, NBA, or Premier League, will allow live spread betting. As with the moneyline odds, the spread betting odds will change regularly to reflect the ongoing state of the game. It's your job to predict what will happen next and place your bet at the right time.

Before betting live on any game, it's important to understand which sportsbook generally offers the best prices. This is because live betting is fast-paced, and you won't have time to compare odds across several sportsbooks before placing your bet. We'd recommend heading to BetOnline for live spreads, as they consistently offer competitive odds.
But how does spread betting work on a live betting platform? It's easy: you'll see a range of bets available for a specific game, and you'll just need to click on your bet to add it to the bet slip, before entering your bet amount and confirming the bet. Be quick, otherwise, the odds might change before you finish making your bet.
Can Spread Bets Be in Parlays?
Yes, they can. In fact, spread bets are the most common component of parlay bets. For those who don't know, parlay bets are wagers comprised of two or more individual bets. For the parlay to win, all constituent bets must be winners. This makes parlay bets higher risk than standard bets, but also higher reward.
If you're looking for parlays and spread betting explained using an example, a typical parlay bet featuring a spread bet would look like this:
Atlanta Hawks +5.5 to beat Miami Heat @ -115
Oklahoma City Thunder +5.5 to beat New Orleans Pelicans @ -115
Phoenix Suns -7.5 to beat Los Angeles Clippers @ -105
If you placed $10 on all these bets individually and they all won, you'd win back $56.92. But if you rolled them all into a parlay and bet $30 on it, you would win back $170.75 if all three teams won. As you can see, combining spread bets into a parlay can really boost the amount you can win. But if just one selection loses, you win nothing.
Quickly and easily bet on parlays at BetNow.
Best Sports for Spread Betting
Spread betting is available for a wide variety of sports, but the ones we've listed below are most popular with US bettors.
Football. You can place spread bets on every NFL and CFL game, as well as the biggest college games. It's nearly always the case that two-way spreads are offered for these games, as ties are so rare.
Basketball. Spread bet on all NBA games, as well as the biggest college and overseas matchups. The spreads are generally larger in basketball, thanks to the large numbers of points often scored in a game. Two-way spreads are most common in basketball.
Soccer. Games from all around the world offer spreads, including games from the Premier League, La Liga, Serie A, Bundesliga, and MLS. Spreads are often three-way, as ties are common in soccer.
Tennis. In tennis, the spread can be on the number of sets, but also on the number of games, so check what you're betting on before placing your wagers. Most Grand Slam matches offer spread betting, as do many matches from other high-level tournaments.
Hockey. You can place spread bets on all NHL scores, as well as on games from many other leagues, including those in Europe. It's nearly always the case that spread bets on hockey are two-way.
Baseball. You can also place spread bets on the results of all MLB games, along with many college baseball games. Like all other US sports, you'll usually find two-way spreads when wagering on baseball.
Other sports offering spread betting include Aussie rules, rugby league, rugby union, cricket, and handball. The range of betting options might be slightly limited on these sports, as they're not overly popular in the US.
How to Place a Spread Bet
Placing a spread bet is exceptionally simple, as it follows the same steps as placing any other bet online. If you're unsure, we've provided a step-by-step guide below, using BetOnline as an example.
1. Create an Account
You first need to create an account at BetOnline. Head to the homepage then click the "Join" button. You'll then be required to fill in your details, including your name and email address. Once finished, submit the form. You now have a BetOnline account.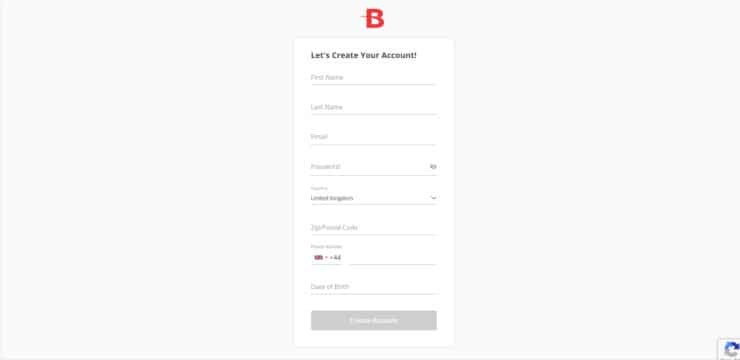 2. Deposit Money
Head to the Cashier and choose how to deposit. Enter all required details – including any promo code you might have – and submit the request. Money will then land in your betting account quickly.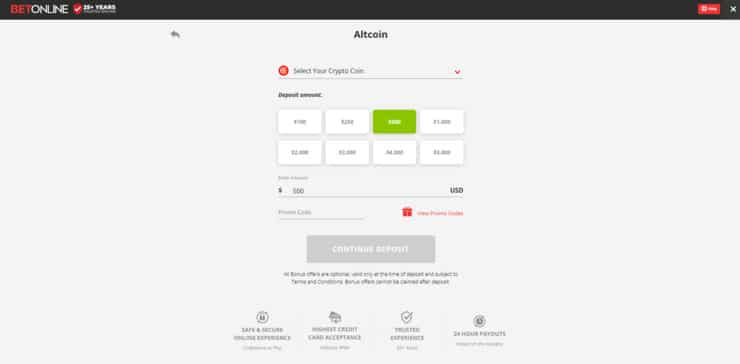 3. Find a Bet
You can now look through the many betting options available on sports like football, basketball, and hockey. Once you've found your bet, click it to add it to your betslip.

4. Place Your Bet
Now head to the betslip and enter how much you want to bet. You can then place the bet. If your bet is a winner, the money will be paid into your betting account automatically.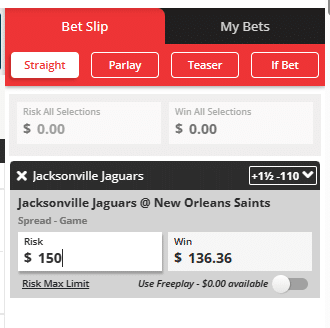 Spread Betting vs Moneyline Betting
Spread and moneyline are the two most popular bet types with US gamblers. As you've already seen, spread betting involves betting on a game after points have been given or taken away from a team, in order to even the playing field. Moneyline betting is wagering on the game without any changes to the points – quite simply, you're betting on a team to win.
Moneyline betting has its advantages. For example, the payouts are higher when betting on the underdog, plus betting on the favorite is a safer bet, although the odds will be lower. Spread betting, on the other hand, often makes for a more exciting betting experience, plus offers attractive odds to those who think the favorite will win by a considerable margin.
Top Sports Spread Betting Tips
Now you know the spread betting meaning and how to bet the spread, here are some of our top tips for making bets of this type online.
1. Look for the Best Odds
Online gamblers can easily look through the odds at various sportsbooks. Doing so ensures that you'll always get the best odds. It might not make much of a difference for one bet, but the extra money you can win over time is considerable.
2. Stay Informed
If you're going to place spread bets, you've got to stay up to date with all the latest goings on in your chosen sport. It's not possible to know everything about every sport, so most serious bettors choose to specialize in one specific sport instead.
3. Understand Key Numbers
This is a tip for football spread betting fans. Most games are decided by three or seven points – the values of a field goal and a converted touchdown. This means that the best bets are often those close to a key number, such as 3.5 and 6.5. Look for these margins when spread betting.
4. Consider Doubling Down
If you make a spread bet and the price then moves to a better one, consider placing a second bet on the same outcome. For example, if you've bet on the Dolphins at -5.5 and it moves to -4.5 with the same odds, this benefits you and could merit an additional wager.
5. Bet on the Underdog Late
Many people will start placing bets on the favorite closer to game day. As these bets are made, they could tip the odds, making a bet on the underdog more enticing. So, if you're looking to bet on the underdog, it's often best to wait and see if the market moves first.
Pros and Cons of Spread Betting
Pros
Most popular type of bet at US sportsbooks
Great way to add excitement to uneven contests
You can often customize the spread to get favorable odds
Cons
Can look complex to newer gamblers
FAQs
What does spread mean in betting?
What does the + and – mean in sports spread betting?
How do you read a negative spread?
What does a +7 spread mean?
What does +1.5 spread mean in betting?