With spreads and totals, many sportsbooks allow the bettor to alter the line. You can receive more points as the underdog, give away fewer points as the favorite, or move the total up or down by "buying points". Operators that provide this betting option move the odds for each half-point you choose to modify the line.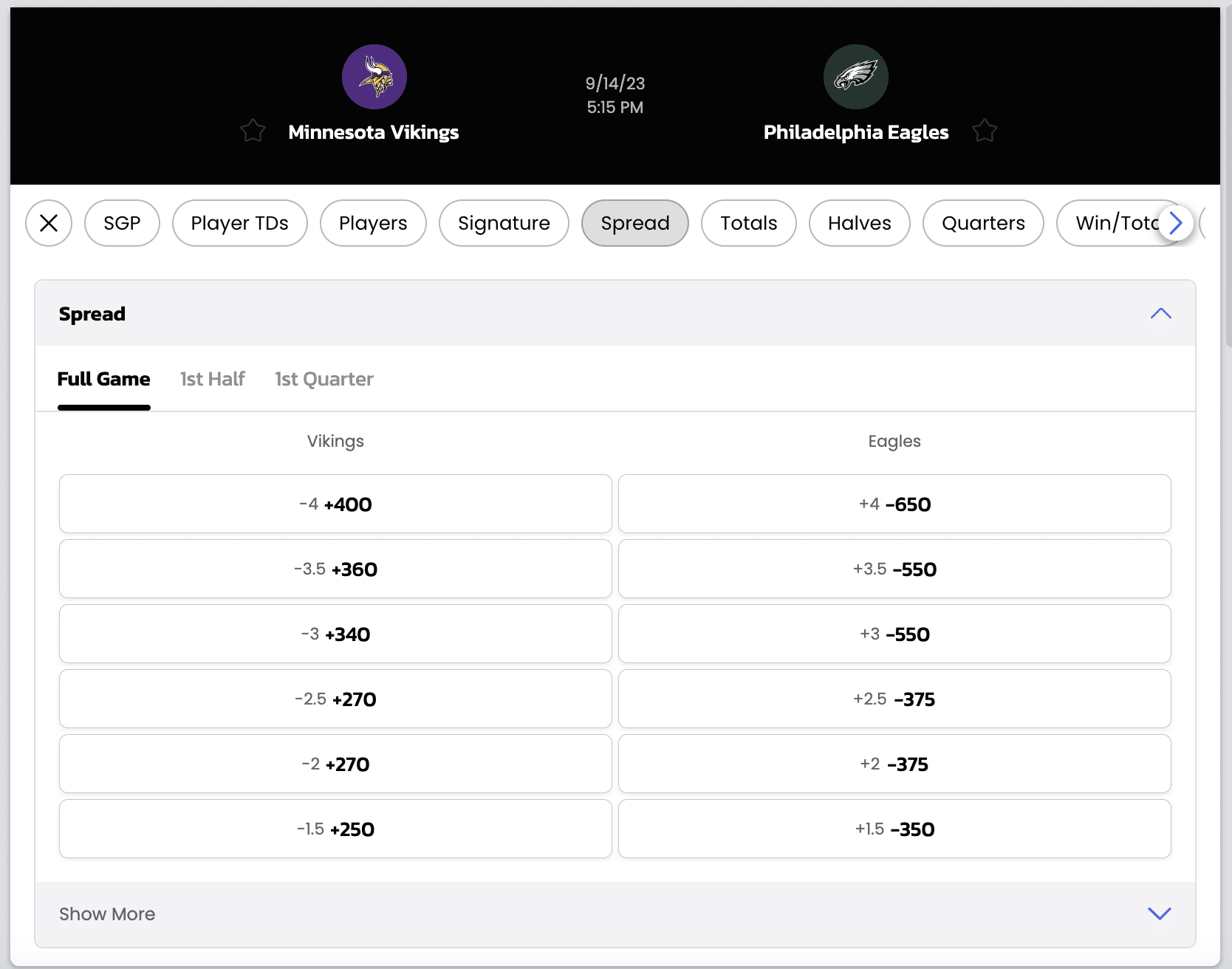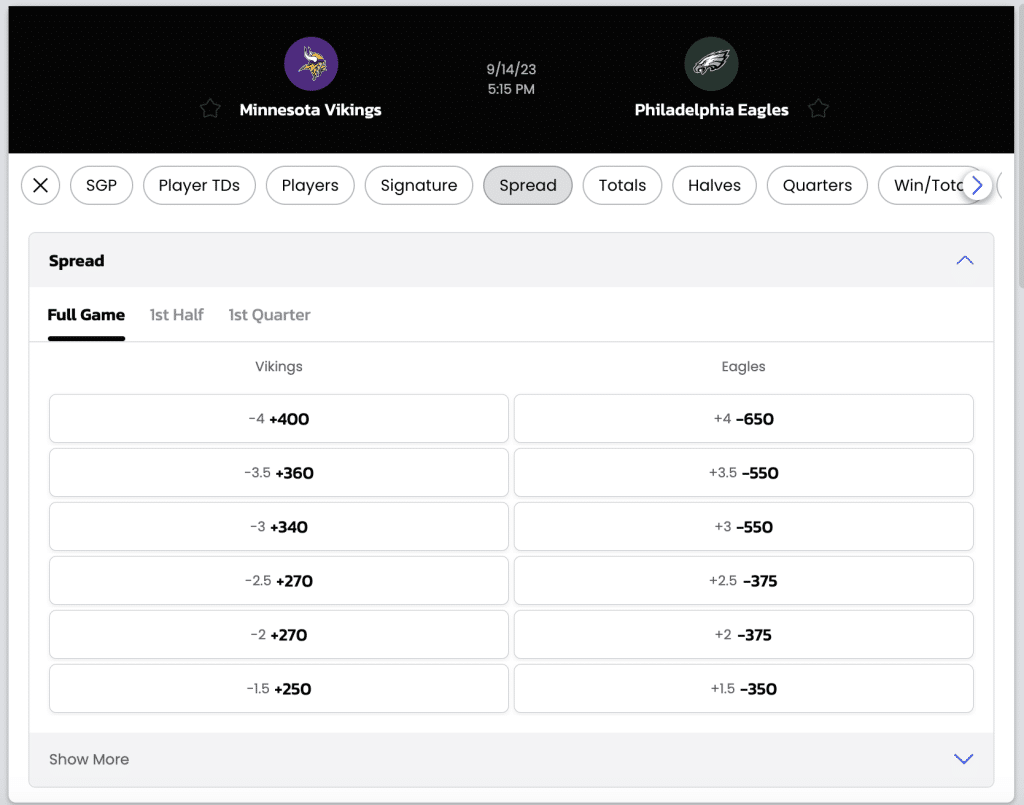 How Does Buying Points in Betting Work?
The best online sportsbooks allow you to alter the point spread from the standard listed spread when you place a wager on a specific game. For each additional point you buy, the odds change to reflect the likelihood of a win based on the new line.
Options for changing the spread are available at many online sportsbooks. You might purchase points on a spread or total to increase your chances of winning your bet while lowering your potential winnings. Or, you could move the line away from your bet to increase your potential winnings, like making a point spread even greater while betting the favorite.
Technically, moving the spread, or total, to a less advantageous number based on your bet to gain longer odds (higher potential winnings) would be considered selling points. Still, for the sake of this discussion, we'll lump all line alterations into one bucket.
Some sportsbooks may allow you to manually alter the spread or total on your bet slip. Yet, you will commonly also choose the spread from a list of pre-populated alternate spreads.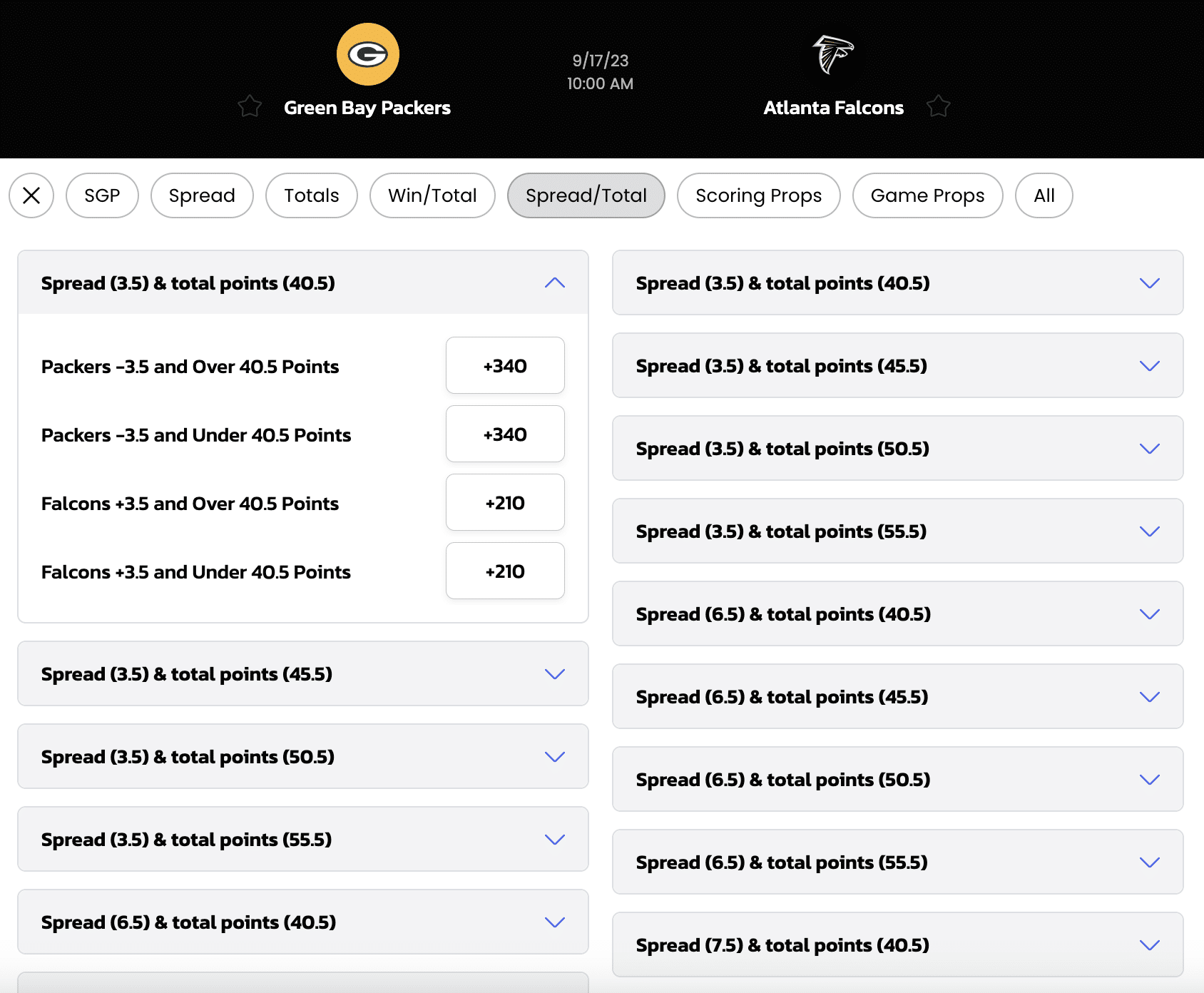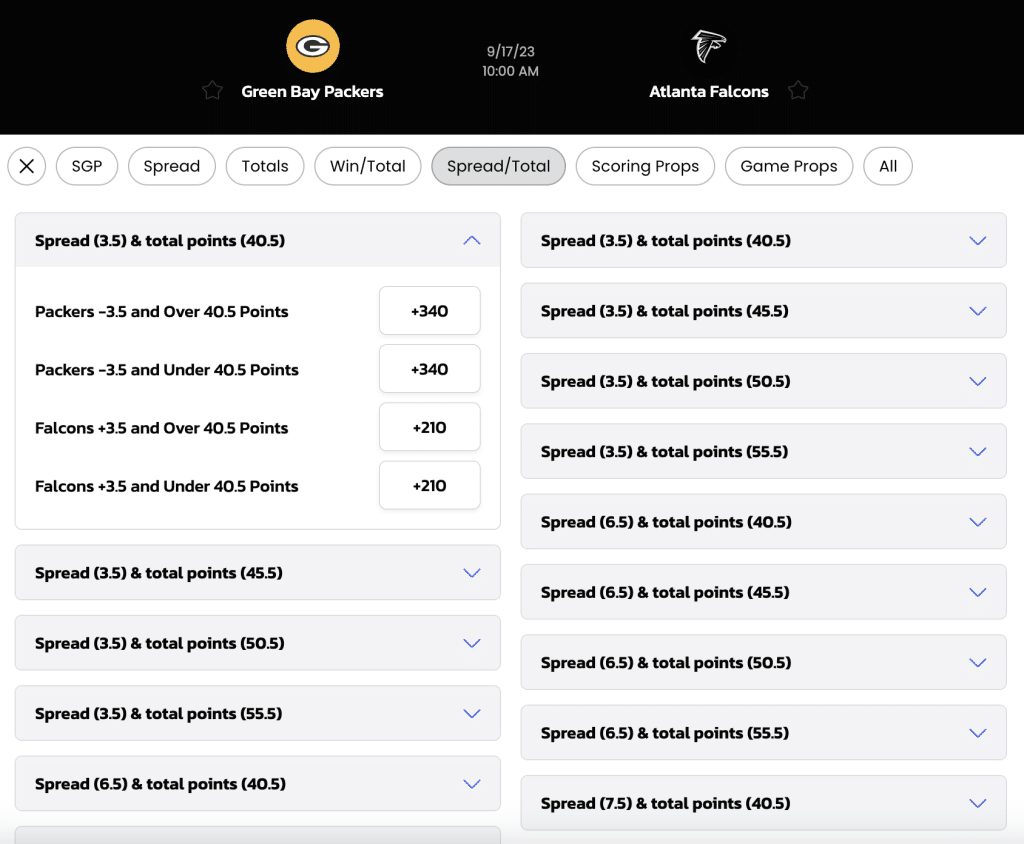 What Does Buying Points Mean in Sports Betting?
Bettors at sportsbooks will purchase points to customize a spread betting selection, or totals wager, to their preferences. Say, for instance, you are betting on the San Francisco 49ers as a -7 favorite. You may move the line to -6.5, increasing the likelihood of you winning, and eliminate the possibility of a push. Still, the odds will also move, meaning you'll win less if you emerge victorious.
So what does buying points mean in sports betting regarding your potential winnings? Generally, a half point might not make the most significant difference; perhaps the 49ers were initially -110 at -7, but now they might be -120 at -6.5.
This means that you must now bet $120 to win $100. Whereas with the original line, a $110 wager will garner you $100. Of course, as you move the line further and further in either direction, the odds can change more dramatically.
Buying Points in Betting Example
The question is familiar: what does buying points mean in sports betting? Seeing an example of how it would look at a top sportsbook is essential so you will be confident in the practice. Please see the below example of an NFL game between the Indianapolis Colts and the Houston Texans.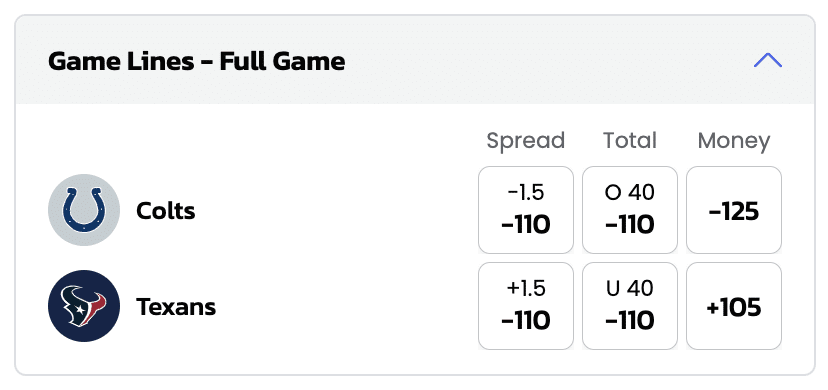 Above, we have the standard game lines for this matchup. The Colts are favored by -1.5, the Texans at +1.5 as underdogs, the total is 40, and the odds on all of these bets are -110. Now, to see an example of buying points in sports betting, let's look at some alternate spreads.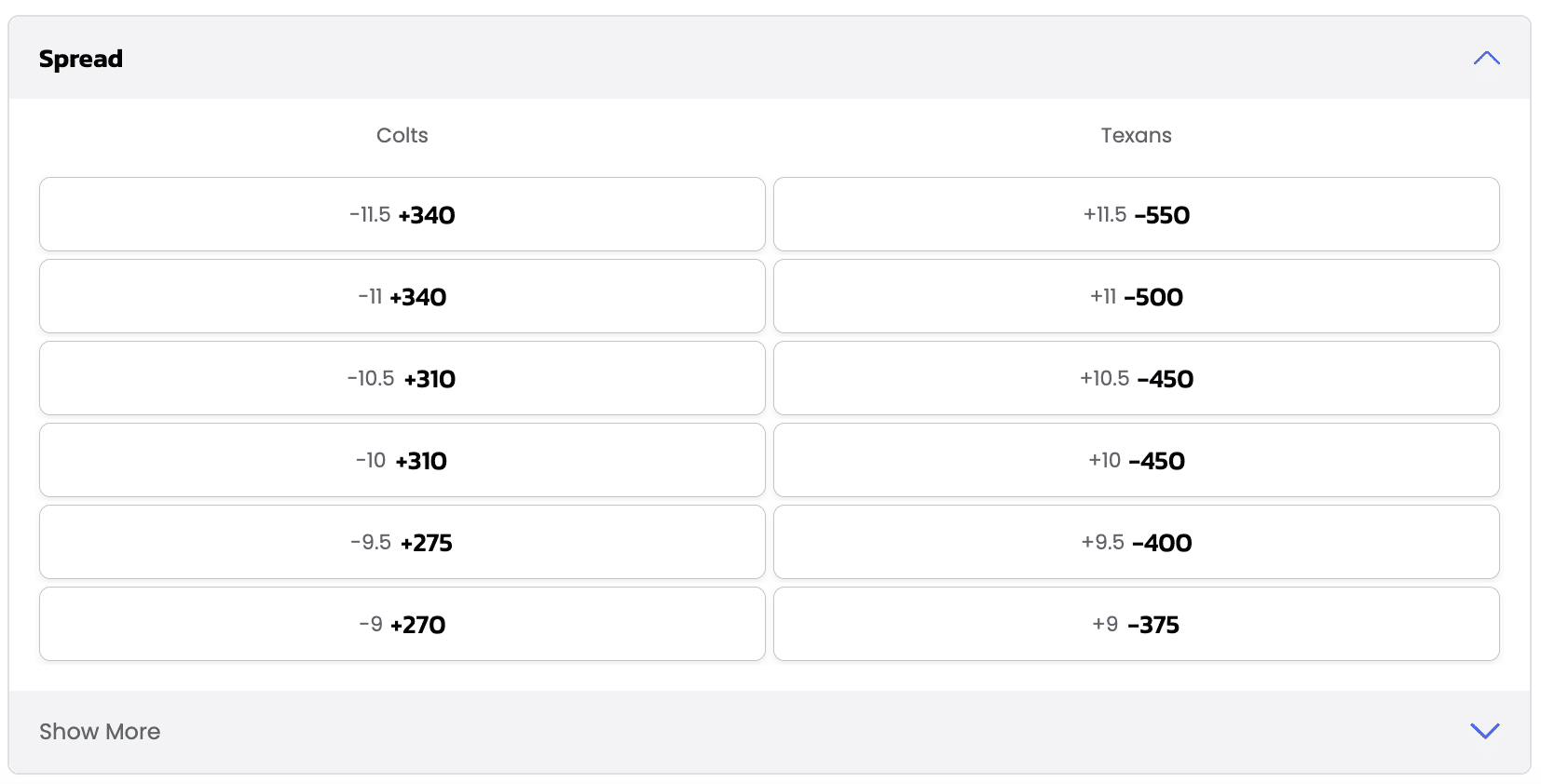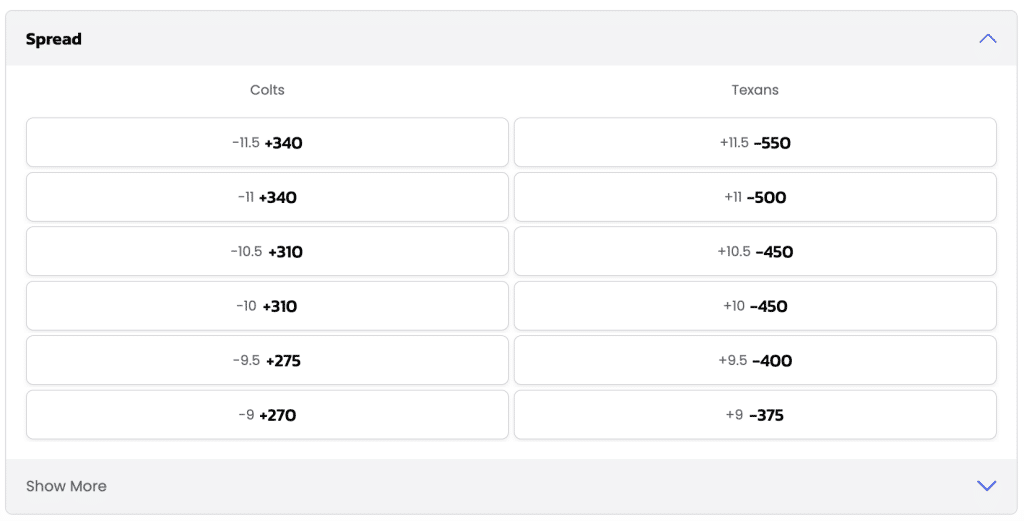 Above, you can see that various alternate spreads are available, and there are even more than you see here, differing further and further from the initial line, with odds shifting in turn. As you can see, you can move the line quite considerably if you choose to, drastically altering the odds and upping the ante. For the sake of a full illustration, let's take a look at different totals for the same game.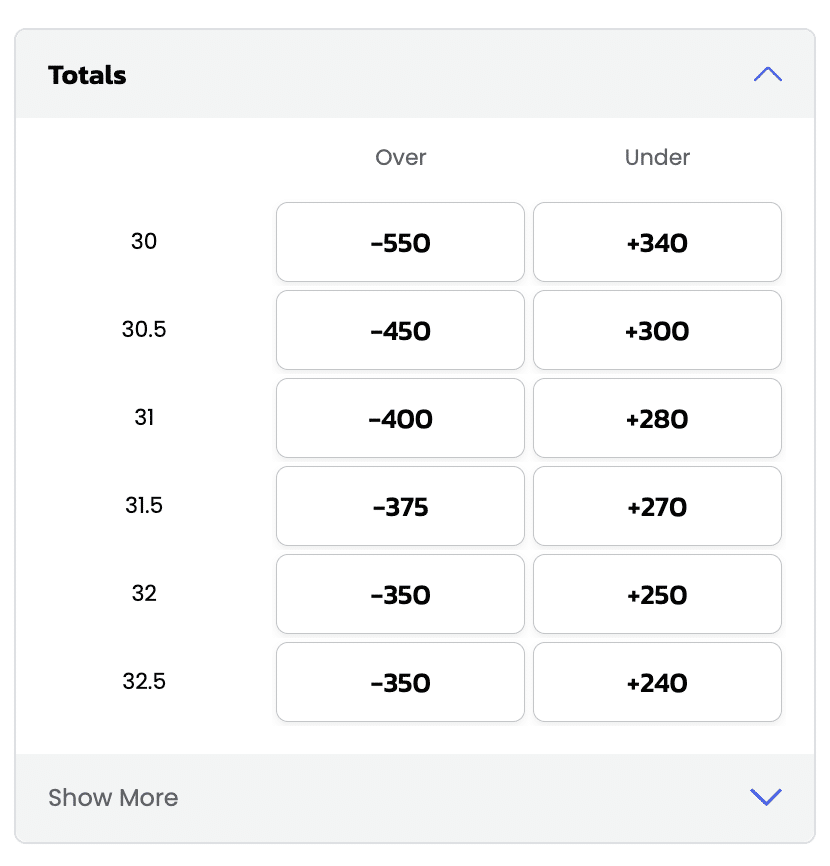 Again, these are not the only possible alternate totals you can choose, but this gives you an idea. You can drastically move the total to allow yourself to win considerably more. Or, you can attain the chance to win at a higher clip but with far less return.
How To Buy Points in Sports Betting
Use our comprehensive guidelines to learn how to buy points in sports betting at a top sportsbook, such as BetMGM, which we use here for our example. Let's examine the procedure below.
1. Join a sportsbook and sign in
New users must create a username and password, and provide an email address. The last four digits of your Social Security number (SSN), as well as other personal information, will be requested from you. This can include your name, address, and date of birth.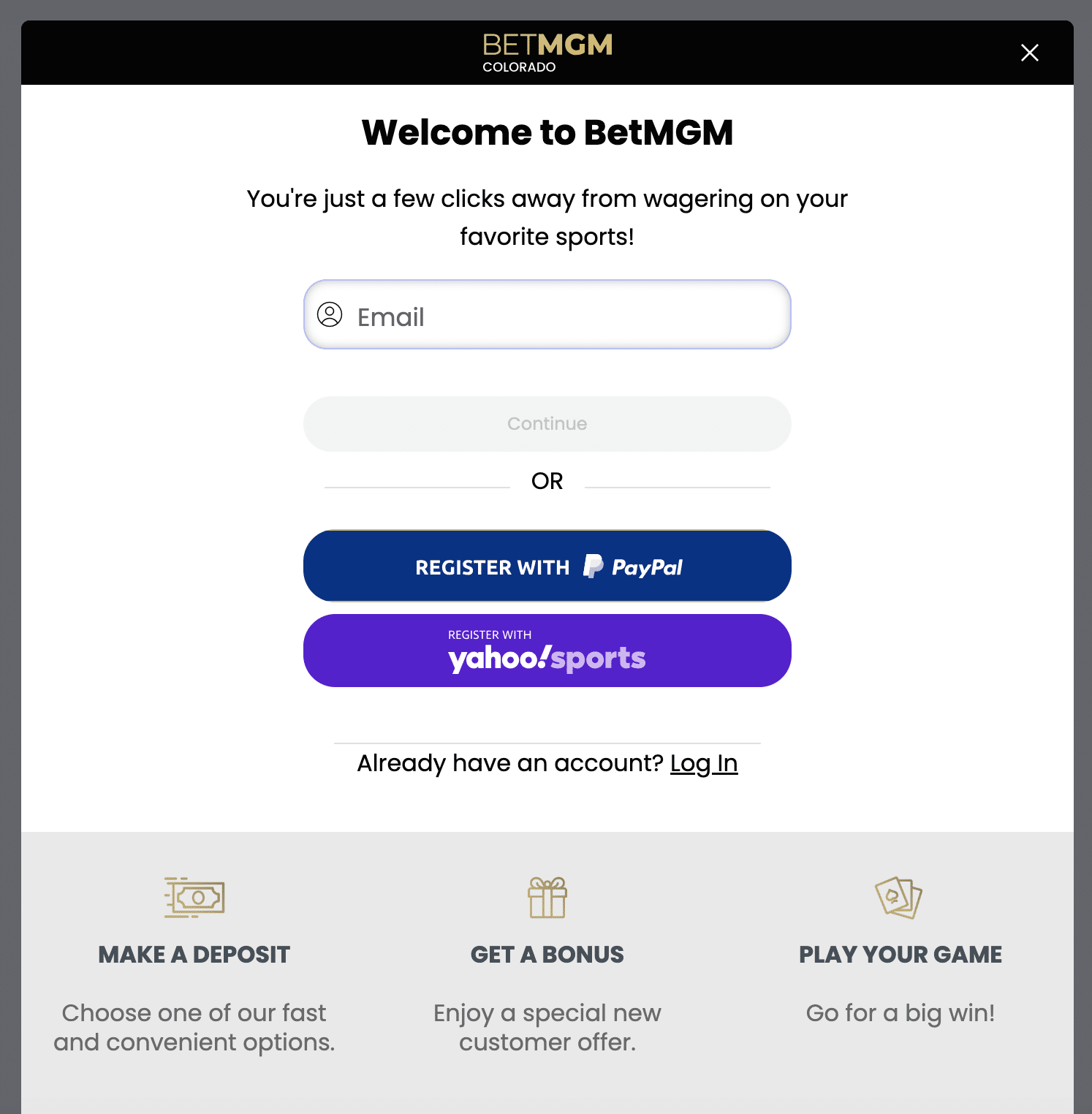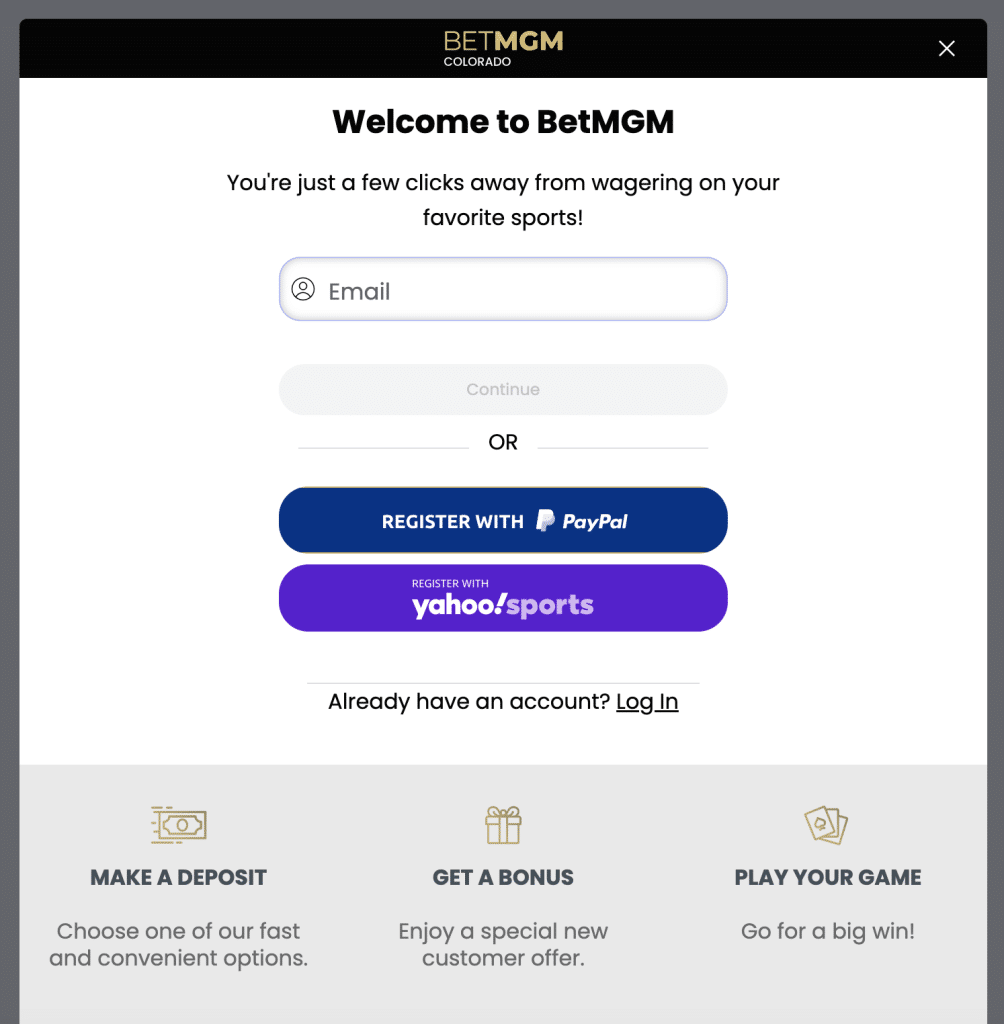 2. Find a game and access alternate lines
You will now need to navigate the sportsbook to locate a betting selection you're interested in. From there, you usually need to unlock the option to see alternate spreads and totals. In some cases, you may be able to make a selection and buy/sell points directly from the bet slip of the sportsbook.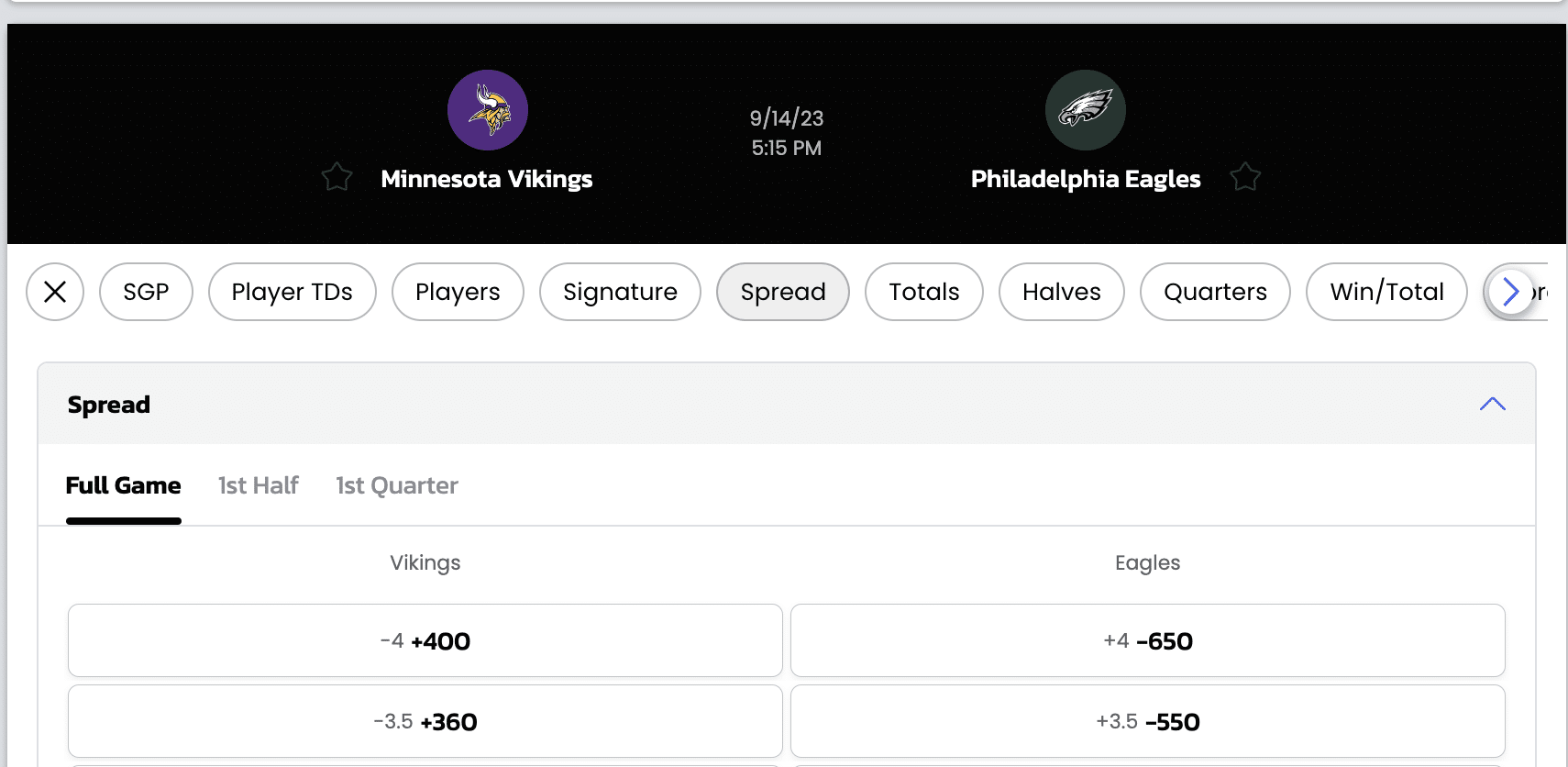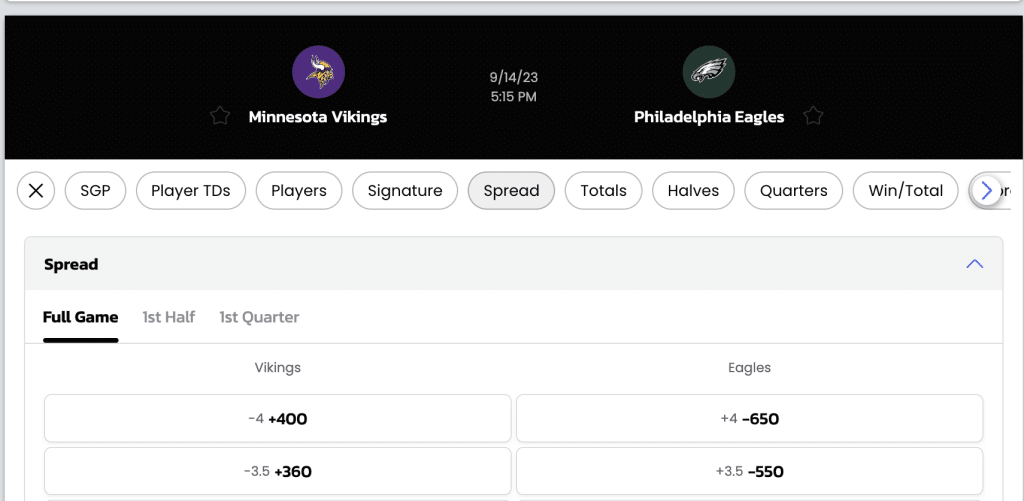 3. Make an alternate line betting selection
Now you must choose how many points you want to buy or sell on your selection. Make your decision, and your wager, using an alternate spread/total, will populate on your bet slip.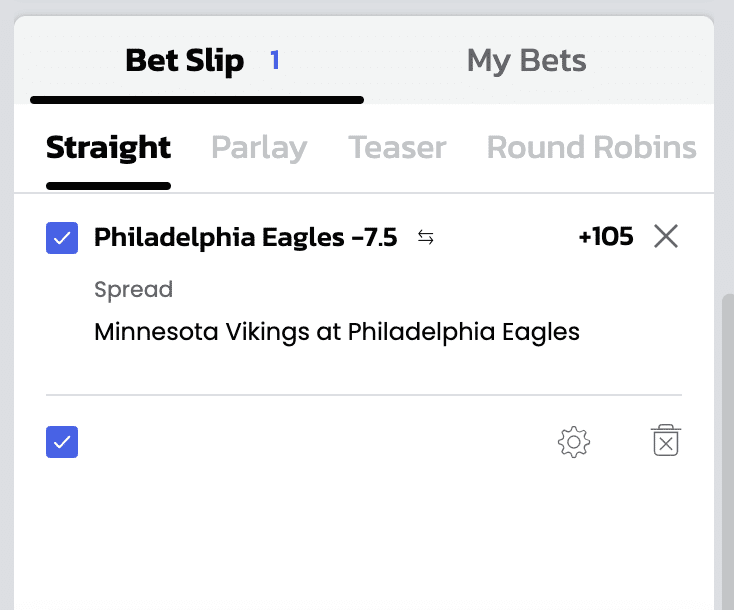 4. Input the dollar amount to wager
Populate the appropriate field with the quantity of money you want to bet on your alternate line selection. You will then see what you would gain if your bet wins. Ascertain that you are happy with your selection before moving forward.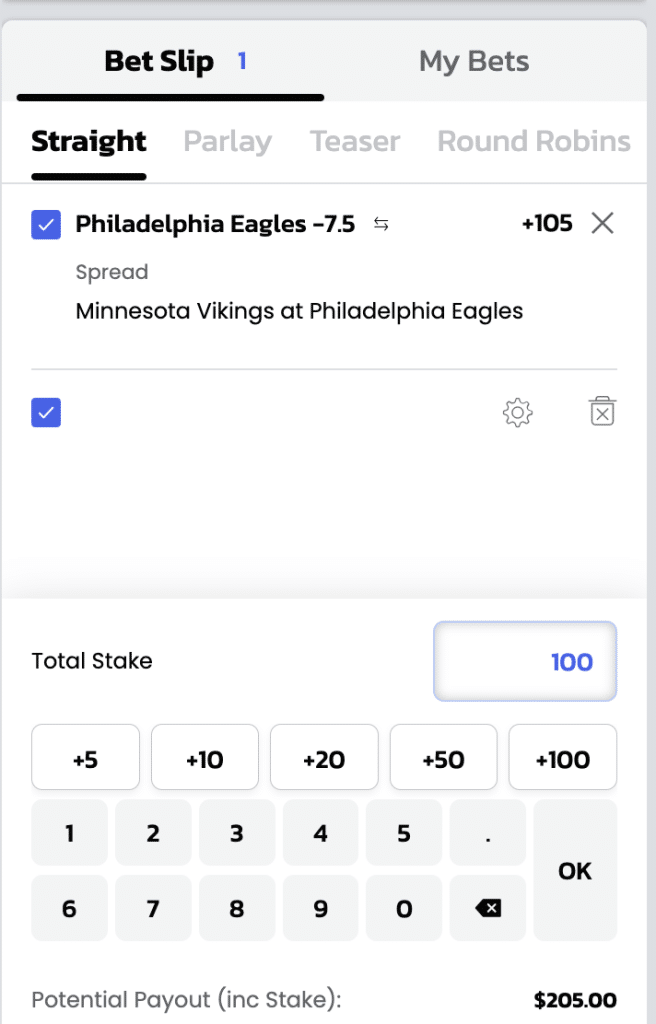 5. Submit the alternate line bet
You will now be able to submit your wager for posterity. Once it's placed, you can track the results on the sportsbook using the "My Bets", or a similarly named section, on your account. Many of the top sportsbooks will also have in-game tracking features so you can follow the action.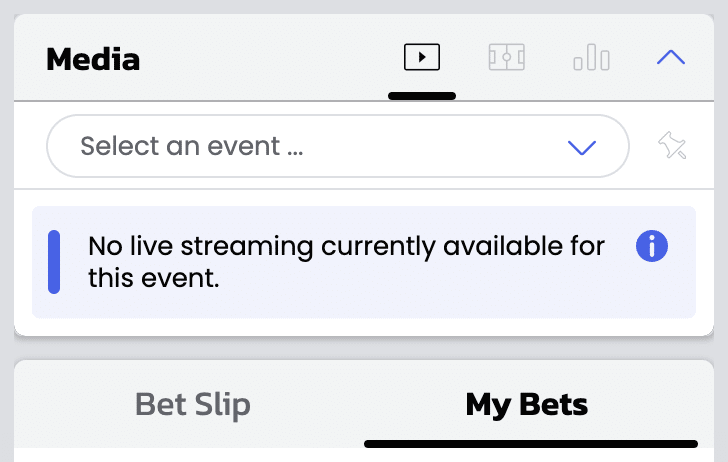 Buying Points for Main Sports
Now that you have a good idea of the general concept, let's look at a more detailed view. What does buying points mean in sports betting regarding the most famous American sports? Here we'll go into how it works for each.
Buying Points in NFL Betting
In the NFL, buying points on either a spread or total can be a common way to increase the intricacy of sports betting. The way it works is pretty simple. You'll have the opportunity to move the spread, or the total, in either direction while the odds shift accordingly. We've shown some NFL-specific examples of this above for both spreads and totals.
Buying Points in NBA Betting
We've focused mainly on the NFL in our previous examples. You might wonder, what does buying points mean in sports betting for the NBA? The answer is pretty simple, as it works quite similarly. You can move the lines on both sides of the game and totals.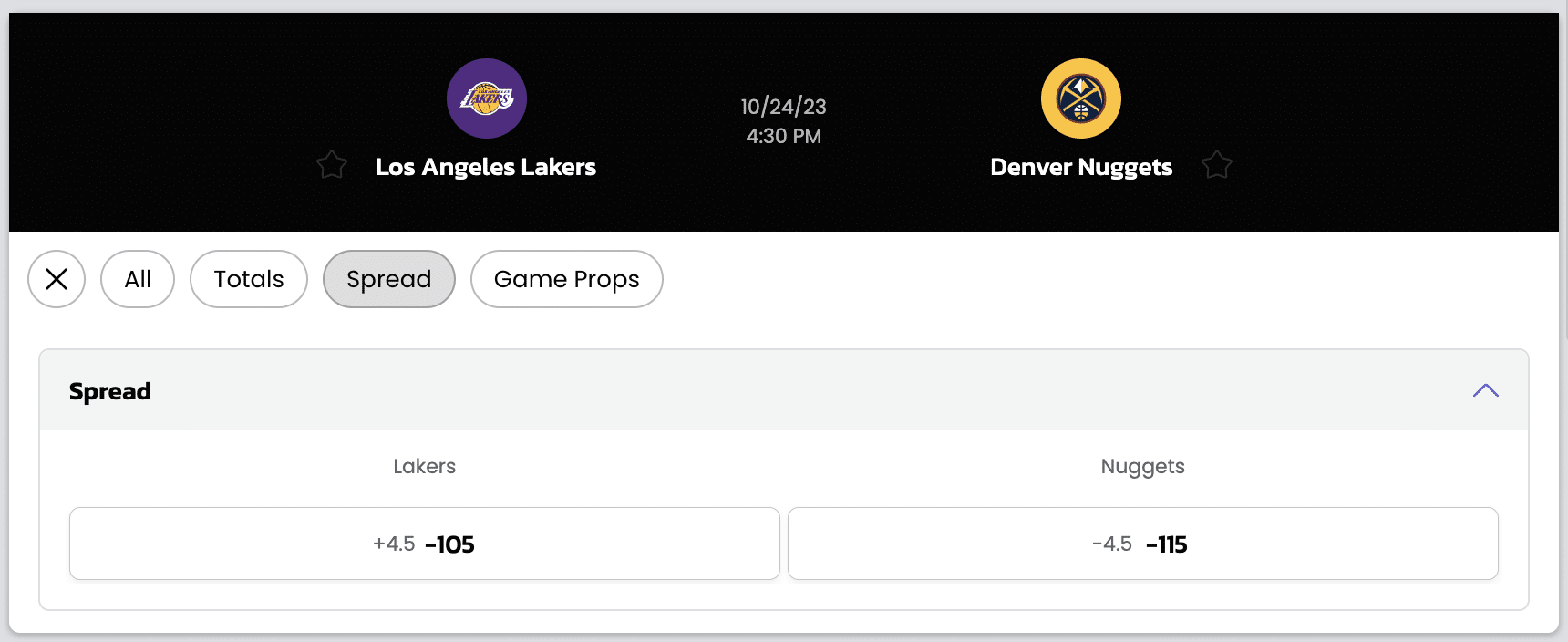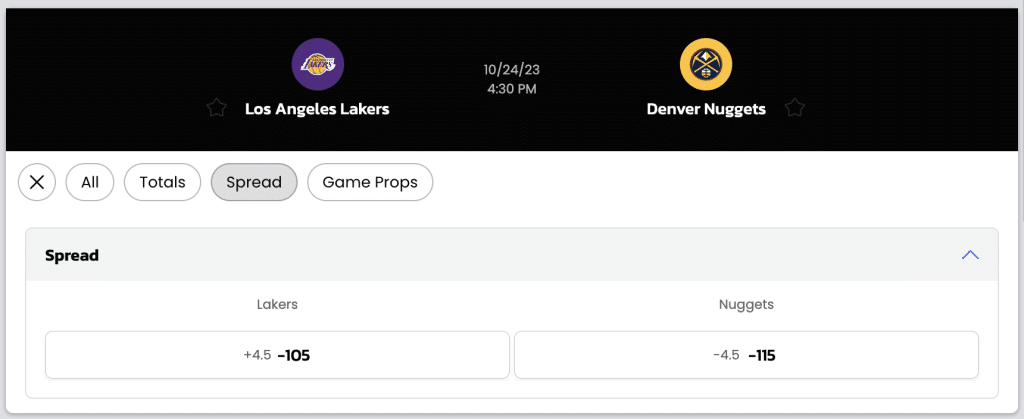 Above, you can see that the opening-day matchup between the Lakers and Nuggets has a 4.5-point spread, with odds of -105 on the Lakers and -115 on the Nuggets. As NBA season is starting well into the future at the time of this writing, alternate lines are not yet posted at BetMGM. But, for the sake of illustration, you might have the opportunity to take the Lakers at +5 with odds of -115 or the Nuggets at -4 with odds of -125.
Buying Runs in MLB Betting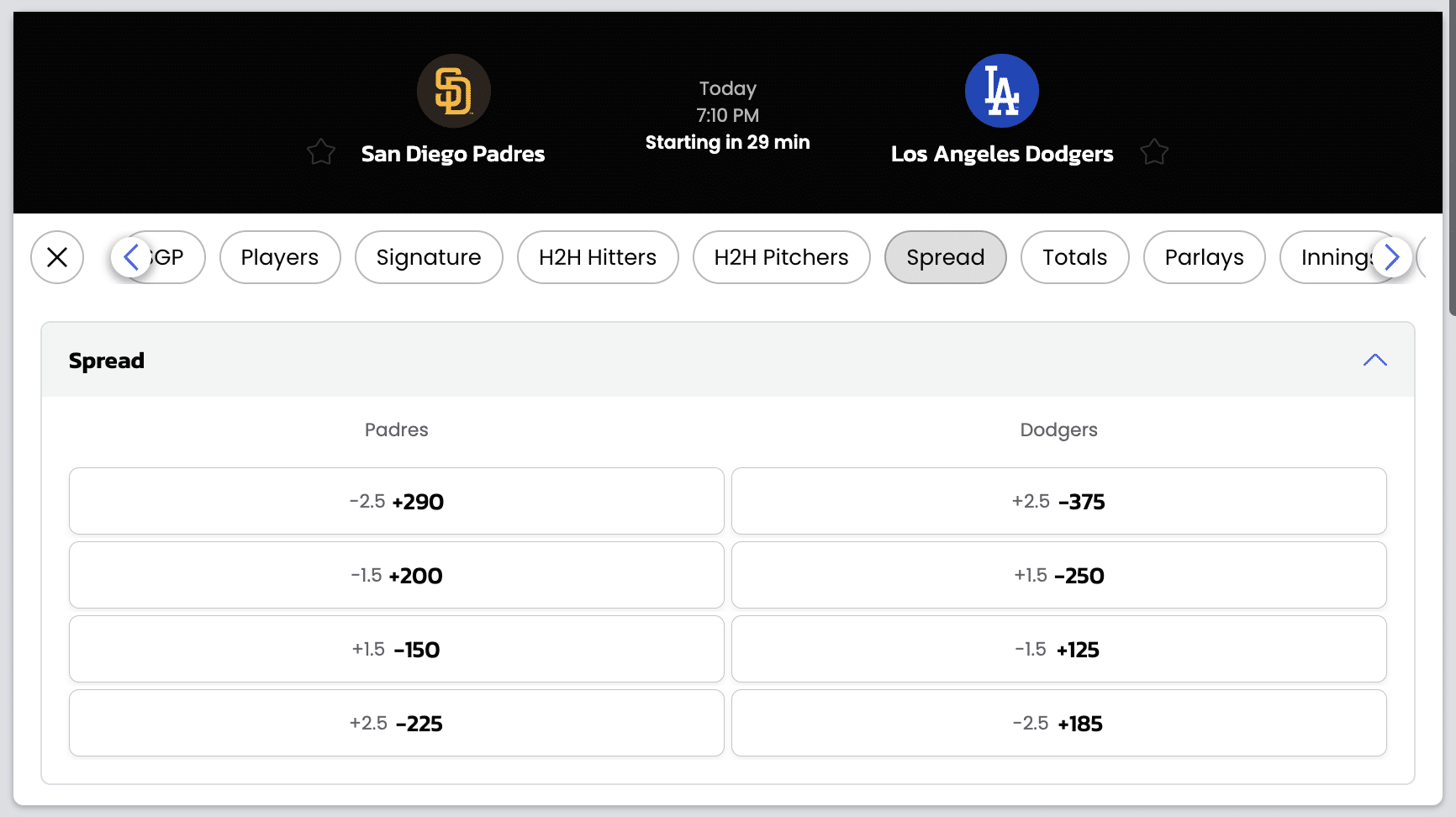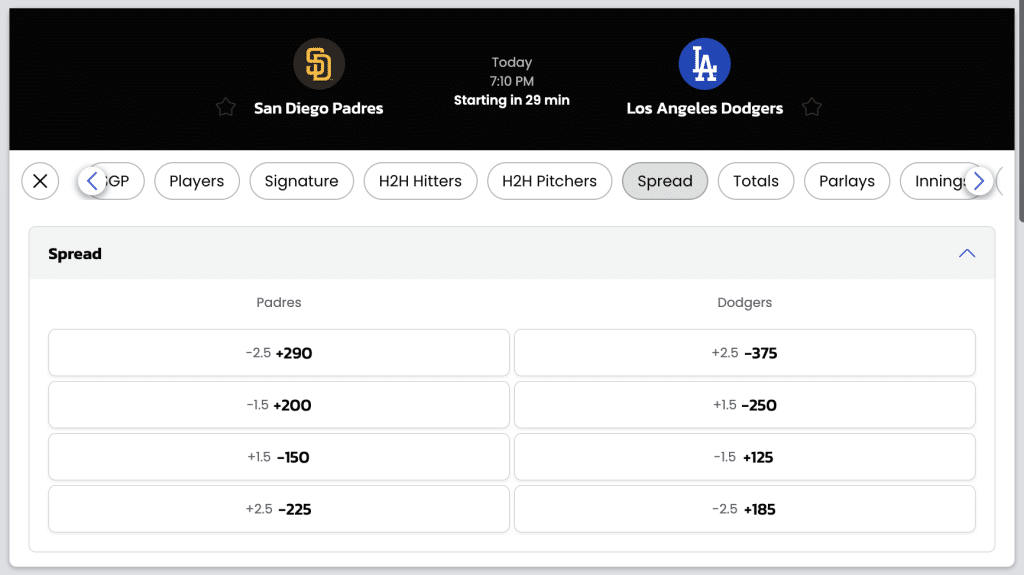 In the MLB, there are no points, instead there are runs. The equivalent of the point spread is the "run line." It's generally set at 1.5 in almost all instances, and you can alter the run line (or the game total) while shifting the odds. As you can see above, in this matchup between the Padres and Dodgers, various alternate spreads/run lines are available at differing odds.
Buying Goals in NHL Betting
The NHL works very similarly to the MLB; instead of points, it deals in goals, and the spread is called the 'puck line'. It tends to be set at 1.5 in most instances, like in baseball. Similarly, you can move the line either way on either team while shifting the odds or bet on an alternate game total.
Pros and Cons
Pros:
It can be exciting to bet with longer odds.
The line can become very easy to beat.
Great for MLB and NHL due to rigid lines.
May find a beneficial line/odds ratio.
Cons:
Potentially complicated for novice bettors.
The projected return on investment may worsen.
Long odds are enticing, but lines may be hard to beat.
Lines can be easy to clear, but payouts lower.
Tips on Buying Points in Betting
Understanding the answer to the question, what does buying points mean in sports betting, is essential. Nonetheless, receiving some pointers on the best strategies will help you make informed betting decisions. Let's take a look at a few tips.
Conduct research. When you see a spread that lands on a whole number, resist the urge to choose to buy a half point. Study the game and current trends. If you think the line is worth it, there's no need to change it. Know when, based on your plan, to shift a line one or two points in your favor.
Don't buy points all the time. The more points you purchase to move a line in the favor of your betting choice, the more money you forfeit if you win. This means that to be profitable, you must win more frequently.
Compare Prices. Shop lines at as many sportsbooks as you can. If the line you want is within a half-point or a point, there's a reasonable probability you can find it without having to accept worse odds.Don't forget to look at the odds in addition to the spread. You will have to pay the difference between -110 and -115 or -120. You want to find the best possible odds with the most advantageous spread for the side you want to bet on.
FAQs
How does buying points work in sports betting?
What does 'buy a point' mean?
What does buying points mean in sports betting?
Resources