Casinos provide a wide range of gaming options that can use cards, dice, random number generators, or other mechanics to determine the winners. At the core, all games have a house edge, a set of rules that give the casino an advantage over the player. However, this advantage can vary greatly, and knowing what game has the best odds in a casino can make the difference between winning big and going home early.
In this guide, we will take a closer look at the games with the best odds in a casino, and also at the games with the worst odds. See which options our team of experts recommend, and which titles are best ignored on the casino floor.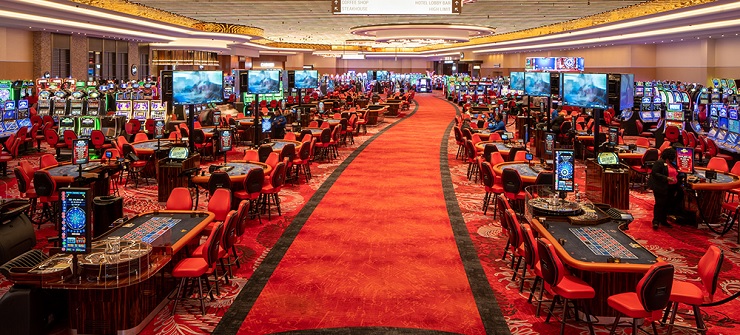 Best Games to Play at a Casino
With the gross gaming revenue in the US exceeding $60 billion in 2022, it is safe to say that casinos are doing well. However, it is worth noting that most of this revenue comes from slots, which are the most popular type of casino games. They also don't have the best odds, with the average theoretical RTP being around 95%.
The smarter picks in terms of odds are the following games, and you can also see their respective house edge for the main betting options:
Video Poker: -0.05% – 2%
Blackjack: 0.43% – 2%
Baccarat: 1.06% – 1.24%
Craps: 1.36% – 1.41%
Ultimate Texas Hold'em: 2.20%
European Roulette: 2.70%
Pai Gow Poker: 2.84%
Some of the numbers vary due to various factors. First of all, different betting options can have different odds. This is best seen in games like craps, where some of the more specific bets can have a house edge of over 13%. Then, there can also be game variations that provide different payouts depending on the version. Video poker options are notorious for having different paytables, which affect the game RTP.
As a result, it can be difficult to pinpoint exactly what game has the best odds in a casino. But, having all the details can be very important if you are looking for the perfect picks. Let's review the top games in more detail to see what makes them stand out.
Enjoy more than 45 table games at Wild Casino.
1. Video Poker – Overall Best Odds Casino Games
Video poker is one of the more complicated casino games when it comes to the winning odds. There are multiple variations of the game that are all popular in casinos throughout the United States. Players can usually choose from Jacks or Better, Deuces Wild, All American Poker, Joker Poker, and other titles. These all share core mechanics but have some differentiating factors, like the requirements for a payout or additional wild cards.
However, even if we consider the same game version, there can still be differences in the house edge. You can see this in the paytable, which can have slight variations for the strongest hands. In this example, we've taken four versions of Jacks or Better video poker to highlight the different tables: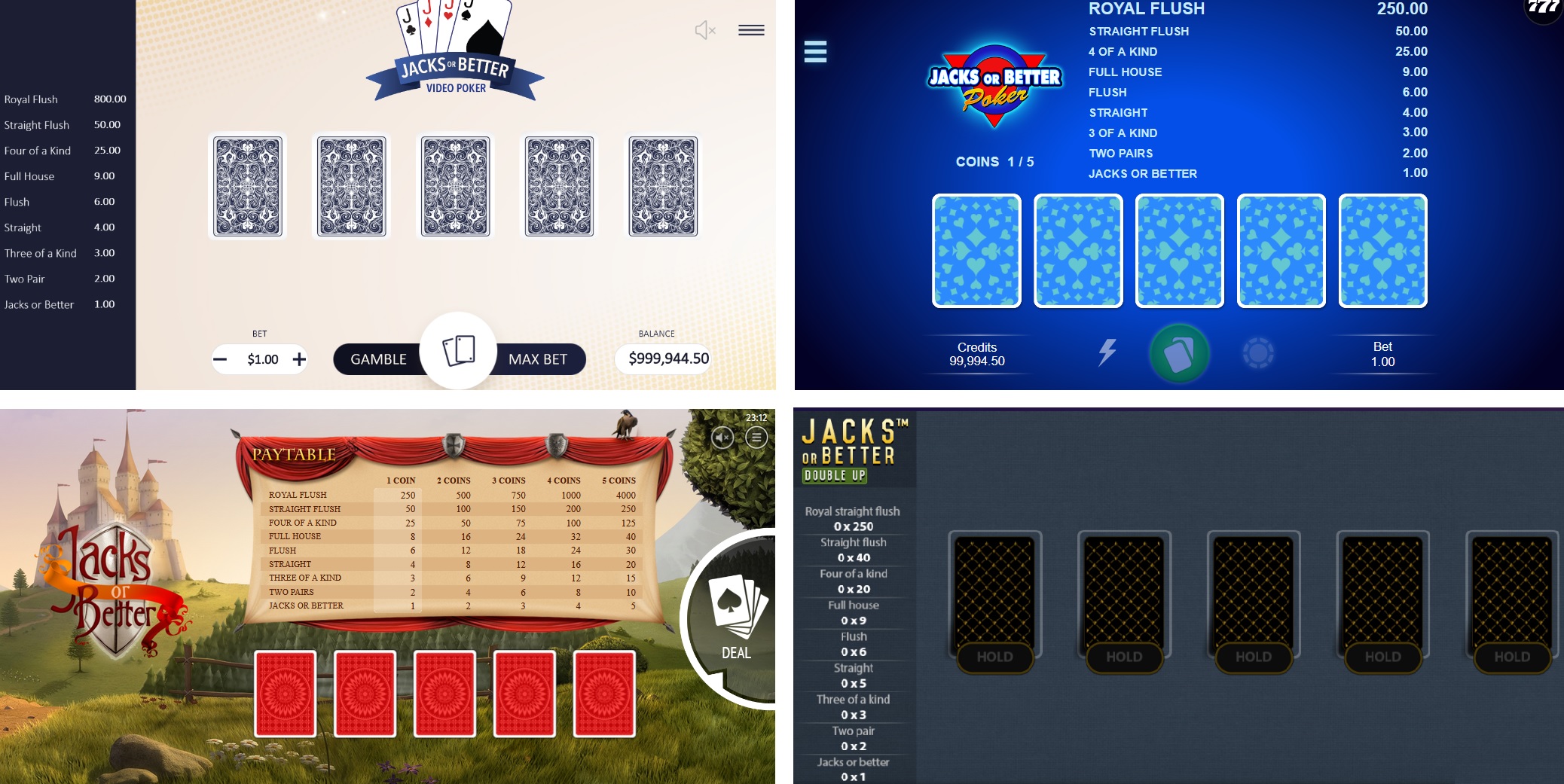 As you can see, the payout for a Royal Flush is not always 800x. In fact, most games will only pay 250x for landing the rarest hand in video poker. Then, Straight Flush should be at 50x, but the bottom-right game pays 40x. This also continues when it comes to Four of a Kind.
However, the same game pays 5x for a Straight, while the other examples pay 4x. Since this is a more common hand, it has a bigger impact on the house edge. Even so, its RTP is 98.40%, while the top-right version is at 99.54%.
Moreover, the betting level can influence the video poker paytable when playing in a casino or online. Opting for the fifth level can provide a boosted payout for a Royal Flush.
The house edge in video poker can also be improved by using basic strategy. Since players can influence the outcome of the hands, making the right decisions can have an impact on overall profits.
2. Blackjack – Great Casino Odds with Basic Strategy
For many, blackjack is the best game to play at a casino. It has a generally low house edge and also gives players more freedom. Being able to make decisions that can affect the outcome of the round can make the win more thrilling. Moreover, blackjack is one of the most popular casino games in the US, being available in most land-based casinos and at online gaming sites.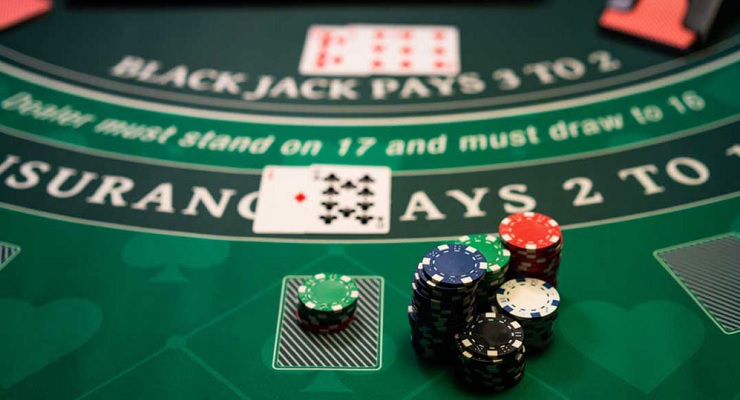 While the rules can vary in blackjack, it is not as rough as we've seen with video poker machines. In fact, most premium blackjack games will pay 3:2 for Blackjack and 1:1 for regular hands. Also, the dealer draws to 16 and stands on 17 or higher. These rules are clearly visible on the table and if you see that Blackjack pays less, it is best to move on.
Another factor that can influence the blackjack house edge is the number of decks being used for the game. Having just one deck of cards is ideal while adding more increases the house edge. Most casino blackjack tables use 6-8 decks, which results in a standard house edge of 2%.
What is important here is that with the right blackjack strategy, players can lower the house edge significantly. A mix of basic strategy and favorable table rules can result in a house of under 0.5%. This makes blackjack one of the best games to play at a casino.
3. Baccarat – Easiest Casino Game to Play with Great Odds
Baccarat has been enjoying immense success in Asian markets for decades and it is now becoming popular in the US as well. The fact that it has some of the best casino odds on the floor definitely helps its case.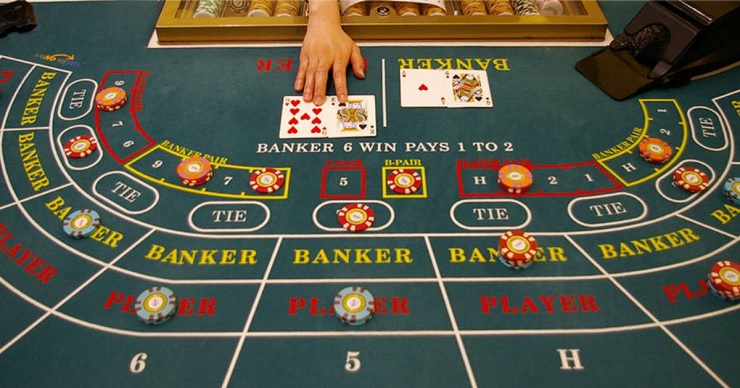 The card game is also known as Punto Banco and it normally has three betting options. Players can bet on which of the two hands they think will win, the Player (Punto) or the Banker (Banco) side. There is also the option to bet on a tie, but this has very bad odds and should not be considered.
Betting on the Banker can come with a 5% commission on the win, if successful. However, this remains the best bet when checking out the casino game odds. There is only a house edge of 1.06% when betting on the Banker, while the Player bet is higher, at 1.24%. The difference comes from the dealing rules, but this doesn't affect the player since there are no decisions to worry about after placing the bet.
As a result, baccarat is not only among the casino games with the best odds but also the easiest one to play. You simply have to bet on the Banker and you are all set. There are no complicated strategies to worry about, as found in video poker and blackjack.
4. Craps – Best Casino Game to Win Money while Having Fun
The craps table is often the most exciting place on the casino floor. As players can take turns throwing the dice, there is something unique about this popular casino game. Plus, you will also bet alongside other people, which can definitely make it more exciting.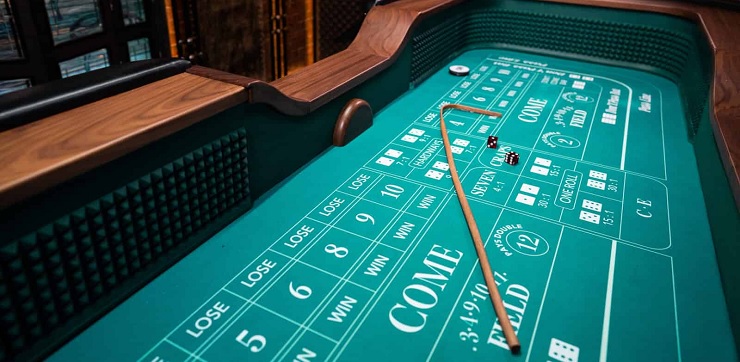 In addition to the fun element that craps provides, it also has some of the best casino game odds for certain bets. However, you should also know that some of the bets at the craps table are very bad in terms of odds and payouts, and should be avoided at all cost.
For starters, craps is generally considered one of the more complex casino games due to the betting options. To keep it simple, we will only be looking at the bets with the best odds. The Don't Pass bet is the best in this regard, with a house edge of just 1.36%. When placing it, the total roll must be 2 or 3 to win. A 7 or 11 loses, while a 12 is a push.
The Pass Line bet is also quite favorable when compared to other casino games. It has a house edge of 1.41% and requires a 7 or 11 to win. This bet loses on a 2, 3, or 12 roll.
If the initial roll is 4, 5, 6, 8, 9, or 10, the point is set. The dice will roll until the point comes up again or until the result is 7. Pass bets win if the point rolls before the 7, while Don't Pass bets require the 7 to be first in order to win.
Are you looking to try craps for the first time? Sign up at Bovada.
5. Ultimate Texas Hold'em – Casino Poker Action with Good Odds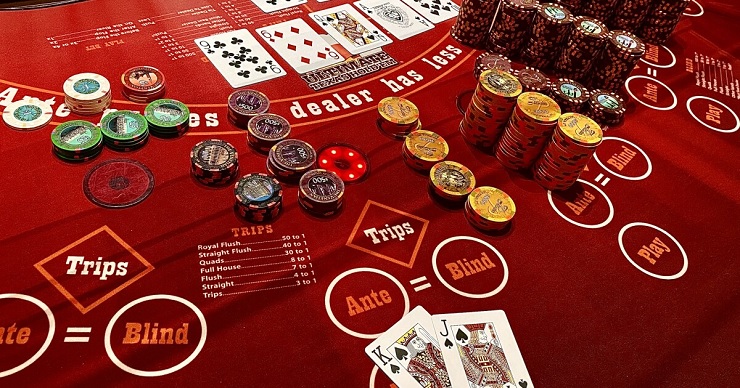 Ultimate Texas Hold'em is a casino adaptation of the popular Texas Hold'em game. Here, players play against the dealer and they are facing a 2.20% house edge on the initial ante bet. However, the following bets can have a lower house edge with the right strategy. Since players can choose to increase their bets, skilled players can have better results at the table.
Similar to video poker, ultimate Texas hold'em comes with a paytable that will provide higher payouts the stronger the hand is, going up to 500:1 for a Royal Flush. As a result, it is fun to play and has more betting rounds than other options.
How to Play Casino Games in 2023
Now that you know which games are best, you are probably wondering where to play them. Luckily, online casinos are now legal in states throughout the country and these are very easy to access. Major brands are now live in multiple locations, offering a wide range of games.
The best real money online casinos also have bonuses and promotions that can improve the odds even further. You can find live dealer versions of some of the best casino games to enjoy the authentic experience from the comfort of your own home.
Claim different exciting casino bonuses every week. Sign up with Everygame.
Worst Casino Game Odds
After looking at the best odds in a casino, we should also look at some of the worst options. These are generally games that you should avoid if you are hunting for a low house edge and planning on long sessions. However, some of the games on the list have the potential to award massive wins, which can make them more appealing.
1. Keno
Keno is a specialty casino game that has a very big house edge. Depending on the version, players can face a disadvantage of around 30%, making it one of the worst picks in a casino. The game often stands out as it is similar to lotteries and features some large potential payouts. Claiming them, however, is no easy task and it is best to avoid betting big in keno.
2. Slot Machines
Slots represent the third most popular form of gambling in the US, being surpassed only by sports betting and lottery draws. However, slot machines don't always provide a good house edge when compared to other casino games. In fact, slots can have some of the worst odds in a casino.
The problem is that the theoretical RTP varies greatly from game to game. So, while one slot machine can have a house edge of 3%, other options can even exceed 15%. It all comes down to the game mechanics and features.
We recommend checking the RTP before you start betting, something which is quite easy to do online. Land-based slot machines don't always display this information in the game details. It is also worth noting that progressive jackpot slots usually have a much higher house edge if we don't take the jackpot win into account.
3. Wheel of Fortune / Big Six Wheel
Different variations of Wheel of Fortune or Big Six are available in casinos throughout the nation. There are also some live dealer games online that follow a similar format. These generally have a high house edge for all bets and should be avoided. Even Dream Catch, one of the most popular live dealer games, has a house edge of 4.66% when betting on one and 9.19% when betting on 40.
Extra Mention – American Roulette
Double Zero Roulette, also known as American roulette, receives a special mention as being one of the worst picks in a casino. While its house edge of 5.26% is not as alarming as some of the other figures shown in this guide, it is still not great.
However, the biggest problem when American roulette is the European version, which only has one zero pocket. This means that the house edge is lower, at 2.70%, and that there is no real reason to choose American roulette over European roulette when they are both available. Moreover, you can use a top roulette strategy to help improve your profits from the little wheel.
Worst Casino Bets
Some games can have bets with good odds and bets with very bad odds. It is generally a good rule to avoid side bets in most gaming options at the casino, but these stand out as being widely available and very bad value due to the large house edge:
Sic Bo: Specific Number Bet – 29.20%
Casino War: Tie Bet – 18.65%
Craps: Any 7 Bet – 16.67%
Baccarat: Tie Bet – 14.36%
Craps: 2 (or 12) Bet – 13.89%
FAQs
What casino game has the best odds?
Do slots games have good odds?
Where can I play the games with the best odds?
What are the best casinos for online games?
Resources