An exacta bet is one of several exotics that can be used when betting on horse racing. The bet is extremely popular due to the possibility of winning large sums of money from a relatively small outlay. In this guide, we'll answer what is an exacta bet, how the bet type works, and what betting strategies you can apply to making your betting more profitable.
What is an Exacta Bet?
An exacta bet is where you must pick the two horses in a race that finish in 1st and 2nd place, in the correct order. You need the horses to finish in exactly these positions to win the bet, and any other combination, or incorrect order, means the bet will lose.
The popularity of the bet stems from the large potential payouts on offer. It works great within a range of different races, from flat to National Hunt (jumps). Most of the larger racebooks will provide exacta betting options on all races hosted on the site.
Place exacta bets intuitively at BetOnline racebook.
Exacta Bet Example for Horse Racing
As part of our guide to describe an exacta bet, we'll walk you through a real-world example of how it works and what to look out for.
The race we're using is from the Mountaineer racetrack in West Virginia. As you can see, this is the first race of the meeting, has nine runners, and is run over eight furlongs.
To find the exacta markets, click on the "Exacta" tab at the top. It highlights the brief rules of each of the bets in this race and states "1st and 2nd" here. This means you need to choose the horse that'll finish 1st and 2nd, in the correct order.
We've kept it simple and chosen the two joint-favorites for the race in Mystified and Clear For Action. Both horses are priced at 5/2 (+250), and we've picked Mystified to win, and Clear for Action to finish 2nd. Remember, we need the correct order of the two horses for the bet to win.
At the bottom of the page is the bet slip, which states the amount we'll win if our bet is successful. In this example, a $1 bet would return $48.10. The next step is to confirm the bet and place it.
Betting odds will change depending on the horses you pick and the order you pick them in. If we changed the winning horse from Mystified to Palace Prince, keeping Clear For Action in 2nd place, our return would jump to $61.80 from a $1 bet. Small changes to betting lines can have a massive impact on the returns for this market.
How to Place an Exacta Bet Online
Now that we've answered what an exacta bet is, let's walk you through the process of placing a bet.
1. Register an account
Once you land on the BetOnline racebook, click the "Join now" button at the bottom of the page. You can also register an account via their mobile betting app if you'd prefer.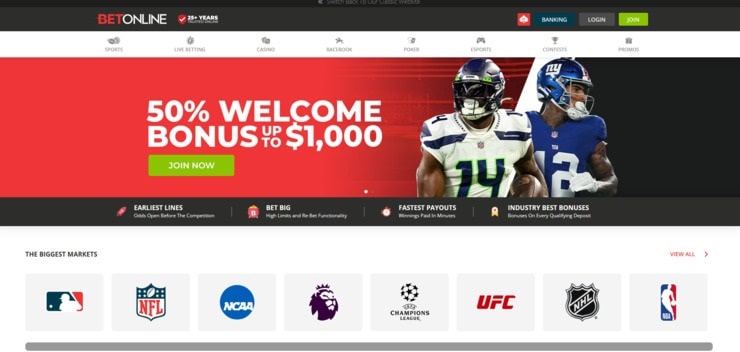 2. Enter account information
You'll be prompted to enter account information to get set up. This includes name, email address, phone number, address, date of birth. You'll need to confirm all of this information to verify your account. Supporting documents include bank statements, driver's license, and passport.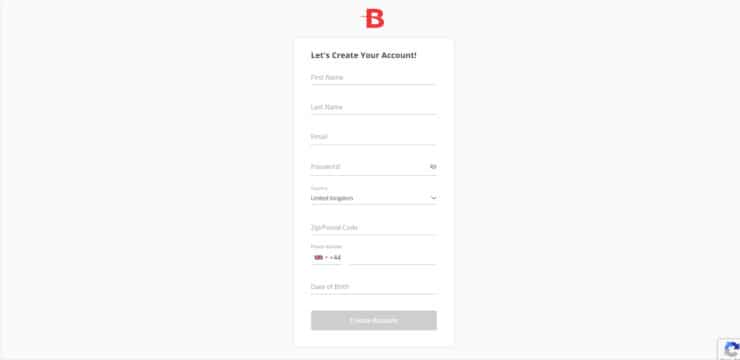 3. Log in and deposit
After completing the verification process, log in and click the cashier button at the top of the page. This highlights all of the payment options you're eligible to use. Depending on which state you're from will affect the range of options available to you.
4. Find a race
Head to the main racebook and choose from any of the races on this page. You can use the "Popular Races" section or the "Races Starting Soon" for a more complete selection. Click on the race you want to bet on to pull up the race card.
5. Place an exacta bet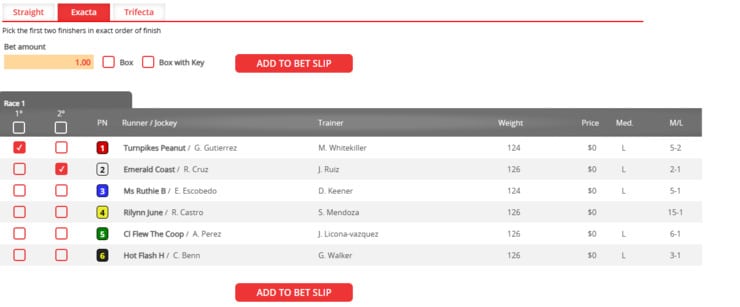 At the top of the racecard is a list of markets you can bet on. Choose the "Exacta" tab. From the list of horses racing, choose the one you want to come in 1st place, and 2nd. At the bottom of the page, your picks will be added to your bet slip. Confirm the picks, choose your stake, and place the bet.
Types of Exacta Bets
A standard exacta bet is where you pick two horses to finish 1st and 2nd, in the correct order. There are several variations of the bet which tweak how the market works. This section outlines what those bets are, and how they differ from the standard bet.
Straight Exacta – This is the standard exacta bet where you choose two horses from the race to finish 1st and 2nd in the correct order.
Box Exacta – The exacta box bet requires you to place two bets covering both combinations of the horses you've chosen. Essentially, this bet has your two picks to finish in the first two places, and in any order. It is also known as a Quinella bet and often treated as separate among exotic wagers.
Key Exacta – An exacta key is where you choose one horse to win the race, and then multiple that can finish 2nd. The bet requires that your pick to win is fixed, and then you can have as many as you like to come 2nd. The more picks you include, the more lines you need to bet (stake increases).
Part Wheel Exacta – A part wheel exacta is where you choose one or more horses to finish in a fixed position (1st or 2nd) and then multiple horses to finish in the remaining position. For example, you might pick a horse to finish 2nd, and then any combination of three others to win the race.
Full Wheel Exacta – A full wheel exacta includes full coverage of all your picks for the race. For example, you might choose from four horses to finish 1st or 2nd, and this market will have all possible combinations of the result.
Standout Exacta – A standout exacta wager is where you choose one horse to win the race and then multiple horses to finish 2nd. The first horse must be fixed, but the winning bet can include any from your remaining picks to finish 2nd.
Combination Exacta – A combination exacta is where you place multiple bets on different combinations of horses for 1st and 2nd place. This has huge coverage over the field, but it can get expensive as you bet per combination.
Fractional Exacta – This extension of the box exacta allows you to choose more horses for a single position over the other. For example, you might have three horses to finish 1st, and four horses to finish 2nd.
BetNow offers great odds for local US horse racing.
Exacta Betting Strategy
The key to winning an exacta bet is all about applying a solid betting strategy. Timing is essential, and you need to know when to use the betting market over more traditional win or place bets. Our strategy guide will highlight processes you can consider to make your exacta bets more profitable.
1. Create Probabilities
The exacta market is all about creating a likelihood that two events will happen. You need to predict the horse that's going to finish 1st, and the horse that's going to finish 2nd.
The best way is by predicting how likely this will be. You can use the odds on offer as a base for this as it should represent the implied probability of each horse winning. However, if you were to only follow this process, every exacta bet you make would be the favorite to win, and the second favorite to finish 2nd.
Therefore, you need to use your research to choose the horse you think will win the race. Once you do so, assign a probability to that horse for your bet. Then determine the probability for the next horse in the list to finish 2nd.
2. Know Which Exacta Bet Type to Place and When
We've covered a wide range of bet types that all link to the exacta bet. The wheel and part wheel are two of the most common, but you must decide when it's right to use these markets. Bettors often lose value in choosing the wrong bet at the wrong time.
For example, a full wheel bet usually comprises a single horse to finish 1st and then the rest of the field to finish in any combination for 2nd. Assuming this is a nine-horse race, the total bet would be $8, assuming a $1 exacta bet.
Let's imagine the horse you choose to win is priced at 3/1. Payouts for all combinations range from $10 through to $20. So the best we can return from our $8 wager is $20. It's not too bad when you consider we've got a short-priced favorite and any combination from the field to finish 2nd.
However, given that you've picked the horse at 3/1 to win, you've got confidence that this is the best horse in the field. If we've not placed the full wheel exacta bet and simply bet on the horse to win as a single, our $9 wager would return $36 total for a profit of $27.
The key here is timing. You need to know when to use the right exacta bet and why. Don't be lazy and use full wheel bets just for ease, especially with short-priced favorites, as there's a good chance this will lose you money in the long run.
3. Make Use of Weighted Bets
The beauty of an exacta is that it allows you to be creative. You can cover bets with multiple results and still make a profit.
A lot of people fail to use weighted bets as part of their strategy. What we mean by this is changing your stake to favor more realistic results.
For example, let's say you've researched and found a race with one standout, and two notable runners, and you want to place an exacta bet. You feel that one horse is a lock to win, but the other two can finish 2nd.
The odds for the winner are priced at 2/1, but the other two are priced at 6/1 and 12/1, respectively. A weighted bet means you split your stake between the two exactas. For example, if you were looking to bet $10 in total, you could place $7 on the 2/1 to win and 6/1 to place, and the remaining $3 on the 2/1 to win, and 12/1 to place.
This will give you a similar return for both combinations and is a much better way to bet compared with full, and even part wheel bets, sometimes.
4. Make Money Betting on the Favorite – The Right Way!
Many bettors fade the favorite as they chase the bigger paydays you can get from an exacta bet. At times, it makes sense, as the returns, especially from short-priced favorites, can be low for what seems like increased difficulty.
But there is a way that you can use these bets to your advantage, you just need to know where to look.
The key is that we want to take on the short-priced favorite (odds anywhere from 3/1 or lower) but couple it with longer odds for 2nd place. We are looking for value in the field when the favorite is removed.
You see, betting odds are all relevant to the favorite. So, each horse is priced on its likelihood to beat the favorite. Once the favorite is removed, the odds would tumble for the entire field.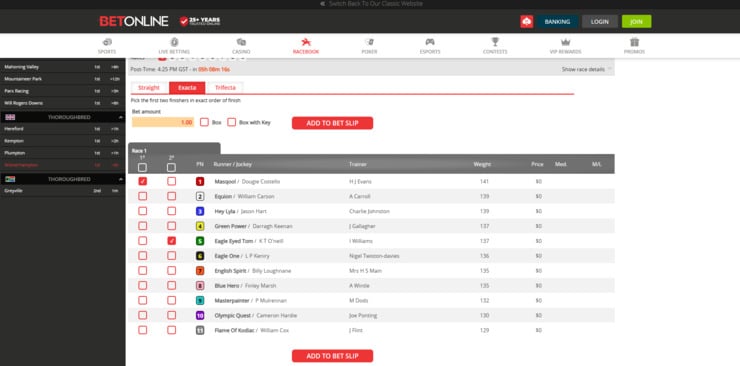 For example, an upcoming race at Gosford Racetrack in Australia may have 12 runners, with a very short-priced favorite in Tender Streak at 2/1. The next price is 9/1, and it increases considerably from there.
We aim to find the best of the rest here to get huge returns from an exacta bet. If we included Tender Stake at 2/1, and Octogram to finish 2nd at 33/1, this would return in the region of $60 per $1 wagered. We could add another possible 2nd here and still have more than reasonable returns.
Betting on the favorite works, you just need to take the time to find who is able to back them up and to get it done in the correct manner.
Get pari-mutuel and fixed odds racing at Bovada.
How to Calculate Exacta Odds and Payouts
Exacta payouts are based on a parimutuel system. This is essentially a pool of money that is gathered by the racebook, and players with winning tickets are paid a dividend based on their stake.
Unlike a standard straight bet where you see the odds, you won't get to know what the payout is until the race is run. It's possible there aren't many winning tickets, and you win big, but also, there might be lots, and the dividend is low.
Let's run through a quick example of how that might work.
5,000 exacta bets are made at $1 each.
The total prize pool for a single exacta bet is $5,000 ($5,000 x 1).
After the race, there are 100 winning tickets, and each bettor receives an equal share.
$5,000 / 100 = $50.
Each $1 winning ticket wins $50.
This is about as basic as it gets, and one thing we've not included here is the commission charged by the racebook. This is usually around the 5% mark, so you can expect to get a little less than the $50, but it won't be far off.
Some racebooks will give a rough guide as to how much your exacta bet will return. For example, the image above from FanDuel, states that the Pot Return is $18.40 for this specific bet. This amount may be true at the time of placing the bet, but the final numbers won't be known until the race has been completed and all bets have been taken.
What is the Difference Between an Exacta and a Quinella?
An exacta bet is often confused with a quinella bet, but the two are very different, and in this section of our guide, we'll highlight how they differ.
An exacta bet is where you choose two horses to finish 1st and 2nd place. The positions are fixed and need to be in the correct order for the bet to win.
In a quinella bet, you choose two horses to finish 1st and 2nd in any order. This bet is much more flexible as you don't need fixed positions for the pair. The tradeoff is that the returns are generally much lower, given that you've more combinations for a successful bet.
Other Exotic Horse Racing Bet Types
The exacta bet is one of the more popular exotics on the market. However, there is a host of other bets that have a similar principle, as we've outlined below. Find out more in our horse racing betting guide.
Trifecta – This market is where you choose the horses that finish 1st, 2nd, and 3rd, in the correct order.
Superfecta – The superfecta bet requires you to pick the first four horses to finish in the correct order.
Quinella – In a quinella, you must pick the first two horses to cross the line, but they can do so in any order.
Box Bets – A box bet can apply to most exotics, and this is where you choose the horse to win, and then any combination of the rest of the field included for the remaining positions. This can be used on an exacta, superfecta, trifecta, and more.
Daily Double – In a daily double, you need to pick the winners from two consecutive races at a single race meeting (usually the first two races).
Pick 3/4/5/6 – In a "pick" bet, you must choose consecutive winners based on the number of picks from the same meeting. So, a Pick 3 would be three races, a Pick 4 would be four, and so on.
Wheel – A wheel bet is where you choose one horse to win the race and then all the remaining horses for the next positions.
Part Wheel – In a part wheel bet, you choose some of the horses in the field for the remaining positions.
FAQs
What is an exacta bet in horse racing?
How does an exacta bet work?
What if the horses I've chosen finish in the correct order, but not in the exact positions?
How are the odds determined in an exacta bet?
Are there different types of exacta bets?
Can I place multiple exactas on the same race?
Resources