Each way betting allows you to place to two bets within a single wager, covering both the win and place. It's mostly used within horse racing but can be applied to a range of sports, which we will cover in this article.
Also, within the article we will cover things like how each way betting works, how payouts are formulated, the best betting sites for each way betting, betting strategy, and when best to take advantage of this bet type.
What is an Each Way Bet?
An each way bet is a single bet that is split into two markets. These are the win and place. It's designed to give you multiple chances of winning on a selection, with the place being paid at reduced odds.
The concept is that you're betting on your selection to win and for it to finish within a certain number of places. It means that you've got a greater chance of winning as your pick might not win outright, but still provide a payout if it finishes within the top designated places.
How Does Each Way Betting Work?
There are two parts to the bet. You have a straight win bet and then a place bet. The latter is paid out as a percentage of the odds taken when the bet is confirmed. It also pays a set number of places based on the number of entrants that are taking part.
For example, most betting sites pay out at 1/5th odds and around 3-5 places. So, if you had odds of +1000 for the win, the place bet would pay +200 for the horse to finish within the top 3 to 5 spots.
Given that horse racing is the most common sport for each way betting, we're going to use this as an example with the bet365 sportsbook.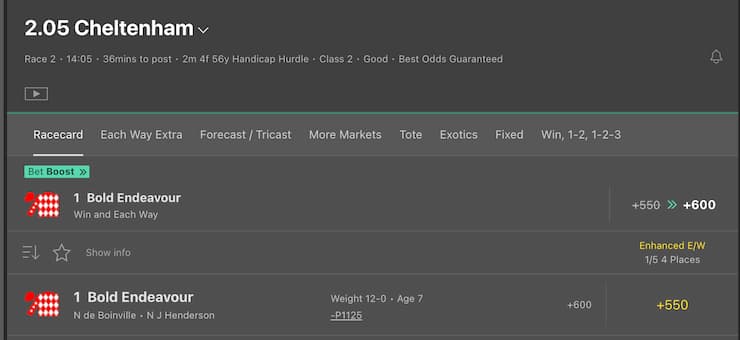 The race that we are using is from Cheltenham Racecourse (UK) and the horse we are going to bet on is Bold Endeavour priced at +550 on the win market. Before we bet there are two key areas that need to note on this market.
The number of places paid out for the place bet = 4
The percentage of payout for the place bet = 1/5th
As you can see from the image above, in this race the bet is paying the top 4 at 1/5th of the odds. We've placed a bet of $10 each way bet, which means that our total stake is $20 as we've $10 on the win and $10 on the place.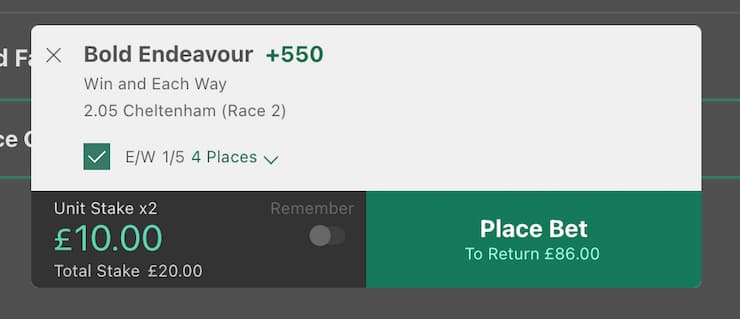 Here is the breakdown of our returns for potential results:
The horse wins = $10 @ +550 = $65 for the win and $10 @ +110 (1/5th odds) = $21 = $86 total
The horse finishes 2nd to 4th (placed) = $10 @ +110 (1/5th odds) = $21
The horse finishes 5th or worse = $0 (bet fully loses)
A key thing to note from the each way bet is that if your pick wins, then you get paid for both the win bet and the place bet. As you can see, we get $86 for the win, $21 for the place, and lose if it finishes 5th or worse.
How do I Win an Each Way Bet?
An each way bet gives you two chances of winning. The bet is split over the win and the place markets and it's possible to win on both or just one of these markets.
If your selection wins overall, then you win both the win bet and the place bet. If your bet fails to win but finishes within the place sections, then you lose the win bet but still win the place bet.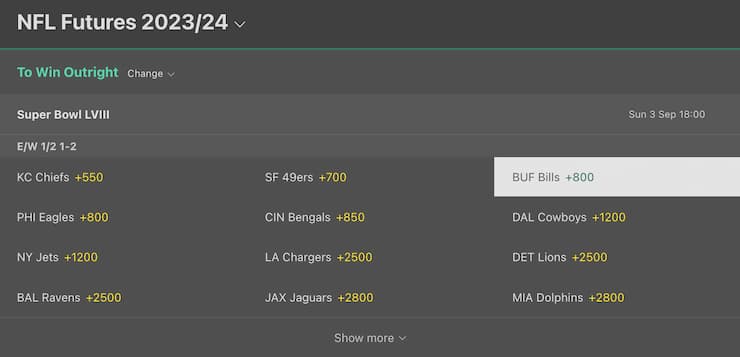 The NFL doesn't pose many markets to bet each way, but the futures for the winner of the Super Bowl is an option where you can apply this market. The example above shows that we're going to be on the Buffalo Bills to win the Super Bowl at odds of +800, but we're going to place an each way bet.
A key thing to note with E/W betting is the terms of the bet. This shows the percentage of payout for the place and the number of places paid. If you look under where it says Super Bowl LVIII, we can see that the terms are ½ 1-2. This means that the top two places are paid at half the original odds.
So, if we were to bet on the Bills to win the Superbowl and have bet each way, to win at least some of the bet we need them to finish 1st or 2nd, but for this market that would simply mean making the Super Bowl. If they failed to make the Super Bowl, our bet would lose. Let's assume they do and see how we would get paid.
Bills win the Super Bowl – $10 bet at +800 = $90 return plus $10 at +400 (1/2 original +800 odds) = $50 return for a total of $140 return including stake.
Bills make Super Bowl but lose = Win bet is a loss, but a place bet pays 10 at +400 (1/2 original +800 odds) = $50 return
How to Make an Each Way Bet
We're going to use bet365 to highlight how to place an each way bet from start to finish. The process is very simple and should be similar on all betting sites and markets that you choose to use.
1.   Create an Account
You first need to create an account with bet365. This process will take a couple of minutes and you will need to verify your email address to get access.
2.   Fund Your Account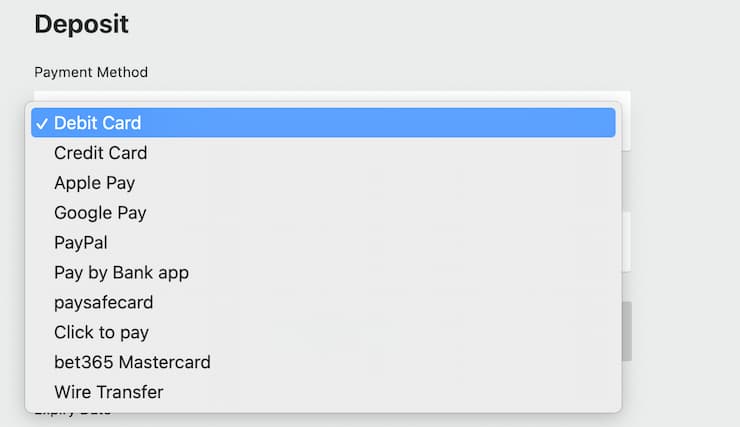 Once the account has been created, head to the cashier and make a deposit. Depending on where you are located will depend on what banking options are available to you. Bet365 is one of the best gambling sites in the industry, with a wide range of banking options to choose from.
3.   Choose a Sport/Market to Bet On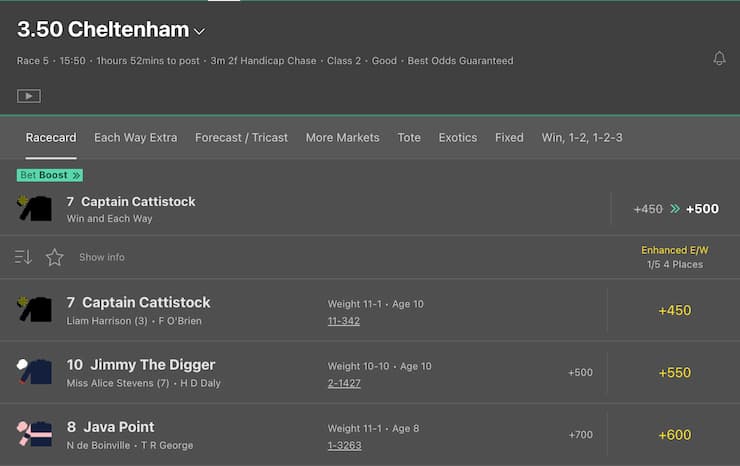 We're going to use an upcoming horse race, but you can use the navigation bar to choose from dozens of sports and then markets. The race we will use is the 3.50 from Cheltenham in the UK.
4.   Add to Bet Slip
To add your pick to your bet slip you need to click on the odds. For E/W betting note the terms of the payout at the top of the race card. In this case, the race is paying top 4 places at 1/5th odds.
5.   Place Bet

We've decided to bet on Captain Cattistock at odds of +450. In the bet slip you need to click on the Each Way box to signify this is the bet you want to place. Then you need to enter the stake. The stake will by default be per line. So, a $10 each way bet means that you're placing $10 on the win and $10 on the place for a total of $20. You can see under the unit stake it shows the total stake.
Confirm the bet amount and then place your bet. You can keep track of live bets within the bet slip by heading to "My Bets".
How to Calculate the Returns of an Each Way Bet
An E/W bet has two parts to the bet and the terms of the market will determine the returns for each. You need to familiarize yourself with the terms before you place the bet as they have huge implications to the value of the bet.
The "win" bet is easy to follow, and this will be paid if the selection wins at the odds initially taken. For example, if a bet is priced at +800 and it wins, then the first section will pay out at these odds based on the amount you've staked. A $100 would return $900 total based on this.
The "place" bet needs to take into account the number of places paid outside of winning, and the amount paid based on the original odds. Each way betting markets will pay anywhere from ½ to 1/5th of the odds in most cases. The number of runners in the market generally determines the number of places.
There will be times when betting sites offered enhanced places paid and this is something that you want to target. The places that are paid will be the same regardless of where the bet finishes. So, if you'd bet on a horse race, then the place bet pays the same if they finish 2nd or 3rd, assuming a race with 8 or more runners.
So, to calculate the place returns of a +800 you need to know the terms of the place bet. Let's assume that it's ¼ odds and top 3 places, with your pick finishing 2nd. A quarter of +800 is +200 and these would be your place odds. So, a $100 bet at +200 returns $300 total (stake included).
How Many Places Are Paid for Each Way Betting?
The number of places paid for the place bet will differ based on the sport and the betting site. Only horse racing has fixed terms that are the minimum that the betting site must offer. These are:
| | |
| --- | --- |
| Runners | Min. E/W places paid |
| 1-4 | None |
| 5-7 | 2 |
| 8 or more | 3 |
| 16 or more (handicap races only) | 4 |
However, outside of horse racing, there are no industry standard rules that are applied to each way betting, meaning that this is going to vary from site to site. Your goal is to shop around and find the site that offers the most places paid as this will offer much better value on your bet with increased ways that you can win.
We've listed a few examples of places paid below based on a variety of different sports and markets aside from horse racing:
NFL – Super Bowl Winner – 2 places paid
MLB – World Championship Winner – 2 places paid
NHL – Stanley Cup Winner – 2 places paid
NBA – Championship Winner – 2 places paid
Golf – PGA Tour Even Winner – 5 places paid
Soccer – Premier League Winner – 2 places paid
Tennis – Wimbledon Winner – 2 places paid
Cricket – County Championship Winner – 3 places paid
When to Bet Each Way
Each way betting is generally used as insurance to provide some cover for bets that you think have a chance of winning but aren't necessarily favorites. One thing we will add is that, you need to be sure that your pick has at least an outside chance of the win part of the bet being successful.
If this is not the case, then it's likely going to provide more value betting on the place market as it means you aren't wasting money on the win bet which has little to no chance of winning.
Each way bets are more suited to longer odds picks than shorter odds and this is down to the returns. You want to be able to at worst break even on the place bet and ideally still make a profit. If you're only going to limit losses on short, priced bets, then it offers little value.
Let's quickly jump back into an upcoming horse race where we have a short-priced favorite to see how that might look. Here we have Santos Blue who is priced at just +250 to win the race and we wager $100 E/W on the horse.
Win = $100 @ +250 = $500 total return ($300 profit)
Place Only = $100 @ 1/5th +250 = $150 total return – $100 win bet = $50 loss
As you can see, a place at these odds is only going to limit the amount we lose and not make any profit at all. Now, this can be used to limit overall losses, but in the long run, we want to maximize value from the win and at worst break even on the place.
Advantages of E/W Betting
Here are some advantages of each way betting:
Covers multiple outcomes – The place bet means that you can profit on results that don't win outright and still make money. If gives you cover that a win-only bet won't.
Enhanced places paid – Some of the best gambling sites run enhanced places paid as promotions, which means that your pick could perform much lower than expected and still make you a profit from the place bet.
Great for larger fields – Horse races with 16+ runners or events like golf have massive fields, so consistently picking winners is hard. The each way bet provides cover and again, will pay out even on picks that haven't won.
Disadvantages of E/W Betting
We've included some disadvantages of betting each way:
Double the stake – With an each way bet you essentially double your stake meaning it costs more to place. Of course, you could just half your initial stake limit, but this would mean that should your pick win, you limit the returns.
Low returns percentage – Some betting sites will have low percentages for the place bet, which offers terrible value. Anything lower than 1/5 on the original odds should be avoided.
Low number of places paid – Large fields should command more places paid, but not always the case. For example, most golf events have a field of around 160 players and pay the top 5 places. Whereas in horse racing you only need to pick from 16 runners to get 4 places paid.
Each Way Betting by Sport
E/W betting is going to vary by sport in regard to how the markets work and the payouts. In this section, we've addressed sports that most commonly use this market and explained more about how that works.
Each Way Betting in Horse Racing
Horse racing is by far the most popular sport for E/W betting. One of the main reasons for this is that fields will vary massively in terms of ability, which means that betting odds from the favorite to the underdogs is larger than most.
With horse racing your bet is split between the win and place markets. The terms of the place are based on the type of race and the number of runners. You can see more information on this in the section above regarding places paid.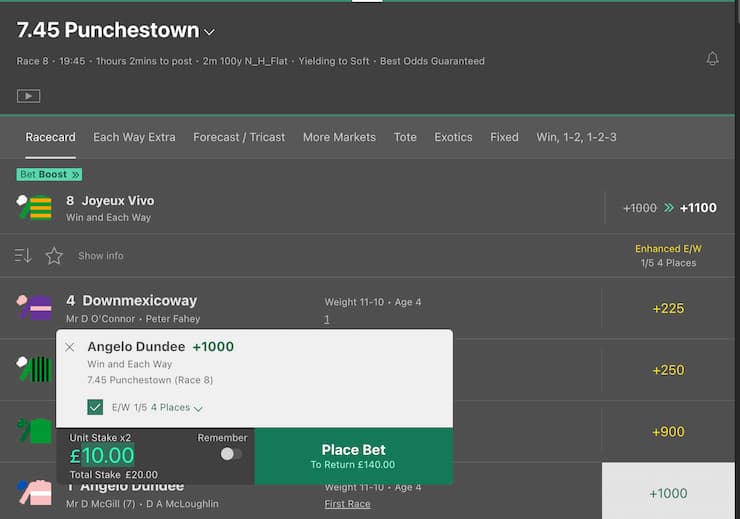 The example above is taken from a race at Punchestown. As you can see, pays 1/5 of the odds for the top 4 finishes for the place bet. The odds for Angelo Dundee to win are +1000 and a $10 E/W bet ($20 total stake) will have $10 on at +1000 for the win and $10 on at +200 for the place.
If the horse were to win we would get a total of $140 returned ($120 profit) and if it were to place, we would get $30 returned for a profit of $10.
Each Way Betting in Golf
Each way betting in golf is used on the outright winner market, for the most part. Golf is a sport that has huge fields (around 160 for most PGA Tour events). This means that the odds vary massively. As a result, it's a sport that offers huge value and lends itself well to this bet type.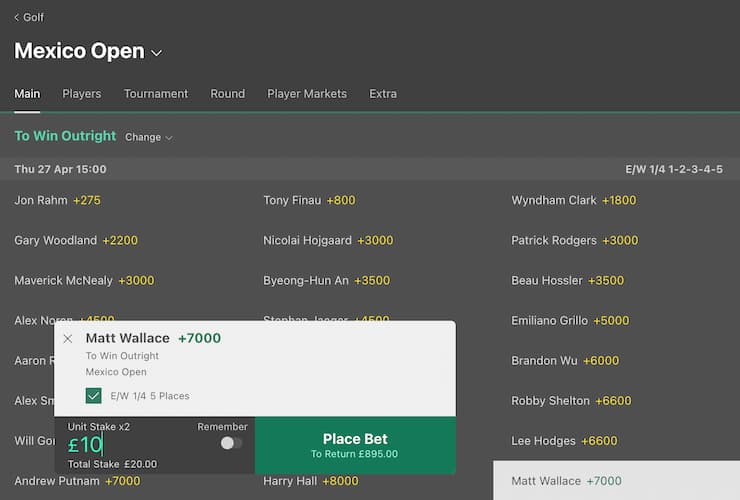 Like horse racing, you need to consider the number of places paid and the terms for payment. In this example from the Mexico Open, we're going to back Matt Wallace at odds of +7000 with a $10 each way bet.
Here are the results of this bet based on the following outcomes:
Matt Wallace wins = $10 at +7000 and the place bet = $895 total return and $875 profit
Matt Wallace places = $10 at ¼ of +7000 = $185 total return and $165 profit
Matt Wallace finishes 6th or worse, the bet loses
There is a caveat with golf in that there are ties for the place that need to be considered. When this happens the stake will be divided by the number of players that are tied. If we assume that two players were tied with Matt Wallace for the final place spot then your original stake would be halved to make $5. If there were 3 players, then it would be 1/3rd to make $3.33, and so on.
Each Way Betting in Soccer
Each way betting is soccer is used mainly for futures markets. These include things like betting on league winners, cup winners, top goalscorers or top assists.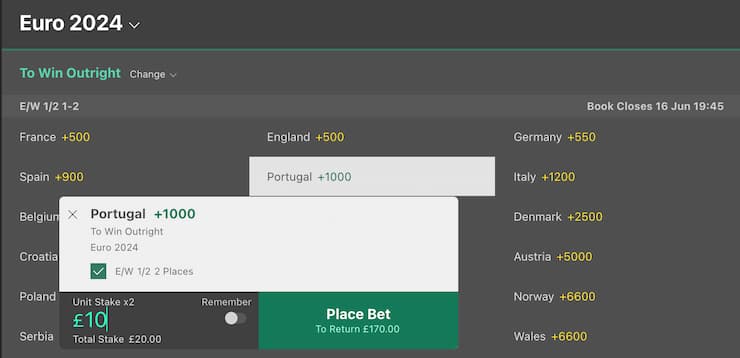 The example above is taken from a market for the winner of Euro 2024. The terms are stated at the top, highlighting that the each way bet pays ½ odds for the top two spots. This means that the country you bet on needs to make the final to get paid.
The bet that we've placed is $10 each way on Portugal to win the Euros priced at +1000. The payouts would look something like this.
Portugal win = $10 at +1000 and the place bet = $150 profit
Portugal finish 2nd = $10 at ½ odds (+500) = $40 profit
What's the Difference Between an Each Way Bet and a Place Bet
We know that an each way bet is broken into two parts. You've got the win bet and then the place bet which pays out a percentage of the original odds based on the finishing position.
A place bet is a single bet where you bet on something to finish within a set number of places with fixed odds. Where the pick finishes doesn't matter and there are no extra payouts for the pick winning.
For example, let's assume that your place bet was on a horse to finish within the top 3 spots. Regardless of where that horse finishes, you will be paid the same if it comes 1st, 2nd, or 3rd. Your bet would lose if it finished 4th or lower.
There are merits to using a place bet over an each way bet as it means you don't need to invest as much money. Remember, each way requires double the stake which is split across the two bets. Place bets, on the other hand, are single bets with the whole stake at the odds you take to the start of the race or market.
Alternative Each Way Bets
There are betting sites that will allow you to take on alternative each way bets. These are bets where you can adjust the places paid out and, in some cases, the percentage of the odds for the place bet.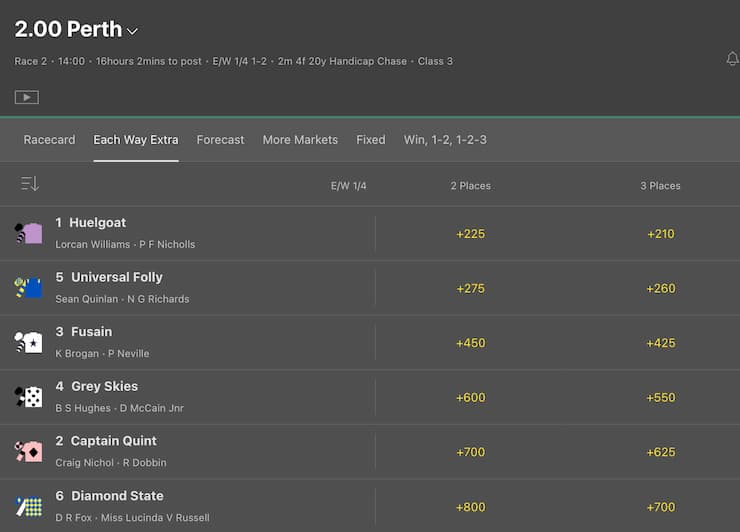 The race above is taken from a meeting in Perth, Australia, and includes extra each way terms. As you can see, you can choose to take 2 places paid or 3 places paid. The cost for an additional place paid is that you get lower odds.
For example, if you look at the odds of the favorite for the race, Huelgoat, the odds for two places are +225, and for three places +210.
Alternative each way bets will give you added security for your pick by allowing it to still cash within additional places. You need to decide if the lower odds offer more value with the additional place to be paid. As a rule, the longer the odds, the more valuable additional places become.
FAQ
How does an each way bet work?
Is it worth betting each way?
What does each way 3 places mean?
How much do you win on an each way bet?
Do you pay double for an each way bet?