Same game parlays (SGP) present an exciting opportunity to rack up large profits by combining two or more predictions to form a single wager. The best online sportsbooks make it easy for you to compile these bets, so they are becoming increasingly popular.
This guide explains how to create a same game parlay. We will discuss how an SGP differs from a regular parlay, and we will also break down the pros and cons of this betting option. You will also discover the best sportsbooks for placing same game parlays, along with our top tips for success.
What is SGP in Betting?
A traditional parlay bet combines two or more picks on separate games, such as the New York Yankees, Boston Red Sox, and Chicago Cubs all to win. Each pick within the parlay is known as a leg, and every leg needs to win for the overall bet to succeed.
SGP betting is a similar concept, but you combine picks within a single game instead. For example, you might opt for the Kansas City Chiefs to win, over 43.5 points in the game, and Patrick Mahomes to throw over 2.5 touchdown passes. Once again, each pick is known as a leg, and all of the legs must win for the wager to pay off.
If one leg fails, the bet loses and you do not receive a payout. That can make it tricky to put together a successful SGP. However, the rewards can be great if you guess correctly. The winnings from each leg roll over to the next one, so your overall profit will snowball inside the SGP, resulting in large payments. This is discussed in more detail in the odds section of our What is SGP in Betting? guide.
Grab a wide variety of same game parlays every day at BetOnline.
Which Sports are Same Game Parlays Available On?
SGP betting will only be available on certain sports. You will not be able to create an SGP on an Aussie Rules game, for example, or a darts match. These are the sports on which same game parlay bets are typically available:
Football | Any reputable sportsbook will offer same game parlays on NFL games. You can typically compile an SGP on a college football game too.
Basketball | Same game parlays will be available on NBA games and NCAAB games at the best online sportsbooks. You may be able to put SGPs together on certain WNBA matchups too.
Baseball | Most leading sportsbooks have now incorporated same game parlay builders within their MLB sections. Elite betting sites like BetMGM, FanDuel, and BetRivers all offer MLB same game parlays.
Soccer | You can normally place same game parlays on a large variety of soccer leagues, including the EPL, MLS, Champions League, Europa League, La Liga, Serie A, Bundesliga, and Ligue 1.
Hockey | Most sites now offer the chance to build same game parlays on NHL games too. Some still lack this feature, but you can find pro hockey SGPs if you visit a site like BetMGM or FanDuel.
How to Place a Same Game Parlay Bet
There are three different ways to place an SGP bet:
Use a dedicated same game parlay builder or prop builder to create one.
Add multiple selections to the betslip and create an SGP within the slip. Not many operators will allow this.
Bet on a same game parlay that the sportsbook has already compiled for you.
The third option is the most common method at offshore sportsbooks. Just follow these steps:
1. Click the "Same Game Parlay" Tab
You'll typically see the SGP section in a separate tab. Clicking on it will reveal all available SGP markets.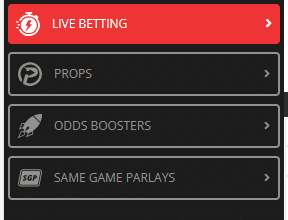 2. Select Your Picks
Click on all of the selections you like the look of, and they will be added to the betslip. Each time you add another pick, the cumulative odds will increase.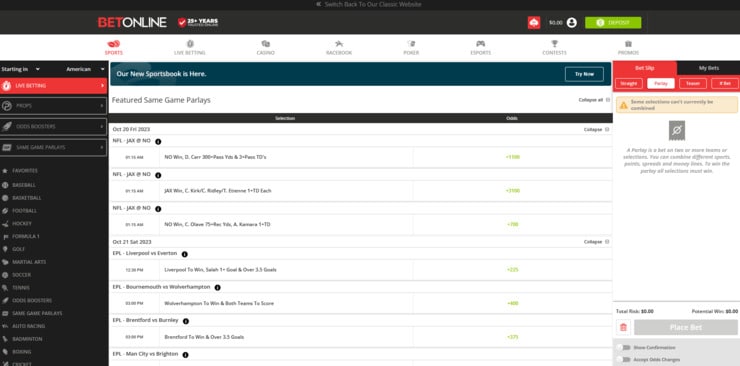 4. Choose Your Bet Amount and Place the Wager
Enter your bet amount, and the betslip will explain how much you stand to win. Click to place the wager, and you will be paid out after the game if all of the legs prove correct.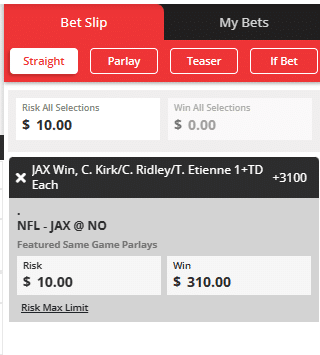 How are SGP Odds Calculated?
The odds on each leg of a parlay will typically be multiplied together to calculate your cumulative payout. Your sportsbook will automatically display the total return you stand to receive if your SGP is successful when you compile the bet. However, you can work it out manually if you like:
Standard Parlay Calculation
To calculate the cumulative odds on a regular parlay, you can convert the odds on each leg to the decimal format. A simple online odds conversion tool will allow you to do so, or you can normally switch from American odds to decimal odds at your sportsbook. Let's say you like these four picks:
Boston Celtics -10.5 vs. Atlanta Hawks (-110)
Cleveland Cavaliers -5.5 vs. New York Knicks (-110)
LA Lakers vs. Memphis Grizzlies – over 226.5 points (-110)
Miami Heat vs. Milwaukee Bucks – under 222.5 points (-110)
American odds of -110 equate to decimal odds of 1.91. You then simply multiply them to work out the total return:
1.91 x 1.91 x 1.91 x 1.80 = 13.3.
As such, you would expect a return of $13.30 for every $1 wagered if all four of those picks proved correct.
Same Game Parlay
However, same game parlays are a little different, because the legs are not independent of one another. For example, let's say you like these picks:
Boston Celtics -10.5 vs. Atlanta Hawks (-110)
Over 230.5 points (-110)
Jaylen Brown – over 27.5 points (-105)
Derrick White – over 4.5 assists (+100)
In theory, you would multiply the odds together to work out your total payout. American odds of -105 equate to 1.95 and +100 equates to 2.0, leaving you with:
1.91 x 1.91 x. 1.95 x 2.0 = 14.23
As such, you would expect a $14.23 return for every $1 wagered. However, it is important to note that the various legs of this same game parlay have an impact on one another.
For example, the Boston Celtics are more likely to cover the spread if Brown exceeds his player points total and White produces over 4.5 assists. Over 230.5 points is also more likely to pay off if Brown produces over 27.5 points. As such, you are unlikely to find cumulative odds of 14.23. You may be more likely to find combined odds of around 10.00 (+900) on that four-leg parlay.
On the flipside, if you were to combine the Celtics to cover and over 230.5 points with Brown going under his points target and White going under his assists target, you would expect a significantly larger cumulative payout than $14.23 per $1. That is because the chances of the Celtics covering and the game seeing over 230.5 points would be a lot lower if both Brown and White produced underwhelming performances.
Place SGP bets on soccer, football, and baseball at Bovada.
Same Game Parlay Bonuses
You can often benefit from a range of bonuses when you place same game parlays at leading sportsbooks. These are some of the deals on offer:
SGP Insurance
Some sportsbooks will agree to give you a refund if one leg of your SGP loses, causing the entire bet to fail. This is known as "same game parlay insurance." The rebate will be paid into your account as a bonus bet, and you will need to play it through 1x before you can cash out.
SGP Boosts
Sometimes you'll be lucky enough to find enhanced odds on pre-selected same game parlays at sportsbooks such as BetOnline and Everygame. They may be located in a specific "Boosts" section, or they might be displayed when you click on a particular sport, league, or game.
Profit boost tokens are often available on same game parlays too. For example, you might be offered a 10% boost on any NCAAB same game parlay or a 15% boost on any MLB same game parlay.
SGP Bet and Get Bonuses
Some sportsbooks will reward you with a bonus bet if you place a same game parlay. For example, "bet $25 on an MLB same game parlay with 3+ legs and get a $10 bet credit." The bonus bet will normally have a 1x rollover requirement.
Grab a welcome bonus and place SGP bets on football favorites at BetNow.
Same Game Parlay Strategy
These tips are designed to help you place successful same game parlay bets on a regular basis:
Tip 1: Shop for the Best Odds
The cumulative odds on offer for a same game parlay can differ significantly depending on which sportsbook you use. It is helpful to build an SGP bet at a few different sportsbooks and figure out which site offers the best potential payout. Regularly doing so will seriously improve your long-term chances of earning a profit.
Tip 2: Do Not Add Too Many Legs
The overall house edge increases each time you add another leg to your same game parlay. Sportsbooks like accepting SGPs, as they tend to earn betting sites a higher margin than straight bets. We would therefore advise you not to go too wild with the number of legs you add. Two or three carefully selected betting options can offer a very attractive overall payout when combined for a same game parlay.
Tip 3: Seek SGP Insurance
Same game parlay insurance is a very useful bonus. We explained what it entails earlier in this what is SGP in betting guide. It softens the blow when your SGP bet fails, and it gives you a great chance to recoup your losses and potentially end up in profit.
Tip 4: Find Expert Picks
Handicappers invariably focus on straight bets rather than same game parlays when giving out expert picks. However, you can combine a few of your favorite picks to create a same game parlay of your own.
Tip 5: Consider a Wide Range of Options
Most bettors simply combine the spread or the moneyline with an over/under pick when building same game parlay bets. However, there are all sorts of additional options to consider, including props and alternate lines, so spend some time browsing the different possibilities, conduct thorough research, and create an SGP featuring selections you have a high level of conviction in.
FAQs
What does SGP mean in betting?
How does same game parlay work?
What is a 3 leg same game parlay?