The horse racing industry collects more than $12 billion worth of wagers in the US each year, making it one of the most popular sports in the country. Most of those bets are placed on the win market, and in this guide, we will look at how the win bet in horse racing works, with working examples and expert strategy.
What is a Win Bet in Horse Racing?
The win bet in horse racing is where you bet on the horse you think will win the race. It's a very straightforward bet, and any other result differing from the win means your bet will lose.
Not only is this bet easy to use, but it's also one of the most lucrative. Horse racing can be unpredictable, meaning there is value to be found in all races using this market. However, you must have a solid betting strategy attached to your picks to be consistently successful.
Win Bet Example for Horse Racing
We will show a working example of how the win bet works. To do this, we are using one of our top-rated US online sportsbooks, FanDuel, which has one of the largest selections of races for users in the United States.
We will cover a race from a meeting at Mountaineer Racetrack in West Virginia. The image above shows the race card, and next to each horse are the betting odds. At the top, we've selected the "win" market, and you can see the range of alternative betting markets next to it.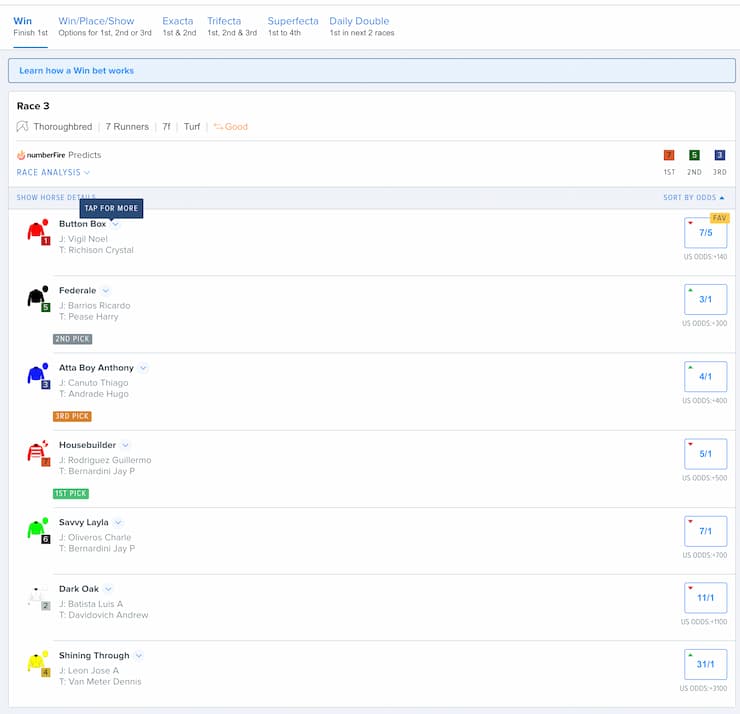 For this bet, we will stake a $100 wager on Atta Boy Anthony, who is priced at 4/1 to win the race. Our payout, assuming they win, will look like this:
$100 x 4/1 = $500 ($400 profit + $100 stake).
The only result that we can win is if Atta Boy Anthony wins the race. As stated earlier, any other result means our bet will lose.
You may have noticed that this bet's odds are fractional. This is common for horse racing, even in the US, but you can use an odds converter to see the price if you're more accustomed to American or decimal odds.
Fractional odds are easy to use. The right number is the amount you need to stake to win the left number. So, a 4/1 bet means that you win four units for every unit you stake.
How to Place a Win Bet for Horse Racing Online
In this section of our guide on the win bet horse racing, we will walk you through a step-by-step guide on registering an account and placing a bet. We've used FanDuel for this, as they are our top-rated racebook right now, but the process works the same way for all betting sites.
1. Start the Registration Process

You need to start the registration process by clicking the "Join Now" button at the bottom of the page. You can also register via the horse racing app if you choose to.
2. Create an Account
Next, you need to create your account. You will need to enter personal information such as your email, address, phone number, and Social Security number. You will then be asked to verify your account with supporting documents for your provided information.
3. Log in and Deposit
Once your account has been verified, log in and head to the cashier. You can choose any of the deposit options linked to your account. The options that you have accessible to you will be limited based on the state you reside in.
4. Using the Racebook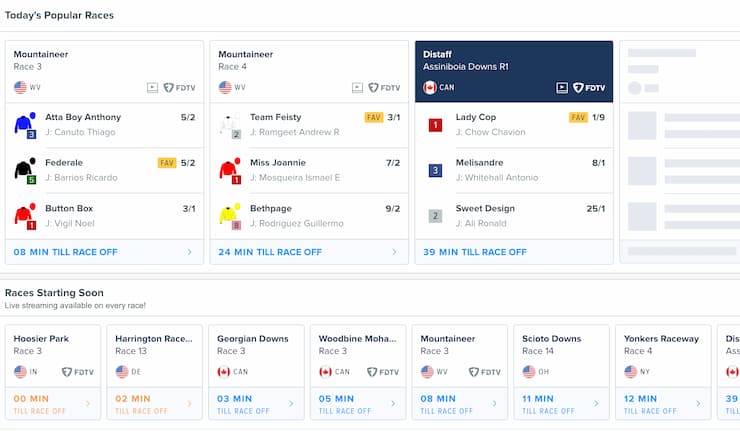 The homepage will show multiple options to start betting. You can use the popular races section or races starting soon to jump into the action. Alternatively, use the menu to find the meeting and the race you want to bet on.
5. Add to Betslip
When you've picked your race, click on the odds to add your selection to the betslip. The odds will turn blue once clicked, highlighting that your selection has been made.
6. Place Your Bet

Use the betslip to confirm your selection is correct. Click on the "wager" button to choose from the dropdown menu of betting amounts, or use "Other" to choose your own stake. Confirm the bet and click on "Bet." You can track bets that are live or settled within your account.
Types of Win Bets
The win bet in horse racing is the easiest bet to make, but several variations include the bet. Below we've included a range of markets linked to the win bet and explained how each works.
Win – A win bet is where you bet on the horse you think will win the race. The first horse across the line in the race is the winner.
Across the Board – Across the Board is a combination bet with three possible outcomes: win, place, and show. You choose one horse and cover all three bets. The win bet requires the horse to win the race, the place is for the horse to finish in the top two positions, and the show is for the horse to finish in the top three spots. You get paid for all market criteria that your selection meets.
Win/Place – The win/place bet is where you bet on the horse to win or place. If the horse wins, you sweep both bets. If it fails to win but finishes second, you lose the win bet and win the place bet.
Win/Show – The win/show is where you bet on the horse to win and for the horse to finish in the top three positions. If the horse wins, you sweep both bets. If it finishes second or third, you lose the win but win the show bet.
Each Way – An each-way bet is where you have two bets. One is on the horse to win, and the other is on the horse to place. The number of places paid for the place will be determined by the number of runners in the race. The bigger the race, the more places are paid. Place odds are generally paid as fifth of the win odds.
Exacta – An Exacta bet is where you choose the correct order for horses finishing in the first two positions. So, you must pick the horse that will win the race and the horse that will finish second.
Quinella – A Quinella is when you pick two horses that can finish first or second in any order.
Trifecta – A Trifecta bet is where you pick three horses that finish in first, second, and third in the correct order.
First Four – A First Four bet is where you pick four horses from the race that will finish first, second, third, and fourth in the correct order. This is a tough bet to win, but it pays huge odds if you manage to get it right.
Daily Double – Picking the winners of the first two races of a meeting.
Superfecta – With a Superfecta bet you need to pick the correct order from a single race of horses that will finish first, second, third and fourth.
Pick 3/4/5/6 – Pick the winners of consecutive races from a meeting. The more picks you make, the larger the odds.
Win Bet Horse Racing Strategy
You must have a solid betting strategy to successfully use the win bet in horse racing. The sport can be very consuming, and there are lots of moving parts associated with all races. We've simplified a betting strategy for you below that will be easy to understand and help you become much more profitable with your bets.
Analyzing Horse Racing Form
The best place to start when looking for winners in horse racing is to learn to analyze the form guide. Most of the major racebooks will have a basic form guide for each horse, but you can also use many stats-based sites that will take the form to another level and even analyze it for you.
The goal is to see how horses have run in the past and then determine how they might run for the upcoming race. There's a huge amount of data that you can process, but we've broken it down into three key areas to get started.
Going – The going is the term used for how hard or soft the ground is. You want to first see the going for the upcoming race and then see how each horse has performed on that ground. For example, if the race is run on hard ground, but a horse has only seen success on soft ground, it may struggle, so you need to look elsewhere.
Distance – The distance of the race is key, and not all horses can run all distances. Think of it like athletics, where you have athletes that are experts over one or maybe two distances. Horses work in the same way, and you need to note where a horse has previously seen success.
Course design – Not all racetracks are made equal. Some have quirky designs and features that will benefit a certain type of horse. You need to see if any of these quirks apply to your race and then determine which characteristics this is going to benefit or hinder any horse you want to bet on.
Follow In-Form Trainers
One of the biggest mistakes we see bettors new to horse racing make is not considering the trainer form. This can be one of the easiest ways to spot value, and latching on to trainers who have had multiple winners over the last few weeks and/or months can be very profitable.
You need first to look and see which horses are linked to each yard and then track the results from that. Most horse racing stats sites will give you an overview of trainer form, making this process much quicker.
It then works well to target smaller races with younger horses up and coming. These horses will have little form to go by, but you know that they are trained by yards that are in great form and training with other winning horses, which is huge for the progression of a younger horse.
Utilize the Each-Way Bet
The each-way betting market is one of the most underused in the US. There are popular variations of this market, but the beauty of each way of betting means your win bets have some cover if they are slightly off.
We like this market as it means we can be more generous with our longer-priced picks. For example, a horse priced at 15/1 might look good on paper, but it has work to do in a race where it's the fourth favorite. The each-way bet means we can still bet on the horse to win and have cover if it places.
What we will add to this is that for shorter-priced bets, the value of each way betting diminishes. For example, if you've got a 3/1 shot in a field paying three places for the place bet, then if it fails to win, your place bet won't even break even from your original stake. This would be much more beneficial, betting on the nose to win and save the each-way bet for longer odds.
Finding Value
Finding value in horse racing is the key to success. You want to find odds that you think are higher than the horse's chance of winning the race.
For example, if you see a horse priced at 10/1 and think that it's too high and should be nearer 8/1, then this bet offers value to you.
But it's not as simple as that, unfortunately, as bookmakers are usually not far off when it comes to price. The goal of finding value is to find those rare occasions when they are off.
One of the easiest ways to do this is to compare the market odds for the horse you want to back. Let's say that you've found a horse at the following odds:
FanDuel – 10/1
Caesars – 10/1
DraftKings – 12/1
BetMGM – 9/1
TwinSpires – 10/1
It's not hard to see that the value in this market is with DraftKings. The difference between 12/1 and 9/1 is monumental for horse racing and shows that this price is too high and offers value regardless of the horse's qualities.
You can use comparison sites to save time, and it's a great place to start. However, you need to back up your selection with data on why it offers value. Just because the odds are different between sites might not necessarily mean that this horse has a chance of winning.
Bankroll Management
Bankroll management is where you control the amount you bet based on the disposable funds in your account. The key to this is betting amounts that you can afford to lose and get absorbed by your bankroll rather than betting everything all at once and increasing the chances of going broke.
The amount you stake should be based on your bankroll. But the reality is that this will be different for all bettors. It will vary based on how easily you can replenish your bankroll and if you need/want to take money off the top occasionally.
Professional bettors will need to be stricter with their bankroll than recreational bettors, but the principles will be the same.
So, how much should you bet?
A conservative bettor may look to bet no more than 1-2% of their bankroll per wager. So, if they had a $1,000 bankroll, they would limit bets to between $10 and $15.
A more aggressive style would increase bets to around 5%. This may seem conservative to some, but it only takes a short run of losing bets to wipe out a large portion of the bankroll. Five losing bets in a row would reduce the roll by 25%, and that's not a terrible losing streak, either.
Yankee Bets
Yankee betting is one of the most popular for horse racing. This bet requires bettors to choose the winners of four races before the bet is broken down into 11 separate bets. This includes six doubles, four trebles, and one four-fold accumulator.
One of the reasons why we like this bet is that it spreads the risk and allows you to combine multiple winners to potentially win a huge sum of money. You need two or more of your picks to win, but the rewards can be huge if you bag three or even all four winners.
The key to this is picking four short-priced favorites for your bet. You don't need the longer-priced horses (although you can include them), as the payouts will be substantial when you combine the odds.
It's worth noting that you can pick horses across multiple meetings worldwide, so you aren't limited to races within a single meeting. You need to invest time into your research to find all the picks, just as you would find a single winner.
You can adapt the strategy to include a longer-priced horse as well. This would work like a Joker, where the combinations would pay out even more money if they were to win. For example, you have three short-priced bets and then a long-price for your fourth pick.
How to Calculate Odds for a Win Bet
The win bet horse racing can come in a range of betting odds styles. These include fractional, American, and decimal. American-style odds are the most popular for most sports in the US, but you will find that most racebooks favor the fractional format. We've explained how each of these works below:
American Style Betting Odds
American-style odds come in either a positive or negative number. The positive number highlights the money you will make from a $100 bet. The negative number is how much you need to wager to make a $100 profit.
For example, If you had odds of +400, this would mean that for every $100 you bet, you would make $400 in profit.
Let's say you placed a bet at odds of -190, you would need to bet $190 to make a profit of $100.
Fractional Style Betting Odds
Fractional odds are more commonly used in the UK and are easy to work out. The right-hand number is the amount you need to stake to win the left-hand number.
For example, if you had odds of 9/1, then for every unit you wagered, you would win $90. So, if you bet $100 you would win $900. You would also get your stake back with this, meaning your total returns would be $1,000.
Decimal Style Betting Odds
Decimal odds are less common in the US but are useful for working out the odds for parlay bets and exotics. The decimal number is the overall return, including the stake you will get from one staked unit.
For example, if you have odds of 7.00, you will get seven units back for every unit you wager. This number includes the original stake. So, if you wagered $100 at 7.00, your total return would be $700, with $600 profit and $100 of your stake amount.
Other Horse Racing Betting Markets
The win bet in horse racing is, without doubt, the most popular betting market, but the sport leads itself to a huge range of alternative bets you can place. We've outlined some of these below and explained how they work.
Place – In this market, you bet on a horse to finish in the top two spots. You get paid the same regardless of if they finish first or second.
Show – The show bet is where you choose a horse to finish in the top three places. Again, you get paid the same regardless of if they finish first, second, or third.
Boxed Bets – These cover multiple combinations for any of the exotics. For example, with an Exacta you cover all combinations of the two horses' finishing positions.
Head to Head – This is where you bet on one horse to finish before the other. The winning horse does not need to win the race, it just needs to beat its opponent.
Over/Under – Bet on the over/under of a certain parameter in the race. For example, this might be the winning time or the winning margin.
Key Bets – This market is where you must choose one horse to win the race and three others to finish the next three positions in any order.
Parlay Bets – Combining multiple selections of any betting market into a single bet. For this bet to win, you must settle all picks as winners.
FAQs
What is a win bet in horse racing?
How are odds determined for a win bet in horse racing?
What is the potential payout for a win bet in horse racing?
Are there strategies that can be used to choose a horse to win a bet?
Do favorites always win a race?