Our guide will show you how to win at slots and what tips and tricks you can use to maximize your profits from the spinning reels. These iconic casino games are completely random, so you will need more than skill and experience to win. Check out our expert slots strategy and how to apply it to your own gaming sessions right now.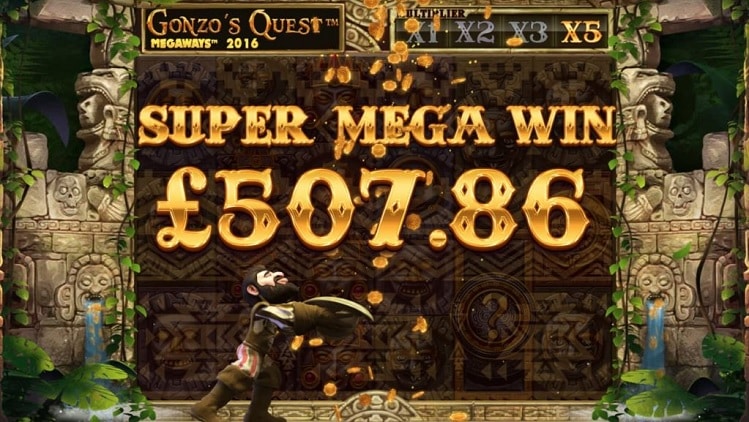 Want to start playing slots right away? Try out BetMGM Casino.
Covering the Basics
In this guide, we will focus on the best way to win at online slots, so we will skip over the basics for playing. If you want to learn more however, we recommend reading the dedicated tutorial for how to play slots as this covers everything from placing the bet to collecting the winnings.
Top Tips for Winning at Online Slots
Now, it's time to jump into the action and see how we can maximize the profits. The following slots tips can be crucial when learning how to win at slots. These cover the different slots types and also different playing styles.
1. Pick the Right Online Slot Machines
With thousands of options available at the best slots sites, choosing the right games is essential. Here, we don't just mean playing a game with an entertaining theme and visual effects. The goal is to win, so we will focus on picking the games that provide the best odds.
The return-to-payer (RTP) rate is a great way to differentiate between slots games. This is the theoretical return that players can expect to receive for every bet. You will want an option that provides a high RTP, preferably over 96%. Some great examples include Blood Suckers II, Guns N' Roses, and Thunderstruck II.
The volatility level is also important when picking the right slot machines. This determines how the payouts are awarded, both in terms of frequency and size based on the bet. A game with a low volatility level will award frequent wins, although the prizes are not much larger than the stake. On the other hand, a high volatility game has large payouts that take place less frequently.
For most players, we recommend picking a high-RTP slot with a low-medium volatility, like Butterfly Staxx 2. However, this can depend on your own playstyle and available bankroll. Finding the details may require some research since not all online casinos provide this information.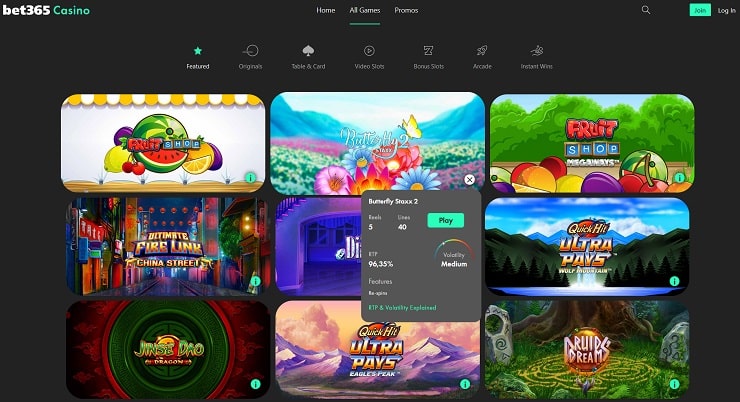 2. Practice in Demo Mode
When picking games, it is best to practice before betting real money. This way, you can learn how to beat slots without risking any cash. Instead, you are using demo credits that provide a great way to keep track of your results throughout the session. After some time, you will get a good sense of the game volatility and even its RTP. However, keep in mind that the payout rate can vary greatly during short sessions.
In order to practice in demo mode, you first have to find an online casino that supports it. Not all gaming sites in the US have this feature, but there are some that allow for practice play and also provide a wide range of slots. DraftKings Casino comes to mind as a great example that fits the description. You don't even have to create an account first as you can simply go to the site, browse the list, and click on the "Demo" option to get started.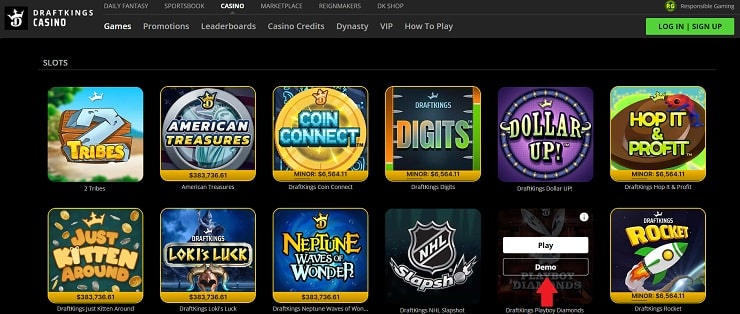 3. Take Advantage of Casino Bonuses
To maximize your profits, you have to take advantage of the bonuses and promotions available online. The best casino bonuses can provide extra funds that you can use to spin the reels with. Keep in mind that most offers come with set wagering requirements that you have to meet within a period of time in order to clear the bonus.
Moreover, some high payout slots can be prohibited when playing with bonuses. Our experts strongly recommend reading the bonus terms and conditions carefully before claiming the bonus. As a general rule for how to win at slots, stick to trusted casinos that make the terms clear and don't impose unreasonable conditions. Most top sites have a 1x play through requirement, as is the case at FanDuel Casino.
In addition to the welcome bonus, look for slots promotions and a solid loyalty program. Since you will likely be playing for quite some time, the loyalty points you earn can prove to be very beneficial.

4. Bet Responsibly
One of the best tips for winning at slots is to always gamble responsibly. The goal here is to be successful in the long run and not chase quick wins. With this in mind, you should set a budget for playing slots that you don't have to use for anything else. This budget should be made out of extra income.
After having a general budget, you can then establish the available amount for every session and then the bet for each spin. This depends on the games you are playing since a game with a high volatility level requires a bankroll with more bets. We recommend setting spending and deposit limits to ensure that you don't go over your budget while chasing losses.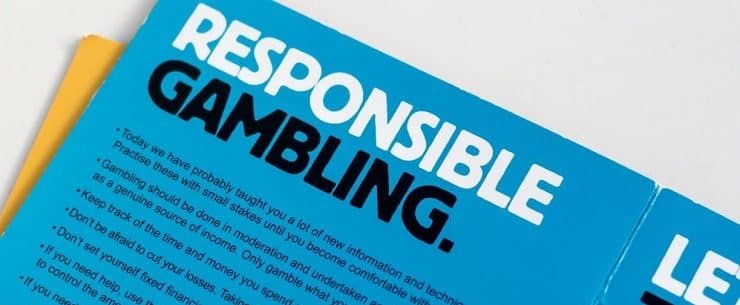 5. Use a Slots Strategy
Although slots are games of chance, there are some strategies that can help improve the results. In fact, the best slots strategy is a betting system that has been tweaked to meet the mechanics found in slot machines. Here, you change the size of the bet based on recent results. You can do this in different ways and we will go through the top strategies for winning at slots below.

Best Strategies to Win at Slots
After learning the online slot tips, you can improve your gameplay further by using a betting strategy when playing slots. Note that these online slot strategies work best with games that have a low volatility since you will have to adjust the size of the bet as you go.
Levels Betting
The most popular slots strategy uses steps to determine the size of the bet. You start by setting the size of a bet unit. This should be around 1% of your available bankroll for the session. You start by betting one unit and you increase the level after five consecutive losses. Each level should be worth five units.
For example, if we are betting $1 per spin and we lose five in a row, we increase the level and start betting $5. If we lose another five rounds in a row, the next level will be at 10 units, so we are now betting $10 per spin. After a win, we reset to the initial betting level and start the process all over again.
The goal with this strategy for winning at slots is to win back our losses. By increasing the bet, we can receive a larger payout when landing a winning combination. Plus, if we trigger the free spins mode on a higher level, the profits will be significant. The risk is that a dry run will result in a large bet that is difficult to sustain.
Fixed Percentage Betting
This strategy requires players to be more involved with every win, so having a calculator close by is recommended. Instead of changing the size of the bet based on won or lost rounds, the system has a fixed bet determined as a percentage of the available balance. Using 5% can be convenient, but we prefer staying safe and only betting 3%.
So, let's say that we start with $100, which means our first bet is 3%. We spin the reels and we win $13. Now that we have $110 available, we increase the bet to $3.30, or which betting option is available. Not all slot machines allow for very precise bets. We continue with the strategy until we end the session.
When learning how to win at slots, this optimizer strategy is great for taking advantage of hot games that are paying well above average. You get to increase the bet size and thus take advantage of the streak. Moreover, the system can even be beneficial during losing streaks since you reduce the bet to limit the amount of money lost. The drawback is that it can be difficult to apply and can take some of the fun out of the session.
Martingale Betting System (with a limit)
The Martingale betting system is one of the best strategies for games with even money payouts. However, since slots don't exactly fit in this category, we suggest using a slightly modified Martingale system by adding a maximum limit. As a result, learning how to win at slots with Martingale remains simple and straightforward.
With this betting strategy, you are doubling the bet after each loss and then resetting the stake after a win. We only recommend going up to 16 times the original bet in order to avoid reaching an unaffordable stake. After a winning round, you should reset the bet to the starting amount.
Progressive Jackpot Strategy
When playing to win a progressive jackpot in online slots, the strategy should be different. Most casino jackpot slots have a low RTP if we take the rare prizes out of the equation. Despite this fact, they can be very appealing given that some jackpots can exceed $1 million.
So, before mastering how to win at online slots with progressive jackpots, you first have to see what the requirements are for being eligible. Some games will require players to bet a certain amount for the chance to win the top prize. In other options, the jackpot can only be won from the bonus round. You may even have to opt in for the jackpot and pay an extra bet to be eligible. The best way to find out is to check the game info section.
Winning a large progressive jackpot doesn't happen every day, so you should expect long sessions. Make sure that you have the bankroll needed to keep the reels spinning, even if the regular returns are not always great. We recommend using the smallest eligible bet and going for volume, despite the fact that a larger bet can trigger the jackpot bonus more frequently.
Furthermore, wait for the jackpot to grow. Since the odds of winning the jackpot remain the same, it is better to play when the prize has already reached an impressive level.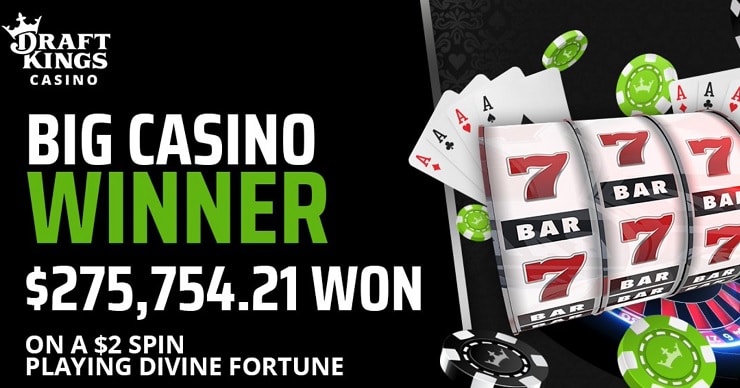 Biggest Slots Wins
As real money online casinos become available in more states and more players learn how to win at slots, massive prizes are being claimed more frequently. We've seen this trend in land-based casinos, with the record of almost $40 million being set in Las Vegas in 2003, and at online casinos in Europe, with one highlight being a Mega Fortune jackpot win of $23.6 million on a bet of just $0.25.
Let's check out some of the biggest casino jackpot wins that took place online in the US in recent years:
$3.29 Million Jackpot on Ancient Fortunes: Zeus – DraftKings Casino NJ
$1.97 Million Jackpot on Extra Chilli Megaways – DraftKings Casino NJ
$1.44 Million Jackpot on Western Horseshoes – DraftKings Casino NJ
$729,000 Jackpot on Divine Fortune – PokerStars Casino PA
$631,000 Jackpot on Divine Fortune – PokerStars Casino PA
$550,000 Jackpot on MegaJackpots Wheel of Fortune – DraftKings Casino NJ
DraftKings introduced its exclusive progressive jackpot network in October 2022 and is currently only available in New Jersey. This allows players to place an extra bet of $0.10 for the chance to win a progressive jackpot shared across tens of popular slots. You just have to opt in on an eligible game to try hitting the next jackpot at DraftKings Casino NJ.
How to Win at Mobile Slots
While mobile slots will keep the same payouts and mechanics as their desktop versions, the environment can change. You should always pay attention when playing on the top casino apps since not all environments are ideal for winning at slots. We also found it more difficult to adjust the bet when using a strategy on an iPhone or Android device, given the smaller screen and the more compact betting interface.
As a result, the best slot machine strategy for mobile gaming is to play for a progressive jackpot. Here, you just have to select the smallest bet that qualifies you for the prize and spin the reels at your own pace.
How to Win at Land Based Slots Casinos
If you also enjoy playing slots in land based casinos, you can mostly use the same online slots tips provided in our guide. However, some may be tricky to apply since slots manufacturers don't always provide the RTP and volatility levels in retail casinos. As a result, it will be difficult to find the best paying slots on the floor.
One solution for this problem would be to stick to slot machines that are also available in online form. The issue is that the paytables can be different, which affects the RTP. So, you will have to double-check that the payouts and the features are the same.
Moreover, responsible gambling becomes even more important in land based casinos since all the sounds and the hassle of the other players can persuade you to keep playing more than usual. We recommend having a clear budget and also keeping an eye on the watch. Don't spend too much time or money on slots machines just because you are already in the casino. Also, don't consume too much alcohol as this can lead to bad decisions.
There is no sure way to learn how to beat slots in land based casinos, but if you follow our expert tips, you are likely to leave with better results.
Best Casinos to Win at Slots
Once you learn the online slots tips and you have your strategy ready, it is time to put it all into practice. Picking the right online casino is a very important step since you want a site that has all of the top games, generous bonuses, secure deposits, and fast withdrawals for your winnings. To help you get started, we have a list of the top 10 online casinos in the US where you can learn how to win at slots:
Affiliate Disclosure: Techopedia may receive advertising commissions for visits to a suggested operator through our affiliate links, at no added cost to you. However, all our recommendations are unbiased and follow a thorough review process. Players must be a legal gambling age and located in a regulated US gambling state. Gambling can be addictive, please play responsibly.
FAQs
How to win on slot machines with a betting strategy?
What are the best slots to play online and win?
What is the trick to winning online slots?
Is there a trick to slot machines?
How not to lose in online slots?
Has anyone ever won big on online slots?
Is it better to play one slot or move around?
How to win jackpots on slot machines?
Resources