When it comes to athletes putting their bodies on the line, few sports come close to boxing. Most boxers are lucky enough to make it home again safely after the final bell rings, however, a small percentage have tragically died as a result of their injuries. Here we pay tribute to those brave enough to step in the ring but sadly committed the ultimate sacrifice for the sport they loved.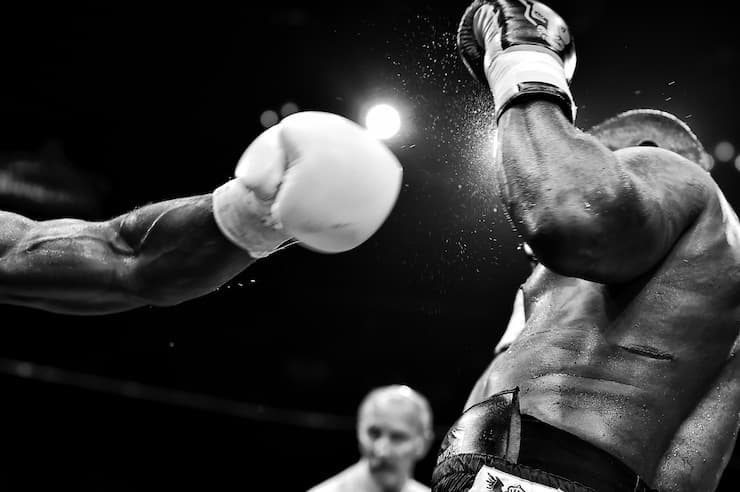 How Many Boxers Have Died in the Ring?
The total number of boxers to have died in the ring or from sustained injuries is estimated to be more than 2,000. According to a study by Manuel Velazquez, which examined boxers who died in the ring between 1720-2011, there were 1,865 deaths. More than a decade later, this number has now surpassed 2,000.
The report includes a breakdown by decade of when deaths occurred, which highlights that boxing today is much safer than it was a century ago. As a reference, in the 1920s, there were 233 boxing deaths, compared to 103 in the 2000s, taking the average number of deaths per year down from 19 to 8.
Although the average number of boxing deaths per year has fallen, the fact athletes are still dying shows the dangers boxers face – despite added safety measures. So, how does the risk of stepping into the ring impact a boxer's life expectancy?
A study conducted by Compare the Market suggested that the life expectancy of a boxer was as many as five years less than the average sports athlete. Most adults were expected to live 72.6 years, but with boxers, this number was as low as 67.7 years. It was the only sport amongst professional athletes that reduced life expectancy, with all others increasing.
The main findings from the study stated that sustaining head trauma in fights and training was the reason behind the lower life expectancy numbers. Other studies have suggested that the number of boxers who have trauma could be as high as 22.9% in the professional ranks.
To put this into context, professional tennis players had an average life expectancy of 80.4 years, the highest of any sports tested. This is a staggering 13-year difference between the life expectancy of a boxer and a tennis player.
10 Boxers Who Sadly Lost Their Lives
This section covers the most influential boxers who have sadly passed away in the ring or have died a later date from sustained injuries.
1. Jimmy Doyle (June 24, 1947)
Jimmy Doyle was only 22 when he died in the ring following a highly anticipated fight with Sugar Ray Robinson. The pair fought for the World Welterweight Championship in 1947 when Robinson knocked Doyle out in the eighth round. Doyle never gained consciousness and was taken to St. Vincent's Charity Hospital, where he later died of his injuries.
What's unique about Doyle's death was that Sugar Ray Robinson had dreamed he would kill his opponent and called off multiple fights before this, even as a big favorite with sportsbooks. His priest and clergyman convinced Robinson to take the fight, and the rest, as they say, is history.
Many stated that Sugar Ray Robinson killed Jimmy Doyle, but after multiple lawsuits, Robinson's name was cleared, stating that there was no foul play on his part. Following the fight, rules and regulations were addressed, forcing referees to step in sooner to end one-sided bouts.
2. Kim Duk-koo (November 13, 1982)
Kim Duk-koo was involved in one of the most significant fights of the 21st century, and his untimely death ultimately changed the face of boxing forever.
The South Korean warrior was up against the exciting Ray "Boom Boom" Mancini at Caesars Palace in Las Vegas. In the 14th round of one of the most intense lightweight bouts you will see, Mancini knocked out Duk-koo and, in turn, caused multiple head injuries.
Duk-koo would never recover and passed away four days later in hospital. The fight forced boxing authorities to reduce the number of rounds from 15 down to 12 and created much more stringent rules about how long a boxer can continue without being able to defend themselves fully.
3. Frankie Campbell (August 25, 1930)
Frankie Campbell was an exciting heavyweight of the 1920s and 1930s. Seen as a journeyman with a 33-12-4 record, he went up against future World Champion Max Baer. The fight was as brutal as it gets, with both going toe to toe before eventually being stopped in the fifth round.
Campbell's death sparked public outcry, and many blamed Baer for the use of excessive force. This would cause Baer to retire briefly before coming back to the sport. Rules and regulations around equipment and improving the vetting process for boxers were implemented to ensure they were of a certain fitness level before entering the ring.
4. Choi Yo-sam (January 3, 2008)
Choi Yo-sam has one of the most remarkable and saddening stories in boxing. At the time, the South Korean fighter was one of the best in the world and one of the biggest stars in Asia. His death came following a world title fight for the WBO Intercontinental Flyweight title against Heri Amol.
What's staggering about Choi Yo-sam's fate is that the fight in which he was fatally injured, he won by unanimous decision. It wasn't until after the fight that he collapsed before being rushed for emergency brain surgery. He passed away a few days later from his injuries.
5. Davey Moore (March 21, 1963)
Davey Moore was a highly likable character in boxing and had one of the most exciting careers in the featherweight division. His death came about following a freak accident in the ring after being knocked down in a fight against Sugar Ramos.
Moore was floored in the 10th round, where he fell and caught his head on the bottom rope. He managed to get back to his feet, but the fight was stopped a round later.
Moore seemed fine following the fight, talking well with reporters, but slipped into a coma in the dressing room and never recovered. He was buried in Springfield, Ohio, where 10,000 came out to pay respects to one of the state's great sportsmen.
6. Maxim Dadashev (July 19, 2019)
Maxim Dadashev passed away in July 2019 from injuries sustained in the boxing ring. The 26-year-old Russian light welterweight was one of the most promising prospects in the country before sadly sustaining life-threatening injuries in a fight commissioned by the IBF against Subriel Matias.
Dadashev's grit and determination proved his undoing when his corner pleaded with him not to go out for the final round. His injuries were so severe that he was unable to make the walk back to his dressing room before being taken to the hospital, where he lost his final battle after surgery on his brain.
7. Patrick Day (October 12, 2019)
Less than three months after Dadshav passed, so did 27-year-old Patrick Day. The fighter was floored three times in his fight with Charles Cornwell. At one point he was confused, facing the wrong way and trying to box with no one in front of him.
The fight was stopped immediately, and Day was taken to a local hospital. He suffered multiple seizures and four days later was pronounced dead after being in a coma. After his death, boxing promoter Eddie Hearn said that more needed to be done to protect fighters.
8. Boris Stanchov (September 21, 2019)
Regarding boxers who died in the ring, Boris Stanchov's story is about as unique as it gets. After collapsing in the ring of a suspected cardiac arrest, it turned out that Stanchov had been fighting under the name of his cousin, Isus Velichkov. He had been using the license and medical information after being unable to secure a license of his own.
Stanchov had been boxing under the alias for over a year when he fell to the canvas in a fight with Ardit Murja. The medical team entered the ring to try and resuscitate the fighter, who later died in hospital. The death sparked investigations into the profile of fighters and the accreditation needed to enter the ring.
9. Scott Westgarth (February 26, 2018)
Scott Westgarth was on the way up in his boxing career and died in one of the biggest fights of his life. He endured a brutal fight with Dec Spelman. Even though Westgarth was knocked down just before the end of the fight, he was awarded the win in a 10-round light heavyweight contest.
After the fight, Westgarth took ill in the changing rooms and was taken to Royal Hallamshire Hospital for a check-up. He passed away the following day, hailed a hero for competing in the sport he loved.
10. Becky Zerlentes (April 2, 2005)
Becky Zerlentes was an amateur boxer and one of few women boxers who died in the ring. She was boxing in the Colorado State Boxing Senior Female Championships when she was knocked out in the third round by her opponent, Heather Schmitz.
Zerlentes never regained consciousness and was transported to a local hospital before passing away. She was the first female boxer to die after sustaining injuries in a match sanctioned in the United States.
Boxing vs UFC – Has Anyone Died in UFC?
Boxing and the UFC are incredibly skillful yet aggressive disciplines in combat sports. In terms of deaths, there have sadly been 17 fighters that have passed in Mixed Martial Arts (MMA) but zero UFC fighters have died during or as a result of a fight.
This is a significantly smaller number than the estimated 2,000 boxing deaths. However, it's worth noting that there have been far fewer professionally sanctioned fights in the MMA and UFC than the century+ worth of boxing matches. The smaller number of deaths does not mean it is any less dangerous than boxing.
An investigation by a team of scientists at Macquarie University in Sydney, Australia, determined that the risk of injury in MMA and UFC is comparable with boxing. The findings stated that even though the technical side of MMA is greater, the force and brutality that can be unleashed are very similar to boxing, creating the same amount of risk when it comes to potential death.
Final Thoughts – Ring Warriors
Few would argue that each time a boxer steps into the ring, it takes incredible courage, above anything else. The risks they take for viewers and those placing boxing bets are phenomenal and, as fans, we are eternally grateful.
The fighters we've covered are all warriors and we'd like to pay tribute to their ultimate sacrifice. The sport comes with great rewards but, as highlighted here, also great risks.
Resources