Using double down in blackjack can be very profitable and very exciting – if you do it right. Since you have to place another bet, you should know exactly when the odds are in your favor and how to do it properly. We will explain what doubling down in blackjack means and also present the right spots for the best strategy.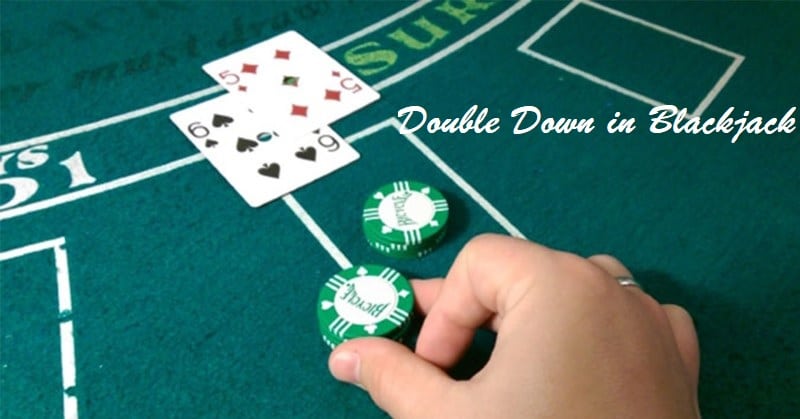 What is Double Down in Blackjack?
Double down in blackjack is an option where you add an extra bet, equal to the initial one, and you only receive one extra card in the hand.
This feature is available in most blackjack games and is required for optimal strategy. However, it can be a risky move since you stand to lose more money in the hand. That is why it is very important to know when to do it.
Moreover, most blackjack games will not allow you to double down at any point. Generally, you can only use this option after receiving the first two cards, but some variations can have the double down feature only for hands worth 9-11 or 10-11. The details are available in the game info. Ideally, we recommend playing a blackjack game where doubling down is possible on any two cards, even if you shouldn't always do it.
When to Double Down in Blackjack
Our double down blackjack strategy is based on odds and probability for the best results. Although you are never guaranteed a winning hand, this system allows you to take full advantage of the odds when they are in your favor. There are several key spots where you should use the blackjack double down option:
Hard 11 Against Any Dealer's Card
The easiest spot to double down in blackjack is when you have a hard 11. This means that you don't have an ace and that the total value of the hand from the first two cards is worth 11 points. Some examples include 5-6, 7-4, and 9-2.
Regardless of what the dealer is showing, there is a high chance that you will receive a card worth 10 points next. As a result, doubling the bet maximizes your potential returns.
Hard 9 or 10 Against the Dealer's Low Card
Here, we will group hard 9 and 10 hands into one as you will generally follow the same double down strategy. When you have any of these hands, check the dealer's visible card. If it is lower than 7, you should double the bet. For a hard 10, you can also double down when the dealer has a 7, 8, or 9.
The basic concept is that you are likely to draw a third card worth 10 points, while the dealer will be forced to draw to 17.
Soft 16-18 Against the Dealer's Low Cards
This is one of the trickier spots and one worth practicing at offshore casinos. A soft hand is one that includes an ace, which can have a value of 1 or 11 points.
As a result, if you have a soft 16, you can take a risk and draw another card. If it is a low card, you improve the hand and can even make 21. If the third card is high, like a 9, the ace turns into 1 and the final hand is now worth 15 points.
While this may seem worse, taking the risk is better in the long run if the dealer is showing a low card. This is because the dealer will have to draw cards to 17, which means that they have a high likelihood of busting when starting with a 2-6 card. This is also the case for soft 17 and 18, even if these hands are harder to let go.
When Not to Double Down in Blackjack
Knowing when not to double down in blackjack is just as important as knowing when to do it. Money saved is money won at the end of the day. Overall, you shouldn't abuse this option every time it is available and especially not when you have a "feeling". These are the key spots where you should not double the bet in blackjack:
Dealer's Card is an Ace
If the dealer is showing an ace, you shouldn't double down. They have a good chance of hitting blackjack (21 from the first two cards) and win the hand outright.
In many games, dealer's blackjack is stronger than player's blackjack. As a result, it is best to keep the initial stake and see what happens. You also shouldn't buy insurance since it doesn't provide good odds.
Hard 12 or Higher
If you have a hard 12 or a higher hand, you definitely shouldn't add more chips. You risk getting a card worth 10 points, which means you bust. It is better to play it safe and just risk the initial bet.
When Chasing Losses
Probably the most important takeaway from the double down blackjack strategy is to not use the option as a way to win back the money lost in the previous round. At its core, blackjack can be a profitable casino game with a very low house edge, but only if you follow the right system. Betting, and especially doubling down, while frustrated about previous results will only make it worse in the long run.
How to Signal Double Down in Blackjack
When playing blackjack at a casino, you can tell the dealer what you wish to do, or you can signal your move. The latter shows that you are more familiar with the game and also results in a more professional environment.
So, to signal a blackjack double down, you just have to place a bet equal to the original stake next to it (not above the existing chips).
This will let the dealer know that you want to double down without you saying anything. They will then deal the third card horizontally, showing that the hand is over regardless of what card comes up. One thing to note here is that the second bet must be equal to the original bet you made before the start of the round.
While placing the chips works 99% of the time, there can be small variations at some casinos. Another way to signal double down is to place the chips and then point one finger, indicating that you want one more card.
For blackjack at online casinos, you only have to click the double down button. The icon usually has a stack of chips and the "2x" mention. Keep in mind that the button will only appear when the option is available and not at all times.
Double Down Blackjack FAQs
Do you always double down on 11?
Do you double down on 11 or 12 in blackjack?
Should you double down on 11 in blackjack?
Should you double down on 10 in blackjack?
What is the difference between split and double down in blackjack?
Do you double 11 against 10?
How many cards do you get when you double down?
Can you double down when you split?
Can you double down after hitting?
Resources