Yet another exciting NFL season is well underway and with salaries continuing to expand every year, being an NFL player is big business. But who stands tall at the top of the paycheck mountain? 
Read on as we reveal the 10 highest-paid NFL stars, the highest-paid NFL player of all time, and who is earning the big bucks currently. We'll consider factors such as player contracts, business ventures, and endorsements because sometimes holding the biggest contract doesn't make you the richest NFL player.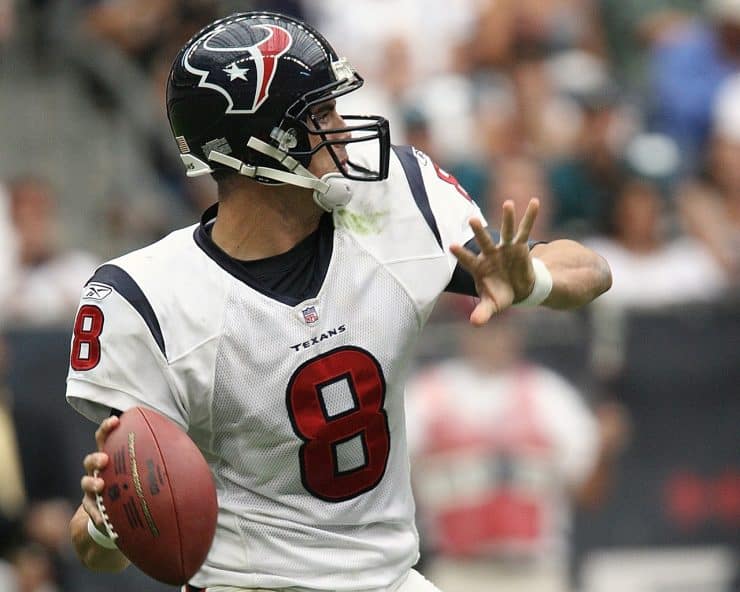 Who is the Highest Paid NFL Player?
With a new five-year deal worth a staggering $275 million – or $55 million per year – Cincinnati Bengals quarterback Joe Burrow is not only the highest-paid NFL player of 2023, but also the highest-paid NFL player of all time. 
Kansas City Chiefs quarterback Patrick Mahomes technically has a bigger contract worth $450 million but it's a 10-year extension, making his yearly salary $10 million less than Burrows. However, the contract is the largest contract in North American sporting history if calculated by total value.
Burrows was the 2020 no.1 draft pick and he has certainly earned his highest-paid NFL player title. The talented QB helped turn around the Bengals after a positive rookie season in 2020. 
In the following two years, the Bengals placed 1st in the regular season, won the AFC championship once, won all play-off games, and Burrows picked up the Comeback Player of the Year award in 2021. 
Top 10 Highest Paid NFL Players Ever
Modern contracts are absurdly high and while you might think the likes of Tom Brady, Aaron Rodgers or Eli Manning would dominate the list of the highest-paid NFL players, you'll be surprised. We compared contracts and player earnings over decades of football and determined the 10 highest single NFL contracts ever.
| | | | | |
| --- | --- | --- | --- | --- |
| Rank | Player | Annual Salary  | Contract | Team |
| 1 | Joe Burrows | $55 million | $275 million (5 years) | Cincinnati Bengals |
| 2 | Justin Herbert | $52.5 million | $262.5 million (5 years) | Los Angeles Chargers |
| 3 | Lamar Jackson | $52 million | $260 million (5 years) | Baltimore Ravens |
| 4 | Jalen Hurts | $51 million | $255 million (5 years) | Philadelphia Eagles |
| 5 | Russell Wilson | $48.5 million | $242.5 million (5 years) | Denver Broncos |
| 6 | Kyler Murray | $46 million | $230.5 million (5 years) | Arizona Cardinals |
| 7 | Deshaun Watson | $46 million | $230 million (5 years) | Cleveland Browns |
| 8 | Patrick Mahomes | $45 million | $450 million (10 years) | Kansas City Chiefs |
| 9 | Josh Allen | $43 million | $258 million (6 years) | Buffalo Bills |
| 10 | Daniel Jones | $40 million | $160 million (4 years) | New York Giants |
Unsurprisingly, all 10 of the highest-paid NFL players are quarterbacks. Additionally, all 10 contracts are recent and were signed between 2020 and 2024. The highest-paid NFL player that isn't a quarterback is Khalil Mack and his contract is only worth a mere $141 million over six years. 
Patrick Mahomes will technically be the highest-paid NFL player by the end of his contract but the 10-year deal sees him earning less per year than four other players. Tom Brady earned almost $333 million during his 23-season career, which still pales in comparison to the single contracts offered to today's quarterbacks. 
Who is the Richest NFL Player of All Time?
The richest NFL player of all time didn't actually play a whole lot of professional football. Jerry Richardson played two seasons for the Baltimore Colts, which included catching a touchdown while winning the 1959 NFL championship in his rookie season. 
However, the wide receiver famously quit after demanding a $250 pay rise in 1961 and opened up a little burger stand called Hardee's instead – yep, that Hardee's. Richardson would eventually own half the business, which was sold for millions by the early 1980s. 
It was enough money to found the Carolina Panthers in 1993, which he owned and eventually sold for a whopping $2.3 billion. Richardson died in March, 2023, and had donated more than $270 million to Wofford College over the years as a way to give back to the "greatest influence in his life".
Top 10 Richest NFL Players Ever
Just because you signed a monster contract and played for 10 years doesn't necessarily make you the richest NFL player ever.
No, some players secured the more lucrative endorsement deals, were rockstars in the property game, or their post career as an NFL analyst or media personality was even more lucrative than their playing days. 
Check out the 10 richest NFL players of all time below. Our list was curated by scanning through an extensive array of sources to determine a solid estimate of net worth and earnings from a player's various endeavors.
| | | | |
| --- | --- | --- | --- |
| Rank | Player | Net Worth | NFL Career Earnings |
| 1 | Jerry Richardson | $2 billion | $10,000+ |
| 2 | Roger Staubach | $600 million | $100,000+ |
| 3 | Tom Brady  | $300 million | $332.9 million |
| 4 | Fran Tarkenton | $300 million | $8 million |
| 5 | Peyton Manning | $250 million | $248.7 million |
| 6 | John Madden | $200 million | <$10,000 |
| 7 | Steve Young | $200 million | $50 million |
| 8 | Aaron Rodgers | $200 million | $342.4 million |
| 9 | Eli Manning | $170 million | $252.2 million |
| 10 | Russell Wilson | $165 million | $266.3 million |
Top 3 Richest NFL Players: How They Made Their Millions
We got to peak behind the curtain and see how the richest NFL players earned their millions. Since there is just far too much to discuss, we've detailed the money-making endeavors of the top three earners while skipping Jerry Richardson, as you now know how he earned his billions. 
Roger Staubach
The Heisman Trophy winner had a stellar 10-year stint at the Dallas Cowboys that ended in 1979 after two Super Bowl wins and earned $160,000 in his final season.
But during his NFL career, Staubach worked as a real estate broker during the offseason which afforded the former NFL MVP the tools and client list to form the Staubach Company, which he sold in 2008 for $613 million.
Tom Brady
With 251 regular season wins, Tom Brady is the most successful quarterback in history and earned more than $300 million during his 23-season career.
However, he has earned even more off the field. Brady's 10-year broadcasting analyst deal signed with FOX in 2023 is worth $375 million and he has made further millions from property investments. 
Fran Tarkenton
Tarkenton enjoyed an 18-season NFL career during the 1960s and 70s which included four Super Bowl appearances and nine Pro Bowl victories.
His estimated NFL career earnings are around $8 million but his fortune has been made by the stock market – he reportedly owns $100 million in Apple shares alone – and as the founder of Tarkenton Software, which sold in 1994 for $73 million.
What is the Average NFL Player Salary?
An NFL roster has 53 players and there is a yearly salary cap. This means that not every player can demand a massive salary. The lowest-paid players are rookies and practice squad players. Rookies earn $750,000 per year (the minimum base salary in 2023) and practice squad players earn between $11,500 and $19,900 per week.
Pay scales increase as a player accrues more seasons and some players will earn more on merit than others. The average NFL player salary in 2023 is about $2.7 million.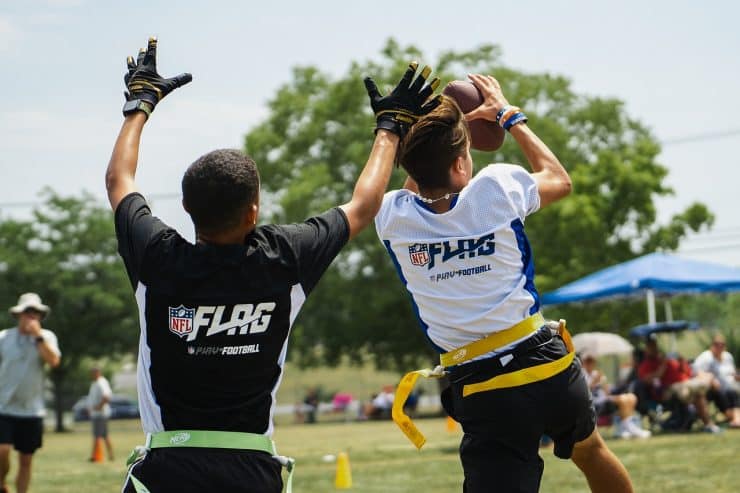 Betting on the Highest Paid NFL Players
Offshore sportsbooks provide the most interesting and valuable ways to bet on the richest NFL players. They offer a wide range of markets that allow you to bet on each game and place more specific prop bets on selected players. 
Does the higher salary mean better performance? Not necessarily, but knowing who is getting paid the big bucks certainly helps identify the players to look out for when you bet on the NFL.
FAQs
Who is the lowest-paid player in the NFL?
Is Mahomes the highest-paid quarterback?
What is the NFL rookie minimum salary?
Do NFL players get paid weekly?
Who is the highest-paid NFL QB right now?
Why do quarterbacks get paid so much?
Resources