The players make the big bucks but do you know how much NFL refs make? The high stress job pays a substantial amount and considering how a single slip up could ruin a team's season, refs certainly earn that paycheck.
We take a look at the average NFL referee salary and determine who earns the most. Read on as we explore what it takes to become an NFL referee and further explain how a referee earns their pay.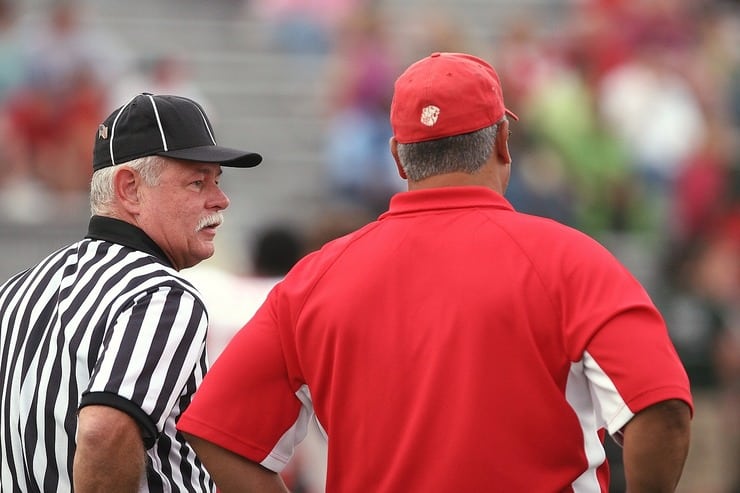 NFL Referee Salaries
NFL referee salary scales are regularly a talking point, considering the immense amount of stress these individuals are under. They must make the right call and all eyes are constantly on their every decision. We can only make estimates around how much NFL refs make because the official salaries have never been released.
Experts put the average NFL ref salary at $205,000 per year in 2022. Naturally, more experienced refs on the NFL officiating roster will likely earn more while new refs could earn much less. This estimation includes the additional money that is earned per game. We have also learned that NFL refs receive additional perks such as a handsome pension plan.
To clarify, there are several officiating roles – such as line judges and umpires – but we are only considering referees who manage the officiating team and have final say on calls.
How Much do NFL Refs Make Per Game?
The amount of money a ref earns per game will depend on their experience, just like their base salary. Our research reveals that referees who have only been in the NFL for two years or less will earn about $1,000 per game. Referees with between two and five years of experience will earn about $3,000 per game.
However, the seriously experienced referees will earn around $10,000 if they have more than five years' experience.
Considering the average NFL referee salary is $205,000 and there are 17 rounds per regular season, that means, on average, refs are earning about $12,000 per game. However, not every ref will adjudicate every round, so these numbers are still an estimation.
Who is the Highest-Paid NFL Ref in History?
There are several highly experienced NFL referees who are likely to command the highest salaries. However, since we cannot confirm the pay structure, nor the exact contracts of the refs, it is impossible to determine who is the single highest-paid NFL referee.
Walt Anderson is likely the highest-paid NFL referee in history. By the end of his career in 2019, Anderson was reportedly earning $250,000 with a $185,000 base salary, and his additional money was earned per game.
General estimations put Brad Allen's 2020-21 salary at around $250,000 and he has been officiating NFL games for almost 10 years. 
| | | |
| --- | --- | --- |
| NFL Referee | Years active | Estimated Highest Salary |
| Walt Anderson | 1996- 2019 | $250,000 |
| Brad Allen | 2014 – current | $250,000 |
| Craig Wrolstad | 2003 – current | $250,000 |
| Tony Corrente | 1995 – 2021 | $230,000 |
| Mark Steinkerchner | 1999 – 2021 | $205,000 |
How Much Do Female NFL Referees Make?
Now that there are three female NFL refs, it is only natural to ask how much do female NFL refs make. In the NFL, Sarah Thomas is the most noteworthy female ref.
In 2021, Thomas became the first woman to officiate a playoff game and the Super Bowl. NFL ref salaries are entirely dependent on experience, so being female would not affect a referees salary in any way. 
How Much do NFL Refs Get Paid for the Super Bowl?
As one of the biggest sporting events in the history of sport itself, the pressure the officiating team must feel is similar to that of the two teams contesting for the Lombardi Trophy.
As such, you shouldn't be shocked to learn that NFL referees make more money for officiating the Super Bowl than for any other game.
So, how much do NFL refs make during Super Bowl Sunday? Well, best estimates are between $30,000 and $50,000 depending on experience.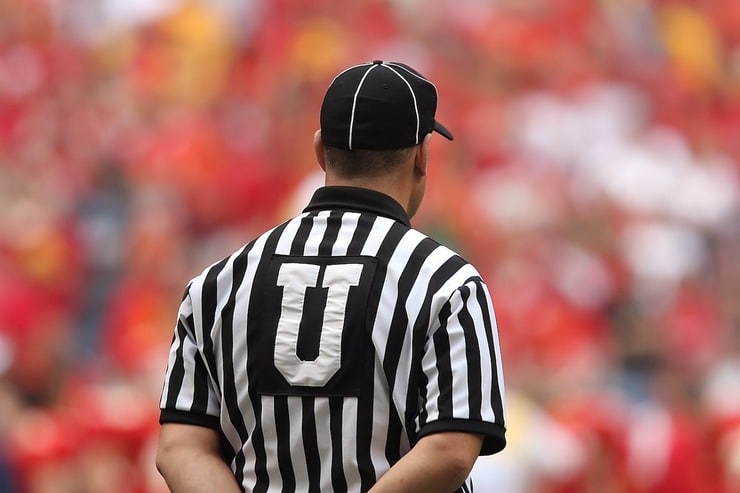 How Hard is it to Become an NFL Referee?
I'm sure we've all sat back on our couch and angrily critiqued a referee's call, believing that we could do a better job. However, NFL refs are highly trained and it is no easy feat to reach the top officiating position.
Firstly, the NFL expects referees to have a college education in the form of a bachelor's degree. As you can imagine, most study sports science or sports management. You'll then need a minimum of 10 years' officiating experience, which must include five years of officiating college games.
Along the way, refs will gain certifications and further qualifications for officiating which can come in handy once they finally get noticed. Refs need to do a fantastic job officiating big college games to be seen and then considered for the NFL.
Finally, while not as physically demanding as being a linebacker, officiating requires a good level of physical fitness too. So refs will need to maintain a solid level of fitness to excel in their role.
Between the actual games, completing paperwork such as game reports, travel, and attending meetings, an NFL ref can be expected to work between 20 – 30 hours per week.
Referee Assignments and Sports Betting
We all look for the little insights to improve our betting before we head to our favorite offshore sportsbooks. 
However, you may be surprised to learn that referee assignments can have a rather profound impact on your betting. Referees can hide or shine a light on certain performance trends based on how they officiate. 
For example, imagine how different a score line could be if one ref really likes to focus on defensive holding but next week the ref really focuses on pass interference. Sometimes it really pays to analyze the decisions of NFL refs, as well as team performance, before you bet on the NFL.
FAQs
How much does an NFL ref get paid in the regular season?
Do NFL referees get paid per game?
How much do referees get paid for NFL playoff games?
What do NFL refs do in the offseason?
What sport has the highest-paid referees?
How many hours do NFL refs work?
Resources
Lead image: Keith Allison/Wikipedia