New Hampshire gambling has been legal since 2019, with the best options coming in the form of offshore gambling sites. Other forms of online gambling are thriving in the Granite State, with players having access to sweepstakes casinos, fantasy sports sites, horse racing, and a state lottery.
We cover all of these forms of New Hampshire online gambling and unveil the top sites for each below. See where you can find the best gambling options and how to get started right now.
The Latest New Hampshire Gambling News
While gambling New Hampshire is not exactly new, there have been some recent changes that can be important for players. Moreover, you can see updates and news regarding the figures generated by New Hampshire online gambling right here:
May 2023 – Gambling activity in New Hampshire takes a hit after Massachusetts launched its own sports gambling sites in March. May sports handle drops 32% from last year, to $24 million.
February 2023 – New Hampshire reports revenue of $97.1 million from January 2023, making it the third largest handle from sports gambling in the state.
January 2023 – New Hampshire gambling enthusiasts placed a total of $891.7 million in bets on sports in 2022.
August 11, 2021 – Regulators pass HB 330 to legalize tier II sports wagers, allowing up to 10 retail sportsbook locations in New Hampshire.
August 5, 2021 – HB 354 refines the New Hampshire sports gambling law and makes the language clearer.
New Hampshire Online Gambling Summary
For more details on the New Hampshire gambling market, check out the following table. Here, we highlight the key details, like who is in charge of regulating licensed operators and what tax rates are available in the White Mountain State.
🚀 Launch Date:
Legalized July 16, 2019
Launched December 30, 2019
👤 Who can play:
18+ years old and located in the state
⚖️ Regulator:
New Hampshire Lottery Commission
🎰 Gambling Available:
Online sports gambling, online sweepstakes casinos, online horse racing gambling, lottery draws, DFS contests
💯 Tax rates:
51% if only one operator is available
💲 Application fee:
N/A
🪙 Where taxes go:
Public education
🏆 Top Gambling Brands:
BetOnline, Wild Casino, Bovada, Everygame
Is Gambling Legal in New Hampshire?
Yes, gambling in New Hampshire is legal. On July 16, 2019, Governor Sununu signed HB 480 and New Hampshire officially became the 16th state in the nation to legalize sports betting, both online and in retail locations. Players in the Granite State were able to place their first bets on December 30, 2019, as long as they met the minimum gambling age in New Hampshire (18 years).
However, only one sports gambling operator is available in the state right now. While 13 operators submitted their proposals, DraftKings is the only one that received a license for retail and online sports gambling in New Hampshire. The operator reached an agreement with the Lottery Commission where it would pay 51% of its revenue as long as no other operators launched in the state. DraftKings is now looking to open up to 10 retail sportsbooks in regions that received voter approval.
According to New Hampshire gambling laws, bets on college teams based in the state are not allowed, regardless of where the game is actually taking place.
Moreover, lottery games are provided by the New Hampshire Lottery Commission. Players can buy tickets from retail locations and online. These cover the big draw games, like Powerball and Mega Millions, as well as smaller games. There are also some instant win games on the site.
Sweepstakes and social casinos are legally available in New Hampshire, while DFS sites officially became legal in 2017, despite major sites operating in the state long before that.
Charitable Gaming in New Hampshire
Charitable gaming is very popular in the state and it also provides a way around casino regulations. Licensed charitable organizations can provide a variety of casino-style games, including roulette, blackjack, and poker. While slot machines and everything similar to them used to be banned, this is no longer the case.
The passing of HB 626 in 2021 allowed charitable gaming venues in New Hampshire to offer historical horse racing machines. This are very similar to slots, but the result is not determined by a random number generator. Instead, you select three horses that will also act as symbols on the reels. Then, a spin will randomly select a horse race from the past and base its outcome on that. If your selections match the winning horses, or if you form a combination on the screen, you win.
While the state doesn't have any commercial casinos, the truth is that some charitable gaming venues in New Hampshire look a lot like outright casinos. Players can also check out a few locations that offer charitable bingo games.
Who can Gamble Online in New Hampshire?
Players must be physically located within state borders in order to gamble online. Furthermore, New Hampshire is one of the few states in the nation that allow gambling from the age of just 18 years old. So, customers just need to meet this legal gambling age in New Hampshire to sign up and place bets.
As it is with all online gambling regulations, players, coaches, referees, trainers, and other personnel involved in a sport cannot place bets on that sport.
Types of New Hampshire Gambling Sites Available
The White Mountain State certainly has a good range of online gambling options available. However, the list is far from being complete, with real money online casino gambling and poker not being a major topic of discussion among regulators. Check out the table below for a full rundown of the gambling options available in NH.
| | | |
| --- | --- | --- |
| TYPE | ALLOWED | Year Legalized |
| Land-based casinos | N | N/A |
| Land-based sportsbooks | Y | 2019 |
| Online casino sites and apps | N | N/A |
| Online betting and apps | Y | 2019 |
| Horse racing | Y | 1933 |
| DFS | Y | 2017 |
| Lottery | Y | 1964 |
| Online Poker | N | N/A |
Sports Gambling Sites
Sports gambling is available at one site in New Hampshire – DraftKings. Luckily, this is one of the biggest operators for sports betting in the US and it provides an impressive range of markets. Around 20 sports are available on the site, including football, basketball, hockey, baseball, soccer, golf, and tennis. DraftKings also covers different betting types and supports single game parlays.
Horse Gambling Sites
Online horse gambling is legal in New Hampshire and players have access to the two largest sites – FanDuel and TVG. They cover races from all over the country and from other regions, with FanDuel Racing providing a great interface with loads of options every day. Players can also watch the race live in some cases via FanDuel TV.
Esports Gambling Sites
Esports gambling is a tricky subject in the US as it doesn't fall under standard sports betting in all states. With no specific language covering esports in New Hampshire, players cannot access markets for Dota 2, League of Legends, and CS:GO gambling. It remains to be seen if this will change in the feature.
Casino Gambling Sites
New Hampshire hasn't legalized online casinos within its borders. However, social and sweepstakes casinos are available as they don't require players to bet real money on the games. These sites can offer hundreds of games, including slots and table games, and players can access them using different virtual currencies.
Poker Gambling Sites
Online poker gambling sites are not available in New Hampshire at this time. Players can check out some of the poker games available in charitable gaming venues in the state. However, it doesn't look like the regulations will change to allow for online poker in the near future.
DFS Gambling Sites
New Hampshire is one of the few states that legalized fantasy sports gambling, passing the regulations in 2017. Operators require the approval of the New Hampshire Lottery Commission to accept players from the state. There are now more than 20 DFS gambling sites, including DraftKings and FanDuel as the two largest brands.
Lottery Gambling Sites
The New Hampshire Lottery was established in 1964, after 198 of the 211 communities in the state voted in favor of sweepstakes tickets. Over the decades, the NH lottery grew immensely and reached sales of $603 million in 2023, contributing more than $2 billion to schools. Players can buy tickets in retail locations and on the site. Featured lotteries include Powerball, Mega Millions, Lucky for Life, and Megabucks.
Politics Gambling Sites
Gambling on Politics in New Hampshire is not available due to nation-wide regulations. Licensed sportsbooks are not allowed to provide betting options for political events that take place in the country. As a result, you won't find any politics markets on the NH gambling sites.
How to Sign Up to a Gambling Site in New Hampshire
To start gambling in New Hampshire, you have to create an account at the preferred site and then fund it. We will go through the required steps to show you just how easy this process is.
1. Visit the NH Gambling Site
The first step is to go to the site from any of the links provided in this guide.
2. Create Your Gambling Account
Click on the "Sign Up" button to bring up the online gambling registration form. This is where you enter info regarding your account and personal details for your security. Keep in mind that you must meet the minimum New Hampshire gambling age of 18 years old to play fantasy contests and bet on sports.
3. Make a Real Money Deposit
Go to the cashier on the site and choose from the available payment methods. Enter the required details and the amount you wish to add to the account. You need to deposit at least $5 in order to automatically claim the welcome bonus for sports gambling.
4. Browse the Gambling Options
Most sportsbooks will have a friendly interface that is easy to navigate, providing access links at the top to the available sections. You can take part in daily fantasy or check out the sportsbook in New Hampshire.
5. Enjoy Your Winnings
Any winnings from the fantasy section or the sportsbook will be added to your account automatically once the bets settle. You can withdraw real money from the account after fully verifying the details. Processing usually takes 1-2 business days.
Gambling Bonuses Available at New Hampshire
When gambling online, you can claim different types of bonuses, depending on the product in question, on the site, and on other factors. Below, you will find the most popular types of New Hampshire online gambling bonuses and how they work.
Welcome Bonuses: A welcome offer is usually available when first joining a new gambling site or when making the first deposit. These bonuses provide a large incentive to sign up as they can award extra funds for gambling online. Keep in mind that you can only claim a welcome bonus once.
Deposit Match Bonuses: With a deposit match bonus, the gambling site will add a percentage of the deposited amount as extra bonus funds. This percentage can range from 10% to 100%, depending on the site and on the promotion. Deposit match bonuses also come with a maximum limit for the received amount.
On-going Promotions: There are various offers that fit into this category as gambling operators will often reward players for being active. Promotions can award extra gambling funds, cashback on losses, loyalty points, and other perks.
Bonus Bets: Available for sports gambling in NH, bonus bets can be used as the stake for tickets, instead of spending cash. If you win a wager with a bonus bet, you will only receive the profits and not the initial stake in the payout.
Loyalty Bonuses: NH online gambling sites can have loyalty programs that award comp points and loyalty bonuses based on how much you bet. For example, DraftKings awards points known as Crowns, which you can use in the DK Shop.
No Deposit Bonuses: Available at sweepstakes casino gambling sites and other platforms in New Hampshire, no deposit bonuses are rewards that don't require you to add funds. These can be just for signing up, for logging in, for spinning a bonus wheel, or for completing other small tasks.
Payment Methods Available at New Hampshire Gambling Sites
Having a wide range of payment methods makes it easy to deposit and withdraw funds when gambling online in New Hampshire. The right option depends on your preferences and you can learn about the most popular methods right here:
Bank Cards: The most popular and the most widely available payment methods online are credit and debit cards. You can deposit with Mastercard or Visa at any of the featured NH gambling sites. The process requires the card info and any additional codes imposed for online transactions.
E-Wallets: E-wallets have become more popular for online gambling, but their availability greatly depends on the site. Sweepstakes sites will usually accept Skrill, while locally-licensed operators can also support transactions via PayPal.
Prepaid Cards: Prepaid vouchers can be acquired from retail locations and then used for online gambling. The major gambling operators in the US also support Play+ as a prepaid option that you can use to instantly deposit and withdraw funds.
Wire Transfer: When using a wire transfer online, you can more easily make large transactions. The downside is that most wire transfers come with fees and the processing period can go up to a couple of business days. For large wins however, cashing out by wire transfer is a solid option.
Online Banking: Online banking is available at licensed sites and supports most of the major banks in the nation. You can select the method from the cashier and then choose your bank to deposit without providing any card info.
Cash at Cashier: For DraftKings in New Hampshire, you can make an online deposit at a retail sportsbook. Simply provide your state-issued ID and pay in cash. This method is also available for withdrawing funds after approving the request online.
Who Regulates Gambling in NH?
The New Hampshire Lottery regulates online and retail gambling in the state. It is also the authority over horse and dog racing, fantasy sports, and charitable gaming, including historic horse racing machines, games of chance, bingo, and Lucky 7. Taxes collected by the NH Lottery are used for schools and education in the state.
Tax on Gambling Winnings in New Hampshire
The Granite State used to have a 10% tax on gambling winnings greater than $600. However, this tax was removed on May 23, 2011 in order to encourage residents and out-of-state gamblers to take part in the action. Gambling winnings will still count as income and are thus subject to New Hampshire state income tax (7.6%) and federal tax (24% based on bracket).
New Hampshire Gambling Apps & Mobile Sites
Mobile gambling in New Hampshire is available in multiple forms. All of the top gambling sites covered in this guide are available on both iPhone and Android devices. The instant play versions of the sites don't require any downloads and allow users to connect instantly from the browser on their devices.
Moreover, some operators also provide native apps for both iOS and Android, as is the case with DraftKings. You can download the respective app for free for fantasy contests or sports gambling from the Apple App Store or from the Google Play Store. The same gambling options found on the desktop version are also available on mobile in New Hampshire.
Gambling Sites vs Land-Based Gambling in New Hampshire
Although there are no commercial casinos in New Hampshire, some of the charitable gaming venues found in the state are very similar in terms of available games and overall size.
Plus, the New Hampshire gambling laws allow for up to 10 retail locations, which will most likely be operated by DraftKings. This does mean that gambling sites and land-based gambling venues have some similarities. Let's go through the pros and cons of gambling online in NH.
Pros:
More casino-style games at sweepstakes sites
Easier to browse sports and gambling markets
Players can claim large bonuses and promotions
Available anywhere in the state, even on mobile
Much better-looking slot machines online
Cons:
Can't take out the winnings instantly
Social gambling aspects are limited
Tips How to Stay Safe When Gambling Online in New Hampshire
We recommend following these tips to always stay safe and secure when gambling online:
1. Play at Trusted Sites
There are many illegal online gambling sites available that represent a high level of risk for players. Stay away from any operators that are not approved within the state or allowed on a federal level. For New Hampshire, this means only gambling on sports with DraftKings, playing at approved social and sweepstakes casinos, and accessing fantasy sports on platforms that received the green light from the NH Lottery Commission.
2. Set a Budget
An important part of gambling is not spending outside of your budget. We recommend setting a fixed amount of money that doesn't have any other requirements. Don't use money that you need to pay for rent, groceries, or other expenses. This budget will represent your available funds for gambling for a set period, like a month.
3. Verify Your Account
In order to make withdrawing your winnings easier, it is best to verify the account ahead of time. This can require you to submit a copy of a valid ID and proof of address. By doing this, you are also adding an extra layer of security to your account to ensure that nobody else can cash out your funds.
4. Use Secure Payment Methods
Don't share your payment details to anyone, especially via email, even if they claim to be from the gambling site. No legitimate operator will ever ask for your banking info. Instead, only complete payments on the secure site, from the cashier. Make sure the page is secure and that it displays a closed lock and https instead of the standard http.
5. Stop Gambling When the Fun Stops
Gambling in New Hampshire should be seen as a form of entertainment and not a way to make money. While you can win quite a bit, it is best to not have winning as the goal. This will allow you to enjoy the experience and help you stay in control. Remember, if you are not having fun, stop doing it.
How New Hampshire Gambling Compares to its Neighboring States
New Hampshire had an early start to online gambling in New England as many of the states in the region are still setting things up. For example, Maine online gambling became legal in mid-2022, allowing for up to four online sportsbooks, but no sites have launched just yet.
Vermont online gambling is also new, with Gov. Phil Scott signing the legislation on June 14, 2023. However, licensed online gambling sites have yet to launch in this neighboring state.
To the south of New Hampshire, Massachusetts online gambling officially went live on March 10, 2023. A total of six online sportsbooks became available at launch, with a couple more following in the months after that. This launch affected New Hampshire gambling revenue as Massachusetts residents no longer had to go to another state to gamble.
Gambling Locations in NH
Although New Hampshire doesn't have any commercial casinos, it does host more than a dozen charitable gaming venues. Most are quite small and resemble casino cardrooms as part of sports bars or large restaurants. Some however are large and can rival standard commercial casinos in size. These offer multiple table games and slots alternatives, known as historical horse racing (HHR) machines.
These gambling locations in New Hampshire are nonprofits that donated more than $17.7 million to the state in 2022. This amount was already surpassed in the first half of 2023 due to the introduction of HHR machines.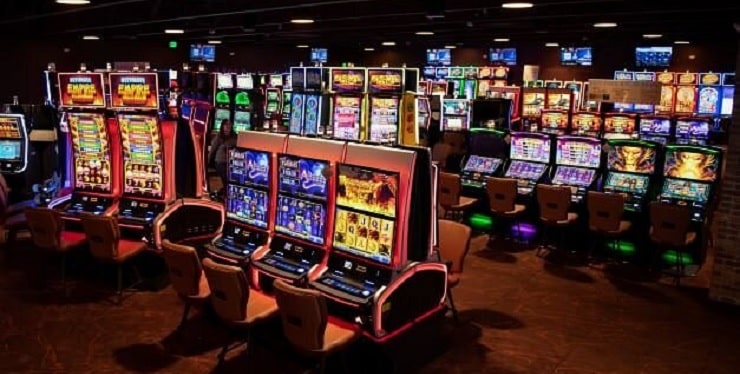 The Brook
Address: 319 New Zealand Rd, Seabrook, NH 03874
Opening hours: 8 AM – 1 AM
The first casino location to add historic horse racing machines in New Hampshire was The Brook. This is the site of the former greyhound racing track and now offers a sportsbook and a casino section. There are over 500 casino gaming and video poker machines on the floor, making it the largest charity casino in the US. It also has various table games, an 18-table poker room, and an electronic gaming area.
Gate City Casino
Address: 55 Northeastern Blvd, Nashua, NH 03062
Opening hours: 9 AM – 1 AM
Gate City is one of the largest charitable gaming venues in New Hampshire. It offers around 300 HHR gaming machines, some of which are themed based on popular slots games. Fans of table games will find three card poker, blackjack, roulette, ultimate Texas hold'em and other options among the 13 tables provided. Plus, Gate City Casino also has a full poker room for live cash games and tournaments.
Concord Casino
Address: 67 S Main Street, Concord, NH 03301
Opening hours: 4 PM – 1 AM
Concord is a new casino destination that offers blackjack, roulette, poker, and other Vegas-style games. There are also 30 electronic gaming machines that each have up to 14 slots-like games. Players can check out the sports bar for drinks and a full menu of food available every day before 11 PM.
The Best Gambling Site in New Hampshire
BetOnline gets the nod from our experts as the best offshore gambling site in New Hampshire. To make your first deposit, simply click on one of the links on this page.
FAQs
Can you gamble online in New Hampshire?
Are online casinos legal in New Hampshire?
When did New Hampshire allow online gambling?
Can I use a VPN to gamble in New Hampshire?
Which is the best online sportsbook in New Hampshire?
What is the gambling age in New Hampshire?
Resources