The New Jersey online poker market has continued to grow since the state legalized online gambling in 2013. If you are one of thousands of people looking for the best NJ poker sites each day, this is the page for you.
Below we will rank the best New Jersey poker sites in the Garden State and also detail the best poker variants you can play.
Reviews of the Best NJ Online Poker Sites
1. BetMGM – Great welcome bonus offering
MGM Resorts International is one of the biggest casino operators in the US, and Entain is one of the most significant gambling sites in NJ and globally. These companies combined to launch the PlayMGM poker network in 2017, which eventually became BetMGM.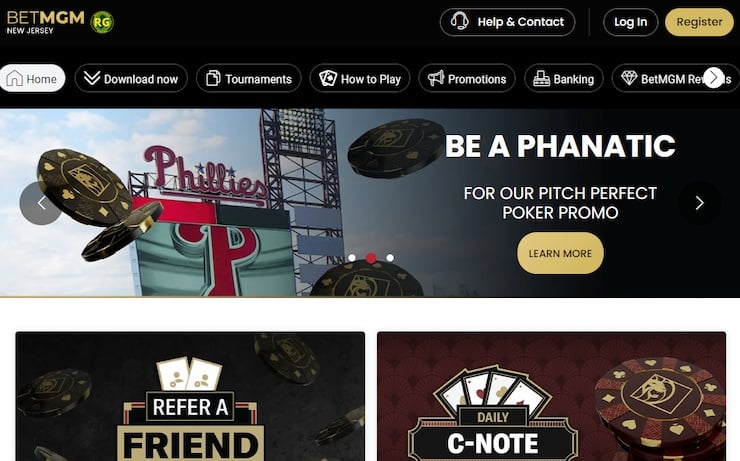 The BetMGM New Jersey poker site is part of the BetMGM US Network, which also shares player pools with Borgata and Partypoker (two MGM brands). Players are shared across three major sites, and you never need to wait for a seat. As well as excellent traffic, BetMGM provides a diverse selection of online poker variants available in cash games and tournaments. If you like multi-tabling, BetMGM has you covered by allowing you to play up to four poker games simultaneously.
2. Borgata – Top player pool traffic
A name synonymous with class in casino gaming, Borgata launched its online poker product in 2013 and has been providing top-quality poker tournaments and cash games ever since. It was established as a partnership between Vici Properties and MGM Resorts International, two massive names in the gambling industry.
The Borgata New Jersey poker site is part of the BetMGM US Network, operating in partnership with two other MGM brands, BetMGM and Partypoker. Tables are frequently available as the three sites share players, so you won't wait long to play.
Borgata's game selection is excellent, and players can earn Borgata Online rewards while playing that can be exchanged for prizes like bonus funds and free poker credit. You can also earn MGM Rewards while playing, which you can exchange for real-life prizes like meals and hotel stays.
Introduction to NJ Online Poker
While poker's origins are unknown, the modern game is thought to have combined many card games that the French developed as Poque. When colonists from France settled in Louisiana in the late 18th century, they brought Poque to the streets of New Orleans. The game picked up a more Americanized name, "Poker".
By the late 19th century, poker had become the card game of choice at the saloons in the Old West. Texas Hold'em emerged as a variant of seven card stud in the early 1900s, sowing the seeds for the modern game. Of course, Texas Hold'em has become the mainstream version of poker and is the game of the World Series of Poker (WSOP).
From being illegal to being fully legal online, from the underground to the mainstream, the poker story is one of growth and success. And now here we are with online poker, which connects you with thousands of players across hundreds of games and poker tournaments in New Jersey.
The Legality of Poker in NJ
Online poker has been through a lot over the last two decades. Once restricted, NJ online poker sites are now completely legal. To play legally, you need to sign up with a poker network licensed by the New Jersey Division of Gaming Enforcement (NJDGE) and be over 21.
April 15, 2011: Known as Black Friday, the FBI shut down US poker sites and restricted them, stemming from October 13, 2006, The Unlawful Internet Gambling Enforcement Act (UIGEA).
February 26, 2013: Then-Governor Chris Christie signs A2578/S1565, allowing online gambling sites to open in New Jersey through partnerships with Atlantic City land-based casinos.
November 26, 2013: Online casino gambling becomes officially legal, with 14 casinos and/or poker sites opening.
2013: By the end of 2013 there were over 500,000 online poker accounts in NJ.
New Jersey Poker Bonuses
Standing out from the crowd is important in the hugely competitive NJ online poker market. That is why online casinos and poker sites use bonuses to attract new bettors and keep existing players happy. When you visit the poker operators we recommend, you can see the following common promotion types.
Welcome Bonus
Available at all New Jersey poker sites, a welcome bonus is an introductory offer where the casino rewards you for signing up. Usually the most generous bonus available at the site, You can often get deposit match bonuses and other promotions with a welcome bonus.
Bonus Code
Some online poker bonuses will require you to input a bonus code to claim the offer. Promo codes are a set of letters and numbers that add a layer of exclusivity to a bonus. Not all casinos ask for a code, but some do, and you will only be able to claim the bonus if you have the code.
No-Deposit Bonus
It's easy to see why casino customers love a no-deposit bonus. It is a promotion that offers a small reward without players needing to deposit into their casino account. For example, you can get bonus money, bonus spins, free time, or another reward from a no-deposit bonus.
Deposit Bonus
The promo you'll see the most is a deposit bonus, which is when the casino matches a deposit you make by a specific amount. For example, a 100% match on deposits up to $1000. If you deposit $100 the New Jersey poker site will give you $100 in bonus funds.
Rakeback
An attractive poker bonus is the rakeback, where the New Jersey poker room gives back a portion of the money you bet over a set time. As poker has no Return to Player (RTP) like casino games, the best way to make money out of make money out of poker is to take rake. For this promo, the poker site takes a portion of all your bets and saves them to provide the rakeback reward.
Freerolls
If you want to play online poker for free and win real money prizes, freeroll poker is the answer. Most NJ online poker sites offer freeroll tournaments. These are competitions where you do not need to pay to enter. Even so, there is still an online poker real money New Jersey prize pool.
Free Tournament Entries
Tournaments are very popular at New Jersey poker sites, with most players demanding that a casino offers tourneys. To participate, the player must pay the entry fee to participate. There is a prize pool, and each player competes to win by starting with the same number of betting chips. With tournament entry promotions, you can join these competitions for free.
Loyalty Programs
You should be automatically enrolled if your NJ online poker site has an open loyalty program. Every bet you make will contribute towards loyalty points. Accumulating points allows you to move through levels and gain increasingly rewarding benefits. Some operators have a VIP service that acts like a loyalty program but is invite-only.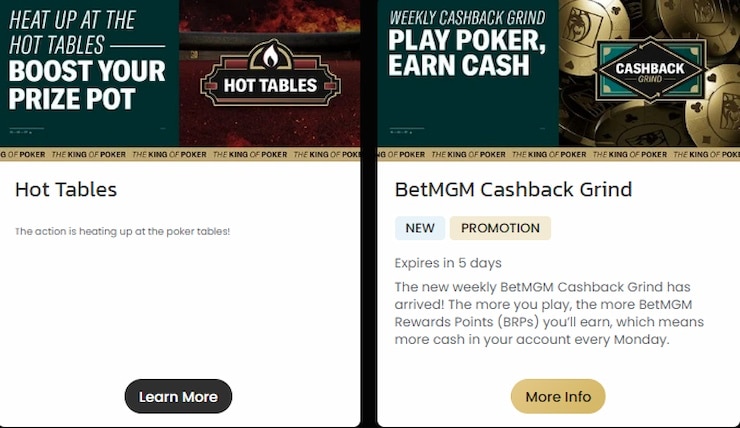 How to Scan NJ Poker Bonus T&Cs Fast
New jersey online poker bonuses are designed to grab your attention with eye-catching rewards instantly. However, not all promotions are created equal, and all bonuses have specific terms and conditions. You must always read the T&Cs to avoid nasty surprises that could prevent you from claiming a bonus.
Our experts have listed some of the key terms you should like out for when you scan the terms and conditions at NJ poker sites to ensure you understand your bonus.
Wagering Requirement/Rollover: A number that represents the number of times you need to wager through a bonus amount before you can withdraw any winnings you made with the bonus. For example, a rollover of 30x on a bonus of $300 means you must wager 30 x 300 = $9,000 before you can withdraw bonus winnings.
Payment Restrictions: Some – but not all – NJ online poker sites restrict some payment methods so they are not eligible for a casino bonus.
Game Weighting: When you bet, you contribute to the wagering requirement. Poker does not usually contribute much to the WR, usually around 5% to 10%. For every bet you make to withdraw, your bonus winnings will only contribute a small amount to the WR.
Expiry Date: Be careful to look out for a bonus expiry date. These are usually up to seven days, but they can be up to a month or more depending on the site and offer.
Why Play Online Poker in New Jersey
Playing poker at a land-based casino is cool and authentic. However, online poker brings whole new dynamics to the game and makes playing poker in New Jersey very convenient. Before you get started, it is essential to know what benefits you get from online poker:
Never wait for a game with tables open 24/7 and constantly running.
Play multiple variants of poker and test new versions.
Claim online casino bonuses.
Play on more than one poker table at the same time.
You can play poker games from the comfort of your home.
NJ Poker Sites Basics
In concept, poker is a game usually played with a standard 52-card deck where the player has cards in their hand with community cards on the table. With these cards, the player must try to build the best possible poker hand ranking. Sounds easy? Well, while the basics of online poker are simple, the game is incredibly complex.
However, one of the best things about poker is that the same game can be beginner-friendly and appeal to experts. You can pick up and play and learn on the move if you are just starting. For more experienced players, the nuances and social aspects of poker become hugely important to gameplay.
This is most apparent in Texas Hold'em, easily the most popular poker variant. When you visit New Jersey poker sites, we recommend you will mostly play Texas Hold'em. Each player is dealt two cards and must assess their hand and choose to bet or not through multiple rounds as three community cards land on the table.
A typical Hold'em round starts off with you receiving two cards and then deciding if you want to bet on them. After that, the first three community cards are dealt, whereupon a new betting round proceeds. When that betting round is over, the fourth community card is dealt and another betting round, and after that the fifth and final community card is dealt and the final betting round takes place.
Omaha poker is also popular but a distant second to Texas Hold'em. Omaha is a poker variant where each player gets four cards and must use two of them with three of the five community cards to make the best hand. Whether you are playing Hold'em, Omaha, or another variant, NJ poker sites provide a wide range of ways to play.
Poker Cash Games
Also known as Ring games, these are online poker games you play using your real money. You will buy into the game and use chips to bet and compete with other players. Cash games do not have a set time limit on how long you need to play at the table. Players are free to enter and leave games whenever they want. There is a a time limit on the hands played, though.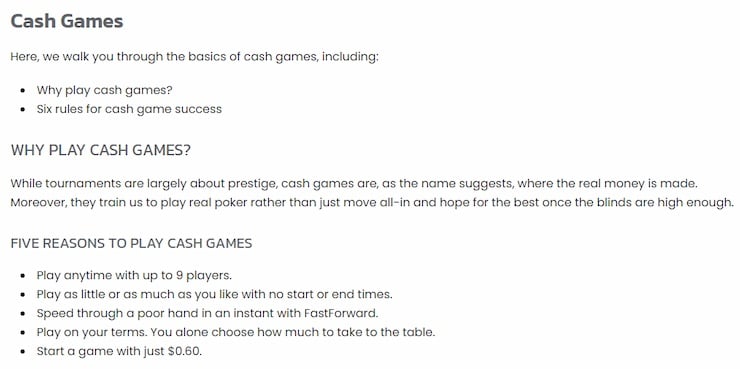 Poker Tournaments
A tournament is a competition where players compete to win part of a prize pool. Each player pays an entry fee to participate, and in return gets a number of poker chips to play with. The tournament is played until only one winner remains that holds all the chips, or in case of larger tournaments deals can be struck at the final table. Popular types of poker tournaments in New Jersey include rebuy, bounty, satellite, multi-buy, and freezeout.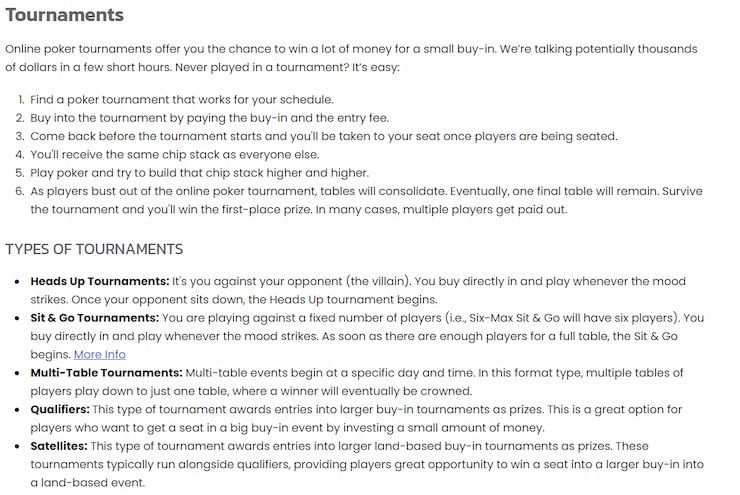 Sit'n Go's
A Sit and Go (SNG) tournament is a type of online poker competition that only starts when a specific number of players have entered. This player pool can vary from tournament to tournament, and blind levels can also be different.
How to Play Online Poker in New Jersey
Getting started at New Jersey poker sites is simple, and you can sign up and start playing in minutes. Follow our guide below to begin your poker journey.
Select one of our recommended NJ online poker sites. Click the accompanying link to head directly to the site.
Hit the "Join" or "Register" button to start the sign up process.
You will be asked for your name, address, phone number, email, and location during registration. You must also provide the last four digits of your Social Security Number (SSN).
Confirm your account through email and then head to the "Cashier" or "Banking" section of the poker site. Pick one of the available deposit payment methods.
Follow the instructions to set up your deposit (including the amount) and finalize the transaction. Your deposit should trigger the welcome bonus.
With money in your account, head to the poker lobby and choose one of the New Jersey poker rooms you want to join.
Join the game and place your bets by moving the chips into the betting box on the screen. Play your poker round and try to achieve the best possible hand.
If you win enough to clear the minimum withdrawal amount, head back to the cashier and select a payment method to cash out your winnings.
Follow the instructions to withdraw. Most NJ online poker sites take around 48 hours to approve a withdrawal.
You must verify your account before withdrawing for the first time. NJ poker sites will require you to prove your identity by providing copies of documents like a photo ID, proof of address, and proof of payment method. The verification process may take a few days, but most New Jersey poker sites will allow you to continue joining games and depositing.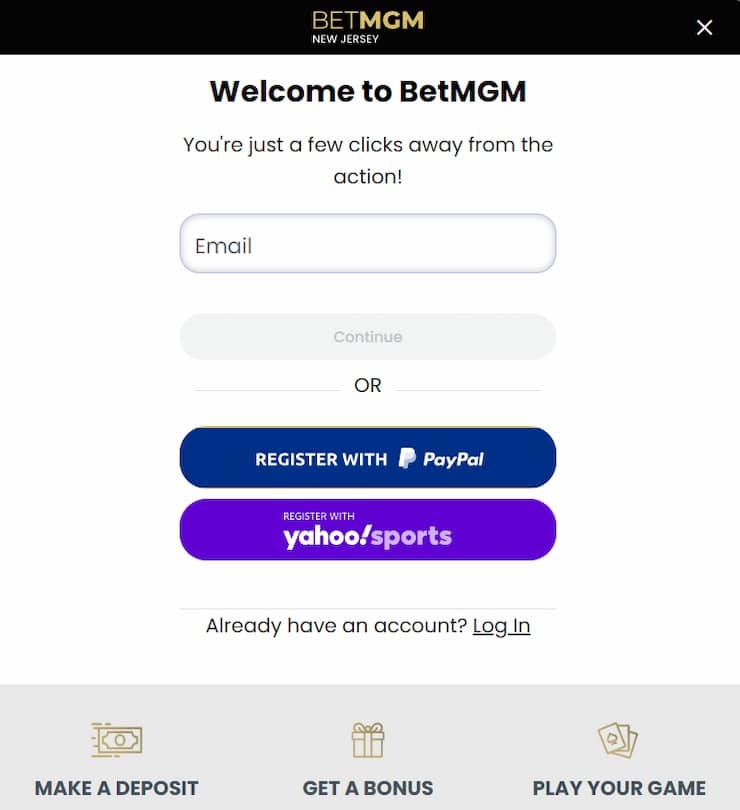 Playing Poker Against Players from Other States
The Multi-State Internet Gaming Agreement (MSIGA) allows poker networks to pool players from the other states they operate in. New Jersey has a massive player pool for online poker. Even so, you can also play against players in Michigan, Nevada, and Pennsylvania. Many of the NJ poker sites we recommend on this page are multi-state operations and allow combined player pools across states.
More Poker Variations Available Online
While Texas Hold'em and Omaha are the most popular types of online poker, New Jersey online poker sites provide you with plenty of other games to enjoy. Our experts have listed some of the best below.
Available as Table Games
3-card poker: Instead of playing other players, 3-card poker involves competing against the dealer. You receive three cards and must build the best hand. This variant is interesting because a straight beats a flush.
5-card poker: Players receive five cards and can make the best possible hand from their cards. Many versions of this game allow players to exchange one – and sometimes two – cards to try to build a better hand.
Stud poker: In this poker category, the player gets all their cards at once, with no community cards. Two cards are visible to everyone, while three are invisible. Popular stud variants include seven-card stud and Caribbean Stud.
Video Poker
Video poker is a game that combines classic poker with elements of online slots. You will be playing against a machine with random number generator (RNG) technology. This means all outcomes are random. You will still play poker rules and attempt to get the best hand, but you are basically playing along. Popular video poker variants include Jacks or Better, Deuces Wild, Joker Poker, and All Aces.
How to Play Land-Based Poker in New Jersey
Atlantic City is one of the gambling centers of the world. While there are only nine land-based casinos, these are mega resorts such as Borgata, Ocean's Resort, and Caesar. These casinos are home to some of the best poker rooms in New Jersey and the United States. Online poker is fun and convenient, but if you get the chance, we recommend heading to Atlantic City and playing at a real casino.
Tips and Strategies for Playing Poker Online in New Jersey
When you head to an NJ poker site, you want to have a good time and hopefully win money. We can help with having a good time by recommending the best poker casino in the state. Winning money is a little more challenging because poker contains a large element of luck. However, it is one of the few casino games where skill can help you win. Below are our tips for maximizing your chances and having the best online poker experience:
Be strict with starting hands: It is easy to take a "wait and see" approach and bet on every starting hand. However, while you could land big hands, being more selective will extend your bankroll.
Learn to bluff: Being able to bluff an opponent is a true skill, and because poker is mostly a player vs. player game, this skill can absolutely help you win hands.
Learn the hand rankings: Become familiar with poker hand rankings so that you know the quality of your hand and your chances of winning the hand.
Gamble Responsibility: Above all else, gamble within your means and only use the money you can afford to lose.
Gambling Responsibly in New Jersey
Most online New Jersey poker sites offer a complete responsible gambling hub. You can seek advice on betting safely and set limits for how much you can deposit, wager, and time you spend at the casino. Although, it is worth noting online casino operators are not legally obligated to provide these limits.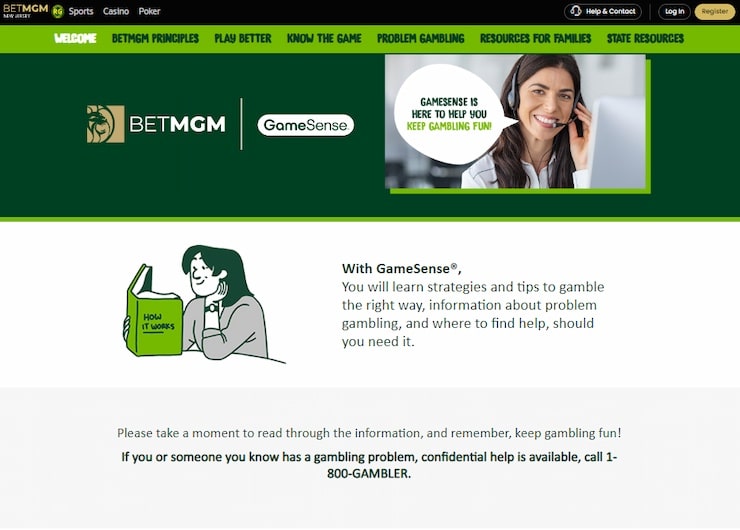 That said, poker sites do have legal requirements for responsible gambling under regulations from the NJDGE. Mandates include providing resources for players to receive help from outside services, including:
Best Poker Site in New Jersey
If you only visit one New Jersey online poker site, BetMGM is an excellent choice. A notable name that delivers a classy user experience, BetMGM gets our seal of approval across all aspects of online poker. Because it owns other major poker sites (Borgata and Partypoker), BetMGM has truly massive player pools. Furthermore, BetMGM delivers lucrative bonuses with accessible requirements and is a completely reputable and licensed operator.
You are probably eager to get started, so click the link on this page to head directly to BetMGM to claim your online poker welcome bonus.