Online and retail sports betting is available in the District of Columbia but with some restrictions. Retail sportsbooks are available at four sites and kiosks at several lottery retailers. Online betting is permitted anywhere in the District using the GambetDC app, operated by DC Lottery, but only within two blocks of a retail facility for other sportsbooks.
If you want to bet on sports in D.C., check out our expert guide. It includes an overview of the best Washington D.C. online sports betting sites, DC sports betting law, how to register and claim a generous welcome bonus, and answers to some frequently asked questions.
List of the Best Sports Betting Sites in Washington D.C.
Washington D.C. Sports Betting Overview
Retail Sports Betting Launch: May 26, 2021
Online Sports Betting Launch: May 29, 2020
Bet Types Available: Moneylines, parlays, same-game parlays, teasers, totals, futures, and props
Washington D.C. Gambling Age: 18+
Available Sports: NFL, NBA, NHL, MLS, MLB, tennis, boxing, NASCAR, European and International soccer, out-of-state collegiate sports
Payment Methods: PayPal, Skrill, Visa, Mastercard, eCheck, Online Bank Transfer, Play+, PayNearMe
Washington D.C. Sports Betting Regulator: Office of Lottery and Gaming
Is Sports Betting Legal in Washington D.C.?
In December 2018, Mayor Muriel Bowser signed the Sports Wagering Lottery Amendment Act, which legalized sports betting in the District of Columbia. The act allowed the D.C. Lottery to regulate sports betting and offer licenses to private operators.
Pari-mutuel wagering, a form of betting on horse and dog races, has been legal in Washington, D.C. for decades. The D.C. Lottery also regulates and oversees pari-mutuel wagering in the district. However, with the legalization of sports betting, the focus has shifted towards more traditional sports wagering opportunities.
Who can Legally Bet on Sports in Washington, D.C.?
You must be at least 18 years old and physically located within Washington, D.C. to be eligible to place bets. Valid identification and personal information are required for registration with licensed operators to verify age and identity.
There are restrictions on who can participate in sports betting in Washington D.C. Individuals connected to a sports team or governing body, such as players, coaches, referees, and officials, are generally prohibited from placing bets on events they are directly involved in or have access to insider information.
Those with a history of criminal activity, particularly related to gambling or sports integrity, may also be restricted from participating in sports betting.
Previous Sports Betting Bills in Washington D.C.
As the District is not a fully-fledged state, the pathway to legalizing sports betting passed through the corridors of US Congress en route to its passage in 2019. Bill 22-944, also known as the Sports Wagering Lottery Amendment Act, was passed by Councilmembers in 2018 and approved by US Congress in 2019, launching D.C. sports betting.
2019: The United States Congress reviews the D.C. Council legislation as Act 22-594 per the D.C. Home Rule Act and passes it to legalize sports betting in Washington D.C.
2018: Bill 22-944, which amends current sports betting legislation, is passed by the Washington D.C. Council and signed by Mayor Muriel Bowser.
Tax on Sports Betting Winnings in Washington D.C.
Washington D.C. does not currently impose a state-specific tax on sports betting winnings. However, the District considers gambling winnings taxable income and, therefore, subject to its 8.5% income tax rate.
In the United States, sports betting winnings are generally considered taxable and subject to federal income tax. The current federal income tax rate on gambling winnings varies depending on the total amount of income and the individual's tax bracket.
In Washington D.C., sports betting revenue from operators is earmarked for the District's General Fund, which is used to finance various government functions. These include education, transportation, public safety, health services, and other programs and services that benefit the residents of Washington D.C..
How to Register with Washington D.C. Online Sports Betting Sites
Signing up with a Washington D.C. gambling site is quick and easy. Follow this step-by-step guide to register with a D.C. gambling site, and you can be placing bets in minutes.
1. Choose your preferred D.C. online sports betting site
Click the links on this page to visit one of our recommended Washington D.C. online sports betting sites.
2. Complete the registration process
Press the "Register" or "Sign Up" button to create a new account. Enter your name, date of birth, address, email, phone number, and Social Security number into the registration form.
3. Choose your log-in details
Decide on your username and password. Your sportsbook will advise making your account as secure as possible, rating your password's strength.
4. Enter your D.C. promo code
Enter a bonus or promo code into the appropriate field during registration if you have one.
5. Verify your identity
Most gambling sites require users to verify their accounts via email or phone before they can start placing bets. Follow the instructions provided by the site to complete the verification process.
6. Fund your account
With your new account created, visit the site's cashier section to deposit. Choose your preferred banking option and decide how much to deposit. Ensure you meet the minimum deposit requirement if you claim a welcome bonus.
7. Place your bets
Your cash will be available in your account instantly. Browse through your sportsbook's list of markets and find one that appeals to you. Click to add it to your bet slip, decide your stake, and place your wager.
8. Collect your winnings
Return to your site's cashier if you place a winning bet. You'll find advice on how to withdraw safely.
Washington D.C. Betting Apps on Mobile
Types of Bonuses Available
Washington D.C. sports betting sites use bonuses to encourage new players to register and existing players to return to play. There are many different types of promotions, each with unique benefits.
Below, our experts have broken down some of the promotions you can claim when you click the links on this page and sign up with the best Washington D.C. betting sites.
| | | |
| --- | --- | --- |
| Bonus Type | About | Recommended Site |
| Welcome Bonus | Washington D.C. gambling sites offer a welcome bonus to new players when they sign up, such as free bets and deposit matches. You may need to follow additional terms and conditions once you sign up to claim your welcome bonus, such as making a minimum deposit. | BetOnline |
| Ongoing Promotions | While plenty of promos are exclusively available for new players, you'll also find Washington D.C. betting sites provide reload bonuses, free bets, and odds boosts. You may need to make a deposit or minimum bet to earn ongoing promotions like a welcome bonus. | BetOnline |
| Second Chance Offers | A second chance offer allows you to place a bet and get your losses back as free bets. If your qualifying second chance wager wins, you don't get any bonuses but keep your stake and profit. | Everygame |
| No-Deposit Bonuses | A no-deposit bonus is a promotion that does not require a player to deposit. These bonuses are often offered as a welcome bonus or to existing players as a loyalty reward. No-deposit bonuses typically have wagering requirements you must meet before withdrawing any winnings. | Bovada |
| Promo Code Bonuses | Washington D.C. gambling sites provide bonus promo codes to unlock specific bonuses or promotions. You can find these codes on the site's promotions page or through email marketing campaigns. Players must enter the code when depositing or signing up for a new account to unlock the bonus. | BetOnline |
| Loyalty Programs | Loyalty programs reward players for their continued play at Washington D.C. gambling sites. These programs come in many forms, such as point systems, cashback offers, and VIP rewards. Loyalty programs are designed to incentivize players to continue playing and can offer significant value over time. It's essential to understand the terms and conditions of a loyalty program to maximize its benefits. | BetOnline |
Payment Methods in Washington D.C.
There are many secure payment methods with Washington D.C. online sports betting sites, whether you're looking to deposit or withdraw. Here are some of the most popular payment methods available.
Online Banking: You can make direct transfers from your online bank account by entering your banking information into your sportsbook. Making deposits with online bank transfers are fast and secure.
VIP Preferred/eCheck: An eCheck is similar to online banking but allows you to transfer funds from your checking account to your gambling account. You don't need a bank card to do this.
E-Wallets: You can use e-wallets such as PayPal, Neteller, and Skrill to top up your account quickly without entering your bank information. E-wallets also offer some of the fastest withdrawals in Washington D.C.
Bank Cards: Most U.S. residents have a bank card, and you can use cards from Mastercard and Visa to make deposits. However, some sites don't allow bank card withdrawals.
Play+: As a gambling-exclusive prepaid card, Play+ allows players to make fast deposits and withdrawals. Many sites offer you bonuses and rewards for using Play+.
Check: Most Washington D.C. online sports betting sites allow you to withdraw via check, a secure option but very slow compared to other payment methods.
PayNearMe: With cash, you can top up the PayNearMe card at retailers like CVS, 7-Eleven, and Walgreens and use it to deposit at Washington D.C. sportsbooks.
Wire Transfer: You can securely deposit and withdraw money using a wire transfer. Wire transfers are best suited to large deposits and withdrawals.
Responsible Gambling in Washington D.C.
Washington D.C. requires all licensed online sports betting operators to have a responsible gambling section on their platforms. This section typically includes self-help tools like time limits, budgets, betting history tracking, and links to resources for problem gambling, such as helpline numbers and counseling services.
Washington D.C. also has a self-exclusion program that allows you to voluntarily exclude yourself from online sports betting for a certain period. These measures aim to promote responsible gambling and assist you in making informed decisions while managing your gambling activities.
By providing self-help tools and access to resources, Washington D.C. ensures you have the tools and support they need to maintain responsible gambling behaviors.
Washington D.C. Responsible Gambling Resources
Teams to Bet on in Washington D.C.
Pro Sports
Washington Commanders
Washington Commanders is a member of the NFL East, playing at FedEx Field, Landover, MD. The Commanders started life as Boston Braves before moving to Washington in 1937. In a storied history, Washington has won three Super Bowls to date, in 1982, 1987, and 1991, and two pre-merger NFL championships in 1937 and 1942.
Washington Wizards
Washington Wizards is a National Basketball Association (NBA) franchise. The team has produced several notable players, including Michael Jordan, and has made four NBA Finals appearances.
Washington Nationals
Washington Nationals plays in Major League Baseball (MLB) and won the World Series championship in 2019.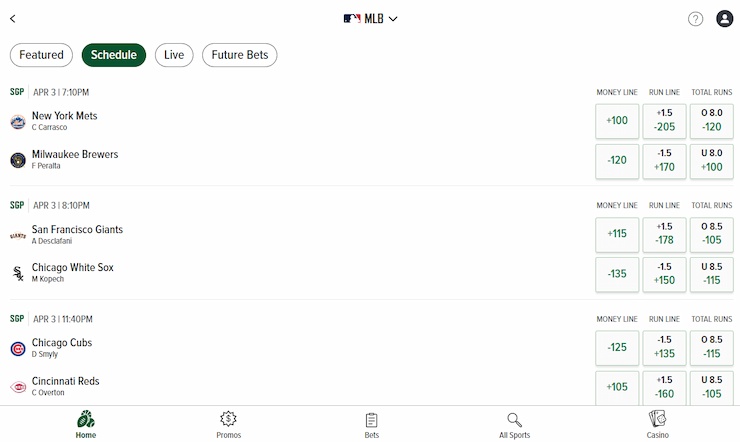 Washington Capitals
Washington Capitals is a professional ice hockey team based in Washington D.C. founded in 1974. The team has won one Stanley Cup championship in history (2018) and has several notable players, including Alex Ovechkin and Nicklas Backstrom.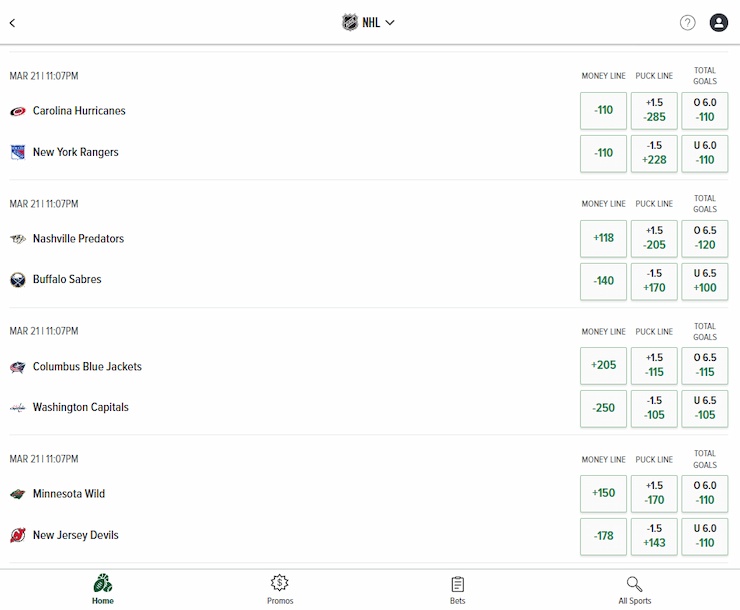 College Sports
Georgetown University Hoyas
The Georgetown Hoyas football team represents Georgetown University in the NCAA Division I Football Championship Subdivision (FCS). While the team has not won any recent championships, they have produced several notable players, including Brian Westbrook and Jeff Clay.
George Washington University Colonials
The George Washington University Colonials is most well known for its basketball and baseball teams, which compete in NCAA Division I's Atlantic 10 Conference. Its baseball program has produced several notable players, including Tom Grieve and Mike O'Connor, while its basketball team has won a single National Championship.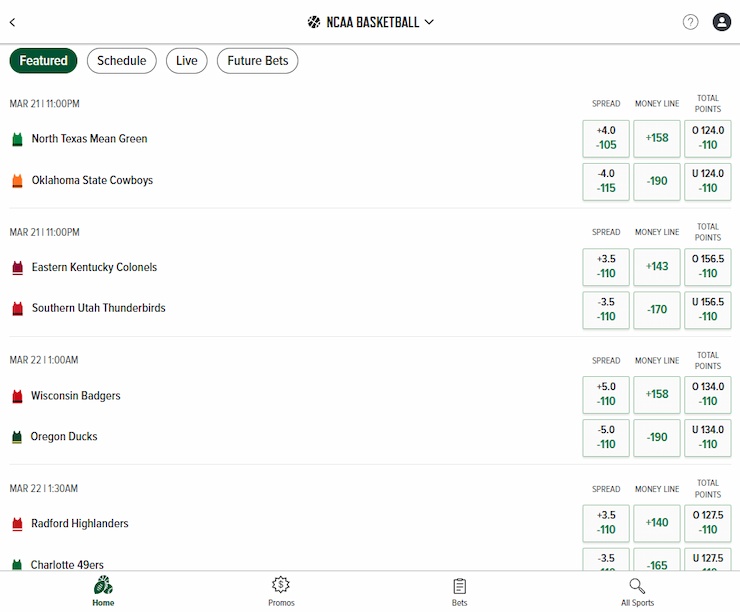 American University Eagles
American University Eagles play in NCAA Division I's Patriot League. While the team has not won any recent championships, it has a strong ice hockey program and competes in the Eastern Collegiate Athletic Conference (ECAC) Hockey League.
Howard University Bison
Howard Bison University's athletic program represents Howard University in NCAA Division I. Its football program competes in the Football Championship Subdivision (FCS) as part of the Mid-Eastern Athletic Conference. The school produced players like Gary Harrell and Antoine Bethea.
Types of Bets in Washington D.C.
You'll find plenty of different betting options at every Washington D.C. betting site we recommend, with most bet types available for all events. To give you a taste of what's available, we've listed some of the most popular betting options in the capital below.
Moneyline: A straightforward bet on which team or athlete you think will win an event
Point Spread: With a point spread, you bet on the favorite to win by a certain margin or the underdog to lose within a particular point range. The underdog can also win, and you'll collect your profits.
Totals: Your sportsbook will set a total for a statistic; you must guess whether the final amount will be over or under that total.
Props: Many betting sites allow you to bet on the performances of individual players or teams. For example, you can wager on a player hitting 100 rushing yards in the NFL or a team hitting more than 15 three-pointers in the NBA.
Futures: Futures bets allow you to bet on significant events in the far future, such as the Washington Wizards winning the NBA Championships or a player claiming the MVP.
Parlays: You can create a parlay wager by adding multiple bets to the same bet slip. All of your predictions have to come through at once for you to win your wager. The increased risk of parlays means you get better odds than just wagering on each market separately. You can also add multiple bets from the same event into a same-game parlay.
In-Play Betting: While you place most bets before an event starts, many Washington D.C. sportsbooks let you wager on events that have already begun through in-play betting. You'll find many of the bet types above available for in-play betting.
Teasers: A parlay bet where you add multiple-point spreads to one wager. You can adjust each point spreads to suit, affecting the odds you receive. For example, you could tease a six-point spread to three points in a football game.
Bets that are Illegal in Washington D.C.
In Washington D.C., betting on collegiate sports is legal, but there are restrictions on which events you can wager on. Under the law, betting on games involving District-based colleges or universities, such as Georgetown or George Washington at March Madness, is prohibited. However, betting on out-of-state college games is allowed.
However, proposition bets are not allowed for college sports in D.C. This means that bets on individual player performances or specific game events are not permitted. However, standard bets such as point spreads and moneylines are still allowed.
Washington D.C. DFS
Daily Fantasy Sports (DFS) were legalized in Washington D.C. in 2018 through legislation that legalized sports betting. DFS games allow players to draft teams of real-life athletes and compete against others based on the athletes' statistical performances.
Best Online Sports Betting Site in Washington D.C.
Our reviews are in, and for D.C. bettors, we reckon your top choice lies in BetOnline. While there are plenty of sportsbooks to choose from, BetOnline offers fantastic odds and a great range of sports.
FAQs
Do I have to pay taxes on betting winnings in Washington D.C.?
Are Washington D.C. Sportsbooks safe?
How old do you have to be to bet on sports in Washington D.C.?