When it comes to the best gaming desk, the Australian market offers plenty of options, making it challenging to determine which one is the best fit for you. That's precisely why we've curated a comparison of the top seven gaming desks in Australia, taking into account customer ratings, rigorous stress tests, and a comprehensive breakdown of their features. Whether you're seeking the ultimate budget-friendly gaming desk or a luxurious racing-inspired setup, our list encompasses a wide range of choices to cater to everyone's preferences.
Each desk featured on our list boasts distinctive features and advantages, ensuring you can find the perfect gaming desk for your requirements. With our list, you can confidently navigate the leading gaming desk brands and make an informed decision.
The 7 Best Gaming Desks Ranked
Reviews of the Best Desks for Gaming
Here are our detailed reviews of the best desks for gaming in Australia, considering pros, cons, pricing, and features.
1. Desino — The Number One Best Gaming Desk in Australia
The Desino gaming desk is designed with game lovers in mind, promising an enhanced gaming experience for every player. It offers a range of features that go beyond a basic computer table, making it a multifunctional workstation. The addition of a cup holder, headphone hook, and monitor stand riser set it apart from conventional desks.
One notable aspect of this desk is its unique carbon fibre texture on the desktop, which not only adds a stylish touch but also provides an ergonomic wraparound shape. The design aims to prioritize comfort and support during extended gaming sessions.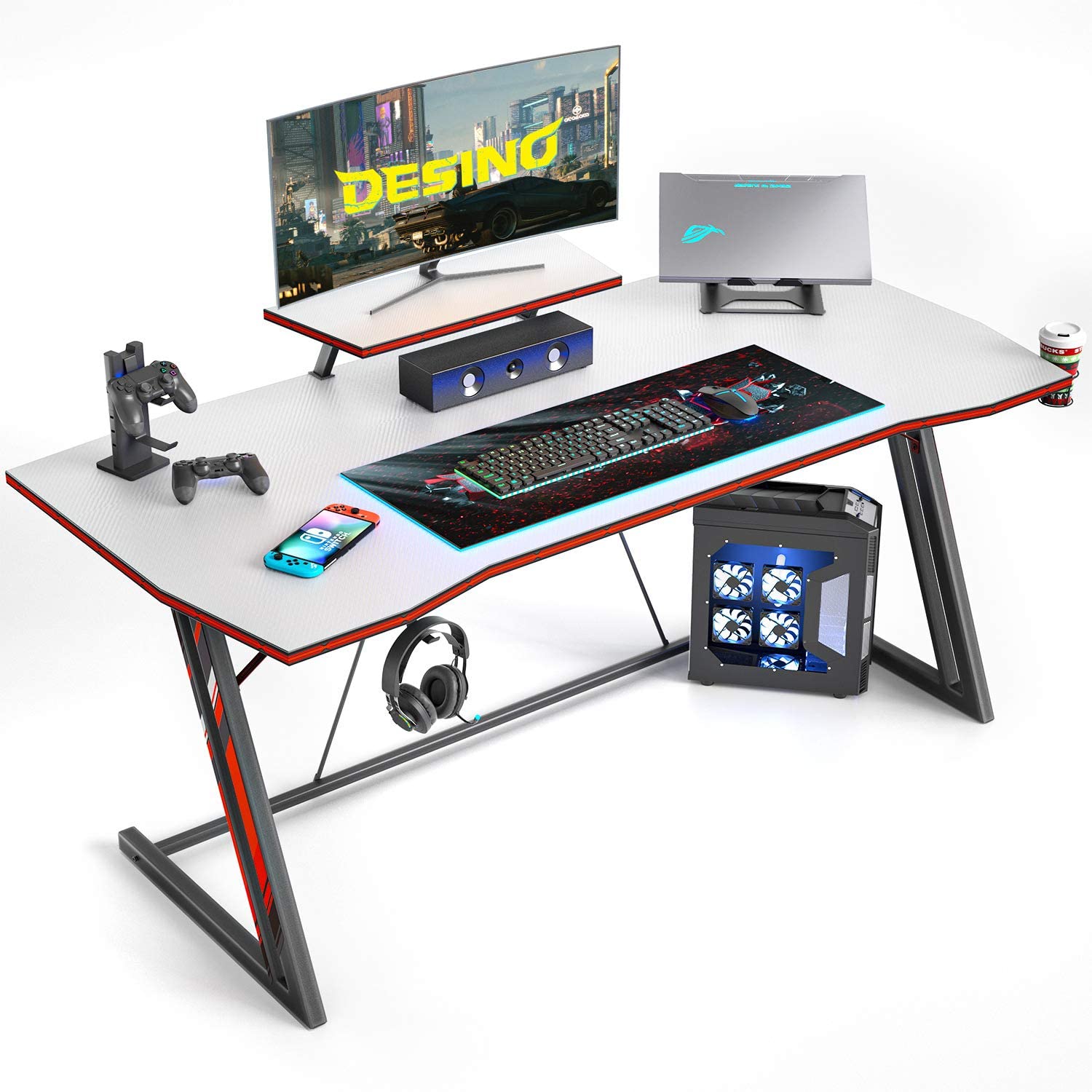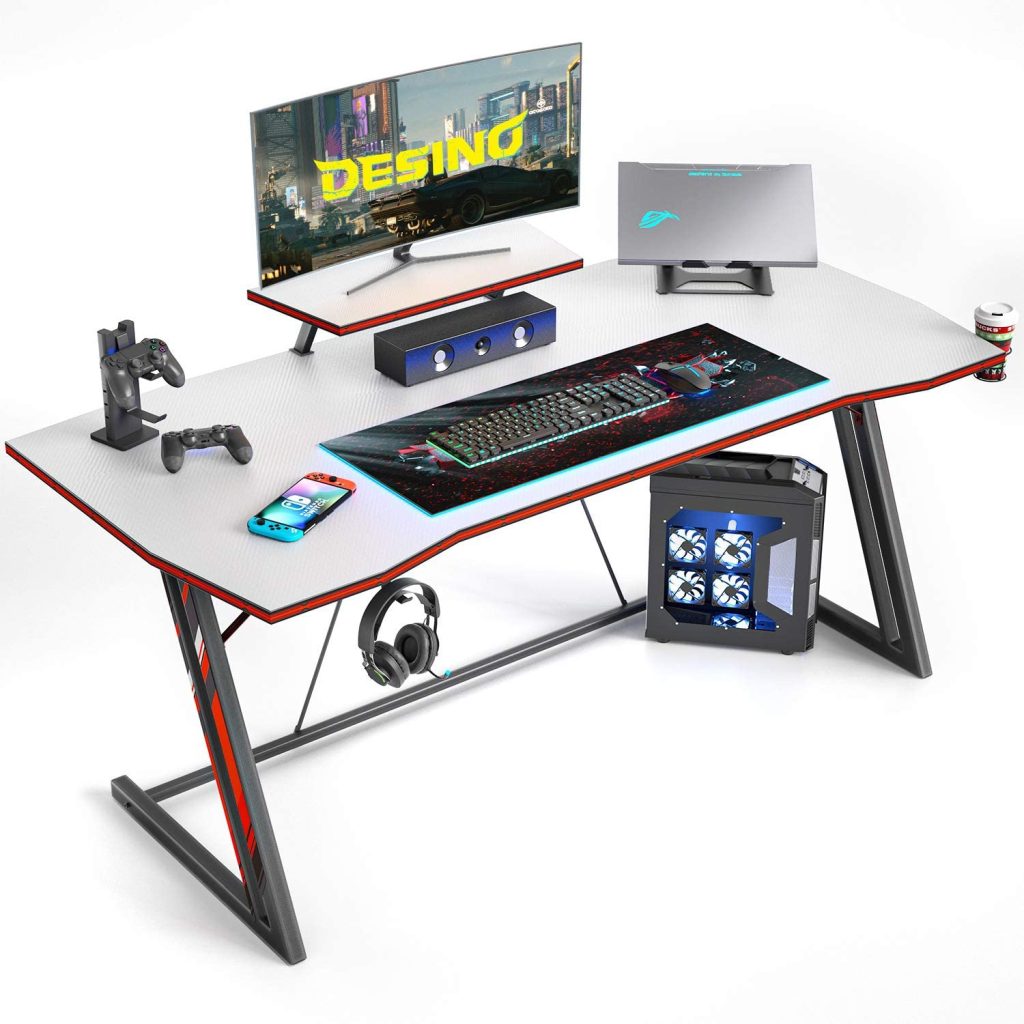 Durability is a key focus for the Desino gaming desk, as it incorporates diagonal braces and struts to reinforce its structure. This extra stability sets it apart from regular desks, ensuring that it can withstand the rigours of intense gaming.
Assembling the desk is a breeze, thanks to its user-friendly design. With clear instructions provided in the manual and an installation video available online, the process is pretty straightforward. It takes approximately 30 minutes to set up, thanks to the minimal number of parts involved.
While the overall build quality of the desk is surprisingly good for its price range, the stability of the monitor stand can be affected by thick carpeting, causing the monitor to rock back and forth. However, this issue is more noticeable when exerting significant force on the desk, such as during racing wheel usage. For general use, such as working or casual gaming, this is unlikely to pose a major problem.
The Desino gaming desk also offers several advantages that make it a particularly appealing choice for gamers. It includes convenient features like a drinks holder and a headset rack that can accommodate larger headsets.
The desk space is generous, and the built-in monitor stand helps you maintain good posture while allowing for easy cable management. The sleek faux black carbon-fibre weave pattern not only looks stylish but also ensures easy cleaning and maintenance after long play sessions. The black and red accents add to its gamer-friendly aesthetic.
| | | | | |
| --- | --- | --- | --- | --- |
| Price | Type | Dimensions | Materials | Warranty |
| $133 | Standing | 58.42 x 101.6 x 71.12 cm | Carbon Fibre | 1 Year |
Pros:
Multifunctional design with a cup holder, headphone hook, and monitor stand riser
Unique carbon fibre texture and ergonomic wraparound shape
Easy assembly with clear instructions and installation video
Spacious desk area with built-in monitor stand for improved posture and cable management
Cons:
Can rock on thick carpets when pushed
Pricing
The Desino Gaming Desk isn't too expensive, coming in at only $133 for a white gaming desk that's built to last. We think it's the best gaming computer desk on this list, thanks to a combination of minimalist style, sturdy construction, and a host of extra accessories.
2. SHW Vista L-Shape Desk — Fits Into Any Environment
The SHW L-Shape Gaming Desk offers several advantages that make it a fantastic choice for gamers seeking a space-saving and functional workstation. Designed with an L-shaped configuration, it efficiently utilizes corner spaces in home offices, dorm rooms, and even small living areas.
The desk comes equipped with a multi-slot drawer and two hanging hooks, providing convenient storage options for organizing essential items such as your gaming headphones or satchels.
One standout feature of this gaming corner desk is its removable monitor shelf, which offers flexibility regarding monitor placement. Whether you prefer the monitor shelf on the left or right side, you can easily adjust the layout to suit your needs.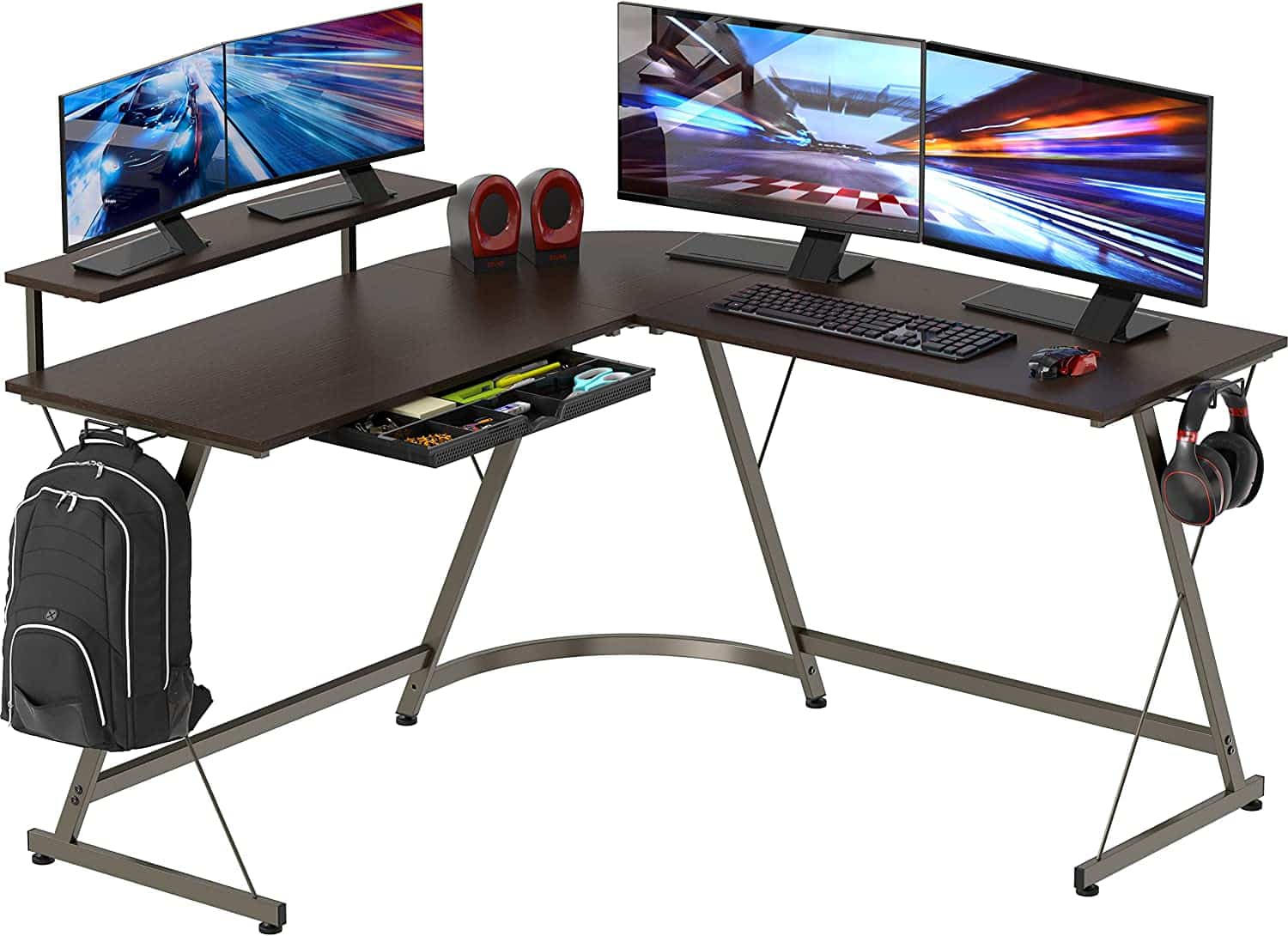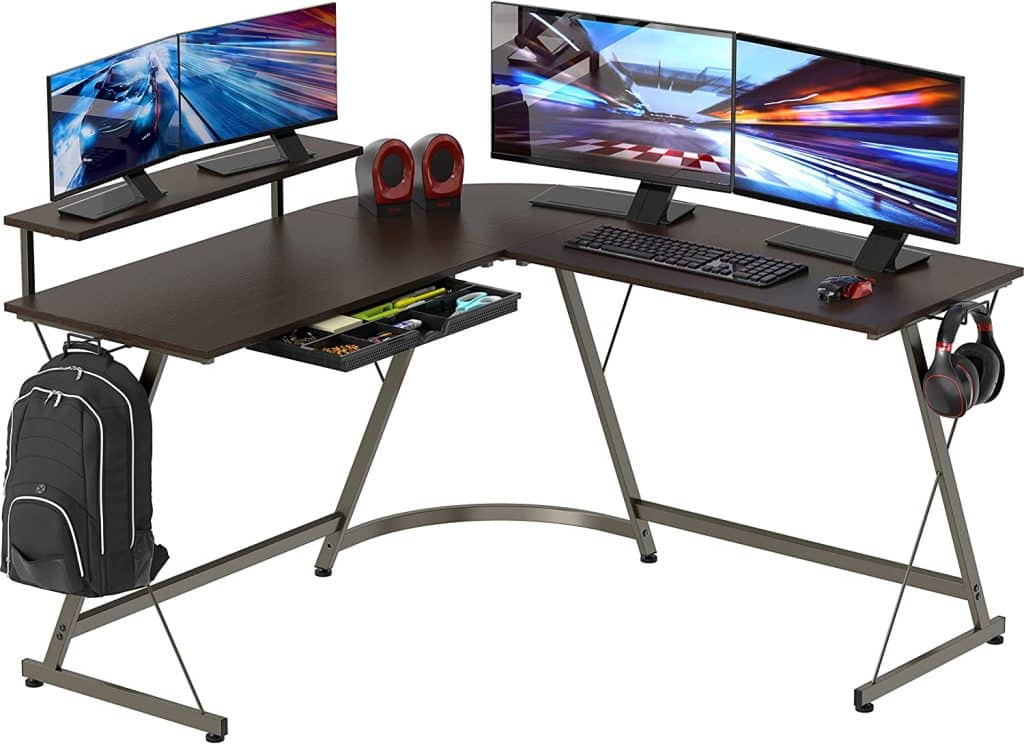 The elevated shelf provides a space-saving solution for keeping your monitor at eye level, promoting better ergonomics during work or gaming sessions.
The SHW L-Shape Gaming Desk also prioritizes comfort and stability. It includes a footrest bar that enhances overall comfort during long hours of use. Additionally, adjustable glides help stabilize and balance the desk on uneven floors, ensuring a sturdy and wobble-free workspace.
One slight drawback is the small size of the sections in the drawer. They're designed for smaller items like pens and keys, so you won't be able to store larger items. However, the dividers can be easily removed, providing the option to utilize the drawer space in the way you want.
| | | | | |
| --- | --- | --- | --- | --- |
| Price | Type | Dimensions | Materials | Warranty |
| $81 | L Shape | 51″ W x 19″ D x 28.5″ H (51″ overall depth) | Wood, Metal | 1 Year |
Pros:
Space-efficient L-shaped design for corner spaces in various settings
Includes a multi-slot drawer and two hanging hooks for convenient storage
Removable monitor shelf for customizable placement
Footrest bar enhances comfort during extended use
Cons:
Dividers can take up drawer space
Pricing
The SHW Vista L-Shape is a pretty cheap gaming desk at only $81, which makes it the least expensive pick on our list. Don't let the low cost fool you, however. This desk is designed to take some serious use and can handle a multitude of different gaming setups.
3. Eureka Captain GIP-P60 Ergonomic Gaming Desk — All-In-One Desktop Management
The Eureka Captain GIP-P60 gaming desk offers a sleek and spacious 60″ desktop that caters to gamers' needs in a variety of ways. The desk's support structure is designed with a combination of robust load-bearing and structural engineering, including an I-shape structure that ensures great stability.
One notable inclusion with the Captain GIP-P60 gaming desk is a fully tailored mouse pad. This high-quality mouse pad features durable stitched edges and a premium rubber zero-slip base, delivering an excellent user experience. And Eureka Gaming goes the extra mile by providing even more accessory options, such as four USB charging ports, a cup holder, double headphone hooks, and a socket holder.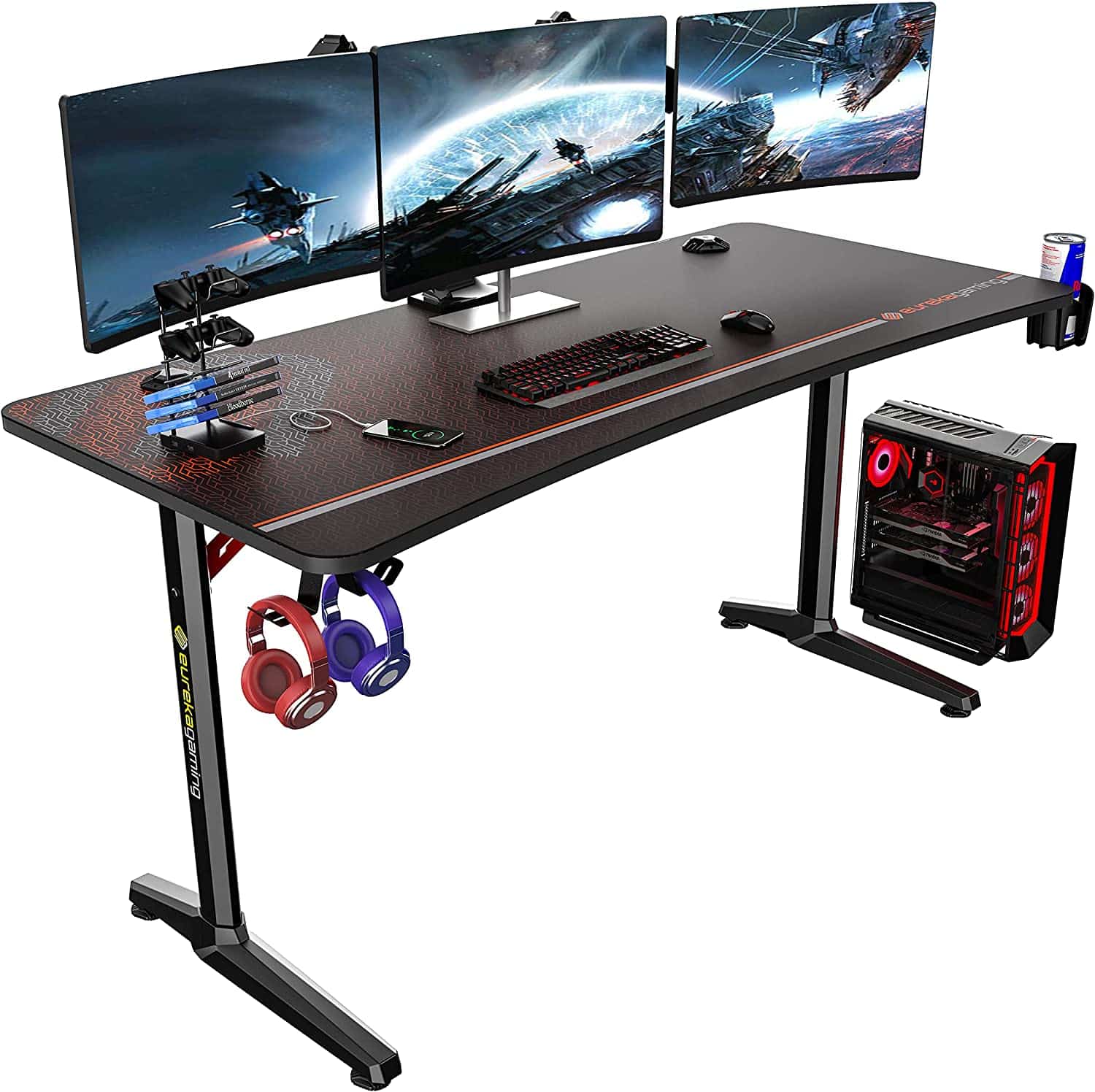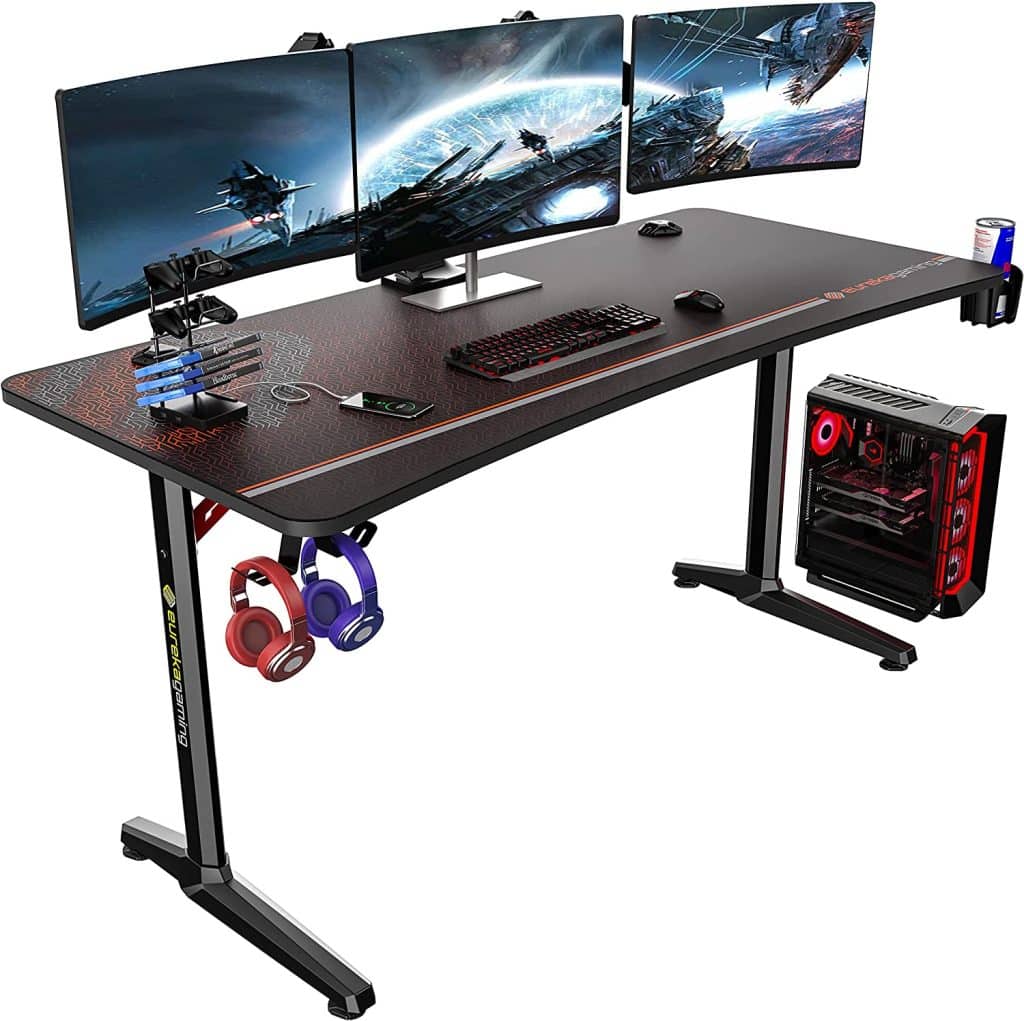 Assembly of the Captain GIP-P60 gaming desk is a breeze, as it arrives in good condition with easily understandable instructions. The desk's sturdiness is generally satisfactory, and it's rated to carry a weight of up to 500lb. It's a great choice if you need multiple monitors on one desk.
While the desk has an appealing appearance, we've encountered some minor design flaws when attaching the cable management tray and leg covers. The screws provided are too small, requiring washers to securely fasten them to the frame and table. We also found that the bottom cage, meant for storage, could be larger and better attached, as it currently relies on two small screws. However, despite these minor inconveniences, the overall build quality of the desk is quite high, and it's one of the best adjustable desks out there.
| | | | | |
| --- | --- | --- | --- | --- |
| Price | Type | Dimensions | Materials | Warranty |
| $259 | Adjustable Standing | 27.56″ x 60″ x 30.12″ | Carbon Alloy Steel, Carbon-Fibre | 30 Days |
Pros:
Sleek and spacious 60″ desktop
Fully tailored high-quality mouse pad with durable stitched edges and zero-slip base
Additional accessory options like charging USB ports, a cup holder, headphone hooks, and a socket holder
Sturdy construction rated to carry up to 500lb
Cons:
Some accessories could be easier to put together
Pricing
The Eureka Captain is a fairly expensive adjustable gaming desk at $259. However, you should bear in mind that it's designed to take extremely heavy weights and features a built-in power system designed to keep your accessories charged at all times. If you've got plenty of space and you're looking for the best gaming setup, the Eureka Captain can definitely be a key part of it.
4. Bestier Gaming Desk — Compact Design for Small Rooms
The Bestier LShaped Desk is a fantastic option for gamers looking to enhance their gaming setup. With its unique design and gamer-friendly features, this desk offers both style and compact functionality to elevate your gaming experience.
Featuring an asymmetrical small L-shaped gaming desk design and a spacious 55-inch desktop, the Bestier desk maximizes your gaming space while keeping everything within reach. This desk has been designed by professionals who understand the needs of gamers, providing ample room for your gaming monitors, consoles, and gaming gear, as well as a top keyboard. Its sleek and modern appearance adds a touch of liveliness to your gaming setup, creating a visually appealing environment.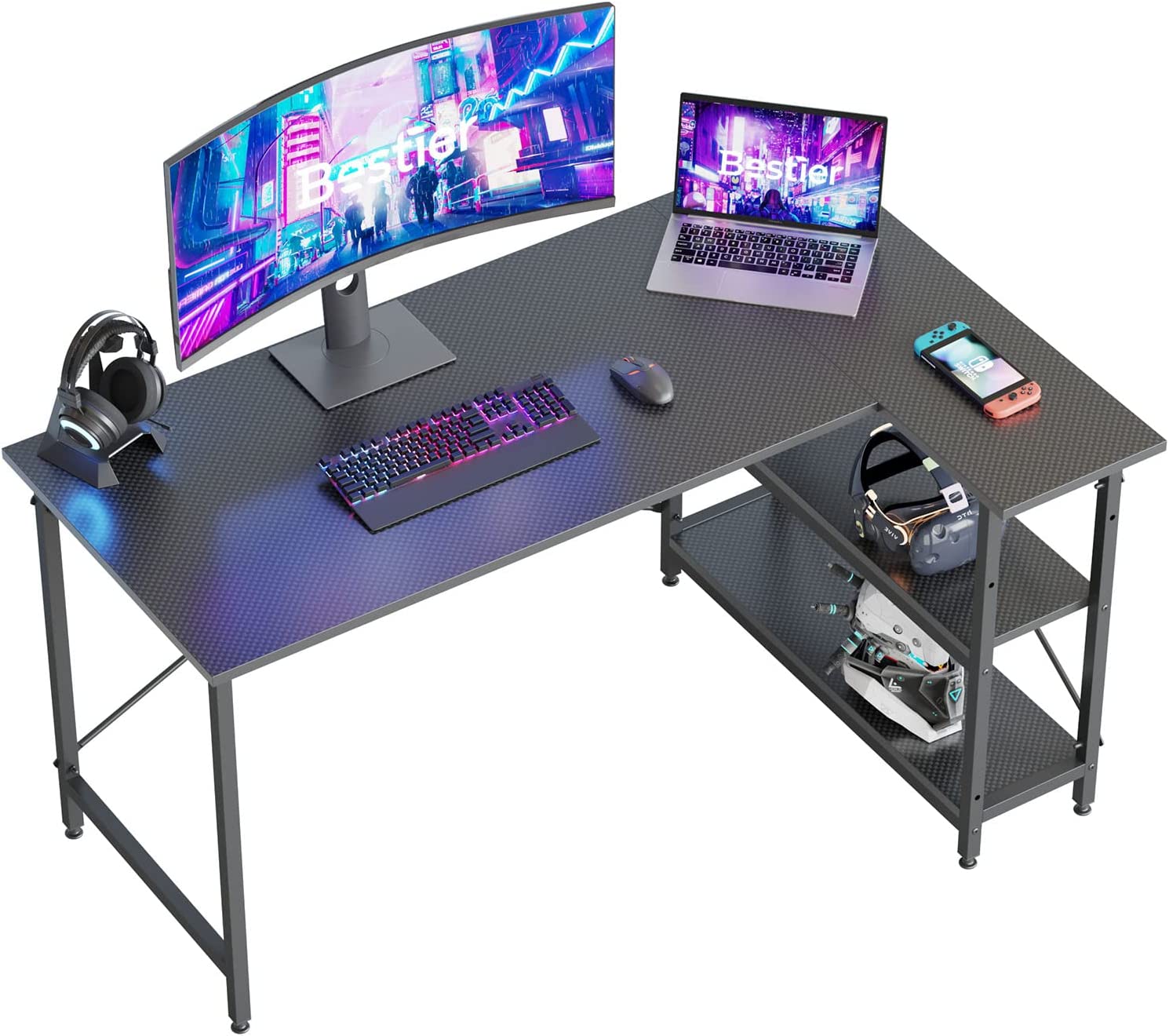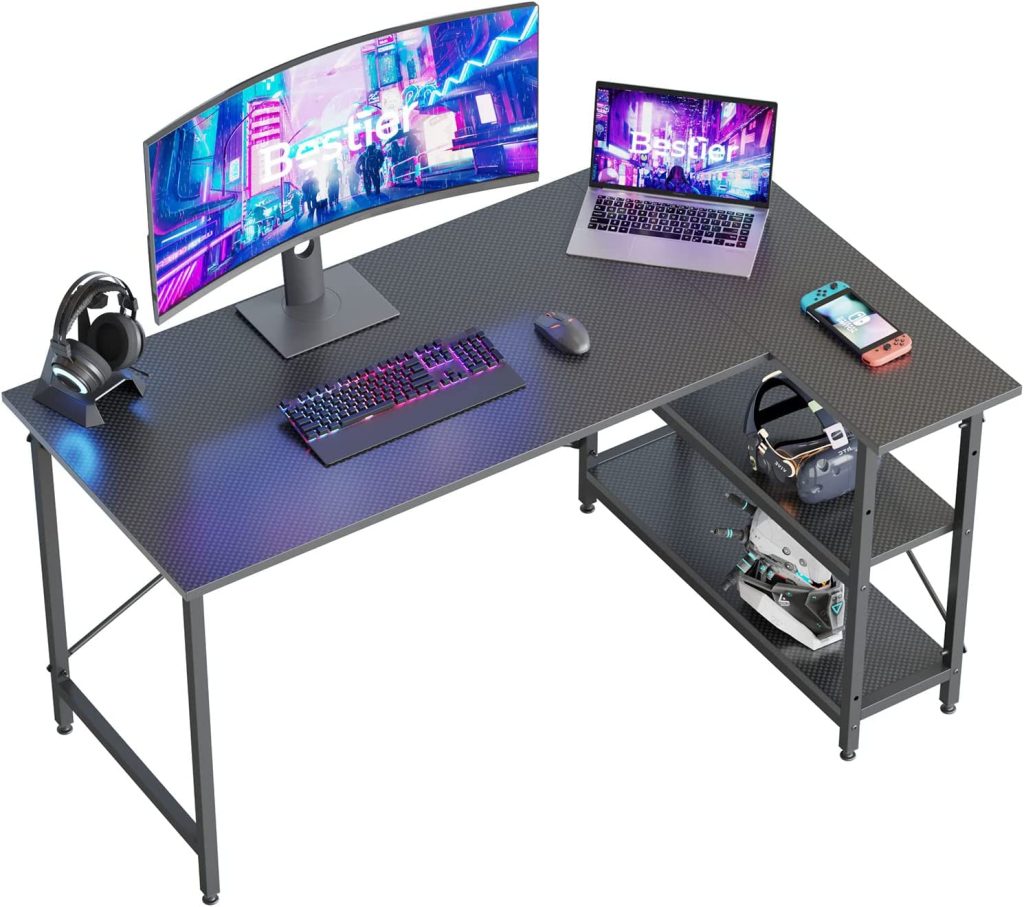 Where this desk really shines is its reversible storage shelves. You can easily install the shelves on either the left or right side, catering to your personal preference and optimizing your gaming setup for accessibility and organization. The adjustable height of the storage shelf underneath the desk allows for customization, making it convenient for storing your gaming peripherals or even removing it completely to accommodate your gaming tower.
Assembly is a breeze, taking just about 20 minutes to complete. The desk comes with a clear installation manual and video guide, making it easy for you to set up on your own. All the necessary accessories and tools are well-organized and labelled, ensuring a smooth and hassle-free assembly process.
Bestier prioritizes customer satisfaction and offers a 30-day no-questions-asked return policy and lifetime customer service. They are dedicated to ensuring that gamers have a seamless experience with their products and are ready to provide assistance whenever needed.
| | | | | |
| --- | --- | --- | --- | --- |
| Price | Type | Dimensions | Materials | Warranty |
| $149 | L Shape | 90 x 140 x 74 cm | Carbon Fibre | 32 Days |
Pros:
Reversible storage shelves for customization of gaming setup
Easy and quick assembly with a clear installation manual and video guide
Customer-centric approach with a 32-day return policy and lifetime customer service
Cons:
Asymmetry may not fit with all environments
Pricing
The Bestier is very solidly in the middle of the pack as far as value goes, costing you $149. It's a very functional corner gaming desk, especially when you consider the customizable storage shelves. Gamers who are working with a small space should consider the Bestier, and the additional undershelves are a great feature.
5. Ekkio RGB Gaming Desk — Light Up The Night with RGB LED
The EKKIO RGB Gaming Desk Z Shape is a compact and feature-rich small gaming desk suitable for small spaces. With a table size of 100cm by 60cm, it offers enough room to keep your setup organized and clutter-free while still fitting in environments with minimal floor space.
This stylish desk comes with RGB lighting featuring nine modes, adding a dynamic and immersive gaming atmosphere. The RGB LED light band comes with a controller that allows you to customize the lighting effects according to your preference. This looks quite futuristic when it lights up the carbon fibre surface. The surface itself is smooth, waterproof, and durable, providing a comfortable gaming experience even during long sessions.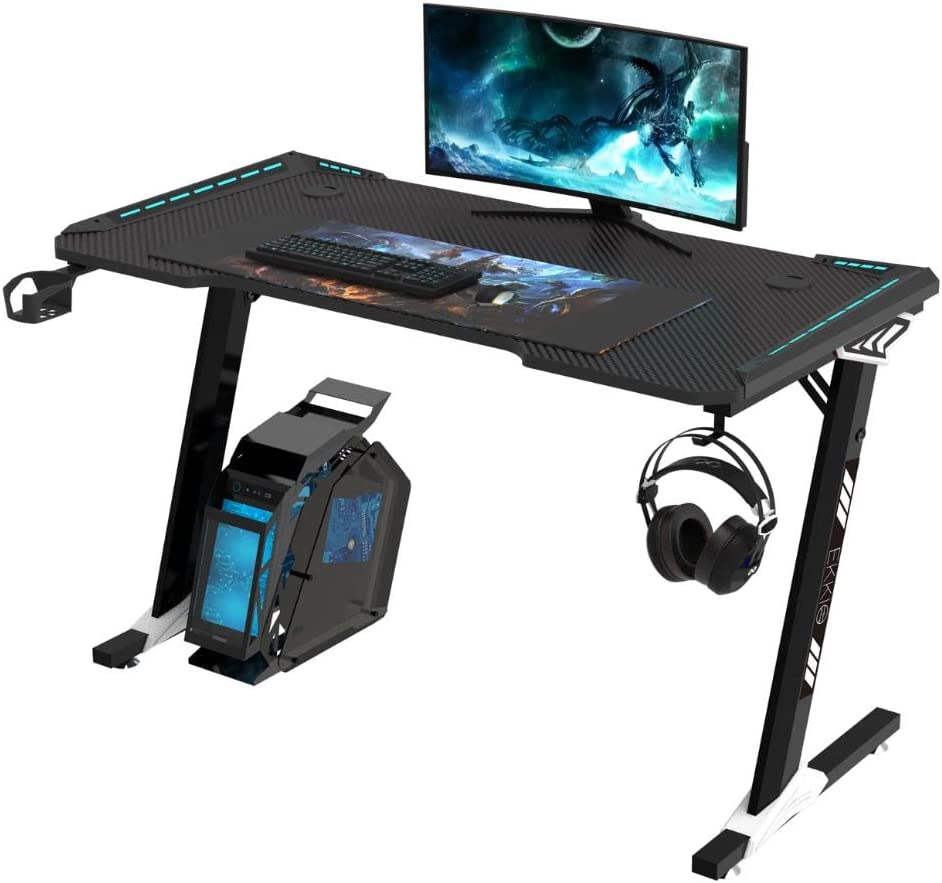 The desk includes several free accessories designed to enhance functionality and convenience. It comes with a cable management box that can be attached at the back of the table, allowing you to keep your cables organized and out of the way. It also features a headphone holder and cup holder for easy access to your gaming essentials.
The ergonomic design of the desk is another notable feature. The Z-shaped construction enhances stability, providing a safe and firm experience during gaming or working sessions. It's durable, too. The powder-coated steel frame and ABS plastic RGB desktop shell contribute to its strength and longevity, making sure you won't be seeing cracks after a few weeks of heavy use.
Our main complaint is the lack of a monitor stand, but it's not too big of an issue. You can always buy an additional stand and mount it on the table to make sure you're at the optimal angle for viewing your monitor, which is essential when you're gaming for long periods of time.
| | | | | |
| --- | --- | --- | --- | --- |
| Price | Type | Dimensions | Materials | Warranty |
| $233 | RGB Standing | 140 x 60 x 73 cm | Carbon Fibre | 2 Years |
Pros:
Stylish design with RGB lighting featuring nine modes for a dynamic gaming atmosphere
Smooth, waterproof, and durable carbon fibre surface for a comfortable gaming experience
Free accessories, including cable management box, headphone holder, and cup holder
Pricing
The Ekkio is one of the most expensive desks on our list at $233, but you're unlikely to get a full RGB desk for much cheaper. The LED lights really sell the idea of a PC gaming desk, especially when combined with a similarly styled gaming desk chair.
6. Vitesse Gamer Desk — Long-Lasting Guarantee
The Vitesse Gamer Desk is a feature-packed gaming desk that offers a great gaming experience. With its smart USB gaming handle rack, you can conveniently charge your phone, iPad, or headphones while working or gaming.
The desk is supported by a solid steel frame, providing sturdy and stable support with a load-bearing capacity of up to 260 pounds. The Z-shaped legs design enhances stability and durability.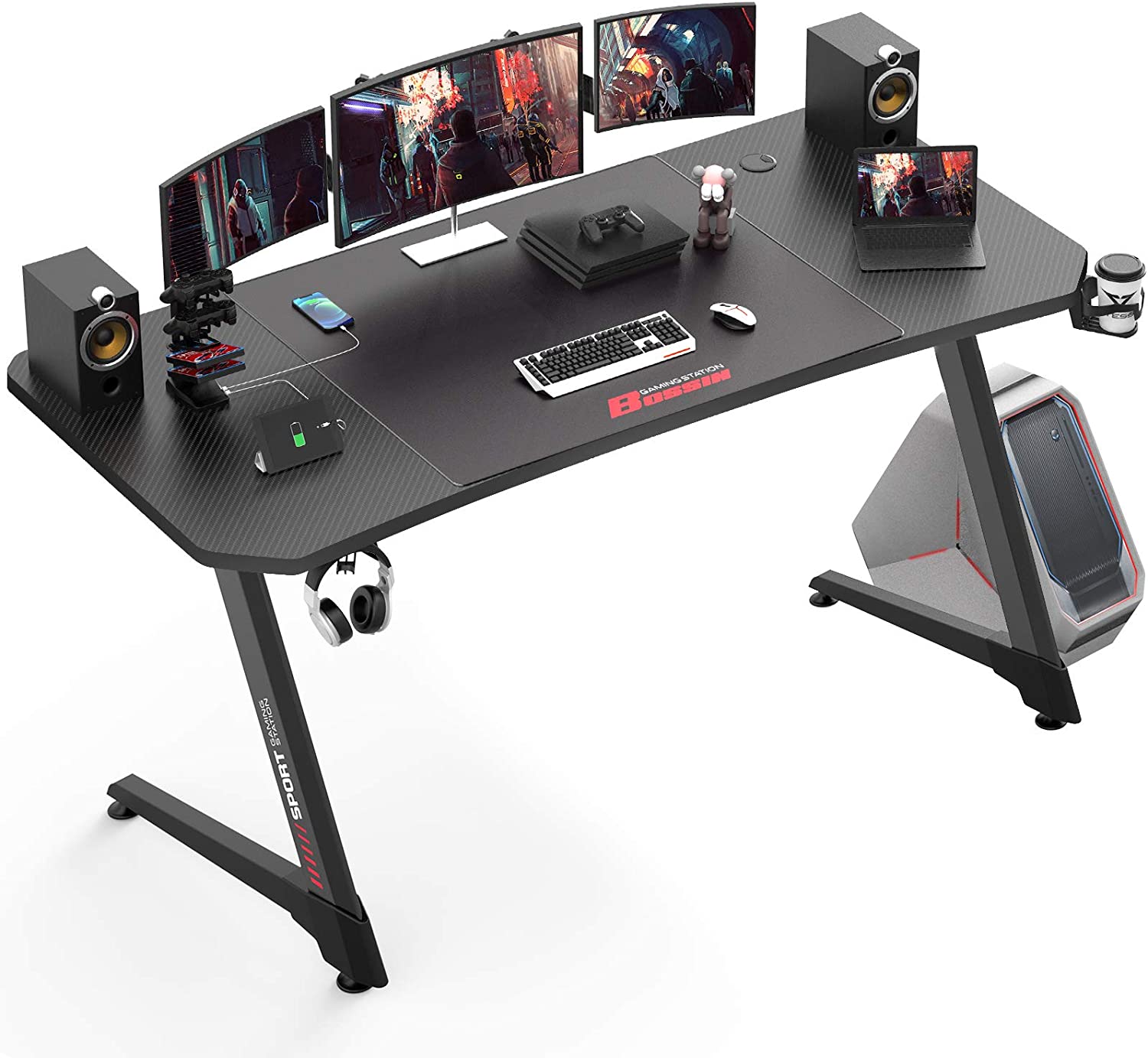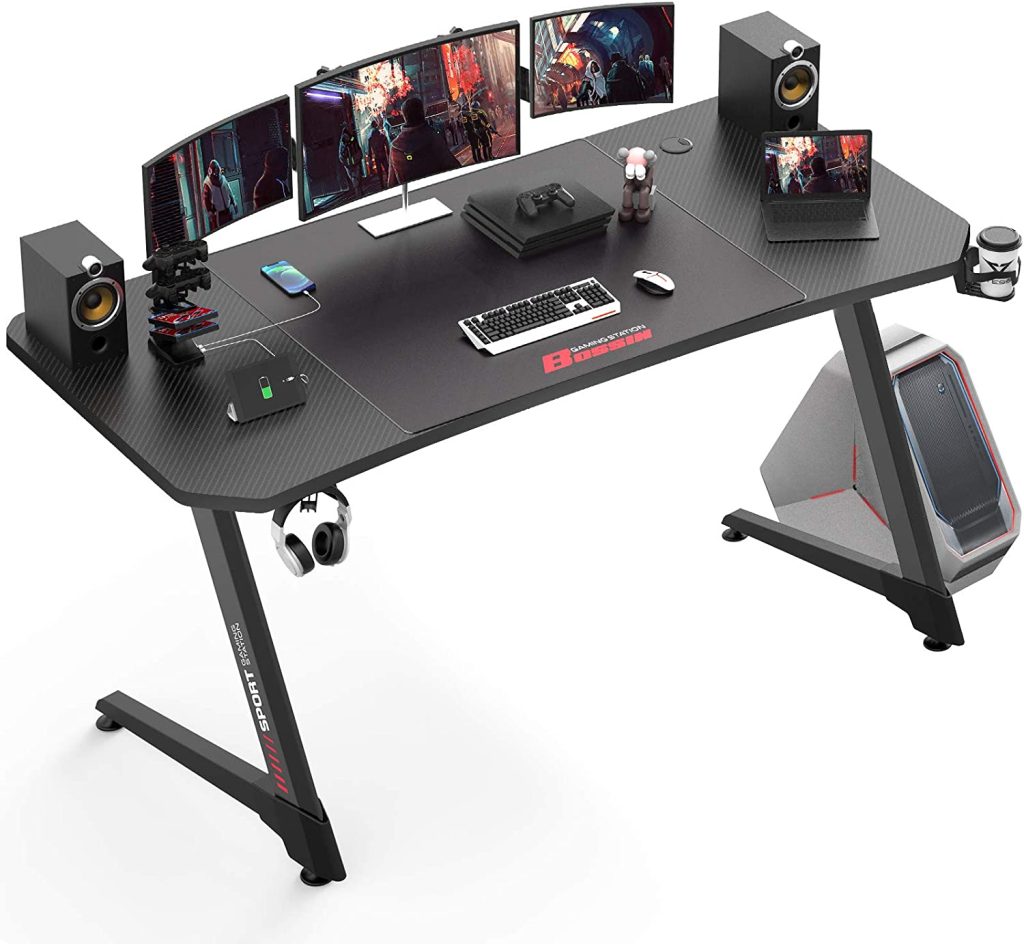 Featuring a spacious desktop measuring 55.1×23.6 inches, the desk provides ample space for your gaming monitors, PC, gaming keyboards, and other gaming gear. The large PVC laminated surface and included mouse pad offer a smooth and comfortable gaming surface.
In addition to the ample desktop space, the desk comes with multiple professional accessories to enhance your gaming experience, including a USB gaming handle rack, storage tray, cable grommets, cup holder, and headphone hook holder.
Assembly of the desk is fairly straightforward, and the quality of the parts is commendable. The threads are well-machined, and the anchor screws glide smoothly through the wood. The included Allen wrench is properly sized, ensuring a secure and tight fit. However, we recommend that you keep the screws loose during assembly and tighten them all at once for easier alignment.
While the instructions are generally good, we found that the parts list could be better positioned, and larger-scale illustrations would improve clarity. Nevertheless, the overall quality and affordability of the desk make it a standout option in its price range. The desk is notably sturdy, but Vitesse also provides a one-year worry-free guarantee, offering free replacement or parts for any quality issues.
| | | | | |
| --- | --- | --- | --- | --- |
| Price | Type | Dimensions | Materials | Warranty |
| $104 | Standing | 63″D x 29.5″W x 29.5″H | PVC, Carbon Fibre | 1 Year |
Pros:
Smart USB gaming handle rack for convenient charging of devices
Solid steel frame for sturdy and stable support
Large PVC laminated surface and included mouse pad for smooth and comfortable gaming
Cons:
Instructions for assembly could be clearer
Pricing
The Vitesse will cost you $104, which is pretty reasonable for a gaming desk with a USB charging rack. Most computer desks with onboard power will cost significantly more, but the Vitesse combines gamer style and functionality in a relatively cheap package.
7. Homall S-Racer Gaming Desk — Racer Style at a Reasonable Price
The Homall S-Racer Gaming Desk offers a large gaming surface that can support any size monitor, providing plenty of space for gaming devices and comfortable hand movement.
The carbon fibre surface is scratch-resistant, waterproof, and sweat-proof, delivering an upgraded gaming experience. The desk features a stable, all-metal legs design. It comes with a free full-coverage soft mouse pad and practical accessories for gamers such as a cup holder, earphone hook, and wires hub for a clean and comfortable gaming environment.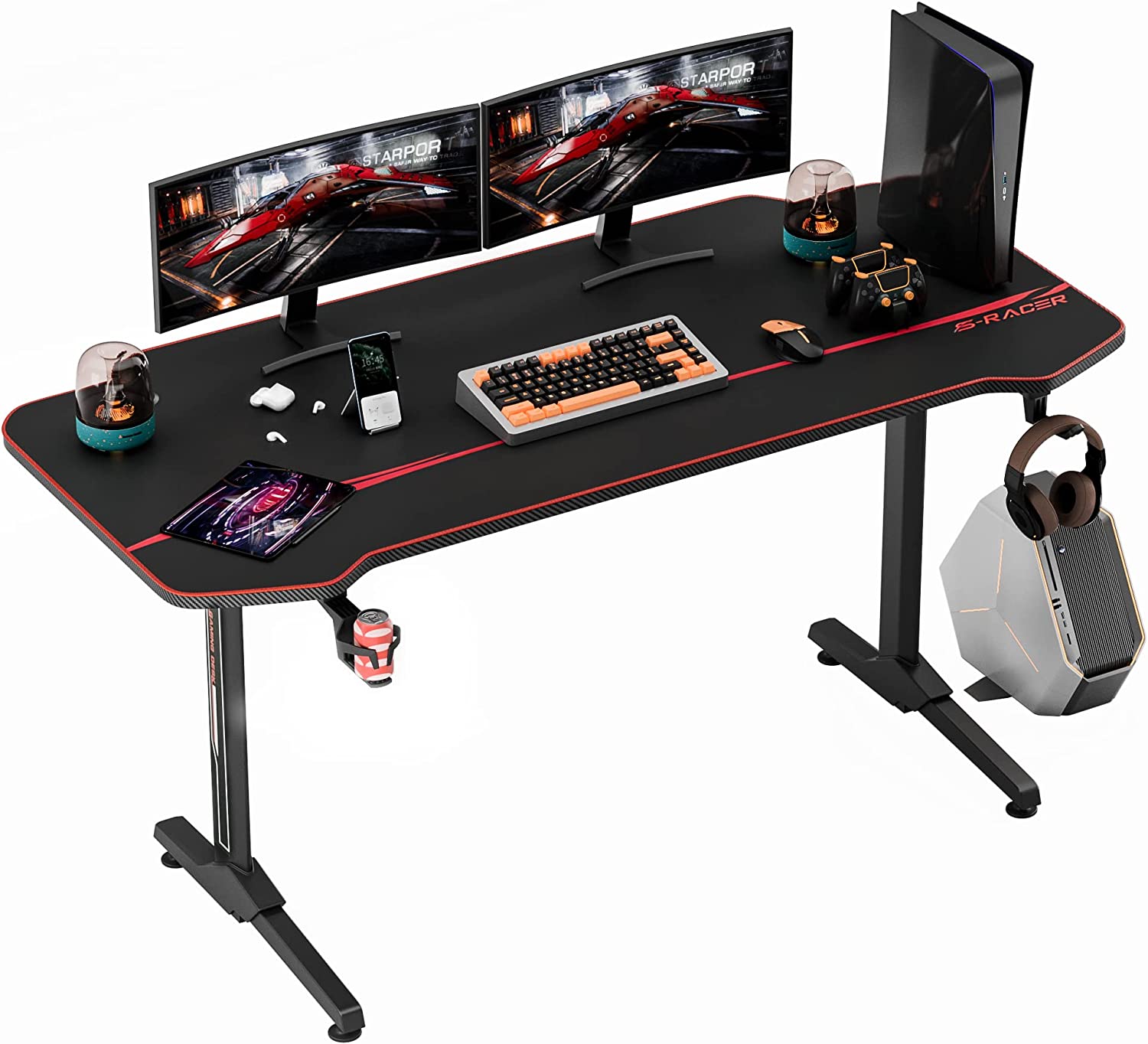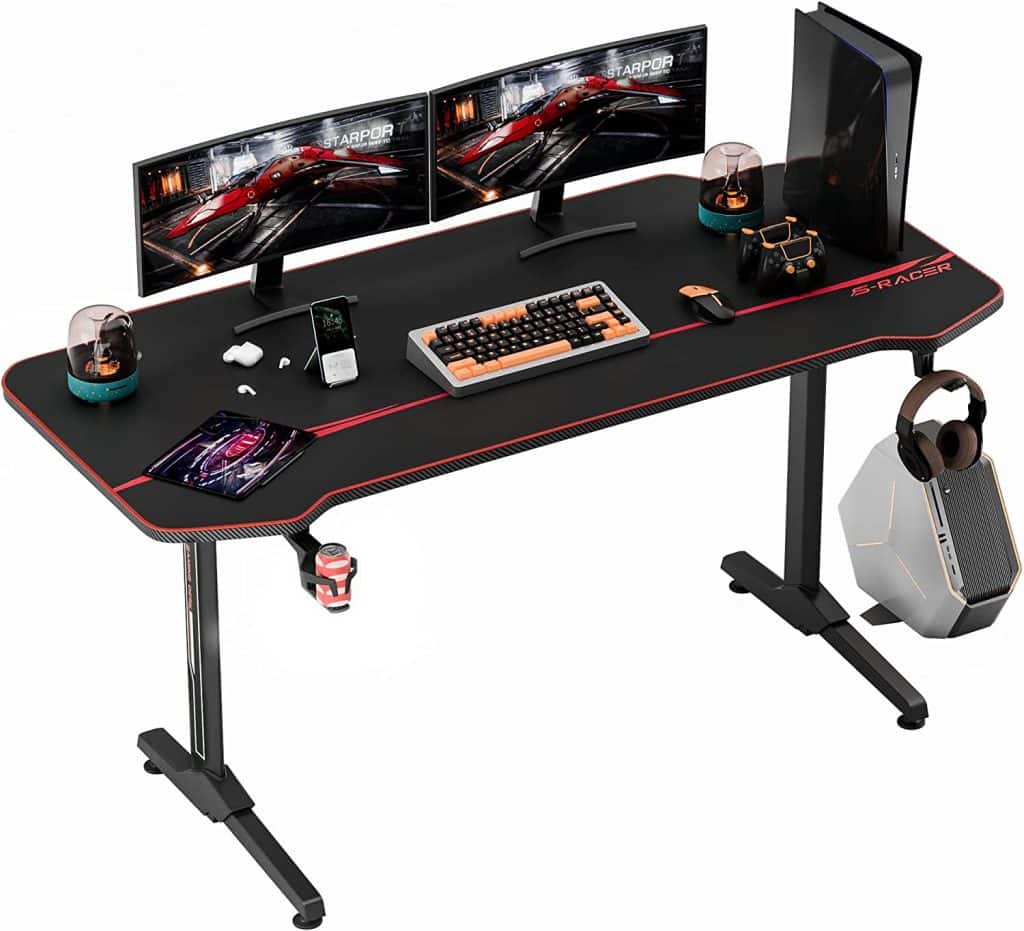 While the assembly process may not be the easiest due to unlabeled screws and lack of detail in the instructions, the desk is lightweight yet sturdy once assembled. The split in the desktop is barely noticeable when covered with the included mouse pad overlay and snap-on plastic cable guides. However, the mouse pad topping is only held down by the cable guides, which can be lifted easily if you're not careful.
The desk offers a spacious 55″x24.6″ desktop, providing ample room for gaming equipment. With a weight capacity of 280 lbs, it is sturdy and reliable. Homall also offers a strong after-sales guarantee and efficient customer service.
| | | | | |
| --- | --- | --- | --- | --- |
| Price | Type | Dimensions | Materials | Warranty |
| $150 | Standing | 24.8″D x 55″W x 29.6″H | Steel, Carbon Fibre | 1 Year |
Pros:
Scratch-resistant, waterproof, and sweat-proof carbon fibre surface
Cup holder, earphone hook, and wires hub for a clean gaming environment
Efficient customer service
Cons:
Assembly instructions could be clearer
Pricing
The Homall will set you back $150, and you're mainly paying for aesthetics. However, the aesthetic is admittedly very stylish. When combined with Homall's other S-Racer gaming products, you've got a gaming PC desk that looks like it's straight out of the arcades.
The Best Gaming Chairs in Australia Compared
Check out our list below, summing up the key aspects of each gaming chair on our list.
| | | | | | |
| --- | --- | --- | --- | --- | --- |
| Desk | Price | Type | Dimensions | Materials | Warranty |
| Desino | $133 | Standing | 58.42 x 101.6 x 71.12 cm | Carbon Fibre | 1 Year |
| SHW Vista L-Shape | $81 | L Shape | 51″ W x 19″ D x 28.5″ H (51″ overall depth) | Wood, Metal | 1 Year |
| Eureka Captain GIP-P60 | $259 | Adjustable Standing | 27.56″ x 60″ x 30.12″ | Carbon Alloy Steel, Carbon-Fibre | 30 Days |
| Bestier L-Shape | $149 | L Shape | 90 x 140 x 74 cm | Carbon Fibre | 32 Days |
| Ekkio RGB | $233 | RGB Standing | 140 x 60 x 73 cm | Carbon Fibre | 2 Years |
| Vitesse | $104 | Standing | 63″D x 29.5″W x 29.5″H | PVC, Carbon Fibre | 1 Year |
| Homall S-Racer | $150 | Standing | 24.8″D x 55″W x 29.6″H | Steel, Carbon Fibre | 1 Year |
What Size Desk is Best for Gaming?
When determining the best size for a gaming desk, several factors come into play. Firstly, you should consider the amount of surface area you need to accommodate your gaming equipment comfortably. A large desk provides more space for multiple monitors, gaming peripherals like keyboards and mice, and other accessories. With ample surface area, you can arrange your gaming setup in a way that allows for easy access and comfortable hand movement during gameplay.
If you plan to have a multi-monitor setup, it's essential to choose a desk that is wide enough to accommodate your monitors side by side. This ensures a seamless viewing experience without any obstructions between screens. Additionally, consider the depth of the desk to ensure there is enough space to maintain a proper viewing distance from the monitors, promoting better ergonomics and reducing
eye strain
.
The available space in your gaming area is another crucial consideration. Measure the dimensions of the room and take into account any other furniture or equipment that may limit the size of the desk. It's important to have enough room for the desk to fit comfortably without feeling cramped or obstructing movement within the space. Consider the layout of the room and the distance between the desk and walls or other furniture to ensure there is ample room for maneuvering.
Lastly, personal preference plays a role in determining the size of the gaming desk. Some individuals may prefer a more compact desk that fits well in a smaller space, while others may desire a larger desk that provides generous surface area and room to spread out. Consider your gaming needs, the amount of equipment you have, and your preferred playing style to determine the size that suits you best.
In general, gaming desks tend to come between a width of 48 to 72 inches and a depth of 24 to 36 inches, which is suitable for most gaming setups. This size range provides enough space to accommodate
monitors
, keyboards, mice, and other accessories while allowing for comfortable gaming and proper ergonomics. However, it's important to find a size that fits your specific requirements and available space.
Other Key Factors to Consider When Choosing a Gaming Desk
We've looked at how important the size of a gaming desk is, but what else should you look for in a gaming desk? There's plenty to consider, so stick with us as we walk you through the key factors.
Construction
Look for a desk that is sturdy and stable, capable of supporting your gaming equipment without wobbling or sagging. Consider the materials used, such as metal or solid wood frames, to ensure long-lasting durability.
Ergonomics
Opt for a desk that promotes good ergonomics to support your posture during extended gaming sessions. Look for features like adjustable height, armrests, and foot-bars to reduce strain on your body and enhance comfort.
Storage
Assess your storage needs and consider desks with built-in storage options like shelves, drawers, or cable management systems. Adequate storage can help keep your gaming area clean and organized, providing easy access to accessories and minimizing clutter. Cables, in particular, can be a pain, especially when dealing with multiple monitors, so a good cable management system goes a long way.
Gaming-Specific Features
Some desks come with gaming-specific features like built-in USB ports, headphone holders, cup holders, or RGB lighting. Determine which features are essential for your gaming setup and choose a desk that offers the necessary features.
Aesthetics
Consider the overall design and aesthetics of the desk to ensure it aligns with your personal preferences and complements your gaming area's style. A visually appealing desk can enhance your gaming experience and create a more immersive environment.
Assembly
Check reviews or product descriptions for information on the ease of assembly. Look for desks that come with clear instructions and tools for hassle-free setup. Additionally, consider the maintenance requirements of the desk, such as cleaning and upkeep, to ensure it suits your needs. Carbon Fibre desks are often far easier to clean.
Gaming Desk Australia FAQs
Are gaming desks worth it?
What's the difference between a gaming and a regular desk?
Does a standing desk help gaming?
What's the best budget gaming desk?
What is the best gaming table length?
Conclusion – What's the Best Gaming Desk to Buy in Australia in 2023?
There are hundreds of gaming desks out there, but only a few are really worth the price. Often, you'll find expensive desks that don't really add anything significant to your experience. The desks we've picked for our list of the best seven gaming desks in Australia stand out for their reasonable prices and features specifically designed for gamers.
Based on this, we've picked the Desino gaming desk as our top choice due to its optimal blend of comfort, durability, adjustability, and affordability. Whether used for gaming or work, this desk offers an exceptional experience that prioritizes ergonomic design. The Desino also boasts a bunch of additional features designed to enhance your gaming experience, such as cup holders, headphone racks, and a monitor stand which is ideal for long-term play. We firmly believe that the Desino gaming desk is the best investment for long-lasting comfort and enjoyment while gaming.