With so many well-crafted options, finding the best gaming monitor in 2023 is challenging. However, stylish curves and thin bezels don't always come with a vibrant color panel and good response times, forcing you to carefully investigate the monitor's specs before purchasing it.
To help you pick the best of the bunch, we've ranked and compared the top gaming monitors of this year. In this article, you'll learn why the BenQ EL2870U is the cream of the crop for gaming. In addition, if you're looking for the best ultrawide monitor or 2K monitor gaming, you'll find this year's leading models on our list.
Top Gaming Monitors Ranked
To help you discover the best gaming monitor for each resolution and size and make an informed purchase, we've thoroughly analyzed the market and created this list:
Gaming Monitor | Top 11 Reviewed In-Depth
Now that you know our top gaming monitor picks for this year, let's see how they perform and compare them based on their refresh rate, aspect ratio, response time, and other crucial factors.
1. BenQ EL2870U — Overall, the Best 4K Gaming Monitor
The BenQ EL2870U is this year's best 4K gaming monitor because it offers an incredibly fluid visual experience without lag, ghosting, or delay. This 28'' monitor has a 158 Pixel per Inch (PPI) density, making it perfect for open-world games like GTA V.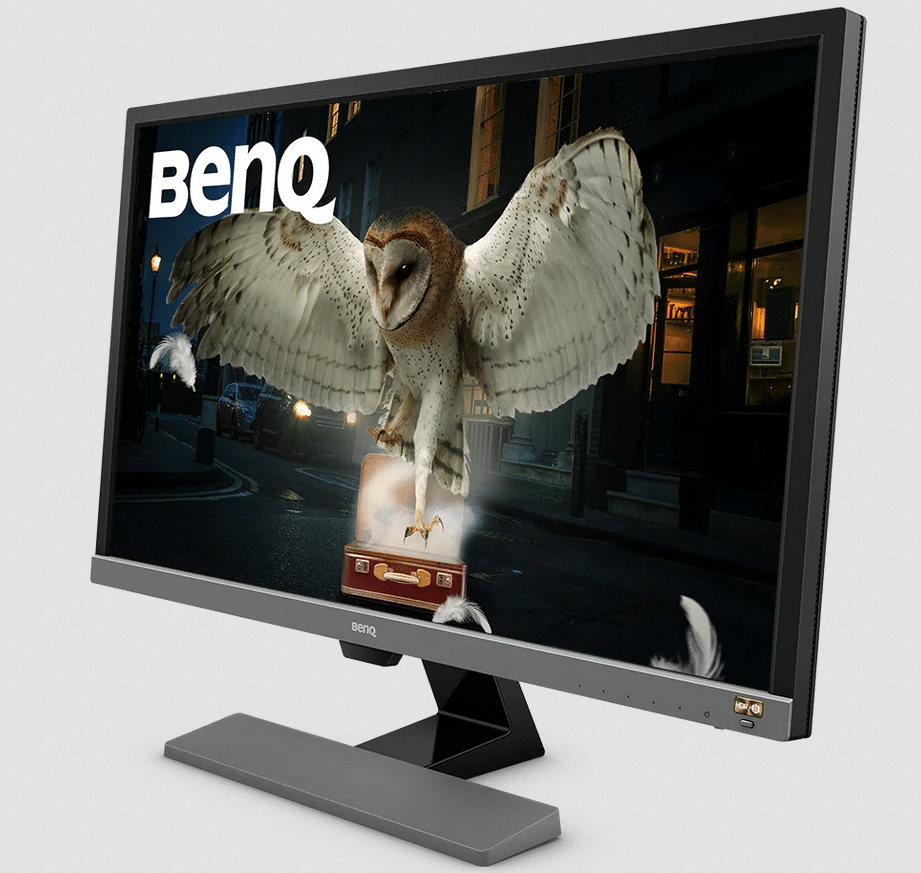 | | | | | | | | |
| --- | --- | --- | --- | --- | --- | --- | --- |
| Price | Screen Size | Panel Type | Refresh Rate | Aspect Ratio | Resolution | Response Time | G-Sync or FreeSync |
| $ 299.99 | 28'' | TN | 60Hz | 16:9 | 3840 x 2160 | 1ms | FreeSync |
Using one of the best TN panels on the market, it provides exceptional out-of-the-box performance and color quality. It uses AMD FreeSync to eliminate image tearing and broken frames, resulting in fluid and consistent gameplay. With this gaming display, you'll notice that distant objects, like buildings or hills, look crispier and more detailed.
Beyond this, thanks to its flicker-free and Low Blue Light technology, you're unlikely to experience eye strain, headaches, fatigue, and decreased productivity with this gaming monitor. In addition, its Smart Focus feature enables you to focus on what's important to you with minimal background distraction. The Blue Light technology has four sub-modes to help you avoid problematic gaming-induced sleep disorders – Web Surfing, Office, Multimedia, and Reading.
It has a button on the bottom right corner of the frame that allows you to improve the contrast and color saturation by enabling "HDR emulation." This button activates the monitor's Brightness Intelligence Plus technology (BI+), which adjusts the monitor's color temperature levels and brightness settings to fit your lighting environment.
Its fast pixel response rate, outstanding resolution, HDR 10, and affordable pricing make it the best 4K gaming monitor, especially if you own a late-model AMD card.

Pros
Superb price point
Outstanding pixel response time
Low input lag
Impressive out-of-the-box picture quality
Eye-care technology
Cons
The stand allows for tilt adjustment only
2. BenQ Mobiuz EX2510S — Exceptional 1080p Gaming Monitor With Bright Colors
The BenQ Mobiuz EX2510S is this year's top pick in the crowded field of 165Hz 1080p gaming monitors, thanks to its IPS panel, 99% sRGB color gamut, and affordable price. This 25'' monitor has a high-end build quality with ultra-thin bezels, allowing for an immersive experience in fast-moving FPS games.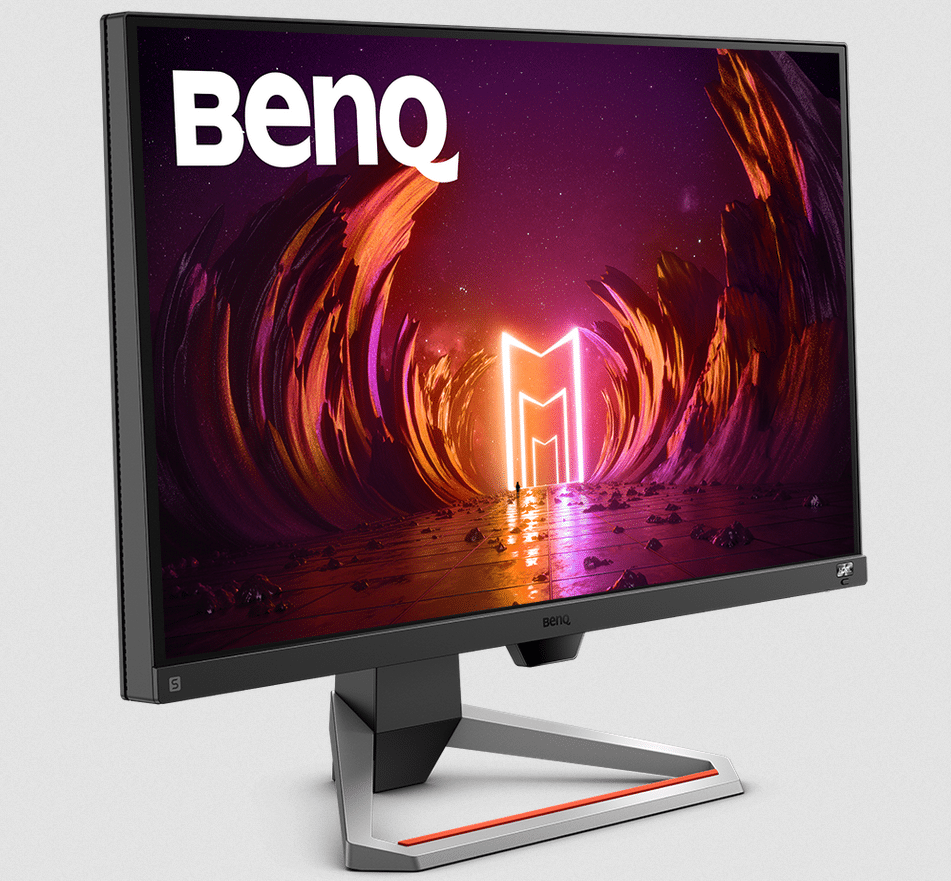 | | | | | | | | |
| --- | --- | --- | --- | --- | --- | --- | --- |
| Price | Screen Size | Panel Type | Refresh Rate | Aspect Ratio | Resolution | Response Time | G-Sync or FreeSync |
| $229.99 | 25'' | IPS | 165Hz | 16:9 | 1920 x 1080 | 1ms MPRT | FreeSync |
Speed-minded players will appreciate that the monitor's stylish black matte chassis doesn't shake in the heat of battle, allowing for uninterrupted gameplay. Its silver-colored stand conveniently allows for height, swivel, and tilt adjustments and is easy to set up.
Thanks to its HDMI 2.0 ports allowing a 120Hz refresh rate on next-gen consoles, this is also renowned for being one of the best monitors for PS5 and Xbox for 1080p resolution. It also features a DisplayPort 1.4 port on its back and a joystick for its settings controls. The OSD is well organized and easy to navigate using its joystick, and it allows you to pick between ten color modes, including a custom mode.
This gaming display uses HDRi technology to auto-calibrate the color detail and quality of HDR content. In addition, it features BI+, which adapts to the room lighting, reducing eye strain and irritation in speedy games. The TUV Rheinland certification proves BenQ takes eye care seriously, and you'll appreciate its Low Blue Light technology, knowing it's less prone to cause headaches after a long gaming session.
Overall, a 25'' 1080p monitor is ideal for gamers who extensively play Counter Strike Global Offensive, Overwatch, Call of Duty, and similar games. In addition, it is the best size monitor for gaming, according to eSports experts.

Pros
Exceptional performance for PCs and consoles
Robust high-end design
No backlight bleeding
Easy-to-navigate OSD menu
Affordable
3. Gigabyte M32U — Stylish 4K 144Hz Monitor With Built-in KVM
Despite its size, the Gigabyte M32U is a sturdy gaming PC monitor that can easily fit any desk. It features a pair of HDMI 2.1 ports making it one of the best monitors for PS5 and Xbox Series X because it allows you to play in a 4K resolution with a 120Hz refresh rate. It also has a DisplayPort 1.4 connection, allowing you to take full advantage of this 144Hz 4K gaming monitor on your PC.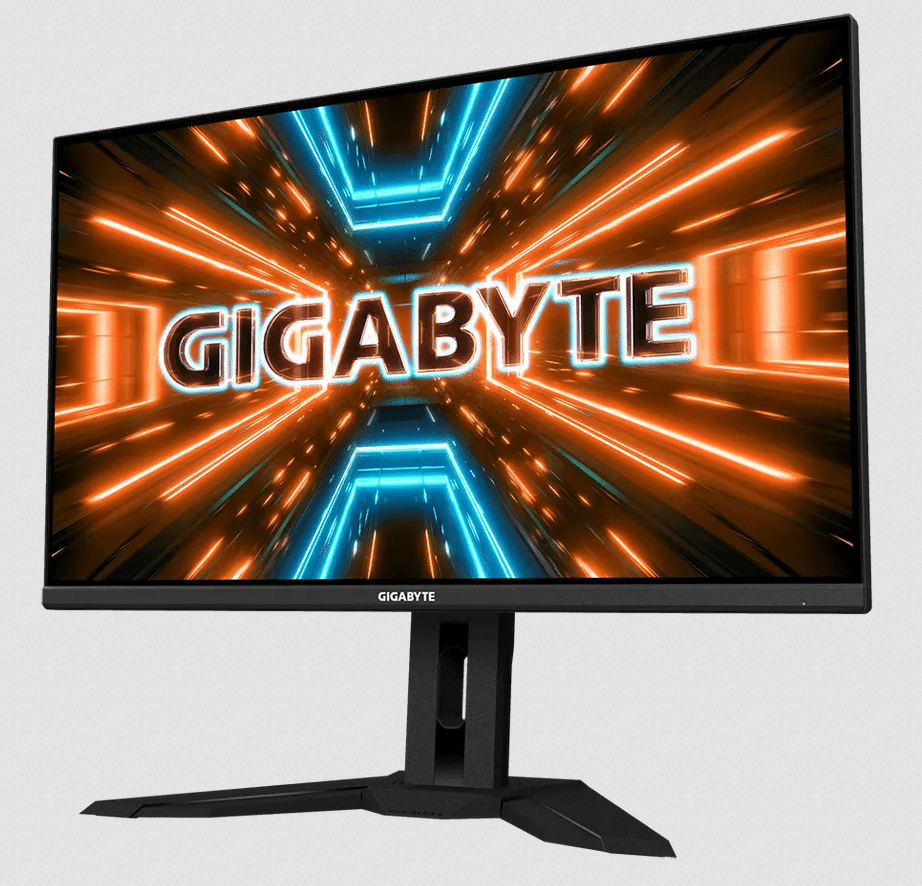 | | | | | | | | |
| --- | --- | --- | --- | --- | --- | --- | --- |
| Price | Screen Size | Panel Type | Refresh Rate | Aspect Ratio | Resolution | Response Time | G-Sync or FreeSync |
| $649.99 | 32'' | IPS | 144Hz | 16:9 | 3840 x 2160 | 1ms MPRT | FreeSync |
The M32U features a built-in keyboard, video, and mouse (KVM) switch that allows you to control two sources with a single keyboard and mouse. That means you won't struggle with cable management if you use more than one device simultaneously, as connecting a gaming mouse and keyboard to your M32U allows you to switch to your second device with one click.
Beyond this, the monitor features exceptional sRGB color out-of-the-box accuracy, and its large, high-resolution screen is perfect for multitasking and reading because of its superb text clarity. You'll find that a 144Hz refresh rate on a 32'' monitor is the sweet spot for fast-paced shooters and immersive RPGs, as it provides an immersive experience in both circumstances.
In games like Apex Legends or the new Call of Duty, you'll find its 1ms response rate and flicker-free features invaluable for prolonged gaming sessions. With its impressive gaming display capabilities, you'll appreciate the crisp details of various distant and background objects in open-world RPGs like Cyberpunk 2077.

Pros
HDMI 2.1 ports for 120Hz refresh rate on the latest consoles
Built-in KVM switch
Outstanding response time
Great refresh rate
FreeSync Premium Pro compatible
Cons
The built-in speakers aren't impressive
4. Acer Predator XB271HU — Outstanding Nvidia G-Sync Compatible Gaming Display
The Acer Predator XB271HU is this year's best 2K monitor for gaming, thanks to its 144Hz refresh rate that, paired with the monitor's excellent IPS panel, allows for an immersive experience. Upgrading to a monitor like the XB271HU is probably the most impactful upgrade for gamers if your current monitor has a lower refresh rate or resolution.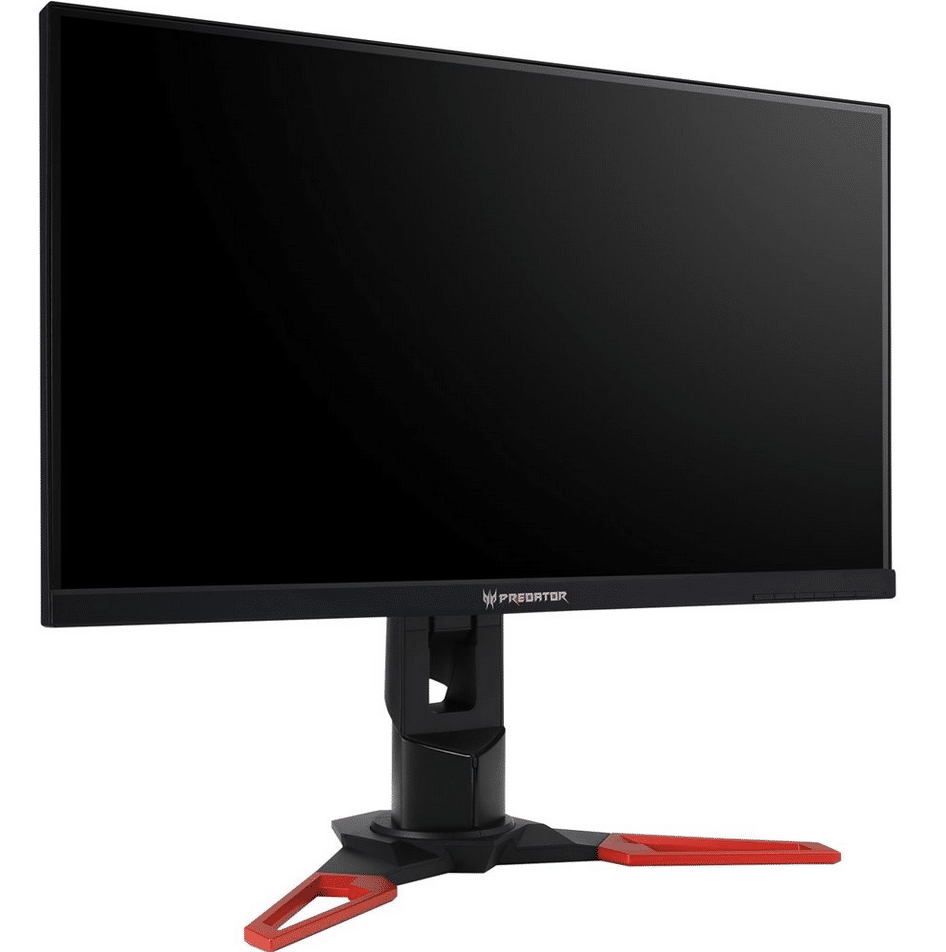 | | | | | | | | |
| --- | --- | --- | --- | --- | --- | --- | --- |
| Price | Screen Size | Panel Type | Refresh Rate | Aspect Ratio | Resolution | Response Time | G-Sync or FreeSync |
| $399.99 | 27'' | IPS | 144Hz | 16:9 | 2560 x 1440 | 4 ms GTG | G-Sync |
This gaming display is stylish, with a black and red V-shaped stand that firmly plants it on your table and prevents any shaking and wobbling while playing. Its bezel-free screen guarantees an immersive experience, and the monitor is well-crafted, allowing for 40 degrees of tilt, 30 degrees of swivel adjustability, and a 90-degree pivot for portrait mode.
Although the panel has no ghosting and blurring issues without Nvidia G-Sync, enabling the extra feature allows for the smoothest possible gaming experience. It prevents screen tearing while playing fast-paced games, like racing games or competitive FPS, where every frame matters.
To top it off, this Acer monitor allows you to pick between three Game Mode profiles, which you customize using its comprehensive selection of picture settings. Besides enabling you to create a different profile for each genre of your favorite games, it includes a Blue Light setting that reduces eye strain.

Pros
Great build quality
Nvidia G-Sync anti-tearing technology
Fast refresh rate
Low input lag
EyeProtect technology for prolonged gaming sessions
Cons
Only two video inputs
Below-average built-in speakers
5. Asus TUF Gaming VG27AQ — Superb 2K Monitor for Gaming With 165Hz Refresh Rate
The Asus TUF Gaming VG27AQ features a beautiful 27'' screen with Asus' Extreme Low Motion Blur Sync that you can activate simultaneously with Nvidia G-Sync to eliminate ghosting and screen tearing. Gamers will also appreciate the Asus GameFast technology this monitor uses to reduce input lag to an absolute minimum.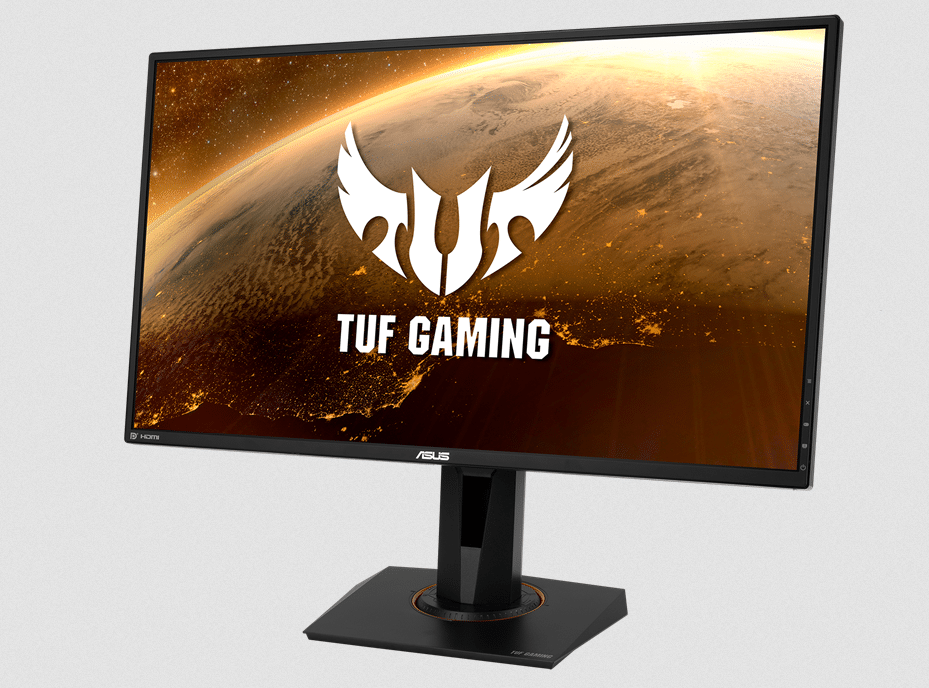 | | | | | | | | |
| --- | --- | --- | --- | --- | --- | --- | --- |
| Price | Screen Size | Panel Type | Refresh Rate | Aspect Ratio | Resolution | Response Time | G-Sync or FreeSync |
| $309 | 27'' | IPS | 165Hz | 16:9 | 2560 x 1440 | 1 ms MPRT | G-Sync |
This monitor is compatible with HDR 10, the industry-standard high dynamic range for colors that makes the colors of your games, videos, and other visually rich media on your device look crisp and vibrant.
The VG27AQ has a sturdy stand that keeps your monitor still, regardless of the angle, and it's pre-attached, allowing for a quick and easy setup. In addition, it's versatile, offering plenty of tilt and swivel and nearly five inches of height adjustment. Its ability to rotate 90 degrees and serve as a portrait mode monitor makes it ideal for a dual-monitor setup for streamers and competitive gamers.
The monitor's 165Hz refresh rate and low input lag benefits gamers who prefer fast-paced shooters, while RPG fans will appreciate the impressive White Levels and Black Saturation performance. With this monitor, you'll notice every detail, even in your games' darkest or blindingly light scenarios.

Pros
Exceptionally low input lag
Superb response time
Fast refresh rate
Responsive IPS panel
Crisp visuals
6. Alienware 34 — Beautiful Ultrawide Monitor for an Immersive Experience
The Alienware 34 AW3423DW is this year's best ultrawide monitor designed to provide an outstanding visual experience. This Quantum Dot OLED gaming monitor has a gorgeous design and customizable RGB lighting.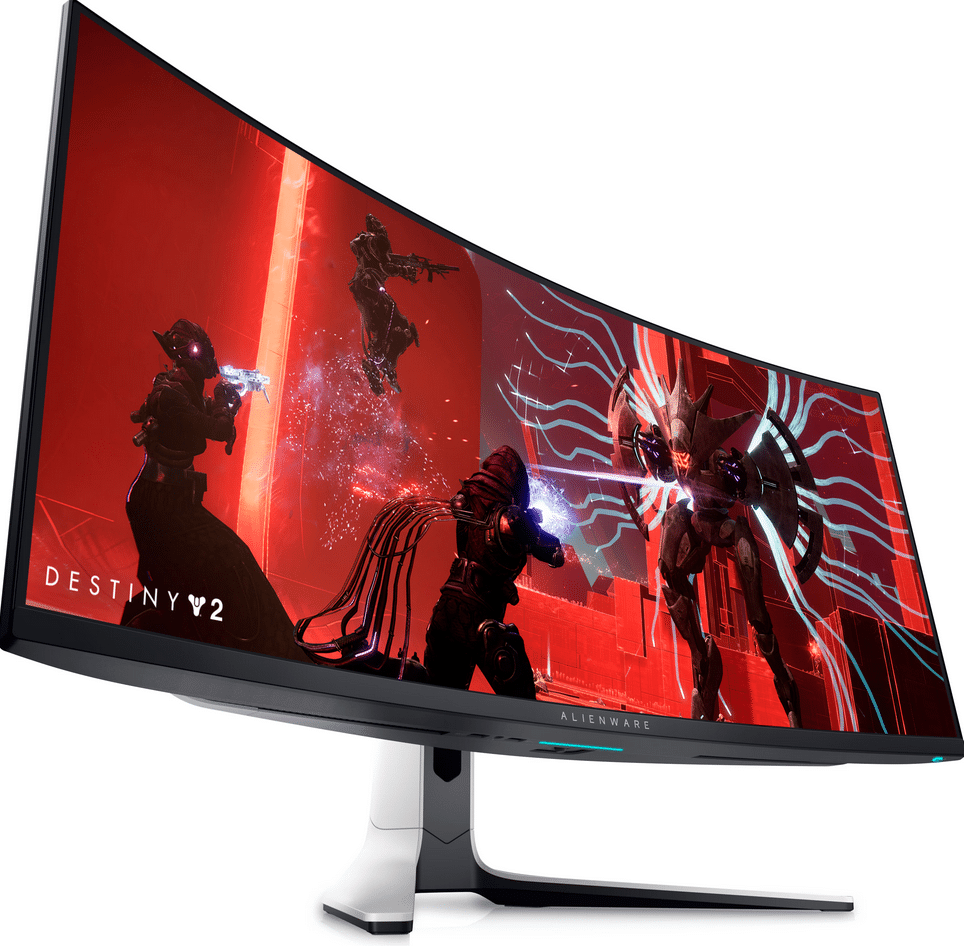 | | | | | | | | |
| --- | --- | --- | --- | --- | --- | --- | --- |
| Price | Screen Size | Panel Type | Refresh Rate | Aspect Ratio | Resolution | Response Time | G-Sync or FreeSync |
| $1,199.99 | 34'' | Quantum Dot OLED | 165Hz | 21:9 | 3440 x 1440 | 1 ms MPRT | G-Sync |
This ultrawide monitor has an Nvidia G-Sync Ultimate certification, meaning you'll have a tear-free experience and ultra-low latency gameplay, and it supports HDR and cinematic color.
Since it's an OLED gaming monitor, meaning it's self-emissive and each pixel on its display produces its own light, you can expect superb color performance and an exceptionally immersive experience in your favorite video games.
Although this display is expensive, it's a good investment if you're in the market for a 1800R curved display with thin bezels that provides a wider sense of space and prevents distortion around the edges.

Pros
Beautiful design
Lower input lag compared to previous OLED monitors
Responsive gaming performance
Outstanding SDR and HDR picture quality
Deep contrast and color saturation
Cons
SDR mode gamma needs some calibration
7. ViewSonic XG2431 — Great 240Hz Gaming Monitor With 0.5ms MPRT
The ViewSonic XG2431 is the best budget gaming monitor for professional gamers who focus on eSports titles. This 24'' 1080p gaming monitor is Blur Busters 2.0 certified, guaranteeing a seamless visual experience in fast-paced shooters.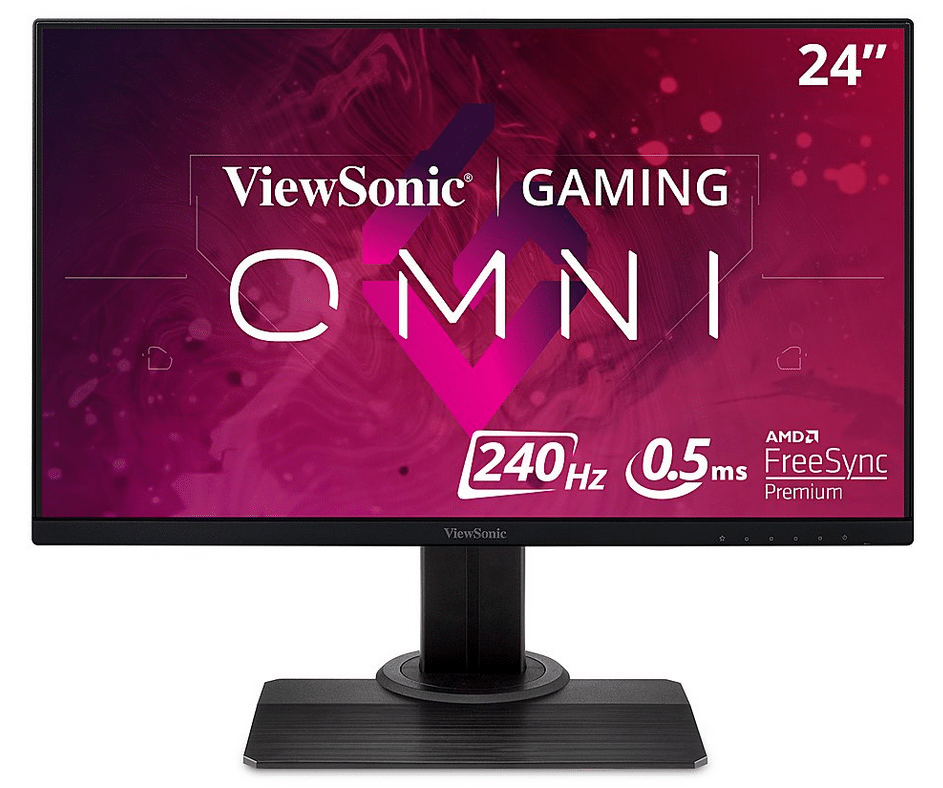 Price
Screen Size
Panel Type
Refresh Rate
Aspect Ratio
Resolution
Response Time
G-Sync or FreeSync
$279.99
24''
IPS
240Hz
16:9
1920 x 1080
1 ms GTG

FreeSync,

G-Sync compatible
If you're a professional gamer or aspire to become one, you're most likely looking for quick response times and high refresh rates rather than pixel density and immersive displays.
Like most top gaming monitors for eSports, the XG2431 features an impressively low input lag and VRR support on a small screen, allowing you to focus on your performance.
The XG2431 is flicker-free and features a blue light filter to reduce eye strain in prolonged gaming sessions, making it an ideal pick for competitive marathons and tournaments.

Pros
Quick response time at any refresh rate
Superb gaming performance
Accurate color
Excellent HDR image
Great price point for professional gaming
Cons
Small screen for non-gaming purposes
No gamma options
8. Asus ROG Strix XG27UQ — Impressive 4K 144Hz Monitor for Gamers and Professionals
The Asus ROG Strix XG27UQ is a nearly perfect 4K gaming monitor with superb video processing, vibrant color, and excellent HDR.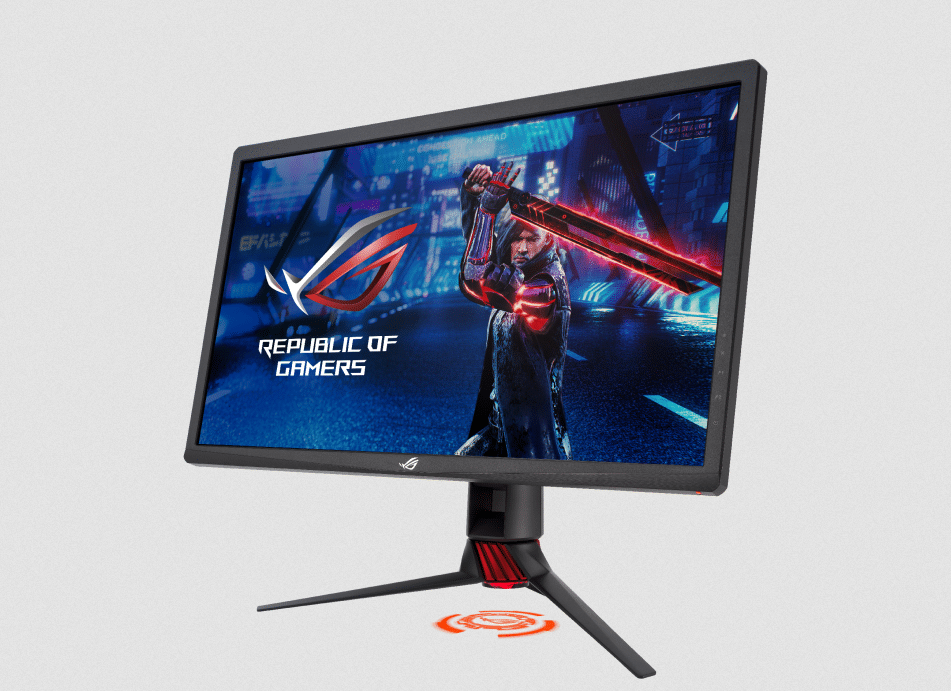 | | | | | | | | |
| --- | --- | --- | --- | --- | --- | --- | --- |
| Price | Screen Size | Panel Type | Refresh Rate | Aspect Ratio | Resolution | Response Time | G-Sync or FreeSync |
| $799 | 27'' | IPS | 144Hz | 16:9 | 3840 x 2160 | 1 ms MPRT | G-Sync |
The XG27UQ has everything a gamer needs for a superb gaming experience, including a mid-sized screen with VESA DisplayHDR 400 certification, high resolution, high frame rate, and outstanding color coverage.
This monitor can be a multi-purpose component in your gaming setup as it's well-suited for professionals, thanks to its color clarity and a high pixel density of 163.
Beyond this, it features a built-in performance-tracking tool that can bypass software restrictions and track FPS in any game and a tool that helps you line up multiple displays with precision.

Pros
Dynamic dimming
Dual DisplayPort, HDMI 2.0, and USB 3.0 ports
Colorful and bright 4K panel
Exceptional response time
Great build quality
Cons
No built-in speakers
Somewhat thick bezels
9. HP X34 — The Best Budget Gaming Monitor With 1ms Response Time
The HP X34 is a well-priced ultrawide monitor with an impressive 165Hz refresh rate and AMD FreeSync for its price range.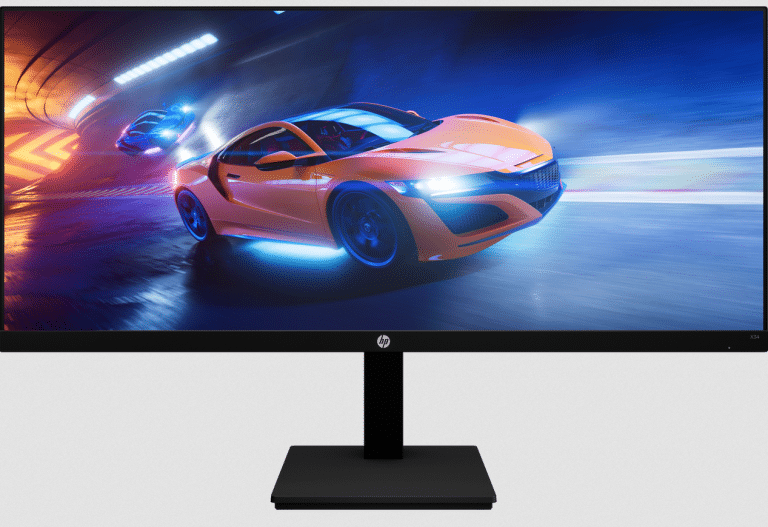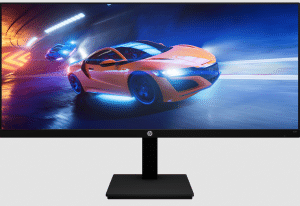 | | | | | | | | |
| --- | --- | --- | --- | --- | --- | --- | --- |
| Price | Screen Size | Panel Type | Refresh Rate | Aspect Ratio | Resolution | Response Time | G-Sync or FreeSync |
| $316.99 | 34'' | IPS | 165Hz | 21:9 | 3440 x 1440 | 1 ms GTG | FreeSync, G-Sync Compatible |
Its flat IPS panel, which outperforms the more common VA curved displays, sets this model apart from others with similar pricing. The HP X34 allows for an immersive experience thanks to its wide screen that is bezel-free on three sides.
The stand is sturdy and well-balanced, and you can adjust the monitor's tilt and height to suit your work and gaming preferences. In addition, its thin profile makes this large monitor easier to fit on a crowded desk.
Its high pixel density of 110 PPI makes it an outstanding ultrawide monitor with plenty of space for crisp and sharp text.

Pros
FreeSync and G-Sync compatible
Exceptional build quality for its price range
Simple design
Great color coverage and accuracy
High pixel density
Cons
Backlight bleeding with out-of-the-box settings
Mediocre contrast ratio that comes with most IPS panels
10. Corsair Xeneon 32UHD144 — 4K Monitor With Astonishing Natural Colors
The Corsair Xeneon 32UHD144 is an increasingly popular 32'' 4K gaming monitor, thanks to its bright and sharp picture quality.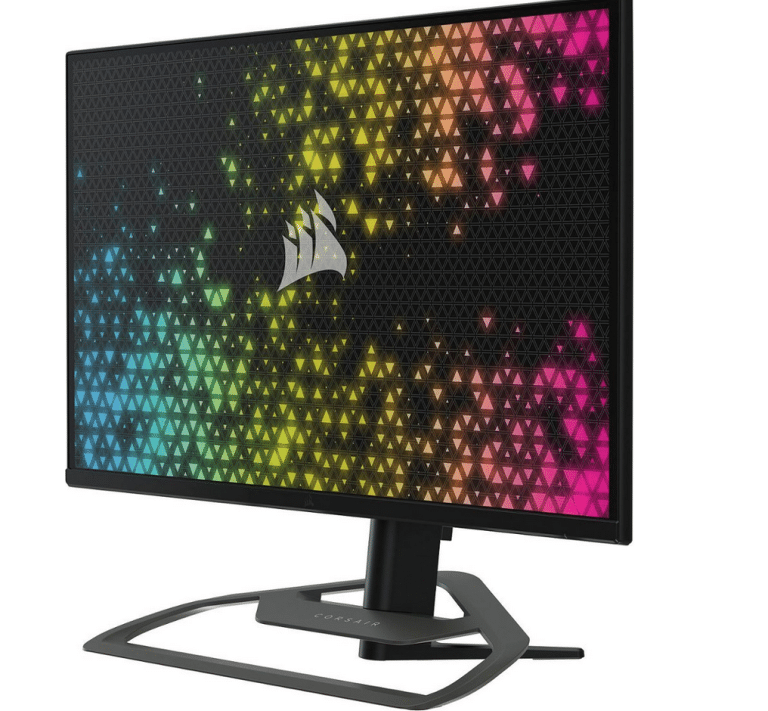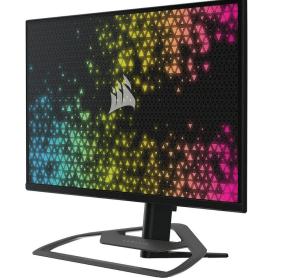 | | | | | | | | |
| --- | --- | --- | --- | --- | --- | --- | --- |
| Price | Screen Size | Panel Type | Refresh Rate | Aspect Ratio | Resolution | Response Time | G-Sync or FreeSync |
| $999.99 | 32'' | IPS | 144Hz | 16:9 | 3840 x 2160 | 1 ms MPRT | FreeSync, G-Sync Compatible |
The 32UHD144 has an impressive out-of-the-box reference-level color accuracy and a wide color gamut, making it a visually stunning gaming display without any settings configuration.
32'' is the best monitor size for gaming on 4K resolution, and its size and color quality guarantee an immersive experience with open-world games. Beyond this, console gamers will be glad to hear that this monitor features a pair of HDMI 2.1 ports, which means it's ready for 120Hz gaming on the latest consoles.
To top it off, this monitor features one of the best stands on the market, a monolithic solid aluminum base with a gray finish. Overall, it's ideal for a dual or multi-monitor setup, thanks to its ultra-thin bezels that give it more screen space.

Pros
Great for gamers and creators
Massive color gamut
Excellent build quality and design
Optional mount for peripherals and cable management
Great connectivity, including HDMI 2.1
Cons
Expensive
No speakers or LED lighting
11. MSI MPG Artymis 343CQR — Good 4K 165Hz Ultra Wide Monitor For Fast-Moving Games
The MSI MPG Artymis 343CQR is a tightly curved monitor, ideal for fast-paced first-person shooters, thanks to its outstanding out-of-the-box color quality and high refresh rate.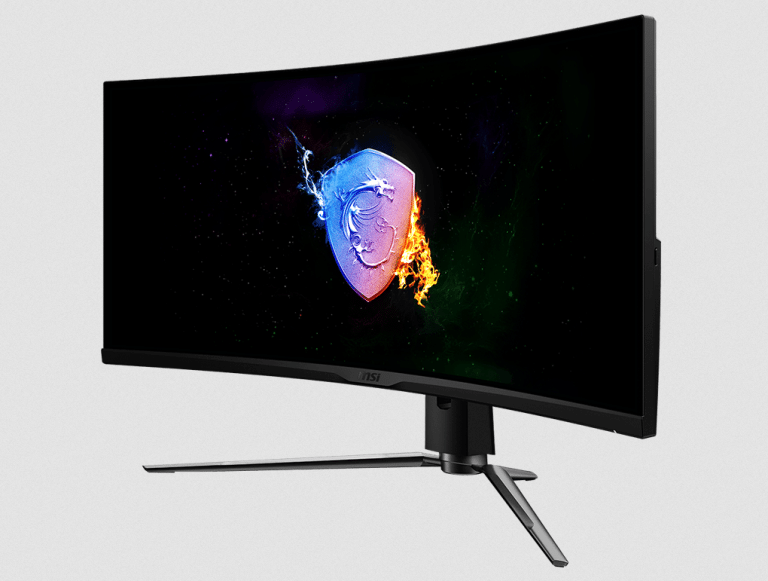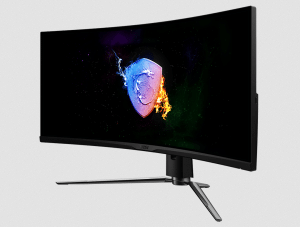 | | | | | | | | |
| --- | --- | --- | --- | --- | --- | --- | --- |
| Price | Screen Size | Panel Type | Refresh Rate | Aspect Ratio | Resolution | Response Time | G-Sync or FreeSync |
| $459.99 | 34'' | VA | 165Hz | 21:9 | 3440 x 1440 | 1 ms MPRT | FreeSync |
The 343CQR features a tight 1000R curve, more suited to the human eye than 1800R and 2300R panels, allowing for an immersive experience in first-person and third-person games.
With a 1000R screen curve, you can see the entire screen without fatigue, giving you a better view of the world in RPG games, tracks in racing games, and more field vision in FPS and RTS games.
It has impressive tilt and swivel adjustments for a monitor of its size, and you can adjust its height. However, it's challenging to place its stand on a small desk because of its size.

Pros
Great image quality
Quick response time
Solid gaming performance
Bright and punchy VA panel
High contrast
Cons
Not suitable for eSports and creators
Worse pixel response compared to others on our list
Best Monitors for Gaming Compared
Now that we've seen their specs let's see how these monitors compare based on their price, screen size, panel type, refresh rate, aspect ratio, resolution, response time, and VRR compatibility:
Model
Price
Screen Size
Panel Type
Refresh Rate
Aspect Ratio
Resolution
Response Time
G-Sync or FreeSync
BenQ EL2870U
$299.99
28''
TN
60Hz
16:9
3840 x 2160
1ms
FreeSync
BenQ Mobiuz EX2510S
$229.99
25''
IPS
165Hz
16:9
1920 x 1080
1ms MPRT
FreeSync
Gigabyte M32U
$649.99
32''
IPS
144Hz
16:9
3840 x 2160
1ms MPRT
FreeSync
Acer Predator XB271HU
$399.99
27''
IPS
144Hz
16:9
2560 x 1440
4 ms GTG
G-Sync
Asus TUF Gaming VG27AQ
$309.00
27''
IPS
165Hz
16:9
2560 x 1440
1 ms MPRT
G-Sync
Alienware 34 AW3423DW
$1,199.99
34''
Quantum Dot OLED
165Hz
21:9
3440 x 1440
1 ms MPRT
G-Sync
ViewSonic XG2431
$279.99
24''
IPS
240Hz
16:9
1920 x 1080
1 ms GTG

FreeSync,

G-Sync compatible

Asus ROG Strix XG27UQ
$799.00
27''
IPS
144Hz
16:9
3840 x 2160
1 ms MPRT
G-Sync
HP X34
$316.99
34''
IPS
165Hz
21:9
3440 x 1440
1 ms GTG
FreeSync, G-Sync Compatible
Corsair Xeneon 32UHD144
$999.99
32''
IPS
144Hz
16:9
3840 x 2160
1 ms MPRT
FreeSync, G-Sync Compatible
MSI MPG Artymis 343CQR
$459.99
34''
VA
165Hz
21:9
3440 x 1440
1 ms MPRT
FreeSync
How to Choose the Best Gaming Monitor
Gaming displays are the final touch to a gaming setup, regardless of whether you're a professional tournament competitor or a casual gamer. Putting a powerful PC together is the first step towards a crystal clear and immersive experience, as you need an equally powerful gaming monitor to display the action.
However, finding the best PC gaming monitor is challenging, with so many popular brands constantly releasing new products that seem identical. Here, we'll dive into what makes these monitors unique and help you choose a display that gives you an advantage over your opponents in your favorite competitive games or an immersive experience in your single-player games.
Here are some crucial factors to consider while purchasing a gaming monitor:
Price
The price of a gaming monitor is determined by its features, like its panel type, adjustable stand, number of ports, resolution, size, and more. If you're looking for a gaming monitor for eSports titles where precision and fast response are mandatory, a cheap gaming monitor 24'' in size, with a 240Hz refresh rate, like the ViewSonic XG2431, is ideal for you.
However, you can expect to pay more if you want a large screen with a better resolution and higher pixel density that provides a much better color at the cost of frames per second and response time. For example, the Alienware 34 AW3423DW is over four times the price of the ViewSonic XG2431, but it boasts a better design and more features.
Regarding features, you can expect to pay more if you want a monitor with multiple DisplayPort, HDMI 2.1, and USB-C ports compared to a monitor with identical specifications but with less connectivity. If you don't plan on using your monitor for a PC, console, and cell phone charging, you may as well buy a cheaper model with fewer ports. With that said, we suggest you invest in a monitor with an adjustable stand, as it makes the gaming display flexible and lets you fit it on crowded and small desks.
Size
A bigger monitor may suit you perfectly if you own a reasonably powerful graphics card and a medium or large gaming desk. Monitors smaller than 27'' usually offer a Full High-Definition (FHD) resolution or 1920 x 1080 pixels. Newer 27'' models usually run 2,560 by 1,440 pixels or Wide, Quad High-Definition (WQHD).
If you aren't on a tight budget and want the best image quality, Ultra High-Definition (UHD) monitors are usually 30'' and beyond, with a 3840 x 2160 resolution. That said, if you plan on playing FPS games competitively, a smaller FHD monitor with a high refresh rate and quick response times could be ideal for you, as is the standard for eSports players.
However, if you want an immersive experience on a large screen with games that don't require you to constantly look around the screen, a 32'' or ultrawide monitor will provide the best experience.
Bear in mind that a large UHD gaming monitor needs a much better graphics card to run newer games at a high or ultra setting than a smaller FHD monitor, so pick your monitor accordingly. Our list contains the best models for each resolution and covers a variety of sizes, allowing you to pick one that's most ideal for your gaming setup.
Aspect Ratio
The aspect ratio of a monitor determines the height and width of the display, with most wide-screen monitors having a 16:9 aspect ratio compared to the outdated 4:3 square format. Ultrawide monitors feature a 21:9 aspect ratio and are enjoying increasing popularity thanks to their immersive view of your favorite games.
You should pick a wide-screen monitor if you don't want to experiment with an ultrawide screen and need it for more than just gaming. That said, it's worth noting that an ultrawide monitor can distort and warp lines, making it challenging to work on them for professionals.
However, these are ideal if you intend to play games on a curved screen for a fully immersive experience. Of course, as a result, you'll find that they come at a much higher price than the more available and affordable wide-screen monitors, so plan the purchase according to your budget.
Panel Type
Popular panel types used in gaming displays are Twisted Nematic (TN), Vertical Alignment (VA), and In-Plane Switching (IPS). Each of these panels has its pros and cons, and they all have their uses in different gaming settings. Here's an easy overview of each one:
Panel Type

Best for
Pros

Cons

TN Panels

Competitive gamers
The fastest panel

Quick response times

High refresh rates

The cheapest panel

Viewing angles cause color shifting
VA Panels
Professionals and gamers – Multi-purpose
Affordable

High native contrast ratio

Produce deep blacks and vibrant colors

Prone to ghosting effects

IPS Panels

Open-world games and immersive experiences
Solid color quality

Outstanding gray-scale performance

Wide viewing angles

Expensive

Pixel response isn't on par with TN panels

Prone to motion blur

Quantum Dot OLED
A next-level cinematic experience
Unprecedented color gamut and image quality

Expensive

Suffers from reduced text quality
It's worth noting that these differences are very field-specific and otherwise aren't noticeable. For example, a professional gamer will notice a TN panel has much better response times than a VA panel, but a casual gamer might not see the difference.
Equally, a professional designer will notice the lower color quality of a TN panel and consider it unsuitable for color grading and photo editing, while a gamer won't.
What Makes QD-OLED Panels Different?
QD-OLED panels differ from the three traditional panels in various ways and are a rare sight. Here are the key differences you should know before you purchase one like the ultrawide Alienware 34 AW3423DW on our list:
Color reproduction – QD-OLED monitors can produce a wider color gamut than the three traditional panels.
Display technology – These monitors use a combination of Quantum Dots (QD) and Organic Light-Emitting Diodes (OLED) to produce images, while the traditional panels use different types of LCD technology.
Contrast ratio – QD-OLED panels can display deeper blacks and brighter whites than VA and IPS panels, thanks to their outstanding contrast ratio.
Similarly to IPS panels, QD-OLED panels have wide viewing angles and are more expensive than others. They also have slower response times than TN panels, making them ideal for non-competitive gaming and professionals.
Pixel Response
Top gaming monitors should have a quick pixel response rate and a high refresh rate. A pixel response of under five milliseconds (5ms) is adequate for gaming, with the ideal pixel response rate being under 2ms for speedy games.
The time, measured in milliseconds, signifies the duration of a pixel's transition from one shade of gray to another in the most commonly used pixel response spec, called gray-to-gray (GTG).
While a fast pixel response time is crucial for fast-paced games and a better visual experience, it's worth mentioning that a low pixel response time produces fewer smeared images and a smoother overall picture.
Refresh Rate
A high refresh rate is popular among gamers because it provides a much smoother gaming experience compared to older 60 Hertz (Hz) LCD monitors. The number, measured in Hertz, refers to the time (per second) a monitor takes to redraw the entire screen.
Gamers using a 60Hz monitor may encounter issues in fast-paced games, including screen tearing, blurry images, and input lag. These issues occur when a low refresh rate screen tries to display pieces of two or more screen draws simultaneously, which a high refresh rate screen achieves without a problem.
Look for a monitor with a minimum of 120Hz to reduce image blur and screen tearing in competitive games and for a more pleasant visual experience overall. Beyond this, you should also check if your monitor has AMD FreeSync or Nvidia G-Sync compatibility.
This technology allows you to transfer the refresh rate controls to the GPU rather than your monitor, which enables your monitor to operate with a variable refresh rate (VRR). It decreases the input lag and provides the smoothest gaming experience but requires a compatible high-end AMD or Nvidia graphics card.
Ports and Extra Features
When buying a monitor, look for extra features based on what you're missing or want to change. For example, if your desk cable management is a mess, you might want a monitor with extra USB ports to plug your mouse and keyboard in. In addition, there are gaming monitors with exceptional speakers and built-in subwoofers that would save you from keeping a speaker on your desk.
If you want to find a gaming PC monitor that's also one of the best monitors for PS5 or Xbox, you'll need a monitor with HDMI 2.0 or HDMI 2.1 ports to have a 120Hz refresh rate while using your console. You should ensure your GPU uses a different port, or if it uses an HDMI cable, you should look for a dual HDMI port monitor.
You should avoid monitors with flimsy stands made of cheap plastic because they won't keep your screen still in the heat of battle. The best gaming monitor should offer good ergonomics, allowing you to adjust the screen's tilt, swivel, and height. Some high-end monitors, like the Corsair Xeneon 32UHD144, offer optional stand upgrades that can serve as a webcam or gaming headphones mount.
Is 144Hz or 240Hz Best for Gaming?
A higher refresh rate guarantees a lower input lag, making 240Hz the better choice. Although switching from a 144Hz gaming monitor to a 240Hz gaming monitor isn't as noticeable as a jump from 60Hz to 144Hz, it's still a good investment.
What makes the jump to 144Hz impressive is the difference of 9.73ms between each frame compared to a traditional 60Hz monitor. That means a 144Hz gaming monitor, which can display 144 frames on its screen, takes 9.73 milliseconds less to jump from frame to frame since a 60Hz monitor takes 16.67ms to switch between frames, while a 144Hz monitor needs only 6.94ms.
| | |
| --- | --- |
| Refresh rate | Time between frames |
| 60Hz | 16.67ms |
| 144Hz | 6.94ms |
| 240Hz | 4.17ms |
Unfortunately, the effect isn't as drastic when we add a 240Hz refresh rate to the comparison since it takes 4.17ms to jump between frames, making it 2.77ms faster than a 144Hz monitor.
While the difference between 144Hz and 240Hz monitors is a lot smaller, it's undeniable that every millisecond counts in competitive gaming, especially in fast-paced FPS games.
However, you'll need a mid-to-high-end gaming setup to take advantage of monitors with a 240Hz refresh rate. It's worth noting that even if you get only 144 frames per second on a 240Hz monitor, it still displays them quicker than a 144Hz monitor, resulting in lower input lag.
To conclude, if you have a powerful gaming setup and intend to compete in FPS tournaments or are an enthusiast, a 240Hz gaming monitor is a worthy upgrade, as it provides a slight advantage.
Gaming Monitor FAQs
Are curved screens better?
Is 4k best for gaming monitor?
What is the best monitor size for gaming?
How many Hz is good for gaming?
How many monitors are best for gaming?
What's the best budget gaming monitor?
Conclusion | What is the Best Gaming Monitor to Buy in 2023?
With so many exceptional gaming monitors on our list, we're confident you'll find a well-suited display for your gaming setup. To make it possible for anyone to find a suitable monitor, we've included models with various refresh rates, resolutions, response times, and other crucial features.
We've concluded that the BenQ EL2870U is this year's best gaming monitor based on its excellent pricing point, outstanding image quality, quick response times, and robust design. This monitor pairs well with a high-end AMD card because it's AMD FreeSync compatible, which means it can prevent screen tearing, resulting in a fluid and crystal-clear visual experience.
Besides gaming, the BenQ EL2870U makes any other PC-related task enjoyable, thanks to its vivid and crispy colors, even when sitting close to the screen. You'll appreciate the lack of color bleeding on this monitor, and its TN panel ensures you get the fastest response times possible while gaming.