The best gaming mouse provides comfort for your wrist and helps your mouse sensor to accurately track your movements. The ability to react in a split second is crucial for every passionate gamer, which is why you need an adequate surface to support your every movement.
While today's modern gaming mice boast laser-precise sensors that can work on almost every surface, you'll hardly find any gaming professional playing without their own mouse pad, and for a good reason. A great mouse pad can improve your speed, reaction time, and accuracy. Here are the best gaming mouse pads in 2023.
The Best Gaming Mouse Pads Ranked
Mouse pads are among the cheapest peripherals. Thus, many gaming beginners neglect the importance of choosing the right surface and consider mouse pads expendable. However, in reality, a quality mouse pad can be a valuable piece of your gaming arsenal that'll serve you well for years to come.
Our team of experts has selected the best mouse pads. We've compiled a list of the 11 best gaming mouse pads in 2023 that excel in texture quality, stitching, design, durability, and pricing, with the Aothia Leather Desk Pad at the very top. Here's how we ranked the best gaming mouse pads:
The Market's Top-Rated Mouse Pads Reviewed
You can learn more about the best gaming mouse pads in our full reviews below. Read on and find the most suitable gaming surface for you, available at the best price.
1. Aothia Leather Desk Pad – Overall, the Best Gaming Mouse Pad in 2023
The Aothia Leather Desk Pad is a large multifunctional desk pad that's ideal for gaming and office work.
This is a simple and elegant uni-color mouse pad that'll serve you for years. The minimalist design makes the pad fit well in any gaming or office room. You can choose between several colors, with black and gray being the most popular.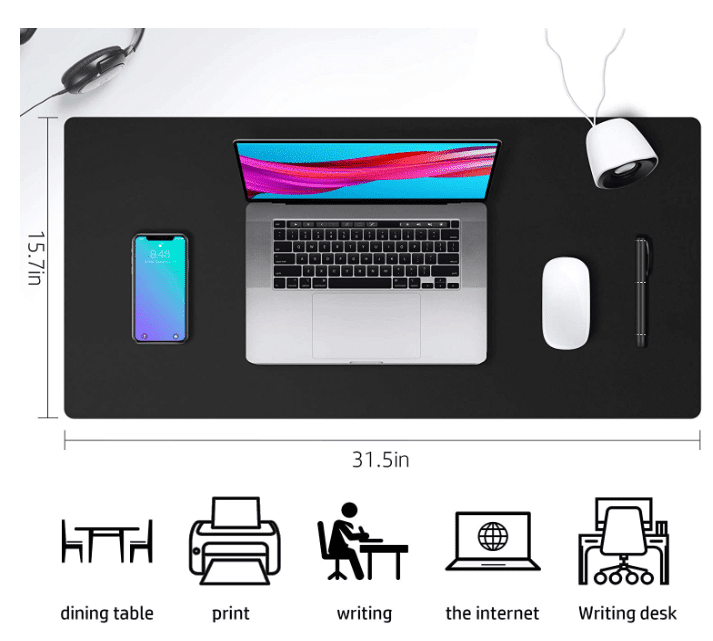 | | | | | |
| --- | --- | --- | --- | --- |
| Price | Surface Type | Surface Material | Base Material | Dimensions |
| $12.59 (26% discount) | Soft | Faux leather | PU leather | 31.5 x 15.7 inches |
Due to its large size (31.5 x 15.7 inches), it can serve as a desk cover. Thus, you can fit your mouse, keyboard, and the best gaming monitor on it.
The Leather Desk Pad is made from faux leather, a petroleum-based synthetic. As a result, this mouse pad is soft to the touch and resistant to water, abrasions, and cuts.
You won't have to worry if you spill soda or food on your desk. You can clean it with a tissue, wipe, or any piece of cloth in a few seconds.
Pen marks may be this pad's only kryptonite. You can remove them with slightly more aggressive chemicals, though – but this can also damage your mouse pad.
The Aothia Leather Desk Pad stands out with a non-slip base that allows gamers to move their mouse rapidly, thus increasing their speed and reducing reaction time. Your mouse will slide over the mat well without friction or getting stuck.
Thanks to its ergonomic design, you won't feel any pain or discomfort even after hours of intense play. It also reduces the risk of wrist or arm injuries and helps you retain a healthy body posture after long gaming sessions.
Pricing
The regular price of what we rate as the best gaming mouse pad is $16.99. But the good news is that the Aothia Leather Desk Pad is currently on a 26% discount and available for only $12.59.
In addition, you'll get a 1-year warranty. If you're not satisfied with the product, you can contact Aothia and get a new product or a 100% refund.
Pros
High-quality material
Smooth and slick surface
Spill-resistant
Durable mouse pad
1-year warranty
Cons
Challenging to clean pen marks
2. Amazon Basics – Washable Rubber-Based Mouse Pad for Gamers
The Amazon Basics mouse pad premiered in 2017 and has enjoyed an impeccable reputation since then.
Functionality is key when speaking about this mouse pad. You won't find fancy stitches, a rich palette of colors, or aggressive gaming images. It comes in black only and is built to serve one purpose, whether it's gaming, graphic design, or writing. You can choose between small, standard, large, and extended mouse pads.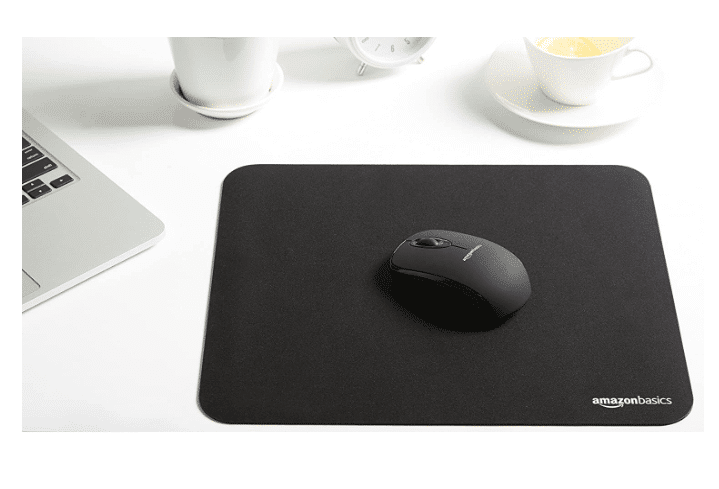 | | | | | |
| --- | --- | --- | --- | --- |
| Price | Surface Type | Surface Material | Base Material | Dimensions |
| $9.07 | Soft | Cloth | Rubber | 12.4 x 10.6 x 0.08 inches |
The Amazon Basics pad is made of quality material, it's washable, and it's super easy to clean.
The standard dimensions are 12.4 x 10.06 x 0.08 inches. It's quite thin, so you won't feel it's really there most of the time. The edges are a little rough, though, but you won't feel it unless you rub your arm while moving the mouse. We won't take this as a significant downside, though, as such edges are necessary to prevent your mouse pad from bending after prolonged use.
The base is firm and made of rubber. This prevents your mouse pad from moving all over your desk. Many players also like to keep their mouse in a special desk drawer instead of on the surface. As a result, it can be challenging for them to find a mouse pad small enough to fit the space. You won't have those issues with this pad, though. Thanks to its rubber base, you can cut it to a small size, and it won't unravel when cut.
This is among the best mouse pads for gaming, especially if you like to play FPS games. Its soft surface will provide you with extra precision while enjoying Call of Duty, Counter-Strike, or Team Fortress.
Pricing
You can get this pad for only $9.07. Is that too much money for a simple mouse surface? Well, it depends on what angle you take.
Your mouse might cope without it. However, you can get this valuable piece of equipment for the price of a McDonald's burger. The Amazon Basics pad is durable and will serve you well for months and years to come – and it's a contender for the best mouse pad for gaming.
Pros
Rubber base
Smooth cloth surface increases precision
Firm and steady
Washable and easy to clean
3. KTRIO Large Pad – Smooth Surface for Maximum Precision
The KTRIO Large Pad boasts both durability and functionality. It's big enough to cover your entire desk and will remain intact even after extended, heavy use.
The base of the KTRIO Large Pad is made of rubber. As a result, the KTRIO pad is the best gaming mouse pad if you like to spend long hours playing your favorite games. The surface is made of micro-weave cloth. This ultimately makes the pad soft, smooth, and easy to clean and maintain.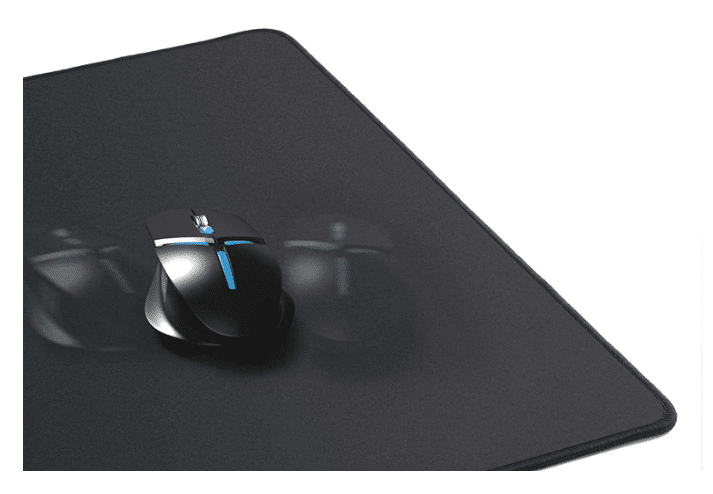 | | | | | |
| --- | --- | --- | --- | --- |
| Price | Surface Type | Surface Material | Base Material | Dimensions |
| $13.49 | Soft | Micro-weave cloth | Rubber | 31.5 x 11.8 inches |
However, because of the delicate surface material, this mouse pad isn't ideal for those who sweat a lot. Thus, gaming in high temperatures without any cooling aid may be a slight issue, as your pad will absorb everything that falls on it. This could affect the mouse's traction until it dries off.
The edges are stitched, so you won't feel any discomfort, as with the Amazon Basics pad, for instance. Additionally, the surface of your mouse pad won't peel off after prolonged use. And that's not to mention that these stitches make the pad look pleasing to the eye.
It's significantly larger than other mouse pads on the market, as well. You could use it as a desk mat and fit your monitor, your laptop, or your pick of the best gaming keyboards on it while still having a lot of space to move your mouse around.
Pricing
You can get a KTRIO Large Pad for only $13.49. It is a bit more expensive than the Aothia Leather Desk Pad, for example – however, it boasts a rubber base, which makes it more durable and less susceptible to slipping.
Pros
Superior micro-weave cloth surface
Firm rubber base
Resistant to stains and water
Will cover a huge area of your desk
Fine stitching on the edges
Cons
Not ideal if you sweat a lot
4. SteelSeries QcK Pad – Perfect for Small Desks
The SteelSeries QcK Pad has been around in the professional gaming industry for around two decades. Because of its size, it's ideal for gamers with small and compact desks.
You'll notice this mouse pad for gaming is smooth and flat from the get-go. This is due to combining a rubber base and a cloth surface. Moreover, it'll remain flattened after unrolling. You won't have to put your keyboard on one side and your mother's vase on the other to align the edges with the desk. Also, its rubber base ensures your pad doesn't slide around the desk once you move your arm or a keyboard.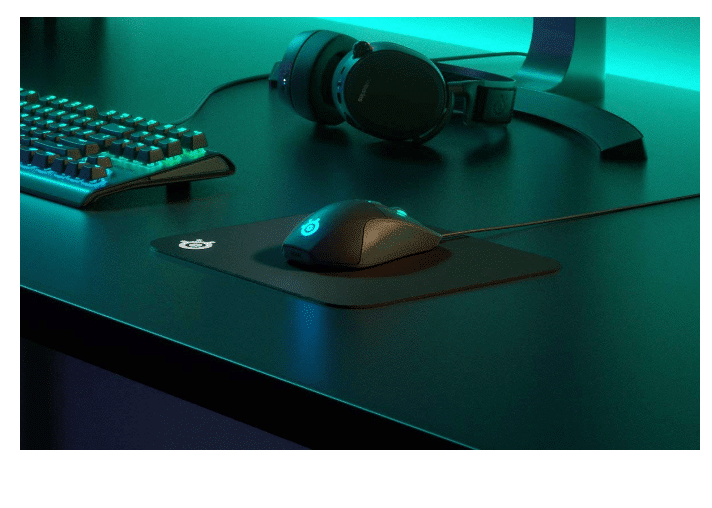 | | | | | |
| --- | --- | --- | --- | --- |
| Price | Surface Type | Surface Material | Base Material | Dimensions |
| $10.55 | Soft | Cloth | Rubber | 9.84 x 8.27 inches |
Unlike some of its counterparts, the SteelSeries mouse pad has no stitched edges. On the one hand, this is great as there's literally no chance for you to feel any discomfort while moving your wrists around it.
However, on the other hand, this could affect the product's durability. So, you will have to be extra careful when manipulating your mouse pad and make sure you don't damage the edges.
Some rubber mouse pads come with an extra "aroma" one might find unpleasant. Fortunately, you won't have the same issue with this one as it comes with no chemical smell.
Even if you notice some minor essence, it's probably from the package, so you can air it out easily.
Pricing
The SteelSeries QcK Pad costs only $10.55, which is about the average price for rubber-based mouse pads. Despite its small size, it's reasonably priced and ideal for gamers on a budget.
Pros
Great for smaller desks
Non-slip rubber base
No chemical smell
Smooth and flat cloth surface
5. RGB UtechSmart – RGB Mouse Pad with 18-Month Warranty
The RGB UtechSmart is a high-quality gaming mouse pad that comes with several interesting features every gamer will absolutely love.
Imagine buying the best gaming PC with an RGB case like iBUYPOWER Slate Hako and turning your room into Dr. Disrespect's gaming studio. To do that, you need the right set of colors, which the RGB UtechSmart can deliver. Jokes aside, this mouse pad gaming product looks astonishing.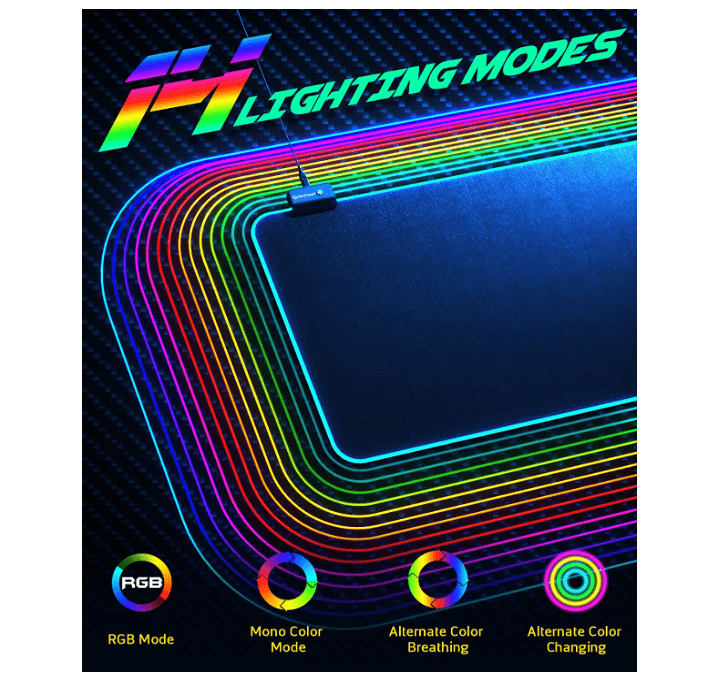 | | | | | |
| --- | --- | --- | --- | --- |
| Price | Surface Type | Surface Material | Base Material | Dimensions |
| $19.99 | Soft | Cloth | Rubber | 31.5 x 11.8 inches |
You can select between the two light intensity levels and adjust the brightness depending on the daytime. Moreover, you do not need to install any drivers. You just plug it in and enjoy. The RGB UtechSmart features 14 lighting modes. You can choose between the alternating Wave, red changing, synchronized breathing, and alternating flash. You'll also notice seven static light modes.
Besides looking cool and flashy, this mouse pad is actually pretty useful. The base is made of rubber, which prevents your pad from sliding.
The cloth-based surface prevents your mouse from randomly drifting the screen. At the same time, it allows your mouse to detect subtle movements, which significantly increase the precision.
Pricing
The price of the RGB UtechSmart is $19.99. While it might seem a bit pricey for the average consumer, it is essential to stress that this mouse pad is an investment.
The UtechSmart is durable and comes with an 18-month return policy. So, if you become dissatisfied with this product, you can return it and get your money back.
Pros
Anti-slip rubber base
Plug and play, no driver needed
14 light modes
18-month money-back guarantee
Cons
Pricey for gaming beginners
Given its large size, the Corsair MM300 is great for those with extra space on their gaming desks.
The gray-metal design with a small Corsair logo in the bottom right corner will fit perfectly in any gaming room.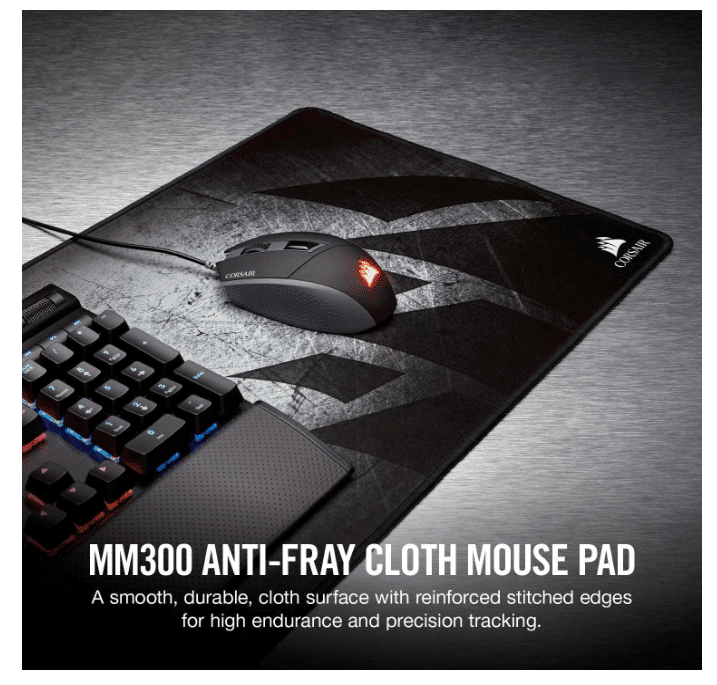 | | | | | |
| --- | --- | --- | --- | --- |
| Price | Surface Type | Surface Material | Base Material | Dimensions |
| $16.99 | Soft | Textile weave | Rubber | 36.6 x 11.8 x 0.1 inches |
The mouse pad is etched with row upon row of arrow-shaped imprints, creating a pleasant-to-the-touch, engraved bottom that provides ample friction without being aesthetically displeasing. As a result, you can expect your pad to stay securely in place.
However, due to its aesthetics, you can occasionally expect some foreign objects to stick to the bottom. Thus, you should take extra care about your desk and pad hygiene.
The edges are discreetly stitched, so you won't feel any discomfort while moving your wrists. It's suitable for wired, Bluetooth, or wireless mice.
Pricing
What do you get for $16.99? You get a large mouse pad that is resistant to water, sodas, and food stains. The Corsair mouse pad is simple to clean, and you can clean it with a cloth or wipes.
Pros
Well designed
Durable
Resistant to water and stains
Non-slip rubber base
7. MROCO Ergonomic Mouse Pad – Best Budget Gaming Mouse Pad
The MROCO Ergonomic Mouse Pad is a highly affordable mouse pad for gaming and comes with several handy features.
Like the best gaming mouse pad we mentioned in the first entry, this one also boasts a synthetic leather base. Because of that, we can't exactly say it's zero-slip, but it's close enough.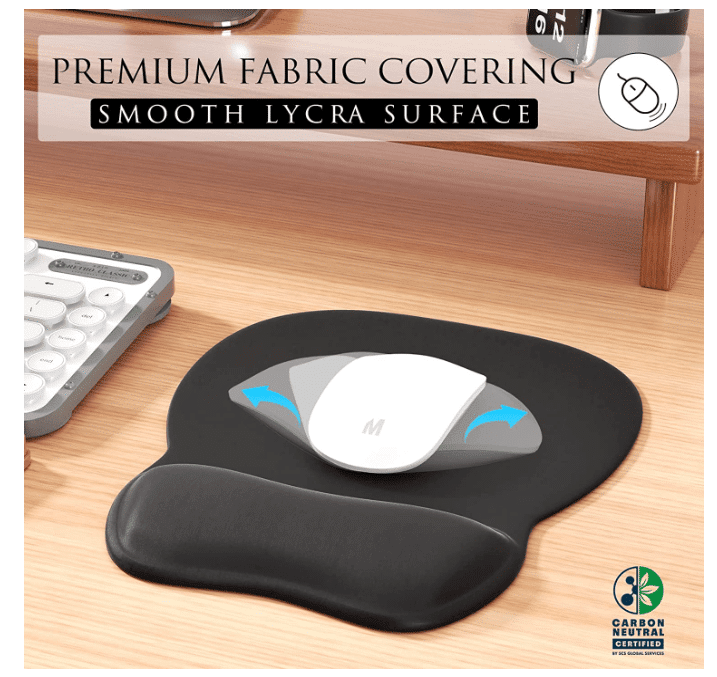 | | | | | |
| --- | --- | --- | --- | --- |
| Price | Surface Type | Surface Material | Base Material | Dimensions |
| $7.99 | Soft | Smooth Lycra | PU leather | 9.4 x 8.1 x 0.2 inches |
The MROCO pad is ergonomic and will support your wrist with a gel cushion, something you'll often find in the best gaming chairs. Gel-infused cushions are not as common as their memory foam counterparts. However, this is a nice touch, as support gel is firmer and will prevent your wrists from sinking into the cushion over time.
The smooth lycra surface provides more stretch and flexibility than the traditional cloth-based mouse mat, and it'll serve you well whether you use a laser mouse or one with optical sensors.
Pricing
The MROCO Ergonomic Mouse Pad's price is its main competitive advantage. It costs only $7.99 and is extremely cheap. You won't feel sorry even if it doesn't last a year, as you can immediately replace it with another one, without thinking twice.
Pros
Wrist support gel cushion
Affordable price
Ergonomic
Smooth lycra surface
Cons
A rubber base would make it more durable
8. TECKNET Mouse Pad – Ideal for Long Gaming Sessions
The TECKNET Mouse Pad stands out with a superb memory foam cushion designed to rest your wrists and relieve pain.
The soft cushion in the middle isn't something you would expect from a $7.99 mouse pad. Still, there it is and is filled with memory foam that keeps your wrists in place and helps you maintain a healthy body posture. As a result, this is the best gaming mouse pad if you intend to spend long hours gaming.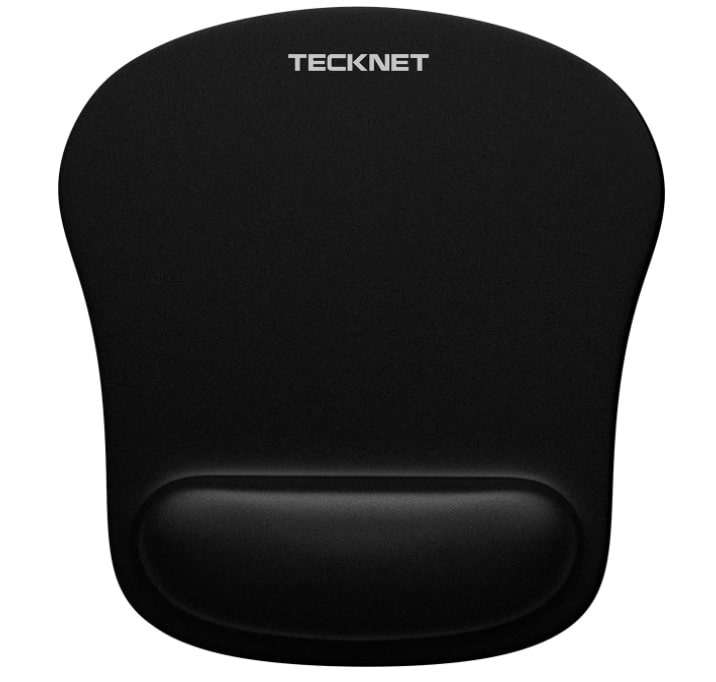 | | | | | |
| --- | --- | --- | --- | --- |
| Price | Surface Type | Surface Material | Base Material | Dimensions |
| $7.99 | Soft | Silk | Rubber | 9.44 x 8.46 inches |
The surface is made from processed silk, which makes it extremely smooth at the touch. But, at the same time, it is quite soft.
Consequently, it's probably not the most ideal for games where you're expected to move your mouse fast and react in a split second. Instead, this mouse pad will serve you well if you prefer single-player games like the Anno series or Civilization VI.
Pricing
The price of only $7.99 puts this peripheral in line with the best budget mouse pad like the MROCO Ergonomic Mouse. Although, this one will get you 36-month support if you need any advice or assistance with your mouse pad.
Pros
Cheap mouse pad
Memory foam wrist support
Silk-based surface
Helps relieve pain
Cons
Not recommended for fast-paced games
9. Gimars Large Memory Foam Mouse Pad – Helps Prevent Wrist Pains
The Gimars Large Memory Foam Mouse Pad stands out with a massive wrist cushion filled with memory foam.
It's ergonomic and helps gamers to prevent and recover from wrist pains. The memory foam cushion will provide you with comfort on your wrist and superior arm motion absorption. As a result, you'll enjoy the ease of movement with the Gimars pad, especially if you prefer playing MOBA, FTS, or RTS games.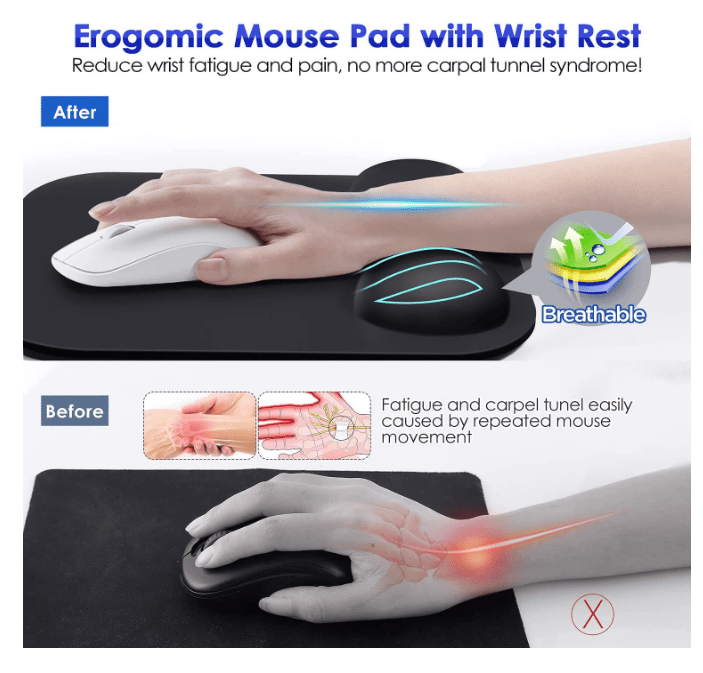 | | | | | |
| --- | --- | --- | --- | --- |
| Price | Surface Type | Surface Material | Base Material | Dimensions |
| $8.98 | Soft | Lycra | Rubber | 11 x 8.26 inch |
If you have issues with chronic fatigue syndrome or back pain, we suggest combining the best gaming chairs with this unique piece of gaming equipment. A chair will help you keep a healthy posture, while the Gimars gaming mouse pad will keep your arms in a natural position.
Pricing
You can get this fantastic mouse pad for only $8.98. We suggest buying a double pack if you spend long hours gaming. Memory foam isn't as durable as gel, so it would be good to have an instant replacement if the wrist pad starts to sag one day.
Pros
Memory foam wrist support
Large size
Smooth glide
Non-slip rubber base
Cons
Memory foam cushion can start to sag after 12 months of continuous use
10. Razer Gigantus – Increases Mouse Control and Speed
The Razer Gigantus may sound like the name of the T-Rex's predecessor, but this mouse pad is nothing to be afraid of.
However, Razer is known as a brand that often eats its competition for dinner. This famous software and hardware peripherals manufacturer has a long history of delivering some of the best gaming-oriented mouse pads. They didn't disappoint with this Razer mouse pad.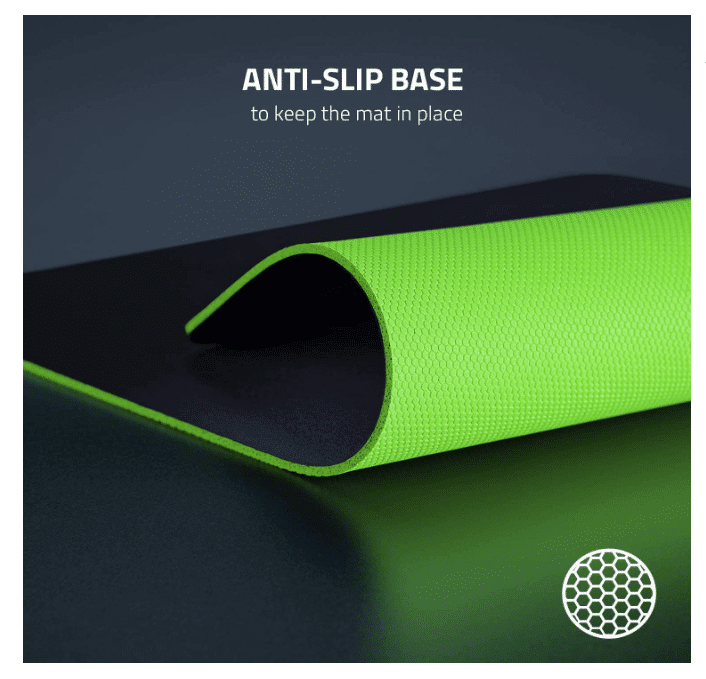 | | | | | |
| --- | --- | --- | --- | --- |
| Price | Surface Type | Surface Material | Base Material | Dimensions |
| $9.99 | Soft | Cloth | High-density rubber foam | 14.17 x 10.83 inches |
The rubber base prevents this pad from sliding and will simultaneously cover all those little imperfections on your desk (if there are any). As a result, you'll get a perfectly smooth surface for your mouse. Speaking about the surface, it's soft, but not too soft. This allows you to gain more control over your mouse without compensating for speed. You'll get a little bit of both.
Pricing
Razer is known for its premium products for gaming, which is why we were positively shocked by the price of this item. You can get Razer Gigantus for as little as $9.99.
Pros
Boosts control, precision, and speed while gaming
Premium manufacturer
Anti-slip base
High-density rubber foam
11. JIKIOU 2 Ergonomic Mouse Pad – Protects Skin from Irritation
The JIKIOU 2 Ergonomic Mouse Pad is made of durable PU leather and comes with a 3-year warranty.
The PU leather base will grip your desk to prevent your gaming mouse pad from sliding. At the same time, synthetic leather is an excellent option if you're allergic to rubber or have skin prone to irritation after long gaming sessions. Furthermore, the base is covered with high-quality, smooth lycra, which provides extra comfort to your hands and skin.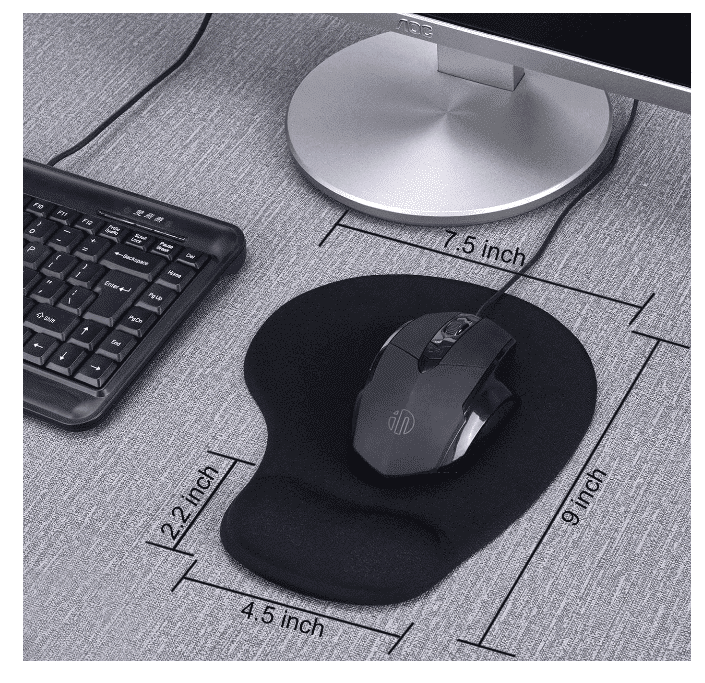 | | | | | |
| --- | --- | --- | --- | --- |
| Price | Surface Type | Surface Material | Base Material | Dimensions |
| $9.99 | Soft | Lycra cloth | PU leather | 7.5 x 9 inches |
The JIKIOU 2 has a gel-filled cushion that'll support your wrist and prevent pain and discomfort. At the same time, you'll appreciate the cooling effect this cushion will provide you when gaming at high temperatures.
Pricing
The price of this item is $9.99 on Amazon. At a glance, one might consider it pricey, especially if you consider the fact you can get a Razer mousepad for the same cost.
But here's the trick: this is the price for a pack of mouse pads. So, for this price, you get two.
Ultimately, it saves you extra money that you can use to buy the best gaming mouse. And you get a 3-year warranty for replacements or a full cash refund.
Pros
Smooth lycra surface
Gel wrist cushion
3-year warranty
Prevents skin irritation
Cons
Damaging the edges might cause the gel to come out
Comparison of the Best Mouse Pads for Gaming
See how other items compare with the best gaming mouse pad in the table below.
How to Choose a Mouse Pad for Your Gaming Setup
Mouse pads for gaming differ in thickness, material quality, size, softness, features, and price. Here's how to know which pad is the best for your gaming mouse and your carefully chosen gaming desk.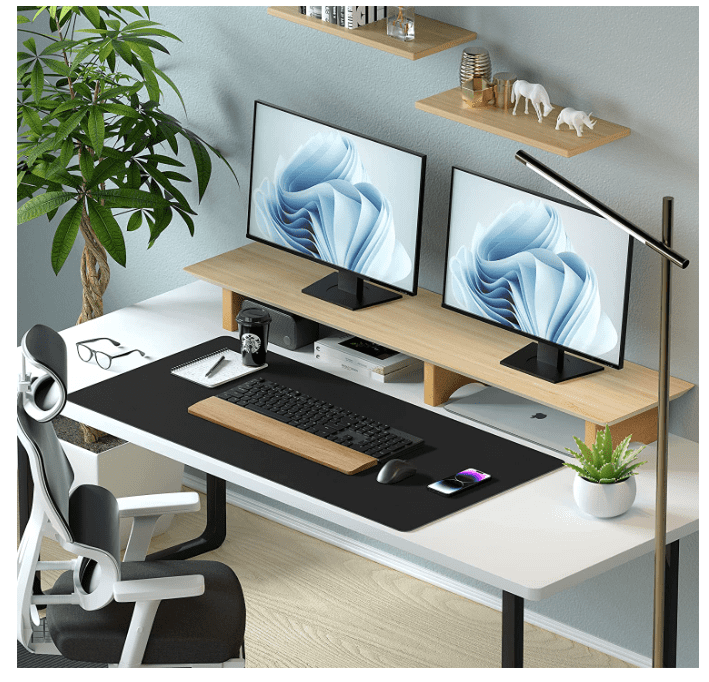 Hard/Soft
A desktop mouse pad can have either a hard or soft surface. Mouse pads can have glass, metal, or plastic surfaces. These items are typically more durable than the soft ones and easier to clean.
However, hard mouse pads also offer less friction, which makes it harder for gamers to control their mouse. This can be great, though, if you play games that require extra speed and immediate reactions.
Finally, hard surface mouse pads are more expensive than their soft counterparts. Still, if you're into speed and large sweeping motions, you can choose any Logitech mouse pad with a hard surface, and you'll definitely be pleased.
On the other hand, soft mouse pads are less durable. These pads are usually made of synthetic leather or cloth materials. The softness of their surface makes these pads ideal for gamers that value precision and enhanced movement control. On top of that, a softer mouse pad is more ergonomic and likely to offer extra features. Finally, cloth mouse pads are significantly cheaper than hard ones.
Size
Large gaming mouse pads can be in the service of a desk mat. It'll simultaneously provide a smooth glide to your mouse and serve as a keyboard pad. This, naturally, requires you to have a large desk that can support medium to large-sized mouse pads.
Aesthetics
A gaming mouse pad can play a significant role in creating a pro gaming environment. If you prefer a smooth and stylish mouse mat, you can search for uni-color items. Grey and black mouse pads will fit perfectly into any surroundings.
RGB mousepad boasts LED lights on the edges. LED lighting is energy efficient and ecologically friendly, but it also looks great in any gaming room.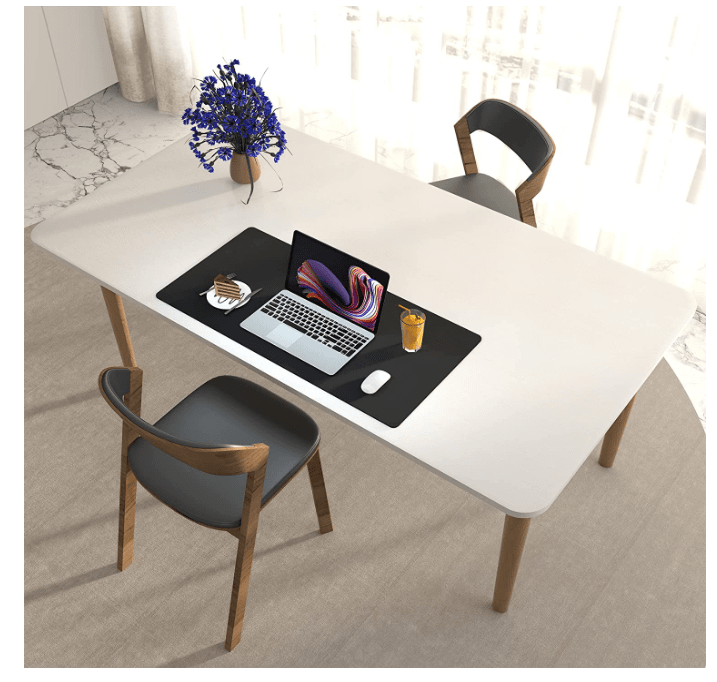 However, if lights aren't your cup of tea, you can always look for anime mouse pads, which boast well-designed artwork. If your gaming room is full of Dragon Ball posters and figurines, for example, you won't find it hard to snap up some great items.
Finally, you can combine everything from above or design your own small or big mouse pad. If that's the case, custom gaming mouse pads are perfect for you. You only need to upload your image, select the size and get your mouse pad tailored to your taste.
Features
A mouse pad gaming surface can boast several useful features that can enhance your gaming pleasure. Ergonomics is the most notable of all.
Getting the best gaming mouse does not guarantee your wrist and hands will be in a perfect position while playing.
Because of that, the best mouse pad will have a wrist support cushion designed to keep your wrist and your arm in a natural position. Ultimately, this will help you prevent back pain with good posture and keep you rested while gaming for a longer period.
Gaming Mouse Pad FAQs
Is it better to use a mouse pad for gaming?
Do pros use hard or soft mouse pads?
What is a good budget gaming mouse pad?
What size mouse pad do pro gamers use?
How long should a gaming mouse pad last?
Conclusion – What's the Best Mouse Pad to Buy for Gaming in 2023?
A great gaming mouse pad can be more than a mere support for your gaming accessories. It can prolong the lifespan of your mouse, serve as a keyboard mat, keep your desk clean and tidy, and help you prevent or recover from health issues connected to spending long hours sitting at a computer.
Our team of experts has concluded the Aothia Leather Desk Pad is the best gaming mouse pad in 2023. Its minimalist look makes it perfect for any gaming room setup. Moreover, the PU leather base makes it durable and resistant to stains including from water and soda products. The cloth surface provides you with a consistent glide allowing your mouse to respond to minuscule movements, and it gives you more control and extra precision while gaming, making it perfect for FPS, MOBA, and RTS games.
Waste no time: get Aothia Leather Desk Pad now and take advantage of its 1-year warranty.