Pepe made headlines again this bull season with a 100% surge at one point. But the momentum is losing as the inevitable price correction takes over. Time and again, it is being proven that speculation can't save a project.
The recent retreat has urged long-term investors to look for alternatives, preferably more stable tokens with robust underpinnings. Chimpzee is one of the most popular Pepe alternatives, thanks to its unique green meme coin theme and sustainability mission.
Here is a closer look at the project and whether Chimpzee can outperform Pepe in the coming weeks.
Chimpzee is not just a meme coin, but also a crypto sustainability token
Chimpzee is a crypto sustainability project that comes in a meme coin package.
In other words, it benefits from the wild popularity and rapid price appreciation of meme coins, without falling prey to the notorious dumps.
The meme coin theme of the project revolves around a half-ape, half-human character called Chimpzee who is on a mission to fight against wildlife destruction. It is a unique character in the popular meme culture that is saturated with purposeless doge, shib, and pepe clones.
The project's vision is to bring more enthusiasm to causes like wildlife conservation and climate action with the help of Web3 innovation.

It benefits in multiple ways by becoming a part of the new wave of Web3 revolution.
To begin with, it doesn't solely rely on educating users or creating awareness to boost participation. That tactic has proven to be inefficient as most people need more than just awareness to act against a threat they perceive as distant. Even if they do care, capitalist society has its share of daily concerns to deal with like work, career, commute, relationships, health, and new Netflix series to name a few.
If we wait for an entire population to become 'woke', we will keep waiting and climate change will phase out magnificent fauna and flora from the face of Earth.
Chimpzee uses crypto incentivization to bring more people to wildlife conservation. For example, when you buy products or assets from Chimpzee platforms, a share of the revenue goes to wildlife initiatives. But you will also earn rewards for the purchases you make from the platform.
They will be distributed in CHMPZ tokens, which can be converted to other cryptocurrencies or fiat currencies in crypto exchanges. So in addition to being the payment currency, CHMPZ is also the reward token of the Chimpzee ecosystem.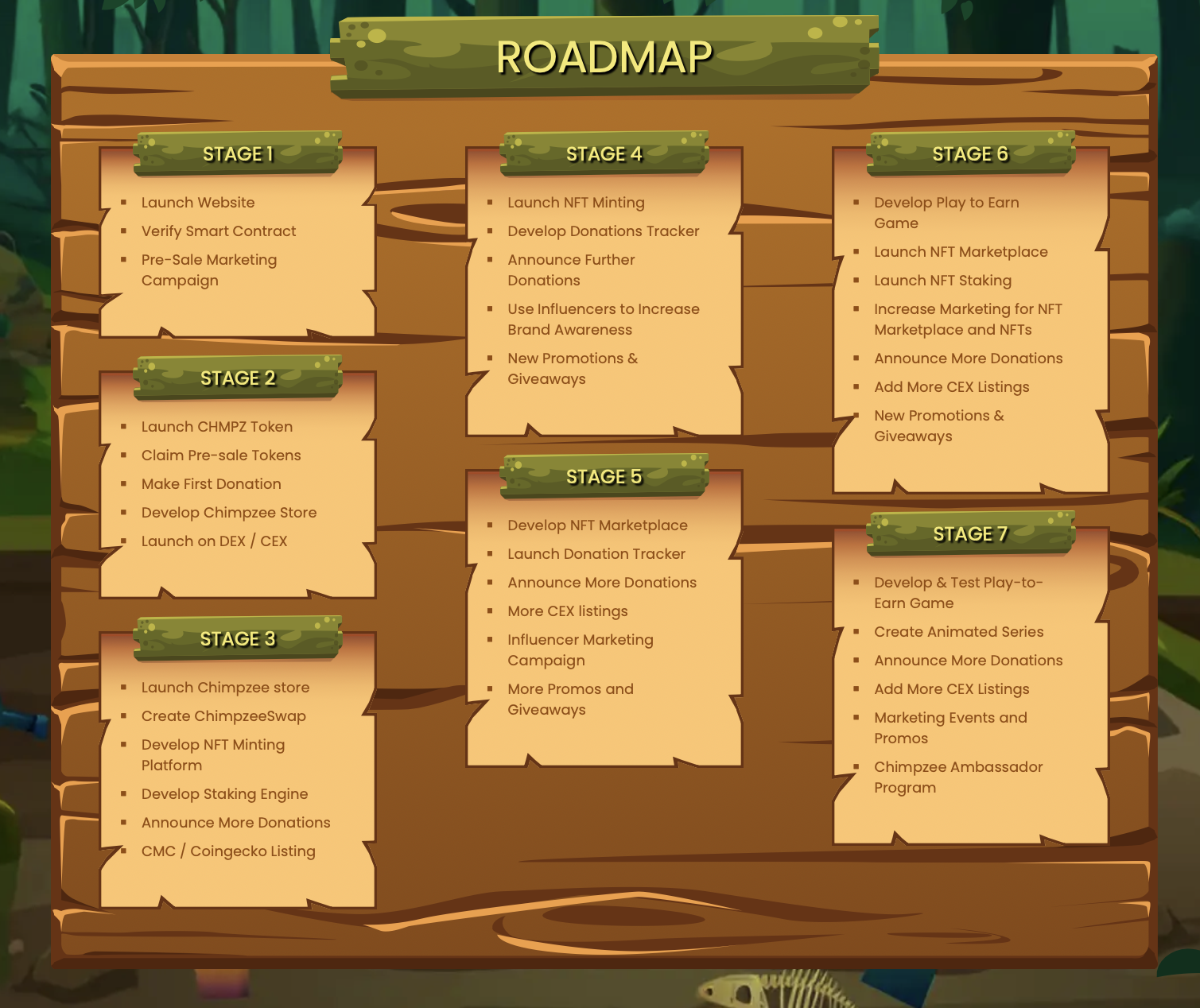 Blockchain integration ensures transparency
Another key tool that Chimpzee makes use of to gain a competitive edge in the sustainability market is blockchain integration. Blockchain is known for its unparalleled transparency. Being run on a decentralized ledger, all public blockchain transactions are for anyone to see and verify.
The mechanism ensures that users know where their contribution is headed.
The credibility factor is further established by the fact that Chimpzee has already begun its donations.
Planted 1200 trees to restore the Brazilian rainforest,
Donated $15,000 to save desert-adapted elephants,
Planted 20,000 trees in Guatemala,
Donation in support of preserving 1000 sq meters of Australian rainforest,
Donation to save forgotten animals in war-torn Ukraine,
Donation to plant over 5,000 trees in Tanzania to help fight climate change.
It is rare to see a project implement its promises prior to the token launch. Chimpzee has been consistently donating to various environmental causes every time it crosses a presale milestone.
In addition to donations, Chimpzee has also been burning its token supply, bringing it down to $34 Billion during the last presale milestone.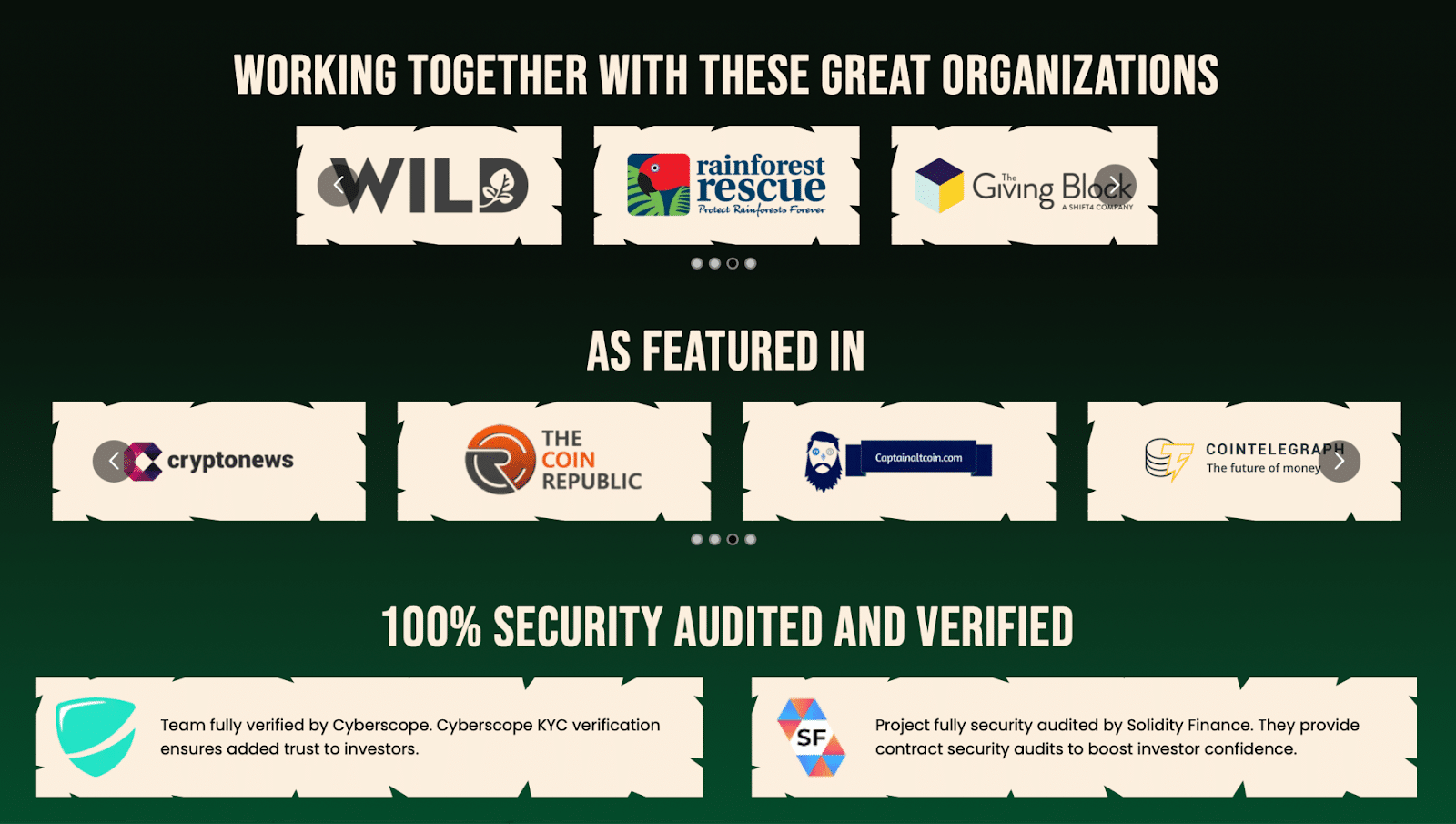 The measure has been taken to further protect investors from the volatile price actions of the crypto market. The depleting supply ensures that even if the token falls prey to a downtrend, it will emerge and retain its value during the next token burn.
Don't Miss the 'End of Presale' Giveaway
Chimpzee has launched a compelling giveaway program as part of its presale sell-out. The presale, divided into 16 stages with a gradual price increase, is already in the 15th stage. It has been garnering heavy traffic over the last few days as the meme coin mania turned attention to Chimpzee's green alternative with a purpose.
Here is how the contest works and how you can stand a chance to earn rewards too.
Chimpzee End of Presale Giveaway 🥳

Are you ready for some exciting news? As we approach our 2 million softcap, we're thrilled to introduce our Chimpzee End of Presale Giveaway! Your chance to win a treasure trove of CHMPZ tokens is here, and it's as thrilling as it gets!🚀🔥… pic.twitter.com/B8HqUQxIRj

— Official Chimpzee Project (@RealChimpzee) November 1, 2023
How High Can $CHMPZ Go?
Chimpzee's merchandise store is already live and gives users a glimpse of the products they can buy from the platform. The fully operational store will be launched in a few weeks. The NFT store is also in development. It will feature a unique profit-sharing mechanism that rewards active traders.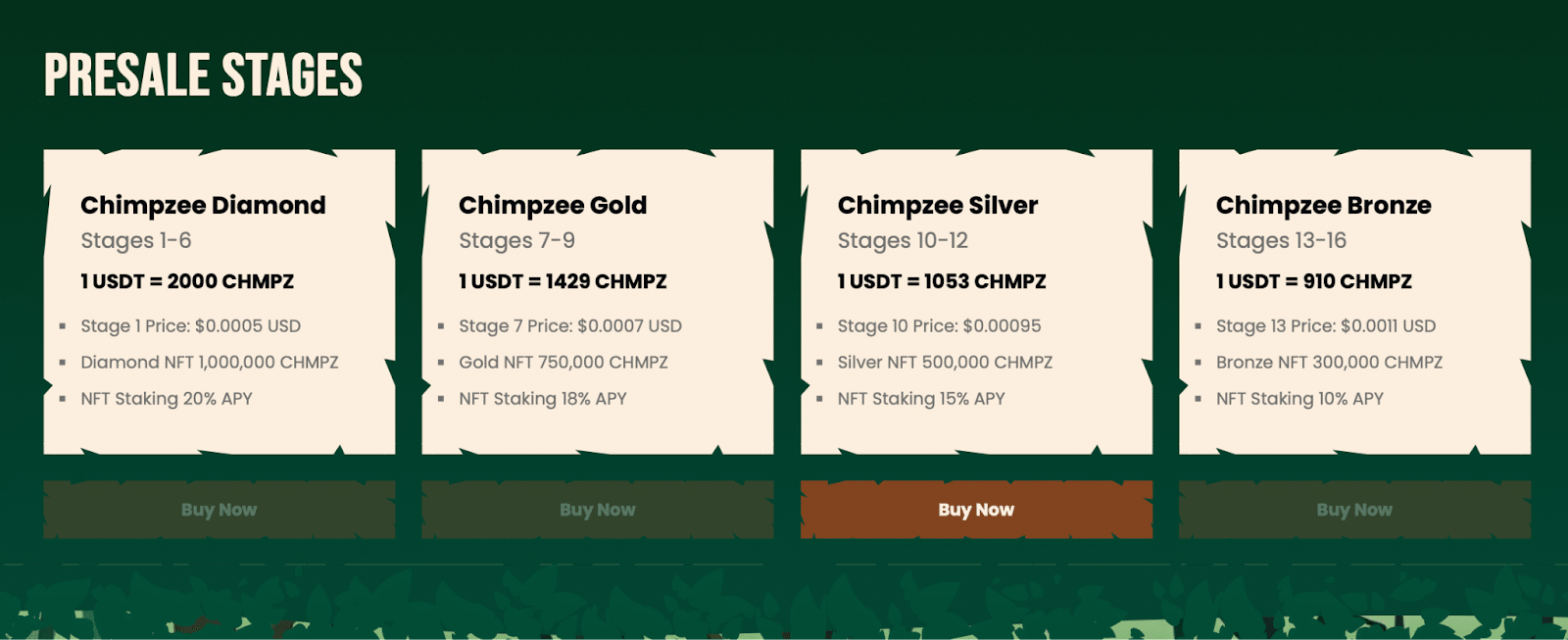 The project is ahead of its roadmap so far, whether it is product development or presale. It shows promise in terms of credibility, utility, and community engagement. A conservative price prediction for the green meme coin is a 10X to 15X surge within the first few weeks of the token launch.