Buying one of the best vacuum cleaners is the best way to keep your household clean and sparkling. This invaluable household appliance comes in various shapes and sizes, including handheld, bagless, upright, powerful cylinder vacuum cleaners, and more. The type of vacuum you get largely depends on your floor type, house pets, and furniture.
After extensive research, we found the best UK vacuum cleaners in 2023. In this article, you'll learn about each one and have the means to easily compare them head-to-head in terms of their type, weight, bin size, and suction power. You'll also discover why Eureka WhirlWind, a powerful and cheap vacuum cleaner, takes the top spot on our list.
13 Best Vacuum Cleaners Ranked
We're confident that Eureka WhirlWind is the best choice for hard floors, carpets, pet hair, and dust cleaning this year. However, our list contains other outstanding options, including various types of other best-rated vacuum cleaners in the UK:
13 Best Vacuum Cleaners Reviewed
Let's dive into the details regarding these vacuum cleaners, including an in-depth review of their pros and cons to help you make an informed purchase and pick the best model that suits your home.
1. Eureka WhirlWind — Overall, the Best Vacuum Cleaner to Buy in 2023
The Eureka WhirlWind is a lightweight vacuum cleaner with exceptional manoeuvrability and performance on bare floors. It's the best lightweight vacuum cleaner in the UK, meaning it's easy to move and lift to reach the most remote spots in your household.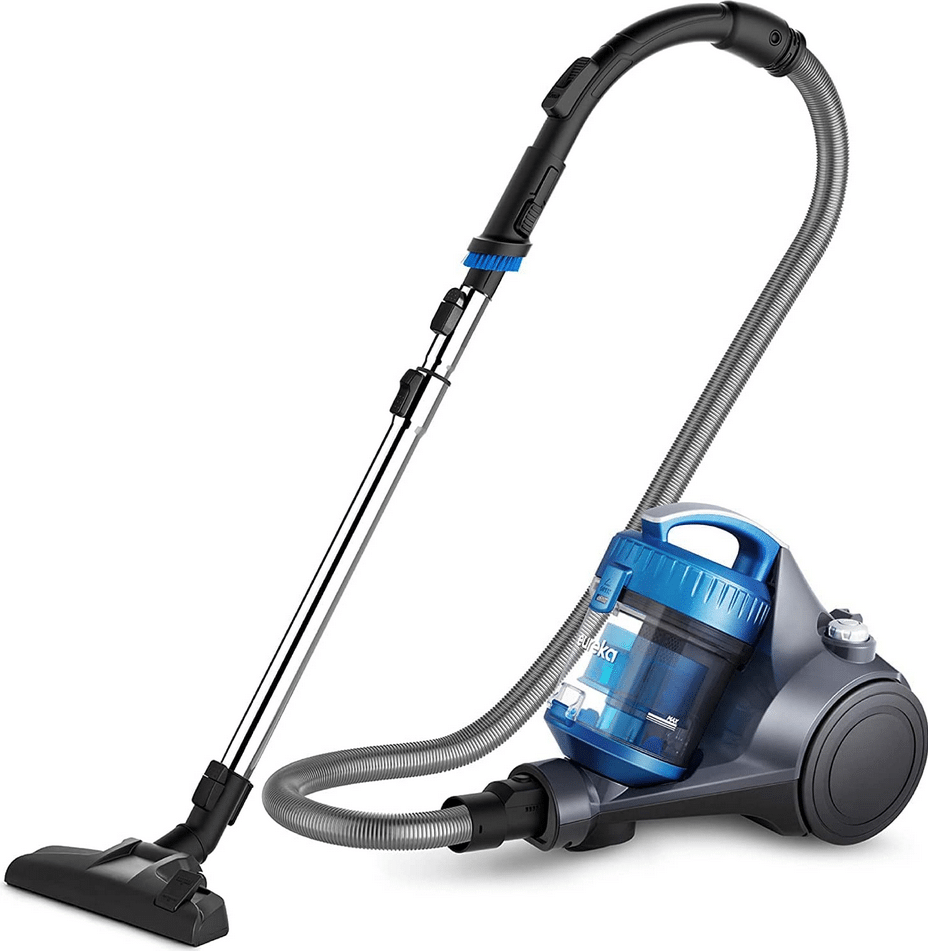 | | | | | | |
| --- | --- | --- | --- | --- | --- |
| Price | Vacuum Type | Bagless | Power | Bin Size/Capacity | Weight |
| £96.24 | Canister | Yes | 850 watts | 1.5L | 3.72 kg |
It tops our list as it's one of the sturdiest bagless vacuums with an exceptional design. The company made most of WhirlWind's components out of hard plastic, but it features a rubber handle and a metal telescopic wand. The vacuum assembly is also straightforward and quick, as most parts snap together without resistance.
What we love most is the High-Efficiency Particulate Air (HEPA) filtration. This ensures the air in your household doesn't get polluted by dust particles while you clean. Beyond this, it's easy to maintain since its dirt compartment opens from the top, and it's easy to notice when it reaches its maximum capacity. To keep it clean, you can wash its pre-motor and post-motor filters using water, which you should then air dry for 24 hours.
Besides being easy to carry, it's easy to use this vacuum on the move, thanks to its adjustment controls for different surfaces. You can extend the vacuum's bristles for hard floors or retract them for carpet cleaning, and you can also control its suction power from the wand/handle.
Although bagless canister vacuums are usually expensive, the Eureka WhirlWind is surprisingly affordable. In addition, unlike most of its kind, this model isn't noisy, with a maximum noise level of 72.3 dBA when cleaning bare floors.
Pros
Able to clean up small and large debris
No recurring costs thanks to easy maintenance
Comes with a soft bristle brush for tight spaces
Good for vacuuming cars
Outstanding pet hair removal
Cons
You will have to move it often because of its short cord
2. Henry HVR — A Reliable Vacuum Cleaner With Large Bags
The Henry HVR 160-11 is one of the best Numatic Henry models, an iconic red vacuum cleaner that thousands of professionals love. It's powerful, has a robust build, and is one of the easiest-to-use vacuum cleaners on the market.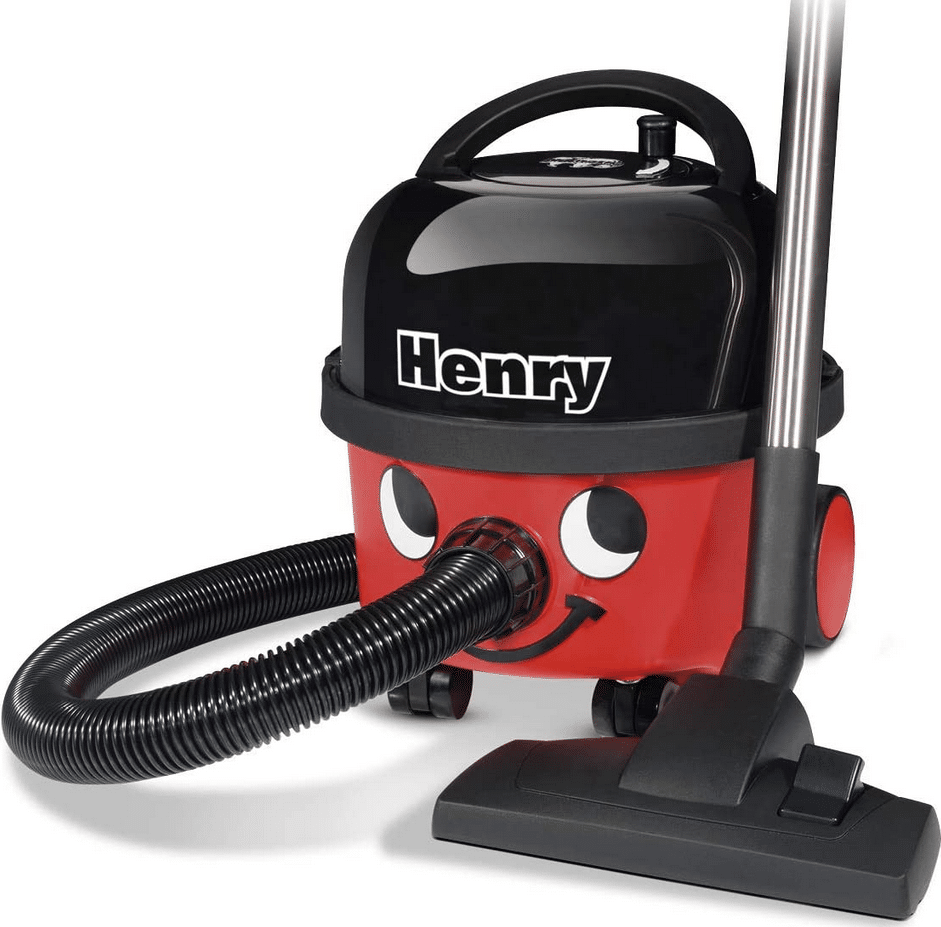 | | | | | | |
| --- | --- | --- | --- | --- | --- |
| Price | Vacuum Type | Bagless | Power | Bin Size/Capacity | Weight |
| £101.87 | Canister | No | 620W | 6L | 7.5 kg |
The Henry HVR has large bags with exceptional HEPA filters that prevent dust from escaping the containers. That's particularly useful if you have allergy sufferers in your household, and it keeps the air pollution-free. Once you use all the bags included with this model, we suggest buying original Henry HEPA bags, as they're self-sealing, robust, and won't rip.
Besides this, this Hoover has a 10m long power cable and a 2.4m long hose, which means you'll be able to vacuum up to 12.4m away from the power socket. It also has a tool stand that you can use to store two accessories that come with this model. You can expect a crevice tool, dusting brush, upholstery brush, floor head, and an extension tube to arrive with this model.
Its suction power is measured at 408 Air Watts, making this model one of the most powerful vacuum cleaners on the market. It effortlessly cleans up messy surfaces, like after a DIY job, because it can collect large debris and pulls dirt out of floors and carpets.
It uses the old-fashioned wand made of three metal poles that connect, which means you can reduce its suction power by adjusting the curved part of the wand. That's useful when cleaning small rugs and objects to avoid sucking them up.
Pros
Easy to move around
Perfect all-rounder
On-board tool storage
Wind-in cable
No-mess bags
Cons
3. Shark NV602UKT Portable Upright Vacuum — Exceptional Anti-Allergen Hoover
The Shark NV602UKT is a sleek vacuum cleaner that uses Shark's iconic lift-away technology. With this feature, you can remove the main body from the frame and use it as a portable vacuum cleaner. That's particularly useful when cleaning stairs and tight or hard-to-reach corners.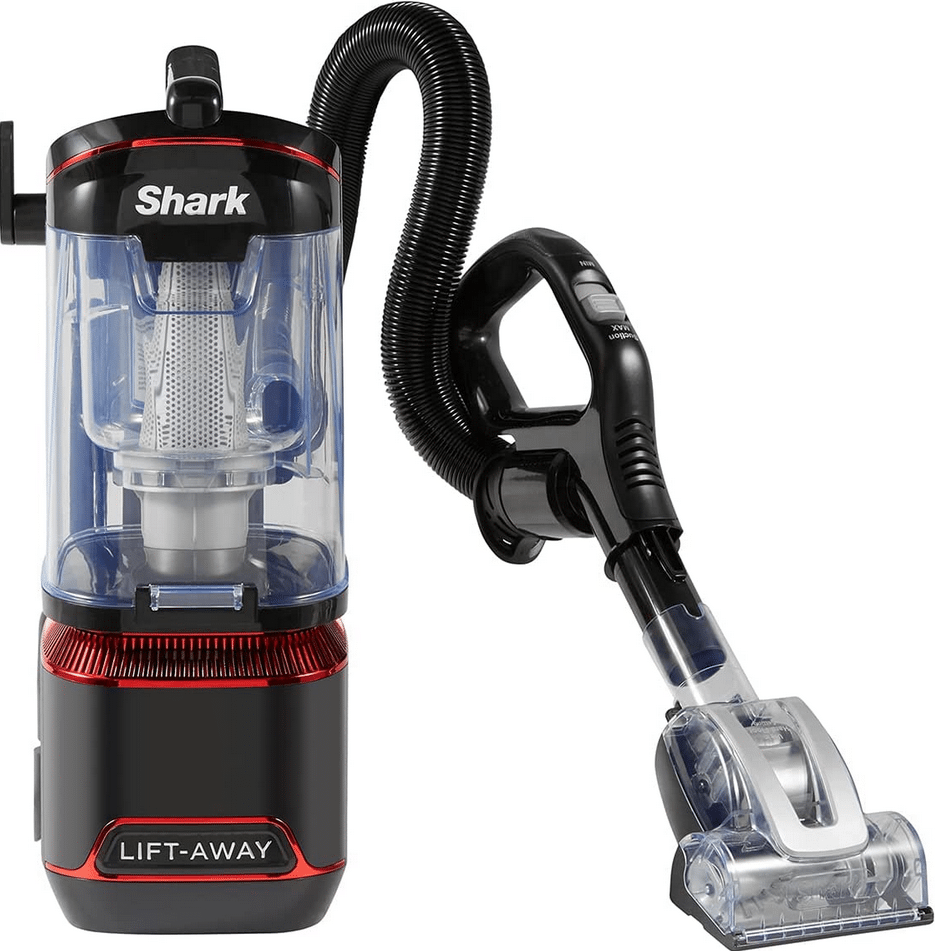 | | | | | | |
| --- | --- | --- | --- | --- | --- |
| Price | Vacuum Type | Bagless | Power | Bin Size/Capacity | Weight |
| £169.95 | Upright | Yes | 750W | 1.1L | 5.25 kg |
This upright vacuum cleaner has a reliable filtration system, including a HEPA filter near the motor. The HEPA filter prevents dust and particles from reaching the motor, while its Anti-Allergen Complete Seal, made of a sponge and a foam seal, locks in 99.9% of dust and particles.
The Shark NV602UKT is easy to assemble as its parts snap together without effort. Beyond this, its popularity is largely due to its compact size, making it easy to store in your cupboard when you finish cleaning. That said, you won't have to worry about room for additional tools, as it has built-in tool storage for every component that comes with it.
It's also worth noting that this vacuum cleaner is perfect for homes with pets as it comes with various tools, including a pet power brush that removes even the most stubborn hair. You can also expect crevice and upholstery tools to help you clean remote corners and different types of furniture.
Pros
Incredible suction power
Exceptionally quiet
LED Headlights
Excellent value for money
Great all-around performance
Cons
Worse performance on laminate floors than its competition
4. Gtech AirRam MK2 — Upright Vacuum Cleaner With a Powerful Dirt Ejection Mechanism
The Gtech AirRam MK2 is one of the best cordless vacuum cleaners on the market, thanks to its exceptional battery life and floor-cleaning performance. It features a powerful brush that dislodges hairs, dirt, dust, and small debris from your carpets and floors, and its high-powered motor then sucks it into the vacuum.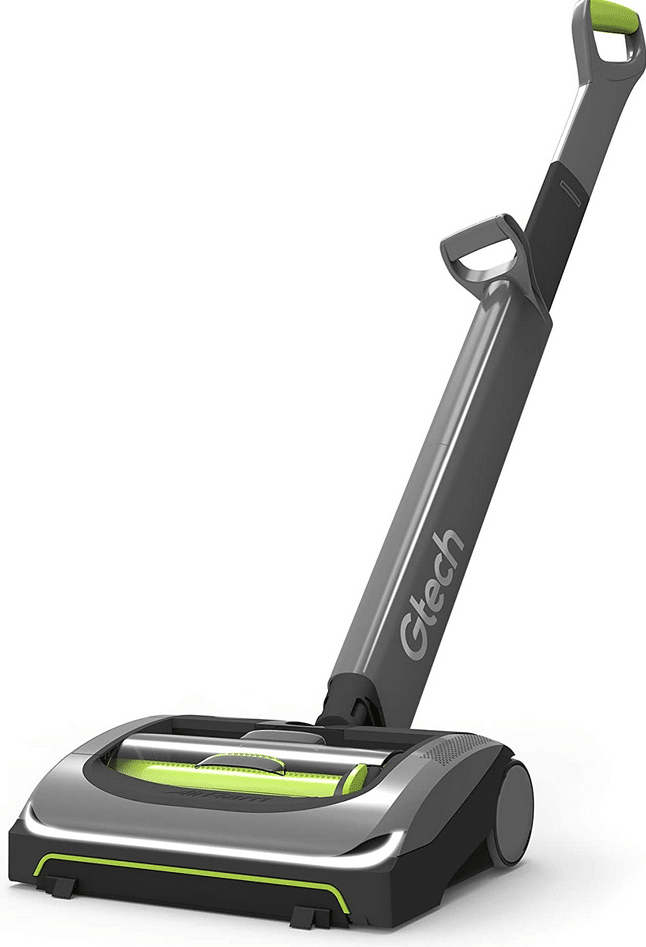 | | | | | | |
| --- | --- | --- | --- | --- | --- |
| Price | Vacuum Type | Bagless | Power | Bin Size/Capacity | Weight |
| £230 | Upright | Yes | 100W | 0.8L | 3.2 kg |
The AirRam MK2 is an ideal solution for cleaning underneath your sofas, tables, and beds, thanks to its low-profile handle and lightweight build. What we like the most about this model is its dirt-ejecting mechanic, which allows you to eject bales of dirt using a little slider on its bin. That means you won't have to get your hands dirty every time since you'll only need to touch the bin when you want to clean the filters.
Beyond this, it runs on a 22V lithium-ion battery for 40 minutes after a four-hour charge. You can track your remaining battery by looking at the four LED lights on the side of this vacuum cleaner, and you can shut it down by pressing a foot-operated power switch.
What customers love about the AirRam MK2 is that it allows you to seamlessly go over different surfaces, as it doesn't require a special mode for carpets or hard floors. Its motorised brush bar removes stubborn dirt, and its AirLOC design ensures no large debris or dust is left behind.
Pros
Easy to empty and clean
LED headlights
Head has to-the-edge cleaning
Very light for an upright
Outstanding battery life
Cons
5. Dyson V8 Animal Cord-Free Vacuum — Powerful Handheld Hoover for Pet Owners
The Dyson V8 Animal has one of the best filtration systems and an equally powerful battery with up to 40 minutes of run time. What makes this model stand out from other cordless models is its ability to replace a traditional corded vacuum cleaner in most households.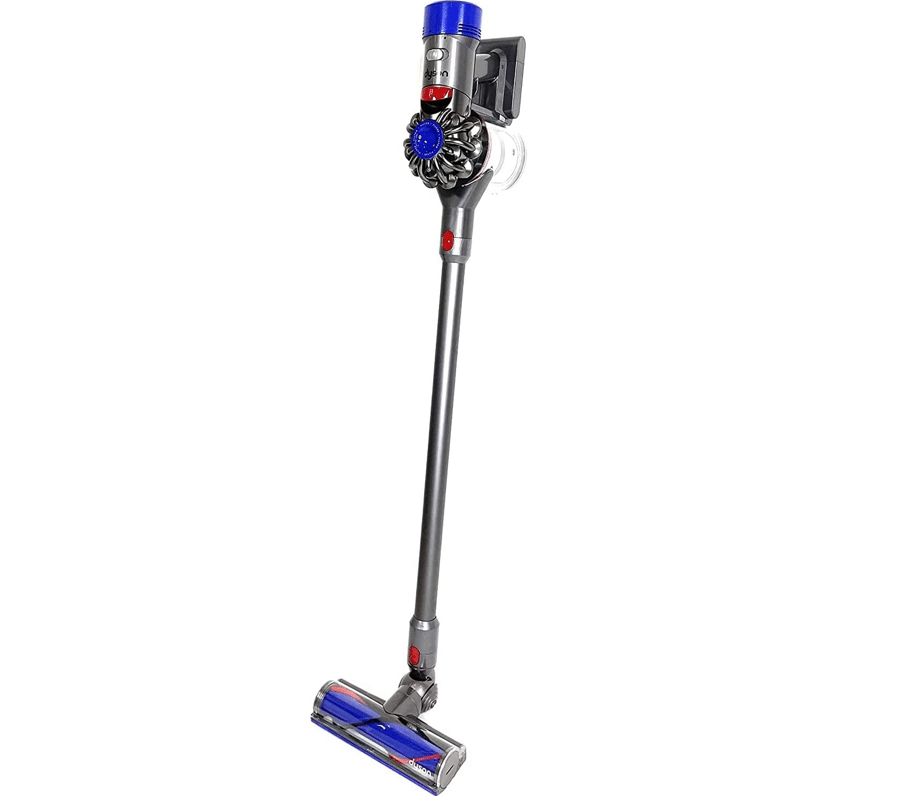 | | | | | | |
| --- | --- | --- | --- | --- | --- |
| Price | Vacuum Type | Bagless | Power | Bin Size/Capacity | Weight |
| £315.51 | Handheld | Yes | 120W | 0.54L | 2.5 kg |
Thanks to its capable attachments, the Dyson V8 Animal is one of the best vacuum cleaners for pet hair removal and carpet cleaning. Regardless of its mode – MAX or standard – this vacuum cleaner will leave no pet hair behind. Using its Mini Motorised tool, you can effortlessly clean sofas and other furniture where your furry companions like to spend their time.
Using the Direct Drive floor head on carpets yields impressive results, as it can dig out even the most persistent dirt and dust. While this Dyson vacuum cleaner can match a corded hoover in its standard mode, its MAX mode makes cleaning even quicker and more thorough.
Beyond this, thanks to its lightweight build and manoeuvrability, the Dyson V8 Animal outshines most corded vacuum cleaners with its stair-cleaning capabilities. Its dusting brush attachment is exceptional and gentle, equipped with soft and long bristles, and allows you to smoothly dust your shelves, keyboard, vents, and similar objects.
Pros
Mini-tool for dog beds
Wall dock charger
Great floor head design
Robust and reliable build
Superb suction power
Cons
Its bin is small for a household with more than one pet
6. Vax Mach Air — Outstanding Multi-Cyclonic Upright Vacuum Cleaner
The Vax Mach Air is a powerful and cheap vacuum cleaner with powerful pick-up performance and no loss of suction, thanks to its multi-cyclonic technology. It includes a 2-in-1 dusting brush and crevice tool, allowing you to clean the most delicate spots in your household.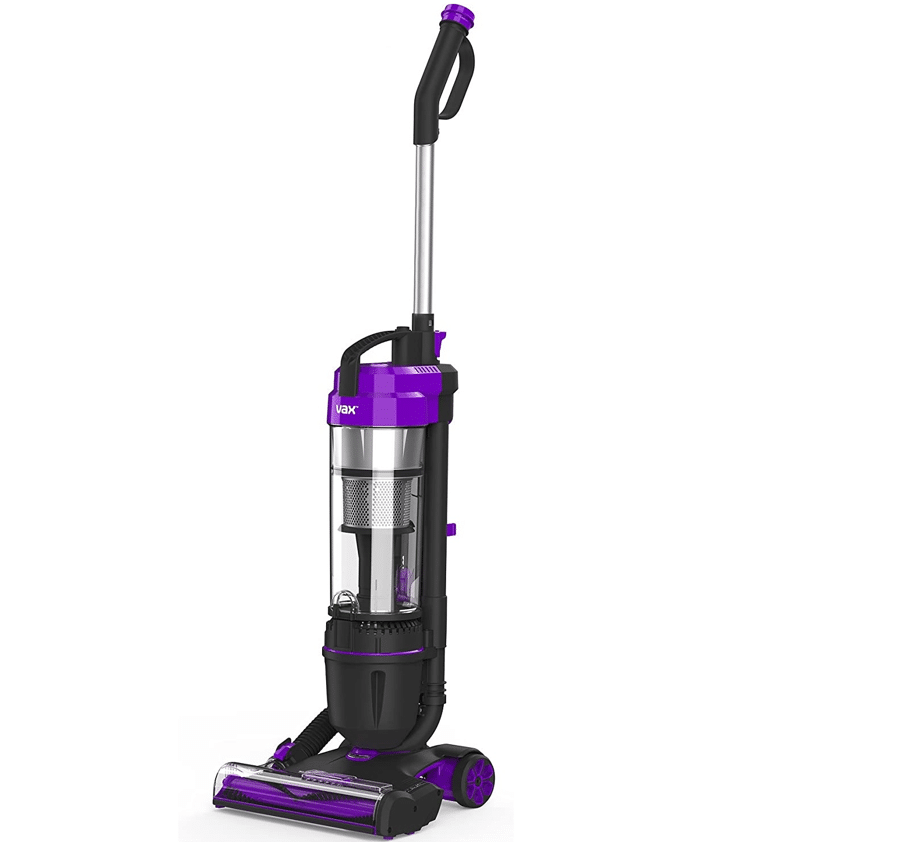 | | | | | | |
| --- | --- | --- | --- | --- | --- |
| Price | Vacuum Type | Bagless | Power | Bin Size/Capacity | Weight |
| £89 | Upright | Yes | 820W | 1.5L | 4.9 kg |
Besides being a lightweight vacuum cleaner, the Vax Mach Air is a compact household appliance that's easy to store and use. It has a flexible handle with eight adjustable height settings, ensuring you won't have trouble using this model no matter your height.
The Vax Mach Air also doesn't require bags, meaning you won't have to purchase replacements, making it a cost-effective solution in the long run. Also, unlike most bagless vacuum cleaners, this model has a large capacity of 1.5L, which allows for extended cleaning sessions.
Pros
HEPA certified model
Great price point
Allows you to switch off the brush
Great suction power
Two-in-one tool attachment (crevice tool and dusting brush)
Cons
7. Breeze Evo Upright Hoover — Bagless Option With Massive Bin Storage
The Breeze Evo offers exceptional bin space and suction power for a cheap vacuum cleaner. It's also one of the only cheap hoovers with a long crevice and upholstery tool, making it a superb choice for multi-purpose cleaning.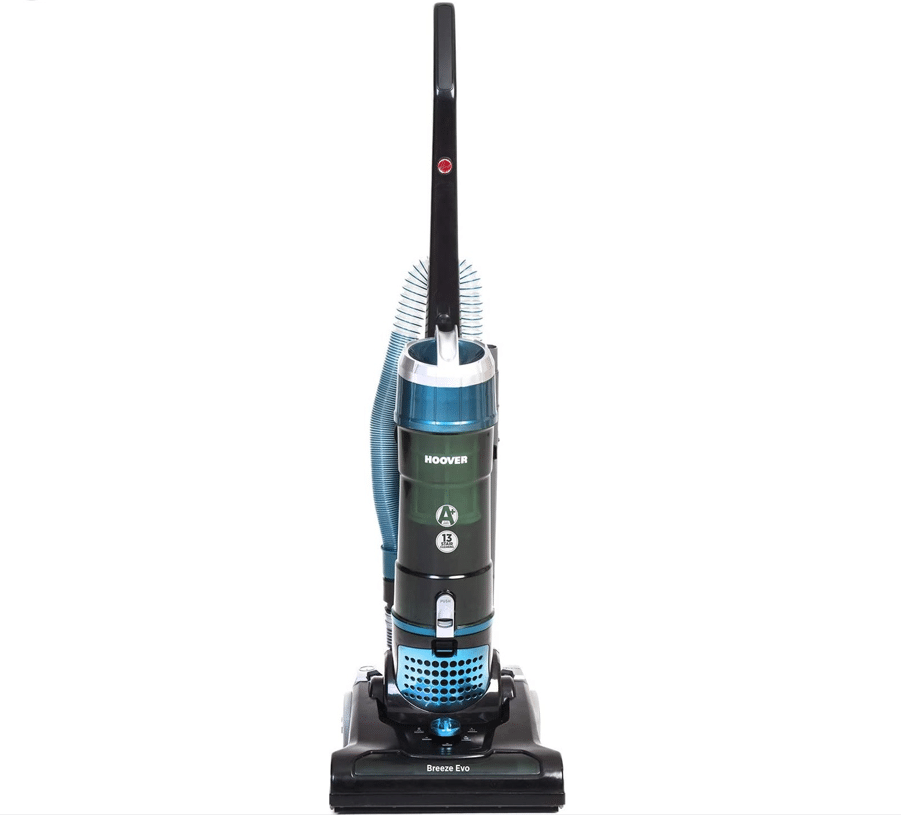 | | | | | | |
| --- | --- | --- | --- | --- | --- |
| Price | Vacuum Type | Bagless | Power | Bin Size/Capacity | Weight |
| £89 | Upright | Yes | 850W | 3L | 6.4 kg |
The Breeze Evo allows you to spend more time cleaning and less time emptying its dust bin, thanks to its impressive 3L capacity. Besides being time effective, this hoover is intuitive and easy to use thanks to the two-foot pedals that control its power and recline.
For its price, this vacuum features an impressive floorhead with a rotating brush bar to stir up carpet fibres and clean the surface deeply.
To top it off, we were positively surprised by Breeze Evo's powerful suction and how easy it is to push across hard floors while collecting a substantial amount of debris.
Pros
5 settings for brush bar height
Outstanding value for money
High level of reach with its 4.5m stretch hose
It's easy to empty its large dustbin
Offers great low-pile carpet performance
Cons
Low performance on thick-pile carpets
8. Gtech Multi MK2 Handheld Vacuum — High-End Hoover for Hard-to-Reach Places
The Gtech Multi MK2 removes pet hair from any surface and deals with any persistent dirt in upholstery or carpets. It has phenomenal battery life for a handheld vacuum cleaner, and its 0.4L bin capacity means you won't have to empty it too often.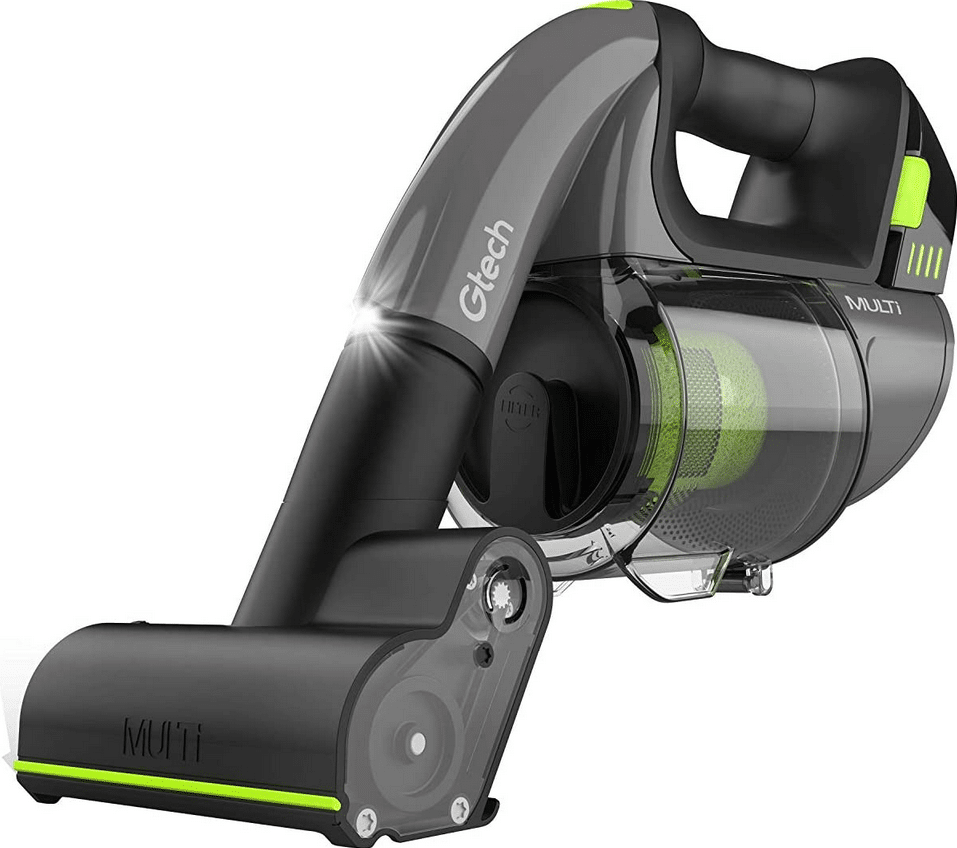 | | | | | | |
| --- | --- | --- | --- | --- | --- |
| Price | Vacuum Type | Bagless | Power | Bin Size/Capacity | Weight |
| £170 | Handheld | Yes | 44W | 0.4L | 1.5 kg |
The Gtech Multi MK2 is a lightweight and very manoeuvrable model, which means you can use it to clean everything from your shed to your car. In fact, it arrives with a long wand tool that's helpful even for cleaning ceilings and skirting boards.
Moreover, you'll appreciate the LED headlight while cleaning in low-light places, like below your furniture or inside your car, as it illuminates everything in front of this handheld appliance.
On the whole, it also has a longer battery life than most handheld vacuums, with 20 minutes of run time after four hours of charging.
Pros
Powerful suction for a handheld vacuum
Great for stairs and upholstery
Comes with a crevice tool and dusting brush
Its Power Brush tool easily removes stubborn dirt
Easy to empty and use
Cons
Not ideal for small cars and very narrow spaces
9. Laresar Cordless Vacuum — Powerful Hoover With a LED Touch Display
The Laresar Elite 3 is a unique vacuum cleaner with a sleek design and various features that make it easy to use. It has a durable battery with up to 50 minutes of run time after you charge it fully.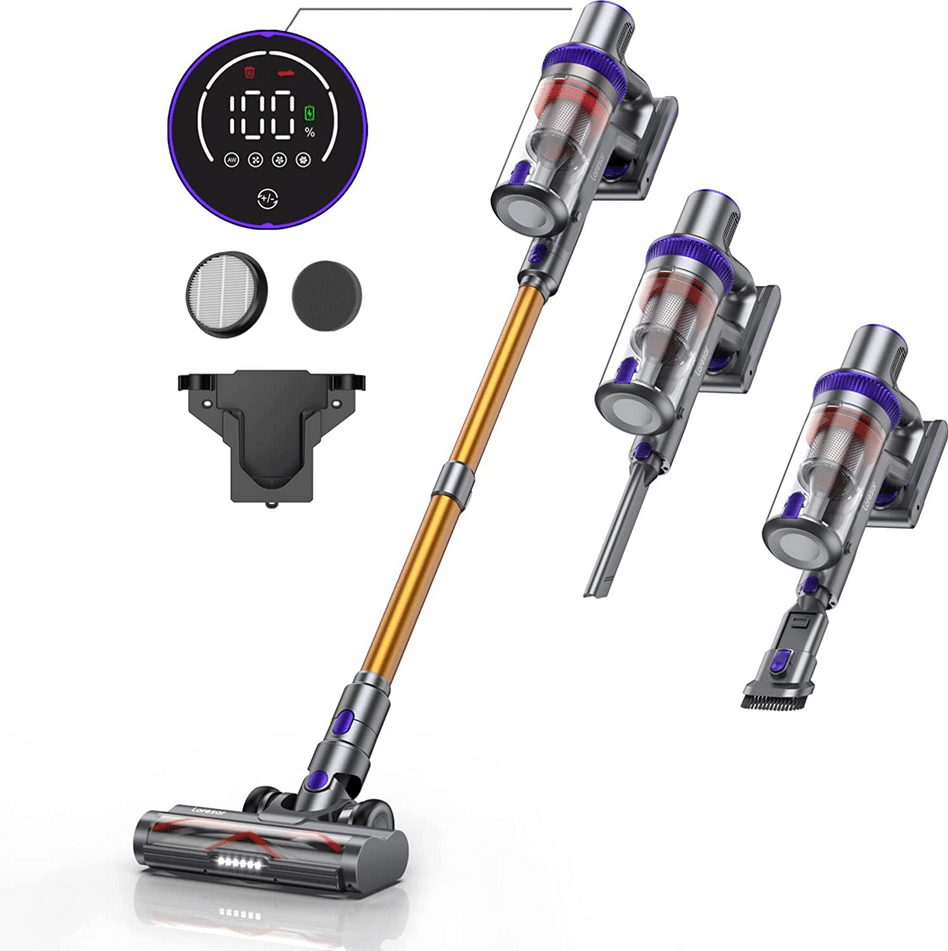 | | | | | | |
| --- | --- | --- | --- | --- | --- |
| Price | Vacuum Type | Bagless | Power | Bin Size/Capacity | Weight |
| £282.33 | Handheld | Yes | 400W | 1.5L | 3.8 kg |
Unlike most cordless models, the Laresar Elite 3 has a LED display that conveniently shows its battery life, active cleaning mode, and charging status. It also has a dust bin sensor that detects when the bin is full and instructs you to empty it via the model's LED display.
That said, pet owners will appreciate this vacuum cleaner's special pet hair brush that gently cleans your furniture without damaging it and effectively removes those pesky hairs.
Besides this, the product arrives with more attachments, like an upholstery tool, a cleaning head for carpets (and hard floors), and two additional small brushes with bristles and rubber fingers.
Pros
Robust and modern design
Powerful suction with three adjustable modes
HEPA and sponge filters
Detachable battery
Reduces hair tangles
Cons
Battery life drastically reduces in "Full Power" mode
10. Bosch UniversalVac 18 — Superb Filter Efficiency Handheld Vacuum Cleaner
The Bosch UniversalVac 18 joined the Bosch Home & Garden lineup of tools designed to help clean and improve your household. Its extensions make it one of the best handheld vacuums for extensive home and car cleaning.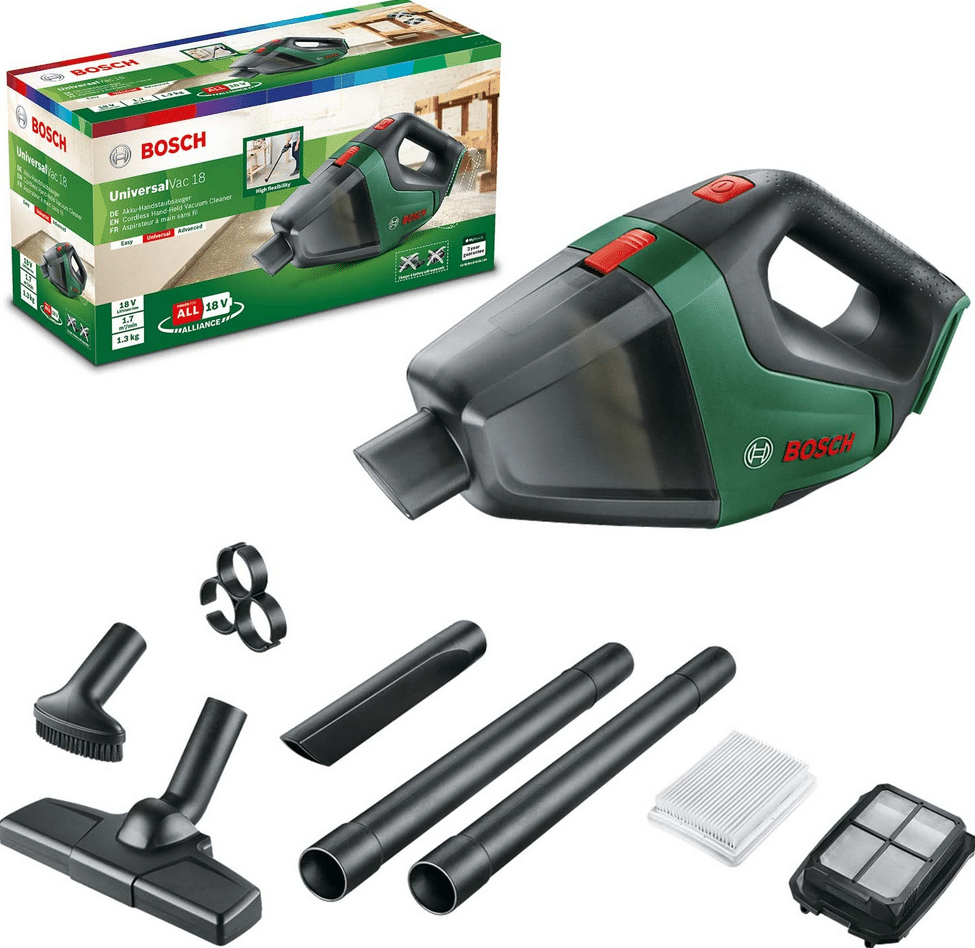 | | | | | | |
| --- | --- | --- | --- | --- | --- |
| Price | Vacuum Type | Bagless | Power | Bin Size/Capacity | Weight |
| £54.95 | Handheld | Yes | 18W | 0.5L | 1.1 kg |
Bosch's 18V batteries that power their other products are compatible with this model, making it a suitable pick for someone who already uses Bosch products. Since this model doesn't include the 18V battery and charger kit, you'll have to purchase them separately if you don't own them.
That said, the Bosch UniversalVac 18 has a clever dual filter design, with a pre-filter that prevents large debris from clogging the main filter. Plus, the filters have flexible rubber frames that allow for easy removal and cleaning.
Overall, this handheld vacuum cleaner performs surprisingly well even with its 70cm long extension tubes, maintaining impressive suction power no matter the distance.
Pros
High-quality build
Strong suction power
Comes with various tools and extensions
Durable and top-quality batteries
Great for textile surfaces
Cons
No bundle purchasing option that contains the battery and charger
The Bagotte BG 750 is a robotic hoover with a 120-minute run time, a built-in mop, and a 0.6L trash bin. You can control its trajectory via its smartphone apps, Amazon Alexa, or Google Assistant, and it uses infrared sensors to avoid collision with big objects when on auto-pilot.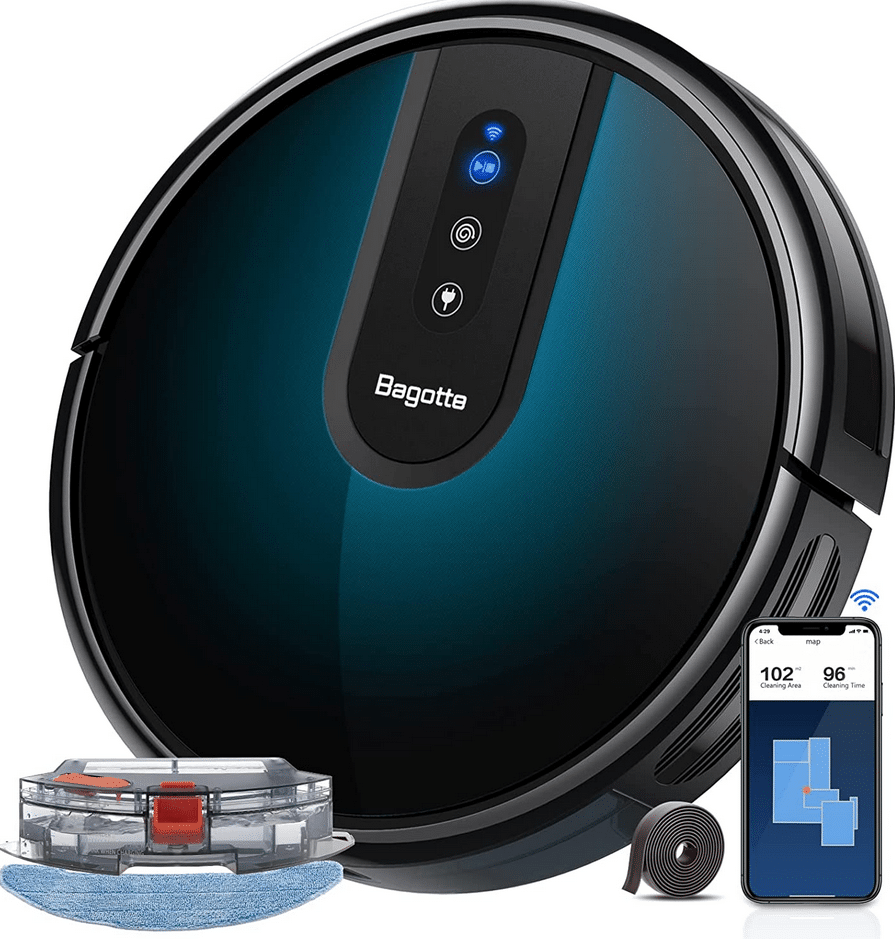 | | | | | | |
| --- | --- | --- | --- | --- | --- |
| Price | Vacuum Type | Bagless | Power | Bin Size/Capacity | Weight |
| £130,35 | Robot | Yes | 28W | 0.6L | 4.64 kg |
The Bagotte BG 750 has a slim and modern design, allowing it to fit under most furniture items and clean those tough-to-reach spots. It uses advanced gyro navigation technology to reach every corner of your house, making it a superb choice compared to older random robot vacuum models.
To sweeten things further, it has a larger bin capacity than most robot vacuums, with an added 20% size compared to the industry-standard 0.5L. Beyond this, the bin emptying process is as simple as popping the trash out and putting the bin back in, making it easy to use, maintain, and hygienic.
Pros
Removable, washable filter
Magnetic strips to stop it from reaching valuable smaller objects
Superb pet hair removal
Compact and slim
Mops the floors after dusting, liberating your hands completely
Cons
Only supports 2.4GHz WiFi
12. Miele Classic C1 — Great Canister Vacuum for Bare Floors
The Miele Classic C1 is remarkably easy to clean and maintain and performs exceptionally well on bare floors. It's easy to manoeuvre and capable of sucking up pet hair, debris, and dirt from various surfaces.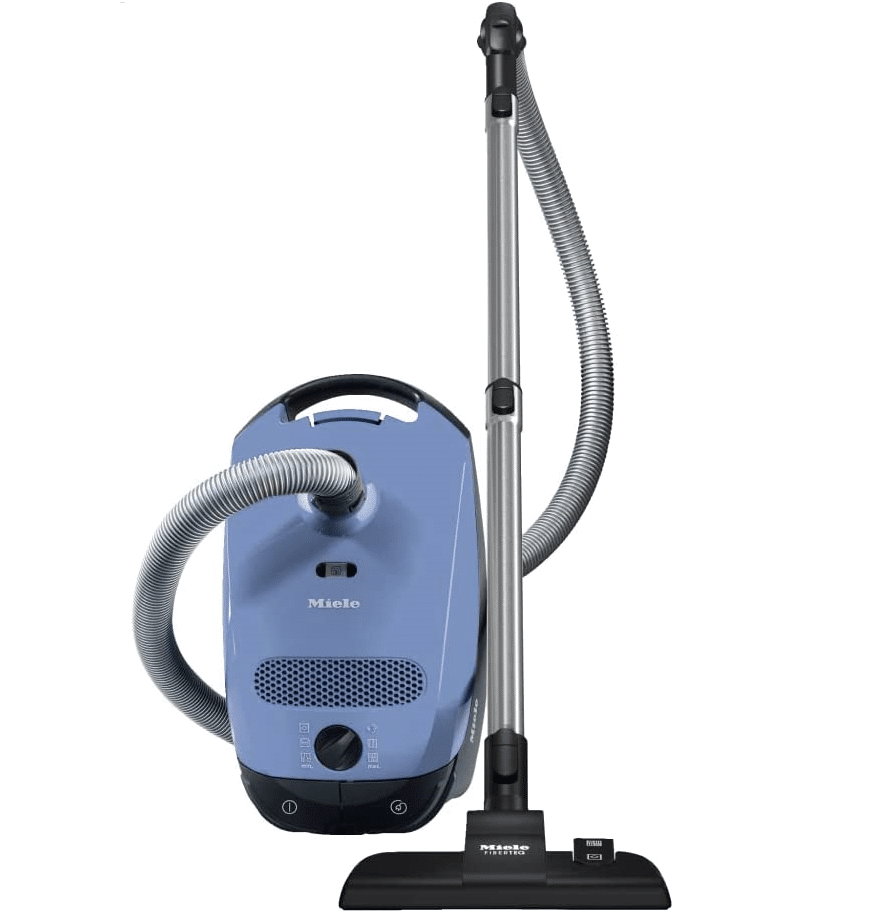 | | | | | | |
| --- | --- | --- | --- | --- | --- |
| Price | Vacuum Type | Bagless | Power | Bin Size/Capacity | Weight |
| £158.99 | Canister | No | 800W | 4.5L | 5.5 kg |
The Miele Classic C1 has spacious dirtbags that are easy to remove, as this vacuum cleaner has arrows to guide you through the process. It also features an on-body indicator to show you when the dirt compartment is full.
It comes with various attachments, including an upholstery tool, crevice tool, soft brush, telescopic wand, and more. That means you'll be able to reach the most remote spots in your house using this vacuum cleaner.
That said, its upholstery tool does an outstanding job of cleaning pet hair from various surfaces, including furniture. In addition, it won't get stuck on textile surfaces, and the hoover is convenient to manoeuvre around the house.
Pros
Great edge cleaning
Fairly lightweight for a canister vacuum cleaner
VarioClip storage accessory makes it easy to store
Impressive HyClean bags
Great price point
Cons
You need to buy HEPA filters separately
Short cable
13. Einhell S Wet and Dry Vacuum — Cheap Option With a 15L Stainless Steel Container
The Einhell TC-VC 1815 S is one of the best cheap hoovers on the market that boasts an impressive stainless steel container that's easy to clean and collects up to 15L of dirt.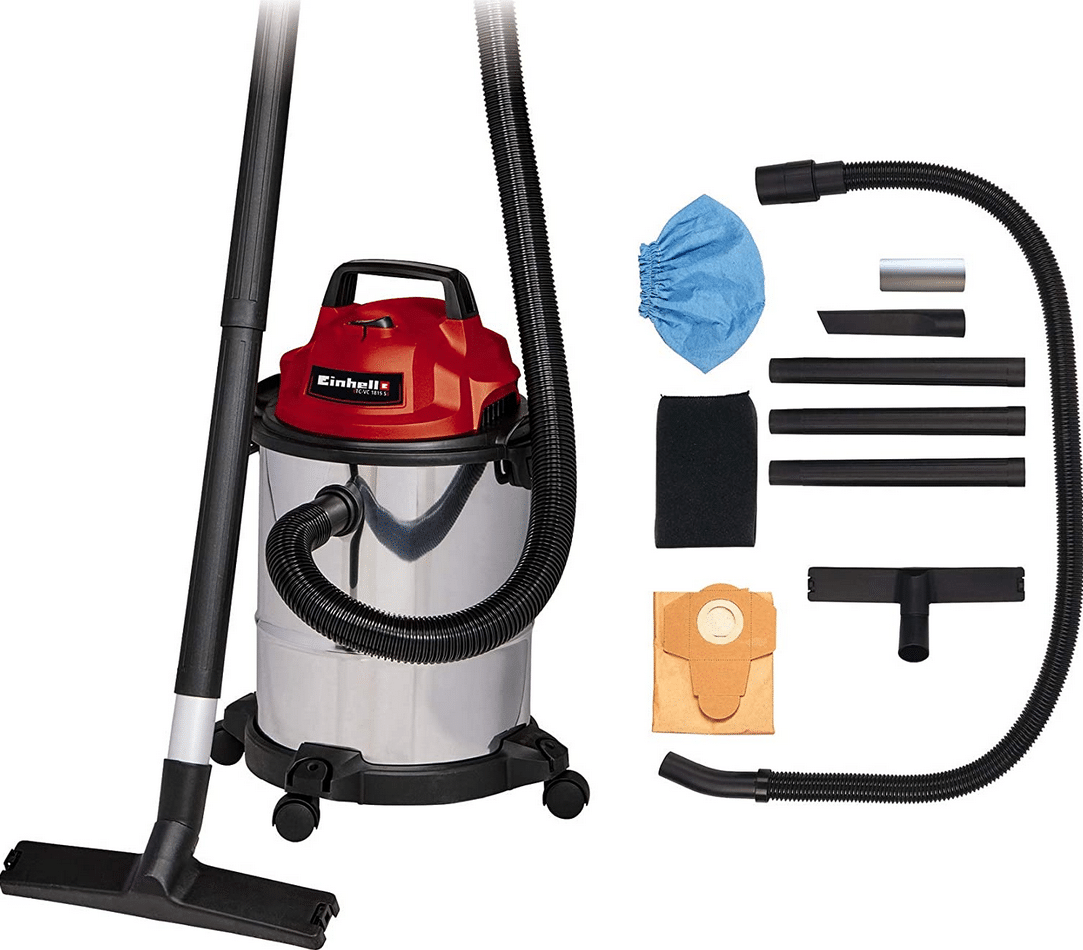 | | | | | | |
| --- | --- | --- | --- | --- | --- |
| Price | Vacuum Type | Bagless | Power | Bin Size/Capacity | Weight |
| £58.95 | Canister | No | 1250W | 15L | 3 kg |
This lightweight hoover is incredibly easy to set up and use, thanks to its components that instantly snap in place, its four castors, and its carrying handle.
It arrives with various attachments, like the combination floorhead that makes carpet and hard floor cleaning easy or the crevice nozzle that helps you reach the tightest remote places.
Dust and particles won't spread around the house with this vacuum cleaner, thanks to its capable dirt collection sack and filter bag. In addition, you receive a foam filter for wet vacuuming and an integrated blower for tight spots that the crevice tool can't reach.
Pros
Robust build
Very affordable
Great for indoor and outdoor cleaning
Easy to assemble and use
Tool holder for simple stowage and usage
Cons
Top-Rated UK Hoover Vacuums Compared
To help you find the vacuum best suited to your needs and budget, we've compared them shoulder-to-shoulder here:
Do I Need a Vacuum or Carpet Cleaner?
While a carpet cleaner is an impressive household appliance that removes deeply embedded dirt and stains from your carpets, it's not as essential as a vacuum cleaner. In addition, it's best to use a carpet cleaner only after you vacuum your carpet, meaning they work best together.
A carpet cleaner will mechanically apply soap and water from its tank, then scrub and suction the liquid and dirt. However, they're pricey and rarely found in local household tools stores which usually rent them instead of selling the product. In addition, a professional carpet cleaning service will do a far better job cleaning your carpets than a commercial carpet cleaner.
Vacuum cleaners will pull anything except stains out of your carpet, making it a far better choice for frequent use and a more affordable one. In conclusion, it's best to own both of these household appliances, especially if you need to clean pet stains and mud from your carpets frequently.
Factors to Consider When Choosing the Best Vacuum Cleaner for You
Picking a vacuum cleaner that's ideal for your household can be confusing. However, it's easy to determine which hoover to purchase when you know what to look for.
Each vacuum cleaner type has its selling points, and to decide which one is best for you, you need to consider the surfaces in your house and the type of mess it needs to clean. In addition, according to EEA, buying longer-lasting electronics has many benefits. Here are some crucial factors to consider before you buy a new vacuum:
Price
You don't have to spend too much money to purchase a decent-performing vacuum cleaner that suits your needs. The best vacuum cleaners for carpets and hard floors, like the upright or canister models, are usually more affordable than the handheld or robotic vacuum cleaners with batteries.
You should look for one that fits your budget and includes various attachments that help you clean multiple surfaces. For example, a cheap canister hoover with a long hose can clean stairs as effectively as an expensive handheld vacuum cleaner.
Type
With various vacuum cleaner types on the market, like upright, canister, robot, handheld, and cordless, picking the best one comes down to your needs. For example, if you have a pet inside your home, you're better off with a strong suction power vacuum that'll effortlessly clean pet hair.
A bagless vacuum is cost-effective in the long run but requires you to empty it more often, making it an ideal choice for smaller homes that you can clean in one run. If you want to clean your car, garage, and other parts of your household, you'll want a cordless or handheld vacuum to avoid constantly switching power outlets.
Here's a quick breakdown of what each type of vacuum cleaner does best:
Vacuum Type

Function
Best For
Pros
Cons
Upright
Sits upright, and you push it in front of you
High-pile carpets and pet hair
Boasts high suction power

Not the most manoeuvrable

Canister

Traditional design that you pull behind you as you clean.
Hard floors, under furniture, and stairs
Very effective

Easiest to use

Not ideal for high-pile carpets
Robot
Performs on its own using sensors
Light cleaning of surfaces without many obstacles
Hand-free solution

Offers constant cleaning

Not great for deep cleaning

Cordless

Free moving with no cords attached
Small homes
Superb suction power

Incredibly easy to use

Small capacity

Low battery run time

Handheld
Cordless and small for easy cleaning above floor level
Hard-to-reach places and dry spills
Lightweight

Fantastic manoeuvrablility

Great for car cleaning

Small bin size and battery life
Is Bagged or Bagless Best?
Bagged vacuums are the better choice for people with severe allergies as they're more effective in containing dust and debris as you empty them. Beyond this, they're easier to maintain as you don't need to clean the bag compartment of dirt. However, you'll face recurring costs as you keep purchasing new bags.
Bagless vacuums are a cost-effective alternative, ideal for smaller homes, as vacuuming a large area could take a while since you need to empty the dustbin frequently. That said, you won't have to worry about having a constant supply of bags, but you'll have to clean its messy dirt compartment and manually empty it.
Should I Get a Corded or Cordless Vacuum?
Corded vacuums offer more suction power than cordless vacuums, making them a better choice for removing persistent dirt and pet hair, and they also have much larger dirt storages. You won't have to worry about running out of battery life as you clean, which is still an issue for cordless vacuums, even with the most modern batteries.
However, it's harder to reach remote areas with corded vacuums, and you'll need to change power outlets often when covering a large surface. You should buy a corded vacuum if you want more suction power for a smaller fee and if you have evenly spread power outlets that would allow you to clean every part of your home.
That said, cordless vacuums are far easier to use thanks to their unmatched manoeuvrability and lack of cable management. Although powerful cordless vacuums can replace corded vacuums, they cost more and are limited to less than an hour of usage.
Vacuum Accessories
Look for one with multiple attachments, extensions, and tool storage space. The best vacuum cleaners should include a crevice tool and an upholstery tool, at the least, to help you clean tight spaces and furniture. Ideally, your hoover will have onboard tool storage for your convenience, making it easy to swap brushes and extensions on the move.
If you have allergies, look for vacuum cleaners with HEPA filters that, according to the EPA (Environment Protection Agency), can remove 99.97% of bacteria, dust, pollen, mould, and airborne particles as you clean.
User Reviews
User reviews are an invaluable source of information on various products, including vacuum cleaners. We've thoroughly examined the reviews for each hoover on our list and used them to write out the pros and cons of each product.
Reading through verified user reviews allows you to make an informed purchase based on the first-hand experience of other people in similar environments to yours.
UK Vacuum FAQs
What vacuum cleaner has the highest suction power?
Why are Henry vacuums so popular?
What is the best vacuum for hard surfaces?
How long do vacuums last?
What is the best vacuum cleaner for pet hair?
Conclusion | What's the Best Vacuum Cleaner to Buy in 2023?
With so many exceptional vacuum cleaners on our list, picking one for the top spot wasn't easy. However, the Eureka WhirlWind takes first place this year because of its multi-purpose nature and outstanding build quality.
At the same time, if you aren't interested in a canister vacuum cleaner, let's look at the best options for other vacuum types.
We're confident you'll find a suitable vacuum for your household on our list, with the Eureka WhirlWind being the best option for most homes. At just £96.24, you get a hoover that's easy to set up and use, with HEPA filtration and adjustment controls for different surfaces.