The best smart TVs offer superior high-resolution displays (4K, Ultra HD, or 8K) with multiple connectivity options such as HDMI and USB ports. They assure you of high-quality sound and picture output with quick refresh rates while accessing all your favorite streaming apps.
However, the market is over-saturated, which makes choosing one a difficult task. That's exactly why we've found and reviewed the best smart TVs for you based on criteria like pricing, the panel used, peak brightness, number of ports, and refresh rates. Stick around for our in-depth reviews of the market's top picks and see them compared head-to-head to find the best one for you.
The Market's Top 10 Smart TVs Ranked
The Amazon Fire TV 4-Series earns the top spot, and you'll soon see why. However, the competition was fierce. Here are the market's best smart TVs and an outline of why they made it on our list:
Reviews of the Best Smart Televisions
Our reviews of each of our top recommendations will help you choose the best one for your needs and budget. We'll explore each one's best features, their top USPs, and any potential drawbacks to give you a solid overview of each one.
1. Amazon Fire TV 4-Series — Best Smart TV Overall in 2023
The Amazon Fire TV 4-Series is a solid entry-level TV packed with smart features. It's the most affordable Amazon TV on the market right now and offers an Alexa-centric smart platform with decent picture quality. With stellar reviews, it champions affordability and a solid selection of features to bag the best smart TV title today.
The Alexa voice remote lets you control your TV, speakers, and even soundbar with the same remote — so you can easily find, launch, and change the content on display — just press and blurt out instructions.
Wait, there's more to be said about the remote of the 4-Series. It has smart home capabilities that can dim the lights or show you your house's front door camera without interrupting whatever's playing on the TV. You can turn to Alexa for almost everything, from weather updates and silly jokes to records of your viewing.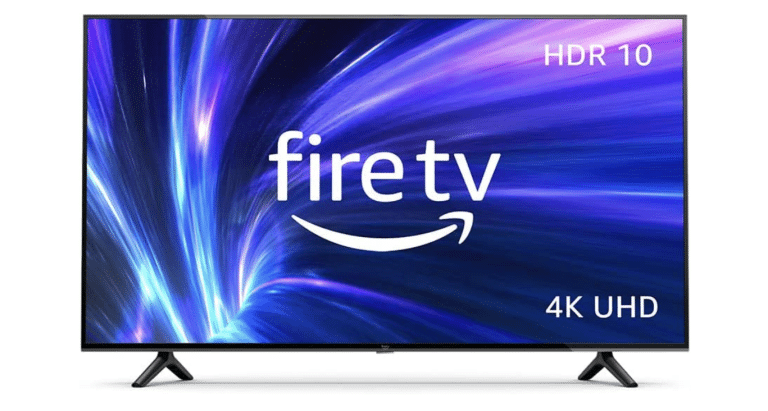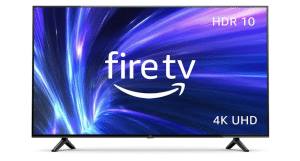 | | | | | | | |
| --- | --- | --- | --- | --- | --- | --- |
| Starting Price | Sizes | Panel Type | Resolution | OS | Refresh Rate | Ports |
| $259.99 | 43″, 50″ and 55″ | LED | 4K UHD | Fire TV OS | 60Hz | 3 HDMI 2.0 + 1 HDMI 2.1 with eARC |
The TV has proper AirPlay, too. It's a unique technology developed by Apple to enable screen mirroring with both video and audio and the feature extends to both online and offline content. In simple terms, whatever you're watching on your phone, you can directly play on your TV. This comes in handy when, for example, you're sitting with your family and want to share pictures and videos of a trip you recently took.
The brilliant 4K Ultra HD display gives you vivid colors, brightness, and clarity. A 4K display has over 8 million pixels, whereas a regular HD screen with 1080p resolution has 1080 pixels vertically and 1920 pixels horizontally on the lever plane. More pixels provide more clarity, and even on zooming in, the visuals don't stretch out.
However, we noticed that this best budget smart TV is best for dim light viewing as the reflection handling is decent at best. Also, the 60Hz refresh rate means the screen refreshes itself 60 times in a minute — which is good enough for streaming shows or movies smoothly, but it can get a little laggy when you play high-end games.
Overall though, while the Alexa Fire TV 4-Series isn't the best option for gamers due to its hardware limitations and limited refresh rate, it's a dependable option for casual viewings with convenient Alexa capabilities. And given its price, it's your best pick for a "smart" TV that's good enough on every front.
Pros
Best smart TV for the money
Alexa-enabled by default
Optional 4-year protection plan
Best smart TV for streaming
4 HDMI inputs to connect multiple external devices at once
Cons
Some users weren't happy with the customer support
2. Insignia Class F30 — Versatile TV with Immersive Audio
The Insignia Class F30 has a FireTV operating system, just like the Amazon Fire TV 4-Series discussed earlier, which is easy to use, supports a wide range of apps, and you can directly watch live TV from its Fire TV interface.
Available in as many as 6 sizes, ranging from 43 inches to 75 inches, there's something for almost everyone here, and all the models are virtually identical, so you can expect them to have the same strengths and weaknesses.
This Fire TV promises an impressive viewing experience with its 4K UHD screen, whose peak resolution is four times that of the standard TV. A UHD screen has a resolution of 3840x2160p, whereas an FHD (Full High Definition) screen comes with the standard 1920x1080p.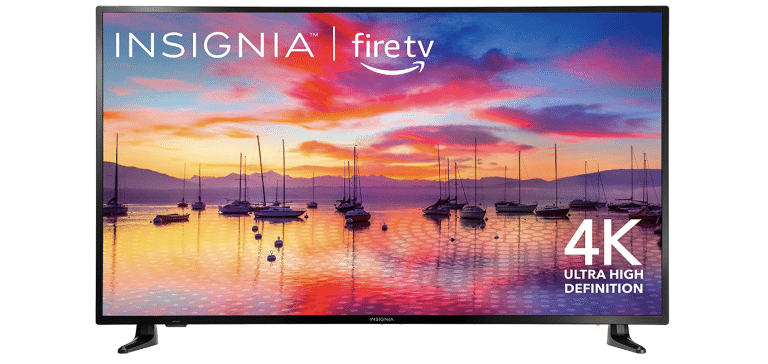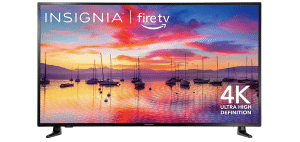 | Starting Price | Sizes | Panel Type | Resolution | OS | Refresh Rate | Ports |
| --- | --- | --- | --- | --- | --- | --- |
| $189.99 | 43″ 50″, 55″, 65″, 70″ and 75″ | LED | 4K | FireTV OS | 60Hz | 3 HDMI (1 eARC/ARC) + headphone jack + 1 USB port + 1 ethernet, and more. |
This results in crisp and clear picture quality. However, at default settings, the pictures can skew a little towards red. For example, the orange sky at sunset will look overwhelmingly orange. That said, you can tweak the settings. We recommend changing the picture settings to "Natural" as the results will be more pleasing after the oversaturation disappears.
Coming to the sound quality, you get an immersive sound experience with DTS Studio Sound — a digital audio processing technology that's often used by filmmakers for recording surround sounds. These are best known for being multidimensional, making it seem like the sound is flowing in from all directions.
Also, if you still want to add a soundbar to enhance its audio, the device supports 3 HDMI ports — including HDMI ARC and HDMI eARC. HDMIs are digital interfaces that are used to transmit audio and video signals from an external source, eliminating the need for an extra cable. ARC (Audio Return Channel) is what enables digital audio transfer through HDMI ports. And if you didn't know, the eARC is the next generation of the ARC and comes with a bigger bandwidth, so if you want to transmit high-quality audio within seconds, the HDMI eARC port is for you.
Other notable connection options include an extensive number of ports like a headphone jack, USB, and Ethernet, amongst others. Concluding, with the Insignia Class F30 Fire TV, you'll enjoy smart features and high picture quality with lots of connectivity options at a reasonable price.
Pros
Premium audio quality
Breathtaking 4K UHD display
Multiple screen sizes to pick from, including a 65-inch TV
Ample ports for flexibility
Cons
Some customers aren't happy with the warranty service
3. Toshiba Class V35 — Great for Viewing Multiple Content at the Same Time
The Toshiba Class V35 is a compact internet TV ideal for hanging in your bedroom or a smaller hall. Its energy star certification makes it an environment-friendly option. It uses just 66 kWh per year. Assuming you watch an average of 4 hours of television per day for 365 days, that's fairly low compared to other TVs that consume 106.9 kWh on average every year.
It has a bezel-less design, something our previous picks didn't have. Bezels are the frame that encloses your TV screen and keeps it in place. The thinner the bezels, the more the screen-to-body ratio, which results in a sleeker look. The ultra-thin bezels of the Toshiba Class V35 seamlessly flow into its display, giving it a rich look and, of course, an enriched viewing experience.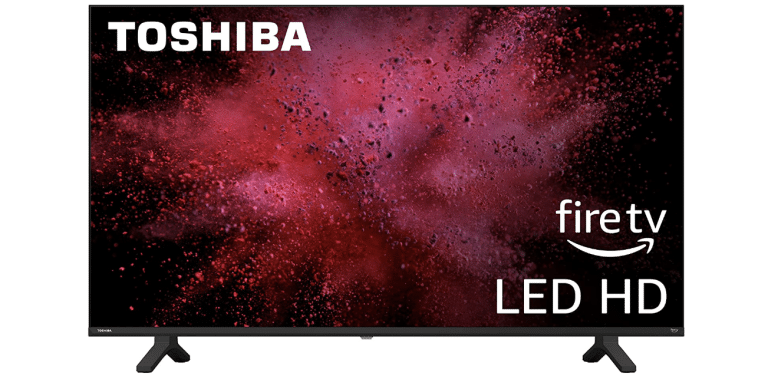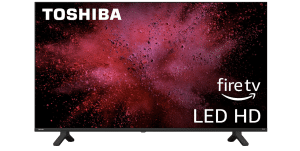 | Starting Price | Sizes | Panel Type | Resolution | OS | Refresh Rate | Ports |
| --- | --- | --- | --- | --- | --- | --- |
| $119.99 | 32″ and 43″ | LED | 720p | FireTV OS | 60Hz | 3 HDMI ports |
Toshiba's streaming capacity isn't limited to a single screen. Its "Live View Picture in Picture" feature lets you split your screen into two parts to simultaneously watch different content. For example, you can play a movie on one side and keep a cricket match running on the other side to check the score now and then.
That said, splitting the screen doesn't split the quality or motion rate. On each side, you get crystal clear visuals with its 120Hz motion rate and 60Hz refresh rate. The main difference between the two is that motion rate defines the speed of the image, whereas refresh rate is used to define how many frames show in a second.
For practical purposes, all that you have to know is that the motion rate is always double the refresh rate. A higher motion rate and refresh rate deliver smoother visuals and minimize blur between consecutive actions.
To create a life-like audio experience, the Toshiba Class V35 uses DTS Virtual:X technology — a budget version of the DTS X technology. It enhances the sound quality and delivers a home theater-like experience without the need to set up multiple speakers.
Pros
Connects with Apple AirPlay
The bezel-less design delivers a wide display
Live View Picture in Picture lets you split the screen
120Hz motion rate delivers a seamless picture quality
Cons
The biggest screen size is only 43-inch
The Song Bravia XR A95K from the best smart TV brand is a premium TV, and rightly so. It offers the best-in-class visual and audio quality while providing one of the most user-friendly interfaces out there. The stunning picture quality makes every color, even pure blacks, pop out on the screen at lifelike brightness.
The biggest contributor behind Sony Bravia's stunning display is the QD-OLED panel (an improvement over traditional OLEDs and known for their better brightness). OLED itself is an improvised version of traditional LEDs and offers more contrast, so you can only imagine the quality a QD-OLED panel will have.
For those who don't know, LEDs are tiny lights at the back of your screen that are responsible for creating the visuals. Hence, the more high-quality LEDs a TV has, the better its visual quality will be. To top it off, Sony Bravia XR also uses the XR Triluminos Max technology, which opens up access to a wide palette of colors that can be reproduced in detail, adding more depth to every visual.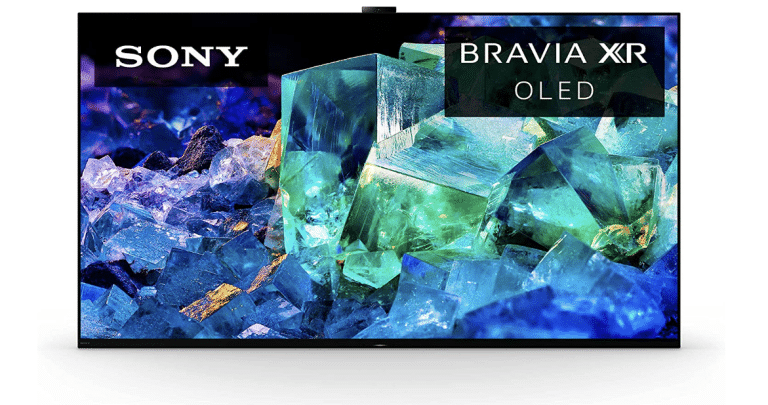 | Starting Price | Sizes | Panel Type | Resolution | OS | Refresh Rate | Ports |
| --- | --- | --- | --- | --- | --- | --- |
| $2498 | 55″ and 66″ | OLED | 4K | FireTV OS | 120Hz | 3 HDMI ports |
Furthermore, it uses a Cognitive XR Processor — a brand-intelligent image processing technology that divides the screen into multiple parts and finds the focal point to add more depth. It understands how humans see and adds contrasts with deep blacks, natural colors, and brightness.
The sound quality is no less. Sony's audio technology, paired with the cognitive Processor Hardware XR chip, turns the screen itself into a speaker, and it's easily one of the best speakers seen on a flagship cinema TV. We wouldn't be wrong in saying that the overall TV viewing experience with the Bravia XR A95K could even be better than in theaters.
You can connect your gaming consoles to one of the 120Hz HDMI 2.1 ports for a thrilling and smooth gaming experience, and the TV has a VRR and "Auto Low Latency Mode (ALLM)," — a feature that minimizes input lag. This means when you press a button on your remote, the corresponding action will reflect on the screen in just 16.2ms. VRR stands for Variable Refresh Rate, and it's a technology that adapts the refresh rate of the TV to the content being watched.
Another striking feature is the Bravia Cam which does more than just video calls. The clever parental controls ensure that nobody is sitting too close to the screen, and the camera analyzes the environment to adjust color, brightness, and even sound. Also, you get a two-year membership of Bravia Core, Sony's proprietary streaming device, along with 10 redeemable movies.
Concluding, The Song Bravia XR A95K comfortably stands as a top contender in the premium segment. This is, obviously, not for everyone as the price is steep, but for those on the lookout for perfection and with enough to splurge, there's no better powerhouse than this one. It delivers remarkable, almost unbeatable performance in almost all segments with its futuristic features and mind-blowing picture quality.
Pros
Luxury TV connects with Google Assistant
Supports Apple AirPlay 2
Connects with PlayStation, the ideal TV for gamers
Add-ons such as a soundbar and wall mount are available
Cons
Doesn't work without a Google Account
5. Sony X900H — Best Gaming TV with 120Hz Refresh Rate
The Sony X900H delivers strong performance with a Triluminous display technology that analyzes and processes colors using a unique algorithm to deliver a wider palette. It has a dedicated gaming mode for a smoother and more responsive gaming experience, making it one of the best gaming TVs.
The TV has a silver metallic finish that runs through the edges of the screen and differentiates it from other thin-frame TVs in the market. The stand, too, is super thin yet pretty solid because it's made of metal instead of standard plastic.
Beyond this, it's on par with the Sony Bravia XR with its 4K resolution and the 120Hz native refresh rate, making it compatible with the Xbox Series X and PlayStation 5. If you need the duet of these features and don't want to spend $2,500 for it, the Sony X900H will suit you better than the Bravia XR — you'll have to spend at least $1,500 more to get the same set of features in a Samsung TV.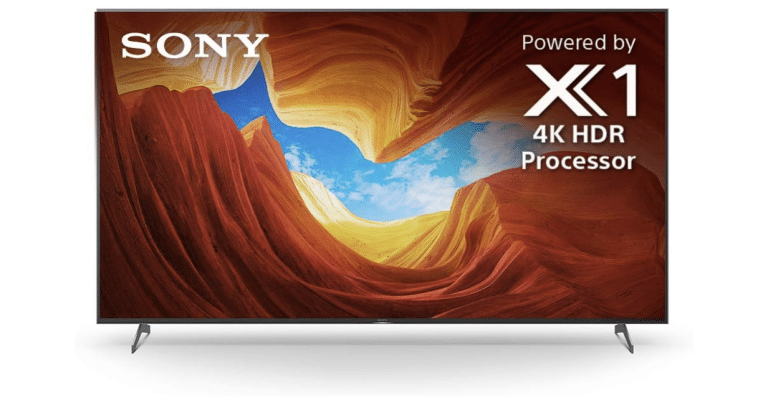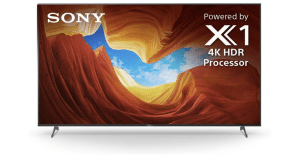 Starting Price
Sizes
Panel Type
Resolution
OS
Refresh Rate
Ports
$1597.99
55″, 65″,

75″ and 85″

LED
4K
Android
120Hz
4 HDMI ports
One of the best features of this TV is its full array local dimming feature. This is better than edge-lit local dimming as each LED of the screen under full array local dimming is individually controlled as opposed to just the edges of the LED in edge-lit local dimming. Thus, you get deeper blacks and brighter colors on the TV.
Sony X900H delivers a decent visual with HDR10 — the most generic HDR format. HDR is a video signal that adds extra brightness and colors to make the pictures more vibrant. It supports up to 400 nits (unit of brightness). HDR10, on the other hand, is a more improved version that supports up to 1,000 nits.
Any TV that supports HDR10 also supports Dolby Vision, a common HDR format known to add vivid colors and details. This way, you won't have to choose between the two. Also, remember that HDR10 is not the same as HDR10+ (another HDR format), and TVs that support Dolby Vision don't necessarily support HDR10+.
Setting up the TV is also quite convenient. You can simply hang it on the wall with its slim wall mount stand so that you don't have to crowd your shelves or cabinet tops. Plus, thanks to the sleek design of the wall mount, the flat-screen TV sticks to the wall and blends in the background, giving your walls a smooth and seamless look.
Concluding, the Sony X900H is a phenomenal TV for almost every purpose, especially gaming. With superior connectivity, and versatile contrast and brightness capabilities, it stands out in the mid-range category.
Pros
Impressive audio quality
Built-in Alexa support
A narrow bezel that offers an immersive experience
A special Game Mode to optimize graphically-demanding games
Cons
Only 2 ports support HDMI 2.1
6. LG C2 OLED TV — Thinnest TV with 0.1-Inch Bezels
The LG C2 OLED TV is one of the best-selling LG OLED TVs, and with its smart features and versatility, it's well deserved too. This TV is stunning to look at, with an unbelievably thin panel of just 0.1 inches.
Also, when you hang it on the wall, there's virtually no gap between the wall and the TV making it look almost like an art frame. Note that the wall mount is sold separately, as with almost all smart TVs.
What stands out the most about this TV is its color accuracy and impressively wide color gamut. It has around 8 million OLED pixels that individually light up on the screen to produce over a billion colors.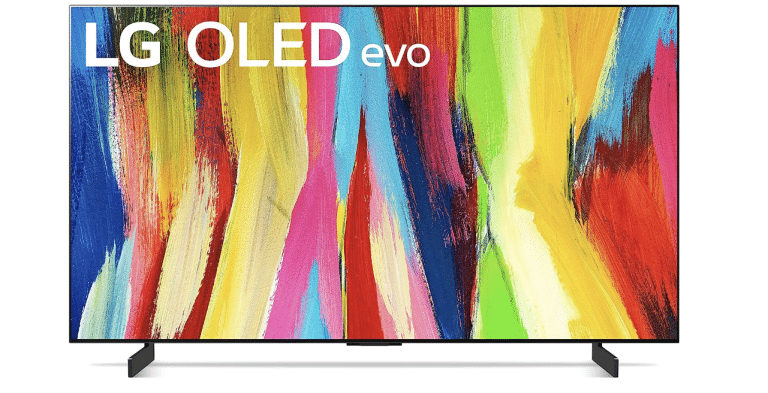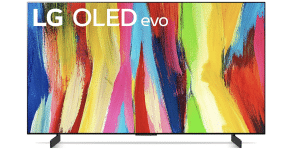 Starting Price
Sizes
Panel Type
Resolution
OS
Refresh Rate
Ports
$896.99
42″, 48″,

55″, 65″, 77″ and 83″

LED
4K
webOS22
120Hz
4 HDMI 2.1 ports, 3 USB
It has a Game Optimizer mode that lets you manage all your gaming settings from one place and is equipped with advanced technologies like NVIDIA G-SYNC (used to synchronize the screen's refresh rate to the output from the graphics card) to provide a tear-free, smooth gaming experience. A graphics card is hardware that improves the video memory of the device, gives it more power to process heavy files, and boosts overall picture quality. That's why it's important to choose a TV with the best graphics card.
Despite being as thin as it is, the built-in OLED speakers don't disappoint. With Dolby Atmos support, the TV gives an immersive sound experience. Still, we recommend pairing the TV up with external speakers as there's only so much that you can expect out of such thin panels of audio.
The TV runs on the webOS 22 — a multitasking operating system for smart devices. The interface lets you easily pick from recommendations and access all the best streaming services. Also, when nothing's being watched but it's on, the OS showcases art and photos through its ambient mode adding a nice ambiance to the room.
The only downside of this device is that the installation isn't very handy. You might need professional installation help because the process is a little fussy. All in all, though, the LG C2 OLED TV raises the bar in terms of style and performance.
Pros
Super fast processor
It can be mounted on the wall
An almost non-existent bezel helps it blend well on your wall
Ideal for gamers, thanks to its dedicated Game Optimizer mode
Cons
TV stand sold separately
Requires a more tedious setup
7. Samsung QN95B Neo QLED TV — Offers the Maximum Number of Connection Ports
The Samsung QN95B Neo QLED TV is Samsung's most premium 4K TV that delivers convenient cable management and a thrilling viewing experience with its powerful 4K processor.
QLED, or quantum dot light-emitting diode, is a type of display panel used in high-definition TVs and is known for creating more vibrant colors. Neo QLED, on the other hand, is an improved version of Samsungs's original QLED display. Unlike QLED, which uses regular-sized LED lights, Neo QLED uses mini LEDs. On any standard TV, you can fit a thousand more mini LEDs than regular LEDs, resulting in a much better quality visual.
Unsurprising as it is, Samsung's biggest USP is its brightness, which is probably the best out there. For that, it uses Quantum Matrix technology, which uses mini LEDs to deliver a massive reduction in picture blooming and controls individual zones of light to deliver breathtaking colors and contrast.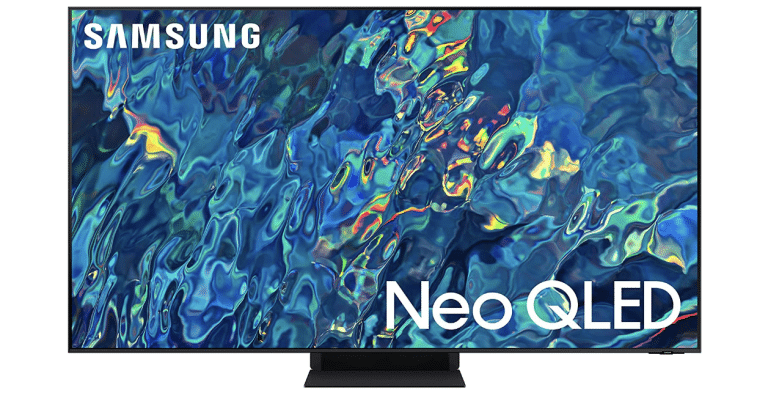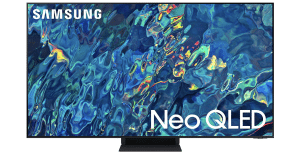 Starting Price
Sizes
Panel Type
Resolution
OS
Refresh Rate
Ports
$2297.99
55", 65",

75" and 85"

Q LED
4K
Tizen™
120Hz
4 HDMI 2.1 ports, 3 USB
Additionally, its AI-powered processor works behind the scenes to work the magic that's created on the screen by fine-tuning the picture quality of each scene as it comes. The detailing and clarity are nothing short of impressive. There's close to no glaring, even in direct daylight.
Just like the LG C2 OLED TV, the Samsung QN95B, too, looks high-end with its almost invisible bezels and thin body that's only 1 inch wide. It comes with a low-profile stand which, although attractive, limits the size of the soundbar you can place under it.
What we like the most about the QN95B is that the TV's entire port array, including 4 HDMI ports and 3 USB ports, is housed in Samsung's One Connect box, which then connects to the TV through a singular cord, giving the entire space a clean look. This is also what allowed the manufacturers to massively reduce the thickness of the TV.
The TV also has a motion Xcelerator that enhances clarity in fast-moving action. Motion Xcelerator is a combination of several features that work together to reduce motion blur. It reduces judder and makes fast-moving content look more natural.
This, combined with "Q Symphony," which provides ambient and synchronized sound from your TV and soundbar, makes for a one-of-a-kind viewing experience, especially if it's an action movie.
Concluding, the Samsung QN95B Neo QLED TV does everything that you'd expect from a premium smart TV: amazing display and brightness, stylish look, and stellar sound quality. As a leading TV manufacturer, you can trust this product to deliver a solid, 360-degree performance.
Pros
Anti-glare protection protects your eyes
Best budget smart TV
Additional eye protection through EyeComfort mode
4 screen size options starting from 55 to 85 inch
Connects with multiple voice assistants such as Google Assistant, Alexa, and Bixby
Cons
It could use more HDMI ports
8. TCL Class 5-Series 55S546 — Robust Google TV With Hands-Free Control
The TCL Class 5-Series Google TV is a solid, smart TV under the $600 mark with a user-friendly and customizable Google interface that allows you to download a wide range of apps through the native Google Play Store.
A huge benefit of this Google TV is the hands-free voice control. You can do more than just watch TV, and this is pretty similar to the Amazon Fire TV, our #1 recommendation. Ask questions, turn the game mode on or off, or even see the CCTV camera of your house anytime and from anywhere in the room.
This model sees several improvements and design changes compared to the TCL 5-Series Roku TV. For one, the color quality of the TV is appreciable, and its local dimming feature boosts brightness and preserves the shadows on the screen.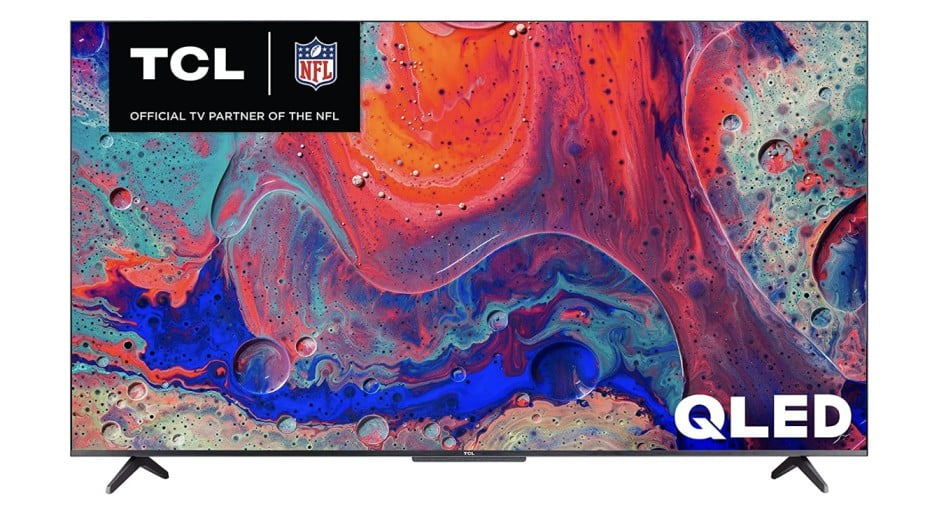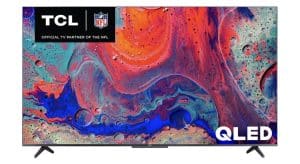 | | | | | | | |
| --- | --- | --- | --- | --- | --- | --- |
| Starting Price | Sizes | Panel Type | Resolution | OS | Refresh Rate | Ports |
| $548.97 | 50″, 55″, 65″ and 75″ | QLED | 4K | Android | 60Hz | 3 HDMI 2.1 ports, 3 USB |
It's also one of the few smart TVs on the market that support both Dolby Vision and HDR10+. The benefit of this is double clarity and compatibility with a wider range of sources. Also, HDR10+ is superior to the standard HDR10 version, as it makes the videos look more realistic and lifelike.
To top it off, the sleek Google TV remote offers a surprising number of features. Along with the conventional ones, there's a dedicated "Personal Watchlist" button that leads you straight to your library. What's more, there's a button for the TCL Home app that allows you to manage several smart home devices.
However, it's a little disappointing that the TV offers just a 45-degree viewing angle, meaning you might notice slight color distortion beyond the 45-degree cone centered on the screen. That said, it won't be very significant, and overall, the TCL 5-series Google TV is the one for you if you're on the lookout for a smart, responsive QLED at a reasonable price.
Pros
Easy to set up
Hands-free control
Better contrast across all 60 localized zones
TV stand included in the package
Cons
The TV software can sometimes lag (rarely, but it does)
No wide viewing angles
9. VIZIO D40f-J09 — Best Small Smart TV, Perfect for Bedrooms
The Vizio 40-inch D-Series smart TV is the cheapest option on the list, priced at just $168 — plus, you can save a few more bucks and get it for just $139 if you opt for the 24-inch model if it's just your bedroom you want a smart TV for — we say this because the display and viewing experience on the 24-inch is certainly not as flattering as the 40-inch TV.
Speaking of the 40-inch Vizio D-series TV, our favorite thing about it is the display. With a 1080p resolution, even the finer details come to life, and you get crisp, crystal-clear visuals. The quality of the display is also further enhanced by the full-array LED backlight. Under this, you have tiny LEDs evenly distributed across the length, which results in a more consistent visual.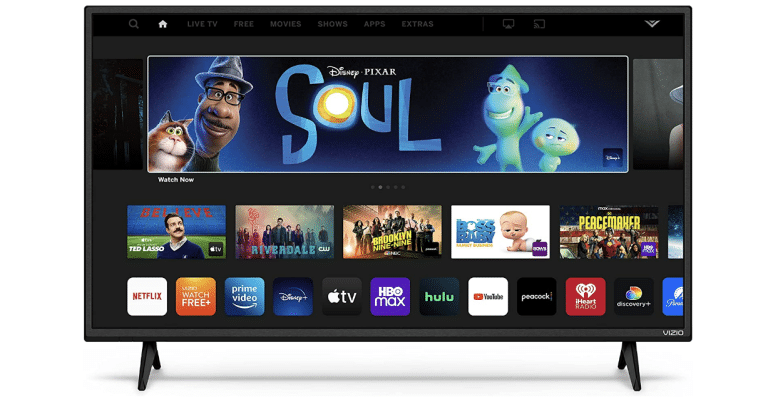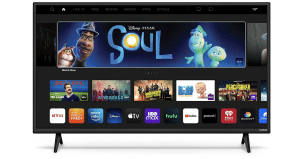 | | | | | | | |
| --- | --- | --- | --- | --- | --- | --- |
| Starting Price | Sizes | Panel Type | Resolution | OS | Refresh Rate | Ports |
| $119.99 | 24″ and 40″ | LED | 1080p | SmartCast | 60Hz | 2 HDMI ports, 1 USB port |
LED backlights are also known to reduce the strain on your eyes, allowing you to enjoy high-quality content for longer hours without negative impacts. It's also worth noting that a 4K display is always better than a 1080p one, but the latter isn't a compromise by any stretch and, at this price point, is certainly a plus.
Equipped with the V-gaming Engine, it's also the perfect TV for gamers looking for a larger screen. Gaming requires faster responses to beat the opponent, and that's exactly what the V-gaming Engine helps you with. It optimizes the picture mode and uses intuitive HDR tone mapping (a post-processing technique used in photos and videos) to enhance all the details in your game.
The best part is you won't even need to adjust these settings manually, it'll all be pre-optimized under the Auto Gaming mode. Furthermore, every Vizio TV is equipped with SmartCast, a built-in operating system that brings together all the latest content that a user might want to watch from services like Netflix and Disney+.
Pros
Best deal on smart TV
Compact and fits into smaller spaces
Easy on your eyes with the backlit LED display
SmartCast OS gives you access to endless content to stream
Cons
Only two screen sizes are available
The Hisense ULED 4K smart TV is a budget option but comes with a premium look. Its elegant design is accentuated by the unique thin plastic band bezel that's less than 1/8th inch, giving you a wider and more immersive display. Instead of the usual boring black frame, this Hisense TV comes with a delicate metal stroke across the bottom of the screen which gives it a classy and expensive finish.
Beyond this, the TV's display is truly one of a kind. For example, the display is powered by Hisense's proprietary ULED technology, which is known to be brighter and deliver more color and contrast compared to regular OLED TVs.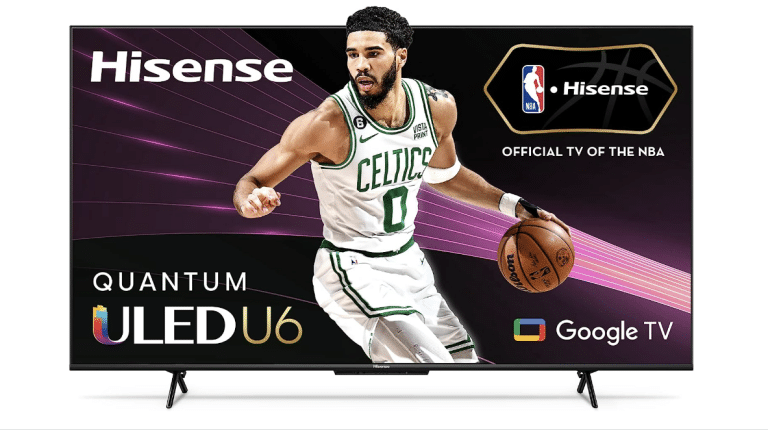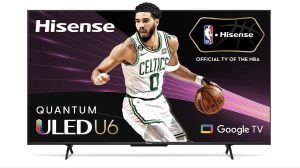 | | | | | | | |
| --- | --- | --- | --- | --- | --- | --- |
| Starting Price | Sizes | Panel Type | Resolution | OS | Refresh Rate | Ports |
| $398 | 55″, 65″, and 75″ | ULED | 4K | Android | 60Hz | 3 HDMI ports, 2 USB ports, 1 Ethernet port |
In terms of brightness, this TV outperforms many of its competitors, such as the Amazon Fire TV and Toshiba Class V35. The industry average for TV brightness is 250 to 300 nits, and anything over 500 nits is considered too spectacular. The Hisense ULED 4K smart TV comes with 600 nits of brightness that deliver vibrant visuals in every scene.
Another feature that won our hearts was its seamless connection with Apple AirPlay 2 and Google Cast. Both tools can be used to stream whatever you're viewing on your mobile directly on the TV.
This TV is also extremely convenient to use because it connects with both Alexa and Google Assistant. You can use voice commands and control the TV from a distance. If you have Alexa-enabled devices, you can do more than just change channels on the TV — command it to turn on the lights, adjust the thermostat, and much more.
Pros
Best-in-class brightness
Works with both Google Assistant and Alexa
Stand, remote control, and power cable are included
Filmmaker Mode lets you watch movies the way the creator intended to show it
Cons
The process of setting up Alexa is complicated
Comparison of the Best Smart TVs
We've compiled a table below to highlight the key differences between each of the best smart TV deals so that you can make a well-informed decision:
Smart TV
Starting Price
Sizes
Panel Type
Resolution
OS
Refresh Rate
Ports
Amazon Fire TV 4-Series
$259.99
43", 50" and 55"
LED
4K UHD
Fire TV OS
60Hz
3 HDMI 2.0 + 1 HDMI 2.1 with eARC
INSIGNIA Class F30
$189.99
43" 50", 55", 65", 70" and 75"
LED
4K
FireTV OS
60Hz
3 HDMI (1 eARC/ARC) + headphone jack + 1 USB port + 1 ethernet, and more.
Toshiba Class V35
$119.99
32" and 43"
LED
720p
FireTV OS
60Hz
3 HDMI ports
Sony Bravia XR55A95K
$2498.00
55" and 66"
OLED
4K
FireTV OS
120Hz
3 HDMI ports
Sony X900H
$1597.99
55", 65",

75" and 85"

LED
4K
Android
120Hz
4 HDMI ports
LG C2 OLED
$896.99
42", 48",

55", 65", 77" and 83"

LED
4K
webOS22
120Hz
4 HDMI 2.1 ports, 3 USB
Samsung QN95B Neo QLED TV
$2297.99
55", 65",

75" and 85"

Q LED
4K
Tizen™
120Hz
4 HDMI 2.1 ports, 3 USB
TCL Class 5-Series 55S546
$548.97
50", 55", 65" and 75"
QLED
4K
Android
60Hz
3 HDMI 2.1 ports, 3 USB
VIZIO D40f-J09
$119.99
24" and 40"
LED
1080p
SmartCast
60Hz
2 HDMI ports, 1 USB port
Hisense ULED Series 65U6H
$398.00
55", 65", and 75"
ULED
4K
Android
60Hz
3 HDMI ports, 2 USB ports, 1 Ethernet port
What is a Smart TV?
A smart TV is an internet-connected TV that you can link to your preferred streaming services to enjoy your favorite shows and movies anytime.
This sophisticated appliance lets you:
Browse the internet
Look over images and stream music
Watch your favorite content through traditional broadcasts or streaming on-demand video
There are countless options, so you can create your custom collection of apps to watch movies and TV shows, sports, news, weather, children's programming, listen to music, chat with family and friends, and check social media channels.
You'll need to ensure you have one of the best internet routers, though, to ensure a lag-free viewing experience.
Factors to Consider When Choosing the Best Smart TV for Your Home
A smart TV can be an excellent investment, particularly if you have other smart home gadgets to connect to it. So, here's a complete TV buying guide to assist you in making an informed selection when purchasing your new television:
Display Technology
There are three primary categories of display tech used in smart TVs: LED, OLED, and QLED. The most popular type of TV is LED. It offers a high-quality viewing experience using a backlight that generates light behind the screen.
Sometimes manufacturers use side light, which employs LEDs integrated into the panel's side. This is less costly but produces less uniform brightness throughout the screen.
QLED builds on a similar concept by adding a second quantum dot layer, which increases color and contrast. OLED is a completely different kettle of fish as it uses no backlight. Instead, these panels are self-emitting, so each pixel can be individually turned on and off to produce a wide range of shades and hues for stunningly vibrant colors.
Color Volume
Although all smart TVs have color displays, not all have the same luminance. The intensity of color emitted from the screen is referred to as luminance. The higher the brightness, the closer the color is to an image's true color dimensions.
You must consider the color volume since it influences how immersive your viewing experience will be. As TV manufacturers struggle to produce the most stunning picture quality, you, the consumer, stand to gain by getting the highest quality possible. Unless you want to spend your evenings viewing washed-out or fading visuals, you must pay attention to color volume.
Screen Resolutions
Resolution can be defined as the number of pixels needed to improve the sharpness and vibrancy of the screen. 1080p (Full HD), 4k (2160p Ultra HD), and 8k TV(4320p Ultra HD) are the various resolutions that are now available.
4K is becoming the industry standard for new TVs and is available in various screen sizes — '4K' refers to the approximately 4,000 pixels found in a single row along the screen, for a total of 8 million pixels overall.
TVs that are 40 inches or greater are often in 4K, whereas smaller displays are typically limited to 720p or 1080p. That said, an 8K TV can be worth considering if you have a larger room and aren't on a budget. 8K screens have around 8,000 pixels horizontally, which is four times the number of pixels seen on a 4K panel.
HDR Support
High Dynamic Range, or HDR, is a relatively new standard that has grown in popularity recently. HDR enhances the range of colors by bringing out detail in an image's darkest and lightest areas. Although there are many HDR formats, including Dolby Vision, HDR10, HDR 10+, and HLG (Hybrid Log-Gamma), as long as the display has some HDR compatibility, you should be fine.
Another benefit of HDR is that it creates more vivid and lifelike colors with a wider spectrum. Your eyes don't need to adjust as much to the colors because they're brighter than a conventional TV.
Screen Sizes
The screen size of a smart TV is the most crucial consideration since it affects how large an image can be displayed on the device and how many apps or content can be viewed simultaneously.
The three most common sizes for smart TVs are 65, 55, and 43 inches — the cost decreases as the screen size decreases. If you want a large screen with outstanding picture quality at a reasonable price, a 55-inch TV is a better choice. To determine the right measure of a TV, consider how many members in your family usually watch simultaneously and where you intend to place your new set.
Then choose the largest screen size that comfortably fits your budget and the environment it'll be housed. While a small screen size is ideal for a smaller space, a large screen is appropriate for a large living room.
Built-in OS
Android, WebOS, Tizen, and Fire OS are the most popular smart TV OS solutions. Many top TVs use first-party software; LG TVs use the webOS platform, while Samsung TVs primarily run a Samsung-made operating system called Tizen.
Both platforms are excellent choices with comparable app support, a similar horizontal homepage layout, and voice recognition capabilities for hands-free OS navigation.
Some TV manufacturers, such as TCL and Hisense, use different third-party platforms, which means you might get Google TV, Roku, or something else entirely, depending on the model. In any case, it's a good idea to confirm that an OS is compatible with the apps you're most likely to use, such as Disney Plus, Netflix, Hulu, Apple TV, or other content providers.
Refresh Rate
The refresh rate, measured in Hertz (Hz), determines how often a picture updates per second. The standard refresh rate is 60 Hz, but 120 Hz TVs are becoming more popular as they provide a smoother viewing experience, particularly during scenes with rapid action.
The greater the frame and refresh rate, the smoother the movements on the screen. You'll undoubtedly notice that the picture lags when playing a video game at 60 hertz. Most HD TVs are confined to 60hz, so we'd recommend looking into OLED or QLED for a faster refresh rate.
HDMI and Other Ports
A good smart TV will feature two HDMI ports, at least one USB port, and output and input ports for audio and video. However, the best smart TVs will have those connections placed just where they should be: USB and an HDMI will be on the side for quick access, and the remaining ports — two additional HDMI and USB ports, and the audio output and input — will be on the back to assist hide cords.
Look for a TV with at least four HDMI ports if you intend to connect high-definition media primarily.
Brands
The brand is another important factor to consider when looking for a Smart TV. Behind a reliable manufacturer is an excellent track record of dependability and response. Choose brands you know are good, have had positive experiences with, or were suggested to you by someone you trust.
In addition to the brand name, there are other things to consider: Is there a service center network in your area? What type of guarantee is included, and is wall mounting at home included in the cost? An excellent place to start is with user reviews; they can be as unbiased as it gets — we've taken these into account when compiling our list to ensure only the best were considered.
Conclusion | What is the Best Smart TV to Buy in 2023?
Our list of the best Smart TVs includes a wide array of options for all needs. Whether you need a budget TV for casual viewing with decent refresh rates and panels or a premium one to brighten up your living room — this list has it all.
However, in any case, the Amazon Fire TV 4-Series won't disappoint you. With quick 60Hz refresh rates coupled with a bright 4K Ultra HD display and built-in Alexa capabilities, the Amazon Fire TV 4-Series is as good as it gets and, certainly, the best TV to buy right now. The plethora of connectivity options means you can easily set up a soundbar, a gaming console, and a set-top box all at once.
Smart TV FAQs
Does Wi-Fi affect smart TVs?
How long should a smart TV last?
Which TV technology is best?
Are there disadvantages to a smart TV?
Which TV is best, Android or smart?