Owning the best smart TV can benefit your household in various ways this year. Smart TVs eliminate the need for dedicated streaming devices to access the constantly expanding range of content offered by streaming services like Netflix and Disney+, and they offer advanced features like AI-powered upscaling, gaming support, and more.
However, finding the best smart TV platform and model can be challenging with so many options on the market. In this guide, we'll answer the question, "What is the best smart TV to buy," and explain what to look for in terms of size, features, and panel type.
The Top UK Internet TVs for 2023 Ranked
After thorough research, we're confident the LG OLED C2 is the best smart TV money can buy this year – but you shouldn't overlook the competition. Here's a quick breakdown of the best smart TVs this year:
How Do Smart TVs Work?
Smart TVs incorporate an operating system that lets you view and manage online content, meaning you won't have to spend money on one of the best streaming devices. They require an internet connection to operate, which you can provide by connecting them to your broadband router using an Ethernet cable or Wi-Fi.
Once you turn on your smart TV and connect it to the internet, you'll have access to its on-screen menu for its apps and features. Depending on the brand and operating system, your smart TV will include preloaded apps such as Netflix, Hulu, and Amazon and allow you to download other apps you might need.
Although smart TVs had a large part in double-digit streaming growth worldwide in recent years, their manufacturers also focus on gaming, browsing, and other features.
That's why the best gaming TVs are often smart TVs, as they are more likely to offer variable refresh rates, minimal screen tearing, and exceptional connectivity, among other features.
What are the Best Brands for Smart TVs?
The ever-expanding market of smart TVs may seem confusing given that almost every model is described in the same fashion, often noting gaming, streaming, and internet browsing features. This might lead you to believe all smart TVs are pretty much the same. However, one key difference between models may change your perspective of the smart TV market, and that's the software they run on.
While some manufacturers rely on proprietary software, such as LG's webOS or Samsung's Tizen, most use third-party software, including Roku TV, Google TV, and Android TV. So, if you're looking for the best brand smart TV, consider whether the interface, options, and support for different streaming services fit your needs.
For example, you might want a TV that supports Google Assistant voice commands, making an Android or Google TV-powered device a priority for your household.
Besides the operating systems, smart TV manufacturers also offer different display technology. High-end products from Samsung and LG will often provide the best display quality, colour, contrast, and brightness but come at a premium price. Smart TVs made by TCL, Hisense, Philips, RCA, and other manufacturers, meanwhile, won't be as expensive, but you'll find fewer advanced features on their models.
The Best Value Smart TVs in the UK Reviewed
Whether you're looking for a new smart TV because you just got a new gaming console or you decided to get a bedroom TV, our list has recommendations that offer great value for your money. Let's dive into the details and see what makes each of these smart TVs unique and what they offer.
1. LG OLED C2 48″ 4K — Overall, the Best Smart TV This Year
The LG OLED C2 offers stunning picture and sound quality thanks to its well-designed OLED panel and LG's a9 Gen 5 AI processor that adds extraordinary depth to its sound for a comprehensive home cinema experience.
Unlike most smart televisions, this model offers instant access to more than 300 free LG channels with a diverse content selection, including sports, comedy, and movies. It also features built-in fast access to Netflix, the Apple TV app, Disney+, HBO Max, and Prime Video.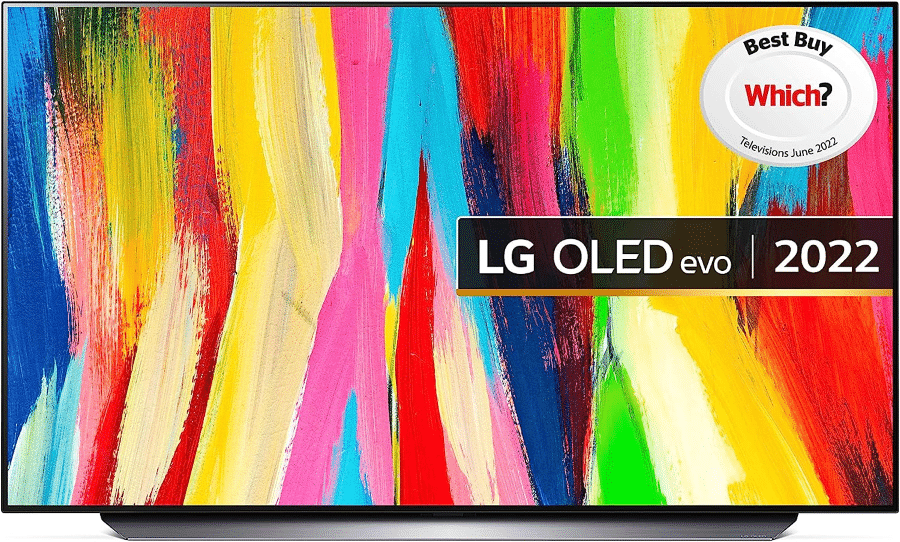 Price

Sizes

Panel Type

Resolution

OS

Refresh Rate

Ports

£899

42 ", 48 ", 55 ", 65 ", 77 ", 83"

OLED

3840 x 2160

webOS

120 Hz

4x HDMI 2.1
2x USB 2.0
LG's position as the industry's top OLED display panel resulted in the company receiving a Technology & Engineering Emmy award in 2021 because of how faithfully its panels replicate a director's creative intent. The OLED C2 models offer unbeatable contrast, perfect black levels, and an exceptional off-angle viewing experience, which makes it ideal for bright or dark rooms and a wide seating arrangement.
Like other LG TVs, the OLED C2 uses the webOS interface, which offers an intuitive layout and user profile-based settings. That means each member of your family can personalize their experience with the TV, resulting in different recommendations and UI layouts. However, its magic remote may take some time to get used to for senior family members compared to traditional remotes.
Besides a superb streaming experience, this model is an exceptional pick for console gamers, as it includes four HDMI 2.1 ports you can use to play your favourite games at 120Hz. It also boasts a low input lag and a 0.1ms response time, making your gameplay more responsive and fluid.
Pros
Near-infinite contrast ratio
Accurate image at wide viewing angles
Exceptional reflection handling
Lightweight design
Superb connectivity
2. Hisense AE7000 43″ 4K — Modern Design with Thin Bezels
The Hisense AE7000 is the best smart TV 43-inch model we've seen. It'll satisfy your entertainment needs without breaking the bank, thanks to its responsive operating system, sharp 4K image, and direct access to Prime Video, Netflix, Freeview Play, YouTube, and Rakuten.
Its one-touch remote button for Freeview Play grants you immediate access to the nation's favourite TV shows and movies, and it lets you pause, play, and rewind content from BBC iPlayer, All 4, ITV Hub, and UKTV Play. Besides its remote, you can use its built-in Alexa support to issue voice commands for smart home controls and music or video playback.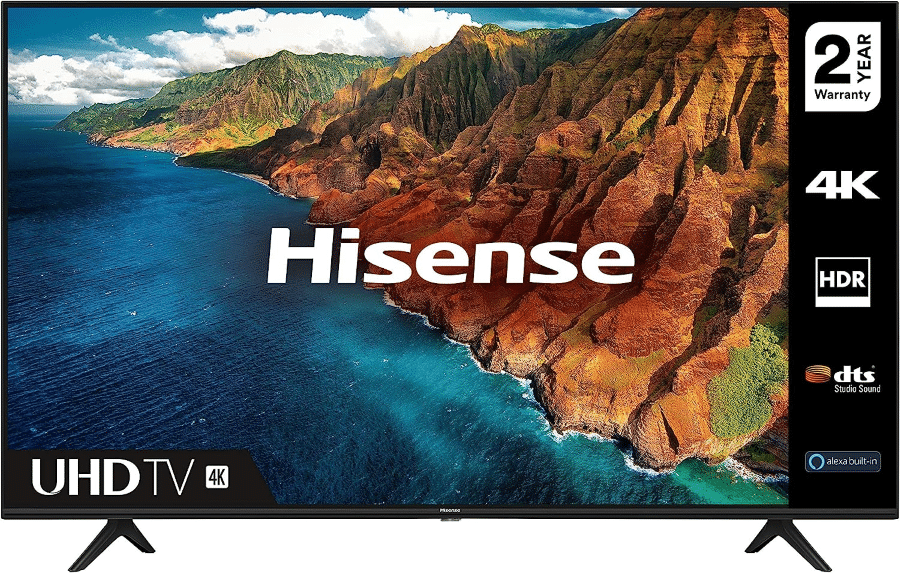 Price

Sizes

Panel Type

Resolution

OS

Refresh Rate

Ports

£290.98

43 ", 50", 55 ", 65"

LED

3840 x 2160

VIDAA U

60 Hz

3x HDMI 2.0
2x USB 2.0
The Hisense AE7000 has a slick and lightweight design with thin bezels that helps it fit anywhere in your household to offer an immersive viewing experience. Assembling this TV requires no technical expertise, and its well-designed feet will ensure stability and prevent the screen from wobbling.
Besides its premium design and preloaded streaming services, this smart TV offers impressive picture clarity and lifelike colours, making it the best smart TV under £500. Thanks to its HDR support, you can enjoy an enhanced, realistic viewing experience with deeper blacks and brighter highlights on its outstanding LED 4K display.
Although it's the best smart TV for the money this year, you'd do well to invest in one of the best soundbar models for a realistic home cinema experience. While its speakers are ideal for immersive gaming sessions and online entertainment, they can't match the LG OLED C2's speakers for action-packed movies or music playback.
Pros
Excellent 4K UHD HDR picture quality for its price
Affordable
Intuitive VIDAA U platform
Stylish design
User-friendly remote
Cons
Out-of-the-box HDR settings may require some adjustments
3. TCL 40S5209K 40″ — Budget-Friendly 1080p Smart TV
The TCL 40S5209K is the best budget smart TV if you're looking for a 1080p screen with Android TV support. With its built-in Android TV functionality, it lets you access hundreds of Google Play Store apps for movies, music, sports, videos, and shows. In addition, it supports Cast Ready apps, which allow you to mirror your phone's screen to the TCL 40S5209K.
This affordable TCL smart TV offers a surprising amount of advanced features, including HDR support and a Game Mode.
Price

Sizes

Panel Type

Resolution

OS

Refresh Rate

Ports

£219

32 ", 40"

LED

1920 x 1080

Android TV

60 Hz

2x HDMI 1.4
1x USB 2.0
Thanks to its native support for Netflix and YouTube, you can expect smooth performance and crisp visuals with HDR quality, and switching from movie to game mode will improve responsiveness, allowing you to immerse yourself in your favourite video games. However, with a cap of 60Hz, it's not the best smart TV for gaming if you prefer fast-paced FPS games.
It also has built-in Google Assistant support, allowing you to control the sound volume on your TV or tell it to play your favourite show on Netflix by issuing voice commands. In addition, you can use it to get information on the movie cast or the score of a big game, all without leaving what you're watching.
Although its screen can't match the quality of our top two picks, the TCL 40S5209K uses micro dimming to analyze the TV picture to adapt the brightness. That makes it an excellent device for late-night binge-watching in the dark, as it delivers an impressive visual experience. We rate it the best cheap smart TV on our list.
Pros
Excellent value for money
User-friendly Android TV platform
Sleek and modern design
Impressive HDR support for its price
4. Samsung AU8000 65″ — Perfect for the Living Room
The Samsung AU8000 is an exceptional smart LED TV that displays native 4K content without issues and has impressive out-of-the-box colour settings.
In addition, it features Samsung's Dynamic Crystal Color, a technology that complements HDR and allows your Samsung TV to display brighter whites and deeper blacks. Regardless of the content you're watching, this technology ensures each frame is as realistic as possible by utilizing the massive colour palette these TVs boast.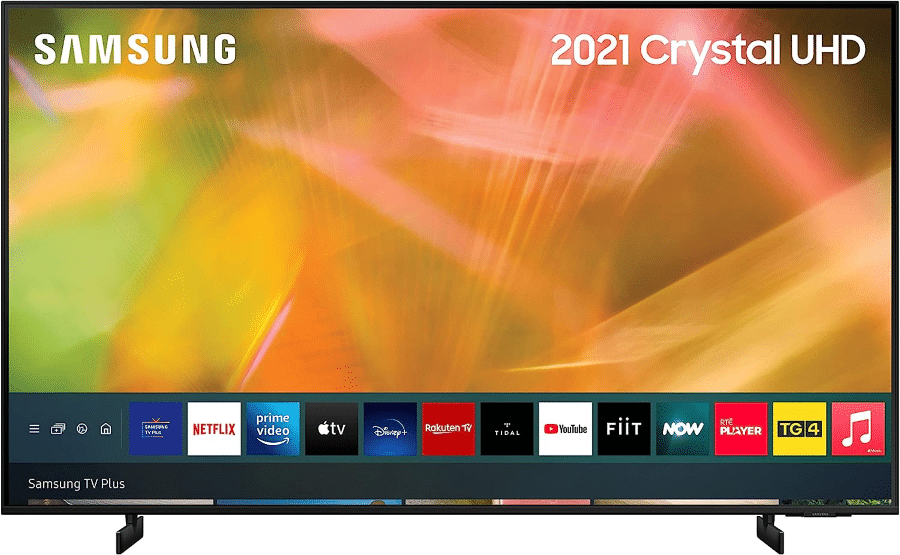 Price

Sizes

Panel Type

Resolution

OS

Refresh Rate

Ports

£949.99

43 ", 50", 55 ", 60", 65 ", 70 ", 75 ", 85"

LED

3840 x 2160

Tizen OS

60 Hz

3x HDMI 2.0
2x USB 2.0
Powered by Tizen OS 6.0, the Samsung AU8000 is a TV with Netflix, Prime Video, Disney+, and other streaming services readily available as soon as you set it up. In addition, it supports Alexa, Google Assistant, and Bixby voice assistants, and it comes with Samsung's TV Plus free channels.
It boasts many smart features, with two notable features that can enhance its audio quality for a truly immersive listening experience. Although its speakers are great on their own, Samsung's Adaptive Sound technology will automatically adjust audio output based on what's happening on the screen.
In addition, if you connect a Samsung sound bar to this TV, its Q-Symphony Lite technology will synchronize the sound output of the TV and the soundbar to deliver a conjoint audio experience.
Although its numerous advanced features and exceptional picture quality justify the price, the Samsung AU8000 65″ model is expensive and may not fit every budget. However, if you need a reliable 65″ TV for your living room, you are unlikely to find a better alternative to this Samsung TV – the best Samsung smart TV by our reckoning.
Pros
Beginner-friendly Tizen OS
Easy to set up and mount on walls
AirSlim design with almost non-existent bezels
Excellent range of streaming services
5. Philips 50PUS7906/12 50″ 4K — Beautiful Ambient Lighting
The Philips 50PUS7906/12 is the best 50-inch smart TV if you're looking for a home cinema solution that doesn't break the bank.
Thanks to its HDR and Dolby's premium vision and sound system support, the content on this Philips smart TV appears brighter and more realistic with a clear, deep, and multi-dimensional sound experience.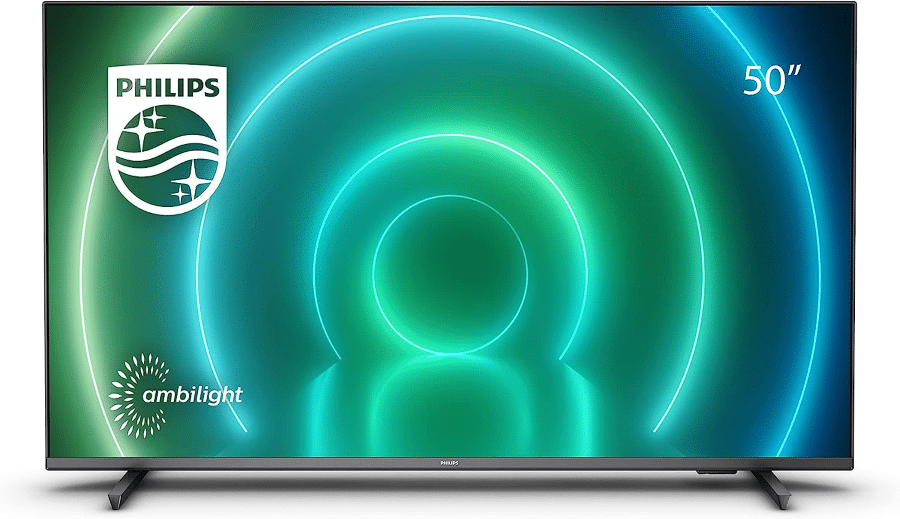 Price

Sizes

Panel Type

Resolution

OS

Refresh Rate

Ports

£449

43 ", 50", 55 ", 65 ", 70"

LED

3840 x 2160

Android TV

60 Hz

4x HDMI 2.0
2x USB 2.0
Although you shouldn't expect as many advanced features as you get with a Samsung or LG TV, for example, this Philips smart TV offers several enhancements to improve your viewing experience. The Pixel Precise Ultra HD technology improves colour reproduction, which helps the TV display more natural and clear images, and it supports all major HDR formats.
However, the feature that makes it the best value smart TV pick for home cinemas is Philips Ambilight. This feature utilizes its intelligent LEDs around the edge of the TV to emit an immersive glow in response to the on-screen action. That means you won't have to spend money on expensive ambient-setting lights or LED strips to make your movie nights more immersive.
Besides streaming, the Philips 50PUS7906/12 is excellent for console gaming, thanks to its low latency setting, which automatically activates when you start a game. Although its 60 FPS cap makes it an unsuitable display for competitive gaming in fast-paced shooters, its Ambilight and crisp 4K UHD display are ideal for immersive gaming.
Pros
Excellent connectivity
Great image quality
Offers Dolby Atmos and Clear Dialogue
Chromecast built-in
6. TCL C741K 55″ — Ideal for Gaming on PC and Consoles
The TCL C741K is an excellent flat-screen smart TV for next-gen gaming, and it ensures smooth, sharp image quality with its superb 144 Hz display.
For maximum responsiveness, the TCL C741K offers a variety of advanced features, including a Game Mode that automatically activates when you enter a game, and AMD FreeSync premium, which prevents choppy, broken frames. In addition, it lets you experience games at 240 Hz if you reduce their resolution to 1080p, which is ideal for PC gamers playing competitive shooters.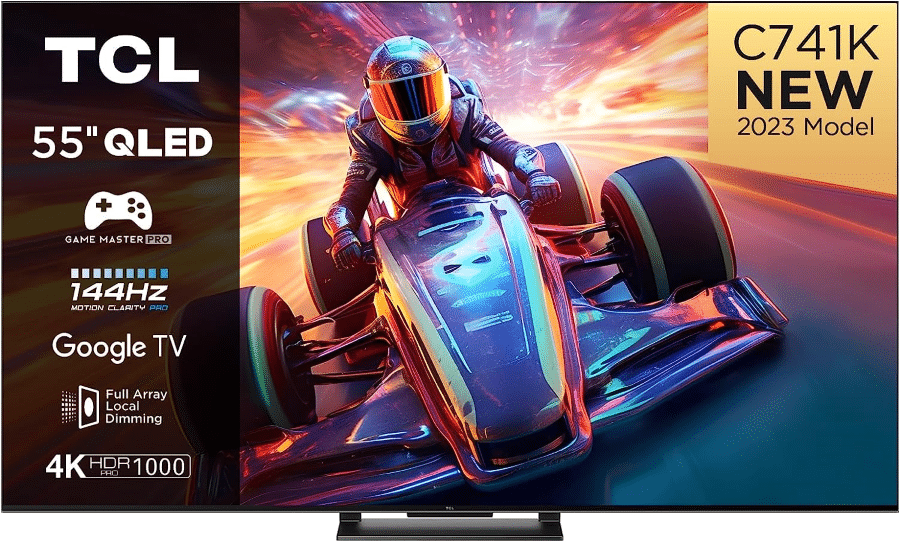 Price

Sizes

Panel Type

Resolution

OS

Refresh Rate

Ports

£649

43 ", 50", 55 ", 65 ", 75"

QLED

3840 x 2160

Google TV

144 Hz

4x HDMI 2.1
1x USB 2.0
This TCL model uses Quantum Dot technology and full-array local dimming to enhance your viewing experience by providing beautiful contrast with rich dark and vibrant bright colours. Combined with 4K High Dynamic Range (HDR) Pro, its QLED panel delivers a brightness output of up to 1,000 nits, meaning you'll have no issues gaming or streaming content in well-lit rooms.
Besides its picture quality and high refresh rates, the TCL C741K offers four HDMI 2.1 ports and ALLM support. That means you'll experience the lowest latency and the best picture settings for gaming and play games at 120 Hz on your next-gen consoles, such as PS5 or Xbox Series X.
However, it only offers one USB port, which limits you to a single connection to devices such as streaming sticks, amplified antennas, or flash drives for viewing media.
Pros
Premium-looking design
Feature-rich for gaming and streaming
Impressive speaker quality
Excellent out-of-the-box colour quality
7. LG Electronics 32LM630 — Easy to Set Up and Use
The LG 32LM630 can fit anywhere in your home thanks to its ease of use and simple setup, which makes it a great smart TV for the money.
The LG 32LM630 runs on webOS, LG's proprietary OS that lets you access thousands of hours of content spanning from award-winning TV shows and movies to music and podcasts. Besides leading streaming services like Netflix, YouTube, or BBC iPlayer, it lets you watch hundreds of channels for free via Free View.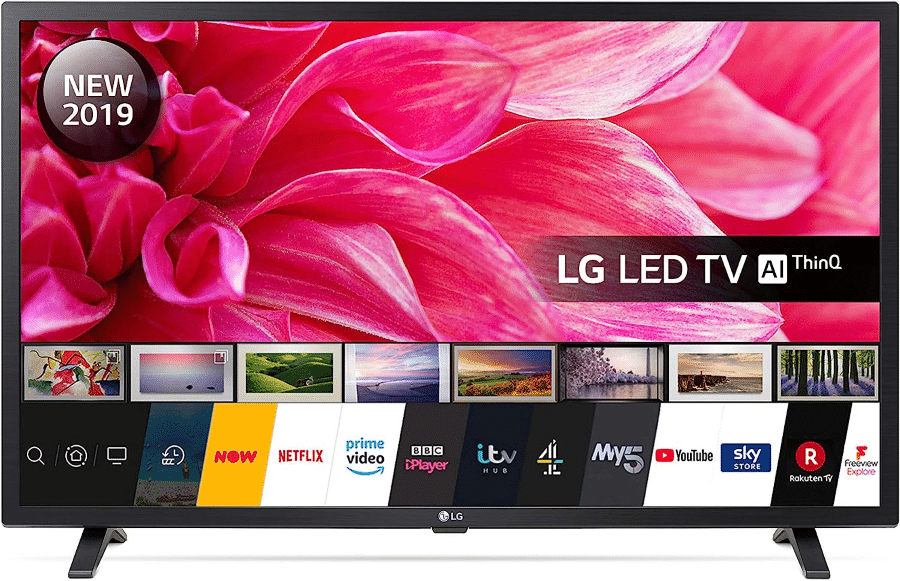 Price

Sizes

Panel Type

Resolution

OS

Refresh Rate

Ports

£193.49

32″

LED

1366 x 768

webOS

60 Hz

3x HDMI 1.4
1x USB 2.0
Although this LG smart TV can't match the quality of 4K television pictures, it supports active HDR that deepens your view and expands the colour palette to enhance your viewing experience.
While we've noticed that its users tend to complain about its build quality, mainly its wobbly feet, this budget-friendly TV is an excellent choice if you need a small smart TV for a wall in your bedroom, kitchen, or living room.
Pros
Sharp image
Responsive and customizable UI
Affordable
Cons
The remote takes some time to get used to
8. Hisense 75A6BGTUK 75″ — Entry-Level Large-Screen Smart TV
The Hisense 75A6BGTUK is an impressive budget-friendly solution if you are in the market for a large-screen TV.
The 75″ Hisense 75A6BGTUK stands out from its competition with its excellent combination of affordability and advanced features. Although similar models from LG and Samsung offer more features and better image quality, they would also set you back a couple of thousand pounds for screens of this size.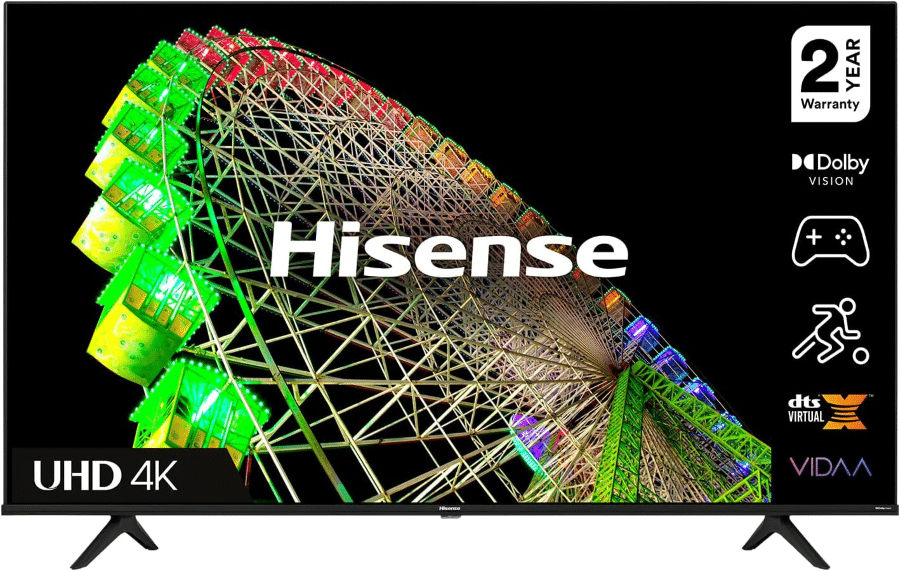 Price

Sizes

Panel Type

Resolution

OS

Refresh Rate

Ports

£749

43 ", 50", 55 ", 58 ", 65 ", 70 ", 75 ", 85"

LED

3840 x 2160

VIDAA U5

60 Hz

2x HDMI 2.1
1x USB 2.0
1x USB 3.0
This Hisense model uses Dolby Vision HDR technology to give astonishing brightness and contrast depth, and its UHD AI Upscaler elevates existing HD images to near 4K quality. Although it shows a maximum of 60 frames per second, it includes Smooth Motion, eliminating blur and screen lag for consistent, fluid scenes.
Thanks to its DTS Virtual X compatibility, you'll enjoy a multi-dimensional audio output that separates dialogue from background noise for a crystal-clear audio experience.
Pros
Excellent value for money
Solid speakers
Sleek and modern design
Cons
Heavy frame and bulky back design
9. Samsung 2020 32″ T5300 — Feature-Rich Small Smart TV
The Samsung T5300 offers various benefits to its users and is best suited for small living rooms and bedrooms – and it's the best 32-inch smart TV for the UK we've seen.
While it may not offer the visual depth of higher-end 4K TVs, the Samsung T5300 has an outstanding set of features and the best price for a Samsung 32-inch smart TV. Powered by Tizen OS, this smart TV lets you access leading streaming services, including Netflix, BBC iPlayer, ITV Hub, and more.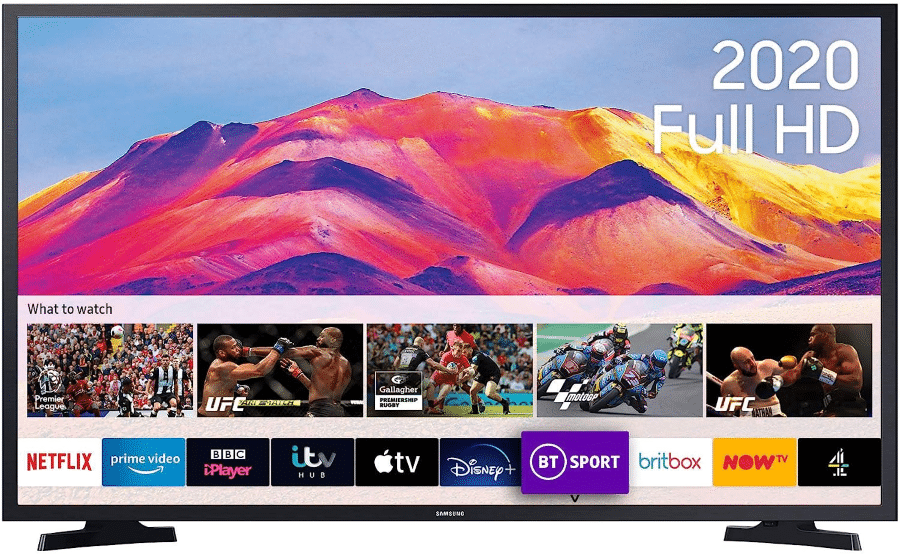 Price

Sizes

Panel Type

Resolution

OS

Refresh Rate

Ports

£269.80

32″

LED

1920 x 1080

Tizen OS

60 Hz

2x HDMI 2.0
1x USB 2.0
One notable feature is its Ultra Clean View, which utilizes an algorithm to analyze original content and improve its details. Similar to upscaling, this technology ensures surprisingly crisp and clean image quality.
It's also pretty affordable – and our experts rate it as the best-priced Samsung 32-inch smart TV going.
Although this 32-inch TV offers excellent visuals for the money, its speakers aren't ideal, and you'd be advised to invest in external speakers for an immersive audio experience.
Pros
Crisp Full HD picture quality
Compact size for smaller spaces
Good colour reproduction
Best small smart TV available
10. RCA RS24H1A 24″ — Excellent Connectivity
The RCA RS24H1A offers versatility and exceptional connectivity for its price, which makes it an excellent pick if you need a device you can move around on a whim.
You can easily place this convenient device in any room in your household and connect it to Wi-Fi to gain access to thousands of hours of entertainment. It also supports Bluetooth connection, which makes it easy to cast content from your smartphone, laptop, or tablet.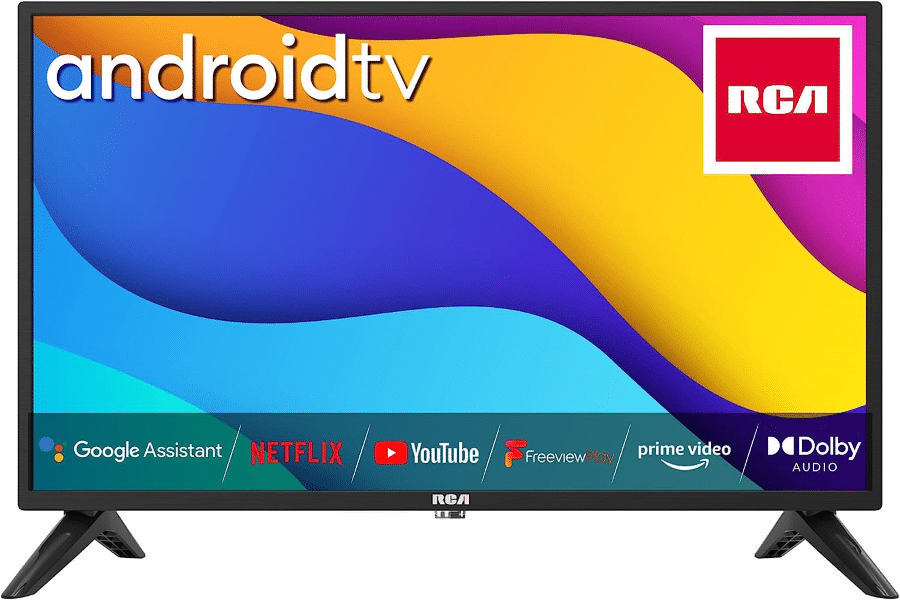 Price

Sizes

Panel Type

Resolution

OS

Refresh Rate

Ports

£129.99

22 ", 24", 32 ", 43"

LED

1366 x 768

Android TV

60 Hz

3x HDMI 2.0

2x USB 2.0
In addition, it arrives with one of the best Android TV remotes that's easy to use even if you aren't tech-savvy. However, if you'd like to experiment with advanced features, it has a button that enables voice controls to turn it on or off, change channels, adjust the volume, and more.
Although it is the best 24-inch smart TV if you need a 2-in-1 solution instead of investing in one of the best gaming monitors, it takes last place this year because of its size and 60 Hz cap.
Pros
User-friendly Wi-Fi and Bluetooth connectivity
Superb colour quality
Intuitive remote
Cons
Low-quality sound output from its built-in speakers
The Top Smart TVs for the UK Compared
We've prepared a master table to help you make a head-to-head comparison of these TV models and narrow your search based on their pricing, panel type, OS, refresh rate, and other factors.
Smart TV

Price

Sizes

Panel Type

Resolution

OS

Refresh Rate

Ports

£899

42″, 48″, 55″, 65″, 77″, 83″

OLED

3840 x 2160

webOS

120 Hz

4x HDMI 2.1
2x USB 2.0

£290.98

43″, 50″, 55″, 65″

LED

3840 x 2160

VIDAA U

60 Hz

3x HDMI 2.0
2x USB 2.0

£219

32″, 40″

LED

1920 x 1080

Android TV

60 Hz

2x HDMI 1.4
1x USB 2.0

£949.99

43″, 50″, 55″, 60″, 65″, 70″, 75″, 85″

LED

3840 x 2160

Tizen OS

60 Hz

3x HDMI 2.0
2x USB 2.0

£449

43″, 50″, 55″, 65″, 70″

LED

3840 x 2160

Android TV

60 Hz

4x HDMI 2.0
2x USB 2.0

£649

43″, 50″, 55″, 65″, 75″

QLED

3840 x 2160

Google TV

144 Hz

4x HDMI 2.1
1x USB 2.0

£193.49

32″

LED

1366 x 768

webOS

60 Hz

3x HDMI 1.4
1x USB 2.0

£749

43″, 50″, 55″, 58″, 65″, 70″, 75″, 85″

LED

3840 x 2160

VIDAA U5

60 Hz

2x HDMI 2.1
1x USB 2.0
1x USB 3.0

£269.80

32″

LED

1920 x 1080

Tizen OS

60 Hz

2x HDMI 2.0
1x USB 2.0

£129.99

22″, 24″, 32″, 43″

LED

1366 x 768

Android TV

60 Hz

3x HDMI 2.0
2x USB 2.0
Details to Consider When Choosing the Right Smart TV for You
Picking the right smart television for your household depends on your needs, preferences, and available space. For example, if you have several family members with unique interests and separate watching hours, looking for a suitable operating system with high customization and multiple profiles could be your priority.
However, there are many crucial factors to consider when shopping for a new flat-screen smart TV, and here we'll highlight the most important ones:
Screen Size
Finding a smart TV with the perfect screen size isn't an easy task, as there are many factors to consider. First, you'll need to determine if you're looking for a large screen (55″ and above) or a small smart TV (24″ to 55″).
Larger displays are ideal for spacious living rooms and dedicated home theatres, as they provide an unmatched level of immersion and a captivating experience. Smaller screens are a popular choice for bedrooms, kitchens, offices, and even as secondary displays for PCs.
If you are uncertain about the screen size you need, you'll have to consider your room dimensions to determine the ideal distance for TV viewing. For example, you should have at least one meter of space between yourself and your smart TV if you pick a 55″ model.
Although large screens are cheaper than ever, thanks to various technology advancements and increased competition, you shouldn't try to fit a large screen in a small room because it can overwhelm smaller spaces and lead to issues with seating arrangements. A similar problem can stem from getting a screen that's too small for your room, especially if it doesn't have wide viewing angles.
Display Technology
Three leading display technologies in the smart TV market directly impact colour accuracy, image quality, contrast, and overall viewing experience. These are – LED, QLED, and OLED. Each of these technologies offers unique advantages and features, meaning you'll need to choose the one that suits your needs and preferences.
LED (Light Emitting Diode) — LED is the most common display technology found in modern TVs, and it uses a backlight system with LEDs to illuminate the screen. This technology offers solid image quality, thin designs, and energy efficiency, making it a popular choice for budget-conscious users.
QLED (Quantum Dot LED) — A proprietary technology developed by Samsung, QLED incorporates quantum dots, which are nanometer-sized particles, to enhance brightness and colour accuracy. Most mid-range TVs use QLED displays to improve colour saturation and excellent picture quality. Thanks to their bright display, TVs with these panels are ideal for well-lit environments and those seeking vibrant visuals.
OLED (Organic LED) — An advanced display technology that delivers the best picture quality. It uses self-emissive pixels that can individually turn on or off, which results in infinite contrast ratios and perfect blacks. That means you can expect impressive colour accuracy, which makes it a favourite among gamers and cinephiles. However, this premium quality also comes at a premium price, as OLED displays are the most expensive on the market.
Resolution
The resolution of your smart TV significantly impacts the visual experience. Although Full HD and 4K UHD offer impressive image clarity and detail improvements, HD resolution is still a viable choice if you are on a tight budget and don't need a large screen.
The number of pixels that make up the screen's display area defines the resolution of a TV, and it directly affects the detail and clarity of the displayed content. A higher resolution means more pixels and shows more detailed and sharper images.
Budget-friendly TVs often use HD (720p) and Full HD (1080p) resolution on smaller screens to provide a suitable multimedia consumption and regular TV viewing experience. These smart TVs are also popular among PC gamers, as 24″ and 32″-inch TVs are easy to fit into a gaming setup.
4K UHD (2160p) offers four times the resolution of Full HD and delivers incredibly sharp and detailed visuals, which makes this resolution ideal for large screens. With 4K content readily available via various streaming platforms, Blu-ray discs, and gaming consoles, this resolution is suitable for any household.
Operating System
You shouldn't overlook the operating system of your smart TV, as each TV manufacturer offers their own smart platform with its own interface, functionality, and app ecosystem. It provides users with interactive and internet-enabled features and grants access to various streaming services, apps, and customizable settings.
High-end manufacturers like LG and Samsung offer better personalization and more advanced features via their proprietary operating systems. Meanwhile, small and mid-sized manufacturers rely on third-party software such as Android and Google TV.
You should take your time to ensure the operating system of your smart TV meets your needs, as missing features often require third-party hardware as an alternative. For example, if you have smart home appliances you'd like to control through your TV, LG's webOS or Samsung's Tizen could be your best options.
Sound Quality
Ensuring your TV has Bluetooth connectivity allows you to set up a wireless speaker system that's more aesthetically pleasing than traditional wired setups. In addition, it allows you to use headphones for a more personal and tailored listening experience.
Another crucial aspect to consider, the sound quality of your TV can greatly influence your immersion and enjoyment. Although each smart TV has built-in speakers, they don't always offer adequate quality for an enjoyable gaming or streaming session.
However, since there is no real way to test the quality of its speakers before the TV arrives at your doorstep, you should turn to user reviews and look for negative and positive reviews that focus on its sound quality.
While many TVs offer impressive out-of-the-box audio experience, you shouldn't overlook their soundbar compatibility and advanced features. Ensuring your TV is compatible with external sound solutions lets you rest easy knowing you can always improve its audio quality to add a more pronounced bass, wider soundstage, and better audio clarity.
Some advanced audio features to look for are Dolby Audio and DTS Support. These technologies optimize the audio output of your TV and ensure a more immersive and dynamic sound experience. Although they are common with high-end models, many budget options support these technologies.
Conclusion – What is the Best Smart TV in the UK for 2023?
We created this list with your needs, preferences, and budget in mind, picking smart TVs with different resolutions, screen sizes, and price points. Although you can't go wrong with any option on our list, we're confident the LG OLED C2 offers the most comprehensive and reliable performance of any smart TV available this year.
Its OLED panel offers unmatched image quality, true-to-life colours, and perfect black levels. In addition, it features a 120 Hz refresh rate that helps every detail spring to life and offers an immersive next-gen gaming experience.
Besides its stunning visuals, the LG OLED C2 boasts advanced audio technologies and powerful built-in speakers that ensure you hear every sound with clarity and depth. To top it off, it has a sleek, bezel-less design that adds a touch of elegance to every space.
Best Smart Televisions UK FAQs
What is the best inexpensive smart TV to buy?
What size smart TV should you buy?
How much should I spend on a TV?
Do smart TVs come with Alexa and Google?
What is the best smart TV for an older person?