Choosing the best enterprise WordPress hosting service for your needs is a bit like looking for a needle in a haystack. You're no doubt thinking of security, uptime, speed, and on-demand backups. Meanwhile, every single service out there promises to provide everything you need without breaking the bank – but that's not actually the case.
We've reviewed dozens of WordPress enterprise hosting services and found the ones that'll enable you to run your business efficiently without worrying about traffic. We looked at performance, levels of support, scalability, and, of course, security. A handful stood out as the best WordPress hosting for enterprises. Let's take a closer look at each one so that you can find which enterprise web hosting service best suits your needs.
The Top WordPress Enterprise Hosting Options Ranked
All of the top enterprise hosting service providers for WordPress understand what businesses need, and they generally offer a mix of value and performance, although some choose to focus on one and do it well:
How Does Enterprise Hosting Work?
Enterprise hosting is a general term that refers to hosting solutions geared toward the needs of large companies. Businesses need high-performance, high-availability, and ultra-secure hardware and software to run their business effectively.
Enterprises can either outsource their hosting needs with the help of an enterprise hosting service or invest in an on-premise data center. On-premise infrastructure gives you more control over your hosting environment, but it's extremely expensive to maintain as it requires special facilities, dedicated IT staff, and a lot of expensive hardware.
Enterprise hosting solutions come at a fraction of the cost and can take care of all your hosting needs, allowing you to side-step the huge initial investment in infrastructure and IT professionals. The hosting provider takes care of all the backend software and hardware, so you can set up your WordPress business site immediately.
What Are the Different Types of Enterprise Hosting?
There are four main types of enterprise hosting, and each has its pros and cons. Ordered from least to most expensive, they are:
In managed shared hosting, the enterprise hosting provider takes care of all infrastructure-related tasks, such as maintenance, updates, security, and software.
This is a godsend for businesses that don't want to deal with any of the technicalities of hosting and focus on their core operations instead. Thanks to economies of scale, shared hosting is the most affordable website hosting solution for enterprises — DreamHost and BlueHost are great examples of providers that offer this service.
Self-Managed Hosting or VPS (Virtual Private Server) Hosting
With VPS hosting, you get a portion of a physical server provided as an isolated virtual environment with its own compute resources, e.g., 16GB RAM and 4 vCPUs.
The two main benefits of self-managed hosting are that you don't have to share the server resources with anyone else, and you get root access to install and customize the server to fit your specific needs. With this greater level of control, you can optimize your VPS hosting solution to get the most out of the resources at your disposal — from the server's operating system to the database and the application layer.
The downside is that you'll need the technical know-how to do so. As such, while powerful in terms of customizability, self-managed hosting does mean that server management and security fall to you. Liquid Web has an impressive number of VPS hosting plans and even offers semi-managed solutions.
Cloud Hosting
This is similar to VPS hosting, with the difference being that your data is handled by multiple servers working together as one. This is great if you're expecting your traffic to fluctuate and you want to meet additional demand by dynamically scaling up your infrastructure.
While cloud hosting offers great uptime and performance, it can potentially lead to higher costs if it isn't properly managed due to its pay-as-you-go model. InMotion Hosting has loads of tailor-made cloud hosting packages suitable for any kind of business or application.
Dedicated Hosting
Much like the cloud, dedicated hosting is a step up from VPS hosting as you get to enjoy your own physical server, and you don't have to share it with anyone. If security and performance are mission-critical for your enterprise, as would be the case with healthcare or high-volume e-commerce sites, this is likely suitable for your operations.
Dedicated hosting usually comes with an account manager, and you'll be able to negotiate some of the variables associated with your server(s) if need be — stuff like hardware and security, like who can access your machine and under what conditions. InterServer offers 10 Gbps dedicated solutions with AMD EPYC CPUs, and they ensure no other server can interfere with your bandwidth throughput.
Colocation Solutions
This option involves renting space in a data center where you house your server hardware, so it only applies to businesses that already have servers, or that want to buy and own them but don't want to deal with the pain of managing their own data center.
Colocation offers control similar to dedicated hosting, coupled with superior infrastructure and network connectivity. The downside, however, lies in the significant upfront investment for server hardware and the fact that you need some in-house IT staff who can manage your infrastructure.
Top 10 Scalable WordPress Hosting Picks Reviewed
Let's dive into each of the top 10 best enterprise WordPress hosting services and take a closer look at their suitability for enterprise use cases, level of service, and relevant pros and cons.
1. DreamHost — The Best Enterprise WordPress Hosting Solution in 2023
DreamHost is the absolute best enterprise web hosting solution. With the WordPress Starter plan, you get a free domain, unlimited traffic, an impressive 50 GB of storage, and free automated WordPress migrations via its plugin.
Everything from the excellent uptime SLA to the multitude of scaling options and 24/7 support about DreamHost spells B2B. With this, you can confidently take your WordPress business site from 100 visitors to a million and not worry about your site slowing down.
Unlike other enterprise hosting solutions, DreamHost doesn't try to skimp on the SSL certificate, which is included for free on all plans. The SSL certificate secures your website, enhances trust, and is practically indispensable if you want to rank high on Google.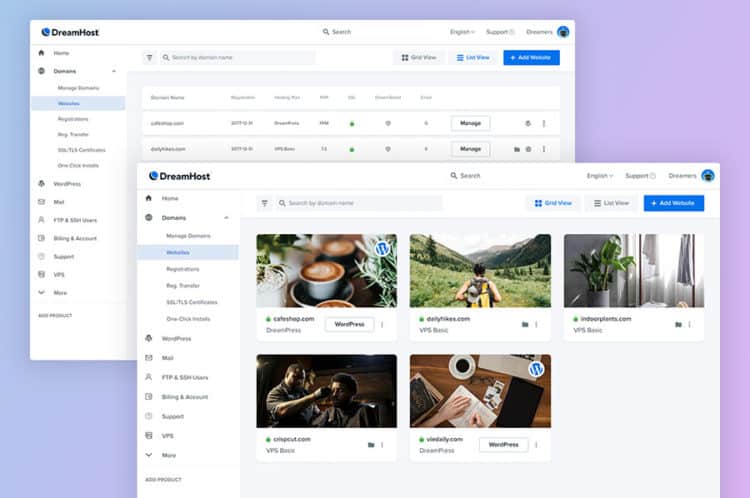 | | | | | |
| --- | --- | --- | --- | --- |
| Starting Price | Uptime | Average Load Time | Traffic | Storage |
| From $2.59/month | 100% | 1.75 seconds | Unmetered | 50GB to Unlimited |
On the WordPress Unlimited plan, DreamHost offers unlimited email accounts, which is really handy as you don't want to have to pick and choose between your employees, and you can have custom email addresses for departments or individuals within your company.
The free unlimited WordPress migrations are useful if you have a site already, as it makes transitioning your existing WordPress site(s) to DreamHost a breeze.
The DreamPress plans are built for enterprise WordPress sites that already see a lot of traffic. Powered by the company's high-performance cloud, all of the DreamPress plans include server-level caching to deliver your content at lightning speed, one-click staging so you can thoroughly test new features before pushing them live, plus on-demand backups.
As a renowned player in the field, it's unsurprising that DreamHost's user reviews are overwhelmingly positive, with individuals praising the company's migration service, website recovery in cases of hacking, and customer support. Many have used the host's services for decades and refer it to their friends, which says a lot.
Pricing
DreamHost has the following three DreamPress plans for established businesses looking for scalable WordPress hosting: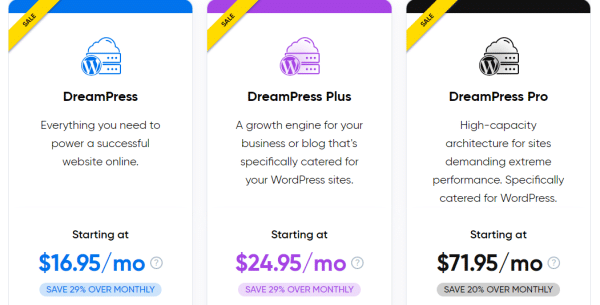 There are also two basic WordPress plans priced as follows:
WordPress Starter — from $2.59/month for the 1-year plan
WordPress Unlimited — from $3.95/month for the 1-year plan
Pros
Unlimited bandwidth and storage on the Unlimited plan
Free WP website builder on all plans
Free unlimited website migrations
Easy-to-use dashboard with advanced features
100% uptime guarantee with SLA
The best WordPress hosting solution
Cons
Priority support isn't included in the WordPress plans
Pricing changes on renewal
2. InMotion Hosting — High-Performance Enterprise Web Hosting
InMotion Hosting is committed to delivering a high-performance enterprise hosting experience for WordPress sites, and you can tell from the fact that it uses ultra-fast NVMe storage on all its plans.
Aside from unlimited bandwidth on all WordPress plans, InMotion includes a suite of marketing tools that makes it easier to manage your business site, engage with customers, and even advertise your services — it's the only hosting company that currently does this.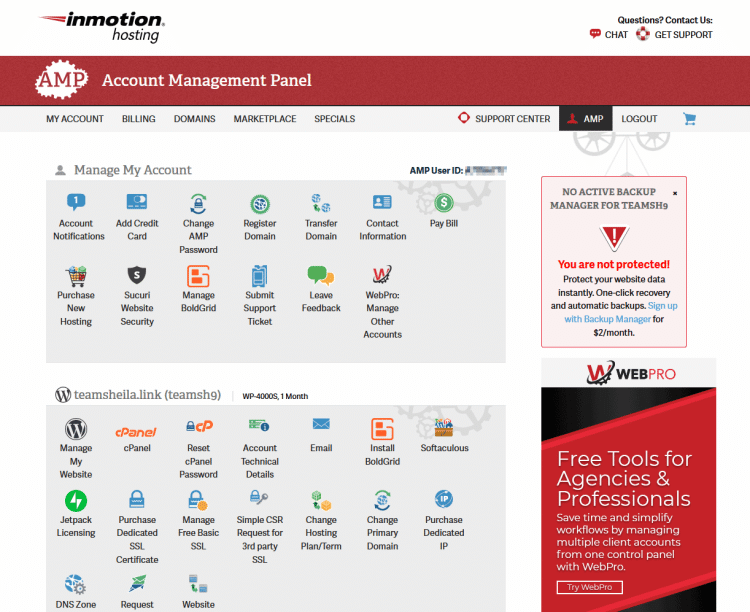 Starting Price
Uptime
Average Load Time
Traffic
Storage
From $5/month
99.99%
US – 0.8 seconds

EU – 1.2 seconds

Asia – 1.8 seconds

Unmetered
100GB to Unlimited
Another standout feature is the security suite, which you benefit from regardless of plan — InMotion Hosting provides DDoS protection, free SSL, as well as hack & malware protection. This is impressive and offers excellent value for money, as you'd be paying more to get less if you bought this standalone.
All of your collaborators can rest easy as you get unlimited email addresses on all besides the basic plan, and even that one has 10, so all critical members of your team can get their own inbox.
If you're looking to scale, InMotion's higher-tier plans offer useful performance optimizations, such as advanced server-side caching that'll considerably speed up your loading times. For big sites with a lot of resources, you can expect a good caching stack to improve your site's loading time by a factor of 2 or more.
In the age of outsourcing, InMotion Hosting's US-based customer support definitely stands out. They're paying more for this service, and it shows in the quality they're able to offer, hence the majority of people working with them have positive experiences.
Pricing
InMotion Hosting's WordPress hosting plans are an upgraded version of the shared hosting ones, here are your options:
Tier 1 — from $5/month
Tier 3 — from $15/month
Tier 5 — from $30/month
Tier 8 — from $160/month
The company also offers premium VPS hosting suitable for large enterprises serving millions of customers per year, here's what they cost:

Pros
Unmetered bandwidth
10 email addresses, even on the basic plan
Marketing tools and security suite on all plans
Great scalability with high-power VPS plans available
Cons
A bit more expensive overall
Limited server coverage outside of the US and the EU
Liquid Web is a premium solution when it comes to WordPress hosting for enterprises. You get absolutely everything you need so long as you don't mind paying the higher price.
Its cloud-hosted WordPress plans have set the standard for scalable hosting environments. You get full access to your database, the server, as well as the full suite of developer tools, and you don't have to give up any of the perks of managed hosting.
Performance-wise, Liquid Web relies on a combination of scalable cloud environments, fast web servers, and latest-generation caching technology to deliver any WordPress site as fast as possible. You also get access to no less than 2TB of bandwidth, which is enough to handle the needs of a small-sized streaming service.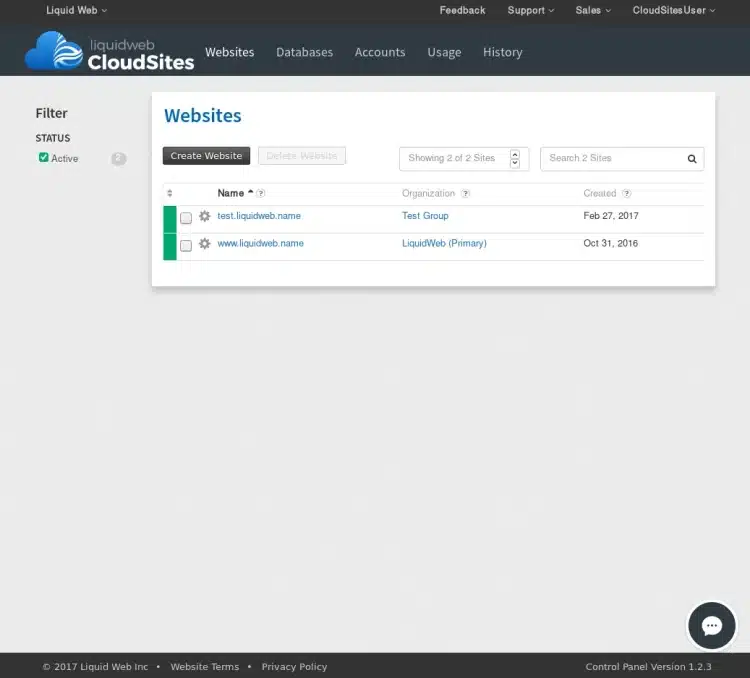 | | | | | |
| --- | --- | --- | --- | --- |
| Starting Price | Uptime | Average Load Time | Traffic | Storage |
| From $17.50/month | 99.98% | 1.4 seconds | Unmetered | 15GB to 800GB |
Automatic daily backups, automatic SSL, and premium WordPress security are included in all plans. And to sweeten things further, there are unlimited email accounts and unmetered bandwidth. When we said Liquid Web set the standard for scalable WordPress hosting, we meant it.
No other WordPress hosting plan for enterprises includes as many premium plugins: from iThemes Security Pro and iThemes Sync to Astra Pro and Beaver Builder, you have everything you need to protect, customize, and enhance the functionality of your enterprise WordPress site. The more you know, the harder it is to turn them down.
Unlike most hosting solutions which overwrite your daily backups every day, Liquid Web stores them off-site for a whole month. That means you can easily go back to your site from two or three weeks ago, which makes it a lot easier to manage holiday or other time-limited promotions.
More importantly, Liquid Web has tailor-made packages for a variety of use cases. Need to store healthcare data? Check out its HIPAA-compliant servers. Want to run an always-on service where every second of downtime comes at a steep cost? The host's high-availability clusters are at your service.
Pricing
Liquid Web's only significant downside is the fact that it's expensive. For a large enterprise, this should be nothing more than a business cost, as any cost-benefit analysis will show you're getting your money's worth. Here's what you can expect to pay for Managed WordPress Hosting: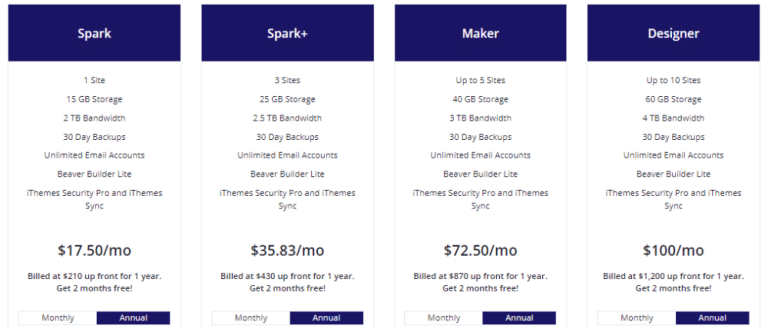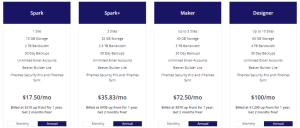 Monthly pricing for these plans starts at $20, and there are ample plans on offering for various needs and budgets, including dedicated server hosting, e-commerce hosting services, and VPS hosting.
Pros
Premium themes and plugins on all plans
Jetpack premium license included on higher tier subscriptions
Built-in scalability for the highest tier option through traffic-surge protection
Managed cloud hosting environment with full server and database access
Cons
Premium price tag
No data center locations in Asia or Australia
4. A2 Hosting — The Best Mid-Range WP Hosting Service
Much like InMotion, A2 Hosting also relies on NVMe storage for its enterprise WordPress hosting solutions. It's significantly faster than regular SSDs and works really well when coupled with the company's Turbo Server architecture, which is specifically designed for ultra-fast WordPress sites.
A2 Hosting's Turbo Server is a cornerstone of its marketing. While it sounds a bit "salesy" for our taste, the goods are all there: a high-performance web server with a solid caching stack is an excellent setup not just for WordPress but for any PHP-based sites.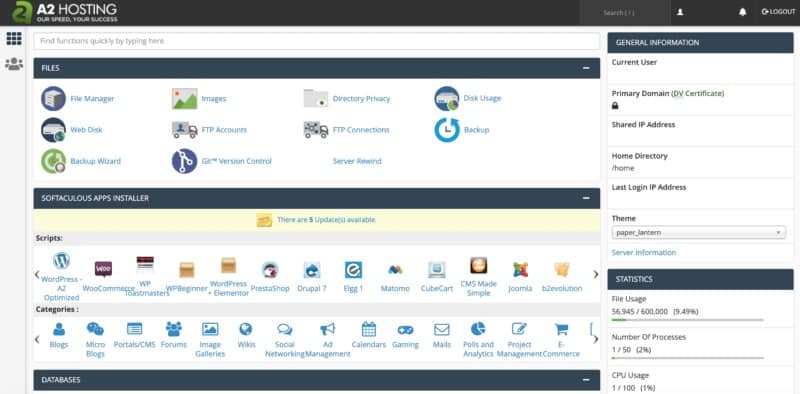 Starting Price

Uptime
Average Load Time
Traffic
Storage
From $11.99/month
99.98%
US – 1.3 seconds

EU – 1.5 seconds

Asia – 1.5 seconds

Unmetered

50GB to Unlimited
You also get unlimited email addresses and easy staging on all plans, which will enable you to test any changes you make to your sites before pushing them live. And if you mess something up, you can count on the off-site backup, included on most plans, to roll back any damage and start fresh.
The premium security solution powered by Imunify360 is a great asset. You're getting a comprehensive server-side security suite that keeps you safe from malicious parties. If your business handles sensitive customer information, this kind of protection from cyberattacks is a must.
A2's enterprise web hosting for WordPress includes managed services, which means they handle WordPress updates and patches on your behalf. Most of the time, this is a plus, as it means less hassle on your end.
While the enterprise managed hosting plans from A2 Hosting are more on the expensive side, you get a lot of value for your purchase. You even get a premium JetPack Security license, one of the best security plugins for WordPress, with higher-tier options.
Pricing
A2 Hosting's managed WordPress plans have a lot of useful features for enterprise sites. As usual, you should check to see if you can afford the regular renewal rate before signing up. Here are your options: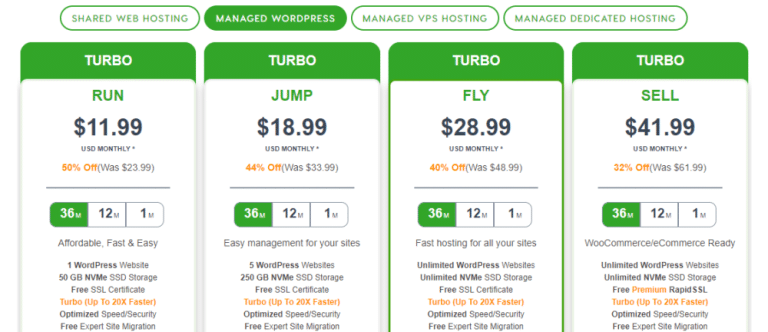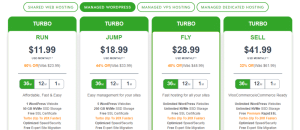 As with most of the best Enterprise hosting solutions, there are ample options for various needs — from Ecommerce, managed and unmanaged solutions, VPS, dedicated, and even email hosting services.
Pros
Turbo Servers on all plans
On-site and off-site backups on most plans
Jetpack premium license included on higher tier subscriptions
Built-in scalability for the highest tier option through traffic-surge protection
Cons
Limited server coverage outside the EU and US
Can't host more than one site on the basic plan
5. InterServer — Affordable Managed and Unmanaged WordPress Hosting for Enterprises
Tired of having to choose from endless enterprise hosting plans? InterServer makes things easy with its one managed WordPress plan, which comes with unlimited "ultra" SSD storage and unmetered bandwidth.
While the idea of unlimited storage might seem attractive, don't take it literally and plan to offload your large-scale data management to your hosting account with InterServer. All enterprise hosting providers use the formulation with an asterisk, so you're practically limited in one shape or another.
For InterServer, you're limited to a maximum of 20% of the server's resources. Unlimited email accounts are a great plus, though, as they'll provide everyone in your organization with the ability to interact with external parties using a professional address.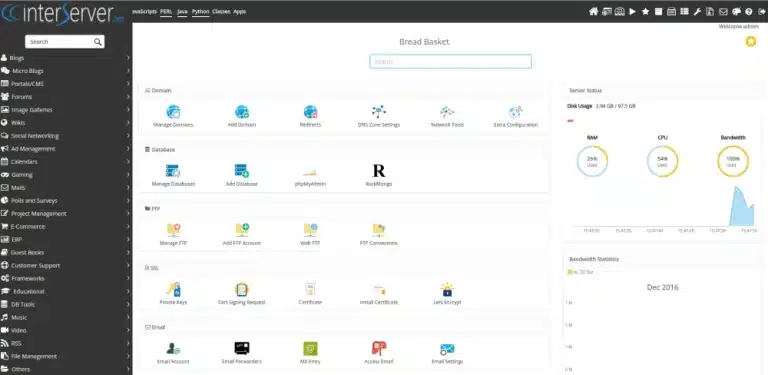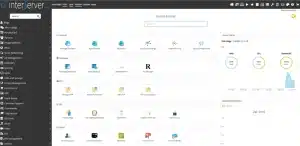 | | | | | |
| --- | --- | --- | --- | --- |
| Starting Price | Uptime | Average Load Time | Traffic | Storage |
| From $8/month | 99.99% | 2.3 seconds | Unmetered | 100GB to Unlimited |
You get peace of mind from the automatic daily and weekly backups, as you don't have to worry about platform-breaking issues on your enterprise WordPress site. If something's wrong and you can't fix it, you have a recent checkpoint for rollback. And yes, it's as easy as pressing a few buttons.
And if that wasn't enough, InterServer's professional team will clean up your WordPress site if it ever gets taken over by malware or hackers. You wouldn't believe how difficult and expensive it is to find someone to do this for you, let alone do it yourself.
The trouble is that you can't host multiple sites with InterServer's managed WordPress hosting plan — you'd either have to upgrade to a VPS or buy another one for each of your business sites.
Pricing
InterServer's simplicity, great features, and competitive pricing make it a good enterprise managed WordPress hosting solution. The pricing starts at $8/month, and if you need more resources for your site, you can always scale with the WordPress VPS plans, with pricing as follows:
1 Core, 2GB RAM, and 30GB SSD — $6/month
3 Cores, 6GB RAM, and 90GB SSD — $12/month
5 Cores, 10GB RAM, and 150GB SSD — from $18/month
7 Cores, 14GB RAM, and 210GB SSD — from $61.99/month
Pros
Unlimited storage and bandwidth
Free hacked WordPress cleanup
InterShield security for malware protection
Daily and weekly backups included
Cons
Limited scalability in the way of managed enterprise WordPress hosting
No up-front discount price on sign-up
6. IONOS — A Low-Cost Hosting Solution With Unlimited Bandwidth
IONOS has a reputation as an affordable enterprise web host that delivers good performance. Its unique selling point is the promise of an isolated hosting environment for each site, which means better security and performance for your online presence because your website isn't impacted by others hosted on the same server.
Your enterprise WordPress site can rely on unlimited bandwidth from IONOS regardless of the plan you end up choosing. Since you know how much RAM and CPU resources are associated with your account, you can easily scale up to fit the evolving needs of your business.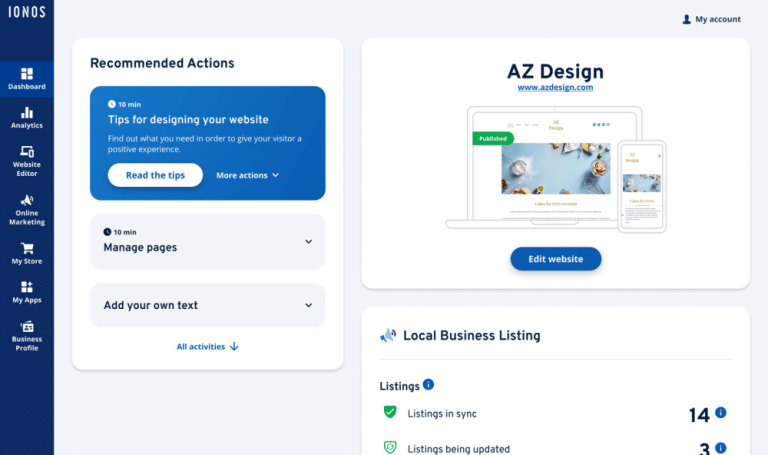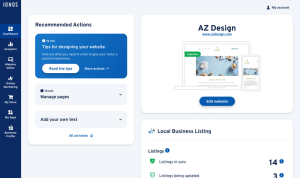 | | | | | |
| --- | --- | --- | --- | --- |
| Starting Price | Uptime | Average Load Time | Traffic | Storage |
| From $1/month | 99.99% | 0.7 seconds | Unmetered | 25GB to 75GB |
With IONOS, you get free daily malware scanning and a free SSL certificate from WildCard. While it may seem like SSL is a basic feature, not all enterprise web hosts include one on the basic plan. And if it's not there, it usually means you can't set it up on your own — this isn't always the case, but it's a distinct possibility.
DDoS protection and redundancy are included in all plans, so it's highly unlikely that a botnet attack would affect your online presence. If, by chance, the server that hosts your enterprise WordPress site goes down, everything will automatically be restored from a backup server located in a different region.
Emails will definitely be a problem for large organizations, as each of the IONOS plans has a very limited number of accounts. Even the most expensive plan has only 10 inboxes. It's also great that they each come with 2GB of storage, but that may not be enough for public-facing roles where branded communication is a must.
Pricing
While IONOS has a great value proposition, it might not be suitable for businesses that need a lot of email addresses. That said, the pricing is incredibly cheap, starting at just a dollar a month. Here are your options:


IONOS has a rich number of options on offer for e-commerce and agencies, amongst others. The VPS hosting plans also start at just $2/month, but as with all, prices do climb slightly on renewal.
Pros
Advanced site analytics on higher-tier plans
Malware removal included on the Boost plan
Anti-spam and anti-phishing filters
Isolated hosting environment for improved performance and security
Cons
A limited number of email inboxes
Lack of scaling options in terms of managed WordPress for enterprises
7. HostArmada — Cloud-Based WordPress Hosting With Good Security
HostArmada's enterprise WordPress plans offer a good mix of base value and security, which makes them a great option for many enterprises. The best part is that the entire service is built using cloud architecture, so you benefit from added redundancy and scalability out of the box.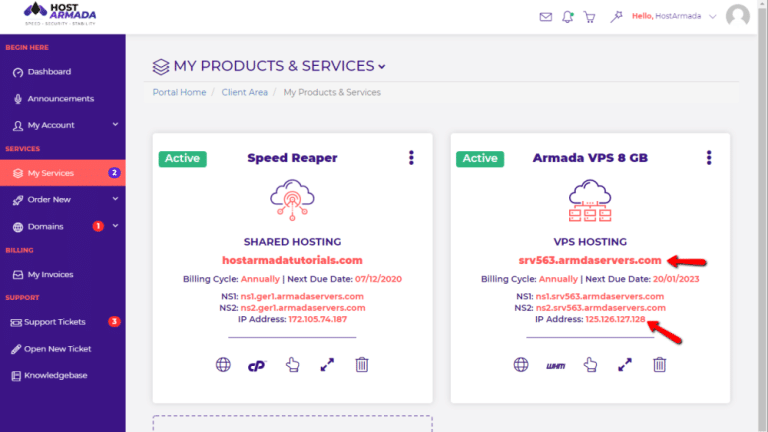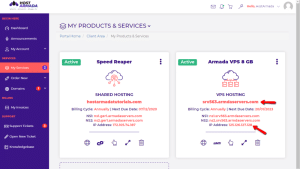 | | | | | |
| --- | --- | --- | --- | --- |
| Starting Price | Uptime | Average Load Time | Traffic | Storage |
| From $2.49/month | 99.99% | 1.5 seconds | From 30k to 120k visitors/month | 15GB to 40GB |
Since HostArmada's WordPress hosting plans are all cloud-based, it's worth noting some of the main advantages you get if you host your WordPress enterprise site with them, namely: guaranteed compute and RAM resources. This makes it highly unlikely that your site's performance will be impacted by other clients hosted on the same server.
All WordPress hosting plans include daily backups, ranging from 7 to 21, depending on which plan you're on, and a full security suite to keep your business presence free of malware. In addition, DoS and DDoS attacks should be prevented by the host's firewall, as the group guarantees a proactive defense mechanism. Nice to have, but hope you'll never need it.
Although you get unlimited sites on two of the plans, your bandwidth is limited to "acceptable usage". It may sound ominous, but it's really more of a formality to ensure your business WordPress site isn't used as a streaming or file-sharing hub.
Pricing
HostArmada has three cloud hosting solutions. The cheapest WordPress hosting plan, Start Dock, doesn't include free private nameservers, which means you might have to pay a fee to either transfer your existing domain to them or vice versa.
That said, you shouldn't have any extra billables on your account if you went for the Web Warp or Speed Reaper plans.


Whether HostArmada's enterprise web hosting is great value for your business depends entirely on what you're looking for. That said, the Start Dock plan has quite a few limitations, e.g., no advanced caching and transferring domains will cost you.
Pros
Cloud-hosted plans with dedicated server resources
Full security suite on all plans
Fast LiteSpeed web server on higher-tier plans
Good data center coverage worldwide
Cons
Paid-for domain transfers/configuration on the initial plan
No advanced caching is available on the Start Dock and Web Warp plans
8. Bluehost — Easy-to-Use WordPress Hosting With Custom Themes
Bluehost's WordPress hosting solutions are competitive from a pricing standpoint, and they boast all the core features you need to start hosting an enterprise WordPress site. You can get a free domain name for the first year with certain plans, and the custom WordPress themes are great for scaling businesses.
Although its cheapest plan has just 10GB SSD storage, this should be sufficient for most business WordPress sites. And with unmetered bandwidth, you're definitely set for receiving significant amounts of traffic.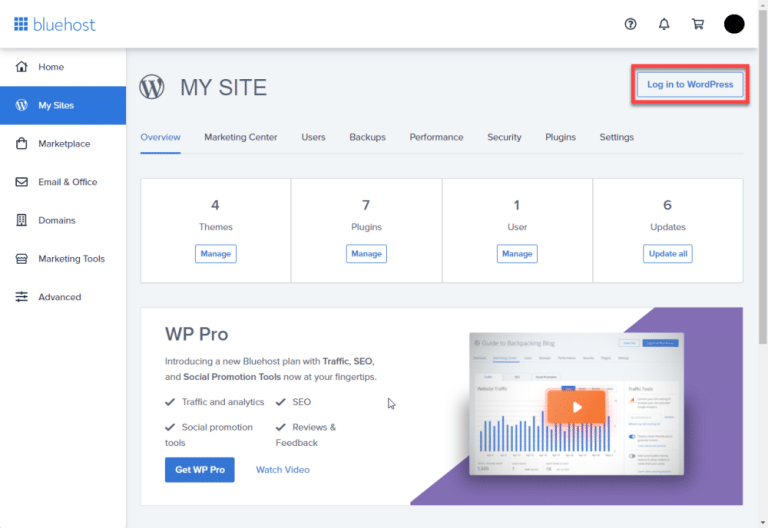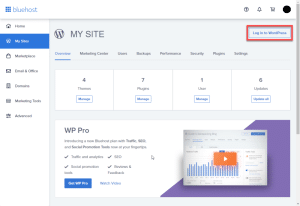 | | | | | |
| --- | --- | --- | --- | --- |
| Starting Price | Uptime | Average Load Time | Traffic | Storage |
| From $2.95/month | 15-minute resolution time | 2.5 seconds | Unmetered | 50GB to Unlimited |
BlueHost's lack of free SSL on the Basic plan is a downside — this means they'll likely ask you to pay if you want SSL installed since they control the hosting environment, and renewing will incur additional costs. For an organization-validated certificate, you can expect to pay an extra $48.80/year.
Like DreamHost, you don't get email on the cheapest WordPress enterprise hosting plan, either, but you can pay for it if need be. That said, BlueHost's top-tier WordPress plan is geared towards e-commerce solutions, and they include really useful WooCommerce plugins powered by YITH — one of the most popular independent providers of ecommerce plugins for WordPress, and they offer extensive support for all your Gutenberg and Elementor problems.
User reviews for BlueHost are positive, but support interactions can sometimes be hit or miss. A number of customers also complain about prices increasing after the discount period, but that's a common caveat for most hosting providers, which is why it's important to pay attention to the renewal price, not just the attractive initial offer.
Pricing
Besides the VPS hosting plans that start at $29.99/month, Bluehost's WordPress hosting plans are essentially the same ones as the shared hosting ones. You don't save as much if you sign up for a shorter plan, but it might be useful if you're just looking for affordable WordPress hosting to see if it fits the needs of your business:

Pros
Unmetered bandwidth
Automatic WordPress installation
Straightforward interface
Plenty of mid-tier plans, so you can scale without paying too much
Cons
Renewal price is steep
No free SSL on the cheapest plan, and you can't install it yourself
9. Namecheap — Managed Enterprise WordPress Hosting With 99.9% Uptime
Known primarily as a domain registrar, Namecheap has extended its offer to include hosting solutions. Because if you're looking for a domain, there's a high chance you might want to attach it to a site. And how do you ensure scalable WordPress hosting for enterprise clients? The easy way out is to build an in-house cloud, and that's exactly what Namecheap did.
With an uptime guarantee of 99.9% (99.99% on the highest plan), you can rest assured that your enterprise WordPress site is always on when your leads, customers, or staff want to access it. Many don't pay much attention to uptime SLAs, but downtime can be particularly harmful to a company as it erodes trust in your services.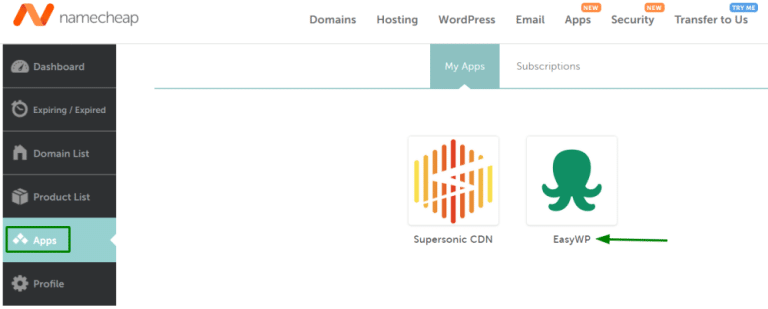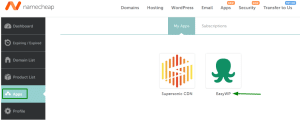 | | | | | |
| --- | --- | --- | --- | --- |
| Starting Price | Uptime | Average Load Time | Traffic | Storage |
| From $6.88/month | 99.98% | 2.5 seconds | Unmetered | 10GB to 100GB |
Unlike most enterprise managed hosting solutions, Namecheap's plans cap your monthly visitors. The EasyWP Supersonic solution does offer a generous 500k/month, but there's no mention in the terms of service whether these are unique visits.
As any webmaster knows, there can be a substantial difference between the two. And going over this limit means that your enterprise WordPress plan will be upgraded to a higher tier at the host's discretion.
Like Bluehost, Namecheap doesn't include a free SSL for the duration of hosting on its most affordable enterprise WordPress plan. This means you'll have to pay extra to add an SSL certificate to your website, and, unfortunately, there's no way around that.
Namecheap implies it's faster than GoDaddy and Bluehost, but no data is available for DreamHost or SiteGround. Without more comprehensive testing data, it's difficult to say whether this is the case. If it is, a 0.7s fully loaded time is impressive, but such numbers are useless without more information on the site and the hosting plan used during testing.
Pricing
Like most competitors, Namecheap's cloud WordPress hosting plans are an attractive deal when you consider the initial discount. Here are the plans: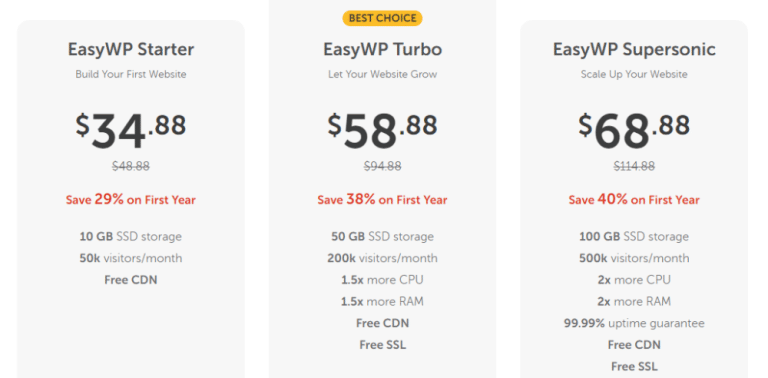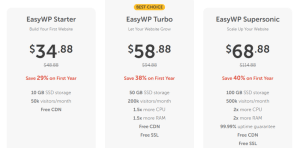 Monthly pricing for the above plans starts at just $6.88/month, and as you'd expect, there are several other options on offer, including VPS hosting.
Pros
Cloud-hosted plans with the first month free of charge
99.9% minimum uptime SLA
24/7 customer support
Free backups
Cons
No SSL on the entry-level WordPress plan
Your plan will be upgraded if your account exceeds the visit cap
10. Domain.com — A Fast WordPress Hosting Service
If you're looking for a fast WordPress hosting solution to go with your Domain.com domain name, this is it. You won't be overburdened by decision fatigue, as it only has two WordPress plans, and they include unlimited storage and bandwidth.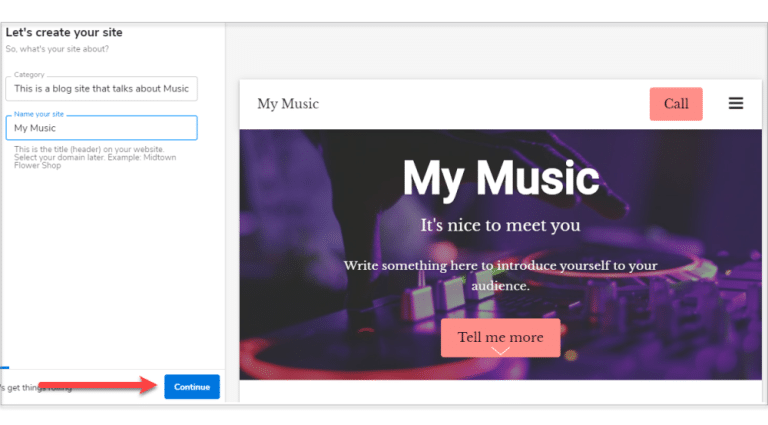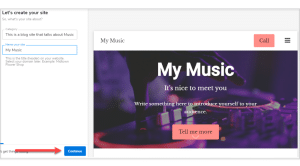 | | | | | |
| --- | --- | --- | --- | --- |
| Starting Price | Uptime | Average Load Time | Traffic | Storage |
| From $3.75/month | 99.99% | Over 2.5 seconds | Unmetered | Unmetered |
Domain.com has a suite of pre-installed WordPress plugins and themes, which will simplify the process of setting up your enterprise WordPress site if you want to start from scratch. You might not need all of them, and if that's the case, you'll be able to uninstall or disable them one by one at your own discretion.
The WP Essential plan is the way to go, as it includes daily malware scans and, if necessary, removal. This is great for anyone looking to get a higher level of security for their online presence. In addition, the host offers 24/7 phone support to anyone who needs help with all things WordPress.
Pricing
Domain.com simplifies the process of choosing an enterprise web hosting solution for your company with three hosting plans: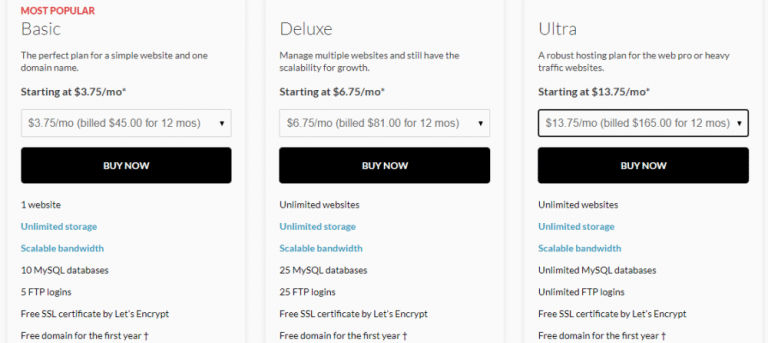 For WordPress hosting, you have two options, starting at just $3.75/month.
Pros
Unlimited bandwidth and storage on all plans
Pre-installed plugins and curated themes
24/7 customer support on the WP Essential plan
SiteLock Pro malware scan and removal available on the WP Essential plan
Cons
No SSL on either of the WordPress plans
No advanced caching is available
The Best Enterprise Hosting Services Compared
Here's a summary of all the best enterprise WordPress hosting services and what you can expect from each:
WP Hosting Provider
Starting Price
Uptime
Average Load
Traffic
Storage
DreamHost
From $2.59/month

100%

1.75

Unmetered
50GB to Unlimited
InMotion Hosting
From $5/month
99.99%
US – 0.8 seconds

EU – 1.2 seconds

Asia – 1.8 seconds

Unmetered
100GB to Unlimited
Liquid Web
From $17.50/month
99.98%
1.4 seconds
Unmetered
15GB to 800GB
A2 Hosting
From $11.99/month
99.98%
US – 1.3 seconds

EU – 1.5 seconds

Asia – 1.5 seconds

Unmetered
50GB to Unlimited
InterServer
From $8/month
99.99%
2.3 seconds
Unmetered
100GB to Unlimited
IONOS
From $1/month
99.99%
0.7 seconds
Unmetered
25GB to 75GB
HostArmada
From $2.49/month
99.99%
1.5 seconds
From 30k to 120k visitors/month
15GB to 40GB
Bluehost
From $2.95/month
15-minute resolution time
2.5 seconds
Unmetered
50GB to Unlimited
Namecheap
From $6.88/month
99.98%
2.5 seconds
Unmetered
10GB to 100GB
Domain.com
From $3.75/month
99.99%
Over 2.5 seconds
Unmetered
Unmetered
Critical Factors to Consider When Choosing Enterprise Hosting for WordPress
As we've worked extensively with WordPress business sites, we've got first-hand experience with the hidden costs and requirements for good enterprise hosting. Here's what you should look for in the best business WordPress hosting:
Performance
Site speed is pretty much equal to user satisfaction — almost nobody will wait more than 5 seconds for your site to load, and search engines will punish you for it. The longer it takes, the more customers you lose.
Your website is the backbone of your online presence, so you need a fast WordPress host to help keep your customers engaged and ensure your bounce rate stays low.
Trustworthy enterprise WordPress hosting services have cutting-edge hardware, such as NVMe storage, which is up to 7x faster than regular SSDs, dedicated compute resources, and advanced caching to ensure your site is delivered at lightning speed on any device.
Security
Strong site security is non-negotiable at a time when anyone can launch a cyberattack on your domain. From free SSL certificates to DDoS protection, malware scanning, and daily backups, the best enterprise WordPress hosting has everything you need to ensure the safety of your business site.
Data breaches are much more costly in an enterprise environment, and this is even more pressing in situations where your platform also handles personally identifiable information.
Uptime & Uptime Level Agreement
Consistent availability is the heartbeat of your online presence — even a minute of downtime can lead to lost revenue and a damaged reputation. Enterprise managed WordPress hosting services guarantee high uptime, which means your site is reachable by customers around the clock.
The uptime level agreement is a legally binding contract that guarantees the host's uptime commitment. It typically includes remedies or refunds in case your enterprise WordPress hosting solution doesn't meet the stipulated uptime. Make sure you choose a reputable company that provides a generous uptime level agreement (a minimum of 99.9%) to keep your site's downtime to a minimum.
Features
Enterprise-grade features can help streamline site management and boost your productivity. Search for hosts offering one-click WordPress installations, staging environments, automated updates, and intuitive control panels.
These simplify site administration, allowing you to focus on running the site and other core business tasks. Don't forget to check whether enough email addresses are provided. Some WordPress enterprise hosting services skimp on this, while others are extremely generous.
Customer support
Most issues with business sites aren't the fault of the enterprise host, but that doesn't mean they can't help. When you're experiencing problems with your business site, quick and professional support is crucial.
Prioritize hosts with 24/7 customer service through multiple channels, including live chat, email, or phone. Efficient support can spell the difference between a minor hiccup that makes your site load more slowly for a few minutes and a major disruption that causes it to go offline for the entire week.
Cost
This all comes down to your budget. Ideally, the pricing of your hosting plan should align with your budget without compromising on quality. While there are affordable plans offering premium features and scalability, there's always a trade-off.
Start off by determining what features are must-haves so you know what compromises work for you. You might not need unlimited bandwidth and storage if your business is just starting out.
Conclusion – What's the Best Enterprise WordPress Hosting Provider for 2023
Choosing the wrong WordPress hosting plan for your company can lead to compatibility issues, additional costs, and even website downtime. A good enterprise web host can mitigate the above and give you what you need to bring your business online and to your customers' screens.
As we've seen, it's not just about the price and the server resources but also about bandwidth, caching, SSL, and even customer support. Of all the enterprise managed hosting plans out there, DreamHost's Shared and DreamPress plans are the absolute best.
You'll get everything you need to run a high-traffic business site, as well as loads of extra premium features that other hosts make you pay for, like free professional migrations and on-demand backups. DreamHost offers top-tier performance and excellent security in one package.
Give DreamHost a go and see why so many businesses and individuals around the world trust them to host their mission-critical websites and online services.
Enterprise Web Hosting FAQs
Which provider offers the best enterprise WordPress support?
Is WordPress suitable for enterprise businesses?
What are high-traffic hosts?
Is managed WordPress hosting worth it?
Does uptime matter for WordPress hosting?
Where does WordPress sit in the enterprise market?