The best VPS hosting services offer excellent security, a near-hundred percent uptime, customizable plans with different storage types (and sizes), bandwidth, and RAM. A dedicated VPS hosting will ensure your website enjoys state-of-the-art encryption and fast speeds to ensure a smooth experience for your customers.
However, with so many options available, choosing one provider can be an ordeal. That's why we've found and reviewed the best VPS hosting solutions based on criteria like affordability, uptime guarantee, storage offered, and customer support. Dive in to discover why providers like DreamHost, Bluehost, and InMotion are among the best in the industry.
The 10 Best VPS Web Hosting Solutions Ranked
DreamHost edged past the competition to come out on top, but each one has its own benefits and drawbacks. Here's a look at how our best recommendations stack up along with their USPs:
How Do Different Hosting Solutions Compare?
Shared, VPS (Virtual Private Server), Dedicated, and Cloud Hosting are four popular types of web hosting, each offering distinct advantages and catering to different hosting needs. Let's jump into a quick comparison table to understand the difference between them:
Hosting Type

Best For
Performance
Cost
Security
Pros

Cons

Shared

Low-traffic and static websites
Low
From $3.95—$9.95 per month
Low

Beginner friendly
The cheapest
Requires zero technical skills

It can be slow
Lacks server control and performance

VPS
Ideal for dedicated servers and more control
Average
From $20-$100 per month
High

More secure
Fast and reliable
You can personalize it to your needs

More expensive than shared hosting
Requires regular maintenance

Dedicated

Large businesses and high-traffic websites
High
From $80—$500 per month
Very high

Excellent server performance
Offers great security
Complete access to settings and configuration

Mid-level scalability
More expensive

Cloud
Any size business or website with custom needs
High
Charged on a per-usage basis
Very high

Highly reliable
Offers excellent flexibility and scalability

Need advanced knowledge
High cost
Choosing the right hosting type for your website depends on your specific requirements, budget, and desired level of control and scalability. Shared hosting is the most cost-effective option, where multiple websites share server resources, but this results in limited control and slower performance.
Dedicated hosting solutions are beneficial, but they're costly. As such, VPS hosting is an incredibly popular option as it offers you greater control and performance compared to shared hosting, plus the flexibility to scale resources without breaking the bank.
Understanding the Different VPS Web Hosting Plans
Besides various hosting types, there are three different VPS for web hosting you can choose from. Here's how they differ:
Unmanaged VPS Hosting
Unmanaged VPS hosting provides the virtual server space and basic infrastructure but leaves the responsibility of server management entirely to the user.
As such, you're responsible for server setup, software installation, security updates, backups, and other administrative tasks, making it best suited for experienced developers, system administrators, or businesses with dedicated IT teams.
Because while unmanaged VPS hosting offers more flexibility and autonomy, it requires a higher level of technical expertise and time commitment from the user.
Managed VPS Hosting
Managed virtual server hosting combines the benefits of VPS with the convenience of having the server management tasks taken care of by the hosting provider. Under this, the hosting company handles technical aspects like setup, updates, backups, and maintenance for optimal performance.
This service particularly benefits those lacking the technical expertise or time to handle server administration tasks. It offers a blend of VPS control and customization with the simplicity of shared hosting, which makes it an excellent choice for individuals and businesses seeking a dependable, hassle-free hosting solution.
Semi-Managed VPS Hosting
Semi-managed VPS hosting strikes a middle ground between fully managed and unmanaged VPS hosting options. With semi-managed VPS, the hosting provider handles setup and maintenance, but you still have control over managing the server for smooth, uninterrupted operation.
They can help with software installation, security updates, and server operations, but you're responsible for managing your applications and website content. Semi-managed VPS hosting is suitable for businesses or individuals who want to focus on their core activities without delving deep into server management complexities.
The Key Reasons to Choose VPS Hosting
If you're using a shared hosting plan and aren't happy with the performance of your website, it may be time to upgrade. Here are five reasons VPS hosting is considered better than shared hosting:
Software and OS Freedom: VPS hosting allows greater customization and control over the server environment. You can install the best OS options like Ubuntu, Cloudlinux, or Debian.
Improved Performance: Resources are isolated and dedicated to each virtual server, so your website's performance isn't affected by other users' activities, as it is with Shared hosting solutions.
Enhanced Security: VPS hosting offers better security since each virtual server operates independently, and VPS users have their isolated space, reducing the risk of security breaches spreading across accounts.
Long-Term Scalability: You can easily upgrade or downgrade your resources as per your website needs, making it suitable for rapidly growing websites or those with fluctuating traffic.
Highly Reliable: VPS hosting offers more reliable performance as it's less susceptible to sudden traffic spikes or resource bottlenecks caused by other users on the same server.
In short, VPS hosting provides a more robust, flexible, and tailored solution for users who need more control, performance, and security for their websites compared to the shared hosting environment. However, the choice between the two depends on your specific needs and budget.
The 10 Best VPS Web Hosting Solutions Reviewed
Eager to get your hands on the best virtual private server hosting? Read on as we'll discuss the best features, pros, cons, and pricing of each of our top recommendations so that you can make an informed decision.
1. DreamHost — Best Overall VPS Hosting Service in 2023
DreamHost's biggest benefit is that it provides a free SSL certificate, unlimited email, and expandable storage and RAM — all the features that a small business looking for an affordable VPS for hosting will benefit from.
Since small businesses can't afford expensive security protocols, the least they can strive for is an SSL certificate, which authenticates a website's identity and establishes an encrypted connection with a user's system, a necessity for businesses as it secures customer data like credit card details and other personal information.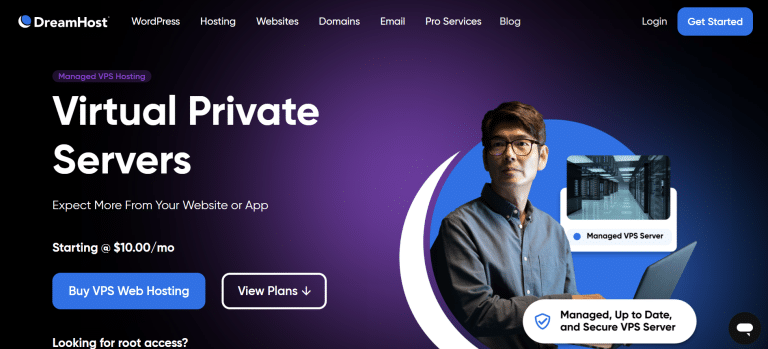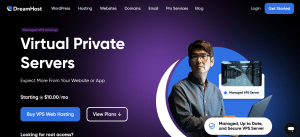 | | | | | | |
| --- | --- | --- | --- | --- | --- |
| Starting Price | Uptime | Bandwidth | Storage Limit | RAM | Free Offerings |
| $10/month for 3 years | 100% | Unlimited | 30GB-240GB (SSD) | 1GB-8GB | Free SSL + Unlimited email on your official domain address |
Besides this, DreamHost proves to be the best starting point for small businesses. On the cheapest VPS plan, you get 1GB RAM and 30GB storage, and while others like A2 Hosting offer higher limits on their Basic plans, you'll notice that DreamHost is almost half the price.
By reducing the payment threshold with smaller plans, DreamHost has made its services accessible to businesses of all sizes. And once you're ready to upgrade, you can always get more RAM and storage.
DreamHost's VPS service offers unlimited email hosting. Under this, you get an email address that matches your domain's name, which makes it easier for your users to associate you with your website and also gives your brand a more professional look.
It not only lets you send and receive emails but also lets you start meetings with up to 100 participants, back up your files and conversations, use a digital whiteboard for team discussions and share calendars with one another. In simple terms, it simplifies both internal and external communication.
Pricing
DreamHost offers these 4 plans to choose from: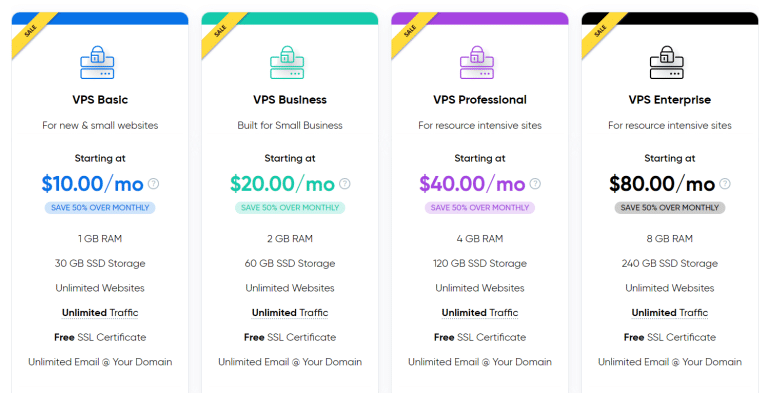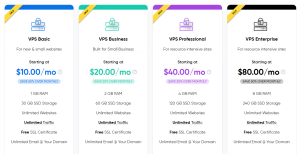 Pros
Affordable plans
Provides 100% uptime
Free SSL for reliability
Offers unlimited bandwidth
Cons
Slower than its competitors
2. Bluehost — Offers Unlimited Bandwidth and Free SiteLock
Bluehost's VPS platform comes with unmetered bandwidth. This means you can send as much data or traffic as you want each month with no limit or extra cost. This is nifty for large websites that receive tons of daily visitors.
Other hosting providers, such as Namecheap and LiquidWeb, provide limited bandwidth capped at 6000GB and 10TB, respectively. No doubt these bandwidths are more than enough for many websites, but unlimited bandwidths to accommodate your website, regardless of how much it grows, are much appreciated.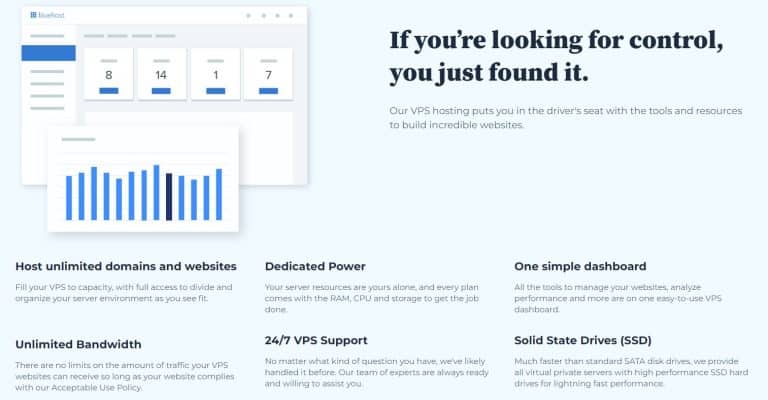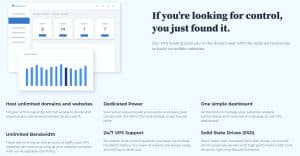 | | | | | | |
| --- | --- | --- | --- | --- | --- |
| Starting Price | Uptime | Bandwidth | Storage Limit | RAM | Free Offerings |
| $29.99/month for three years | 99.8% (no guarantee on uptime) | Unlimited | 120GB-240GB (SSD) | 2GB-8GB | Free migration + Domain Privacy & SiteLock |
Other notable features of its VPS plan include its intuitive all-in-one dashboard that keeps all necessary website information in one place. For example, from the left-side menu, you'll get a list of all your websites that you can switch between. You'll also get access to the marketplace from here, where you can buy additional services like Microsoft 365 or Creatica for WordPress Themes.
To top it off, Bluehost offers a decent-sized storage capacity on smaller plans. It starts at 120GB, whereas other VPS hosting providers, like HostArmada, give just 50GB on their starting plans.
Bluehost stands out as a solid option for businesses with its free SiteLock, a nifty tool that safeguards your website from malware and other malicious entities and even restores its health should it run into any problem. Beyond this, Bluehost is very transparent with its pricing.
You only pay the price you see on its website, and the pricing doesn't change year after year — yep, there are no renewal charges. However, one minor flaw is that Bluehost's maximum storage offer is 240GB, whereas competitors offer more.
Pricing
There are 3 Bluehost plans, the "Enhanced" is the highest recommended option for the perfect quality-cost mix: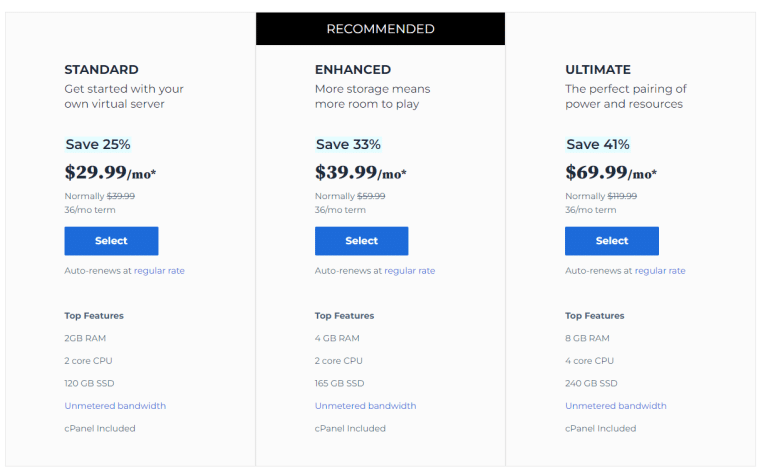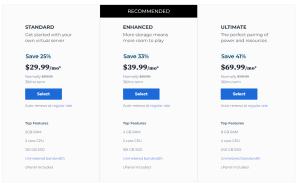 Pros
Free website migration
Unmetered bandwidth
No renewal charges
Friendly customer support
3. InMotion Hosting — Top Choice for WordPress Websites Thanks to its Control Panels
InMotion Hosting is one of the few hosting providers that let you choose between control panels (the dashboard for your website) where you can adjust the settings. With the VPS hosting plan, you can choose cPanel or their native control panel called InMotion Central.
cPanel is the second-most popular control panel in the hosting control panels industry, holding over 31.66% of the market share, as it's known for being intuitive and beginner-friendly. InMotion Central, on the other hand, stands out for its WordPress-centric design — which makes it one of the best WordPress hosting providers.
Both control panels offer comparable features with a few minor differences. For example, cPanel can work with any content management system (CMS), but InMotion Control only works with WordPress. Unlike cPanel, InMotion also offers a site health monitoring feature to keep track of your website's performance, availability, and security.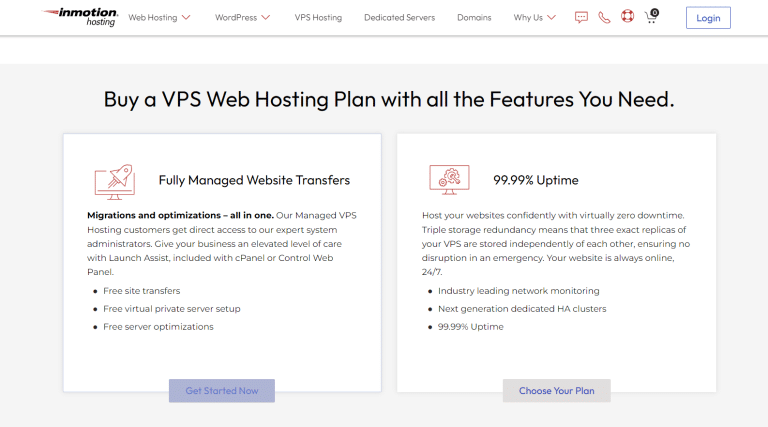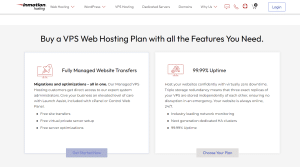 | | | | | | |
| --- | --- | --- | --- | --- | --- |
| Starting Price | Uptime | Bandwidth | Storage Limit | RAM | Free Offerings |
| $14.99/month for 3 years | 99.95% | 2TB-Unlimited | 90GB SSD-360GB NVMe SSD | 4GB-32GB | Free SSL + Website Transfers + Server Setup |
Beyond the basic plan, InMotion Hosting offers NVMe SSD storage, which is significantly faster than standard SSDs. Just like DreamHost, InMotion too provides a free SSL certificate which you can use to ensure safe connections between your system and online sites.
Depending on the plan you choose, you can also get up to 10 dedicated IPs — an IP address only used by your website. This offers added security and gives you complete control over its online reputation.
This will also reduce your chances of getting blacklisted, so the consequences of illicit activities undertaken by other users sharing your IP address will no longer be a concern.
Many other hosting providers, like HostArmada, only provide one dedicated IP address. Clearly, InMotion has an edge over them with its bigger supply of dedicated IPs, which makes it a top choice for managing multiple websites at once.
Pricing
InMotion Hosting offers 4 plans and five different payment cycles. Longer subscriptions are cheaper, here are the most budget-friendly options: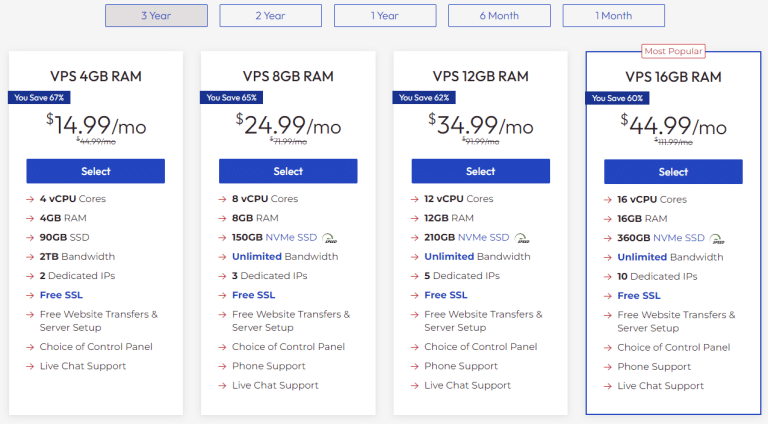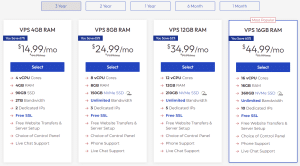 Pros
Up to 32GB of RAM
Offers up to 10 dedicated IP addresses
Lets you pick your own control panel
One of the fastest VPS hosting services
Cons
The monthly plans are too expensive
4. LiquidWeb — Cheap RAM and Free DDoS Protection
LiquidWeb is quite popular among businesses because of its low cost and fast processing speed, thanks to its 12GB RAM (Random Access Memory). Most hosting providers in this pricing range cap out at 8GB. With higher RAM, your server doesn't have to repeatedly reach back to your hard drive, which naturally speeds up the process, which in turn improves your website speed.
Liquid Web is certainly not the fastest hosting provider on the list, but its higher-than-average RAM capacity, paired with a reasonable price, makes a considerable difference.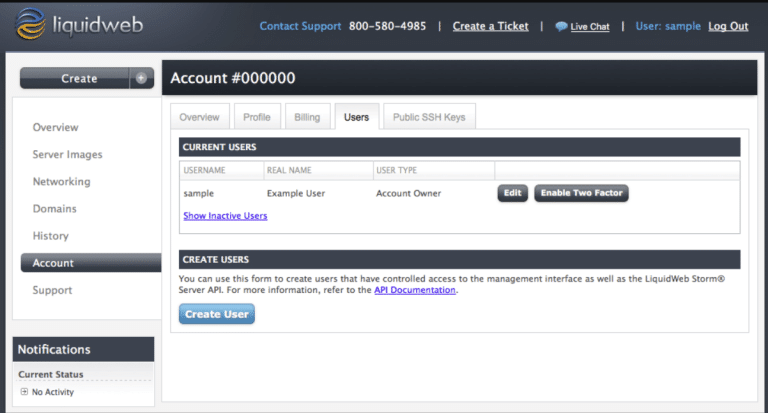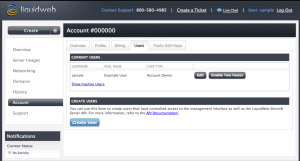 | | | | | | |
| --- | --- | --- | --- | --- | --- |
| Starting Price | Uptime | Bandwidth | Storage Limit | RAM | Free Offerings |
| $25/month for 2 years | 100% | 10TB | 40GB- 200GB (SSD) | 2GB-12 GB | Free DDoS protection + 50GB backups |
It also offers 10TB bandwidth on all its plans, even on the cheapest one. Now, 10TB might not be as good as DreamHost or Bluehost's unlimited bandwidth, but it's still more than most websites will need. In fact, even large websites rarely ever use even 0.01% of their bandwidth.
Compared to some other options like Namecheap, where you only get 1-6TB (depending on your plan), LiquidWeb is clearly a better choice. So, you'll always have enough capacity for your traffic, no matter how much your site grows.
Other noteworthy benefits of using LiquidWeb include its expert migration team, which sets it apart from hosting providers like Bluehost, which don't offer migration support. Sure, they're with you throughout the process, but nothing beats a professionally-done migration like the one provided by LiquidWeb.
All that you have to do is pay for your subscriptions and reach out to its team. Starting from your site control to email databases and control panel accounts, the LiquidWeb team will seamlessly transfer everything to your new account.
Pricing
You can choose from any of the 4 LiquidWeb plans: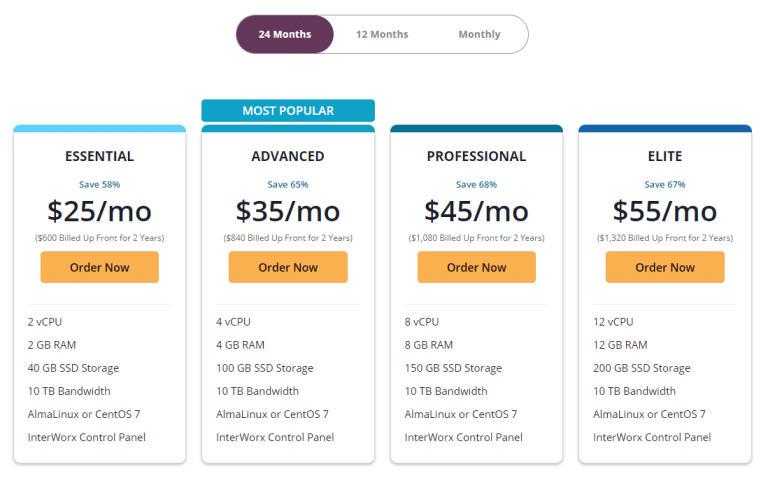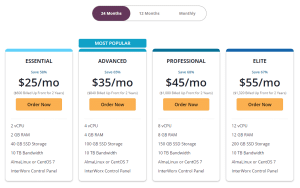 Pros
Regular automatic backups
Keeps your website responsive
Adequate bandwidth for seamless functioning
Decent RAM capacity at an affordable price
Cons
The prices aren't startup-friendly
5. A2 Hosting — A Popular VPS Hosting Provider With Turbo Servers
A2 Hosting's biggest USP is that it lets you choose between unmanaged hosting and managed VPS hosting. With managed hosting, you'll have A2 Hosting take care of everything for your website — you won't have to deal with any coding or backend work.
You'll still have access to the dashboard, where you can make superficial changes to the site, such as theme selection and menu placement. Since most of the backend work, such as system backups, server set-up, and site health checks, is done by the hosting provider, it's a lot costlier.
Unmanaged hosting gives you greater control over your website. Starting from the security & performance to updates, you'll have to take care of everything, and that's why these plans are significantly cheaper. This option is only recommended for those who have substantial experience in web hosting or a technical team to look after the backend work.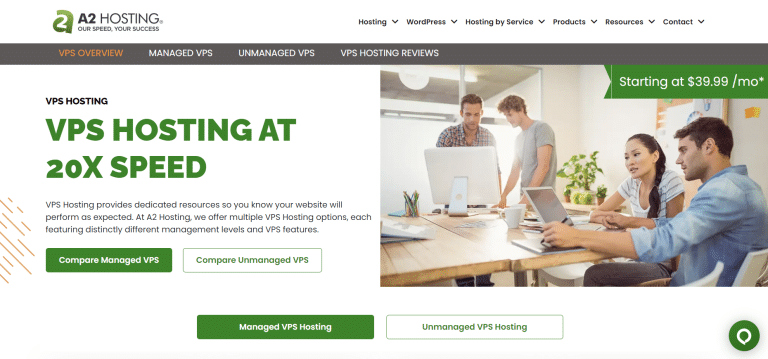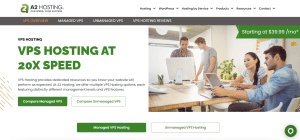 Starting Price
Uptime
Bandwidth
Storage Limit
RAM
Free Offerings
$39.99/month for 3 years (managed VPS)

$2.99/month for 3 years (unmanaged VPS)

99.9%
2-8TB
150-450GB SSD (NVMe SSD options available)
1GB-32GB
Free Imunify360 Security Suite + SSL + cPanel control
A2 Hosting is also quite popular for turbo hosting. For both managed and unmanaged VPS, 3 out of its 6 subscription options are turbo plans. Under this, your website will be hosted on special servers designed to handle up to 9x more traffic and bolster speeds by 2x that of non-turbo servers.
What makes them so fast is the upgraded infrastructure and limited occupancy. Because the more traffic a server gets, the slower it becomes, A2 Hosting reserves its turbo servers for premium customers, ensuring that your website visitors don't have to struggle with the crowd to reach you.
Furthermore, on each managed VPS plan, you get Imunify360 Security Suite — an all-in-one security package that protects your web servers and the websites hosted on them from malware. It's fairly uncommon to see such high-end security measures on all web hosting plans.
Pricing
A2 Hosting offers a whopping 6 plans – 3 have turbo servers – under both managed and unmanaged VPS hosting. Here are the first 4 options: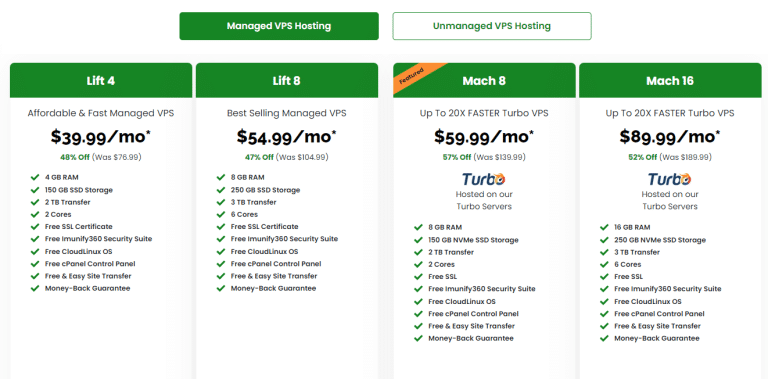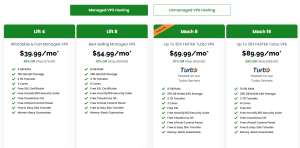 Pros
Tons of free add-ons
Adequate security features
Offers both managed and unmanaged VPS hosting
Best-in-class with its premium turbo servers
Cons
Doesn't provide a free domain like some of its competitors
6. InterServer — Best Hosting VPS Solution for Flexible Pricing
InterServer stands out with customizable VPS plans. While other hosting providers offer the same VPS features to everyone for a set price, InterServer understands the vastness of this technology and narrows it down with its platform-centric plans — it's available for both Linux and Windows operating systems.
For example, you'll find a separate VPS plan for WordPress and Windows, and unlike all other services on the list that come with fixed plans, InterServer comes with a slider that you can use to adjust your RAM, storage, and bandwidth requirement, and then it'll calculate a custom price accordingly.
Since this is all customizable, you also get the highest number of CPU cores — 16, to be exact. This is the processing unit that oversees all the functions — the brain of your server that keeps it up and running. The more CPU cores you have, the faster your website will be.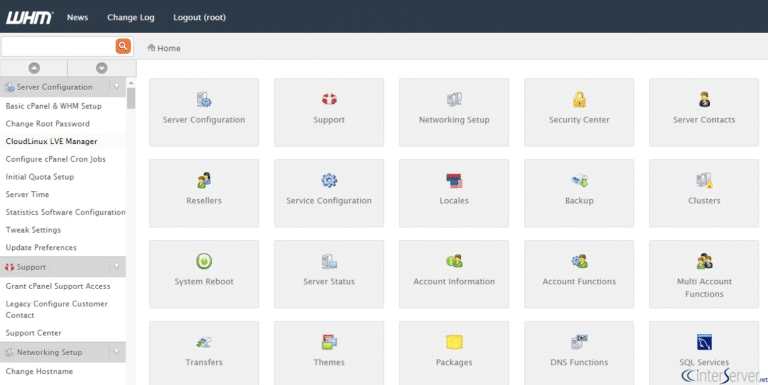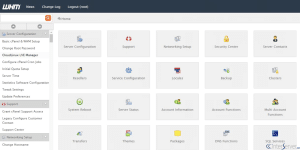 | | | | | | |
| --- | --- | --- | --- | --- | --- |
| Starting Price | Uptime | Bandwidth | Storage Limit | RAM | Free Offerings |
| $6/month | 99.9% | 2TB-32TB | 30GB-480GB (SSD) | 2GB-32GB | Free migration |
Another contributing factor that makes InterServer websites faster is its 32TB bandwidth. It might not be as good as Bluehost's unlimited bandwidth, but if you compare it with other hosting providers like HostPapa and A2 Hosting that provide up to 8TB of bandwidth, InterServer's 32GB bandwidth is definitely a massive upgrade.
InterServer's cloud VPS server hosting also comes with self-healing hardware, an intriguing feature that redirects your visitors to another server if the existing one malfunctions.
Let's say your website is hosted on US servers which starts acting up. InterServer AI will automatically detect the issue and direct your visitors to a server located elsewhere while the US servers are fixed. It all happens so fast that your visitors won't even feel as much as a blip.
Pricing
There are no complicated pricing options with InterServer. Use the slider to create a package that suits your needs and pay for exactly what you're going to use:


Pros
Free migration
Truly flexible pricing
Offers up to 16 CPU cores
Separate VPS plans for Windows and Linux
7. IONOS — Best Budget VPS Hosting Provider
IONOS is the cheapest VPS hosting provider on the list, with its basic plan starting at just $2/month. Compared to other hosting providers like DreamHost, which starts at $10/month for 3 years, IONOS is significantly cheaper.
Sure, the cheaper plans don't provide much. For instance, for $2/month, you'll only get 1GB RAM and 10GB storage capacity which isn't enough for an established website. But if we think about it from an individual or a small business's perspective, it's one of the best cheap website hosting providers.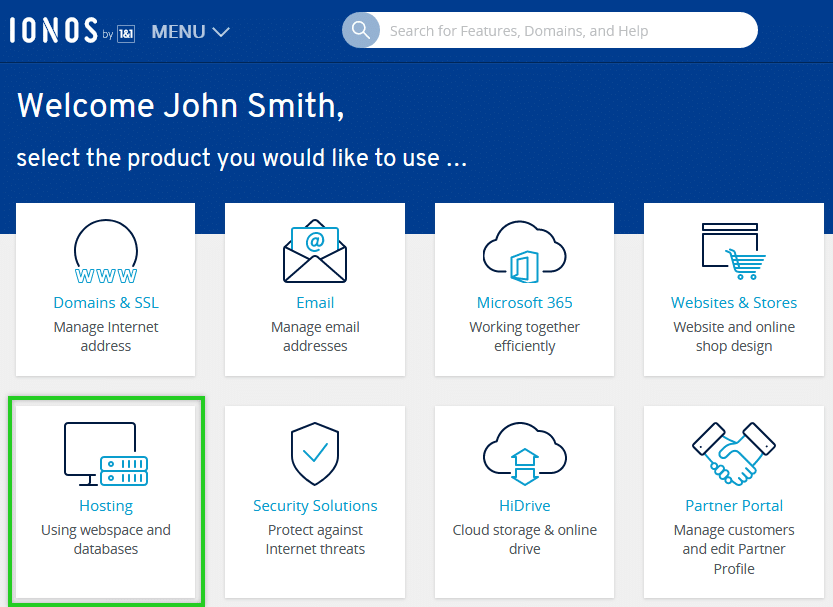 | | | | | | |
| --- | --- | --- | --- | --- | --- |
| Starting Price | Uptime | Bandwidth | Storage Limit | RAM | Free Offerings |
| $2/month for Linux | 99.9% | 1Gbit/second | 10GB-640GB (NVMe SSD) | 1GB-24 GB | Free SSL + Free Plesk web host edition |
As your website grows, you can move up to the more feature-rich plans — IONOS has plenty of options to choose from here. In fact, it provides the second-highest amount of storage and RAM among all the hosting providers we're reviewing today — 640 GB and 12 GB, respectively.
The only issue you might have with IONOS is its contracts. Unlike many other reputed hosting providers like Namecheap, IONOS binds you in monthly or annual contracts. This means that you can't cancel your subscription unless the contract period is up. Plus, all the plans require an upfront payment.
To ensure you pay for only what you're going to use, we recommend you start with the cheapest plan on the list. There's also a 30-day money-back guarantee which you can use to take a risk-free test run.
Pricing
IONOS offers 6 plans to choose from, starting from a mere $2 per month: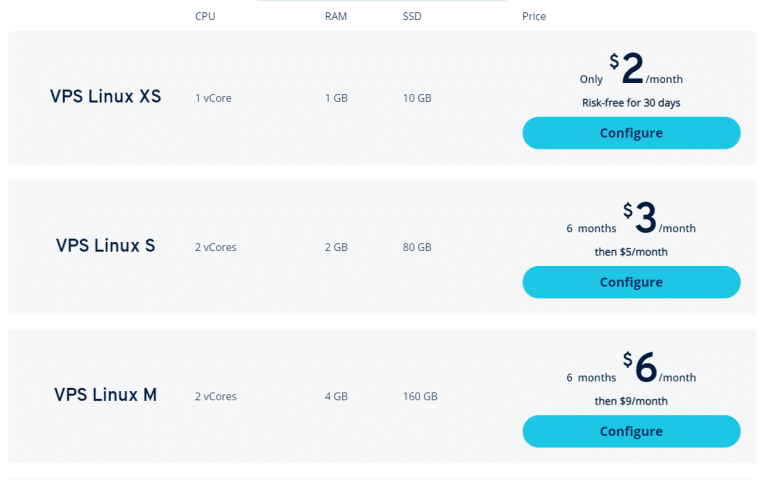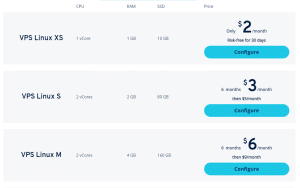 Pros
Best VPS hosting plans for those on a budget
Has a plan for businesses of all sizes
Separate VPS hosting for Linux and Windows
You get to choose your own data center location
Cons
Binds you in monthly and annual contracts
8. HostArmada — VPS Best Hosting Option for Large Websites
HostArmada is one of the few VPS hosting providers that lets you create up to 5 accounts on your cPanel at no extra cost. This will come in handy for bigger websites where you need more than one person to handle backend administration.
The VPS hosting plans are also security-centric and provide you with advanced security measures to protect your site from viruses and hackers. For example, regardless of the plan you choose, you'll get a malware scan and removal tool. Usually, you need to pay extra for a server antivirus, but with HostArmada, you get it for free.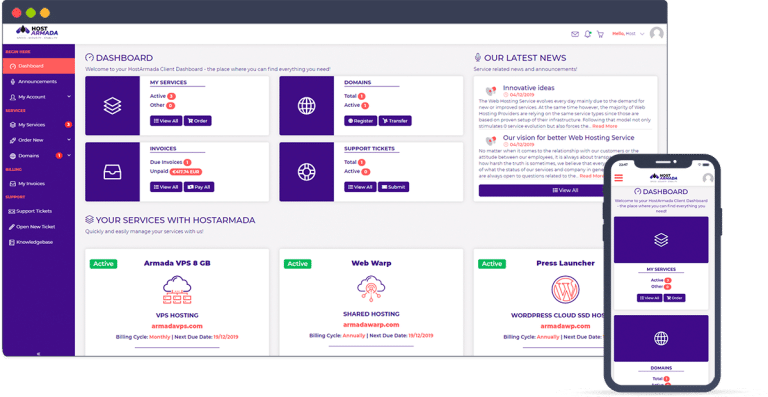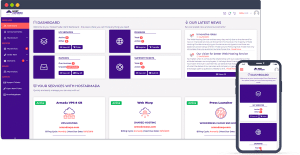 | | | | | | |
| --- | --- | --- | --- | --- | --- |
| Starting Price | Uptime | Bandwidth | Storage Limit | RAM | Free Offerings |
| $42.32/month | 99.9% | No hard limitation | 15GB-40GB (SSD) | 2GB-16GB | Free SSL + Malware scan and removal |
You also get a smart AI-based firewall that's been acquainted with all common and new digital threats to give your website up-to-date security. On top of all of this, other notable features of HostArmada's VPS plan are the flexible storage and RAM options.
The only little concern we have with HostArmada is its pricing. Even the cheapest plan is priced at $42.32/month. Compared to hosting providers like IONOS, that's priced at $2/month, and DreamHost, that's priced at $10/month, HostArmada might be a little outside the budget for most small and even mid-sized businesses. '
That said, the hosting provider does well to justify its price with a truckload of fascinating features. For instance, along with the usual catalog of VPS hosting services, you also get hacking protection — if your website gets hacked, the HostArmada team will help retrieve it.
Also, HostArmada is a top cloud VPS solution, meaning it doesn't have a physical server, so there's no chance of hardware damage.
Pricing
HostArmada isn't the most budget-friendly, but with a slew of features in every one of its 4 plans, you won't regret this purchase: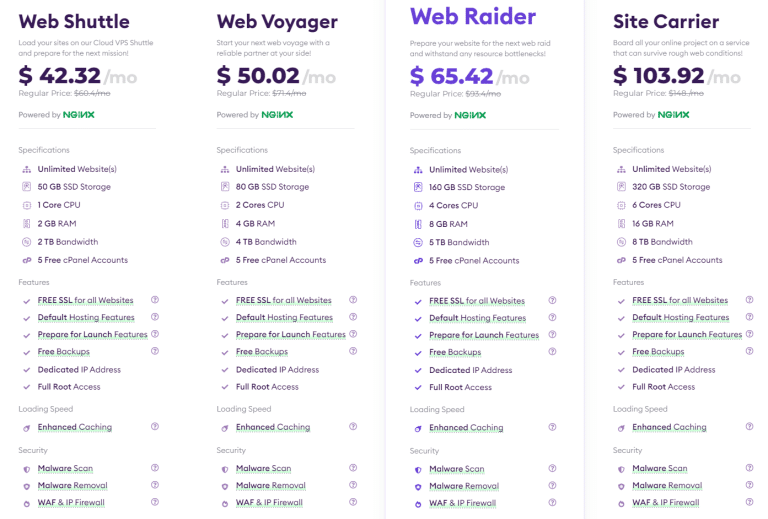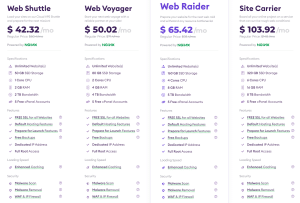 Pros
Best cloud VPS hosting
No bandwidth limitation
Up to 21 daily backups
Helps you recover hacked websites
Cons
Too expensive, especially for small businesses
9. Namecheap — Affordable All-in-One VPS Hosting with Offline Automated Backups
Namecheap's VPS hosting plan is decent and reliable. You get up to 12GB of RAM, depending on the plan you pick, along with 40 to 240GB of storage. We found its bandwidth limit to be a little less than competitors like Bluehost and LiquidWeb, but the good thing is that all three: RAM, storage, and bandwidth, are expandable.
For example, if 240GB doesn't suffice your needs, you can buy additional storage of 10GB at a nominal price. Similarly, if you need more bandwidth, you can increase your plan's limit by 100GB. This is true for even its highest plan, so if you're willing to spend, there's no real limitation on the hosting specifics.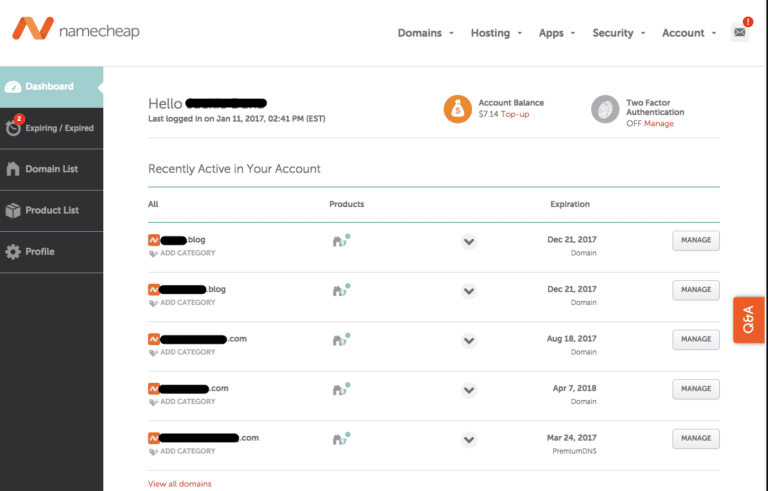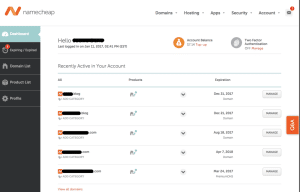 | | | | | | |
| --- | --- | --- | --- | --- | --- |
| Starting Price | Uptime | Bandwidth | Storage Limit | RAM | Free Offerings |
| $6.88/month for a year | 100% | 1000GB-6000GB | 40GB-240GB (SSD RAID 10) | 2GB-12GB | Free SSL + Automatic backups |
Namecheap wins us with offline automated backup — other hosting providers offer online backups, but Namecheap offers up to 200GB of offline automated backup. Both methods come with unique pros and cons. For example, since online backups store your files and databases on the cloud, it doesn't take up much space on your physical system.
On the other hand, offline backups are much cheaper and more secure, and you're less likely to lose your data due to technical errors. Similar to A2 hosting, Namecheap also allows you to choose between managed and unmanaged VPS hosting, but what's additional in Namecheap is an intermediate-level plan called "Basic."
For those who can't afford the "Complete" managed plan, the Basic one will do just fine. The features are similar, with the only difference being that the Complete plan offers core software changes from time to time (such as updating the version or reinstalling the operating system) and server fixes, whereas the Basic plan charges on an hourly basis for these services.
Pricing
Namecheap has 3 evenly distributed plans: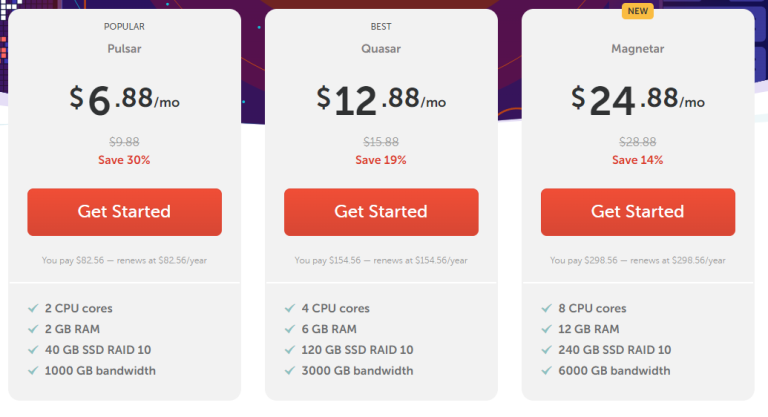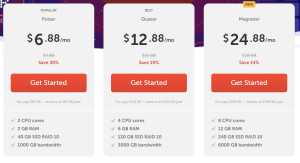 Pros
100% uptime
Affordable pricing
Best managed VPS hosting
Provides offline backups
Lets you pay monthly, quarterly, or annually
Cons
Less bandwidth than rivals Bluehost and LiquidWeb
10. HostPapa — VPS Hosting With the Highest Storage and RAM
HostPapa's main selling point is its storage capacity. While the industry average is between 240 to 320 GB, HostPapa provides a massive 1TB SSD storage in its top plan — more than 3x that of competitors. Naturally, more storage means a higher cost. But fret not, as HostPapa has kept its services accessible with its lower-end plans, which start at less than $20.
To complement the high storage space, the RAM must be up to the task as well, or else it might slow down your website. That's why HostPapa's RAM starts from 2GB on its basic plan and goes up to 32GB, which is again the highest on the list. Your website will run smoothly at all times with minimal lags.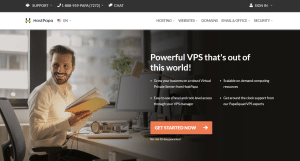 | | | | | | |
| --- | --- | --- | --- | --- | --- |
| Starting Price | Uptime | Bandwidth | Storage Limit | RAM | Free Offerings |
| $19.99 | 99.97% | 1TB-8TB | 60GB-1TB | 2GB-32GB | Free root access + Migration support |
If you're new to web hosting, you'll also appreciate HostPapa's prompt customer support, available 24/7 on multiple channels like email and live chat. It's also one of the few hosting providers to offer phone support round-the-clock. Plus, you can manage unlimited websites with just one HostPapa plan.
Website transfers — the process of shifting your website from the servers of one hosting provider to another — are fairly simple with HostPapa, and depending on the plan you choose, you can get 1 to 8 free website transfers. Since HostPapa experts will oversee the process firsthand, your website is least likely to experience any downtime.
Another notable feature is Disaster Recovery. It regularly backs up all your site data, meaning restoration will be a breeze in case a technical error causes havoc and you lose your data. Consider it insurance for your website — something established businesses should certainly get.
Pricing
HostPapa has 5 plans to choose from, all named after planets, and as you can see, the farther you move away from the sun, the larger they get in terms of their offerings and price: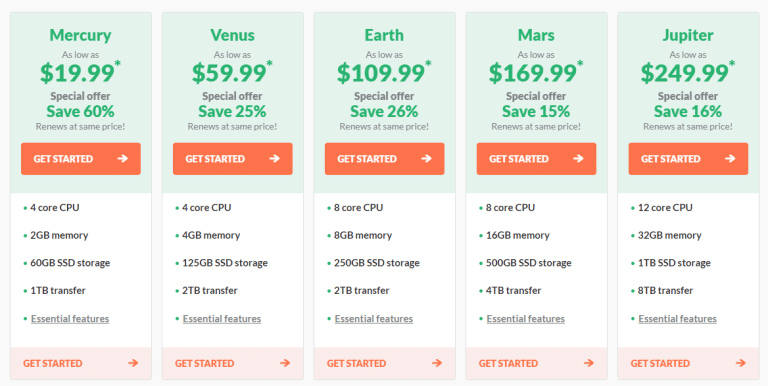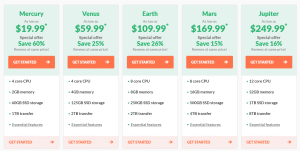 Pros
Access to expert support
Optimized for eCommerce sites
Highest storage capacity on the list
Offers patches and upgrades automatically
Cons
Migration support and security updates aren't on the self-managed plans
The Best VPS Hosting Services in 2023 Compared
Here's a bird's-eye view of the key differences between the best VPS hosting providers to help you spot your pick quickly:
VPS Hosting Service
Starting Price
Uptime
Bandwidth
Storage Limit
RAM
Free Offerings
Dreamhost
$10/month for 3 years
100%
Unlimited
30GB-240GB (SSD)
1GB-8GB
Free SSL + Unlimited email on your official domain address
Bluehost
$29.99/month for 3 years
99.8% (no guarantee on uptime)
Unlimited
120GB-240GB (SSD)
2GB-8GB
Free migration + Domain Privacy & SiteLock
InMotion
$14.99/month for 3 years
99.95%
2TB-Unlimited
90GB SSD-360GB NVMe SSD
4GB-32GB
Free SSL + Website transfers + Server setup
LiquidWeb
$25/month for 2 years
100% uptime
10TB
40GB-200GB (SSD)
2GB-12 GB
Free DDoS protection + 50GB backups
A2 Hosting
Managed VPS – $39.99/month

Unmanaged VPS – $2.99/month (for 3 years)

99.9%
2TB-8TB
150GB-450GB SSD (NVMe SSD options available)
1GB-32GB
Free Imunify360 Security Suite + SSL + cPanel control
InterServer
$6/month
99.9%
2TB-32TB
30GB-480GB (SSD)
2GB-32GB
Free migration
IONOS
$2/month for Linux
99.9%
1Gbit/second
10GB-640GB (NVMe SSD)
1GB-24 GB
Free SSL + Free Plesk web host edition
HostArmada
$42.32/month
99.9%
No hard limitation
15GB-40GB (SSD)
2GB-16GB
Free SSL + Malware scan and removal
Namecheap
$6.88/month for a year
100%
1000GB -6000GB
40GB to 240GB (SSD RAID 10)
2GB to 12GB
Free SSL + Automatic backups
HostPapa
$19.99
99.97%
1TB-8TB
60GB-1TB
2GB-32GB
Free root access + Migration support
How to Choose VPS Hosting Best Suited for You
We've covered "what is VPS hosting", the benefits and potential drawbacks, and the market's top options. So, if you've decided to purchase one, let's look at a few factors to consider that'll help you select the best VPS for your website:
Server Uptime
Server uptime refers to the percentage of time a server remains operational and accessible to users without interruptions. If your website experiences frequent or prolonged downtime, it'll result in:
A loss of credibility
Frustration for visitors
A negative impact on search engine rankings
Select a VPS hosting provider known for its record of high server uptime for a successful online presence and positive user experience.
Speed
To keep your website's visitors engaged and minimize bounce rates, selecting a VPS hosting service that offers fast server response times and high data transfer rates is important.
This is because search engines like Google consider website speed when ranking search results, so a website that loads quickly has a better chance of ranking higher in search engine results pages. Choose a VPS hosting provider with efficient data centers and fast network connections for optimal performance.
Cost
VPS hosting plans vary significantly in price, and finding a balance between the cost and the features offered is essential for optimizing the value of your investment.
While it's tempting to opt for the cheapest option, ensuring that the chosen plan meets your website's performance, resources, and technical support requirements is important. Choose a VPS hosting solution that balances affordability and the performance and support required.
Quantity of Resources
It's crucial to evaluate your website's resource requirements, including CPU, RAM, storage, and bandwidth, to ensure that your VPS hosting plan can handle the traffic and complexity of your website requires.
Insufficient resources can slow your website, causing poor performance and frequent downtime. Excessive resources, however, can result in unnecessary expenses. Select a VPS hosting plan that provides the resources to support your website's growth and success.
Security
A robust and comprehensive security infrastructure is essential to safeguard your website from hackers, malware, and unauthorized access. By choosing a VPS hosting service with robust security measures, you can rest assured that your website is well-defended against cyber threats, allowing you to focus on your core business activities with peace of mind.
Customer Support
Reliable and responsive customer support ensures you have access to technical assistance and guidance whenever you encounter challenges with your VPS server or hosting environment. Look for a VPS hosting provider with 24/7 customer support and multiple communication channels (such as live chat, phone, and email).
A proactive and dedicated support team can contribute to a smooth hosting experience, giving you the peace of mind to focus on your website's growth and success.
Conclusion | What's the Best VPS Hosting Service to Use in 2023?
We're confident that our guide has made it easier for you to find the best VPS hosting service for your website(s). Our exhaustive list includes providers for all specialties – from those that offer a 100% uptime guarantee, fast storage, and unlimited bandwidth to ones that start dirt cheap to suit small businesses.
However, regardless of your requirements, DreamHost is a solid pick. With features like unlimited bandwidth, a 100% uptime guarantee, and storage of 30GB on the basic plan, DreamHost offers exceptional value for money. Plus, there's 24/7 support, so you can rest assured of quick solutions with no downtime.
VPS Hosting FAQs
How does VPS hosting work?
Is VPS faster than cloud services?
How much is a VPS per month?
What is the cheapest VPS hosting solution?
When should I choose a VPS host?