The best website hosting provider not only ensures optimum website speed and performance but also provides features such as email hosting and daily automatic backups. You'll also benefit from robust security features such as firewalls and DDoS protection, technical and reliable support, e-commerce functions, and SEO optimization, among others.
However, with so many web hosting companies around, choosing an ideal platform for your website can be a challenge. That's why we've found and compared the 10 best website hosting platforms based on criteria like pricing, uptime speeds, and server and traffic capacity. Read on to learn why platforms like Domain.com, DreamHost, and BlueHost are among the best you can get.
The Best Website Hosting Platforms Shortlisted
Domain.com earns the top spot in our list of the best website hosting platforms. Having said that, every provider hand-picked by us boasts special features that just might be what you're looking for. Here's a quick rundown of the top 10 web hosting services:
Thе Diffеrеnt Typеs of Wеb Hosting Explainеd
There are four different types of web hosting, each with its advantages and drawbacks. Thus, choosing the one that fits your website's needs, budget, and technical requirements is essential.
Shared Hosting: This suits small websites and beginners with limited traffic and resource needs. It's the most basic and affordable hosting option, where your website shares server resources with other websites.
VPS Hosting Platforms (Virtual Private Server): Provides a virtualized environment where your website has dedicated resources but still shares a physical server with other websites. It offers more control and scalability compared to shared hosting.
Dedicated Hosting: This option provides maximum control, performance, and resource allocation but is expensive. You have an entire physical server dedicated exclusively to your website.
Cloud Hosting: It uses a network of interconnected virtual servers, often spread across multiple data centers, providing users with scalability, flexibility, and reliability, as you can pay for resources on-demand.
What Features Can I Expect From a Website Hosting Service?
Hosting isn't just about providing you with a digital space. Here are some common features and services you can expect from a website hosting service:
Development Tools: Hosting services provide development tools, including FTP access, SSH access, and support for programming languages like PHP, Python, and Ruby.
Email Hosting: Most hosting services offer email hosting, allowing you to set up and manage custom email addresses associated with your domain.
Database Support: Depending on your website's needs, hosting plans include support for database management systems like MySQL, PostgreSQL, or Microsoft SQL Server.
One-Click Installations: Often, you'll get one-click installations for popular content management systems (CMS) like WordPress, Joomla, and Drupal, simplifying website setup.
Security Features: Hosting companies offer various security features, including firewalls, malware scanning, SSL certificates, and regular backups, to protect your website and data.
Monitoring and Analytics: Some hosting providers offer monitoring tools and website analytics to help you track your website's performance, visitor traffic, and other essential metrics.
E-commerce Features: If you plan to run an online store, look for a host that offers e-commerce features such as shopping cart software, SSL for secure transactions, and payment gateways.
The 10 Best Website Hosting Sites Compared
Here's a crisp web hosting comparison highlighting the key differences between each of our top recommendations so that you can make a quick yet information-driven decision:
Website Hosting Platform
Starting Price
Uptime
Average Page Load Speed
Traffic
Storage
Free Domain
Money-Back Guarantee
Domain.com
$3.75/month — annual plan
99.99%
US – 2.06s
EU – 2.5s
Asia – 3.02s
Unmetered
Unlimited on all plans
Yes
30 days
DreamHost
$2.59/month — 3-year plan
100%
US – 0.6s
EU – 0.9s
Asia – 1.9s
Unmetered
50 GB to Unlimited
Yes
97 days on shared hosting
BlueHost
$2.95/month — annual plan
15-minute resolution time
US – 0.7s
EU – 1.2s
Asia – 1.39s
Unmetered
20 GB to 100GB SSD
Yes
30 days
InMotion
$2.29/month — 3-year plan
99.99%
US – 0.8s
EU – 1.2s
Asia – 1.8s
Unmetered
100GB SSD to Unlimited
Yes
90 days
Liquid Web
$20/month — 2-year VPS hosting plan
99.98%
US – 1.2s
EU – 1.8s
Asia – 1.9s
Unmetered
40 GB to 200 GB SSD
Not on the VPS plan
30 days
A2 Hosting
$2.99/month — annual plan
99.98%
US – 1.3s
EU – 1.5s
Asia – 1.5s
Unmetered
100GB SSD to unlimited
Yes
30 days
InterServer
$2.50/month
99.99%
US – 1.6s
EU – 2.2s
Asia – 2.3s
Unmetered
Unlimited
No
30 days
IONOS
$1/month for 6 months
99.9%
US – 1.9s
EU – 2.2s
Asia – 3.1s
Unmetered
10 GB to Unlimited
Yes
30 days
HostArmada
$2.49/month — 3-year plan
99.99%
US – 1.9s
EU – 2.1s
Asia – 3.1s
From 30k-120k visitors/month
15 GB – 40 GB SSD
No
45 days
NameCheap
$1.58/month
99.98%
US – 1.7s
EU – 1.9s
Asia – 3.1s
Unmetered
20 GB to 50 GB SSD
Yes
30 days
The Best Website Hosting Platforms Reviewed
Eager to find yourself the best hosting service for websites? Here are the in-depth reviews of each of our top recommendations, including their best features, pros, cons, and pricing. Let's dive right in.
1. Domain.com — Offers the Best Website Hosting With Unlimited Storage
The best thing about Domain.com is that there aren't too many differences among their plans. While most website hosting platforms heavily limit the cheaper plans, Domain.com offers almost similar benefits on every subscription.
The features are the same for every plan — no exclusions. The only difference is how many times you can use it. For example, the cheapest plan lets you manage only one website, whereas both the Deluxe and Ultra plan lets you manage unlimited websites.
Domain.com is also one of the few platforms to offer unlimited storage on the cheapest plan. Take any other hosting provider, for example. Be it BlueHost or A2 Hosting, the storage on their cheapest plans is limited to 10GB and 100GB, respectively.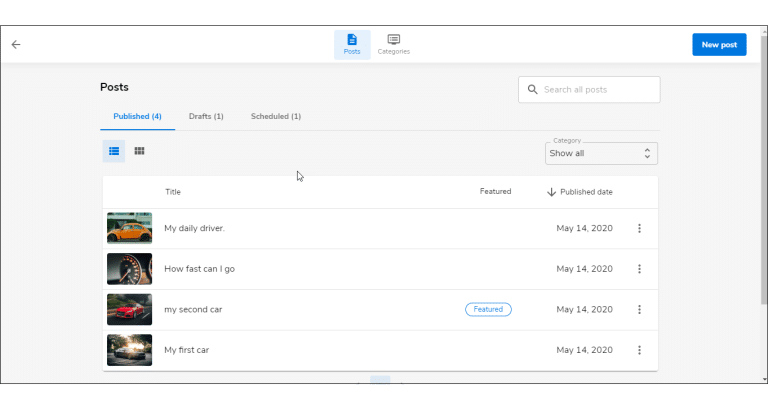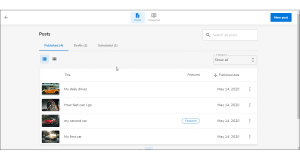 Starting Price
Uptime
Average Page Load Speed
Traffic
Storage
Free Domain
Money-Back Guarantee
$3.75/month — annual plan
99.99%
US – 2.06s
EU – 2.5s
Asia – 3.02s
Unmetered
Unlimited on all plans
Yes
30 days
So with Domain.com, you won't have to pay extra or move to a costlier plan to extend your storage. Next, we have scalable bandwidth. Sometimes hosting providers like to impose a bandwidth limit to ensure you're not hogging up shared resources.
But Domain.com doesn't impose any restriction on your bandwidth usage, and with this in place, they've been able to cater to 99.5% of their customers without any issues. Domain.com also offers an easy drag-and-drop website builder with 150+ customizable templates.
If you're not a design enthusiast, you can rely on Domain.com's expert design support that comes with every plan. The best part is that it comes with built-in website hosting, so if you build your website using Domain.com, you can host it on their servers.
Pros
Scalable bandwidth available
Also offers the best website hosting for bloggers
Unlimited storage on every plan
No feature differences among the plans
Offers a free domain name for the first year
Cons
The features are somewhat basic compared to other options
Not the fastest on our list
DreamHost is one of the few hosting providers that has hourly plans. While hosting plans are usually designed to be paid monthly and annually, DreamHost lets you pay for every hour of usage.
This way, if you want to create a temporary site, you won't have to pay the full month's price. The hourly rate starts at $0.0075/hour, and you have to make an initial deposit before you get started.
However, note that the hourly payment structure is only available for their cloud hosting plans. That said, if you want to work on WordPress, we highly recommend its shared hosting plan.
It comes with WordPress pre-installed and a free automated migration plugin that helps you migrate your existing WordPress site in a few simple steps.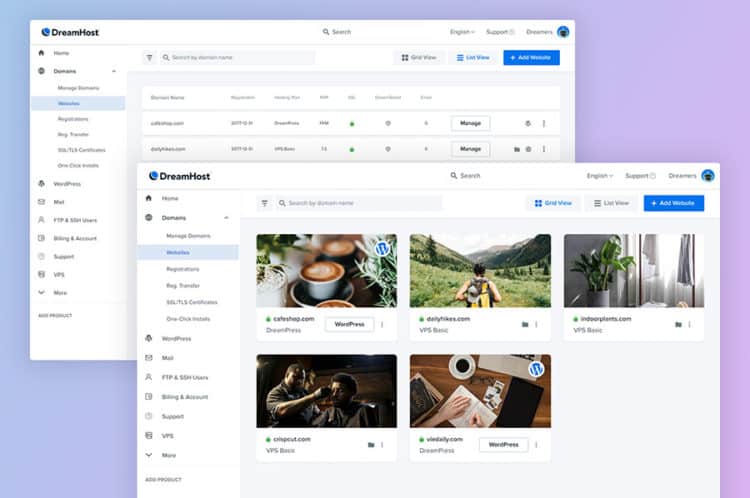 Starting Price
Uptime
Average Page Load Speed
Traffic
Storage
Free Domain
Money-Back Guarantee
$2.59/month — 3-year plan
100%
US – 0.6s
EU – 0.9s
Asia – 1.9s
Unmetered
50 GB to Unlimited
Yes
97 days on shared hosting
If you don't already have a WordPress site, you can build it here with the free WP Website Builder. It comes with a drag-and-drop builder, tons of free professional templates, and a site-design wizard that'll guide you through the building options.
Not to mention, the Shared Hosting plans are very cheap. You can get started at just $2.59/month, and if you're willing to pay just $1.5 more, you get to host unlimited websites simultaneously.
Furthermore, DreamHost is the ideal integrated web solution for new businesses. That's because, along with their hosting service, you can get ample other benefits under their "Pro Service" section.
This includes website designing, management, marketing, and social media services. You can basically access everything you'll need to build a website from scratch on the same platform.
Pros
100% uptime guarantee
Offers one of the fastest WordPress hosting services
WordPress comes preinstalled
Unlimited traffic on every shared hosting plan
Hourly rates available for the Cloud Hosting Plan
Cons
No free email hosting on its shared hosting plan
3. BlueHost — Recommended Web Host For Speed CDNs SEO Booster
BlueHost was founded in 2003 and has over two decades of experience in the web hosting industry. Throughout time, it's also managed to remain one of the most popular options.
On every plan, you get unmetered bandwidth, which means you can transfer unlimited data from one server to another. This is a huge advantage over other hosting solutions like Domain.com, which offer scalable bandwidth.
It sounds similar — both don't impose bandwidth limits. While unmetered bandwidth is truly unlimited, scalable bandwidth simply means they'll accommodate you for as long as possible.
If you use too much, you'll have to shift to a private server, which is obviously more expensive.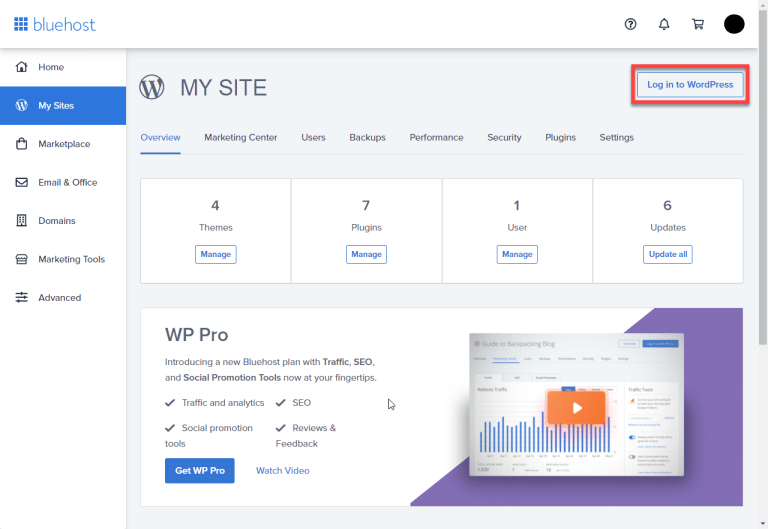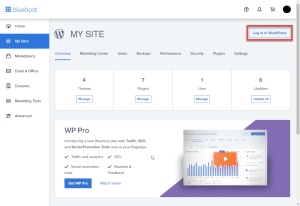 Starting Price
Uptime
Average Page Load Speed
Traffic
Storage
Free Domain
Money-Back Guarantee
$2.95/month — annual plan
15-minute resolution time
US – 0.7s
EU – 1.2s
Asia – 1.39s
Unmetered
20 GB to 100GB SSD
Yes
30 days
To deliver content to your users at record speed, BlueHost uses a unique technology called Speed Boosting CDN, where the content requested by a user is cached at a location that's closer to them.
This reduces the number of requests your site's server has to send to prepare the content, ultimately reducing the overall time taken in the process. From the Choice Plus plan onwards, you also get a lot of extra web tools that'll help you run your site better.
For instance, you get to enable domain privacy, which replaces your personal contact information from the public WHOIS database with generic Bluehost contact information.
Similarly, BlueHost recently joined hands with Yoast — the SEO booster plugin, and ever since then, every user has had free access to this plugin. It can be used to improve keyword allocation, linking, and readability to rank better on the SERP.
Pros
Faster content delivery to your users
20+ years of experience in the industry
Unmetered bandwidth on every plan
Helps you boost SEO ranking through Yoast integration
Cons
The basic plan doesn't come with automatic backup
4. InMotion — Offers the Best Website Hosting for Small Business Needs
InMotion is the only web hosting provider on the list that lets you manage two websites on its cheapest plan. All other hosting providers only let you manage one website.
This is a huge blessing for small businesses that have two websites but can only afford the starter plan. The prices are extremely reasonable, with the cheapest plan starting at just $2.29/month for 3 years.
You also get a 90-day money-back guarantee, which is 3x the standard money-back guarantee offered by other hosting platforms. Plus, you'll get unlimited SSD storage (except on the base plan), and what makes it special is it uses NVMe SSD instead of regular SSD.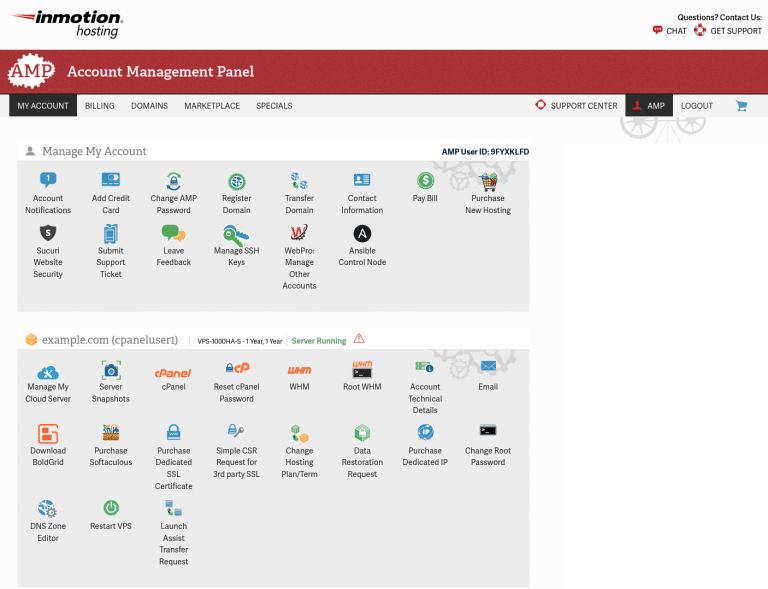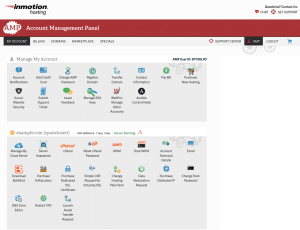 Starting Price
Uptime
Average Page Load Speed
Traffic
Storage
Free Domain
Money-Back Guarantee
$2.29/month — 3-year plan
99.99%
US – 0.8s
EU – 1.2s
Asia – 1.8s
Unmetered
100GB SSD to Unlimited
Yes
90 days
There's a tremendous difference in the performance of these storage types. The regular SSD with a SATA protocol can have a maximum data transfer speed of 550Mbps.
Whereas the latest generation of SSD with NVMe protocol has a 5200Mbps to 7300Mbps speed. Although these numbers are theoretical and in practical use, the speeds will decrease slightly, but NVMe SSD still remains superior to regular SSD.
Another benefit of using InMotion is you get a free set of marketing tools in every hosting plan. This includes a free, no-code website builder, email marketing tools, and customer management tools.
Beyond this, you'll get free advertising credits to run ads for your site. If something's wrong with your site, you can also use its free Domain Checker tool.
This will give you information on the domain's registration, server status, and which page it's pointing to. You can use these free tools to take complete control of your site.
Pros
Unlimited NVMe SSD storage available
Live chat and phone support
Comes with a suite of marketing and security features
Integration with over 400+ apps over cPanel through Softaculous
Cons
Can be a little slow sometimes if under an intense workload
5. Liquid Web — Boasts the Best Business Website Hosting Plans
Liquid Web has the largest variety of hosting plans compared to all other hosting providers on the list. Here's a quick rundown of all the hosting plans provided by them.
You get dedicated and cloud server hosting, managed WordPress, WooCommerce, and Magento hosting, plus Enterprise hosting, amongst others.
Clearly, as you can see, Liquid Web is ideal for large enterprises and e-commerce stores. Moreso because its unique auto-scaling feature keeps your site's loading speed and performance consistent.
This feature automatically adjusts the server resources based on the incoming traffic. If there's a sudden spike, it'll make more resources available to you, and if there's a decrease in traffic, it'll scale down the resource consumption.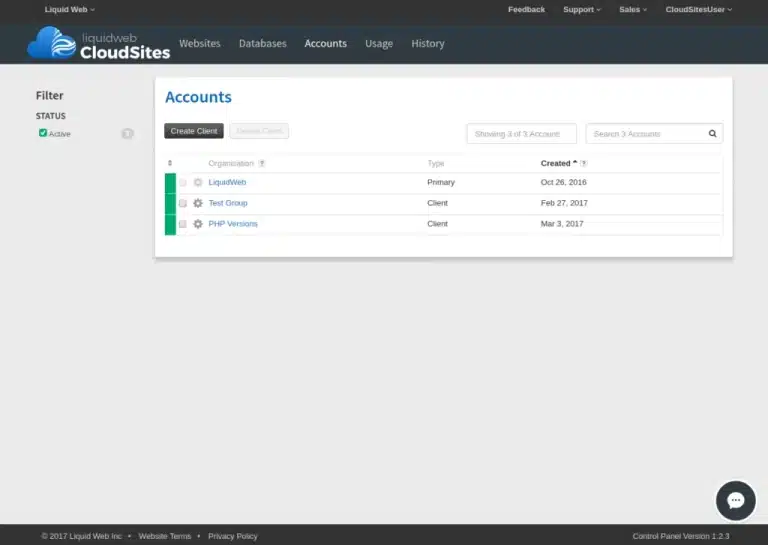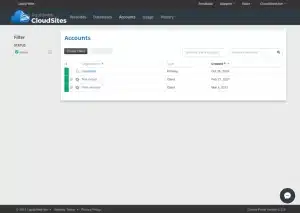 Starting Price
Uptime
Average Page Load Speed
Traffic
Storage
Free Domain
Money-Back Guarantee
$20/month — 2-year VPS hosting plan
99.98%
US – 1.2s
EU – 1.8s
Asia – 1.9s
Unmetered
40 GB to 200 GB SSD
Not on the VPS plan
30 days
Such flexibility in resource usage makes it cost-effective and a popular choice. It also allows you to bring unlimited users onboard under its e-commerce hosting plans.
Usually, hosting providers impose a limit on users based on each plan. But Liquid Web understands that growing any business is a team effort. The only thing that slightly bothered us was it doesn't offer any shared hosting.
All its plans, be it the cloud hosting or the ecommerce plans, work on a single-tenant model, meaning only one business is hosted on a single server — which is great for performance and speed but not as cheap as shared hosting.
So, to make up for it, Liquid Web provides VPS hosting, where you share the server with multiple tenants, just like shared hosting, but you get dedicated private resources.
This means that your site doesn't have to fight for space or speed with other tenants. Overall, it's better than shared hosting and cheaper than dedicated hosting.
Pros
Ideal for running e-commerce stores
Unlimited access for your entire team
Hassle-free migration conducted entirely by its internal team
Offers multi-server hosting solutions if you want better speed
Cons
No shared hosting plans are available
6. A2 Hosting — Known for its Turbo Servers With 20x Speeds
A2 Hosting is best known for its high-speed servers, which can amp up your site speeds by up to 20 times. But for that, you'll have to pick one of their Turbo Plans that come with turbo servers.
For example, its shared hosting service comes with two turbo plans — Turbo Boost and Turbo Max. What makes them different is the servers under these plans are available to limited customers only.
This approach helps to prevent overcrowding and, therefore, slow speeds on the servers. Also, these servers use advanced caching technology, better hardware, and undisclosed performance enhancers, making them great for handling high-speed browsing.
It was further found that these turbo servers can handle up to 9 times more traffic at 3 times faster speed compared to non-turbo servers.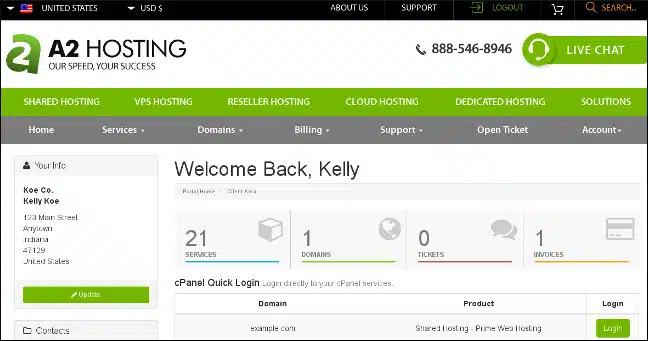 Starting Price
Uptime
Average Page Load Speed
Traffic
Storage
Free Domain
Money-Back Guarantee
$2.99/month — annual plan
99.98%
US – 1.3s
EU – 1.5s
Asia – 1.5s
Unmetered
100GB SSD to unlimited
Yes
30 days
Another remarkable feature of this hosting provider is it keeps your performance stable even during a traffic spike. We often hear that sites crash when too many people log in at the same time.
But say you're having a sale at your online store. Would you want your site to crash and send away all those interested buyers empty-handed? Thanks to A2 Hosting, you won't have to worry about that.
Whenever there's a sudden increase in traffic, A2 Hosting automatically optimizes resource usage at the backend so that you can continue to support new users as they flood in.
If you're planning to integrate your site with other platforms such as WordPress or Joomla, you'll also be happy to know that the integration will be easy, thanks to A2-optimized plugins.
After multiple rounds of testing, the A2 Hosting team has settled on the "Settings" of certain third-party providers that work best for A2's platform. This is called auto-configuration and is currently available for WordPress, Joomla, PrestaShop, and many other platforms.
Pros
Eco-friendly infrastructure
Performance protection from traffic surge
Free email addresses available with spam protection
Comes with special turbo servers that are faster and have more bandwidth
Cons
Some users find the signup process too time-consuming
InterServer comes with two amazing free add-ons — InterShield Security and Inter Insurance. InterShield Security comes with an automatic virus scanner that finds and neutralizes viruses on your site.
And to protect you from new attacks, it checks every incoming IP address with its database of blacklisted IPs. If there's a match, that connection is blocked immediately. This database is in-house and is updated frequently.
Anytime a user is threatened by a suspicious URL, it's blacklisted so that the other InterServer users don't face the same problem. The database is smartly designed to only capture dangerous IPs and spare good bots such as the Googlebot that crawls and indexes your page.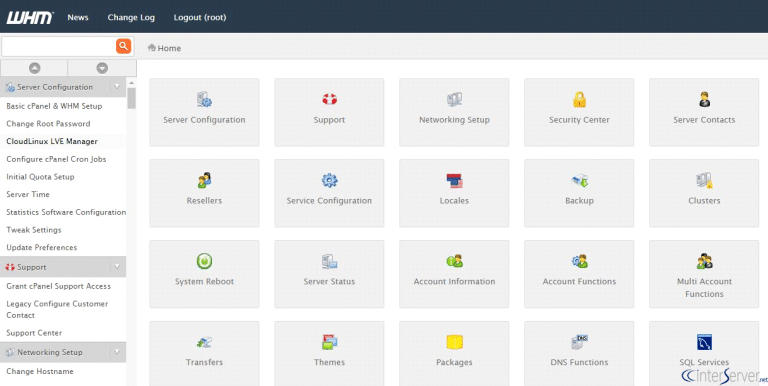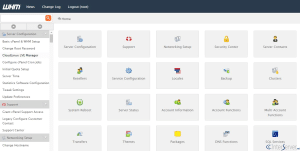 Starting Price
Uptime
Average Page Load Speed
Traffic
Storage
Free Domain
Money-Back Guarantee
$2.50/month
99.99%
US – 1.6s
EU – 2.2s
Asia – 2.3s
Unmetered
Unlimited
No
30 days
The Inter-Insurance add-on kicks in when your site's in trouble. Whether it's caused by a hacker or technical errors, InterServer will help you clean up the mess by investigating the problem, finding and fixing the underlying cause, and restoring it to its original state.
Usually, website recovery is a paid service (and really expensive at times), but InterServer does it for free. InterServer is also ideal for growing businesses that require more bandwidth because it's currently using only 50% of its servers and resources.
The rest is left unused as of now to accommodate your growth without compromising your site's performance. Beyond all this, other web hosting features are also at par with industry standards.
You get unlimited storage space, data transfers, FTP accounts, and weekly backups on the Standard Web Hosting plan. You can also integrate your site with 400+ apps, and each of them comes with a one-click installation model — including WordPress and SitePad.
Pros
Free account recovery
Ready to scale as your business grows
Comes with a suite of strong security features
Provides unlimited disk storage and data transfer on the Standard hosting plan
Cons
Doesn't provide a free domain like most hosting providers do
8. IONOS — Offers the Best Cheap Web Site Hosting
While IONOS is not the best free website hosting, it's pretty close and is the cheapest hosting provider on our list. You can get started for as little as $1/month, and while it's true that the price bumps up to $12/month after the end of the first term, even the renewal hikes are some of the lowest in the industry.
If you're a new business strapped for cash, a cheap starter plan like this is a much-needed boost. Let's now talk about the onboarding process — another of our favorite things about IONOS.
On every plan, you get a personal consultant who helps you make the right subscription choice for your business. They'll also be your singular point of contact so that you don't have to explain your business goals to a new executive again and again.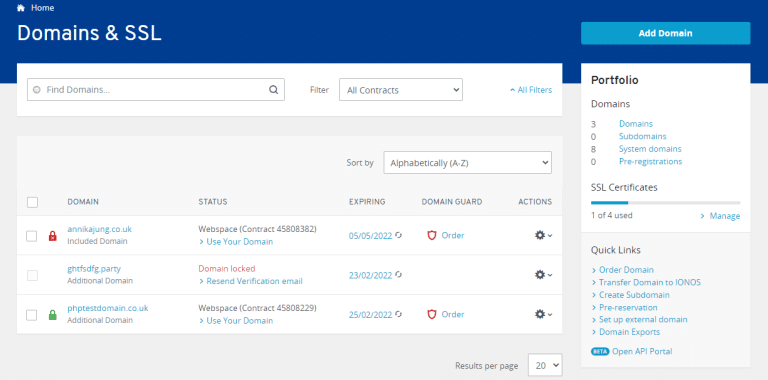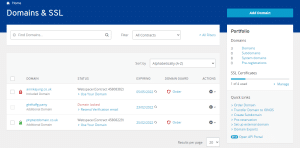 Starting Price
Uptime
Average Page Load Speed
Traffic
Storage
Free Domain
Money-Back Guarantee
$1/month for 6 months
99.9%
US – 1.9s
EU – 2.2s
Asia – 3.1s
Unmetered
10 GB to Unlimited
Yes
30 days
Speaking of the features, IONOS guarantees 99.9% uptime with its geo-redundant infrastructure. This basically means that your site's data is recorded on two different data centers so that your site keeps running even if one of them is under maintenance.
Also, while other hosting providers offer a free standard SSL certificate, IONOS provides a free wildcard SSL certificate. A standard SSL only protects a single domain, whereas a Wildcard SSL protects your main domain and up to 10,000 sub-domains.
In short, your entire site — all the pages and posts — will be protected from external attacks. A different yet astonishing USP of IONOS is that it can provide you with readymade websites that'll be created by its in-house experts.
You won't even have to lift a finger, let alone fiddle around with any drag-and-drop builder. This is a godsend for those who'd like a new site up and running in no time and with minimal input from their end.
Pros
The cheapest provider on the list
Free 24/7 support on every plan
99.9% uptime with geo-redundant infrastructure
Better protection with Wildcard SSL certificate
Cons
The interface can be hard for users to navigate initially
9. HostArmada — Reliable Web Hosting Services Combined With Robust Security
HostArmada understands the importance of site backups. Although it has a 99.9% uptime guarantee and stellar customer support, it offers 7 to 21 daily backups, depending on the plan you choose.
While it's neck-and-neck with Liquid Web when it comes to offering tons of different types of hosting services, this one's more focused on cloud hosting solutions.
You'll find everything from WordPress to Shared hosting and everything in between. Working at the backend is also quite simple since the dashboard is a blend of the cPanel and a regular dashboard, so both tech and non-tech employees can work together.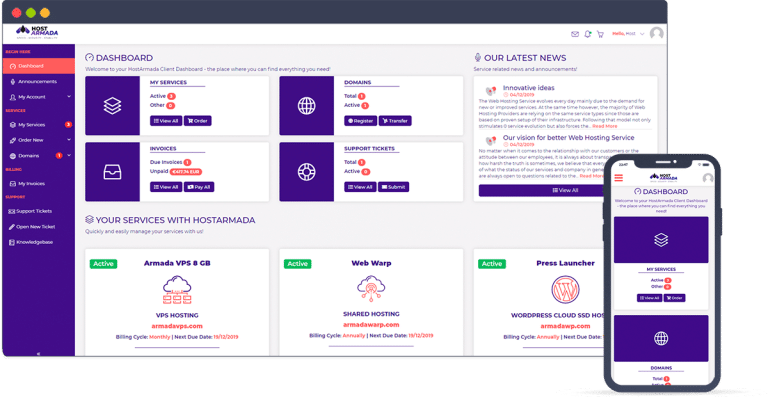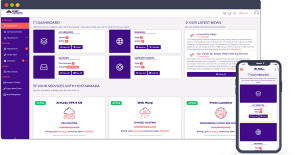 Starting Price
Uptime
Average Page Load Speed
Traffic
Storage
Free Domain
Money-Back Guarantee
$2.49/month — 3-year plan
99.99%
US – 1.9s
EU – 2.1s
Asia – 3.1s
From 30k-120k visitors/month
15 GB to 40 GB SSD
No
45 days
The main dashboard is very user-friendly. You'll find all the options on the left-side menu. Here, you can manage your invoices and domain names, plus access the knowledge base, amongst others.
And under "My Services", you'll find quick access to the cPanel (a Linux-based control panel) that hosts the technical features of your site, such as the SQL Database, SSL certificates, servers, and DNS management tools.
A unique feature that deserves special mention is Web Hosting Account Isolation. It basically splits the occupied server area into smaller, user-specific hosting environments in a way that each user is independent of others.
This way, if something goes wrong on a user's end, say a malware attack, it won't affect the rest of the users. Doing so also prevents users from accessing files that don't belong to them.
Pros
Multiple backups every day
Flexible payment cycles
Quick access to a fully managed cPanel
They maintain a lower number of users so that your speed and performance aren't affected
Cons
Renewal costs are very high
10. NameCheap — Popular Domain Hosting Platform With Email Marketing Tools
NameCheap is the best web hosting provider for email marketing. While almost every hosting provider offers a professional email domain (either for free or as an add-on), only a few, like NameCheap, come with a full suite of email marketing features.
For starters, depending on the plan, you can create 3 to unlimited email accounts. You can assign each department a separate email account to make it easier for customers to connect to the right person.
Next, you can create automated responses to customer emails. This way, your customers will have something to keep them engaged until a member of your team is ready to take it.


Starting Price
Uptime
Average Page Load Speed
Traffic
Storage
Free Domain
Money-Back Guarantee
$1.58/month
99.98%
US – 1.7s
EU – 1.9s
Asia – 3.1s
Unmetered
20 GB to 50 GB SSD
Yes
30 days
SpamAssassin, a popular spam protection tool, is installed by default on its servers to keep away unwanted bot emails. For spam protection, you can use the BoxTrapper feature, which makes all users reply to a verification email before they email you.
NameCheap also helps you manage your Parked Domains, which are basically domains you've purchased but aren't yet connected to a page. Having a list of your parked domains in one place ensures you don't forget about any of them, especially during renewal.
Also, you can store unlimited parked domains on every plan, and NameCheap is very sincere about user security. To protect you from brute-force attacks, it uses unique Leech Protect technology.
What it does is limit the number of times someone can attempt to log into your account in a 2-hour frame. Since brute-force attacks depend on multiple logins in short intervals, this puts a complete stop to it.
Pros
100% uptime
The interface is very easy to use
Helps you manage parked domains
Access 100+ apps for free with the Softaculous marketplace
Factors to Considеr Whеn Comparing Wеb Hosts
Wondering what to look for in a web hosting solution? Let's explore the key factors to consider when comparing web hosts.
Pricing and Plan Features
Assess your budget and look for hosting providers that offer plans within your financial capacity. Pay attention to plan caps such as bandwidth, storage, and the number of domains allowed on the chosen plan. Also, evaluate the available features on each plan.
Ensure the chosen plan offers the features you need, such as email hosting, database support, and scripting languages. Some hosts may provide more advanced features, like e-commerce support or dedicated IP addresses, but these may come at a higher cost or require an upgraded plan.
Server Responsiveness and Speed
A slow-loading website can frustrate visitors, leading to higher bounce rates and a negative brand perception. Moreover, search engines like Google prioritize fast-loading sites in their rankings, so a sluggish website can hurt your SEO efforts and visibility.
A web host with fast server responsiveness ensures that your web pages load quickly, keeping visitors engaged and satisfied. Choose hosts with servers close to your target audience to minimize latency and improve load times, and look for features like content delivery networks (CDNs) that enhance website speed.
Uptime
High uptime scores indicate that your website will be up and running more often than not. For example, a 99.99% uptime means that your site would have a downtime of less than 9 seconds per day.
A hosting provider with poor uptime can result in frequent downtime, making your website inaccessible and leading to missed opportunities, lost revenue, and damage to your online reputation.
Select a web host with a strong track record of high uptime percentages to ensure your website remains reliably accessible, contributing to a positive user experience.
Intuitive Dashboard
A user-friendly dashboard simplifies configuring settings and managing domains, databases, and other essential aspects of your hosting account.
It enables you to monitor website performance, access support resources, and make necessary adjustments seamlessly. A well-designed and intuitive dashboard saves you time and frustration.
This is especially true if you're not a technical expert. It allows you to focus on creating content, running your online business, or managing your website without the complexity of navigating a complex interface.
Data Security
Security is paramount for protecting your website and user data. A reputable hosting provider should offer robust security measures, including firewalls, DDoS mitigation, regular security updates, and SSL/TLS certificates for secure data transfer.
Neglecting security can expose your website to various risks, such as hacking, data breaches, and malware infections, resulting in data and financial losses and damage to your brand's trustworthiness.
Additionally, inquire about data backup and recovery options in case of security breaches.
Customer Support
Technical issues with websites are inevitable, and when they arise, having responsive and knowledgeable customer support can make a significant difference.
A hosting provider with excellent customer support ensures you have assistance 24/7 through various channels like live chat, email, or phone, helping you troubleshoot and resolve problems promptly.
This support minimizes downtime and technical website glitches, which can directly affect your online presence and business operations.
Selecting a provider with excellent customer support can save you time, money, and stress when you encounter challenges with your web hosting.
Can I Host My Own Website?
Yes. While it's technically possible to host your own website, it often involves complex server setup, regular maintenance, and a steep learning curve in managing web servers, security, and performance optimization.
Hosting your own website requires a significant investment of time and resources, not to mention the technical expertise needed to ensure its reliability and security.
To make this process smoother and more accessible, consider using trusted web hosting providers like Domain.com, DreamHost, BlueHost, InMotion, Liquid Web, or other tools on our list.
These hosting platforms offer user-friendly interfaces, reliable server infrastructure, robust security features, and excellent customer support to simplify the whole hosting process.
By choosing a reputable hosting provider, you can focus on creating and managing your website content, leaving the technical complexities to the experts for a smoother, more efficient online presence.
Will I Get a Domain Name With a Web Host?
Whether you get a domain name with a web host depends on the hosting provider and the plan. Many web hosting companies offer domain registration as part of their hosting packages, providing a one-stop solution for your online presence.
Providers like Domain.com, DreamHost, BlueHost, and IONOS include a free domain name when you sign up for their hosting services. However, it's essential to review the terms and conditions of your chosen plan.
Not all hosting packages automatically include a domain. Overall, this integrated approach simplifies setting up your website, ensuring that your domain and hosting are under the same roof for easy management.
Some hosting providers offer domain registration as an optional add-on with an additional fee, too. If you already have a domain name registered with another provider, you can typically connect it to your chosen web host's services.
This flexibility ensures that you can retain your current domain while benefiting from the features and services offered by your web host. It's always advised that you make sure this is an option before committing.
Best Website Hosting Guide
Apart from this guide of the best website hosting providers, here are some other guides put together by our experts that may assist you in your quest for the best host:
Conclusion | What is the Best Website Hosting Service to Use in 2023?
Our list of the best website hosts includes a diverse range of platforms. Whether you're a small business looking for an affordable solution or a multi-winged organization with a significant digital presence, you'll surely find something to your liking on our list.
However, Domain.com is a perfect pick, no matter what you're looking for. With unlimited storage and FTP logins on all plans, scalable bandwidth, free domain, and responsive customer support, you can bank on Domain.com's 24+ years of experience.
The best part is that you can try all these features risk-free with the backing of a 30-day money-back guarantee.
Wеbsitе Host FAQs
How much should I pay to host a website?
Can I host my own website for free?
What is the most used web hosting service?
What are the 4 types of hosting?
What is the best website hosting for small business?
What's the best cheap web hosting?
References