Launching an initial coin offering (ICO) is widely regarded as an easy and swift way to raise capital to fund your project. However, there is more than meets the eye, as launching an ICO can be technically complicated, difficult to market, and risky due to uncertain cryptocurrency regulations.
In this article, you will find a comprehensive guide on how to launch an ICO. You will also find alternatives that will help you find a fundraising option that suits you best.  
How to Set Up an Initial Coin Offering?
Now that you've decided to launch your cryptocurrency, let's talk about the 10 steps you need to follow to create an ICO.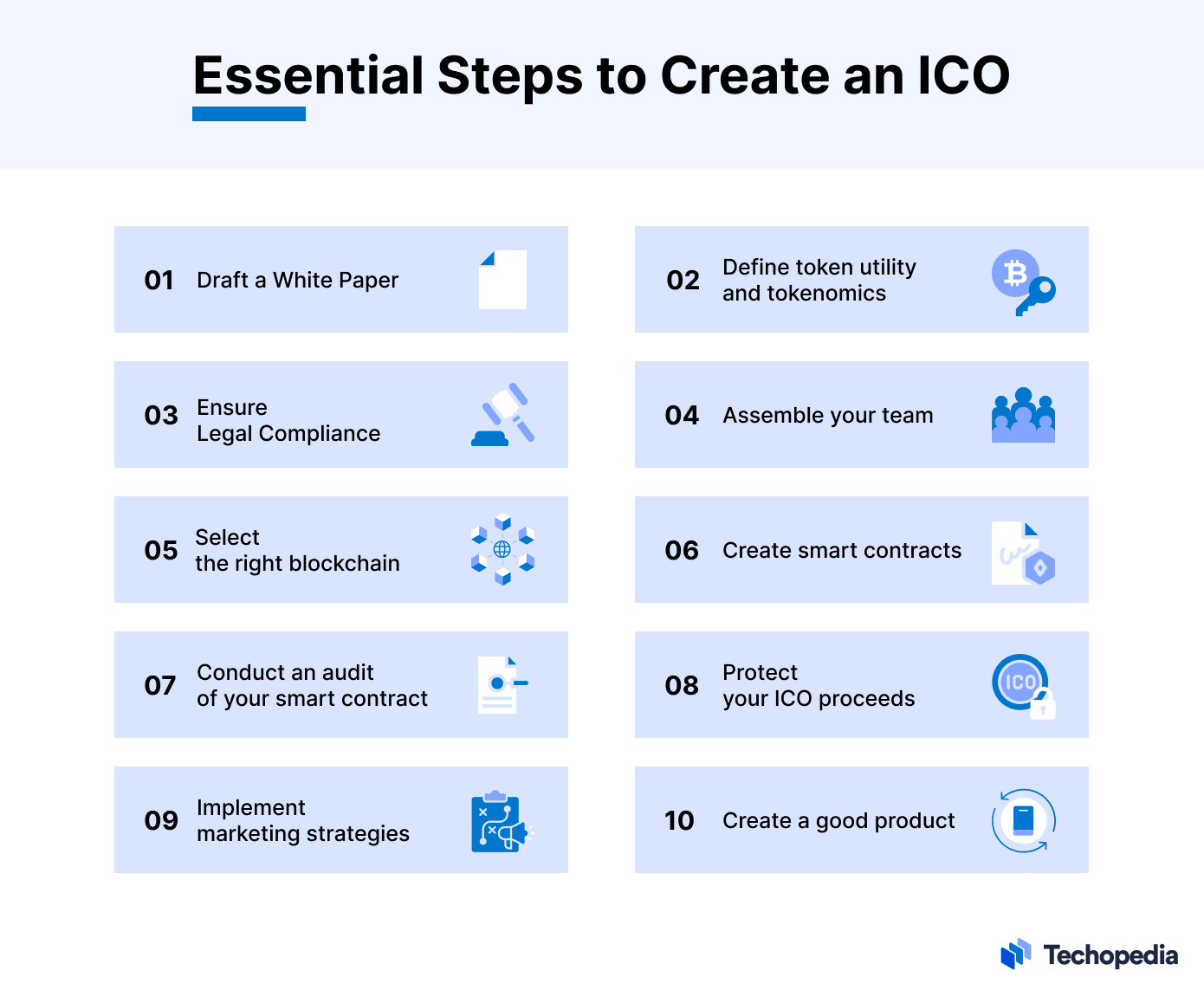 White paper
A white paper is a research-based document that lays bare the technical information and rationale behind your project. Why are you creating this product? What problems are you looking to solve? How will you solve said problems? What utility will your cryptocurrency token have?
If you were to look at the Bitcoin whitepaper released in 2008 by the pseudonymous Satoshi Nakamoto, the author speaks in detail about creating a peer-to-peer electronic cash system. Nakamoto describes the potential problems (double spending) that the Bitcoin network could face and then goes on to counter this issue with technical details about timestamp servers and proof-of-work systems.
Similarly, a founder must try to leave no stone unturned when writing a white paper. The white paper will be scrutinized by peers who may be looking to invest or contribute to the project. The white paper is arguably the single most important piece of document from a technical and marketing standpoint. 
If your whitepaper fails to convince the audience, your ICO could flop.
Token utility and tokenomics
Crypto investors want to know the utility of your token to evaluate whether it is a good investment. Without utility, a crypto token will become a meme coin that is only created for market speculation. 
Tokens are often used as a medium of exchange for certain platforms. Layer-one (L1) native tokens are used to pay gas fees. Tokens issued by crypto exchanges are used as discount tokens. Many decentralized applications issue tokens that give holders voting rights. 
Tokenomics is an important property that investors research on extensively. Is your token hardcapped like Bitcoin, or is it inflationary like Cosmos' ATOM? What percentage of tokens are allocated to the development team and early investors? Is there a cliff period and a vesting period for these investors? These questions are important because tokenomics directly affects the market price of a token.
Legal Compliance
We can highlight this part enough. Legal compliance is very important, if you ignore it, sooner or later, the authorities will come knocking on your door. 
When planning an ICO launch, founders must prioritize legal compliance to protect themselves from the uncertain regulatory landscape surrounding cryptocurrencies and token sales.
Firstly, founders must consider the jurisdiction in which they intend to launch the ICO, as regulations vary greatly from country to country. Some regions may require you to register the ICO launch with securities regulators and meet disclosure requirements.

Secondly, founders have to keep in mind that ICO may be subject to anti-money laundering (AML) and know-your-customer (KYC) compliances, depending on the region of launch.

Lastly, let's not forget about taxes. Rules related to the taxation of cryptocurrencies and ICOs are being developed. Therefore, it is crucial to consult with a legal and finance expert to reduce the risk of legal repercussions and foster trust with potential investors.
Team
It goes without saying that building the right team is crucial to any project or company. Execution is the most difficult part of any idea, and without a capable team, your vision will only remain a concept.
Your blockchain project will need a team of blockchain and software engineers, UI/UX designers, copywriters, sales and marketing executives, and more. Getting highly reputable people on your advisory board will also help your project in multi-dimensional ways.
You can incentivize your team by allocating a chunk of the ICO proceeds and tokens for them.
Choosing the right blockchain
There are so many blockchains to choose from. As a founder, you will have to select a blockchain that suits your project and your principles. Ethereum is the first blockchain that comes to mind when you think about an ICO launch platform. It was the power of Ethereum that allowed ICO launches to happen in the first place.
Ethereum continues to be the leading smart contract platform in the world in terms of active users and total value locked. It is also considered among the most secure public blockchains in the world. However, Ethereum's popularity has clogged the blockchain resulting in slow transactions and high gas fees. 
If high gas fees are a concern, you could launch your tokens on an Ethereum layer-two (L2) rollup like Optimisim or Base. L2s are becoming more popular with time as they allow users to leverage Ethereum's security while sidestepping its high gas fees.
Alternative blockchains like BNB Chain and Poygon are also popular. In particular, the BNB Chain is a popular avenue used by ICO creators due to its integration with the world's largest crypto exchange – Binance. Binance has a dedicated ICO platform called Binance Launchpad, where its crypto investors can access new crypto tokens launched on the BNB Chain.
Creating smart contracts
Cryptocurrencies on blockchains like Ethereum and BNB Chain are governed by smart contracts. Therefore, you will have to develop a smart contract to launch your ICO. The ERC-20 token standard is the most popular token standard that is used to create tokens on Ethereum.
If you have a team of engineers and coders, then creating a smart contract will not be a problem. If you have limited resources, there are several no-code solutions like ThirdWeb that you can leverage to easily create your own cryptocurrency. 
You can also use code libraries like OpenZeppelin to bootstrap your smart contract creation. These libraries have a databank of tested and community-reviewed code that can be deployed.
Auditing your smart contract
Auditing will identify any vulnerabilities and errors in your code. It is crucial to audit your smart contract before deploying it to the blockchain, especially when the smart contract has been developed for an ICO. 
You are dealing with someone else's money here, so it is critical to take all the necessary steps to ensure that investor funds are safe. Otherwise, you may find yourself in hot water.
Auditing will also ensure that the ICO process is carried out without any glitches and technical difficulties. You can reach out to professional auditing firms or make your smart contract available for public review and offer bug bounties.
Protect your ICO proceeds
When you set up the smart contract for your ICO, you will have to enter a wallet address that will receive the proceeds from the ICO. 
It is recommended that you use hardware wallets that offer the highest level of protection. You may also use a multi-sig hardware wallet in case you have multiple founding members and a larger team.
You can also code the smart contract to send the ICO proceeds to multiple wallet addresses to diversify risk in case a wallet gets compromised. Security in the crypto world should never be taken for granted.
You heard the age-old saying, "Better safe than sorry."
Marketing
Marketing will make or break your ICO. Think about it, if your potential investors do not know about your project, they will not get the chance to invest in it, no matter how promising your product is.
Creating a well-branded website is the first step to good marketing. Your website will be the face of your project. You may even set up your website as the minting page for your ICO.
Raising brand awareness via social media, video content, and blogs is a must in the modern day. The quality of content is so high that you will have to invest resources to stand out. Hiring content creators, social media moderators, community managers, and copywriters will help.
Keep in mind that Twitter and Discord are the most popular social platforms among the crypto faithful. If you have the budget, you can buy ads and hire influencers to reach more people.
Creating a good product
Sometimes the best way to market your ICO is to first create a product that people want to use. By showcasing your ability, your project will gain enough admirers who will willingly buy into your ICO. We saw this play out with Ethereum layer-two rollup Arbitrium. 
Arbitrium focused on creating an Ethereum scaling solution that people could use and develop. By the time, Arbitirum announced the creation of its ARB token, people were eagerly waiting for the launch. Arbitirum did not have to bother with marketing as their achievements speak for themselves.
How Much Does It Cost to Launch an ICO?
You might have figured by now that launching an ICO is not cheap. There is no absolute figure to quote here. It really depends on your goals and your budget.
Here are some expenses that you may incur in your upcoming ICO:
Employee expenses

Legal expenses

Consulting fees

Gas fees for testing and contract deployment

Hardware wallet expenses

Marketing expenses – ads, influencers

Website expenses – hosting, domains
Why Launch an ICO?
Here are some points to help you decide on your crypto ICO.
Blockchain industry
Are you working on a blockchain-based project? Should your project be using blockchain at all? At its core, blockchain technology is an advanced database that can be designed to be open source and can be customized to prioritize decentralization and transparency. What founders have to keep in mind is that blockchain technology is not suited for all projects. 
If blockchain technology is core to your project or if your project is focused on functioning in a decentralized or peer-to-peer environment, then it may make sense to launch an ICO.
Cryptocurrency tokens
Does your project even need a crypto token? This is the most common pitfall that most founders fall for. The use of blockchain technology is by no means a criterion for creating a cryptocurrency.
There are so many complications and risks that come with creating, selling, and managing cryptocurrency tokens and smart contracts. Your team may be better off using time and resources to create a viable product or service than dealing with crypto tokenomics, token marketing, market risks, and hacks.
More importantly, a project must be relevant without the clout of its cryptocurrency. If a project is only special because its crypto token is making headlines in the market, then the project will fail sooner or later (taking down its token with it).
If your crypto token is going to have a noteworthy utility, then it may make sense to launch an ICO.
Regulations
Founders have to think about crypto regulations in their operating geographies before launching an ICO. We have seen the US Securities and Exchanges Commission (SEC) hunt down several crypto founders for failing to register with the SEC for allegedly selling "unregistered securities." At the time of writing, the crypto regulatory scene is extremely uncertain. The US SEC is hell-bent on regulating ICOs and cryptocurrencies.
There are options available today that can give you similar benefits of an ICO launch while protecting you from regulatory scrutiny. We will talk about those options later in this article.
Alternatives to ICOs
There are alternatives to ICOs that you should be aware of. Learn about them here before making your final decision.
Initial exchange offering (IEO)
IEO refers to the sale of newly-created cryptocurrency conducted by a crypto exchange.
IEOs are similar to ICOs. You set up a smart contract for your newly-created tokens, but instead of directing investors to a mint page, you will release the tokens via a crypto exchange.
IEOs are considered safer for the investor compared to ICOs, as the crypto exchange may choose to perform due diligence on the coin issuer's smart contract before listing the coins. This third-party due diligence will offer an extra layer of protection for investors, which can provide credibility to the token offering.
Security token offering (STO)
STO refers to the sale of crypto tokens in a regulated manner. Here, the crypto tokens are classified as "securities," and therefore, they must comply with rules administered by market regulators such as the US SEC.
STO promoters will have to meet disclosure requirements, which means that promoters will have to reveal the business model, risks involved, team composition, and other inside details to the public before offering their tokens.
The use of STO allows founders to carry out their fundraising without having to worry about regulatory scrutiny later down the line.
The Bottom Line
Launching an ICO is an important decision that founders have to think carefully about. We have seen various types of ICO launches in the past – some choose to focus on the product first (like Arbitrium), while others simply focus on how to earn money with an ICO.
For the sake of the crypto community, we request potential ICO promoters to choose the former.
FAQs
What is an ICO (initial coin offering)?
Where do I launch an ICO?