Losing access to a crypto wallet containing your hard-earned cryptocurrencies can be very stressful. Luckily, there is a way to recover it through special key phrases known as secret recovery phrases (SRPs) or seed phrases.
In case you have lost SRPs to your wallet, there may be a small chance of recovering it.
Read on to discover the details in our extensive guide on how to recover a crypto wallet.   
Basics About Crypto Wallet Recovery
Let's briefly go through the basics of crypto wallets, managing cryptocurrencies, and wallet recovery.
A crypto wallet is a program, device, or service that stores private keys that give you access to your cryptocurrencies. Technically speaking, your cryptocurrencies exist on the blockchain, and the

private keys

held in your wallet allow you to transfer, claim, and use the tokens.

Managing cryptocurrencies on

self-custodial wallets

like

MetaMask

and Rainbow Wallet is crucial as it allows crypto owners to have full control of their tokens.
Your crypto tokens are at risk if you leave them in accounts at centralized exchanges such as Binance, Coinbase, and Gemini. In 2022, billions of dollars in customer funds were lost when crypto exchange

FTX declared bankruptcy

.

However, the self-custody of cryptocurrencies creates the need for users to safeguard their crypto wallets using passwords,

two-factor authentication

,

and other methods.

This, in turn, introduces the risk of losing access to wallets in case you forget your password or delete the wallet application on your phone.
Fortunately, there is a way to recover a crypto wallet.
Secret Recovery Phrase
SRP is the only way to recover a crypto wallet.
This recovery phrase is a series of words generated by your wallet at setup. SRP acts as a crypto security phrase that can be used to regain access to your account in case you forget your wallet password.
It is made up of a series of 12 to 24 simple words. They come in a certain order which must be maintained while recovering wallets. Here is an example of a security phrase: sunshine, apple, bicycle, mountain, river, harmony, starlight, father, traffic, present, post, result.
In most cases, the only way to restore the wallet is through the secret recovery phrases. This is the reason why crypto wallet users are told to safeguard the SRP of their wallet properly.
Anyone with knowledge of your SRP will be able to gain access to the cryptocurrencies held in the wallet.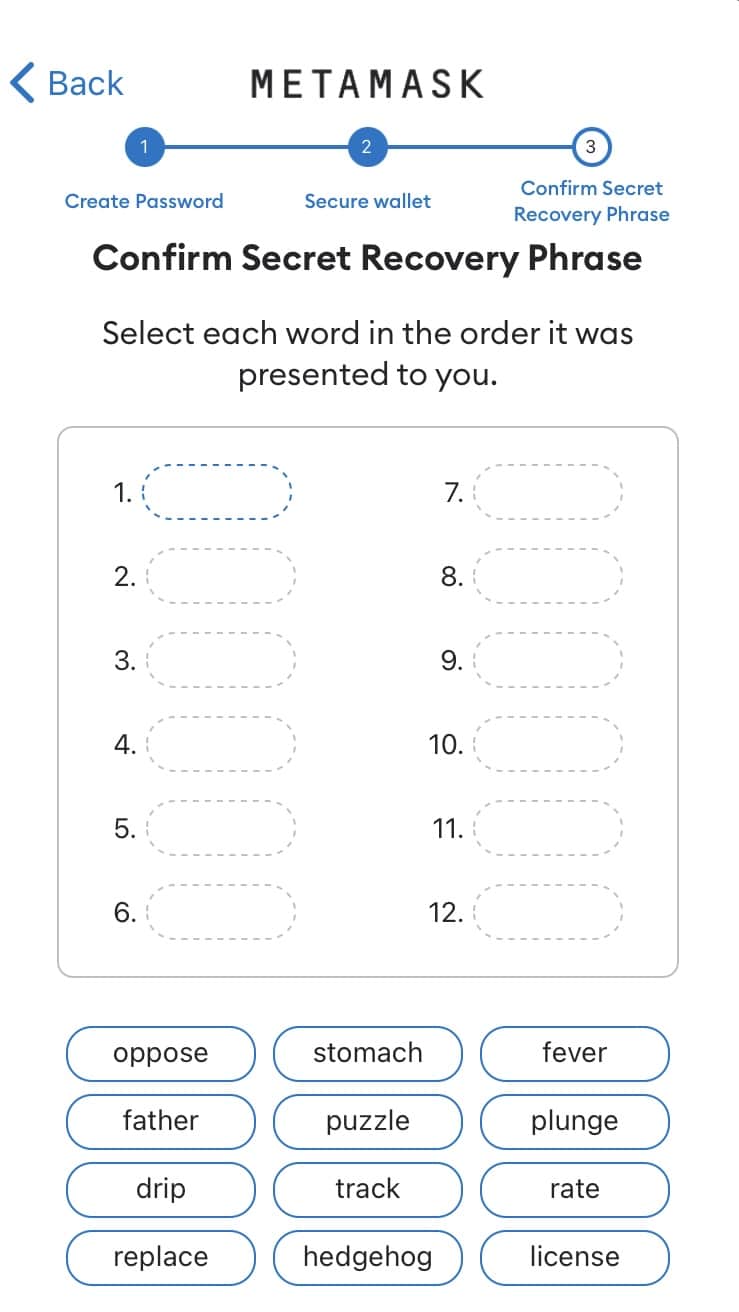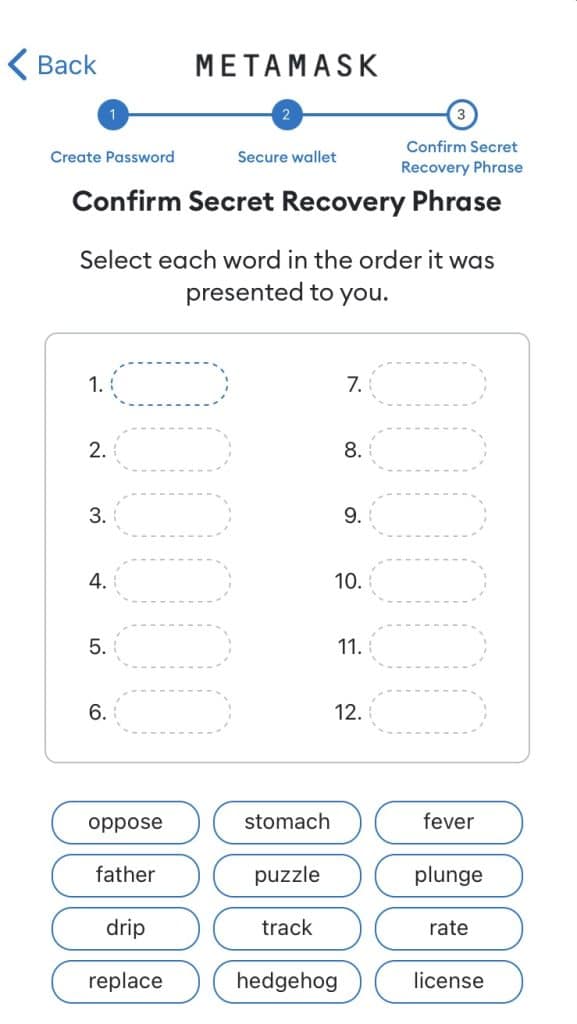 How to Recover a Crypto Wallet Using SRP?
MetaMask is the most popular non-custodial wallet in the world, according to CoinGecko. As such, we will take it in our crypto wallet recovery example.
Here are the steps you need to follow to restore your MetaMask wallet:
Download the MetaMask extension on your desktop/laptop browser or download the MetaMask app on your smartphone.

Click on "Import using secret recovery phrase."

Enter the 12-word secret recovery phrase one by one in the correct order. Ensure that the words are in lowercase and that there is no space between each word.

If the seed phrase you entered is correct, your wallet will be restored.
The steps are similar for other wallets like Trust Wallet, Rainbow Wallet, or Coinbase Wallet. Just ensure that the order of the SRP is correct.
What to Do if SRP is Lost?
Crypto wallet recovery is impossible without SRP. Therefore, it is crucial to back up it.
Some wallets like Coinbase Wallet allow users to back up their SRP on cloud services like iCloud. However, cloud backups are considered risky as they are vulnerable to hacks.
Writing your secret recovery phrase on paper is considered a safe way. As there are chances that you lose the piece of paper or notebook with the phrases, users are advised to store their SRP in multiple places.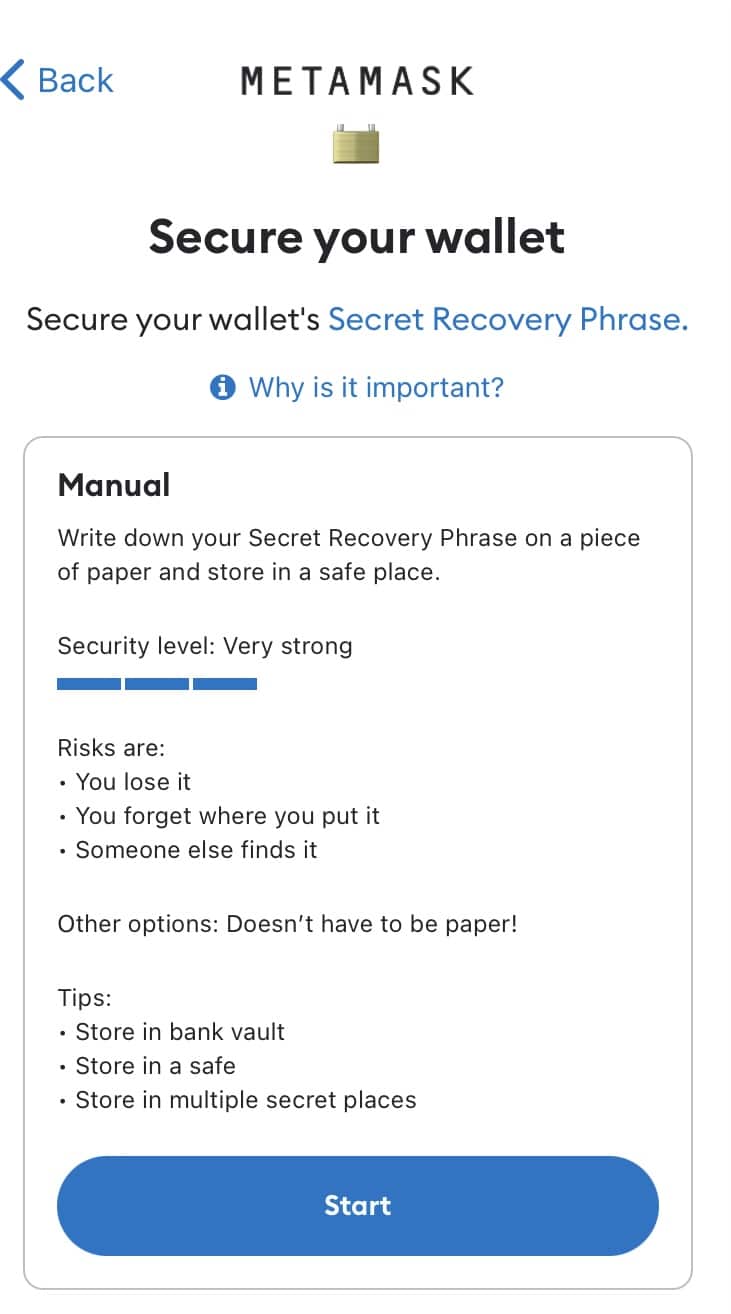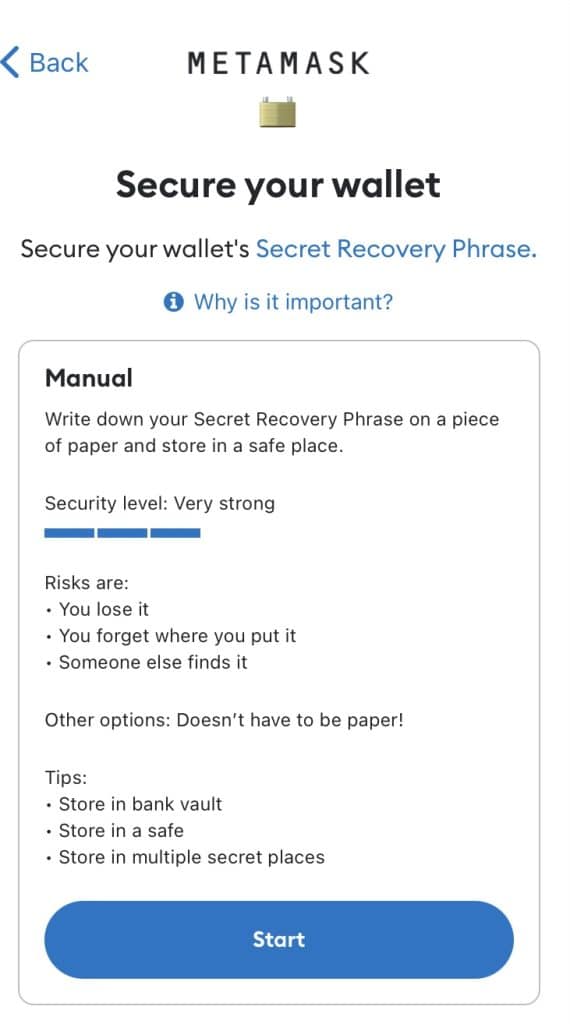 How to Recover Your Secret Recovery Phrase?
Let's say you are locked out of your crypto wallet. You have also lost your SRP and did not bother to back them up when you had the chance.
What can you do in this situation? 
Fortunately, there are ways to recover your SRP. However, the success rate will depend on your situation. According to MetaMask, you have a chance to recover it if:
You know your wallet password,

You are using MetaMask Extension in a desktop browser.
It should be noted that the MetaMask browser extension can only hold one set of SRP at a time. So when a user imports a wallet using another set of secret recovery phrases, the extension "forgets" the existing wallet. 
A situation may arise where you lose access to an existing account when you import a new wallet into your MetaMask browser extension.
In such a situation, you can find the old SRP on the vault data of the wallet extension. However, you should not have uninstalled the extension since importing the new SRP, and you will need the password to your lost account to recover it.
Follow the steps below: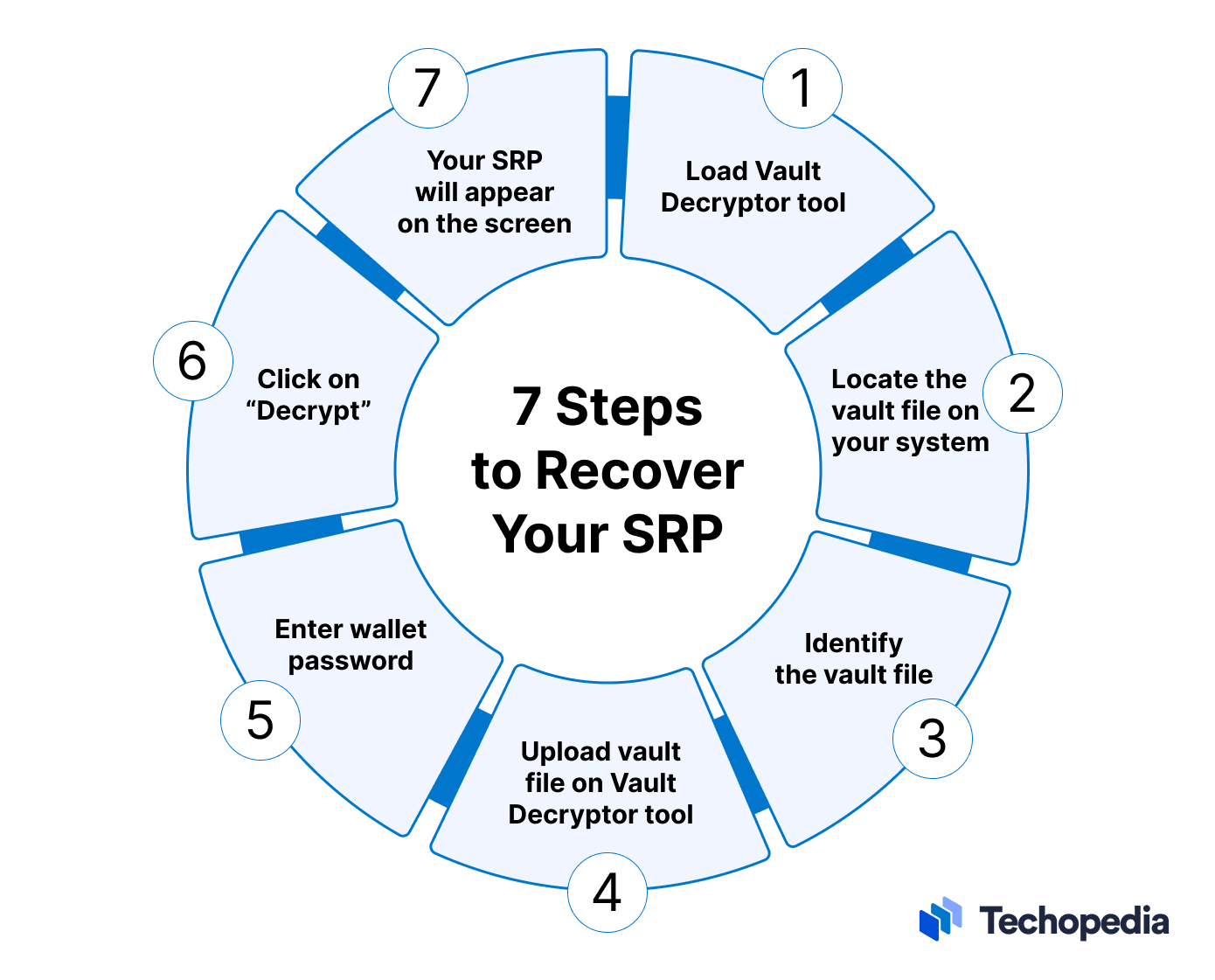 Load the Vault Decryptor tool.

Locate the vault file on your system. For Windows users, you will be able to find vault files on C:\Users\USER_NAME\AppData\Local\Google\Chrome\User Data\Default\Local Extension Settings. Mac users can find the vault files on Library>Application Support>Google>Chrome>Default>Local Extension Settings

Identify the vault file, which will be called 000003.ldb or something similar, according to MetaMask. The file name will be a low numerical value, like 000005 or 000004.

Upload the vault file on the Vault Decryptor tool.
Enter your wallet password.
Click on "Decrypt."

If the password and vault file are correct, your SRP will appear on the screen.
According to MetaMask, vault file recovery on Android and iOS mobile devices is not currently possible.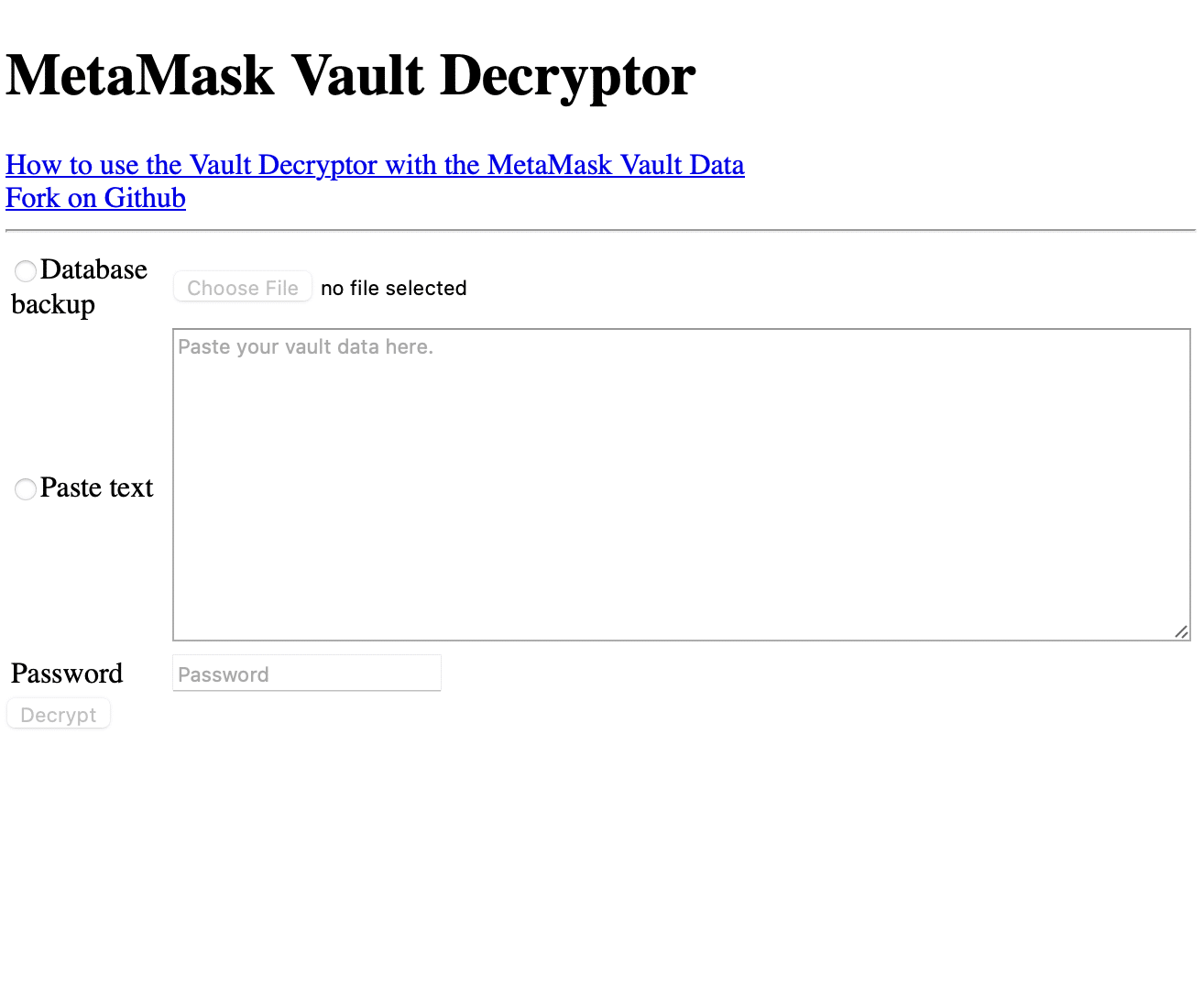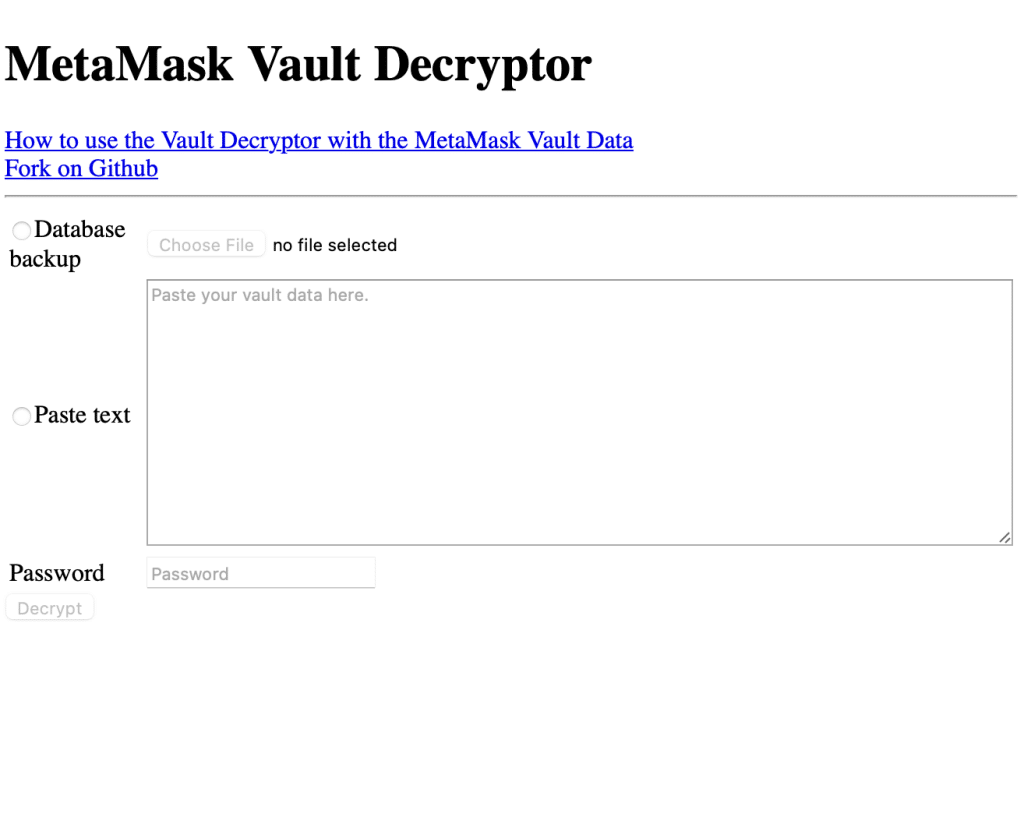 The Bottom Line
Self-custody has its pros and cons, and the risk related to SRP and crypto wallet recovery is a key disadvantage that often results in poor user experience.
Some individuals may find it cumbersome to manage SRP, while others may be too relaxed to ever back up it and realize the importance of it only when it is too late.
Luckily, there have been advancements in the crypto industry that will help users sidestep issues related to seed phrase management.
One of these innovations is smart contract wallets that will enable social recovery mechanisms, where owners can regain access to their accounts through trusted social contacts.
Until then, make sure you safeguard your seed phrases and back them up. Always double-check before uninstalling crypto wallet applications and browser extensions.