PDF (Portable Document Format) files are a universal document-sharing standard. Securing sensitive information within the document is essential, and that's where password protection comes into play.
You can encrypt a PDF with a password, which keeps your content safe, ensuring only those with the correct credentials can access or modify the document.
However, there are legitimate scenarios where you may need to remove a password from a PDF:
Ownership:

You might have a password-protected document but no longer require it.

Accessibility:

You've received permission to share a password-protected PDF more broadly, so removing the password can simplify distribution.
A significant note of caution, though: Always act legally and ethically. You should only remove passwords on files that you have the right to modify or access. Removing passwords from documents without proper authorization isn't just unethical — it's illegal in many places.
Always respect privacy and copyrights. When in doubt, err on the side of caution.
If all is good, here's how you can remove the password from the PDF file.
How to Remove a Password from a PDF: 4 Different Ways
Use Adobe Acrobat Pro
Adobe Acrobat Pro is the premium version of Adobe's popular PDF software suite. It offers many features, like reading, creating, and editing files, among many other things.
One of those other features is the ability to remove password protection from a PDF file.
Adobe Acrobat Pro is only available via subscription, so you'll be paying monthly or yearly to use the application. If you're unsure, you can try the 7-day free trial.
Open the password-protected PDF file in Adobe Acrobat Pro.

You'll be asked to provide a password. Enter the password to access the document.

Next, click the lock icon in the window's top-right corner and then select "Permission Details."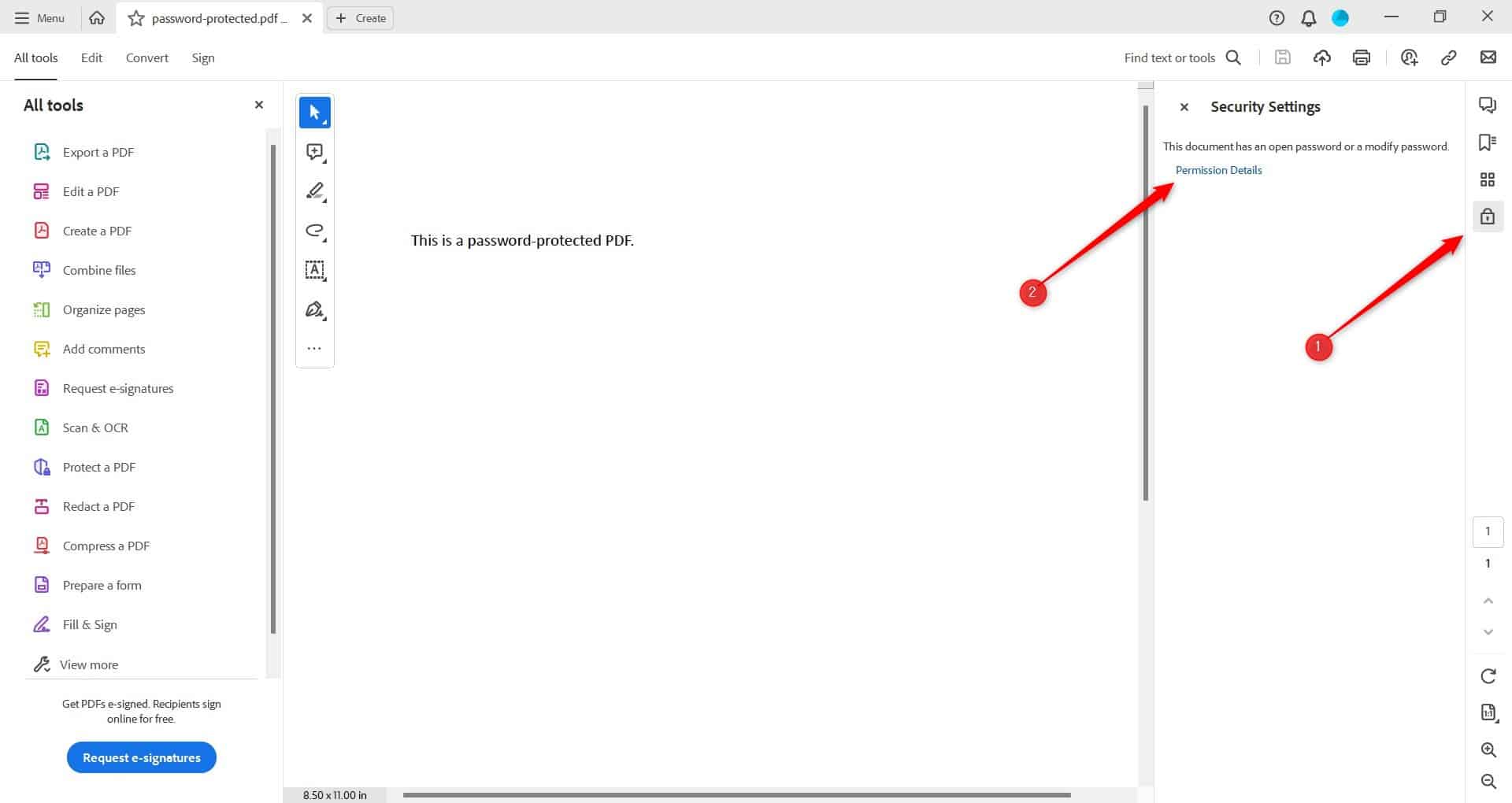 The "Document Properties" window will appear. Click the box next to "Security Method" to display a drop-down, and then select "No Security" from the menu.

Click "OK" to confirm the change.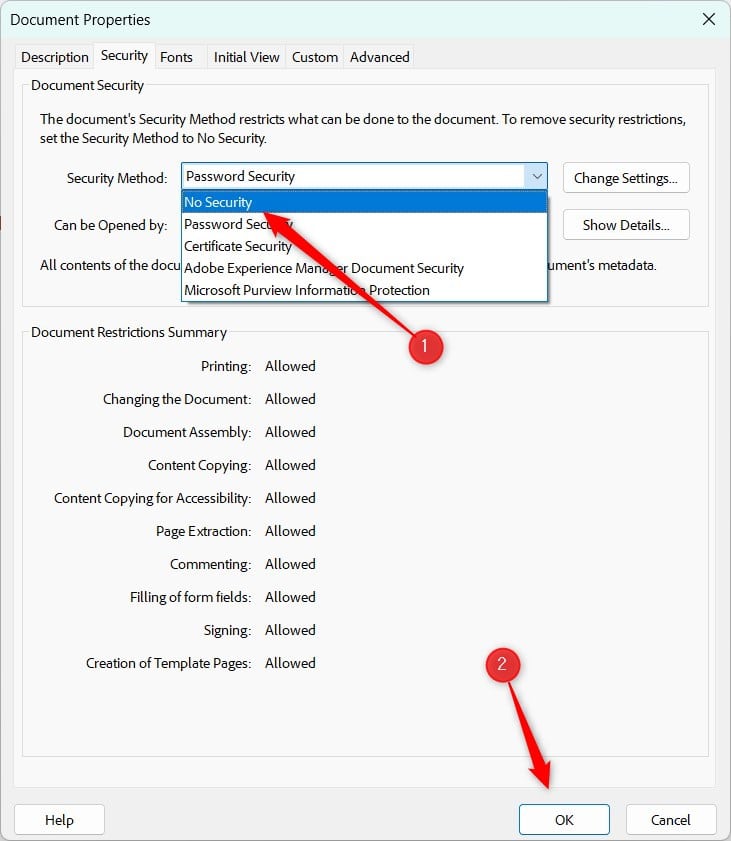 The file is now password-free. Be sure to save the file, or you'll need the password next time you access it.
Use Smallpdf
Smallpdf is a well-known and reliable online tool that offers a range of PDF-related functions, such as converting, editing, and, most notably, password removal. Since it's web-based, it's a convenient choice for people who don't want to download or install software.
Follow these steps to use their online password removal tool for your file:
First, go to the

"Unlock PDF" page

on their official website.

Once on that page, you'll see a peach-colored box. You can use the "Choose File" feature to locate the password-protected PDF file on your local device or the cloud or drag and drop the file.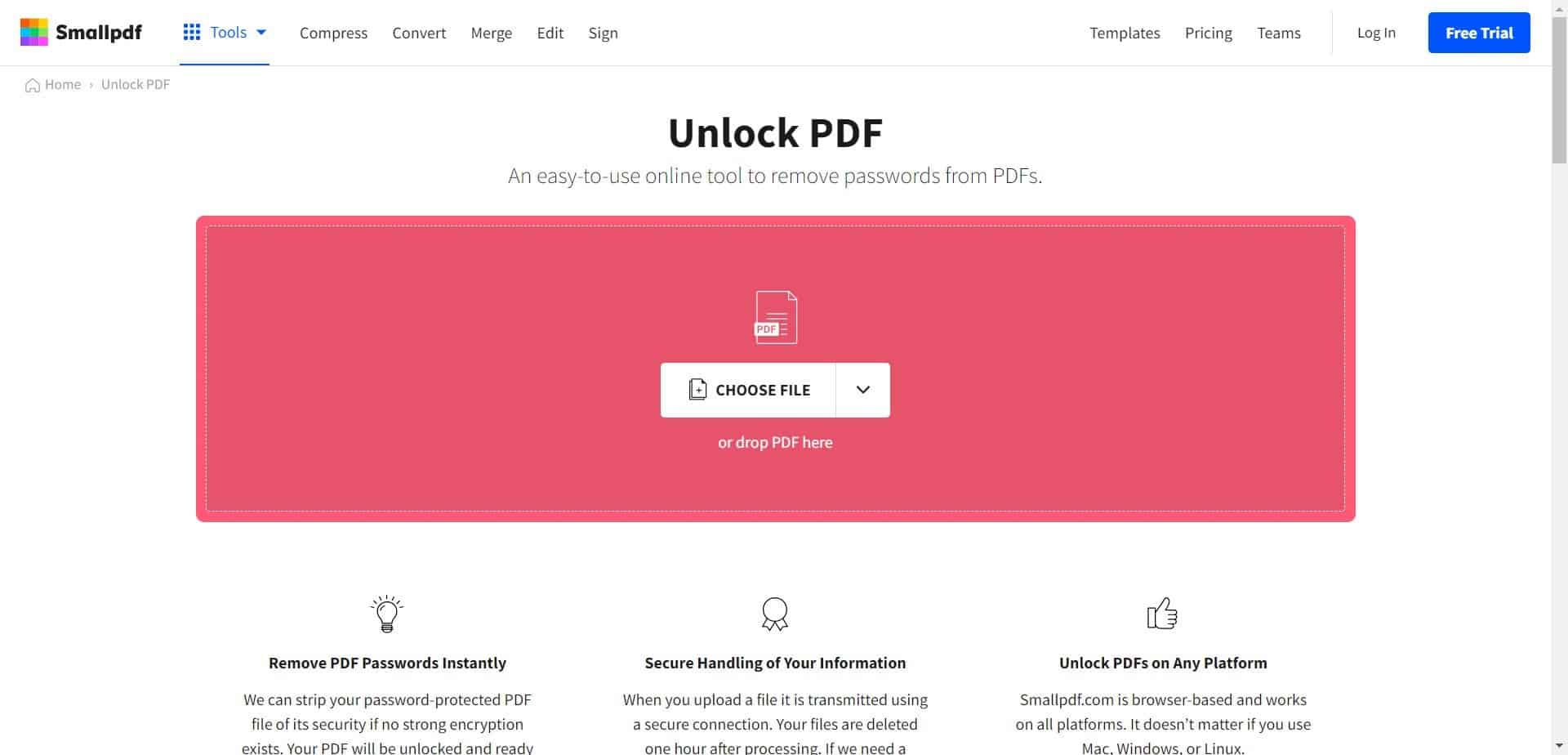 Next, Smallpdf will alert you that they need to be sure you aren't doing anything illegal, such as accessing a confidential

file

you shouldn't have access to. You can read

their Privacy Notice

for more details on this.

Once you've read their

privacy policy

, you have to pinky swear (seriously) that you have the right to edit the file and remove its protections. Check the box next to the note to confirm, and then click "Unlock PDF!" below.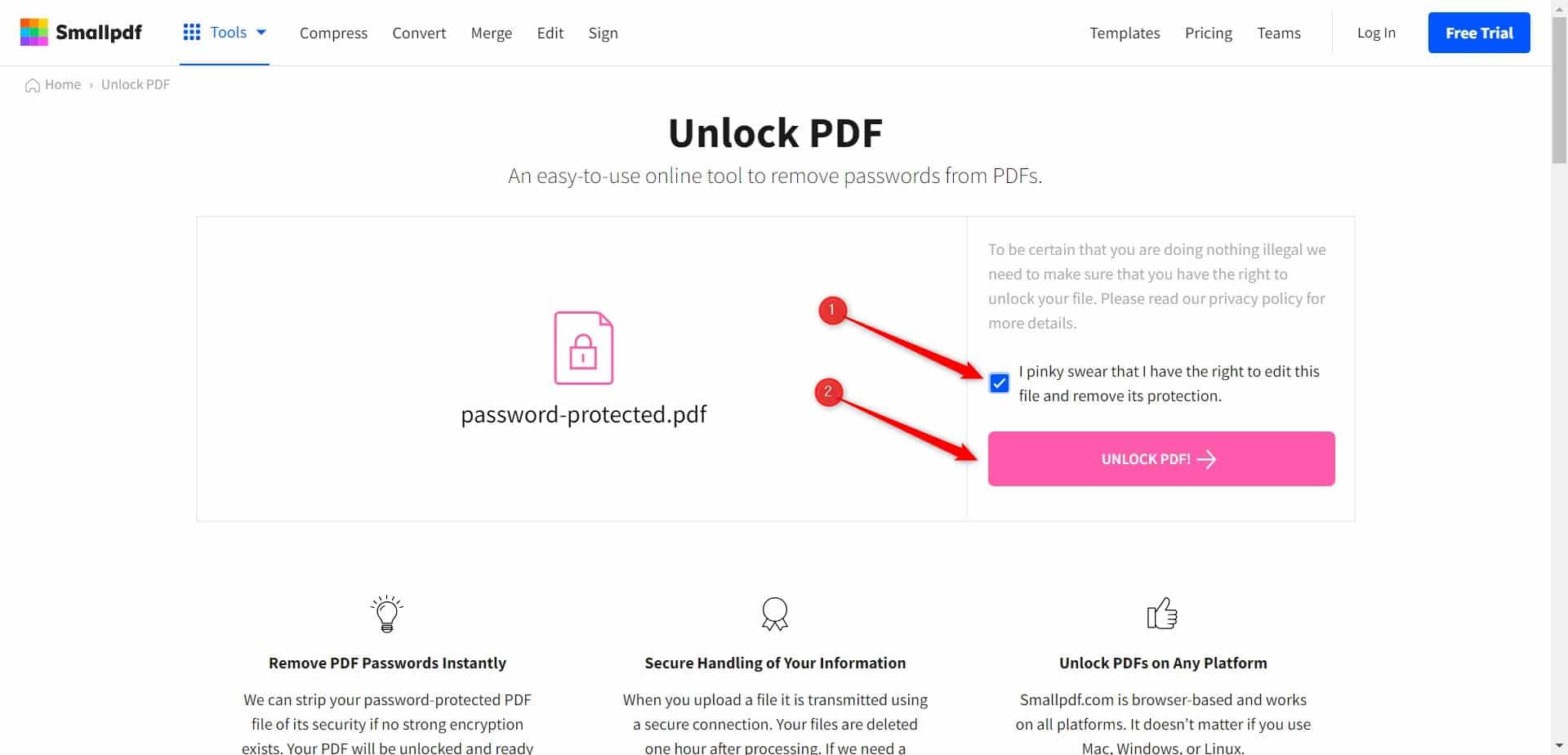 Now is the moment of truth. Depending on the encryption level of the file, Smallpdf may or may not be able to unlock it. If the encryption level is too strong, you'll be prompted to enter the password before unlocking it.
Enter the password in the "Password" box and click "Really Unlock."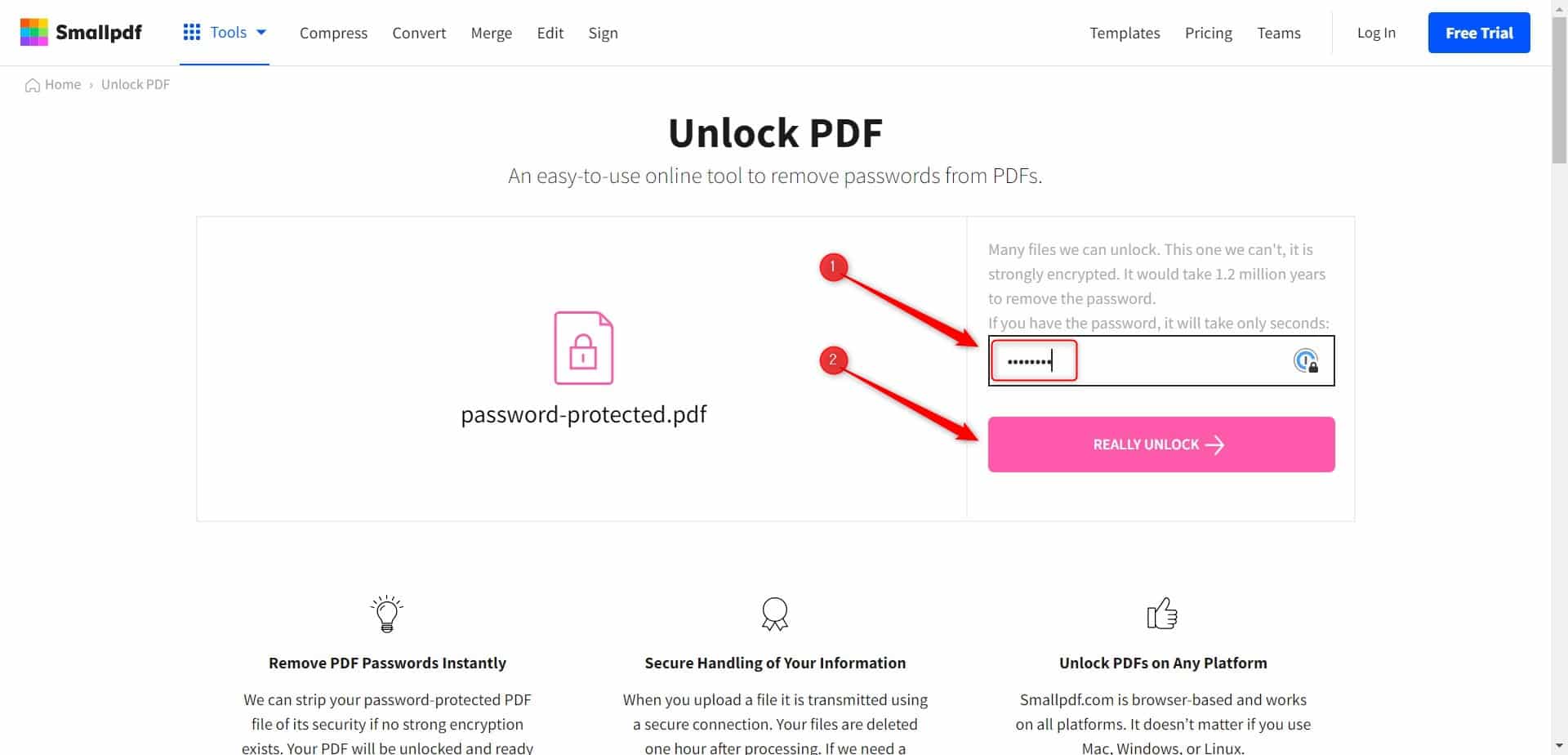 Once the PDF is unlocked, you can download the password-free version or export it as a

Word

,

Excel

,

PowerPoint

file, or JPG image.
Wondershare PDF Password Remover is a dedicated software solution by Wondershare explicitly designed to remove PDF passwords and restrictions. Unlike Smallpdf, a web-based tool, Wondershare requires downloading and installing the software.
You'll also need to purchase a license to use this software. There's a free trial that doesn't require any credit card info, but it will only unlock the first four pages of a PDF, so it's a bit limited.
Regardless, using local software may offer better security for sensitive documents than web-based tools, so be sure to consider this when deciding if you should use Wondershare.
If you choose to use Wondershare, follow these steps:
Launch the software and first select an "Output Folder" at the bottom of the screen. This is where your password-free PDF will be stored.

Next, click "Add Files" and locate the file from which you want to remove the password.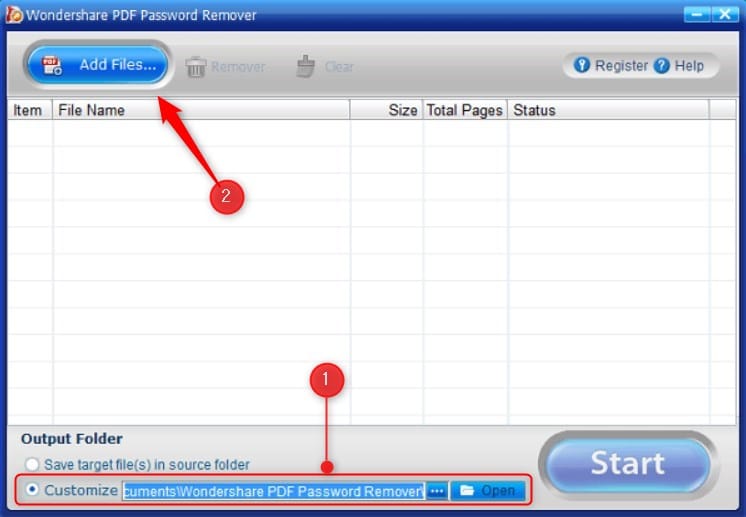 One of two things will happen here. If the encryption level for the file is strong, you'll see a lock next to the file. This means you'll still need the password to unlock it. You won't see the lock if the password can be removed from the PDF without issue.
If you see the lock, click it, enter the password in the prompt that appears, and then click "OK."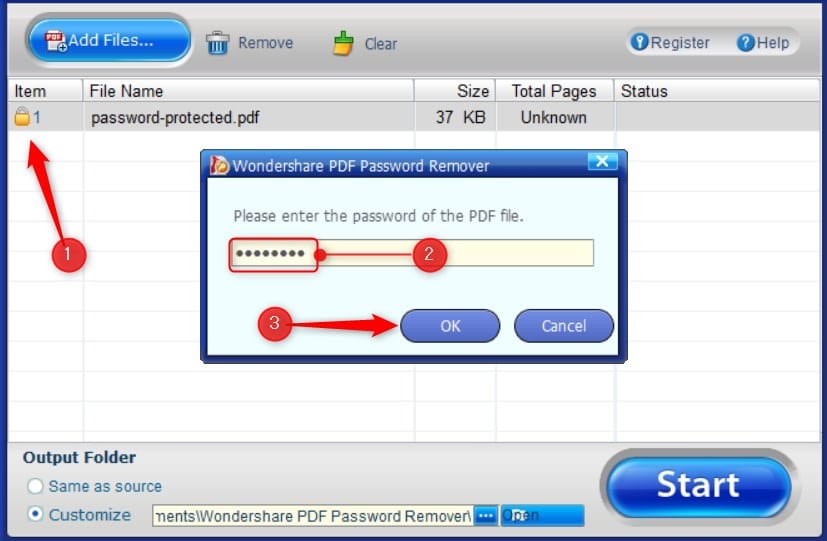 You'll notice that the lock icon is now an unlocked lock. This means you can now remove the protections from the PDF file.
Click the "Start" button.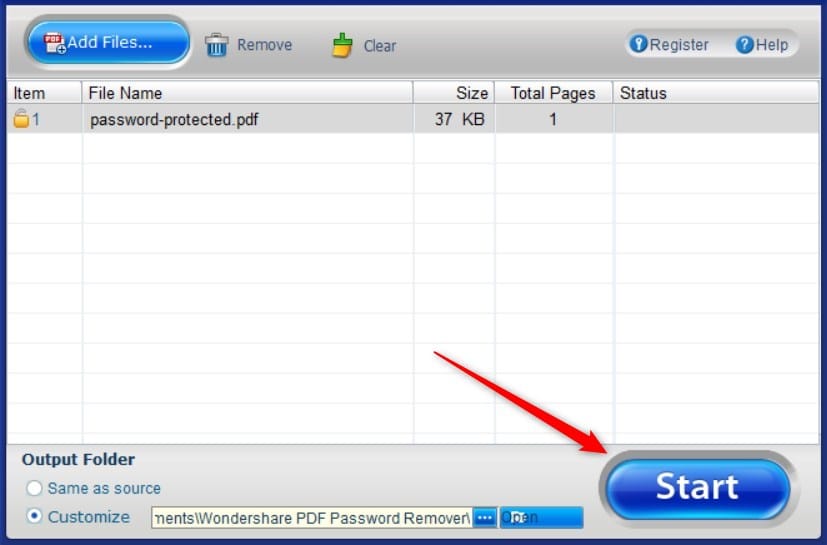 Once the process is complete, you can find the PDF file with no restrictions in the location you set as the output folder.
Use the Command Line
If you're tech-savvy and don't want to use any third-party software, you can remove passwords from PDFs using the command line.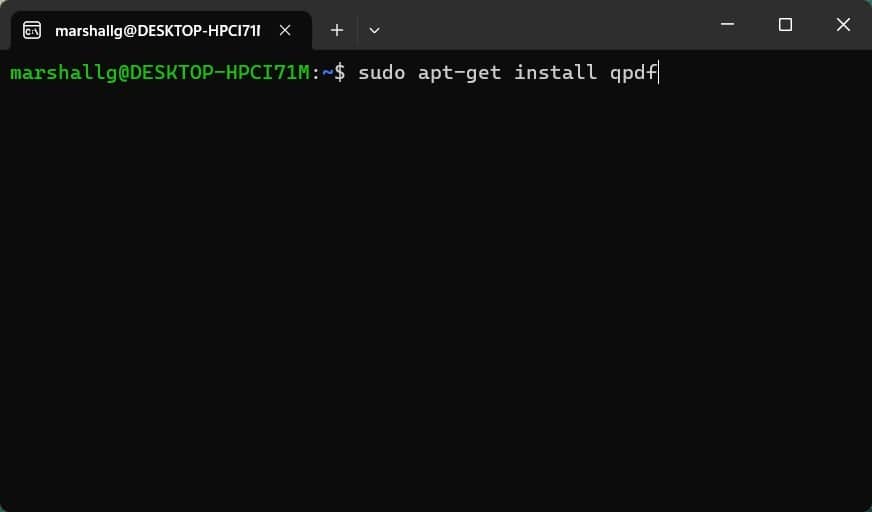 Now, you'll need to run this

command

to remove the password from your PDF:
qpdf –password= –decrypt source.pdf new.pdf
In this syntax, you will:
Replace

<your_password>

with your actual password.

Replace

source.pdf

with the actual name of your file.

Replace

new.pdf

with the name you want for the password-free PDF file.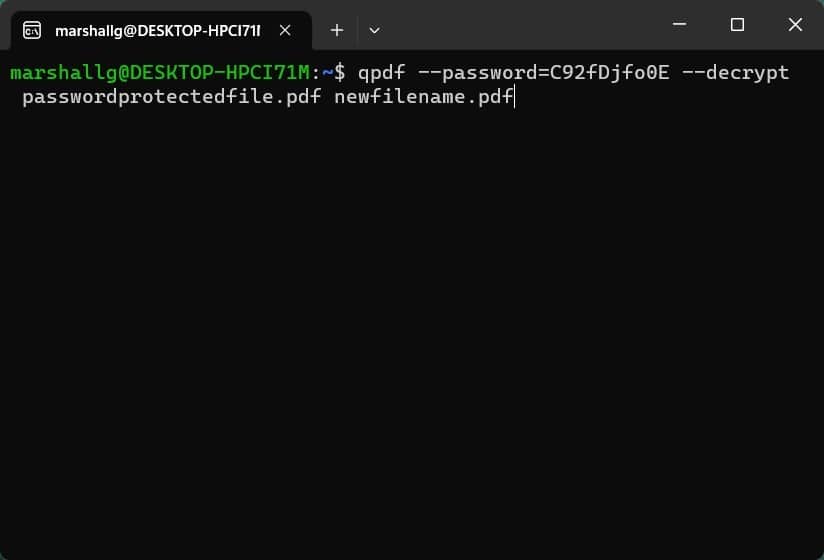 Once finished, you can find the unlocked PDF in the directory where you saved "new.pdf."
This method is a more direct way to remove a password from your file, but as always, make sure you have a backup of the file.
Tips and Precautions
Removing a password from a PDF can be straightforward, but you still need to tread carefully. Here are some tips and precautions you should keep in mind to ensure you maintain security, choose the most effective method, and protect your original data.
Security Concerns: Always check the credibility of web-based PDF services. Ensure the website is reputable and uses SSL encryption (has https:// in the URL).
Choosing the Right Method: Different methods suit different needs. For single-use, a web-based service should be fine. Investing in a software solution or using built-in PDF features may be safer and more efficient for frequent tasks or sensitive, confidential files.
Back-Up Your File: Before making any changes or removing the password, ensure you have a copy of the original file. Always keep an untouched version in case of any unforeseen issues.
The Bottom Line
PDFs provide a consistent and versatile format for documents across different platforms. Password protection offers a layer of security to these files, which keeps sensitive information in the right hands. While there are valid reasons to remove such passwords, you should always act with integrity and legality in mind.
There are different approaches for unlocking a PDF file, such as the comprehensive solutions of Adobe Acrobat Pro, the convenience of online tools like Smallpdf, the dedicated functionalities of Wondershare PDF Password Remover, or the direct approach of the Command Line.
Whichever method you choose, always prioritize privacy and content ownership.
FAQs
Can I Remove a Password From a PDF File if I Don't Know the Password?
Is It Legal to Remove a Password From a PDF File?
Are Online Tools Safe for Removing Passwords From PDF Files?
Will the Original Content of a PDF File Change When I Remove the Password?