Applicant tracking systems have become a vital part of modern recruitment for efficiently managing the hiring process and finding qualified candidates. These software solutions streamline the recruitment process, from job postings and candidate management to interview scheduling and employee onboarding.
In this guide, we'll explore the best applicant tracking systems (ATS) available, comparing their features, benefits, and suitability for different businesses. Whether you're a small business looking for a comprehensive recruitment platform or a larger organization seeking a tool tailored to your needs, we'll find something for you in our roundup of the top 10 ATS solutions. Let's dive in and begin enhancing your hiring process today.
The 10 Best ATS Solutions for Hiring Ranked
There are hundreds of recruiting applicant tracking systems out there, but there are just a few that lead the pack. Check out our summary of the best solutions below:
Teamtailor — This industry-leading ATS is transforming recruitment and enables businesses to deliver an outstanding candidate experience. Standout features include custom application forms, workflow management, and customizable stages.
ClearCompany — A top-notch ATS that streamlines recruitment with comprehensive features, modern capabilities, and exceptional candidate experiences. It offers structured hiring blueprints, branded career sites, and user-friendly applications for engaging candidates effectively.
Monday.com — A versatile employee management system with integrated HR capabilities. It provides a central workspace, which simplifies HR coordination across a variety of different workflows.
Zoho Recruit — This leading all-in-one talent acquisition solution combines an ATS and CRM in a single platform. Particularly useful for hiring short-term and ongoing temporary workers.
BreezyHR — Promotes diversity and inclusion with bias-reducing features and AI-powered candidate matching. This ATS simplifies collaboration, offers video screening and interviewing capabilities, and integrates with popular communication tools, making the entire hiring process more efficient and productive.
Manatal — A cloud-based ATS solution that simplifies the recruitment process. AI-driven features provide automated recommendations and resume reformatting, while seamless integration with email and calendar systems ensures efficient communication.
Rippling — A comprehensive software solution that combines HR, IT, and finance in one platform. Its automation, user-friendliness, and customer support make it valuable for growing businesses.
Workable — This cloud-based ATS streamlines hiring and supports DEI efforts. Its automation capabilities and AI-powered tools make it a valuable solution for efficient and inclusive recruitment.
BambooHR — An applicant tracking system that improves hiring practices for small-to-medium-sized companies. Its integration with BambooHR's HR management software adds further functionality and eliminates duplicate data entry, saving valuable time and effort.
Freshteam — HR management system with applicant tracking and onboarding features. Caters to businesses of all sizes, enhancing recruitment efficiency and candidate engagement.
The Top Applicant Tracking Systems Reviewed
Here are our reviews of the best applicant tracking systems available on the market today, covering their pros, cons, features, and pricing.
1. Teamtailor — Our Top Choice for Applicant Tracking Systems
Teamtailor offers an exceptional solution that transforms the recruitment process and enables businesses to provide an outstanding candidate experience. With a user base of over 95,000 recruiters, it has proven itself as the go-to ATS for large businesses that require efficient hiring processes.
Teamtailor's strength lies in its easy-to-use features and simplicity. Your recruiters can automate repetitive tasks, saving valuable time. The platform also provides deep data insights, enabling your team to make informed decisions that lead to better recruitment outcomes.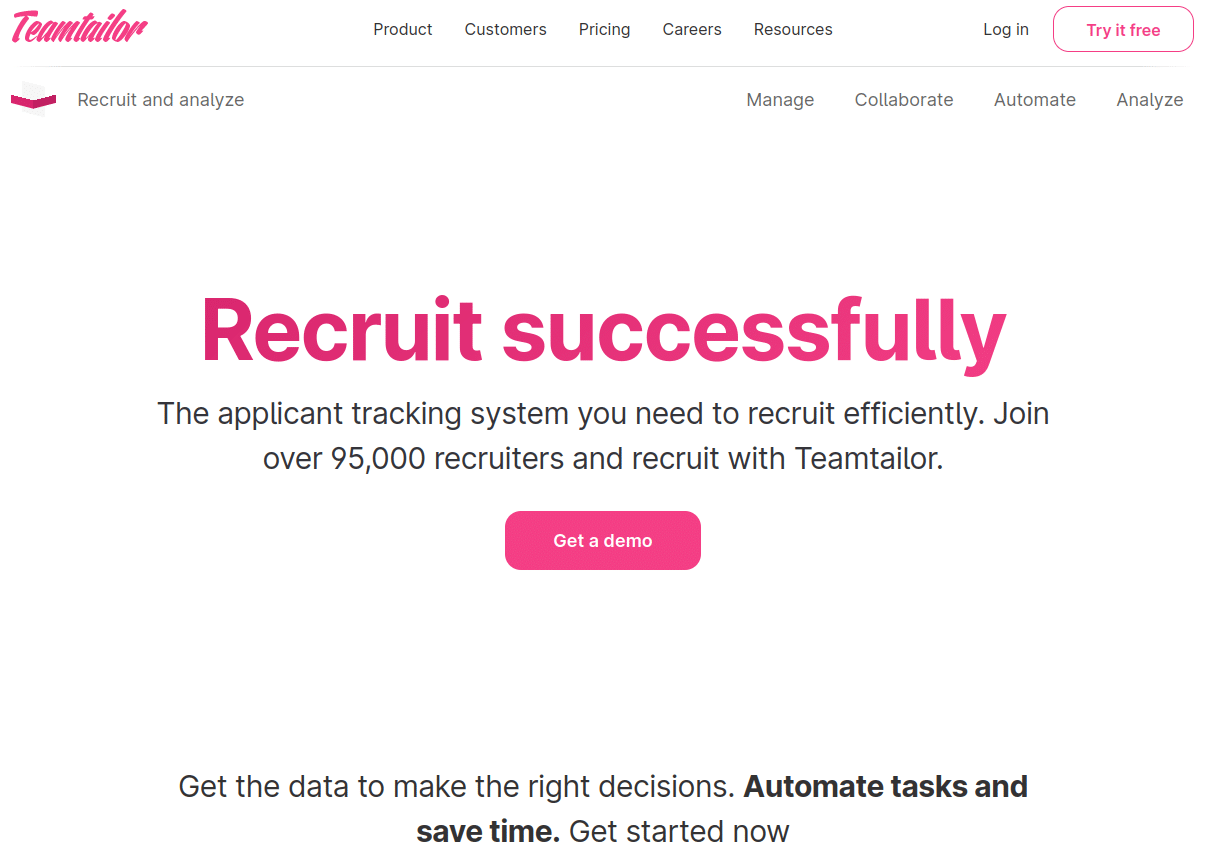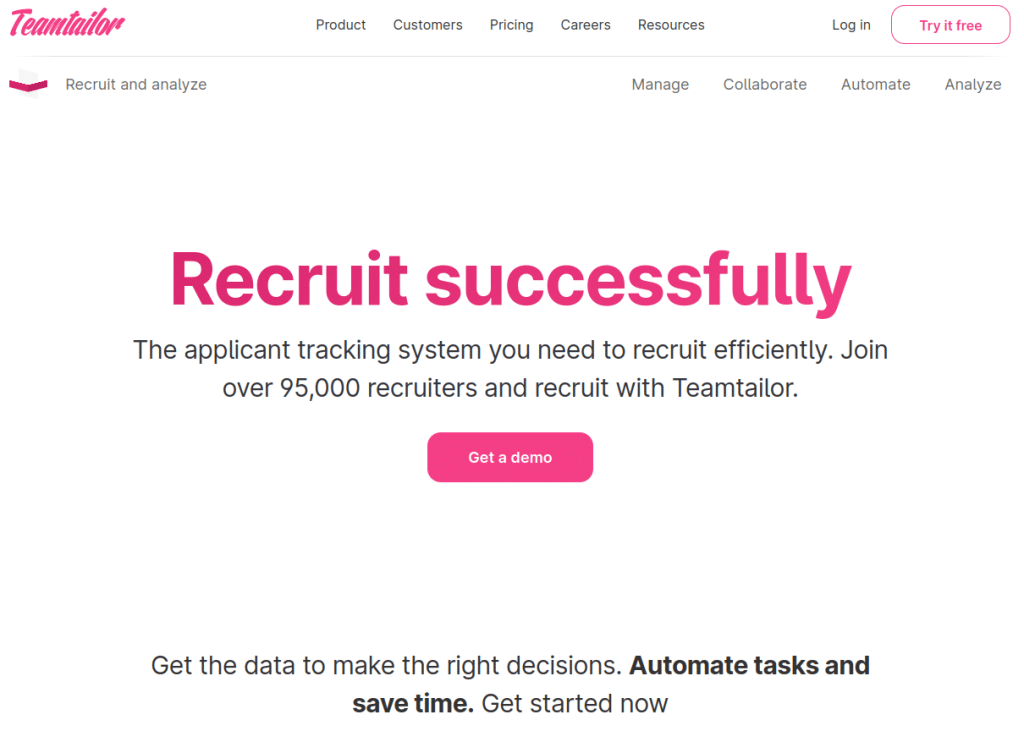 The platform also provides seamless workflow management. With a fully customizable recruiting funnel, your recruiters can create stages tailored to their specific needs and move candidates along the hiring process using a convenient drag-and-drop interface.
This ATS also offers custom application forms, allowing your recruiters to gather all the information they need, whether or not that requires a CV.
Teamtailor comes with a full set of digital HR tools that includes scorecards, reviews, notes, and tags. These features enhance collaboration within the hiring team, improve communication, and facilitate effective evaluation of candidates. The platform additionally saves your team time by enabling bulk actions, allowing you to perform multiple tasks simultaneously.
Teamtailor also has great automation functionality, with customizable triggers and smart scheduling features. Recruiters can set up triggers to automate various actions, such as moving candidates, scheduling interviews, sending messages, and adding notes or tags. The smart scheduling function simplifies the process of finding suitable meeting times, enhancing efficiency and convenience.
The platform's search and filtering functions are very useful as well. Keywords, smart filters, and resume checkers can all help to refine searches to help you identify the most suitable talent for your organization.
We did find some minor areas for improvement, however. The calendar has minimal interactivity, for example, and while it does help organize upcoming interviews, it could be more tightly integrated into the rest of the hiring process.
Best For
Starting Price
Free Version
Top 3 Features
Large Businesses Needing Maximum Efficiency
Varies per company
14-day trial

Bulk Automation

Mobile App

Personalized Dashboards
Pros:
Simple and user-friendly interface
Powerful data insights
Seamless workflow management
Custom application forms
Cons:
Calendar functionality could be improved
Pricing
Teamtailor offers a wide variety of customized payment plans, but they start at around $3,000 for companies with up to 25 employees. This is a hefty fee, but it gives you access to all the system's features. This includes unlimited job posting, total control for each user with access to the system, and full analytics for each potential candidate. We recommend Teamtailor highly.
2. ClearCompany — Prioritizes Inclusive Hiring
ClearCompany's applicant tracking software incorporates structured hiring blueprints based on the profiles of top performers. This elevates interview conversations and helps to ensure individuals align with the company's culture and mission.
By automatically incorporating unique job requirements and the attributes of top performers into interview guides and candidate scorecards, ClearCompany's ATS creates objective and repeatable interview processes. This ensures all candidates are evaluated fairly against bias-free criteria, supporting diversity, equity, inclusion, and belonging in hiring.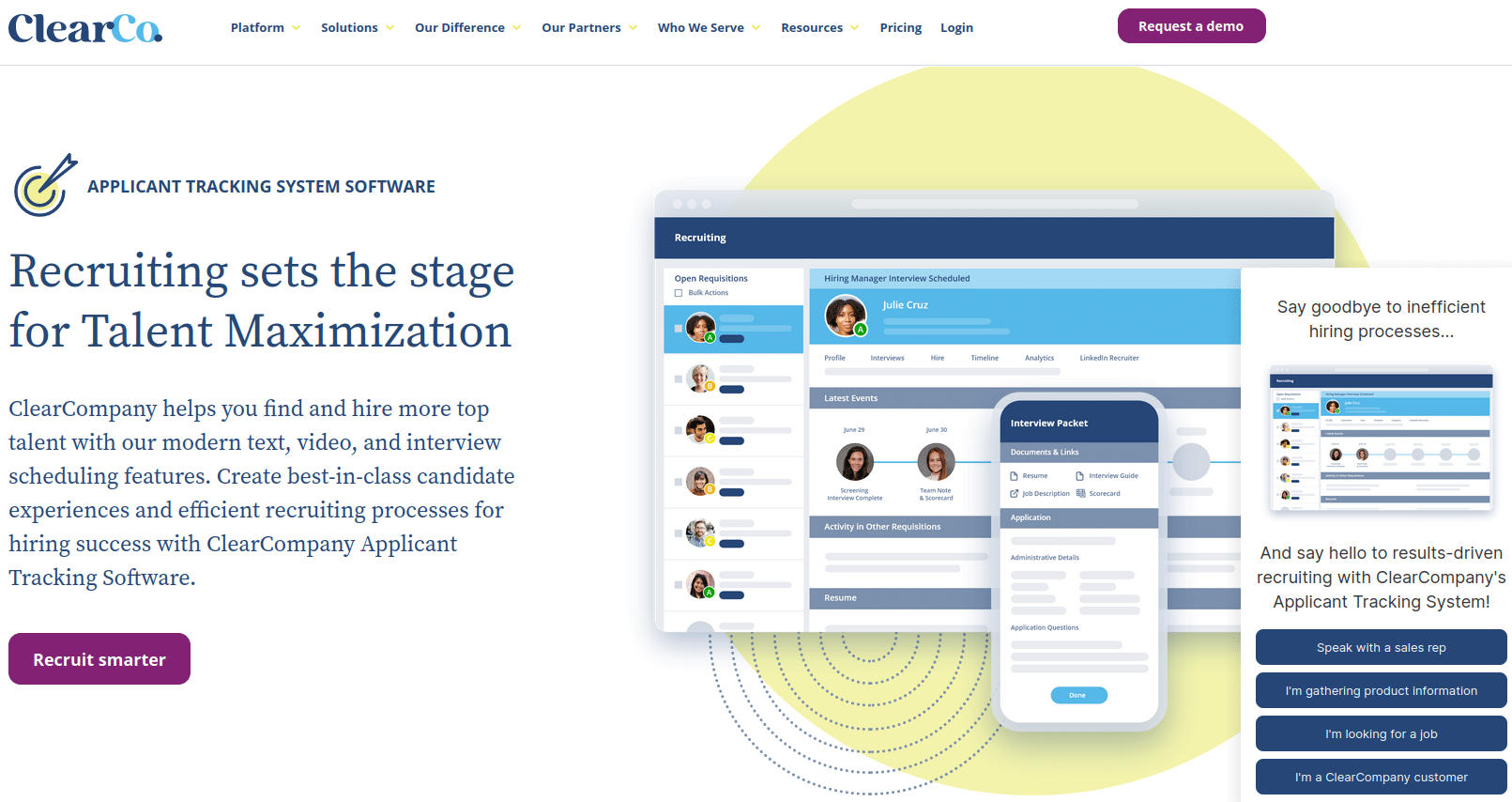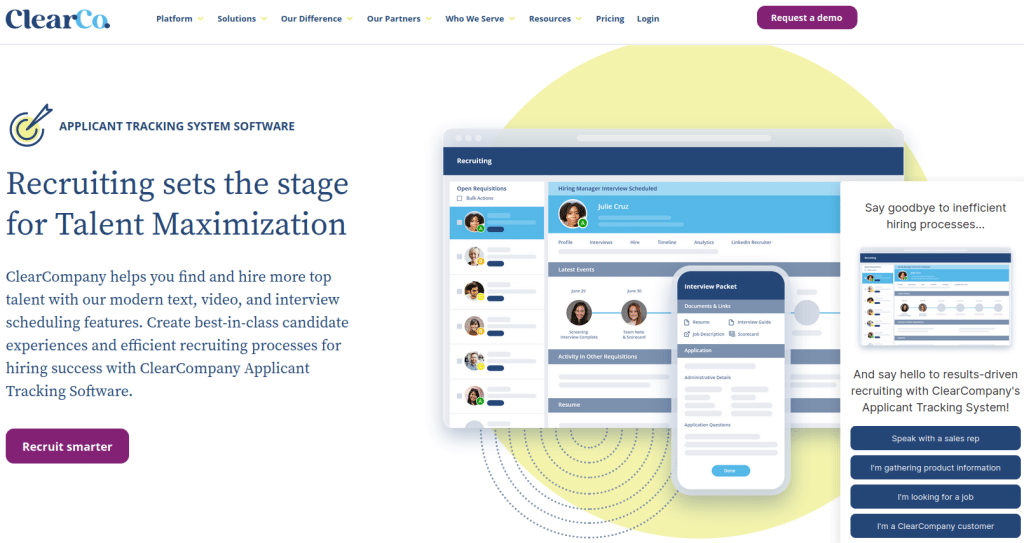 ClearCompany leverages powerful automation tools to save time and accelerate the hiring process. Recruiters can manage, post, and promote job openings on multiple job boards in minutes, reaching a wider pool of candidates.
The ATS also automates candidate communications and interview scheduling and provides email and text recruiting templates. With an array of virtual recruiting tools at their disposal, recruiters can maintain momentum, improve efficiency, and increase productivity.
ClearCompany's ATS also offers turnkey reports and robust analytics to evaluate and improve recruiting processes. With pre-built report templates, interactive dashboards, and data visualization capabilities, your recruiters can track candidate demographics, identify pipeline sources, and gain insights into the recruiting funnel and time-to-hire metrics. These tools enable organizations to optimize their hiring processes and make data-driven decisions.
All of this power comes at the cost of complexity. To get full use out of the software, you'll need to spend time getting to grips with the various different software suites that ClearCompany offers. For small businesses, this may be overkill.
Best For
Starting Price
Free Version
Top 3 Features
Large Businesses Focusing on Diversity and Inclusion
On request
Free trial

Pre-Built Report Templates

Customizable Employee Profiles

Video Interview Scheduling
Pros:
Text, video, and interview scheduling capabilities
Structured hiring blueprints
Time-saving automation
Centralized candidate management
Cons:
Cost and complexity may be a drawback for smaller organizations
Pricing
ClearCompany is another provider that doesn't publicize its pricing but instead prefers to offer personalized payment plans to individual businesses. On average, you're going to be paying around $7 per user per month, but this can vary between companies based on size and requirements. If you need to know more, it's best to get in touch with the sales department.
3. Monday.com — Seamless Programmable Integration
Monday.com is a versatile employee management system that stands out for its fully integrated HR capabilities. It excels in tracking the talent pipeline and engaging employees across various HR needs, including the recruitment pipeline, onboarding processes, employee wellbeing, development and learning, and overall employee management workflow.
The platform particularly focuses on managing employee development. It offers greater visibility into employees' day-to-day performance, allowing managers to ensure their success from day one. Monday.com's centralized HR system also enables confidential communication between managers and their direct reports, fostering a supportive and productive work environment.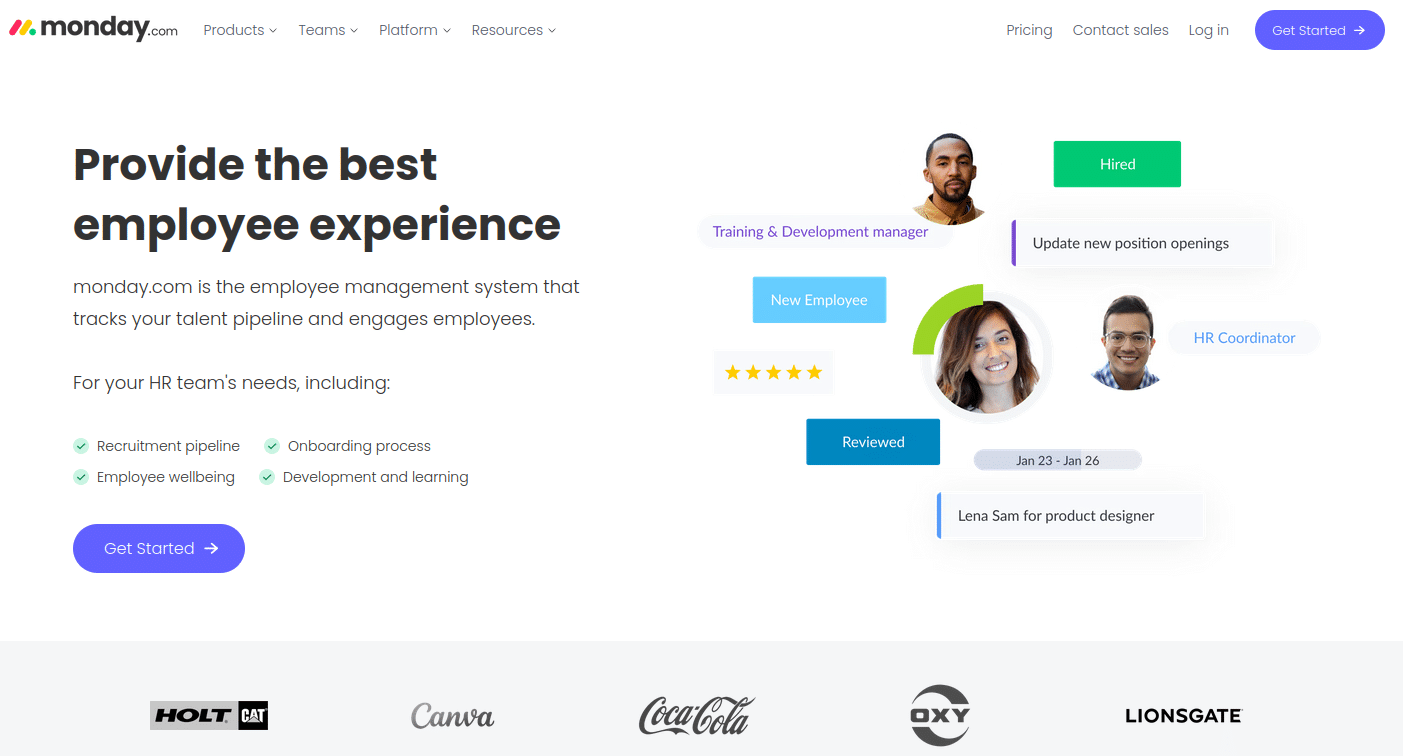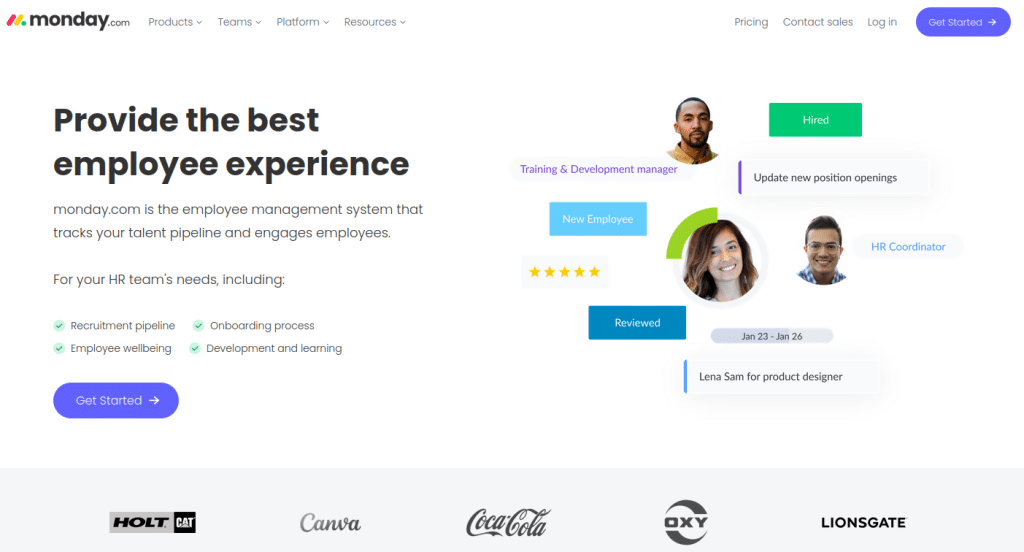 Monday.com also provides valuable insights through various viewing options, including calendar and map views. It offers automation capabilities to automate repetitive tasks, freeing up time for more meaningful work. These all integrate into the system's dashboards which provide a high-level overview at a glance, facilitating informed decision-making.
The platform integrates with a wide range of popular tools and products, including Outlook, Microsoft Teams, Dropbox, Slack, Google Calendar, LinkedIn, and many more. Their open API system allows developers to build custom connections, ensuring seamless integration with third-party systems and applications.
You can also read our full review of Monday's project management tools.
Best For
Starting Price
Free Version
Top 3 Features
Businesses Wanting a Fully Integrated HR System
$24/month
Free for two users

Open API Integration

Central Dashboard

Collaborative Design
Pros:
Offers a central workspace for HR teams
Various view options and automation capabilities
Integrates with popular tools and platforms
Offers flexible pricing plans
Cons:
Steep learning curve for new users
Pricing
Monday.com offers flexible pricing plans tailored to different team sizes and requirements. Starting from a free individual plan, the pricing scales up with increasing functionality. Paid options start at $24 a month for Basic, which unlocks 5GB of cloud file storage and a single dashboard view.
The Standard and Pro plans unlock automation and integration with other products, but businesses looking for ATS functionality should contact their sales department for an Enterprise plan.
4. Zoho — Award-Winning Recruitment Solution
Zoho Recruit is an all-in-one talent acquisition solution that offers a powerful ATS and CRM in a single recruitment platform. It's been recognized as a leader in the Talent Acquisition space by Nucleus Research, earning the prestigious title of Leader in the Talent Acquisition Technology Value Matrix for 2022.
Zoho Recruit allows you to track candidates at every stage of the hiring process, optimizing your recruitment efforts with advanced analytics. Their custom automation tools enable you to seamlessly move candidates through each stage, ensuring a smooth transition from interview to onboarding.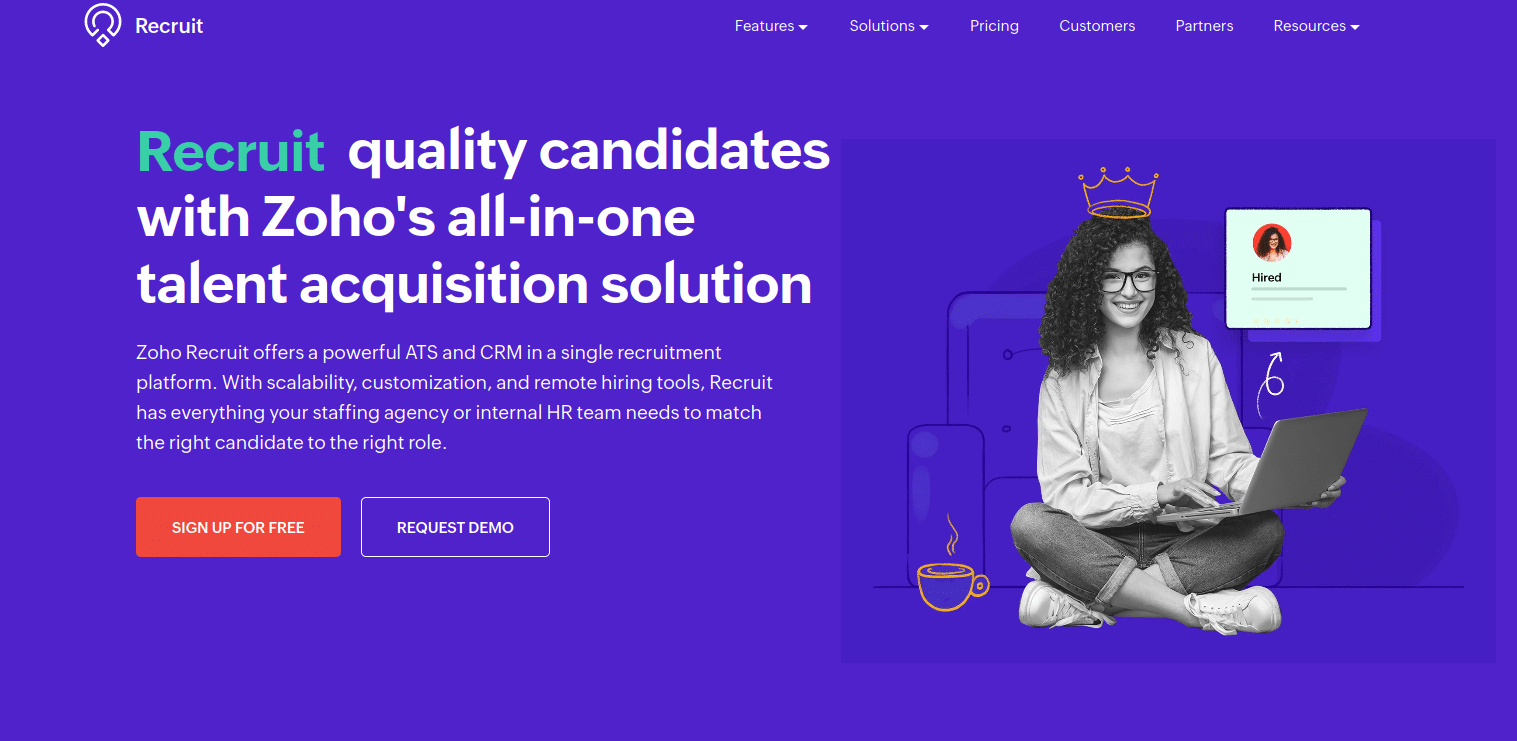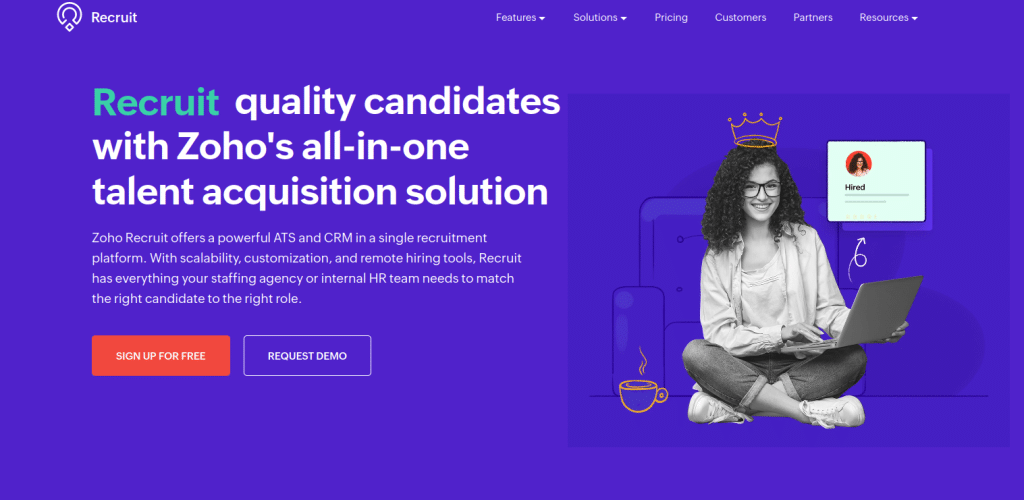 For those managing a contingent workforce, Zoho Workerly, Zoho Recruit's temp staffing solution, is a valuable addition. It connects with Zoho Recruit to simplify the management of your temporary workforce, whether you need freelance graphic designers or contractors for specific projects.
Zoho Recruit also offers over 50 integrations with popular tools like Zoho CRM, Slack, Outlook, and LinkedIn. This ensures that you can continue using the tools you love while leveraging the power of Zoho Recruit. Zoho Recruit is also extremely convenient, with a mobile app for Android that allows you to recruit from anywhere.
Best For
Starting Price
Free Version
Top 3 Features
Businesses with Temporary Workforces
$25/month
Free forever

Temp Staffing

Third-Party Integration

ATS Scanner
Pros:
Affordable pricing structure
Extensive customization options
Intuitive user interface
Generous free trial option
Seamless integration with other Zoho products
Cons:
Overwhelming feature set
Limited support availability
Pricing
Zoho Recruit is designed to support your applicant tracking needs even with its free plan, but you're restricted to very basic functionality and hiring for one job. We recommend the Standard plan at $25 per user per month, which gives you access to candidate sourcing for up to 100 concurrent jobs, in addition to resume management, applicant tracking, and integration with other products. If you need a more focused CRM solution, you can check out our guide to the best CRM software tools.
5. BreezyHR — AI-Powered Hiring
Breezy HR is a leading applicant tracking system that offers a range of features that streamline the hiring process and make it easier for HR departments to attract, qualify, and hire top talent.
The rich candidate profiles in Breezy HR consolidate all the essential information about candidates in one place, from resumes and social accounts to team notes and message history.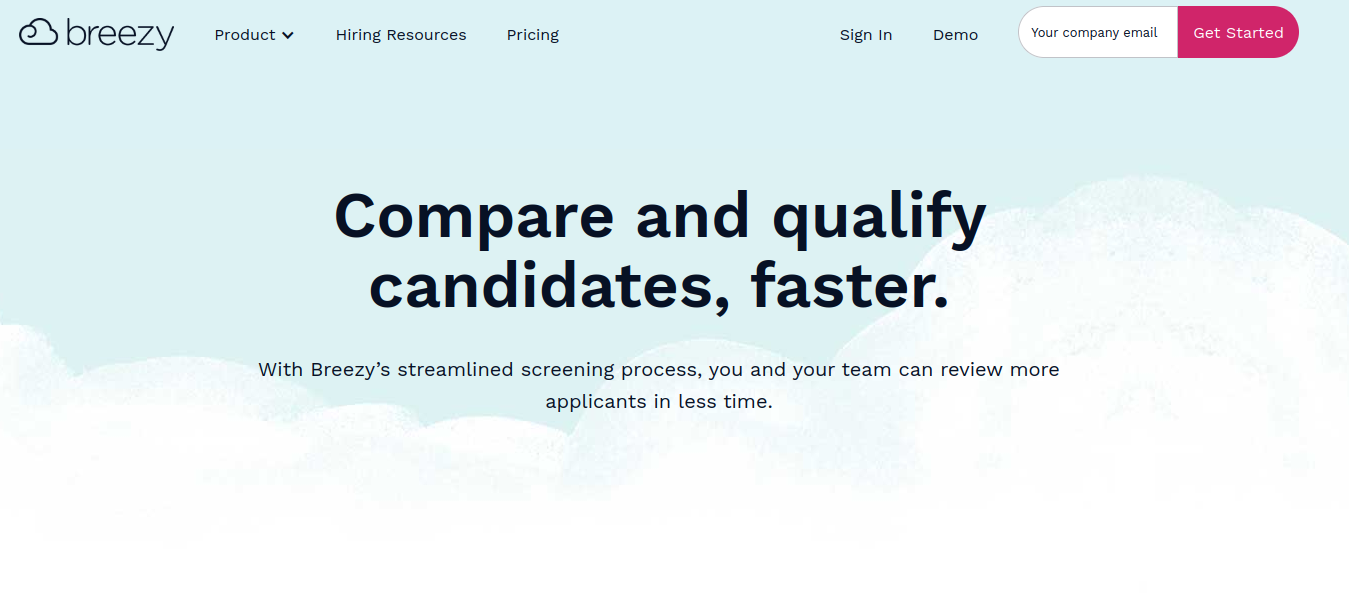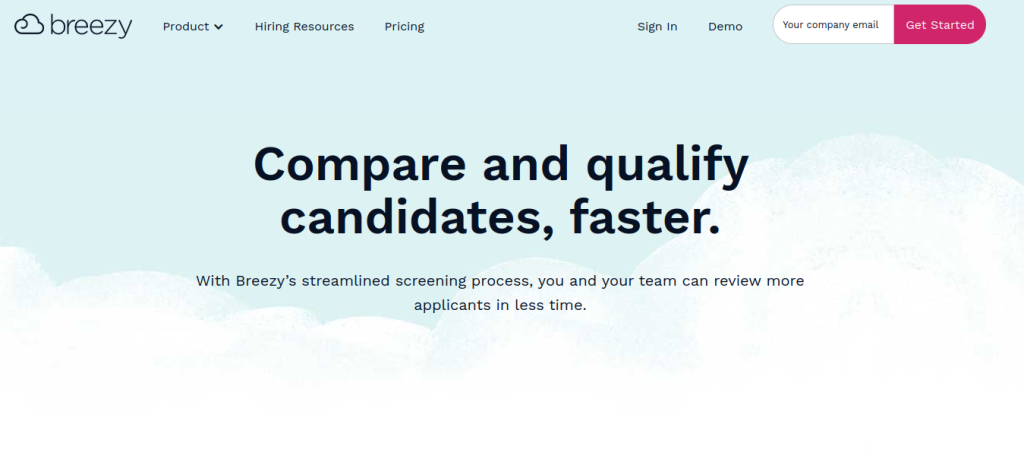 This comprehensive view allows you to communicate with candidates, schedule interviews, discuss candidates with your team, and complete various hiring tasks with ease. You can customize pipeline stages to match your ideal hiring process and easily organize candidates with a simple drag-and-drop interface.
Breezy HR integrates SMS and email functionalities, enabling you to reach candidates wherever they are and access their full conversation history. This ATS even offers a Slack integration, allowing you to stay in sync with your hiring tasks and respond to them without leaving your preferred collaboration platform.
Diversity and inclusion are essential aspects of modern hiring practices, and Breezy HR supports this. The platform offers Incognito Apply, which removes gender, age, and ethnicity from applicant profiles to combat bias.
Breezy HR builds on this with Candidate Match Score, which is powered by AI, enabling you to prioritize and reach out to the best-fit applicants quickly and objectively. Custom candidate scorecards further support unbiased candidate evaluation, promoting fair and inclusive hiring practices.
Interviewing is a crucial part of the hiring process, and Breezy HR provides tools to make interviews more productive and informative. Streamlined team scheduling simplifies the process of coordinating interviewers' availability while self-scheduling for candidates reduces the need for back-and-forth communication.
This all integrates with Breezy HR's video interviewing feature, which enables informative interviews from anywhere. We found integration with popular video solutions like Indeed Interviews, MS Teams, Google Meet, and Zoom.
Best For
Starting Price
Free Version
Top 3 Features
Medium-Sized Businesses Looking to Expand
$157/month
Free forever

Video Screening

Slack Integration

AI-Based Screening
Pros:
Streamlined screening process
Customizable pipeline stages and rich candidate profiles
SMS, email, and Slack integration
Incognito Apply and AI-powered Candidate Match Score
Cons:
Pricing plans may not be suitable for small businesses
Pricing
BreezyHR has a free trial called "Bootstrap," which allows you to get used to the basic features of the ATS, most importantly giving you access to the job posting and resume parsing features so you can test whether it's fit for purpose. Beyond Bootstrap, Startup is the first paid plan at $157 per month.
It's a flat rate regardless of how many users are on the system, which works out well for larger companies. This unlocks most of the candidate pipelining features, although it does not include Candidate Match or Incognito Apply, which both come as add-ons at $165 each.
6. Manatal — Cloud-Based Integration With HR Systems
Manatal is a cloud-based comprehensive ATS solution designed to make the recruitment process easier. With its interactive recruitment pipeline, customizable candidate profiles, powerful search functionality, automated resume reformatting, and seamless mailbox and calendar integration, Manatal offers a range of features that streamline the hiring process.
Manatal's proprietary AI engine matches and scores the most qualified candidates based on job titles, skills, education, locations, seniority, and more. It provides automated recommendations, simplifying the candidate selection process. The platform also offers automated resume reformatting, allowing users to brand and customize candidate resumes by adding watermarks, logos, and headers.


Manatal integrates seamlessly with popular email providers and calendars, such as Outlook, Office365, and Gmail, enabling users to communicate with candidates and manage recruitment without switching platforms. It also supports batch email campaigns and provides consent management compliant with GDPR and other data protection acts.
With Manatal's cloud resume database, users can manage resumes and candidate information by uploading them to the platform. Their user database ensures easy access to applicant profiles, even months or years later, and provides the highest level of security.
The platform also offers integrations with other tools and systems. Users can build workflows with Zapier, connecting Manatal with over 3,000 apps to automate workflows and reduce redundant work. Manatal's OpenAPI allows integration with other HR tech stack components, such as HRIS or payroll solutions like SAP SuccessFactors, Oracle Taleo, and ADP.
Best For
Starting Price
Free Version
Top 3 Features
Startups and Small Businesses
$15/month
14-day free trial

AI-Driven Matching

Cloud Resume Database

Open API Integration
Pros:
Comprehensive features
AI-driven insights
Seamless integration
Cons:
Limited third-party integrations
Pricing
Most Manatal plans are similar in terms of features. The Professional plan starts at $15 per user per month, which gives you the ability to post up to 15 jobs and sort through 10,000 potential candidates.
The Enterprise plan, at $35 per user per month, doesn't unlock any new features but does allow you to post unlimited jobs and review unlimited candidates. Manatal offers a custom plan, but aside from SSO and phone support, it doesn't seem like there's much available beyond the standard plans.
7. Rippling — Deep Customization For Hiring
Rippling is a comprehensive software solution that combines HR, IT, and finance functionalities in one platform. With its powerful automation and analytical features, Rippling streamlines various aspects of running a business.
Customization is a key strength of Rippling's hiring features. You can set up different-stage interviews involving HR, department managers, and even the CEO to ensure a thorough assessment of candidates. Scheduling interviews is made easy through calendar integrations, simplifying the process for both recruiters and candidates.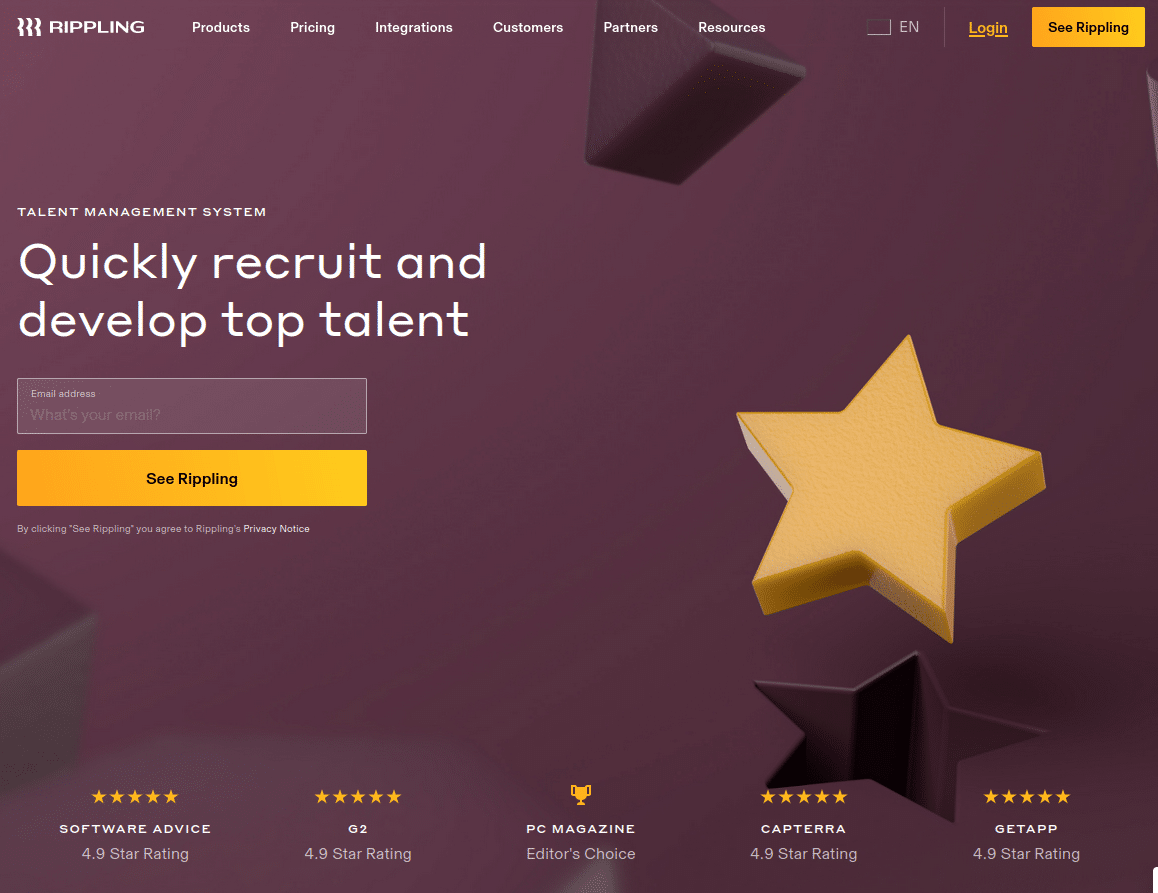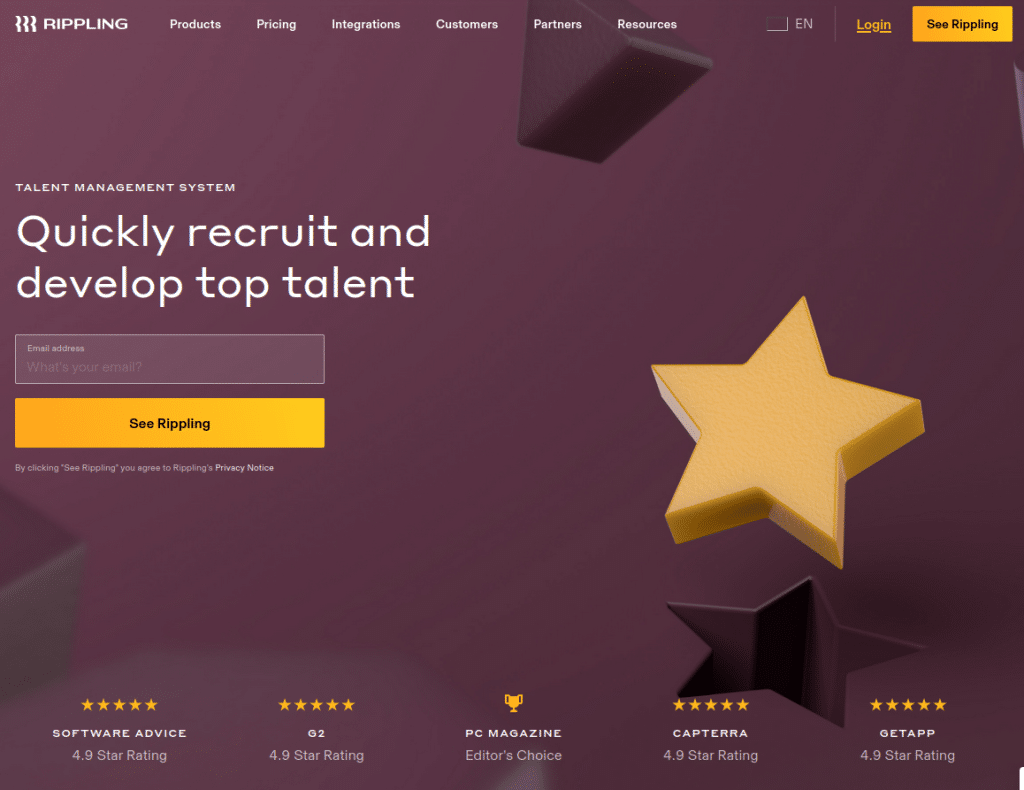 Rippling supports a wide range of integrations, allowing you to connect with popular tools and products. The platform integrates with other ATS solutions like Ashby, Paychex Flex, and JazzHR. These allow you to augment Rippling's existing functionality, such as the ability to track metrics, including time to fill, candidate feedback, and pipeline distribution.
While many integrations are available, it's worth noting that not all of them are directly related to recruitment. Notable integrations include LinkedIn, Facebook, Greenhouse, Upwork, Slack, Google Workspace, QuickBooks, and many more. These integrations enhance Rippling's versatility and enable you to streamline various processes across different departments.
We found that some features commonly found in dedicated ATS solutions – such as multi-format assessment methods, automated correspondence, template libraries, and candidate matching – are not as developed in Rippling as they could be.
Best For
Starting Price
Free Version
Top 3 Features
Businesses Needing a Single Central Management System
$8/month
Free demo

Integration with other ATS

Multi-Stage Interviews

Candidate Analytics
Pros:
Comprehensive platform combining HR, IT, and finance
Talent management system with robust hiring capabilities
Customization options for tailored processes
Wide range of integrations
Cons:
Limited ATS-specific features
Pricing
When it comes to pricing, Rippling offers a highly customizable model. The cost depends on the features you select, and there are no pre-determined pricing plans. To get an accurate quote, you need to contact Rippling's sales team. Keep in mind that Rippling does not offer a free trial, so it's essential to evaluate your specific needs and budget before committing to the platform.
8. Workable — Applicant Tracking for Large and Small Businesses
Workable is a cloud-based applicant tracking system that offers a comprehensive solution for businesses of all sizes. With its AI-powered tools and automation capabilities, Workable aims to help hiring teams find and track candidates efficiently.
One of the key advantages of using Workable is its ability to facilitate hiring at scale. The platform automates administrative tasks and processes, such as approvals, report generation, and compliance management. This automation saves valuable time and allows hiring teams to move faster, from requisition to the offer letter.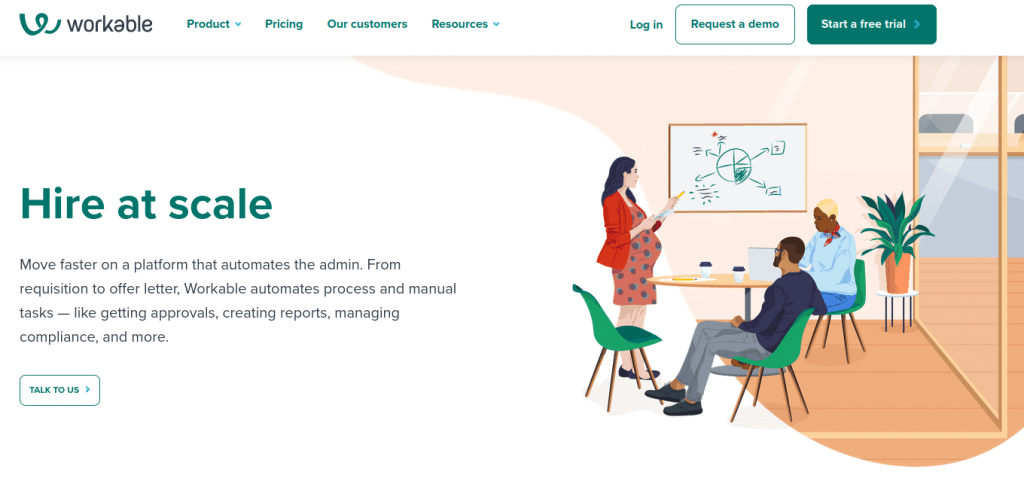 By streamlining the hiring process, Workable enables businesses to handle a larger volume of applicants and efficiently manage the recruitment workflow.
Workable's emphasis on diversity, equity, and inclusion is another significant benefit. The platform provides features and tools that support DEI efforts, helping businesses build more equitable recruiting practices. Workable's tools can assist in attracting and selecting candidates from a wide range of backgrounds and experiences.
Workable offers scalability, too, making it suitable for businesses of various sizes. Whether you're a small startup or a growing enterprise, Workable can accommodate your needs. The platform's scalability ensures it can adapt and expand alongside your hiring requirements, providing a reliable solution throughout your business's growth trajectory.
While Workable provides tools for self-guided onboarding and automating offer letters, we found that the onboarding process is less customizable than we'd like. Additionally, it would be useful to be able to search by candidates' skill sets.
Best For
Starting Price
Free Version
Top 3 Features
Businesses Focusing on DEI Hiring
$149/month
15-day free trial

Task Automation

Self-Guided Onboarding

DEI Hiring Features
Pros:
Automates and streamlines the hiring process
Supports equitable recruiting practices
Scalable solution suitable for businesses of all sizes
Cons:
Limited onboarding features
Pricing
There's no free plan from Workable, but the Starter plan is available for $149 per month, which supports up to 50 employees. This allows you to post two active jobs at a time, as well as 200 AI-sourced candidate views every month. There are also a bunch of additional add-ons you can use to customize your plan, including Video Interviews at $49 per month, SMS at $39 per month, and Candidate Assessments at $29 per month.
9. BambooHR — Mobile-Friendly Applicant Tracking
BambooHR ATS is a valuable applicant tracking system designed to assist small to medium-sized companies improve their hiring practices. It offers a range of features and benefits that contribute to a more efficient and streamlined recruitment process.
A unique aspect of BambooHR's ATS is its integration with BambooHR's HRMS system. This integration eliminates the need for duplicate data entry and simplifies the hiring process for recruiters. For example, by marking the status of hired candidates within the ATS, recruiters can seamlessly update the HRMS, saving time and effort.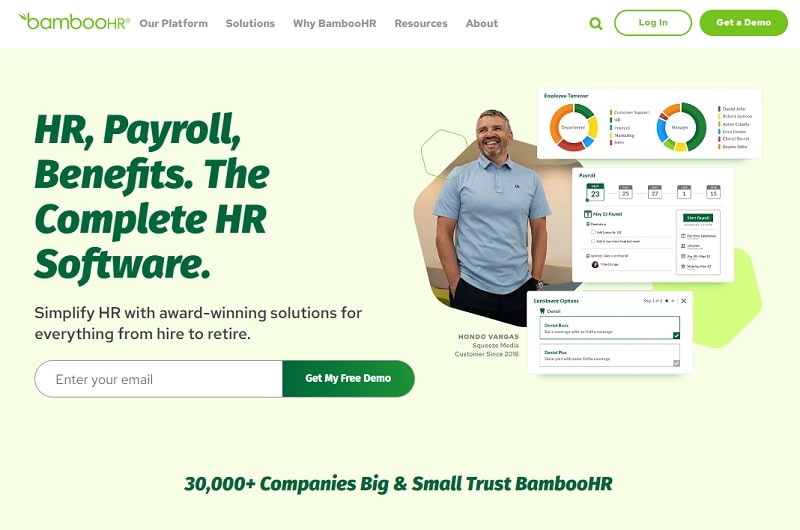 The user-friendly interface of BambooHR ATS allows recruiters to easily access candidate profiles and find relevant information. This feature enhances the overall user experience and enables recruiters to make informed decisions during the hiring process.
Mobile-friendliness is another great part of BambooHR's ATS. Your recruiters can perform talent acquisition tasks on the go using the dedicated mobile app. This flexibility ensures that recruiters can stay connected and manage hiring activities from anywhere, further increasing efficiency and productivity.
Collaborative hiring functionality really sets BambooHR's ATS apart. Your hiring managers and recruiters can provide feedback on candidates directly within the module, fostering a collaborative hiring environment. This feature streamlines communication, promotes collaboration, and helps you make well-informed hiring decisions.
However, there are a few limitations to consider. BambooHR ATS is primarily designed for small-to-medium-sized businesses and may not be suitable for larger companies with more complex hiring needs. Additionally, the software does not offer video interviewing capabilities, which could be a drawback for organizations that rely on this method of candidate evaluation.
Best For
Starting Price
Free Version
Top 3 Features
Small-to-Medium-Sized Businesses
On request
Free demo

HRMS Integration

Mobile App

Collaborative Features
Pros:
Integration with BambooHR's HRMS system
Easy access to candidate profiles
Mobile-friendly app
Collaborative hiring functionality
Cons:
Lack of video interviewing capabilities
Pricing
There are two packages from BambooHR: Essentials and Advantage. You'll only get access to BambooHR's ATS service through the Advantage package. However, pricing for BambooHR's services varies based on factors such as the size of your organization, specific needs, and desired features. By reaching out to BambooHR's sales team, you can receive a tailored quote that aligns with your business needs.
10. Freshteam — Stay In Touch With Potential Candidates
Freshteam is a human resource management system solution that's intended for businesses of all sizes. This review focuses on its applicant tracking and onboarding features.
Freshteam's applicant tracking solution lets your recruiters streamline their hiring processes with automated workflows. They can create their company's career site, post job openings to various sources, schedule interviews, collaborate with the hiring team, and more. Recruiters can also stay on top of their pipelines and candidate communication with tools like resume parsing, keyword tagging, canned responses, and notifications.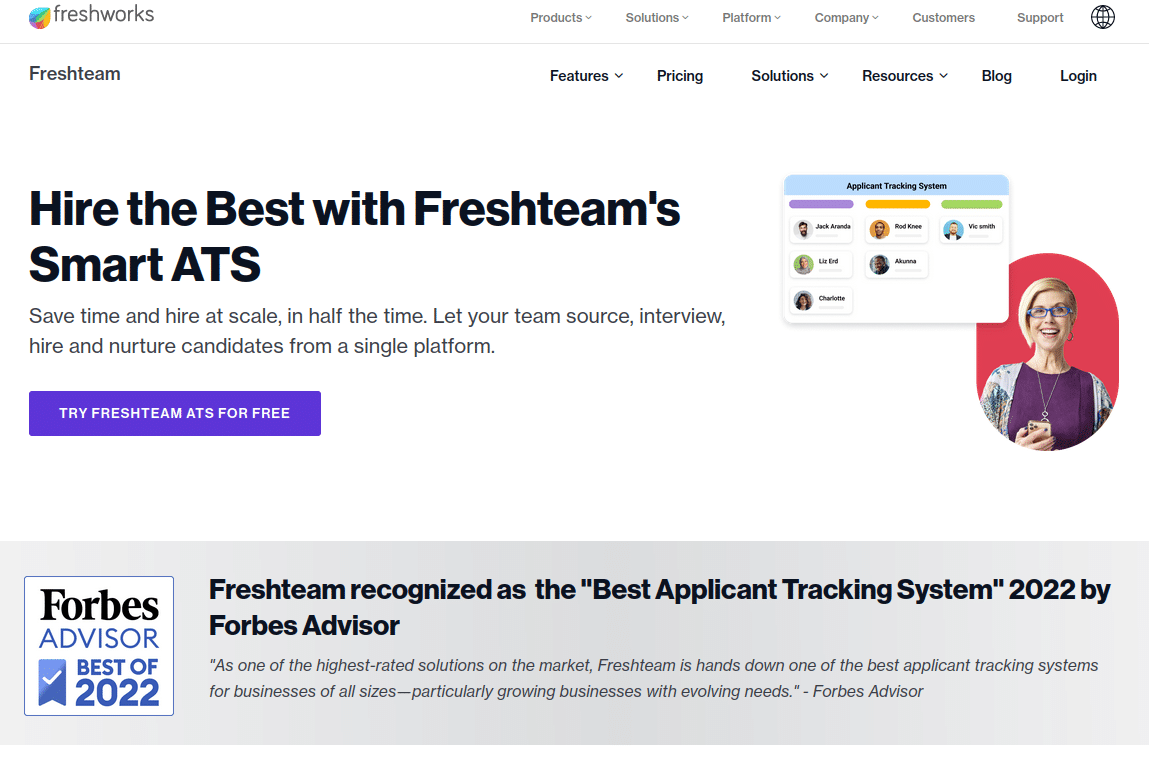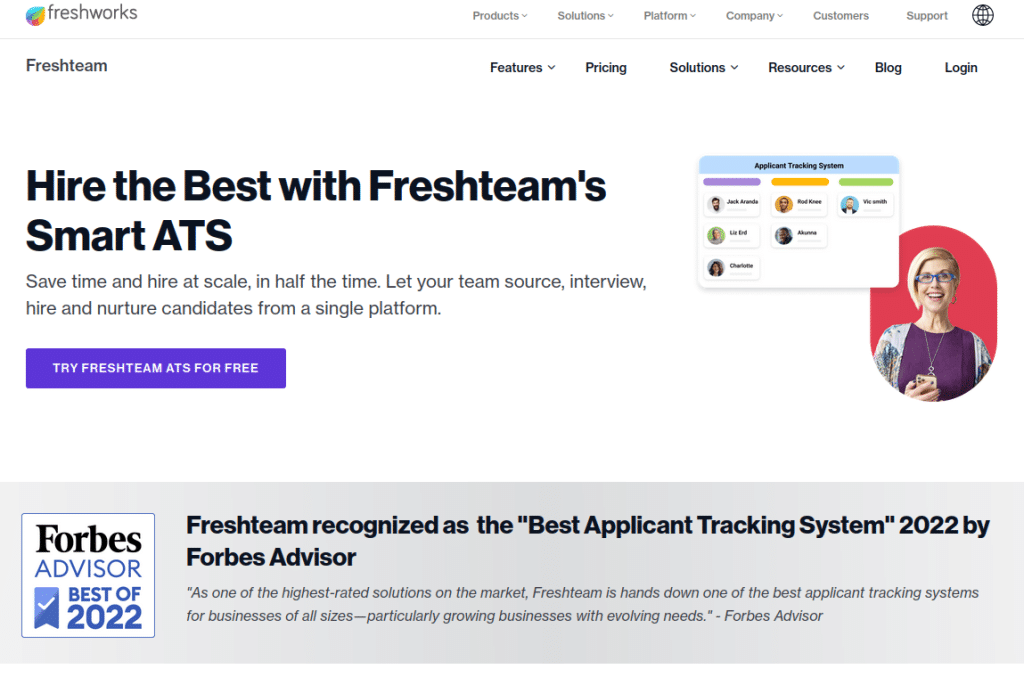 Freshteam allows your recruiters to set up custom workflows for each job posting and assign a hiring team to a specific job opening. They can also quickly create a job ad by choosing from over 100 templates or building their own and adding it to multiple sourcing channels with a single click.
Freshteam offers tools for recruiters to communicate with candidates and keep them engaged throughout the hiring process. They can send personalized emails, use canned responses for quick replies, and set up email notifications for important events. This ensures that candidates are informed and feel valued. Freshteam also provides interview scorecards to standardize evaluation criteria and capture feedback.
Freshteam integrates with various third-party applications, including job boards, assessment tools, video interviewing software, and background check providers. This allows your recruiters to leverage their existing tools and enhance their hiring process. The platform also offers customization options, such as branded career sites, custom application forms, and personalized email templates.
Best For
Starting Price
Free Version
Top 3 Features
Recruitment Agencies
$19/month
Free trial

Third-Party Integration

Automated Interview Questions

Custom Application Forms
Pros:
Streamlined hiring process
Integration capabilities
Pricing
Freshteam is currently unavailable for new users until Freshworks completes a "reimagining" of their current employee experience solution suite. In the meantime, you can contact the Freshworks sales team to discuss whether your ATS needs will be met by Freshworks' other HR system, Freshservice. Freshservice starts at $19 per user per month.
The Best Applicant Tracker Solutions Compared
This applicant tracking systems comparison table presents all the key features of the software solutions we reviewed so you can identify the one that's right for your business.
Applicant Tracking System
Best For
Starting Price
Free Version
Top 3 Features
Teamtailor
Large Businesses Need Maximum Efficiency
Varies per company
14-day trial

Bulk Automation

Mobile App

Personalized Dashboards

ClearCompany
Large Businesses Focusing on Diversity and Inclusion
On request
Free trial

Pre-Built Report Templates

Customizable Employee Profiles

Video Interview Scheduling

Monday.com
Businesses Wanting a Fully Integrated HR System
$24/month
Free for two users

Open API Integration

Central Dashboard

Collaborative Design

Zoho Recruit
Businesses with Temporary Workforces
$25/month
Free forever

Temp Staffing

Third-Party Integration

ATS Scanner

BreezyHR
Medium-Sized Businesses Looking to Expand
$157/month
Free forever

Video Screening

Slack Integration

AI-Based Screening

Manatal
Startups and Small Businesses
$15/month
14-day dree trial

AI-Driven Matching

Cloud Resume Database

Open API Integration

Rippling
Businesses Needing a Single Central Management System
$8/month
Free demo

Integration with other ATS

Multi-Stage Interviews

Candidate Analytics

Workable
Businesses Focusing on DEI Hiring
$149/month
15-day dree trial

Task Automation

Self-Guided Onboarding

DEI Hiring Features

BambooHR
Small-to-Medium-Sized Businesses
On request
Free demo

HRMS Integration

Mobile App

Collaborative Features

Freshteam
Recruitment Agencies
$19/month
Free trial

Third-Party Integrations

Automated Interview Questions

Custom Application Forms
What Are Applicant Tracking Systems?
Applicant tracking systems software are applications designed to streamline and automate organizations' recruitment and hiring processes. ATS systems act as a centralized hub for managing candidate applications, resumes, and other recruitment-related data. They help recruiters and hiring managers effectively manage the entire hiring lifecycle, from posting job openings to onboarding new employees.
The best applicant tracking systems typically offer features such as job posting management, resume parsing, candidate screening and tracking, interview scheduling, communication tools, reporting and analytics, and integration with other HR systems. These systems allow recruiters to efficiently manage large volumes of applications, screen candidates based on specified criteria, collaborate with hiring teams, track candidate progress, and generate valuable insights for data-driven decision-making.
How Do Applicant Tracking Systems Work?
Applicant tracking systems (ATS) are software tools that automate and streamline the recruitment process. When a job posting is created, candidates can submit their applications through the ATS interface or career portal. The ATS then uses resume parsing technology to extract relevant information from the resumes, such as contact details, work experience, and skills. The system screens and filters candidates based on predefined criteria, allowing recruiters to focus on qualified applicants.
Candidate information is stored in a centralized database, enabling recruiters to manage profiles, track progress, and collaborate with team members. The ATS facilitates communication with candidates, manages interview scheduling, and generates reports for data-driven decision-making. By automating administrative tasks and providing valuable insights, ATS systems streamline the hiring process, improve candidate management, and enhance recruitment efficiency.
Why You Need An ATS Recruitment Solution
Implementing an applicant tracking system recruitment solution can provide numerous benefits for your organization. Check out the applicant tracking system benefits we've listed below:
Streamline Scheduling Processes
An applicant tracker automates and centralizes the recruitment process, eliminating manual tasks and paperwork. It helps streamline workflows, allowing recruiters to manage candidate applications, communicate with applicants, schedule interviews, and track progress more efficiently. This saves time and improves overall recruitment efficiency.
Improve Candidate Management
Applicant tracking provides a centralized database to store and manage candidate information. Your recruiters can easily search and filter candidates based on specific criteria, track their progress through the hiring stages, and collaborate with hiring managers effectively. This leads to better candidate management and a more organized recruitment process.
Enhance Collaboration
Applicant tracking software facilitates collaboration among the hiring team. Your recruiters and hiring managers can share candidate profiles, provide feedback, and communicate through the system. This improves communication, reduces delays, and ensures everyone involved in the hiring process is on the same page.
Time and Cost Savings
By automating manual tasks on candidate platforms, ATS systems reduce the time spent on administrative activities, such as sorting through resumes using an ATS resume checker and scheduling interviews. This allows your recruiters to focus on more strategic and high-value activities, resulting in time and cost savings. A more efficient recruitment process can help minimize the cost per hire and reduce time-to-fill vacancies.
Improve Candidate Experience
Using an HR applicant tracking system provides a seamless and user-friendly application process for candidates. It allows for easy submission of resumes, provides timely updates on the application status, and enables communication throughout the hiring process. A positive candidate experience helps attract top talent and enhances your employer brand.
Data-Driven Decision Making
ATS applicant tracking systems generate comprehensive recruitment analytics and reports, providing insights into key metrics like time-to-fill, source effectiveness, and candidate pipeline. These analytics enable data-driven decision-making, helping you identify bottlenecks, optimize recruitment strategies, and improve overall hiring outcomes.
Compliance and Data Security
Applicant tracking systems for small businesses help ensure compliance with privacy regulations by securely storing candidate data and providing access controls. It minimizes the risk of data breaches and demonstrates your commitment to data security and privacy, which is especially useful when you don't have access to a large team of compliance experts internally.
Scalability and Adaptability
As your organization grows, different types of applicant tracking systems will be necessary depending on your needs. It's important to choose an ATS that can scale to accommodate increased recruitment needs. You may need to be able to handle a larger volume of candidates, integrate with other HR systems, and adapt to evolving workflows and requirements.
Factors to Consider When Choosing the Best Applicant Tracking System for Your Business
When selecting the best applicant tracking system for your business, it's crucial to consider several factors to ensure that the system aligns with your recruitment needs and goals. Here are some key factors to consider:
Recruitment Requirements
Assess your specific recruitment needs, such as the volume of applicants, the types of positions you hire for, and your recruitment process. Identify the features and functionalities required to support your unique workflows.
Customization and Scalability
Evaluate whether the ATS can be customized to match your branding, terminology, and specific workflows. Consider the system's scalability to accommodate your organization's growth and evolving recruitment needs.
Integration Capabilities
Determine if the ATS can integrate with other HR tools and systems you currently use, such as HRIS, background check providers, and video interviewing platforms. Integration ensures seamless data sharing and streamlined workflows.
Mobile Accessibility
With the increasing use of mobile devices, consider whether the ATS has a mobile-friendly design or dedicated mobile apps, allowing recruiters to access and manage candidate information on the go.
Applicant Experience
Consider how the ATS enhances the applicant experience. Look for features like easy application submission, clear communication, and user-friendly portals to attract and retain top talent.
Data Security and Compliance
Evaluate the ATS's data security measures, such as data encryption, access controls, and compliance with privacy policies like GDPR. This will allow you to protect sensitive candidate information and avoid costly legal battles for failing to implement data security compliance.
Customer Support and Training
Assess the level of customer support provided by the ATS vendor, including training resources, technical assistance, and ongoing support. Determine the responsiveness and availability of customer support channels.
ATS FAQs
What makes a good applicant tracking system?
Do applicant CVs need to be ATS-friendly?
Does ATS software read PDF files?
What's the best ATS for startups?
How much does an applicant tracking system cost?
What's the best free applicant tracking software?
Conclusion – What's the Best Applicant Tracking System for Recruiters in 2023?
After reviewing many different applicant tracking systems, we've come to the conclusion that Teamtailor is the best in the market. It's an exceptional ATS that impressed us with its ability to automate repetitive administrative tasks and gain insights on candidates using many different data sources. It's also easy to use, which is essential for minimizing the time your hiring team spends getting to know a new system.
However, you don't have to take our word for it. You can check it out for yourself with a free trial today.