The best HRIS for small business should be intuitive and easy to use, affordable, and customizable to your unique processes and workflows, all the while helping you handle all the core HR functions.
There are dozens of HR tools on the market, so it's easy to get overwhelmed with all the options. That's why we've picked the 10 best small business HR software solutions for HRIS, reviewed and compared them, and provided you with a list of pros and cons for each so you can narrow down your options and make a smart, informed decision on the best HRIS for small business for you.
The Best HRIS Software for Small Business Ranked
Here's our list of the top 10 HRIS software solutions in 2023, along with their strongest points:
Rippling — $8/month per user — Robust cloud HR platform that streamlines and automates all key HR processes, from time-tracking and performance reviews to global payroll and benefits administration.
Deel — $49/month — Secure, fully compliant global workforce management platform that's ideal for small businesses with a diverse workforce. It has 15+ global payment options and localized benefits packages for each employee.
Monday — $8/month per seat — A fully featured work management platform with robust HRIS features that will help you streamline everything from application tracking and onboarding to performance reviews and employee wellbeing.
Remofirst — $19/month per person — Leading small business HRIS for fully remote teams, with global payroll, localized benefits, and custom-tailored private health insurance.
Papaya — $3/month per employee — Secure payroll and HR software for small businesses with streamlined hiring for 160+ countries, plus connectors that let you easily integrate it with your other HR and ATS tools.
Bambee — $99+/month — Lets you fully outsource your HR functions to an experienced HR professional who'll handle everything from creating compliance policies to running mandatory employee training.
Sage HR — Custom — A top choice for employee performance management and shift scheduling, with an integrated calendar, an employee self-service portal, and report cards.
ClickUp — $7/month per user — Fully customizable platform for streamlining recruitment, onboarding, and performance management.
Zoho People — $1.35/month per user — Robust HR platform that lets you streamline every aspect of HR, from hiring and onboarding to HR workflows, performance management, and reporting.
Zenefits — $8/month per employee — An excellent all-around HR platform with employee self-onboarding, plenty of customization options, and top-tier benefits administration.
What Can HRIS Systems Do for a Small Business?
There are many benefits of having an HRIS in place, regardless of how big or small your business is.
Small businesses, in particular, will greatly benefit from the improved organization and enhanced efficiency these services provide, as well as the insights gathered from keeping accurate records of all employees in one place.
Here's a quick rundown of the key benefits of an HRIS:
Streamlined Applicant Tracking — It will prove invaluable for a growing team. Rather than manually tracking everything in spreadsheets and wasting time connecting names to emails, portfolios, and test assignments, you'll have all the info on each candidate organized in a comprehensive candidate profile.
Fast and Accurate Payroll Runs — It helps ensure everyone in the company gets paid correctly and on time and eliminates the possibility of human error. Payroll runs will be faster, and you can get accurate information on hours worked for each employee. It also takes into account paid and unpaid leave, sick leave, vacations, overtime, and taxes.
Hassle-Free Benefits Administration — Keeping track of who signed up for what benefits and what services they've used can be tiresome. With an HRIS, you'll see exactly what people applied for, which services are the most used, and how many days off every employee has at any given time.
Accurate Time and Attendance Tracking — With an HRIS, you can do away with attendance spreadsheets. Everyone's attendance is tracked from the moment they log into their work computer, so you'll see exactly when everyone came in and how many hours they put in each day.
Compliance — Most businesses need to collect and store data on employees for compliance reasons. On top of basic information like names, phone numbers, and addresses, you'll likely need emergency contact details, citizen identification information for taxes, and expiration dates for licenses and certifications. It's often required that this is stored on secure online servers to adhere to GDPR rules, for example – so you can't rely on Excel.
A Data-Driven HR Strategy — With all the key HR data at your fingertips, it'll be much easier to develop an efficient strategy and improve aspects of your business, like onboarding, training, capacity planning, engaging and retaining employees, and achieving alignment with core company values.
In short, an HRIS makes it easy to collect, store, and maintain employee data, streamlines every HR and admin task, and provides you with the vital information you need to make smart business decisions and ensure productivity.
What's the Difference Between HRIS, HCM, and HRMS Solutions?
To understand the subtle differences between these three terms, we have to look at what they stand for. Here's a quick explanation of the acronyms:
HRIS — Human Resources Information System
HRMS — Human Resources Management System
HCM — Human Capital Management
HRIS typically denotes a fully connected data management system. It acts as a centralized hub with all the information on your employees and the candidates in your pipeline.
You can think of it as a data repository that stores everything from your employee's name, address, payment information, and contracts and documents required for compliance with data regarding their attendance, paid leave, and performance.
HRMS expands on this and adds features and functionality facilitating employee management, such as shift scheduling, performance reviews, benefits, training, payroll, employee engagement, and more.
Nowadays, the subtle distinctions between the two terms have faded, and they're mostly used interchangeably. The reason for this is that businesses aren't simply looking for a place to store their employees' data but rather a robust platform that can help streamline every aspect of HR.
Both HRIS and HRMS are commonly used to refer to online platforms that facilitate everything from recruiting and employee management to payroll and benefits administration.
The same is true for HCM, though the term is primarily reserved for cloud-based applications designed to improve employee experience, meaning products that feature employee self-service portals, communication features, file sharing, and reporting, and support personal development by providing access to tools and courses that support professional development.
The Best Small Business HRIS Systems Reviewed
Here are our in-depth reviews of the best HRIS for small businesses so you can see exactly what different providers offer and choose the platform that best aligns with the needs of your business.
1. Rippling — Robust Cloud HR Platform to Streamline and Automate Key HR Processes
Rippling is one of the highest-rated dedicated HRIS products on the market, and for good reason. It offers absolutely everything you need to manage all aspects of your HR, from global payroll and benefits to recruiting, employee development, and benefits.
The platform is an excellent choice for small businesses employing international workers or contractors. It has built-in time tracking, so everyone can easily clock in and out. After hours are approved by managers, they're automatically synced with the payroll, ensuring everyone is paid correctly for the work they've done.
When it comes to payroll, you can complete everything in as little as 90 seconds, thanks to automated data entry and calculations. The platform even automatically calculates and files taxes, categorizes and syncs payroll data, and pays your workers in their currency of choice.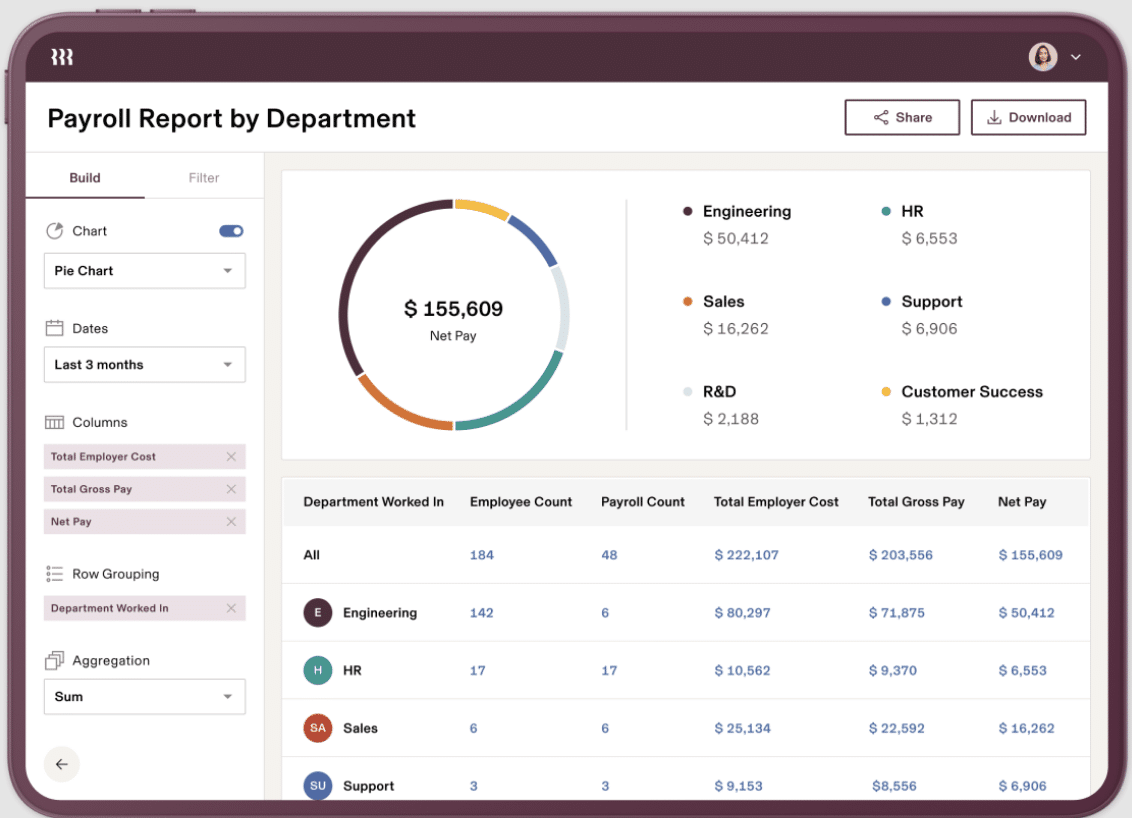 | | | | | |
| --- | --- | --- | --- | --- |
| Best For | Starting Price | Free Version | Payroll | Benefits Administration |
| Best overall | $8/user/month | Demo only | Yes | Yes |
With Rippling, you can create a custom workflow to automate the entire payroll process, saving a ton of valuable time and removing the possibility of human error.
Another area where Rippling excels is hiring. You can sync your ATS with Rippling to keep track of all new candidates, provide your hiring managers and department heads with the HRIS tools and information they need to make the right hiring decisions and automate everything from follow-up emails to interview scheduling.
When it comes to performance management, Rippling lets you assign company-wide goals and OKRs (Objectives and Key Results), as well as individual KPIs (Key Performance Indicators), making it easy to track progress and productivity levels.
You can also set up custom review cycles, allow all decision-makers to provide input and feedback on each employee, and nominate people for promotions.
The platform also provides historic performance data and automatically calculates and recommends pay increases based on increased productivity levels and the individual's contribution to the overall success of the company.
Rippling also lets you streamline your benefits programs, allowing you to offer more options to your employees to boost job satisfaction, all the while making it easy to track benefits use.
Pros
Incredibly intuitive and easy to use
ATS integration and streamlined candidate management
Company-wide goal setting and individual KPIs for easier performance management
Global payroll runs are completed in 90 seconds
The ability to pay contractors and hourly workers in their local currency
Easy benefits administration with third-party broker support
Cons
Doesn't offer a free trial
2. Deel — Secure, Fully Compliant Global Workforce Management Platform
Deel is a simple, straightforward platform that lets you handle all HR-related tasks with ease from a single platform.
Every team member will have a dedicated profile within the Deel platform, so you'll be able to easily manage your workforce, see team dependencies, manage compensation and titles, share crucial business documents, and see every personnel change in a detailed change log.
One of Deel's strong suits is its automated, fully compliant global payroll. You can pay contractors, part-time workers, and full-time employees in bulk with minimal effort since the platform handles everything from time tracking and tax calculations to paid leave, benefits, and payslips.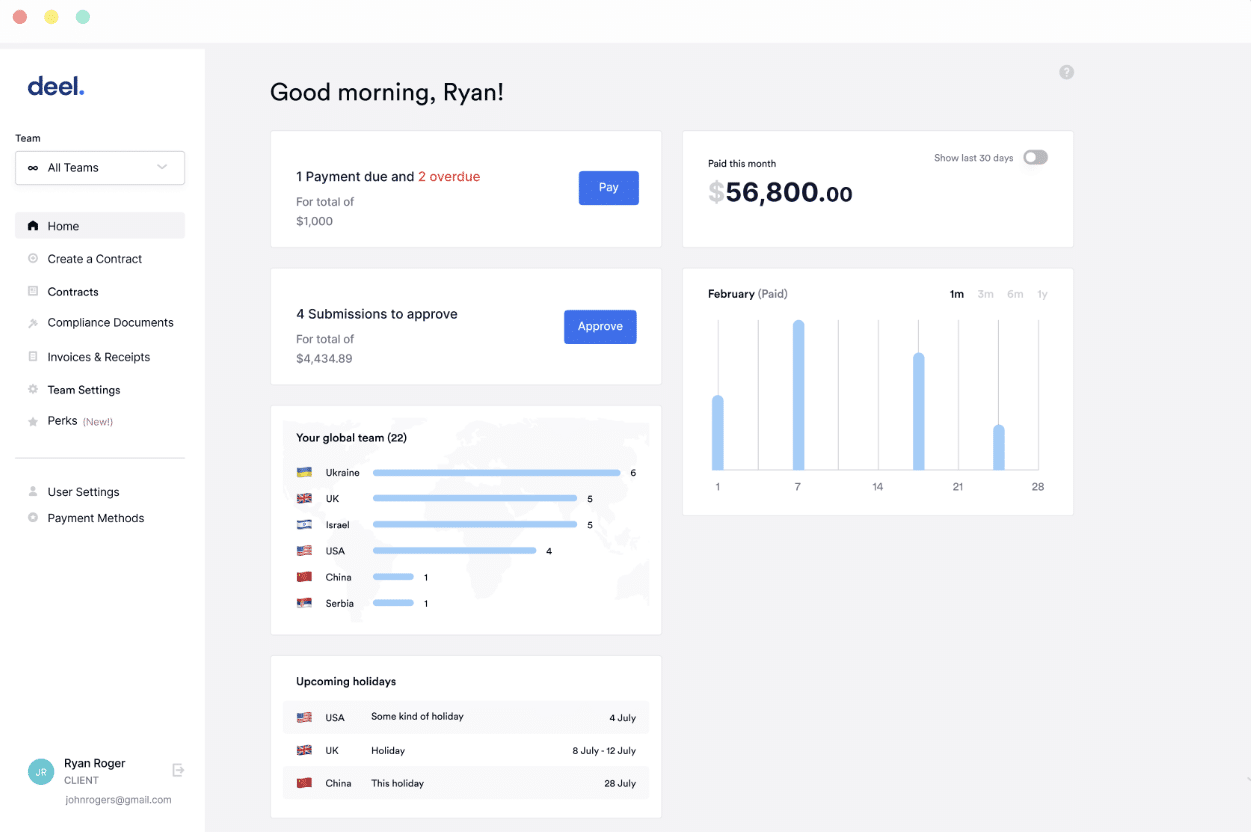 Best For
Starting Price
Free Version
Payroll
Benefits Administration
Global payroll and localized benefits
– $49/user/month (contractor)
– Custom quote for global payroll
Free-forever for basic HR and admin
Yes
Yes
You'll also be able to offer your team up to 15 different payment options, including payments in local currencies.
Deel also facilitates the onboarding of new hires by localizing everything so you'll know exactly what country-specific documents you'll need to prepare and how to structure compensation based on the industry average for roles in a given country.
This ensures your business stays compliant and that you offer competitive salaries to satisfy employees and reduce turnover.
A great aspect of Deel, especially for businesses with an international workforce, is the ability to offer localized benefits to your team members around the globe. The platform lets you easily connect with local vendors to create custom benefits packages for team members in different countries.
In addition to Deel's features, you'll be able to integrate a variety of other third-party apps, thanks to the Deel API (Application Programming Interface), so you'll be able to sync your entire software stack and access all the pertinent information in one place.
This way, Deel eliminates the need for duplicate data entry, minimizes the possibility of errors, and provides you with a holistic view of your organization, employer costs, headcount, and churn.
Pros
Fully automated, compliant global payroll
A comprehensive view of your entire workforce
The ability to offer tailored, localized benefits packages
Easy integration with third-party apps thanks to the Deel API
Superb security and full GDPR, SOC2, and ISO 27001 compliance
Cons
Different features are individually priced
3. Monday — Fully Featured Work Management Platform with Robust HRIS Functionality
Monday is a powerful work management platform that streamlines and simplifies all aspects of work, from project management and marketing to HR and operations. It's also a fully customizable solution, so it's easy to adapt the platform to the specific needs of your business.
When it comes to HR capabilities, Monday acts as a central hub for your HR department and lets you handle every aspect of recruitment, employee management, and payroll from a single platform.
You'll have valuable insights into your entire recruitment pipeline, so your HR, managers, and team leads can quickly access all the information for each potential new hire, including their CV and portfolio, references, and status.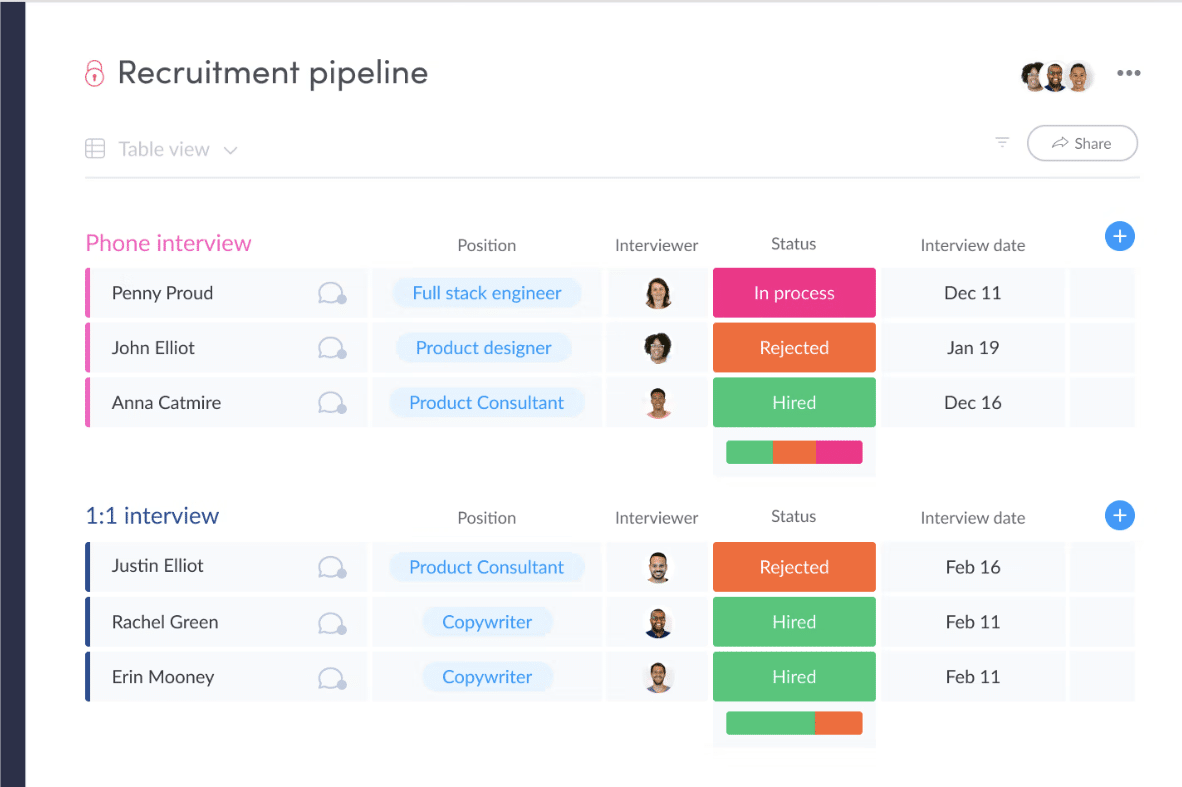 | | | | | |
| --- | --- | --- | --- | --- |
| Best For | Starting Price | Free Version | Payroll | Benefits Administration |
| Applicant tracking and onboarding | $8/seat/month | Free-forever (2 seats) | Requires integration | No |
Every status is color-coded, so you'll be able to see what stage each candidate is in at a glance, as well as the percentage of applicants vs. new hires.
What's great about Monday is that it makes onboarding new hires a breeze. You can utilize a pre-built template and adapt it to your company's unique onboarding process to ensure a smooth experience for new hires.
All your HR team will have to do is change their status to "onboarding," and they'll automatically receive all the documents they need and credentials to access the key services they'll be using in their new role. Given all this, we rate Monday among the best applicant tracking systems.
When it comes to existing employees, Monday makes it easy to manage the performance review process by letting you efficiently organize review meetings and keep track of outcomes.
You can schedule recurring performance reviews every quarter, once every six months, or on an annual basis, and will have access to all the key data needed to make decisions, including hours worked, successfully completed projects, productivity levels, and other relevant metrics.
Monday also comes with a built-in Leave Tracker, so you can approve leave requests and see how a particular employee's absence will impact your monthly capacity – so you can plan your projects and due dates accordingly.
The platform comes with a variety of professional templates you can choose from and adapt to your business processes, but it also gives you the option to create custom workflows from scratch using an intuitive drag-and-drop editor. As such, Monday is an excellent choice for businesses regardless of industry and number of employees.
Pros
Offers a free-forever plan for up to two seats
Facilitates recruitment pipeline management
Lets you onboard new hires with ease
Can be fully customized to align with your unique business processes
Simplifies attendance and time tracking and performance reviews
Cons
Doesn't offer payroll processing services
4. Remofirst — Leading Small Business HRIS for Fully Remote Teams
Remofirst is an HR solution specifically designed for remote-only companies to help them manage their workforce more effectively, easily pay workers around the globe on time and in their preferred currency, and offer benefits to workers no matter where they're located.
With Remofirst, you can hire and onboard contractors from over 160 countries, automate onboarding and the bulk of admin tasks, and ensure you stay compliant with both global and local employment laws.
The platform acts as a central hub for all your HR-related activities. You'll be able to collect, store, and access information on every employee, manage contracts, calculate expenses, handle time off (paid, unpaid, sick leave), handle benefits, and more.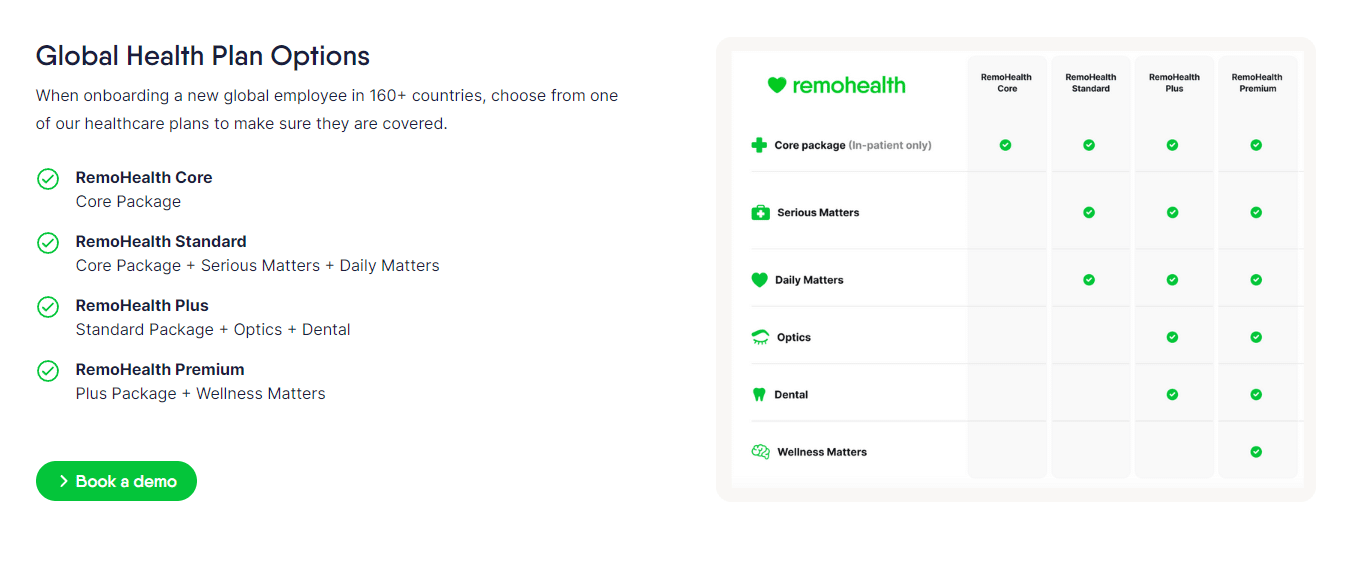 Best For
Starting Price
Free Version
Payroll
Benefits Administration
Remote companies hiring internationally
– $19/user/month (contractors)
– $199/user/month (EOR)
Demo only
Yes
Yes
With Remofirst, you can pay your contractors in USD, EUR, GBP, CAD, or SGD, and they'll receive the money in their local currency. The platform handles the conversion, so you don't have to worry about losing money due to poor exchange rates or lowering contractor's paychecks to account for the fees.
The platform also enables the onboarding of new contractors and remote workers by providing you with all the tax and compliance documents necessary to ensure that your team works compliantly wherever they are located. This completely eliminates the risk of employee misclassification, which often comes with hefty fines.
Another service Remofirst offers is RemoHealth, a personalized, international private medical insurance with incredible coverage around the globe. This way, you can attract and retain top talent from anywhere in the world by offering them localized benefits and private healthcare options.
It's also worth noting that Remofirst offers EOR (Employer of Record) services as well, so you can hire from 160+ countries through the company without having to set up legal entities.
This not only saves time and money, but it also ensures compliance and offloads the bulk of the admin work related to international new hires, leaving your HR team with more time to focus on other business-critical tasks.
Pros
Specifically designed for fully remote companies
Excellent onboarding tools for contractors from 160+ countries
Ensures compliance with global and local tax and employment laws
Lets you offer private health insurance and localized benefits to your team
Can act as an Employer of Record service for your company
Cons
Expensive if you also use it as an EOR
Lacks advanced features like performance reviews and compensation management
5. Papaya — Secure Payroll and HR Software for Small Businesses
Papaya is a payments and payroll software designed to help small businesses manage and pay their global workforce. You can easily integrate Papaya with your existing ATS and other HR tools you're already using, and you'll have all the information on candidates and current employees in one place.
With Papaya, you can pay your global workforce in over 160 countries using 12 different currencies. Better yet, you can fund your J.P. Morgan and Citibank-held virtual wallets and connect them to your Papaya account for quick and easy payments.
The tool automatically tracks all expenses, taking into account salaries, pensions, benefits, and equity, so you'll know exactly how much money you're investing in your team.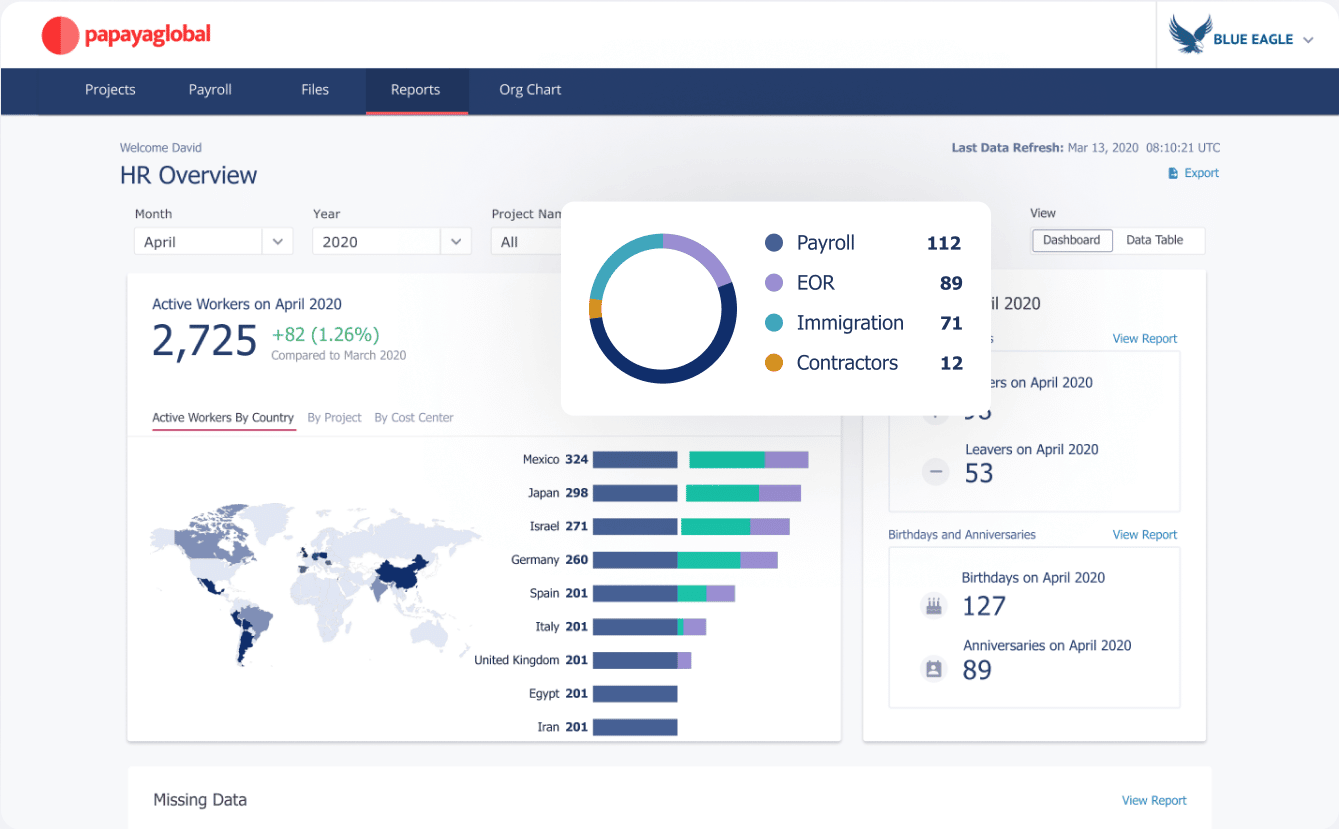 | | | | | |
| --- | --- | --- | --- | --- |
| Best For | Starting Price | Free Version | Payroll | Benefits Administration |
| Secure payroll | $3/employee/month | No | Yes | Yes |
Papaya also offers an employee self-service portal, making it easier for your team members to track time and attendance, create and send payslips, and provide all the required documents so you can process payments instantly.
The platform uses the latest encryption standards and employs two-factor biometric authentication, ensuring data security and compliance while removing the possibility of unauthorized access.
You'll also be able to offer benefits to your global workforce through Papaya without having to set up local accounts, meet requirements for a minimum number of employees in a particular country, or worry about local employment laws.
Papaya provides a complete package and takes care of the admin work for you so you can attract and retain global talent by offering them incredible benefits.
Pros
Lets you pay employees in 160+ countries
Supports 12 different currencies
Automatically tracks all employee-related expenses
Encrypts data and protects it with 2FA
Offers global benefits packages
Cons
No hiring functionality, so you'll need to invest in a separate ATS or integrate one
6. Bambee — Lets You Fully Outsource Your HR Functions to Experienced Pros
Bambee is a service that lets you completely outsource your HR and put it on autopilot so you can focus on growing your business and maximizing your profit.
It's designed for small businesses that are just getting started and need help from HR professionals to develop HR policies, hire and onboard new employees, design training and development programs, and handle payroll and benefits.
When you sign up for Bambee, you'll get assigned a dedicated HR manager who will take care of all your HR-related tasks and set you up for success.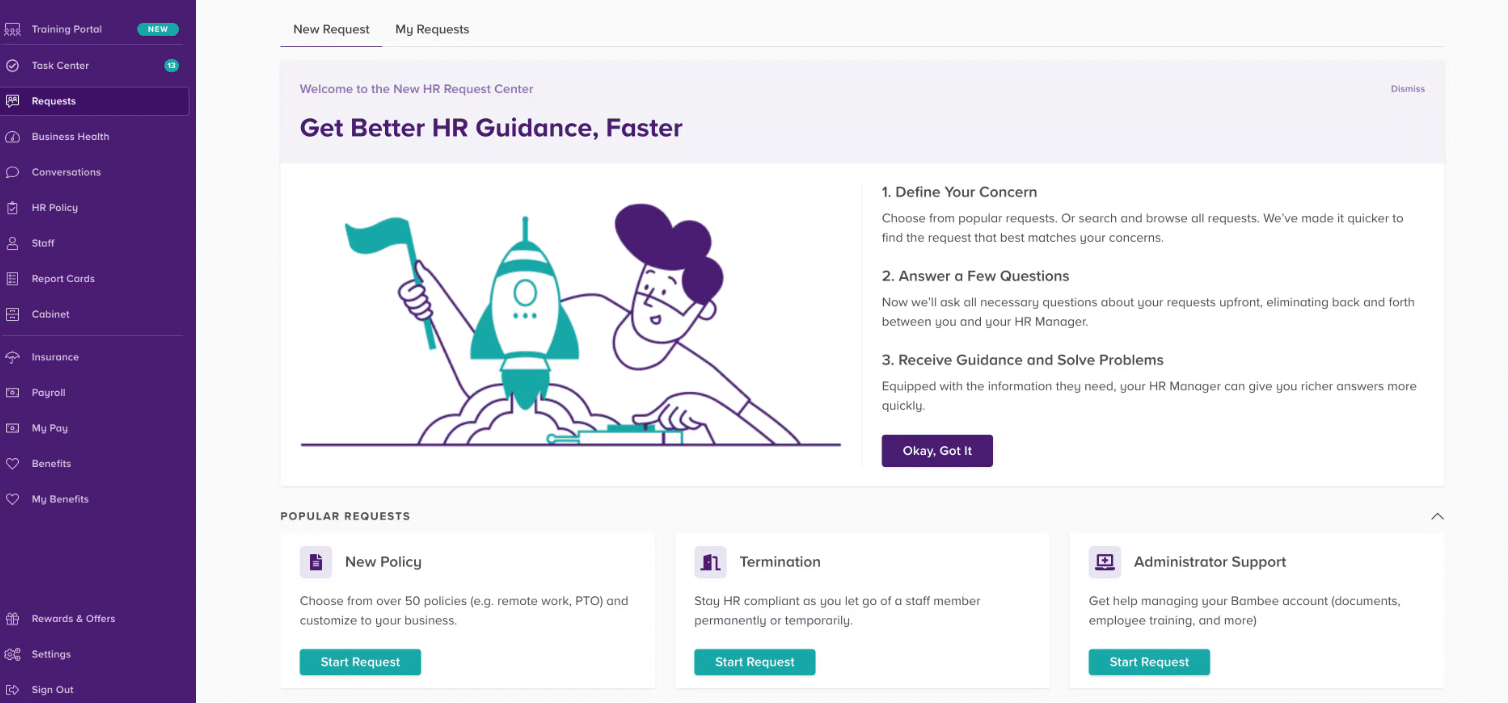 | | | | | |
| --- | --- | --- | --- | --- |
| Best For | Starting Price | Free Version | Payroll | Benefits Administration |
| Outsourcing HR functions | $99+/month | No | Yes | No |
This includes an HR audit to identify your HR gaps and potential compliance risks, develop compliant HR policies, and help resolve any HR issues your company might be facing.
When it comes to training and certifications, Bambee handles all the mandatory programs like business ethics, workplace safety, and sexual harassment.
The HR manager will take note of everyone's progress and report back to you on a regular basis. Not that they can't run any industry-specific training or employee development — this will still fall on you and your managers/department heads.
That said, Bambee will let you easily track the performance of each individual employee against their goals and set KPIs. You'll be able to provide constructive feedback, give praise or take corrective action, and open up honest, transparent dialogue about potential raises for your top performers.
Another excellent use case for Bambee is monitoring employee morale and understanding the hurdles your team might be facing in their day-to-day work.
The Employee Voices platform lets them voice their opinions and ideas, give feedback on their managers, scope of work, and work atmosphere, as well as express gratitude and share their wins. The feedback can be fully anonymous, which gives your employees an option to voice their opinions without fear of consequences.
Pros
Fully outsourced HR so you can focus on growing your business
Custom-crafted, compliant HR policies
Mandatory training for all your employees
Employee scorecards to monitor progress against goals
Employee platform to provide anonymous feedback and share thoughts
Cons
Gets progressively more expensive with each employee
No benefits administration
7. Sage HR — Top Choice for Employee Performance Management and Shift Scheduling
Sage HR is a sage module specifically designed for small business needs. It helps you handle all the core HR tasks, from shift scheduling and leave management to recruitment, timesheets, and expenses.
With Sage HR, you can centralize your employee information on one platform and streamline communication and reporting. Employees will have easy remote access to schedules, company policies, and payslips, which alleviates a lot of the pressure from your HR department and improves efficiency.
You'll also be able to share goals with everyone on your team to ensure everyone's on the same page, track progress against deadlines, and monitor every individual's performance.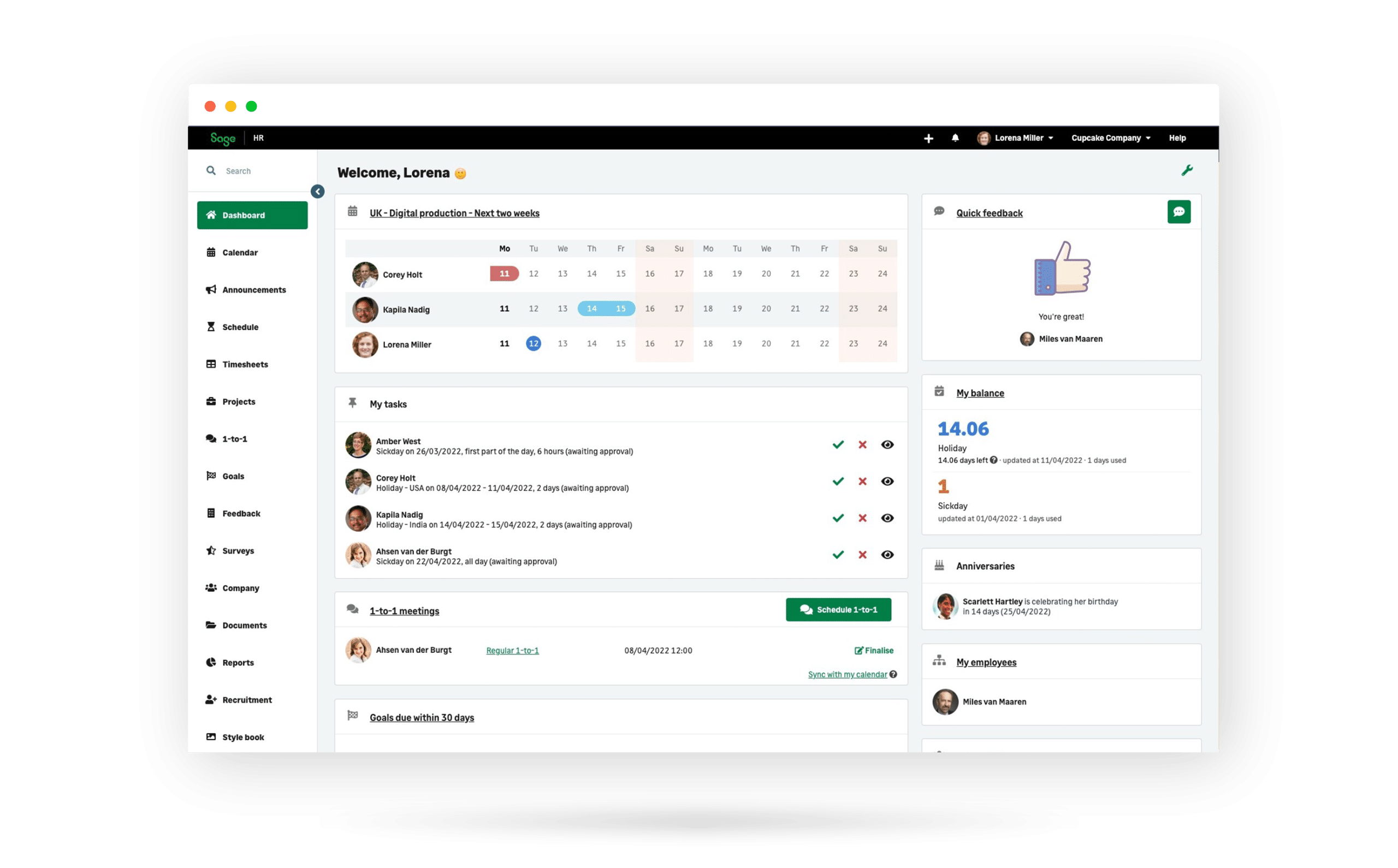 | | | | | |
| --- | --- | --- | --- | --- |
| Best For | Starting Price | Free Version | Payroll | Benefits Administration |
| Performance and shift management | Custom quote | 30-day free trial | Paid add-on | Paid add-on |
In addition to managers, team members can also provide feedback on other employee's performance, so you'll get a 360-degree view of every worker and will be able to easily identify and reward your best-performing people. Overall, we rank it as one of the best performance management software solutions around.
Sage HR also features an integrated calendar that makes leave management simple. You'll be able to see everyone's sick days, paid vacations, and unpaid days off on the same calendar, which makes it infinitely easier to plan shifts according to capacity and adjust deadlines and reprioritize tasks.
That said, a downside of Sage is that most of its functions are separated into different modules, all of which you'd have to pay for separately. So, if you want to use Sage for payroll, you'll have to pay extra for it. Plus, you won't be able to calculate your costs upfront since you'll have to contact the company for a personalized quote.
Pros
A centralized hub for employee records
Excellent employee self-service portal
Streamlined reporting and performance management
Integrated calendar for effortless leave management and shift scheduling
Wide variety of add-ons and integrations
Cons
No public payment information
Core HR features are split into different, individually priced modules
8. ClickUp — Fully Customizable Platform for Streamlining Recruitment and Performance Management
ClickUp is mostly used by companies for the platform's project management capabilities, but it also offers robust HR functionality that makes it a viable HRIS for small businesses.
The platform truly excels when it comes to employee management. It allows you to set up customized views with color-coded statuses so you can track progress, performance, engagement, and personal development.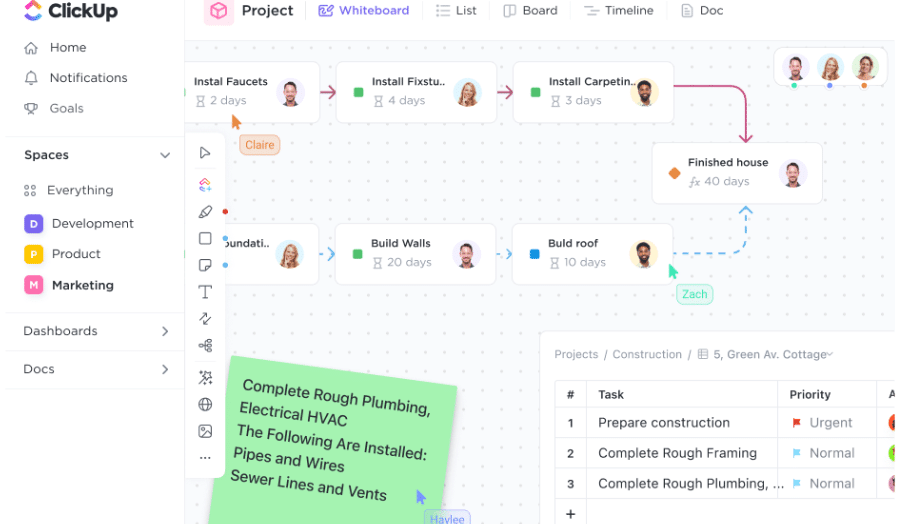 | | | | | |
| --- | --- | --- | --- | --- |
| Best For | Starting Price | Free Version | Payroll | Benefits Administration |
| Streamlining recruitment | $7/user/month | Free-forever plan | No | No |
Managers will be able to easily track everyone's progress on individual tasks, help remove roadblocks, and provide constructive feedback through a secure platform.
In addition to helping your existing team members achieve peak performance, ClickUp helps you hire superstars. It enables you to streamline your entire recruitment timeline, lets you see exactly what stage of your hiring funnel each candidate is in, and helps you save valuable time through smart automations.
You can also leverage ClickUp's templates to streamline your onboarding process, ensure new hires are introduced to the company properly, provide them with access to all the key documents and services, and ensure you collect all the required info for payment processing and compliance.
The best part about ClickUp is the tool's flexibility. You can customize every template, create custom fields for every view, set up dependencies and automations, create checklists and reminders, and adapt every other aspect of the tool to your unique business processes.
Pros
Free-forever plan available to test out the tool in practice
Fully customizable to the needs of your business
Smart automations and task dependencies to save time
Streamlined onboarding to ensure new hires fit right in
Excellent performance management functionality
Cons
No payment processing or benefits administration
9. Zoho People — Robust HR Platform to Streamline Every Aspect of HR
Zoho People is a cloud-based HR platform that helps you simplify and streamline your HR operations, hire and retain top talent, run accurate payroll runs, and efficiently manage all your employees.
The product functions as a central depository of all employee information, allowing you to streamline data collection, securely store all information, and keep everything neatly organized.
To make it easier to manage your employees, you can access individual profiles from the dashboard, as well as see employee information by role, department, location, and custom groups.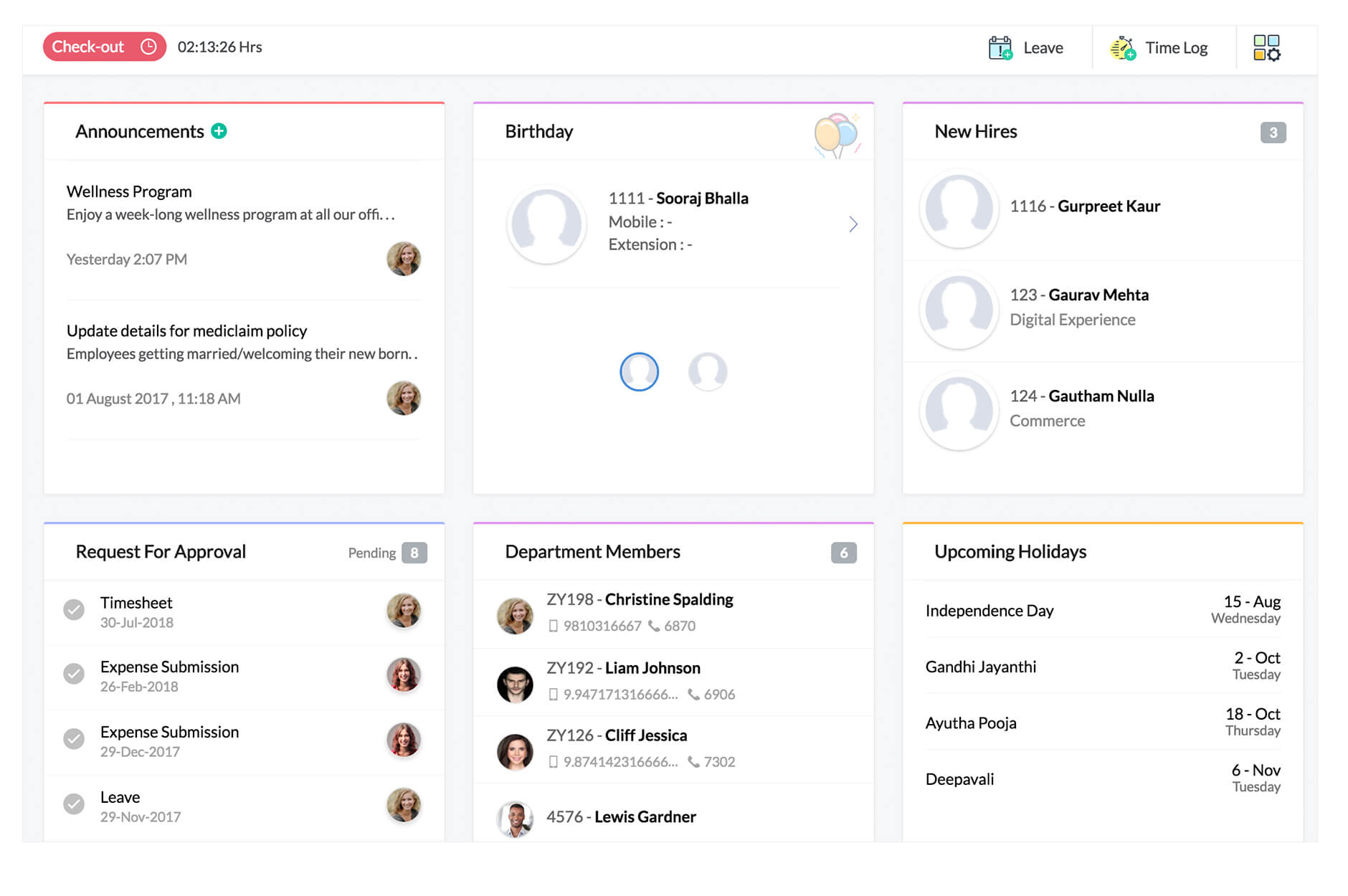 | | | | | |
| --- | --- | --- | --- | --- |
| Best For | Starting Price | Free Version | Payroll | Benefits Administration |
| Strong all-around HR tool | $1.35/user/month | 30-day free trial | Yes | Yes |
You'll also have a centralized hub for document management, where you'll be able to securely share all key HR documents with your team, such as HR policies, knowledge bases, and training materials.
All employees will have access to a self-service portal where they can track time and attendance, see their personal goals, access all key work files, submit leave requests, and plan their work on an integrated calendar.
Zoho People also helps you create standardized HR workflows for anything from employee onboarding to equipment requests.
You'll also be able to effortlessly manage all employee queries by creating a comprehensive FAQ section that provides all the necessary information on comp and benefits, paid leave, travel, training, health insurance, and everything else your employees might be interested in.
You can also utilize Zoho People to run payroll, ensure accuracy by drawing data directly from time and attendance trackers, and pay everyone on time using their preferred payment method.
The platform even lets you add personalized salary components for each employee, so it can automatically calculate bonuses, overtime, deductions, and reimbursements, saving you a ton of valuable time.
Lastly, Zoho People gives both employees and their managers all the data they need to track project progress, monitor performance, and increase productivity. This includes personalized reports for each employee, comprehensive team reports for managers, and business trends for executives.
Pros
Most affordable small business HRIS
A centralized hub for employee information and resources
Excellent customization options for forms and HR workflows
Attendance, time tracking, leave, and performance management
Easy-to-use employee self-service portal with goal-tracking
Cons
Tons of users, so customer support can be slow at times
10. Zenefits — Excellent All-Around HR Platform With Self-Onboarding
Zenefits is an all-in-one HR software for small businesses, with hiring, payroll, time & attendance tracking, and benefits administration all integrated into a single platform.
If you're looking to grow your team, Zenefits is an incredible option. It lets you create customized compensation packages, utilize templates to send professional offer emails to your best candidates and perform detailed background checks directly from the platform.
When a candidate accepts, they can self-onboard on the platform since they'll have access to all the key documents, benefits packages, and payroll information in one place. All you need to do is upload your docs and configure the onboarding process once, and every new employee will be able to onboard themselves.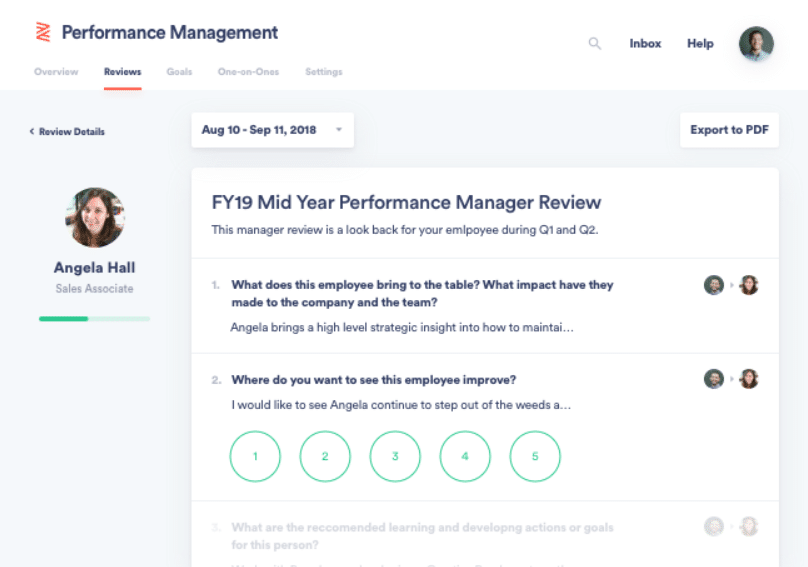 | | | | | |
| --- | --- | --- | --- | --- |
| Best For | Starting Price | Free Version | Payroll | Benefits Administration |
| Management of key HR functions | $8/employee/month | 14-day free trial | Yes | Yes |
Zenefits is great for employee management. Every team member has a personal profile they need to fill out, where they can share information and ways to contact them. Their profiles are linked to dynamic organization charts, so every team member will know exactly who they're working with, who they report to, and how to reach out to them.
With Zenefits, you can also automate PTO requests to ensure everyone adheres to your company's PTO policies, effortlessly manage leave requests, and understand your team's capacity. The data is automatically synced with payroll, so you'll know exactly how many days and hours each team member has put in.
This is great not only for full-time workers on your payroll but also for contractors and freelancers since you'll be able to easily track their hours worked and auto-calculate their monthly compensation without any room for error.
And if it wasn't apparent from the tool's name, Zenefits also lets you build and administer the best benefits plans for your employees. Whether you're already offering benefits or are looking to incorporate them for the first time, the company will provide guidance and help you build benefits packages to attract and retain top performers.
Employees can learn more about the packages and enroll directly from the Zenefits platform, saving everyone a lot of valuable time. You'll also be able to easily track benefits utilization to better understand what benefits your employees enjoy the most and, if necessary, modify your packages in the future.
Pros
All key HR functions integrated into one platform
Excellent onboarding functionality with custom compensation plans
Self-onboarding for new hires
Automated PTO requests that sync with payroll
Professional help setting up and administering benefits packages
Cons
Slow support response times
The Best Small Business HRIS Tools Compared
Here's a side-by-side comparison of the best HRIS systems for small businesses to provide a better overview of where different providers excel and how their pricing plans differ:

Small Business HRIS
Best For
Starting Price
Free Version
Payroll
Benefits Administration
Rippling
Best overall
$8/user/month
Demo only
Yes
Yes
Deel
Global payroll and localized benefits
– $49/month (contractor)
– Personalized quotes (global payroll)
Free-forever for basic HR and admin
Yes
Yes
Monday
Applicant tracking and onboarding
$8/user/month
Free-forever (2 seats)
Requires integration
No
Remofirst
Remote companies hiring internationally
– $19/user/month (contractors)
– $199/user/month (EOR)
Demo only
Yes
Yes
Papaya
Secure payroll and HR software
$3/employee/month
No
Yes
Yes
Bambee
Outsourcing HR functions
$99+/month
No
Yes
No
Sage HR
Performance and shift management
Custom quote
30-day free trial
Paid add-on
Paid add-on
ClickUp
Streamlining recruitment
$7/user/month
Free-forever plan
No
No
Zoho People
Strong all-around HR tool
$1.35/user/month
30-day free trial
Yes
Yes
Zenefits
Management of key HR functions
$8/employee/month
14-day free trial
Yes
Yes
Key Features to Consider When Buying HR Management Software for a Small Business
There are a ton of different HR tools on the market, ranging from straightforward ones with only a handful of features to complex platforms that would likely require months of training and a dedicated HR team to utilize properly.
That's why it's vital to understand exactly what features and functionality your business will benefit from and choose a solution accordingly. So, what should you look for when searching for the best HR software for small businesses?
Ease of use — As a small business, you're stretched thin, so you can't afford to spend months learning how to use a complex HR tool. That's why you should opt for a solution with an intuitive User Interface, templates that you can easily adapt to your purposes, and automatic attendance/time tracking and payroll.
Features on the chosen plan — When comparing different providers, make sure to understand what features they offer on different pricing plans. Carefully go through the list of features available with each subscription tier and make sure the tool offers everything you need at a reasonable price point.
Customization — There's no one-size-fits-all solution when it comes to HR information systems. That's why it's best to opt for a flexible HRIS that lets you fully customize the HR templates, create custom views, set up your own automations, and tailor other aspects of the tool according to your needs.
Integrations — If you're already using an ATS (Applicant Tracking System) tool for benefits administration, you ideally want to opt for a HRIS that integrates with your existing software stack. This way, you'll have access to all the information in one place instead of going back and forth between multiple apps.
Pricing — HR information systems often have convoluted pricing structures, so we strongly advise you to take your time to understand what all the different options are and what features you'll have access to on different plans.
Guides on HR Software for Small Business
If you want to learn more about small business human resource software, feel free to check out our other guides:
Conclusion – What's the Best HRIS for Small Business in 2023?
This guide has hopefully shown you there are many excellent HR solutions for small businesses, so you should have a handful of excellent options at your disposal.
Not every HR tool is the same, so you should carefully consider what areas of HR you need help with, what other tools you'd like to integrate, and how much money you're willing to invest in a new HRIS system.
From our shortlist, we strongly recommend Rippling as HR software for small business needs. It's relatively affordable, super-easy to use, and offers all the key HR functionality you'll need to streamline everything from hiring and onboarding to performance management, payroll, and benefits administration.
Click the button below to get started with Rippling, or schedule a free demo to see the tool in action, and you'll quickly realize why Rippling is the #1 HRIS for 2023.
Small Business HR Solutions FAQs
Why should you use an HRIS?
What are the top 5 HRIS systems?
Are HRIS solutions secure?
Can an HRIS system help with compliance and regulatory requirements?
How much do HRIS systems cost?
References