The best HRIS software will help you manage end-to-end employee administration, including onboarding, recruitment, training, payroll, and benefits management. With one of these capable tools integrated into your organization, you'll be able to automate various parts of HR management, generate useful reports, enhance your overall decision-making, and save a huge amount of time.
However, with so many types of HRIS systems available, choosing a single one can be quite a task. That's why we've identified and reviewed the 10 best HRIS software options available based on criteria like pricing, ease of use, payroll support, automations, customer support, and more. Read on to find out why platforms like Rippling, Deel, and Monday have earned a name for themselves in the industry.
The Top 10 Best HRIS Systems Shortlisted
Here's a quick look at what our selected HRIS platforms have to offer:
Rippling — Overall, the best HRIS software, with the option to use pre-configured courses or create new ones, managing access and tracking your team's progress from one place. It makes training new employees a breeze.
Deel — The best global HRIS system ideal for managing international employees. It helps you with global payroll and also handles visa applications and sponsorship for immigrants.
Monday.com — Popular HRIS system for small companies with extra points for its user-friendly dashboard. Helps with your employee's day-to-day tasks and managing engagement levels at work.
Sage 300 — The perfect platform to manage assets that have been temporarily provisioned to your employees – and it helps you stay compliant with regulations and guidelines.
Remofirst — A global HRIS solution with reliable services in 160+ countries that can provision and ship office equipment for your international employees.
Papaya — HR services that are divided into modular plans, so you only pay for the services you need. Plus, its payroll infrastructure is backed by JP Morgan and Citibank.
ClickUp — The best free HRIS software tailor-made for beginners, with a large database of templates. Whether it's onboarding, hiring, or termination, you'll have a template for everything.
Bambee — Highly recommended HRIS software for outsourcing your HR work. It'll connect you with dedicated HR managers who'll help you with every step.
Zoho People — Must-have HRIS software that features an AI bot – Zia – which will act as your virtual assistant and fetch you everything you need so you can focus on work.
Zenefits — Offers the best automation tools in the industry – can automate the entire onboarding process for you, including helping with background checks.
What Arе HRIS Softwarе Programs Usеd for?
HRIS (Human Resources Information Systems) software programs are comprehensive tools designed to streamline various HR tasks and processes. These systems help HR departments manage their workforce efficiently and effectively. Here's a breakdown of some of the key functions of HRIS software.
Employee Database and Directory: HRIS software serves as a centralized database for storing and managing employee information. It includes personal information, contact details, employment history, skills, qualifications, and more.
Payroll and Benefits Administration: HRIS systems often include payroll and benefits administration modules. These modules help automate payroll processing, calculate taxes, manage deductions, and ensure compliance with labor laws and regulations.
Recruiting and Hiring: They allow HR teams to post job vacancies, collect and manage resumes, track candidate progress through the hiring pipeline, and communicate with candidates. This helps organizations find the right talent more efficiently.
Employee Onboarding: Onboarding is a critical process for integrating new employees into the organization. HRIS systems can automate and standardize onboarding workflows by providing checklists, training materials, and required forms.
Time, Attendance, and Time Off Management: HRIS software can record work hours, manage employee schedules, and calculate overtime. Additionally, it allows employees to request and manage time-off requests, which supervisors can approve or deny through the system.
Employee Self-Service: Employee self-service portals enable employees to access their information, request time off, view pay stubs, update personal details, and more. Self-service functionality reduces the administrative burden on HR staff and empowers employees to independently manage HR-related tasks.
Compliance Tracking: HRIS software can help track compliance requirements, such as training certifications, safety regulations, and reporting obligations. It can generate reports and alerts to keep the organization compliant.
The Key Benefits of Using HRIS Software
Using HRIS software programs offers numerous benefits to organizations. Let's explore some of them below:
Become Data-Driven: HRIS systems provide access to a wealth of HR-related data. This data can be analyzed to identify traits, patterns, and areas for improvement. By making data-driven decisions, organizations can optimize their HR processes and strategies.
Increased Empowerment: Employee self-service portals in HRIS software empower employees to manage their HR-related tasks independently. This includes updating personal information, viewing pay stubs, and requesting time off. It reduces the administrative burden on HR teams and empowers employees to take control of their HR needs.
Reduces Cost: Automation and efficiency improvements achieved through HRIS software often lead to cost savings. Organizations can reduce the need for manual data entry, paperwork, and administrative overhead.
Real-Time Information Access: HRIS systems provide real-time access to employee data, allowing HR professionals to make informed decisions quickly. This is especially valuable for handling urgent matters and responding to employee inquiries promptly.
Insight Discovery: HRIS software enables the analysis of historical and current HR data to uncover patterns and insights. This can be used for strategic workforce planning, talent management, and employee engagement initiatives.
Scalability: As organizations grow, HR needs often become more complex. HRIS software is scalable and can adapt to accommodate larger workforces and structural changes. It can handle the increased volume of data and HR processes without major disruptions.
Improving the Quality of Reports: HRIS platforms generate accurate and consistent reports, improving the quality of HR analytics and management reports. This enhances decision-making and ensures that HR data is reliable for various stakeholders.
Transparency and Accessibility: HRIS software promotes transparency in HR processes by providing a centralized platform for managing employee information and transactions. Employees can access their data, request time off, and track their benefits, which enhances transparency and reduces the need for HR to handle routine tasks.
Comparing the Market's Most Popular HRIS Systems
Here's a table highlighting the key differences between our top picks for the best human resources information systems so you get a quick overview of what's on offer.
| | | | | | |
| --- | --- | --- | --- | --- | --- |
| Best HIRS Software | Best For | Starting Price | Free Version | Payroll | Benefits Administration |
| Rippling | Training new employees | Available on request | Free demo available | Available | Available |
| Deel | Handling international workers | $49/month | Free-forever plan | Available | Available |
| Monday.com | Day-to-day employee management | $8/seat/month — annual plan | Free plan available | Not available | Not available |
| Sage 300 | Asset and equity management | Available on request | Free trial + demo | Available | Available |
| Remofirst | EOR services | $19/contractor/month | Free demo | Available | Available |
| Papaya | Global payroll and equity management | $2/contractor/month — Contractor Management plan | Free demo | Available | Available |
| ClickUp | New businesses | $7/member/month | Free-forever plan | Only a payroll template | N/A |
| Bambee | Dedicated HR manager | $99/month | N/A | Available | Available |
| Zoho People | Zia AI Bot | $1.25/user/month — annual plan | Free plan available | Available as a separate plan | Available as a separate plan |
| Zenefits | Automated processes | $8/employee/month — annual plan | 14-day free trial + demo | Available | Available |
The Top 10 Best HRIS Systems Reviewed
Eager to find the best HRIS software program for your organization? We'll now discuss each of the best HRIS platforms in detail, including their best features, pros and cons, and pricing.
1. Rippling — Overall, the Best HRIS Software and Ideal for Employee Training
Rippling comes with a separate HR Cloud that supports various HR functions. It's a great platform for training your recruits, as it comes with a variety of pre-designed learning modules on Compliance courses and Sexual Harassment training.
What's more, it also offers state-mandated programs. For instance, its US course bundle includes pre-configured enrollment rules for anti-harassment compliance training across all 50 states, and it takes just one click to enroll your employees every year.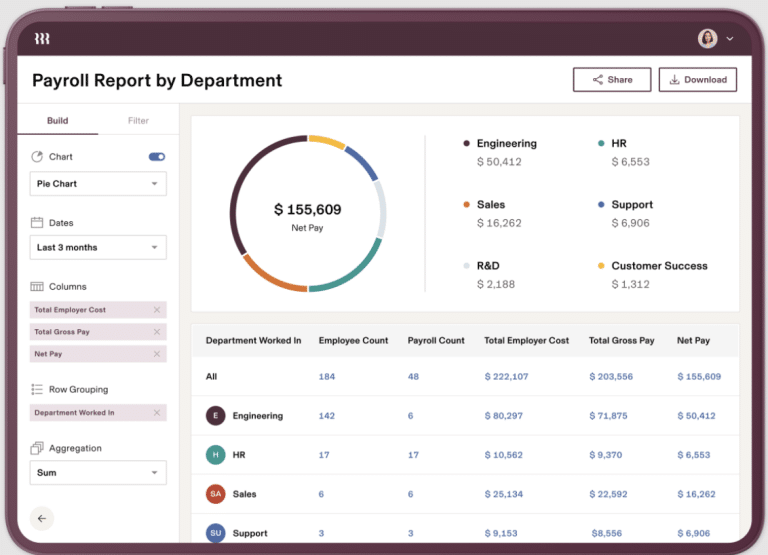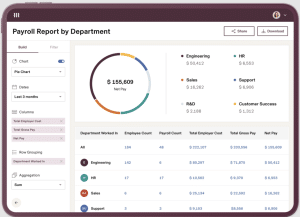 | | | | | |
| --- | --- | --- | --- | --- |
| Best For | Starting Price | Free Version | Payroll | Benefits Administration |
| Training new employees | Available on request | Free demo available | Available | Available |
It's not the only HR platform that helps you train your employees, but it's certainly the best. That's because it simplifies the process of creating courses. Uploading a new course takes seconds, and you then get to add enrollment rules so only select people can access the material.
You'll get color-coded labels denoting the progress of your employees, so you won't have to pursue them for updates. What's more, these courses are mobile and tablet-friendly, enabling your team to learn anytime and anywhere.
Hiring and managing your new talent is easier than ever with Rippling, thanks to its automated workflows. Important details on current headcount and open positions are automatically updated and synced across the platform so your hiring team can make prompt decisions.
With just one click, you can advertise your open positions on 25,000 job boards, and with one click – on the "Hire Candidate" button – you can close your search and start the hiring flow when you start sifting through the applications and scheduling interviews.
If you're hiring for a recently vacated position, all you'll have to do is click on "Backfill Position." Rippling will automatically generate a new headcount request, and if it's approved, it will create a new open position and post it to job boards.
While recruitment support is a standard benefit of online HR platforms, Rippling has heavily automated the process to make your life easier, making it one of the best HR cloud software solutions.
Pros
Automatically creates and posts new job positions
Built-in calendar helps you schedule interviews quickly
Personalized recruitment dashboard for every role
Create and manage your own course modules for employee training
2. Deel — Ideal for Hiring and Managing an International Workforce
Deel is the ideal HR platform for companies working with international workers. It has a massive team of 200+ local HR and legal experts who can help you get accustomed to the laws and regulations of different countries.
If you wish to expand your workforce abroad, they can even take on the responsibility of local payroll, compliance, taxes, and local benefits.
If you want to handle payroll yourself, Deel will equip you with 10+ payment methods that can process bulk payments in 150+ currencies. Common payment methods supported by Deel include Direct Bank Transfers, Wire Transfers, and Wise and Coinbase transactions, among others.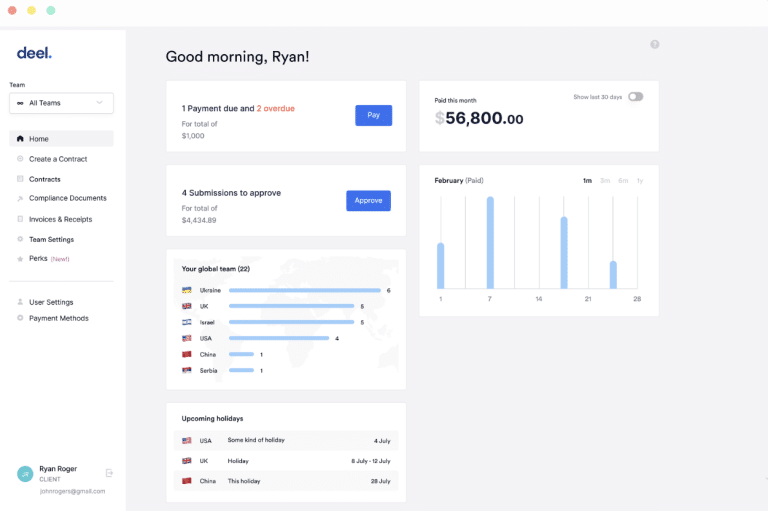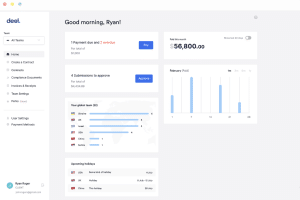 | | | | | |
| --- | --- | --- | --- | --- |
| Best For | Starting Price | Free Version | Payroll | Benefits Administration |
| Handling international workers | $49/month | Free-forever plan | Available | Available |
To help you attract high-level industry experts, Deel has a separate equity management feature. Spanning 90 countries, their in-house experts can process payments, take care of equity-related taxes, and help you choose the right type of equity-sharing for your company.
If you want these employees to join your workforce in a different country, Deel can support you through the immigration process. To access this feature, you'll need to sign up for their "Immigration" plan, available with custom pricing.
Once you sign up, you'll be put in touch with their in-house immigration team, who will then sponsor your employee's visa and hire them on your behalf so that you don't have to worry about anything. Visa applications, processing, payroll, and taxes can be handled entirely by Deel's internal team.
You can also seek their assistance for employees you wish to hire directly through your organization. In this case, you'll get an all-in-one dashboard where you can track everyone's application dates in one place.
Plus, local immigration experts offer one-on-one support to solve any query you might have regarding the process.
Pros
Direct support from local immigration experts
20+ integration options for HR and Finance services
Manage both full-time employees and contractors
Supports visa sponsorship in more than 30 countries
Cons
Complete set-up can take up to three weeks
3. Monday — Best HRIS for Small Businesses, with a User-Friendly Dashboard
Monday.com plays a crucial role in helping you maintain employee well-being. You can pick an employee engagement template from a pool of clean and intuitive templates. Then, you can plan out an entire year's worth of employee engagement activities.
The best thing about these templates is it's easy to add new items or reorder items based on priority. Then, you can assign each activity to an employee and monitor their progress.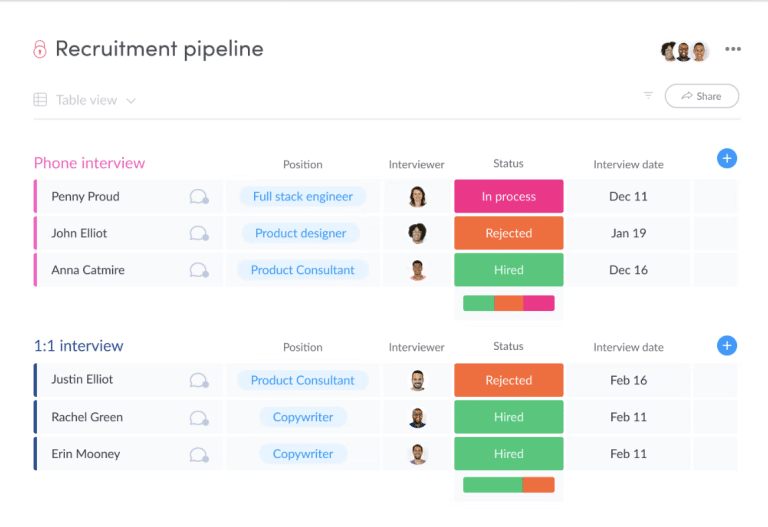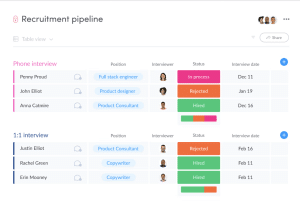 | | | | | |
| --- | --- | --- | --- | --- |
| Best For | Starting Price | Free Version | Payroll | Benefits Administration |
| Day-to-day employee management | $8/seat/month — annual plan | Free plan available | Not available | Not available |
This tool also allows you to collect employee feedback, which is automatically illustrated with charts. The responses to events, along with the average participation level, will give you a sense of the team's morale.
The color-coded recruitment feature is particularly useful and makes Monday one of the best HRIS platforms for small businesses with limited resources. The chart essentially divides applicants into three groups — New Applicants, In Progress, and Hired.
Then, in each row, you'll have the applicant's name, the relevant position name, the application's source, the type of interview conducted, and whether they have a CV or not. This easy-to-navigate interface is a huge plus for employees who need to navigate lots of information quickly.
Speaking of trackers, the Application Tracker interface is just as beginner-friendly – and is just one of the reasons Monday appears in a high position in our list of the best applicant tracking systems.
With each applicant's name, you'll have all the details about them, including roles, skills, nationality, application date, and more. Of course, having all the information in one place makes hiring decisions far simpler.
Pros
Interface is easy to use and navigate
Offers a pool of clean and intuitive templates
Helps you manage employee well-being
Comes with a fantastic applicant and recruitment tracker
Cons
Lacks HR tools such as payroll, employee training, and certification support
4. Sage 300 — Reliable HRIS Solution for Asset Management
Sage 300, like all other Sage products, is best known for its compact dashboard. With three main components — Payroll, HR, and Employee Self Service, neatly divided into separate tabs on the same page, it can help you manage your employee's entire life cycle in one place.
One of the features under HR that stood out for us was Asset Management. This tool helps you keep track of assets provisioned to your employees and when they need to be returned. The reports contain everything, starting with the details of the employee, the date of sanction, and the serial or stock number of the asset.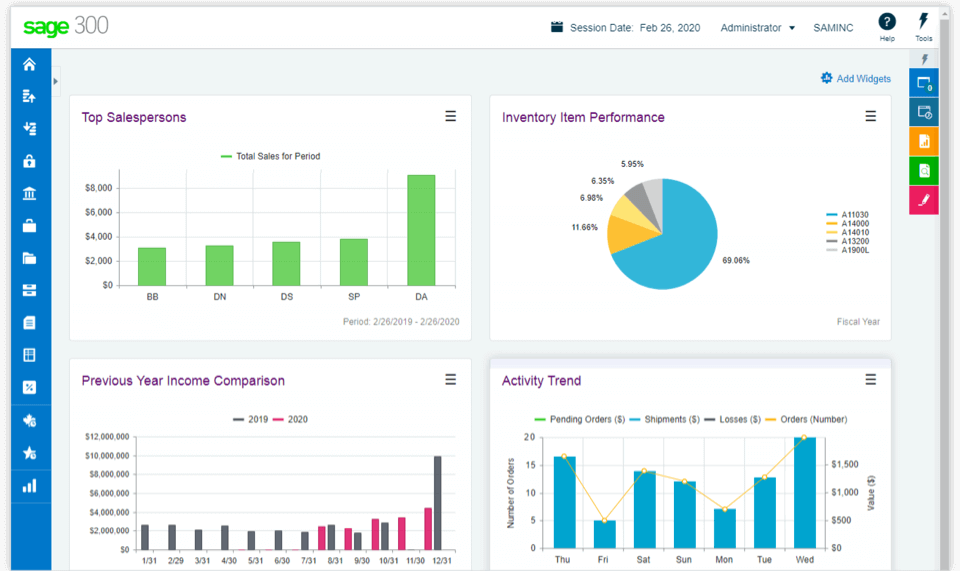 | | | | | |
| --- | --- | --- | --- | --- |
| Best For | Starting Price | Free Version | Payroll | Benefits Administration |
| Asset and equity management | Available on request | Free trial + demo | Available | Available |
For example, a common asset class almost every company gives out is computer hardware. So when the employee is leaving the company, you can go back to your asset record and see which system they used to ensure timely return.
It also offers world-class equity management so that no employee can call you out for discrimination. You can set targets for the number of disabled people or the number of foreign nationals you want to hire in your team, as well as gender diversity in your permanent and non-permanent employees.
Then, the Employment Equity Reporting tool will tell you how your current equity plan is faring against your equity targets. Simply put, it helps you identify gaps in your execution.
Another feature that deserves a special highlight is the employee self-service portal. Your HR team has a lot more important things to cater to instead of answering every simple query of your employees.
That's why Sage 300 gives everyone on your team their own portal where they can access information on their payslips, leave, tax certificates, and calendars.
Pros
Compact, all-in-one dashboard
Dedicated portal for each employee
Helps you manage company assets
Inventory Control helps maintain detailed perpetual inventory records
Cons
Limited details about services on the website
5. Remofirst — Global HRIS Payroll Software with Excellent EOR Plans
Remofirst has some really interesting add-ons that make the whole HR game much easier for new businesses. For instance, it's one of the few platforms that provision new equipment for new international recruits.
This includes laptops and monitors. Shipping will be entirely their responsibility. You just have to pay upfront, and they'll take care of the rest.
Its EOR plan has also made global hiring simpler. It acts as a facilitator managing everything from hiring and onboarding to admin tasks related to managing foreign employees.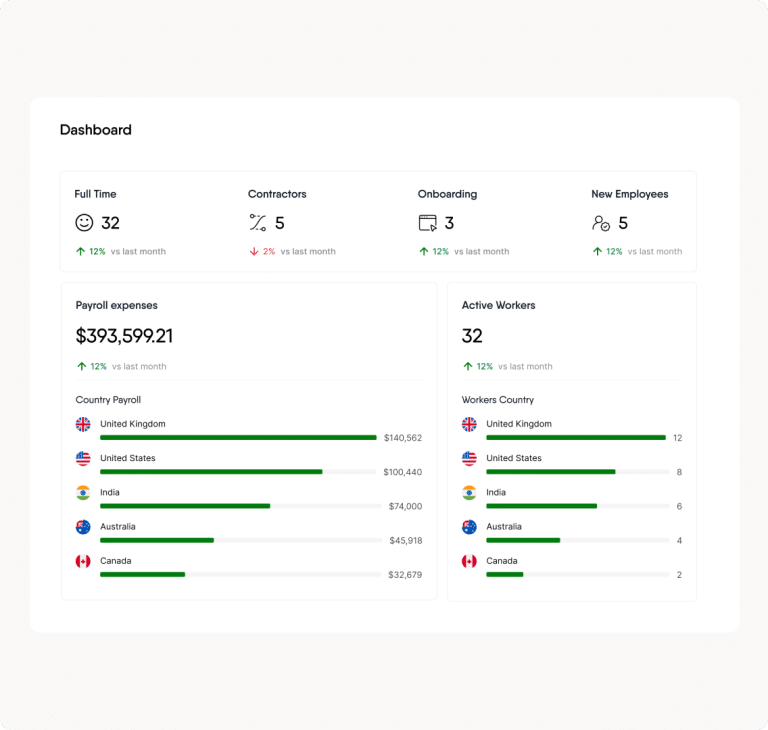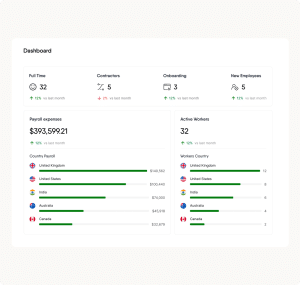 | | | | | |
| --- | --- | --- | --- | --- |
| Best For | Starting Price | Free Version | Payroll | Benefits Administration |
| EOR services | $19/contractor/month | Free demo | Available | Available |
At the same time, you'll have complete control over the employee activities. What's more? Remoforst offers impressive same-day onboarding in 160+ countries — something not many HIRS providers can do.
On the EOR plan, you'll also get a dedicated account manager and a team of HR and legal experts who'll keep your payroll processes compliant and guide you at every step.
Remofirst also gives you insight into the costs involved in hiring a new candidate from a specific country. All that you have to do is share some information about the candidate's nationality and the position you are trying to fill.
Remofirst will then tell you how much it's going to cost you to hire them, taking their benefits package, paid leave, and taxes into account. You can use this data to optimize the compensation package for the role so that you aren't spending too much on one person.
Remofirst also has its own native medical insurance by the name RemoHealth. If you don't already have a medical benefits provider for your team, give this a try. The plans are available across 160+ countries and cover dental and optical care, regular checkups, serious illness/accidents, and emotional well-being.
The pricing and benefits of each insurance plan are transparent so that you never have to second guess where your money is going. Plus, you get multi-lingual support — perfect for companies with international bases.
Pros
Same-day onboarding
Provision equipment for international workers
Native health insurance through RemoHealth
Works for both full-time employees and contractors
6. Papaya — Popular HRIS Solution with Targeted Plans
Papaya's plans are broken into small, independent plans so that you only pay for the services you need. Its services include Full-service Payroll, Payroll Platform License, Data and Insight Platform License, and Payments as a Service.
Its payroll service is best-in-class as it's the only regulated fintech that's designed to hold and transfer funds globally. Plus, to ensure smoother transactions, Papaya uses routes handled by JP Morgan and Citibank — the leading financial institutions in the world.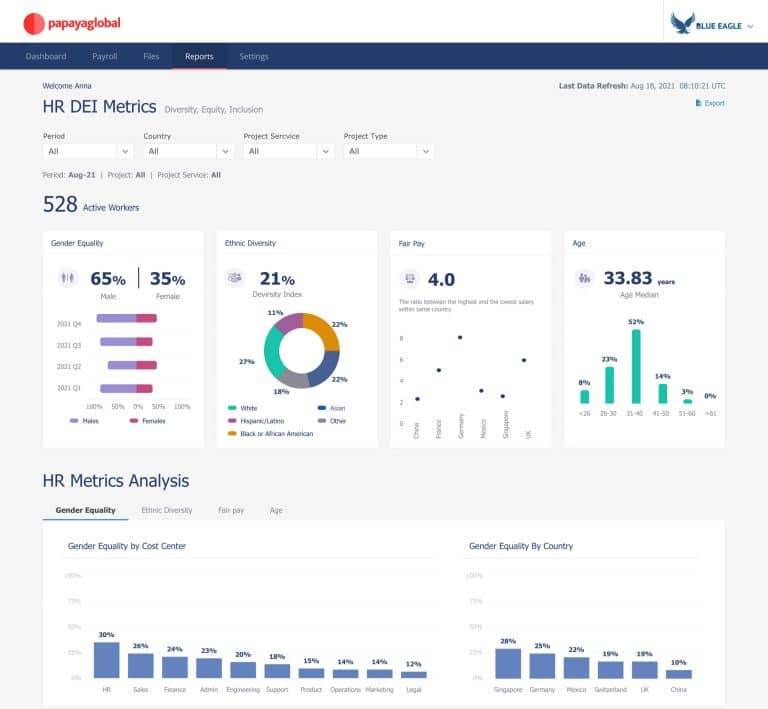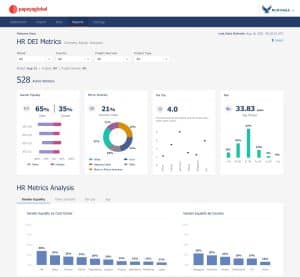 | | | | | |
| --- | --- | --- | --- | --- |
| Best For | Starting Price | Free Version | Payroll | Benefits Administration |
| Global payroll and equity management | $2/contractor/month — Contractor Management plan | Free demo | Available | Available |
You won't have to manage multiple bank accounts if you want to pay employees globally. Create one centralized account and fund it with a currency of your choice. Papaya will ensure that all the transactions are taken out from this account in the local currency preferred by your workforce.
All payments are completed immediately or within 72 hours, and there are no mistakes, delays, or data leaks. Currently, this feature is supported in 160+ locations.
For companies on the lookout for top talent, offering equity to employees is necessary. After all, a simple salary will not attract the best of the fields.
Papaya's global equity solution ensures you understand the local legal requirement of offering equity to an employee and that you're able to process equity consistently and compliantly. All the tax implications that come with equity distribution are also handled by the Papaya team.
Its robust reporting tool deserves a special mention. Important details on employee costs are neatly organized in graphs and pie charts. The costs are further classified based on country, department, and time.
You'll also get a real-time view of your funds and graphs depicting your paid and unpaid bills. If you want to keep track of every financial change, turn on audit trails to individually notice each penny that goes in and out.
Papaya also offers a world-class infrastructure that protects your data from leaks. Physical security measures such as biometric locks, security cameras, role-based data center access, and 24/7 security combined with a strong firewall and extensive monitoring keep you safe from unauthorized users.
Pros
Strict security protocols
Best payroll features helmed by local experts
Simplifies equity management to retain top talent
Comprehensive data insights into your workforce and new recruits
Cons
Expensive for a complete HR package
7. ClickUp — Template-Driven HRIS Platform That's Great for New Businesses
ClickUp is the ideal HR platform for new businesses, thanks to its variety of HR templates that make it easier for you to get started. It has a template for almost everything.
Some common options include hiring, onboarding, employee handbook, team requests, performance reviews, and other company processes. These templates are 100% customizable; you can mold them as per your requirements and add custom fields, checklists, and statuses.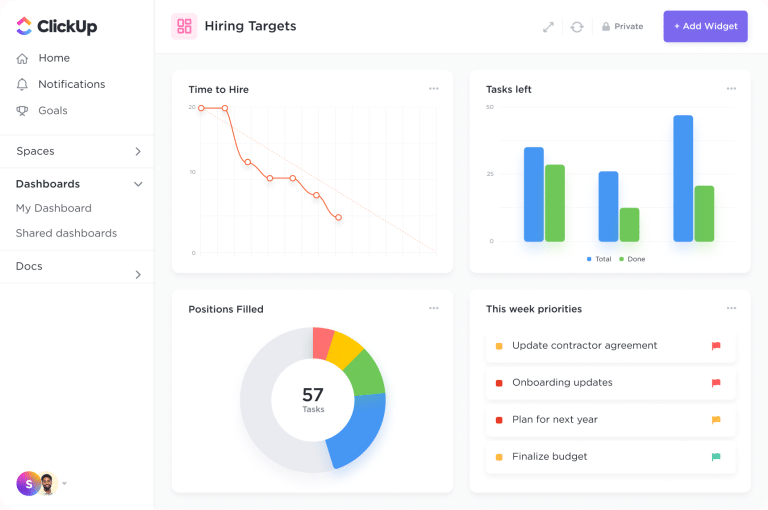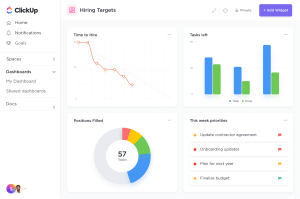 | | | | | |
| --- | --- | --- | --- | --- |
| Best For | Starting Price | Free Version | Payroll | Benefits Administration |
| New businesses | $7/member/month | Free-forever plan | Only a payroll template | N/A |
Whenever you create a task or a workflow, you can save it as a template, allowing you to create repeatable hiring processes. So if you just created a form for new recruits to fill in, you can save this form as a template and use it again and again for all the other recruits.
Automated reminders are another feature that makes hiring new talent far simpler with ClickUp. You can set up reminders for both the interviewer and the interviewee.
For the interviewer, you can set up an in-app reminder that'll buzz in like a notification at the set time. And for the interested candidate, you can send an automated email. Automated emails can also be used for follow-up communication. Together, it reduces the time taken to finalize a new candidate.
Last but not least, it has a fantastic free forever plan. It comes with unlimited tasks, 100MB storage, real-time chat, in-app recording, calendar view, multiple task views, and so on. You'll also have access to 24/7 customer support even on this free plan.
Pros
Comes with a generous free plan
Multiple free templates for beginners
Automated reminders for everyone
Unlimited members on every plan
8. Bambee — Hire a Dedicated HR Manager for All Your Needs
Bambee is ideal for those businesses that want to outsource their HR work to an actual human expert. With Bambee, you can get a dedicated HR manager who will help you craft and implement the perfect policies. This HR manager will be available via phone, email, or chat, and you can ask them any questions you need.
Along with doubt-solving, they will also give you HR coaching so that you can manage your team better. They will completely handle onboarding and termination.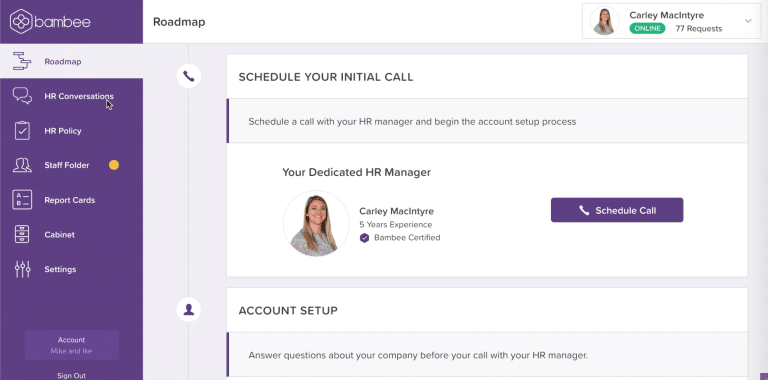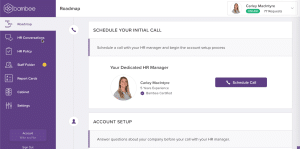 | | | | | |
| --- | --- | --- | --- | --- |
| Best For | Starting Price | Free Version | Payroll | Benefits Administration |
| Dedicated HR manager | $99/month | N/A | Available | Available |
Plus, they'll collaborate with you on sensitive issues such as employee complaints or employee retention issues to craft unique solutions for your business. These HR experts are well-versed with the laws of all 50 States in the US and have experience in 20+ industries.
Another feature that stood out to us was HR Audit. It helps you keep up with the changing rules and regulations and notifies you in real time if it identifies a gap in your workflow.
The audit also provides an HR Compliance Score, which indicates the health of Human Resources in your company, i.e., how well you are managing your team and their needs compared to the industry average.
Managing all your documents is simple with Bambee. Apart from regular employee records, there are Federal and state laws, such as the EEOC Document Retention Standard, that mandate businesses to keep certain files for a certain period of time.
To avoid losing these important documents under a pile of new ones, Bambee offers Smart Cabinets to every user. It's basically a simple digital locker for your files where everything is categorized by date so you can easily find one when needed.
Pros
Dedicated HR manager
Two-day payroll support
Routine HR audits to keep up your HR standards
Smart Cabinets for storing documents online
Cons
Can get pricey and comes with a set-up fee for the first employee
9. Zoho People — Zia AI Chatbot is a Great Time Saver
Zoho People's biggest USP is its AI robot, Zia. It's like your personal assistant, fetching everything you need on command. For instance, let's say you need to fetch the candidate list for today's interviews.
Usually, you'll have to dig through the files yourself. But with Zia, you simply need to text it with a command and the file name; you'll have it in your hands within minutes.
On your employee's side, Zia handles day-to-day HR situations such as clock-ins and outs and time off management. Zia manages these requests and relays them to the HR team so they don't have to spend too much time attending to employee emails.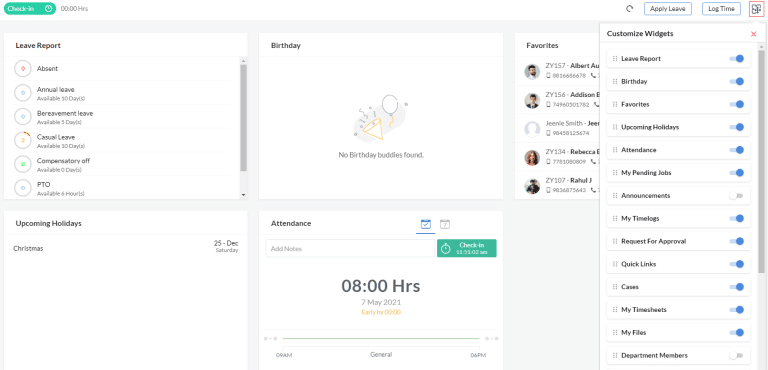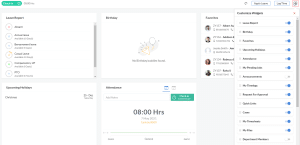 | | | | | |
| --- | --- | --- | --- | --- |
| Best For | Starting Price | Free Version | Payroll | Benefits Administration |
| Zia AI Bot | $1.25/user/month — annual plan | Free plan available | Available as a separate plan | Available as a separate plan |
Its Case Management feature also makes it easier for your employees to raise issues with HR in case they need to contact them directly. The case management dashboard lets the employees initiate a query. All the queries are stacked in one place, and your HR team can synchronize to sort and resolve them.
The only thing that slightly bothered us was that many common HR features, such as recruitment and payroll, are available under separate Zoho products. It's an old company practice to create a separate product for each type of service.
To make up for it, Zoho lets you conduct eNPS surveys where you can get feedback from your team about how they feel about your company and gauge their engagement level.
You can pick a pre-designed template, customize it, and email it to your team directly from your Zoho dashboard. In this stage, you can grant access to all your employees or a group of specific employees.
You can also send automated reminders to your team before the survey window is closed. Plus, your employees can choose to stay anonymous so that you can get authentic feedback and not made-up ones.
Pros
AI bot Zia acts as your virtual assistant
Create customized workflows
Access to employee leave history in seconds
Dedicated dashboard for case management
Cons
Recruitment tools are available under a separate Zoho product – Zoho Recruit
10. Zenefits — Recommended HRIS Platform for Automating Onboarding
Zenefits' automated onboarding feature makes it simple to manage new recruits. It helps put together a compensation package that you can auto-send to all candidates who qualify. You can either use one of their job offer templates or create your own.
Then, if they accept it, Zenefits will guide them through a self-onboarding process. All the information about their payroll and benefits will be synced automatically so your HR team can quickly move on to the next task.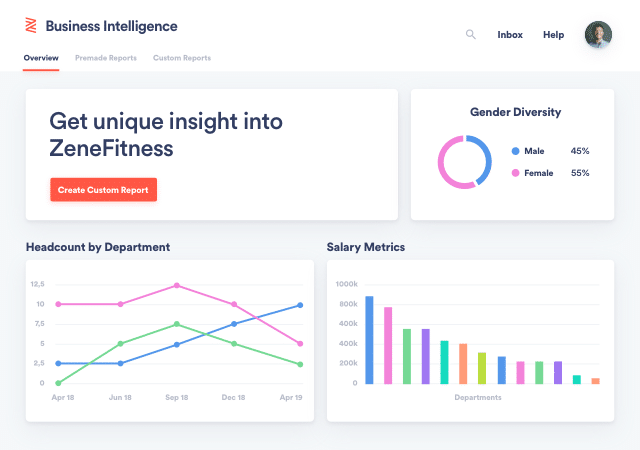 | | | | | |
| --- | --- | --- | --- | --- |
| Best For | Starting Price | Free Version | Payroll | Benefits Administration |
| Automated processes | $8/employee/month — annual plan | 14-day free trial + demo | Available | Available |
Since Zenefits supports digital signing, your new recruits can complete the entire onboarding process without using paper.
If your employees are on third-party team management apps like Slack and Salesforce, you can integrate those accounts with your Zenefits account. This way, when you get a new hire, Zenefits will automatically provision a new account to them on these platforms.
An additional perk of using Zenefits is it collaborates with Checkr – a popular background-checking tool – to give you a complete history of your employees. It covers education, employment history, criminal records checks, drug testing, and more, and can handle international staff.
Reading reports can get exhausting. But with Zenefit Analytical Dashboard, you get color-coded visual charts highlighting the most important updates at a glance. You can compare your team size across departments, check average industry compensation packages, and check your turnover rate.
These analytics can also pair up with AI to give you smart suggestions. For example, it can tell you which employees are more likely to leave in the next 12 months. With this heads-up, you can plan the right moves to win back their loyalty and retain them.
Pros
Automated workflows
Self-onboarding for employees available
Background checks on employees with Checkr
Real-time data syncing for new hires – payroll and benefits information gets synced
Cons
HR tools like Payroll and Recruitment support are only available as add-ons
How Do I Choosе thе Bеst HRIS Softwarе? Kеy Factors to Considеr
Choosing the best HRIS software for your organization is a critical decision that can significantly impact your HR operations and overall business efficiency. Here are some key factors to consider when selecting a human resource management system:
Feature-to-Price Value
Evaluating the features offered with the price you're paying helps you identify the best value for your organization's specific needs.
You'll be able to prioritize functionalities that are essential for your HR processes and workforce management, avoiding unnecessary expenses on features that may not be relevant.
This approach ensures that you not only meet your HR requirements but also optimize your budget, resulting in a more efficient and cost-effective HRIS solution that fits with your organization's goals and resources.
Features
Each organization has its own HR processes, compliance requirements, and employee management needs. By carefully evaluating the features of different types of HRIS systems, you can ensure that they provide the tools necessary to streamline your HR operations effectively.
From payroll and benefits management to recruitment, onboarding, and reporting, the right features can save time, reduce errors, and improve overall HR efficiency.
Select a HRIS software solution with the right mix of features to ensure that your HR department can operate smoothly, enhancing employee satisfaction and contributing to the overall success of your organization.
Ease-of-use
An intuitive and user-friendly interface ensures that the HR team, managers, and employees can quickly navigate the system without extensive training or support. This, in turn, leads to a smoother implementation process and reduces the learning curve for all users.
Additionally, an intuitive interface can enhance overall user satisfaction, making it more likely that employees will actively engage with the system to access self-service features, request time off, review benefits, and participate in HR-related activities.
Reputation of the Provider
The reputation of the software provider serves as a crucial indicator of the software's reliability, support quality, and long-term viability. A reputable provider is more likely to offer a robust and well-tested product, ensuring your HR processes run smoothly and securely.
Additionally, established providers typically have a track record of delivering updates, addressing issues, and providing responsive customer support, which is vital for the successful implementation and ongoing use of the HRIS software.
Choosing a reputable provider safeguards your investment and ensures the system can adapt to evolving HR needs.
Integrations
Integrations can significantly enhance the functionality and efficiency of your HR processes. For instance, integrating your HRIS with your payroll software ensures accurate and automatic data transfer, reducing errors and saving time.
Integrations with recruitment platforms streamline the hiring process, while connections to time and attendance systems simplify attendance tracking.
Moreover, integrating with benefits administration tools ensures your HRIS remains up-to-date with benefits data, enhancing compliance and employee experience. This can be particularly important when looking for the best HRIS systems for midsize companies.
Data Security
Data security should be paramount when selecting HRIS software because HRIS systems store and manage sensitive employee data. Neglecting data security can lead to severe consequences, including data breaches, identity theft, legal liabilities, and reputational damage.
A robust HRIS system should incorporate stringent security measures, such as encryption, access controls, regular security updates, and compliance with data protection regulations like GDPR or HIPAA, depending on your location and industry.
By prioritizing data security, you can safeguard your employees' personal information and ensure compliance with data privacy laws.
Cost of Scaling
While a basic HRIS system might meet your current requirements, as your company expands, so will the demands on your HR processes.
If the software can't accommodate growth efficiently, it may necessitate expensive upgrades or even a complete system overhaul down the line.
Therefore, evaluating how the HRIS software can scale to accommodate more employees, additional locations, or changing business requirements is essential for long-term cost-effectiveness, ensuring that your investment continues to support your organization effectively without incurring unexpected expenses.
Our Other HR Guides
Now that you've got a good idea of the best HRIS solutions, here are some other detailed guides from our network that'll help you manage every aspect of HR.
Conclusion – What is the Best HRIS Software to Use in 2023?
Our list of the best HRIS and payroll software is a perfect index for all your HR management needs.
Whether you're looking for solutions that'll help you manage your employees' day-to-day tasks and operations or one that can help you with automated recruitment and onboarding, even at a global level, you'll find something on our list.
Rippling is an excellent pick, however, regardless of your specific needs. With its robust automated onboarding and recruitment features, you can fill positions fast. Training new employees is a breeze with several legal-compliance modules.
Its benefits and payroll management are just the icing on the cake. Get a free demo now and see if it suits your needs.
HRIS FAQs
What are the five most popular applications of a HRIS?
What are the four types of HRIS?
What makes a good HRIS system?
What is the scope of HRIS software?
Which HRIS does Microsoft use?
References