Admirals is a game-changer in the UK financial market, offering round-the-clock trading across more than 8,000 markets—all with just a £1 minimum deposit and zero commissions. The platform's diverse 24/7 trading options and tight spreads help it stand out from its competitors.
All of this, in addition to its focus on safeguarding clients' funds and customer service, makes the platform one of the top brokers in the UK.
Competitive Pricing Structure Based on Zero Commissions
The two main fees to consider are commissions and spreads. Spreads vary based on account type and asset class but are notably competitive.
Users can choose from commission-free accounts or opt for lower spreads with commission. Moreover, the negative balance protection feature is also available for added security.
Moreover, on Zero accounts, Forex spreads can go as low as 0 pips. On Trade accounts, you might see spreads starting at 0.5 pips.
Users can start trading at spreads as low as 0 pips using Zero.MT4 and directly access top-tier liquidity providers.
Unlock Trading Opportunities with Just £1
Admirals offers three distinct account types tailored to different trading needs: Zero, Invest, and Trade. Both Zero and Trade accounts are favored by seasoned traders, featuring a $25 minimum deposit, 1:500 leverage, and 4 base currencies (USD, EUR, JOD, AED).
The Trade account stands out for its range of instruments and lower commissions. In contrast, the Invest account caters to stock and ETF enthusiasts, with a minimum deposit of just £1 and no leverage. Admirals also offers Islamic Forex accounts, which are swap-free and interest-free.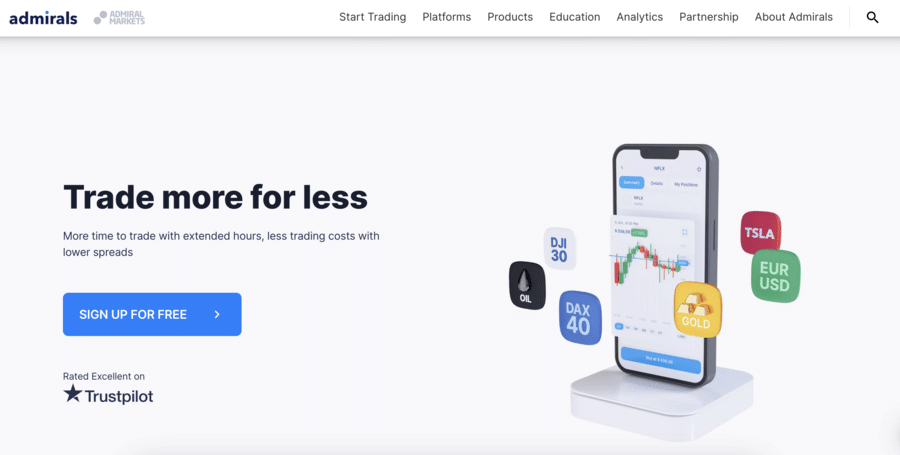 Funding your Admirals account is quite straightforward. The platform supports three primary payment methods: bank transfers, credit/debit cards, and Perfect Cash. Deposits are free, and one monthly withdrawal is also without charge.
Additionally, customer support at Admirals offers various channels, including live chat, email, and phone. This accessibility ensures that traders around the globe can get the help they need, ensuring a smooth and hassle-free trading experience.
24/7 Trading Across Diverse Asset Classes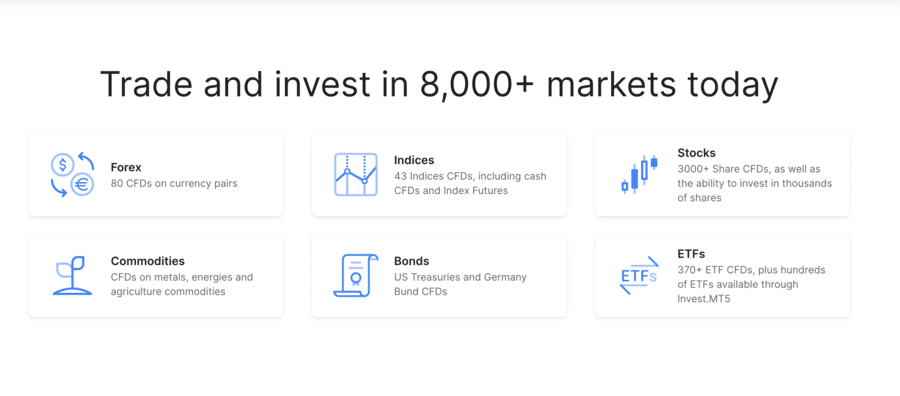 Admirals provides a comprehensive selection of asset classes to suit various trading styles and investment goals.
Forex

: Admirals is a strong player in the Forex market, offering 82 currency pairs, including major, minor, and exotic pairs like EUR/USD and GBP/USD.

Commodities

: Whether you want to trade coffee, oil, or precious metals like gold, Admirals offers 29 tradeable commodities via Contracts for Difference (CFDs).

Indices

: The platform offers 42 indices, including popular ones like the FTSE100 and SP500. Traders can leverage up to 1:500, depending on the instrument.

Stocks

: With over 3,400 stocks available, Admirals provides multiple options for equity trading. Available stocks range from tech giants like Apple to big names like BMW.

ETFs

: Admirals provides 362 Exchange-Traded Funds (ETFs) that can be leveraged up to 1:20, making it easier for traders to diversify their portfolios.

Bonds

: A rare offering in online platforms, Admirals allows trading on bonds like 10-year US Treasury Notes with up to 1:200 leverage through CFDs.
Regulatory Compliance & Safety-First Approach
When it comes to regulation and client safety, Admirals is well-positioned in the market as a secure and reliable trading platform.
Regulatory Bodies

: Admirals operates under stringent regulations with oversight from reputed bodies like Admiral Markets UK LTD and Cyprus Admiral Markets Ltd. This ensures a safe trading environment that complies with international standards.

Safety Measures

: Admirals prioritize client safety by implementing advanced encryption technologies and secure data storage systems. Strong financial security protocols are in place to protect client funds.
These multiple layers of security provide traders peace of mind, allowing them to focus on trading rather than worrying about the safety of their investments. The company's long-standing history of 20 years also adds to its credibility and reliability.
Intuitive Trading Platforms: MT4, MT5, and MetaTrader Web
Admirals offer three main trading platforms: MetaTrader 4 (MT4), MetaTrader 5 (MT5), and MetaTrader Web.
MT4 and MT5 are downloadable and compatible across Android, Mac, and Windows devices. These platforms are helpful in Forex trading, offering advanced analytical tools without overwhelming beginners. MetaTrader Web allows for trading without any downloads, suitable for those on the go.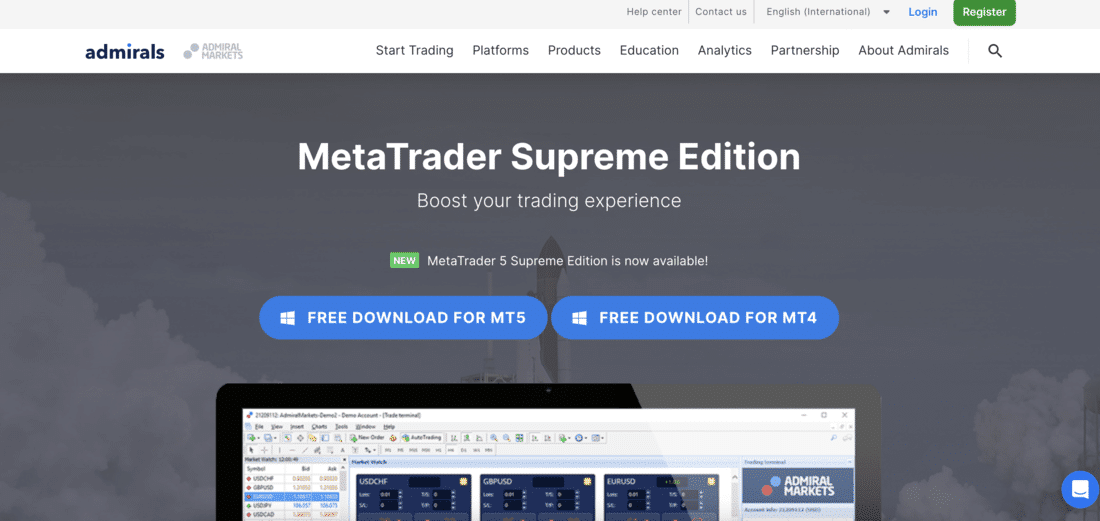 The MetaTrader Supreme Edition is a special feature accessible to live and trading account holders. This edition provides improved features like risk management tools, appealing to more advanced traders.
The overall user interface across these platforms is intuitive, ensuring newbies and seasoned traders can navigate effortlessly.
Why Choose Admirals?
Admirals is a promising, regulated platform suitable for traders looking to diversify their investment portfolios across assets like Forex, commodities, and stocks.
It provides a comprehensive trading solution compatible with MetaTrader 4 and 5, top-level analytics, and efficient customer service. To experience zero-commission trading with just a £1 deposit, visit Admirals today.