AltIndex is an alternative data provider that specializes in stock and cryptocurrency insights. It offers an AI-backed tipping service, real-time price alerts, and consumer sentiment indicators.
In this AltIndex review, we cover everything there is to know. Read on to discover AltIndex's key features, pricing, target market, benefits, and drawbacks.
What is AltIndex?
At its core, AltIndex is an alternative data provider. It extracts and analyzes data outside of traditional sources to yield investment insights. This includes social media networks like Facebook, Twitter, and Reddit. For example, AltIndex will analyze public sentiment on a stock based on followers, likes, mentions, and shares.
If sentiment is positive, AltIndex will assign the stock a high score. And conversely, low scores are awarded to stocks with a negative sentiment. In addition to social media, AltIndex also analyzes website analytics. Data points include total website websites and how this compares to historical periods and industry competitors.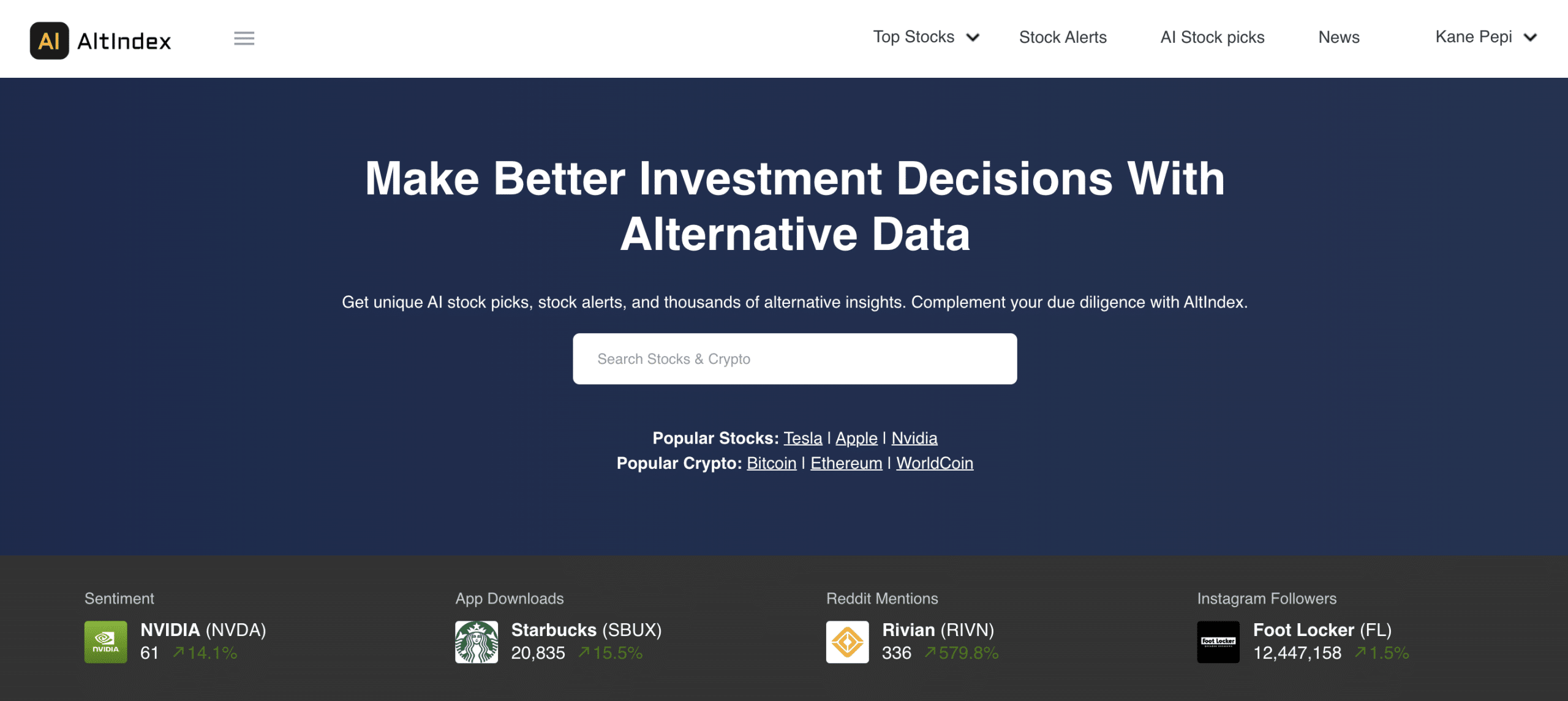 It also examines how long users spend on the website and which specific pages are being viewed. This can yield notable insights – especially on stocks with an e-commerce and digital presence. AltIndex also analyzes employee satisfaction and job posting statistics. If a company is increasing its workforce, this highlights that it's looking to expand.
As an AltIndex user, you can view all of the data points and insights mentioned above. That's not all – AltIndex utilizes its findings to generate stock recommendations. This is based on AI-generated ratings based on broader consumer sentiment. Stock recommendations are sent via email and have a historical win rate of 75%. Our AltIndex review also found that the platform offers stock alerts, which are ideal for keeping tabs on your portfolio.
In addition to stocks, AltIndex also tracks the best cryptocurrencies to trade. This includes Bitcoin, Solana, Ethereum, and Litecoin. AltIndex offers a free plan that allows users to try its core services. However, the free plan comes with limitations – such as the number of stock alerts or recommendations posted. Paid plans cost $29 or $99 per month, depending on your requirements. We cover pricing in a lot more detail later in this AltIndex review.
AltIndex Pros and Cons
Our AltIndex review discovered the following pros and cons:
Pros
One of the best alternative data providers in 2023
Get a first-mover advantage through consumer sentiment and analytical insights
Tracks thousands of stocks and cryptocurrencies
Offers an AI-backed stock picking service with impressive results
Receive stock portfolio alerts via email
Cons
Stock picking service doesn't have a long track record
You'll need a monthly subscription for full functionality
AltIndex Services
In this section of our AltIndex review, we'll take a much closer look at its core services.
Alternative Data Insights
The entire AltIndex ecosystem revolves around alternative data. So what is alternative data and how does it help investors make smart decisions? In a nutshell, alternative data is information outside of conventional sources.
For example, most investors rely on the same information – such as financial news, quarterly earnings reports, and annual statements.
This doesn't offer an advantage – as everyone is trading off the same data.
This is where alternative data comes in. Put simply, AltIndex offers investment-related information that isn't commonly available. At the forefront of this is social media insights. After all, billions of people use social media networks like Facebook, Twitter, and Reddit. This means social media is ideal for gauging broader sentiment on stocks.
AltIndex leverages machine learning and natural language processing to extract social media comments, likes, mentions, shares, followers, and subscribers. It then analyzes the data to generate consumer insights.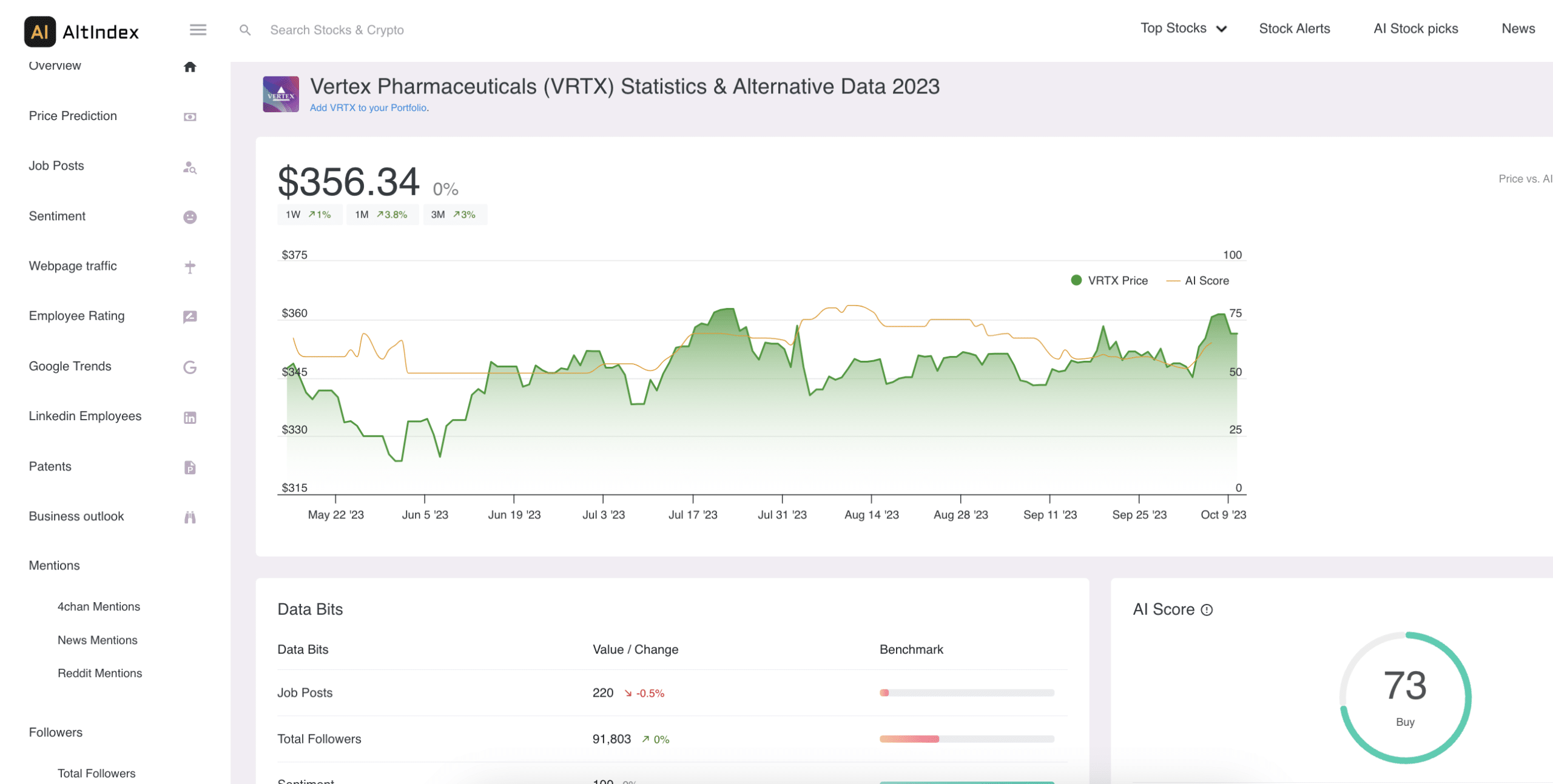 For example, consider a technology stock that has just released a new product. AltIndex would assess whether comments surrounding the product are positive or negative. This can help evaluate sales of the product and in turn, revenues for the company.
AltIndex doesn't just rely on social media sentiment analysis. It also analyzes other alternative data points. As we explain shortly – all data points are packaged together to yield an overall investment score.
For example, in the prior 24 hours, AltIndex states that the Starbucks app was downloaded 20,835 times – a 15.5% increase from the prior day
Considering the app is used in-store for discounts and loyalty perks, this could highlight an increase in customers.
AltIndex also analyzes job posting data. The idea here is simple – if a company is posting an increasing number of job requirements, it's looking to expand. Investors react positively to growth ambitions, but you'll know about this before it becomes common knowledge.
Our AltIndex review also found that the platform tracks and analyzes website analytics. This is particularly useful when investing in stocks with a strong digital presence. For example, e-commerce marketplaces like Amazon and Etsy, or brokerage platforms such as Interactive Brokers and Robinhood.
For instance, let's suppose that the Interactive Brokers website has seen a surge in website visits. Not only when compared to previous periods but also industry competitors (e.g. other online brokers). This could mean that more people are trading on the Interactive Brokers website, meaning more commissions and revenues. This could result in Interactive Brokers' stock price rising.
What Assets Does AltIndex Track? 
AltIndex covers three asset classes – stocks, ETFs, and cryptocurrencies.
AltIndex tracks thousands of stocks from the NASDAQ and NYSE. However, it doesn't cover stocks outside of the US markets.
You'll find major US-listed ETFs – such as those tracking the S&P 500 and Dow Jones.
AltIndex also covers some of the best cryptocurrencies to buy, including Ethereum, Uniswap, BNB, Bitcoin, and XRP.
Unfortunately, AltIndex doesn't track commodities, which could be a drawback for some.
AI Ranking Score
We've discussed the fundamentals of AltIndex – it tracks and analyzes alternative data. However, the sheer amount of data available can be overwhelming. This is where AltIndex's AI ranking scores come in.
AltIndex leverages artificial intelligence to package all of its alternative data points together and yield a score between 1 and 100.
Put simply, stocks with a high AI ranking score could outperform the market over the next 6 months.
And those with a low score will likely underperform the broader markets.
There is a lag between AltIndex scores and stock price movements. This is good news for you as an investor, as you'll have a first-mover advantage. For example, let's say that an online retail stock has a high AI score because of increased website visits, consumer sentiment, and app downloads.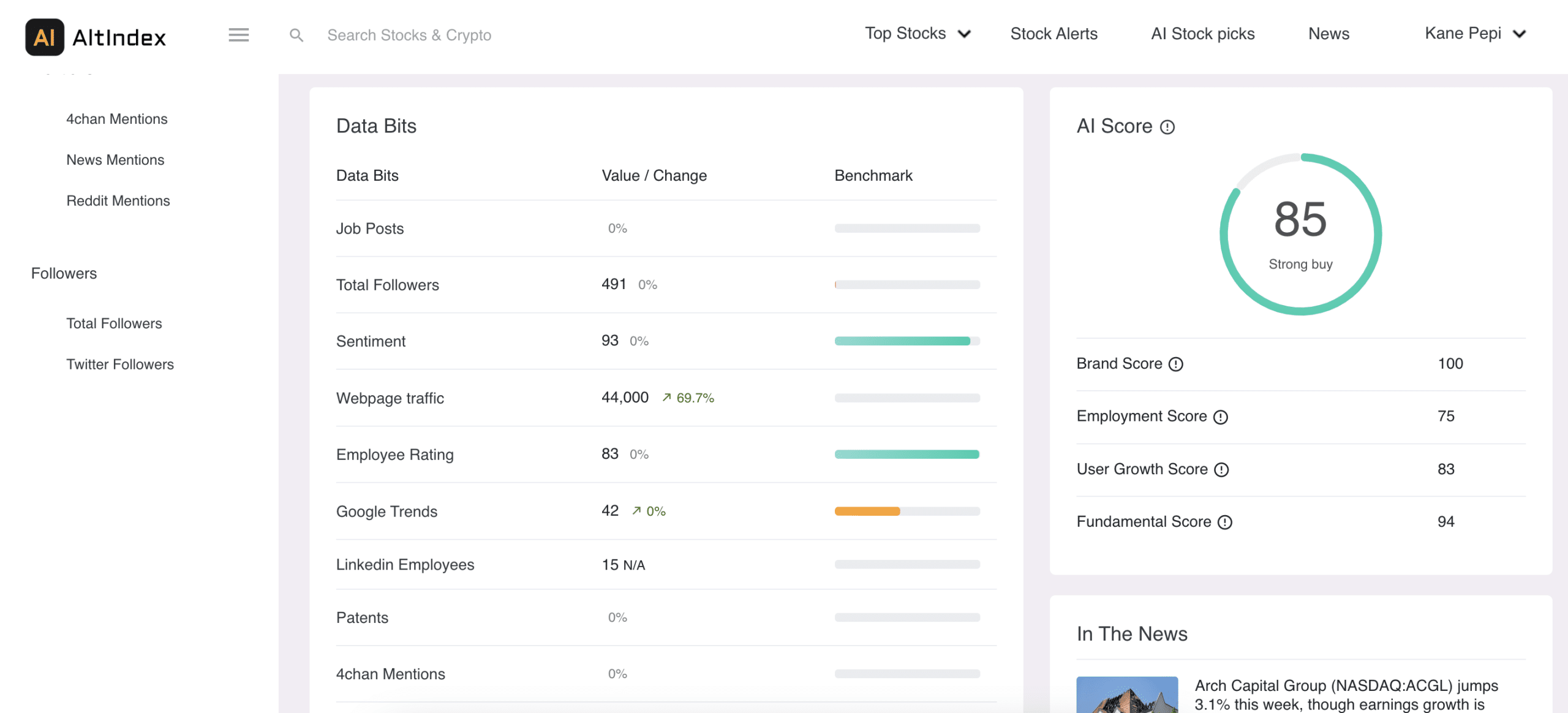 The theory is that this will result in increased revenues for the retail company. However, this won't become apparent until it releases its quarterly earnings report. You'll be able to buy the retail stock long before its earnings call, which gives you a solid time advantage.
We should also mention that AltIndex is suitable for short-selling stocks. If a stock has a low AI ranking score, it could go on a prolonged decline in the following months. The best day trading platforms allow you to short-sell stocks via CFDs, options, and futures. As such, you can attempt to profit from rising and falling stock trends.
Stock Alerts
Our AltIndex review also found that the platform offers one of the best stock alerts services. This enables you to keep tabs on your investment portfolio automatically, as you'll be notified of key market movements.
First, you'll need to add your stock and cryptocurrency investments to your AltIndex portfolio. Thereon, you'll be notified when an alternative data metric is triggered.
For example, let's suppose you add Adobe stock to your AltIndex portfolio.
We'll then say that AltIndex discovers Adobe app downloads are declining rapidly.
It also finds that Adobe website visits are trending downward.
In this instance, you'll receive an email notification of AltIndex's findings.
Once you receive the notification, you can make an informed decision. For example, if you believe that Adobe is becoming less popular with consumers, you might decide to remove the firm from your portfolio.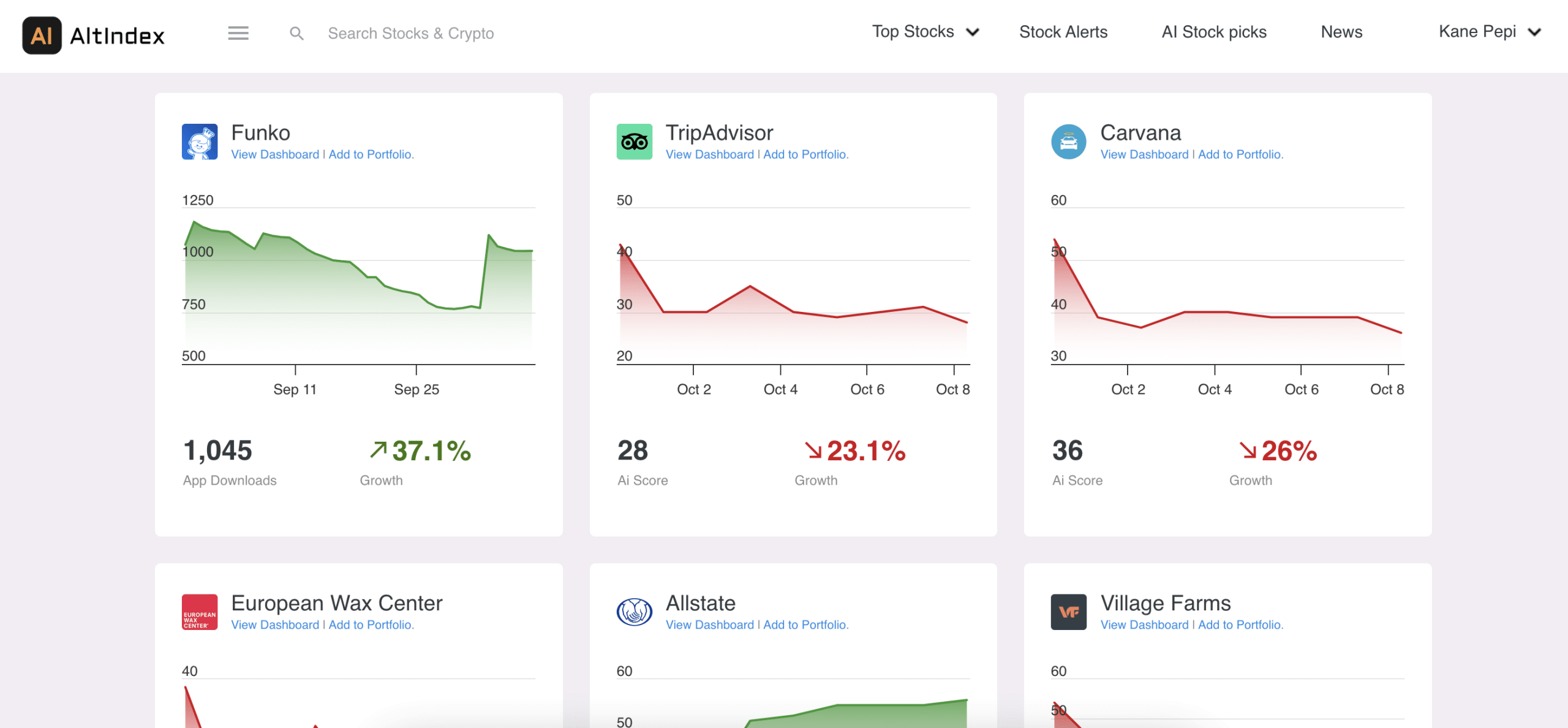 AltIndex also enables you to receive stock alerts on companies you're not currently invested in. This can help you discover key insights and make new investment decisions. Moreover, you can also decide which indicators you're alerted on – such as sentiment scores, Reddit mentions, or website traffic.
For example, let's say that you're interested in website traffic alerts.
You receive an alert notifying you that visits to the Etsy website are declining rapidly.
You can then use AltIndex's dashboard to assess other metrics related to Etsy.
For instance, whether mobile app downloads are also on the decline. And what the broader social sentiment on Etsy is.
You also find that Etsy job postings are on the decline, meaning it could be downsizing.
All of these data points highlight that Etsy stock could be worth short-selling.
Trending Stocks 
AltIndex is also useful when searching for trending stocks. There are several options available. For example, you can view which stocks are trending on WallStreetBets – the popular Reddit group behind the meme stock rally of 2021.
For this metric, AltIndex focuses on two key data points – the number of mentions on WallStreetBets and overall sentiment. For example, in the prior 24 hours, AltIndex shows that Tesla stock received 220 mentions on WallStreetBets – an increase of 400%. However, sentiment on Tesla stock is currently neutral.
Lockheed Martin yields stronger results. It received 125 mentions in the prior 24 hours – an increase of 380.8%. Crucially, Lockheed Martin has overall bullish sentiment on WallStreetBets. In addition to WallStreetBets, you can also view trending stocks on 4chan and the wider Reddit platform.
Stock Screener 
Our AltIndex review tested the platform's stock screener. This is proprietary to AltIndex and allows you to find suitable stocks for your portfolio. First, you'll need to choose your preferred data point.
For example, Facebook followers, patents, or AI scores. Second, you can narrow your search by the preferred industry. Like many features on AltIndex, you'll need a paid subscription for full functionality. After the top two results, you'll find that data is restricted.
AI Stock Picks 
In our view, AltIndex offers one of the best AI stock pickers in the market. In fact, this was the standout feature from our AltIndex review.
Let's break it down. First and foremost, this is a fully automated service. You'll receive a real-time alert telling you exactly which stocks to buy or sell. AltIndex's stock recommendations are based on its alternative data metrics.
As we mentioned, all data points are analyzed by machine learning and artificial intelligence. This includes everything from job postings, employee satisfaction, and social media sentiment to website analytics, patent filings, and financial news mentions.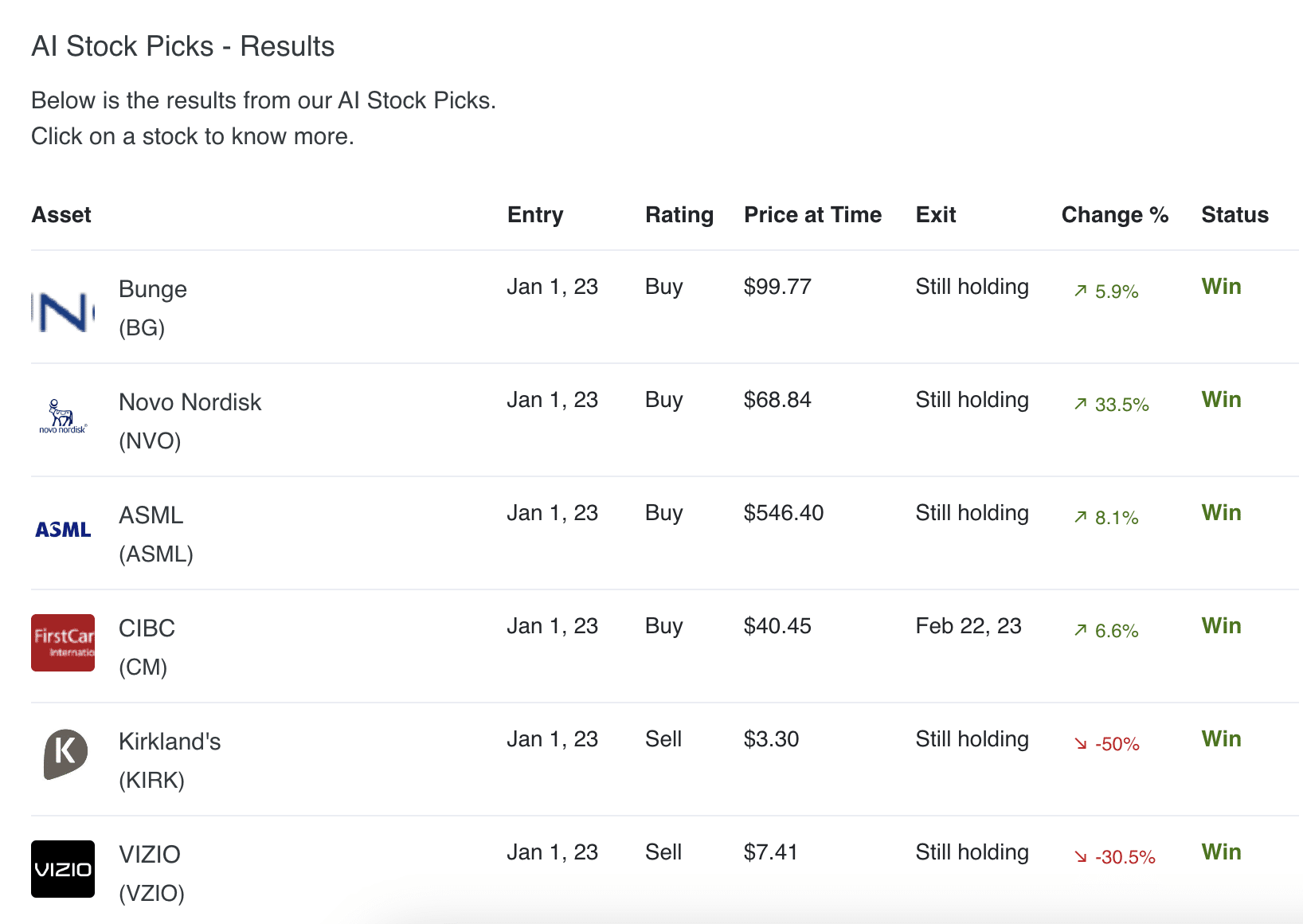 Not only are you notified when a stock recommendation is generated, but you get a clear overview of the reason. This is congruent with explainable artificial intelligence, as it provides reasoning behind its decisions. For example, AltIndex recently generated a sell recommendation on Robinhood stock. Some of the reasons behind this include a long-term decline in:
Twitter and Instagram followers
Job postings
App downloads
Overall social media sentiment
Crucially, AltIndex is one of the best stock tips services for past performance. Since its inception, AltIndex has had a historical win rate of 75%. More importantly, its picks generate average 6-month gains of 24%. When compared to benchmarks like the S&P 500, AltIndex is comfortably outperforming the broader stock market.
That said, these returns are based on past performance and do not guarantee future returns. Nevertheless, the majority of stock recommendations remain open for 3-9 months. When the position should be closed, you'll be notified in real-time. This ensures that you can trade stocks passively, as you simply need to place the suggested market order.
Cryptocurrency Analytics  
AltIndex is also useful for finding the top trending cryptocurrencies. Just like its stock analysis processes, AltIndex extracts alternative data from multiple sources. This helps you find cryptocurrencies that could be about to explode. After all, cryptocurrency prices are often based on broader sentiment, hype, and speculation.
For example, AltIndex analyzes cryptocurrency mentions on Reddit, 4chan, and news articles. If a cryptocurrency is getting a lot of mentions, it could be for positive or negative reasons. Therefore, AltIndex also considers other data points. For instance, it offers an overall sentiment score from 1 to 100. The higher the score, the more positive the markets are on the respective cryptocurrency.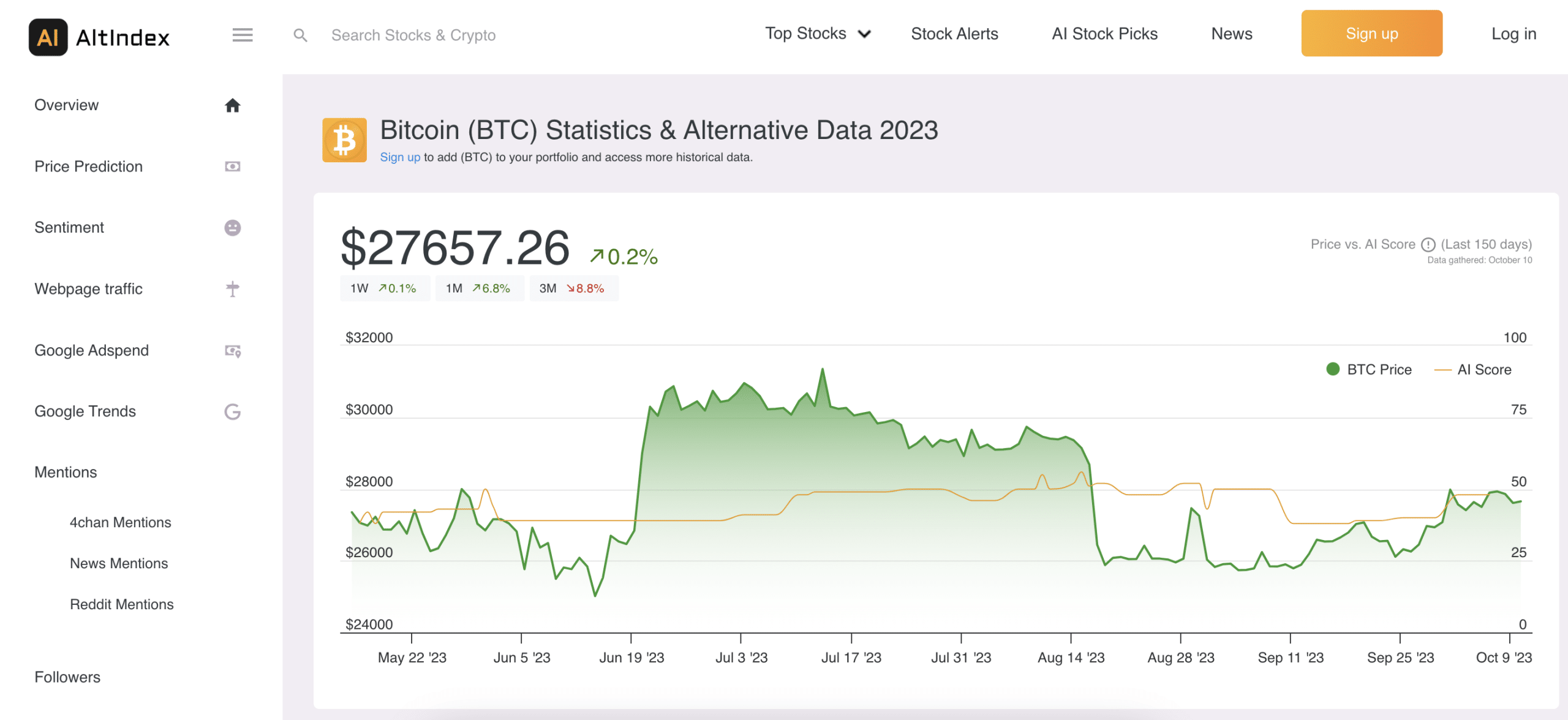 In addition, AltIndex also offers Google trend data. For instance, trends on the number of searches a cryptocurrency is getting. AltIndex also offers cryptocurrency price predictions for the next 6 months. This is based on alternative data findings and overall sentiment scores.
Although AltIndex offers lots of advanced analytics on cryptocurrencies, we found the platform easy to navigate. You can easily filter for the metrics you want to analyze – such as Twitter followers or Reddit mentions. Therefore, our AltIndex review found the platform suitable for all experience levels.
Daily Newsletter  
All AltIndex members receive a daily newsletter via email. This offers a broad overview of the markets from the previous day. You'll receive a streamlined list of top trending stocks and cryptocurrencies based on alternative data points. You can then choose to explore its findings further.
That said, if you're signed up for the AI stock recommendations, you'll never miss a beat. You'll be told exactly when to buy or sell a stock – so the newsletter is simply for keeping tabs on the market.
AltIndex Pricing & Packages
Now that we've covered the key features and services, our AltIndex review will now discuss pricing.
Free Plan
The free plan offered by AltIndex is designed for first-time users. It allows you to get a feel for how the service works without needing to pay a fee. In fact, you won't need to enter any payment details or personal information. However, the free plan is limited in terms of functionality.
For example, you'll only get 20 monthly dashboard visits. Each new page you view is classed as a visit, so this will get eaten up quickly. The free plan also limits you to 2 stocks within your portfolio and 2 monthly alerts. You will also only receive 1 free stock recommendation. While the free plan offers access to the AltIndex stock screener, it comes with limited data.
Starter Plan: $29/Month
If you're looking for increased functionality and insights, you might consider the starter plan. This costs $29 per month and you can cancel at any time. This plan offers unlimited dashboard visits and the stock screener comes with all data outs.
You'll also increase your monthly AI stock recommendations to 10. You can add 10 companies to your stock portfolio and receive up to 10 alerts each month.
Pro Plan: $99/Month
For $99 per month, you'll get the pro plan. This allows you to add 50 stocks to your portfolio and receive up to 50 alerts each month. You'll also get 25 monthly AI stock recommendations.
Can I Cancel an AltIndex Plan?
All AltIndex plans are flexible. This means that you can cancel your plan at any time. You'll still be able to use the plan until the cancellation date. Thereon, no more payments will be required.
Enterprise Plan
The enterprise plan is aimed at professional traders and institutions. AltIndex doesn't publish pricing on this plan, so you'll need to contact them directly.
Nonetheless, you'll receive an unlimited number of AI stock picks, alerts, and portfolio additions. The enterprise plan also comes with a dedicated support agent.
| | | | | | |
| --- | --- | --- | --- | --- | --- |
| | Dashboard Visits | Stocks in Portfolio | AI Stock Picks | Stock Alerts | Stock Screener |
| Free | 20 | 2 | 1 | 2 | Limited Access |
| Starter | Unlimited | 10 | 10 | 10 | Full Access |
| Pro | Unlimited | 50 | 25 | 50 | Full Access |
| Enterprise | Unlimited | Unlimited | Unlimited | Unlimited | Full Access |
User Experience
Our AltIndex review found that the platform offers a seamless user experience. Irrespective of whether you're a novice or an experienced investor, you'll find AltIndex easy to use.
For example, although it offers an unprecedented amount of alternative data, everything is packaged into relatable insights. This ensures that its findings are easy to understand, enabling you to make informed investment decisions.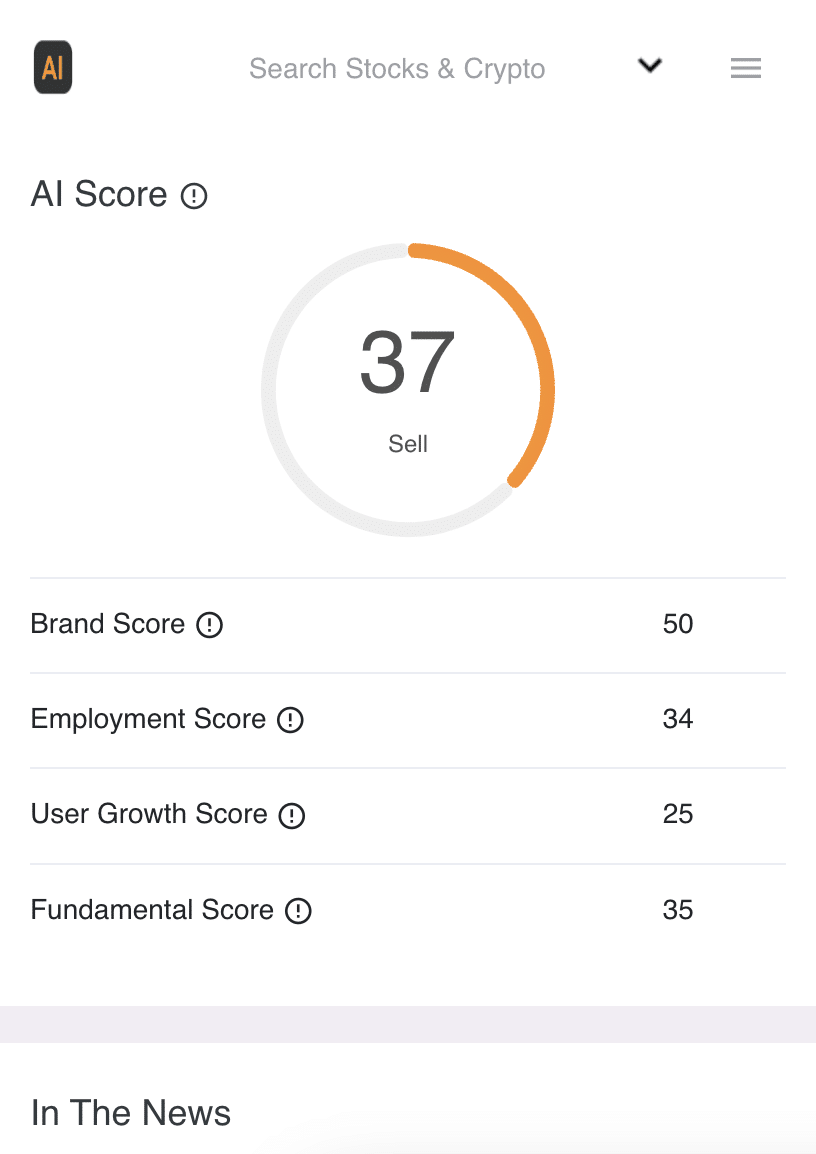 Moreover, if you're simply looking for recommendations on which stocks to trade, AltIndex has you covered. You won't need to research or analyze its data, as AltIndex tells you which stocks to buy or sell. This comes through a simple email notification.
AltIndex doesn't offer an iOS or Android app, but its website has been optimized for mobile browsers. This means that you can keep tabs on the stock and cryptocurrency market no matter where you are.
AltIndex Customer Service
AltIndex offers customer service via email. If you need assistance with your account, you can fill out a support ticket. AltIndex will then email you back with a reply.
We were unable to verify what days or hours the AltIndex support team operates.
Is AltIindex Safe & Legit?
Our AltIndex review found that the platform is safe to use. You can view how the website works without opening an account. But if you want access to advanced features – such as AI stock recommendations and stock screener tools, you'll need to register. Your personal data is protected and not shared with third parties.
In terms of legitimacy, AltIndex is a credible alternative data provider. We like that all of its data points and stock recommendations are transparent. For example, if you receive a stock tip, you'll be told why the recommendation was generated. Moreover, AltIndex provides a breakdown of its historical AI stock picks. This allows you to backtest the data yourself.
The Verdict?
To summarize this AltIndex review, the platform specializes in alternative data insights. Data is analyzed by machine learning to generate an AI-backed ranking score. This gives you a first-mover advantage over the wider markets, as its insights are often ahead of time.
Our AltIndex review also rates its stock recommendation service – which has yielded average 6-month gains of 24% since its inception. That said, you'll need a subscription for full functionality, which ranges from $29 to $99 per month.
References
FAQs
How much does AltIndex cost?
Are AltIndex stock picks worth it?