The best business bank accounts give you all the financial tools you need for your day-to-day business operations. From managing your cash flow to streamlining accounting transactions and ensuring your funds are secure, these business account tools are essential.
However, with so many business banking solutions around, choosing the right one can be challenging. That's why we've researched dozens of providers to prepare this guide on the 10 best business bank accounts based on criteria like monthly fees, number of cards available, deposit and withdrawal limits and fees, and customer support. Read on to learn why providers like Revolut Business, Wallester Business, and Wise are among the best in the business.
The Best Bank for Business Accounts: Top 10 Ranked
All of our selected top business account providers offer something unique, and that's what the following round-up aims to highlight:
Revolut Business — Overall, the best business account, thanks to its multi-currency accounts with support for 25+ currencies. You can also book forward contracts to enjoy the best market rates.
Wallester Business — Ideal business account for LLCs with an unlimited number of physical cards for your team. Plus, you get onboarding assistance and a dedicated account manager.
Wise — A global business banking solution with great conversion rates. This FCA-regulated provider allows you and your employees to spend in multiple currencies.
Citi — Popular business banking account with a minimum deposit of as little as £1. The option to deposit cheques via the app further enhances convenience.
Mettle — Ideal for businesses looking for accounting solutions in addition to a reliable business bank account provider. Comes pre-integrated with FreeAgent, which boosts its usability.
Tide — One-stop shop for business solutions, including scheduled payments, document organization, and more. It also allows you to hold up to five business accounts for free.
CashPlus — The best business bank provider for startups, which can help you with business registrations. As a business, you'll also be able to build credit with their interest-free 12-month loans.
Monzo — Allows you to set aside money in different pots, which is ideal for tax management. It's also one of the few business bank account providers that helps you earn interest on your savings.
Anna — Recommended for those on a budget with its flexible pay-as-you-go pricing model. You'll also be able to earn 1% cashback on all purchases.
Starling Bank — Great pick for a dual-currency, USD, and EUR bank account. It also makes migrating easy with its Switch Guarantee.
How Does a Business Account Work?
A business account works much like a personal account but is tailored to the needs of your organization. It's a dedicated account where you can deposit and manage your business's finances.
You can receive customer payments, pay bills, and make business-related purchases using cheques, a debit card, or online banking.
A business account keeps your business finances separate from personal funds, making it easier to track income and expenses, which is crucial for taxes and financial planning.
You can also set custom rules for streamlining employee expenses and reimbursements. This makes managing money a whole lot easier.
What Types of Business Accounts Are There?
Whether you're a small startup or an established corporation, understanding the different types of business accounts available is essential for managing your finances efficiently. Let's look into the different types to help choose the right one for you.
Business Account: This is the most common business account for day-to-day transactions. It allows you to deposit money, write cheques, and make electronic payments for business expenses.
Business Savings Account: Similar to a personal savings account, it lets you earn interest on funds while keeping them easily accessible for emergencies or future investments.
Money Market Account: These accounts combine features of both regular and savings accounts. They often provide higher interest rates than savings accounts while allowing limited cheque-writing capabilities.
Merchant Services Account: Designed for businesses that accept credit and debit card payments, these accounts enable you to process card transactions, with funds typically deposited into your business account.
Certificates of Deposit (CDs): CDs offer higher interest rates than regular savings accounts, but your money is locked in for a fixed period, typically ranging from a few months to several years.
Why Get a Business Bank Account?
The primary reason to get a business bank account is to provide financial facilities for your organization and maintain a clear separation between personal and business finances. This simplifies record-keeping, ensuring your income, expenses, and taxes can be tracked and managed.
It adds a layer of professionalism when dealing with clients and suppliers, as payments and transactions are conducted under your business's name.
Another key benefit is that business bank accounts often come with features tailored to business needs, such as the ability to process payments, manage payroll, and accept credit card transactions.
Additionally, they offer more comprehensive reporting options, which can be valuable for tracking cash flow, monitoring expenses, and simplifying tax preparation.
Business accounts typically offer features like merchant services, making it easier to accept payments, and may come with higher monthly fees but lower transaction costs. In contrast, personal accounts are designed for individual use and may not support business-specific features.
Mixing personal and business finances can lead to accounting challenges and even legal issues, so having a dedicated business bank account is a practical choice for any business.
The Best Online Business Bank Account Solutions Compared
The following table puts the key details of all our top picks side by side so you can get all the information you need to make a quick decision.
| | | | | | | |
| --- | --- | --- | --- | --- | --- | --- |
| Business Bank Account | Best For | Monthly Fee | Minimum Account Balance | Annual Percentage Yield | Sign Up Bonus | Cost/Cash Deposit |
| Revolut Business | Multi-currency accounts | Free Plan / £19/month | N/A | Up to 4.25% | 1 Month Free for Paid Plans | N/A |
| Wallester Business | Large organizations | Free Plan / £169.95/month | N/A | N/A | N/A | N/A |
| Wise | Large businesses needing currency conversion | N/A | N/A | Variable, 4.87% on GBP | N/A | 2% on account funding transactions |
| Citi | Small businesses with limited transactions | £75 – CitiGold Current Account | No fee for accounts over £150,000 | 0% | N/A | N/A |
| Mettle | Accounting | 100% free | £10 | N/A | N/A | Free |
| Tide | Generous free plan | £9.99 + VAT/month | £2.50 for post office deposits | N/A | £50 reward if you refer a friend | Post Office – 0.5%, PayPoint – 3% |
| CashPlus | New businesses about to launch | £9/month | No minimum deposit | N/A | N/A | 0.5% per deposit |
| Monzo | Effective money management | £5/month | No minimum deposit | 1.60% AER interest | £5 for referring a friend | £1 per deposit after free deposit each month |
| Anna | Flexible pricing | £14.90 + VAT/month | No minimum deposit | N/A | £100 for referring a friend | 1% per deposit |
| Starling Bank | Businesses on a budget | No monthly fees | £3 | 2.50% | Free National Trust day for a referral | 0.7% |
Reviews of the Best Banks for Business Accounts
Eager to zero in on the best bank business accounts for your needs? Read on as we'll now discuss in detail each of our top recommendations, including their best features and pros and cons. Ready?
1. Revolut Business — Overall, the Best Business Solution, with Multi-Currency Accounts
Revolut Business is a perfect pick if your business deals in multiple currencies. With its multi-currency account, you can hold, send, and receive money in 25+ currencies, including EUR, USD, and CHF, among others. Revolut Business also gives you the option to lock in exchange rates for as long as 12 months through its Forward contracts.
If you need to make a USD payment in two months, for example, you can book the current rate to make the payment with Revolut Business , saving you money if the GBP-USD exchange rate dips. This will come in handy for large organizations that often make bulk payments.
Revolut Business offers 1.5% cashback on qualifying expenses on all plans, even with the free plan. Plus, you get boosted cashback of 1.9%, up to a cap, on all paid plans. And no matter how large your team is, you can issue up to three cards for each member.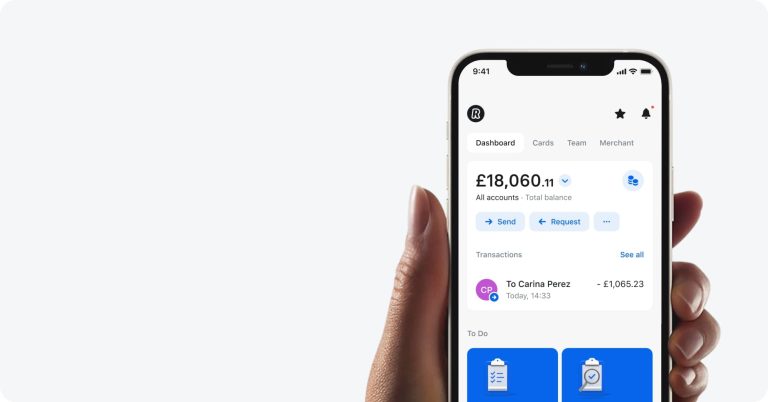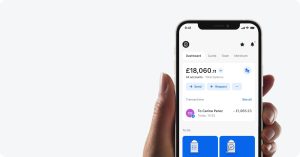 | | | | | | |
| --- | --- | --- | --- | --- | --- |
| Best For | Monthly Fee | Minimum Account Balance | Annual Percentage Yield | Sign Up Bonus | Cost/Cash Deposit |
| Multi-currency accounts | Free Plan / £19/month | N/A | Up to 4.25% | 1 Month Free for Paid Plans | N/A |
You can also issue 200 virtual cards per account owner. This way, your employees won't have to share cards, making it much easier to track expenses.
Indeed, Revolut Business gives you complete control over your team's spending. You can set card limits, permissions, and levels of access, and each transaction will be brought to your attention via real-time notifications.
More importantly, you don't need to make manual accounting entries for all expenses passed through your Revolut Business account.
Once you've linked your accounting software, the expenses will automatically be logged with the system without manual intervention, saving time and effort on reconciliation.
Revolut Business doesn't let you manage your account on a phone call, and there is no overdraft facility, but this is hardly a great loss given all the features on offer, from easy money management to virtual cards to expense tracking and currency exchange.
Pros
Up to three physical cards per team member
A handy free multi-currency supported plan
3D-secure contactless cards
1.9% boosted cashback on paid plans
Cons
No account management by phone call
2. Wallester Business — Best Business Accounts for LLCs with Unlimited Virtual Cards
Wallester Business is ideal for large companies with thousands of people in their workforce, as every plan comes with unlimited physical cards – including the free plan. You'll have more than enough to give your entire team the level of access you need to company funds.
Depending on the plan you choose, you can order 300 to 15,000 virtual credit cards at once – arguably making this the best business account for online business.
You can also order unlimited additional virtual cards for a small charge of £0.09/month to £0.18/month per card. This is a huge plus over other options, which limit their service to no more than 60 new virtual cards per month.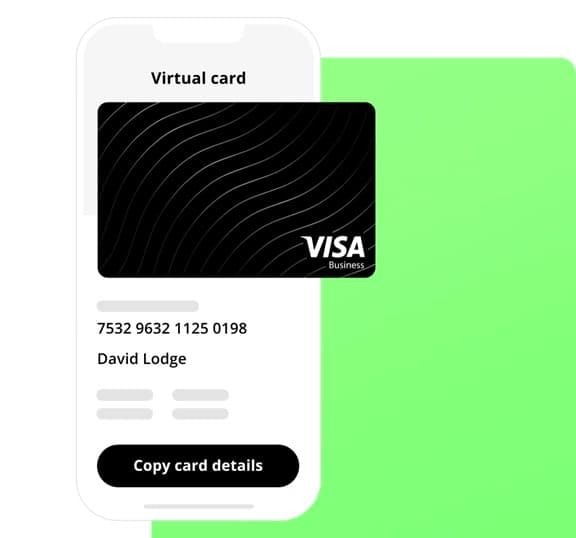 | | | | | | |
| --- | --- | --- | --- | --- | --- |
| Best For | Monthly Fee | Minimum Account Balance | Annual Percentage Yield | Sign Up Bonus | Cost/Cash Deposit |
| Large organizations | Free Plan / £169.95/month | N/A | N/A | N/A | N/A |
Business accounting really is made simple with Wallester Business's integrated expense tracking feature. You can track every expense item made with the connected cards in real time and also impose spending limits.
You can also use the platform to receive and approve purchase requests from your employees. This ensures they don't take advantage of your company's expenses for their own personal needs.
The same goes for invoices. Your employees can upload purchase invoices through Wallester Business's mobile app, so every penny will be accounted for when you're tallying your expenses at the end of the month.
If you switch to its Enterprise plan, you'll also enjoy some exclusive perks, such as onboarding assistance, a custom success manager, and a dedicated account manager. Having fast, seamless transactions ensures smooth business operations, and with Wallester Business, you'll have an entire team to make sure that's the case.
Pros
Add unlimited sub-accounts and users
Automated and manual data export to Excel, CSV, and PDF
Hundreds of virtual cards available
One of the best expense management tools
Cons
Paid plans are more expensive than others on the list
3. Wise — Global Business Banking Provider with Great Exchange Rates
Wise is a leading global banking solution that makes international payments a whole lot easier. You can benefit from mid-market conversion rates, which are lower than rates available to customers at large and are the rates at which banks trade currencies with each other.
Wise offers a volume-based discount in the case of international transfers. For example, if you're transferring £1,00,000 a month to USD, your average cost would be 0.31%, and if you're transferring £3,00,000, the cost goes down to 0.1%. The same applies to all currency conversions.
All in all, it's an ideal solution for large organizations with considerable monthly transfer needs, as they can end up spending a large chunk of their transaction costs.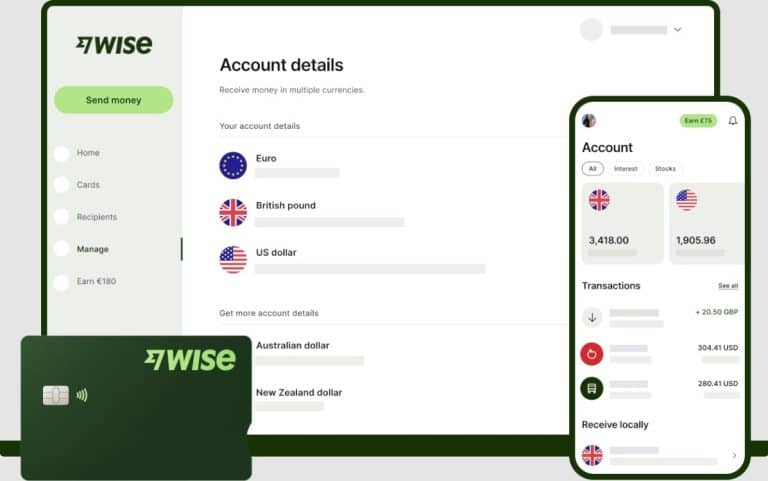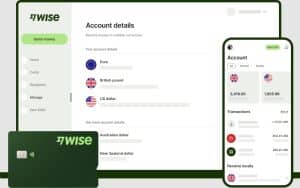 | | | | | | |
| --- | --- | --- | --- | --- | --- |
| Best For | Monthly Fee | Minimum Account Balance | Annual Percentage Yield | Sign Up Bonus | Cost/Cash Deposit |
| Large businesses needing currency conversion | N/A | N/A | Variable, 4.87% on GBP | N/A | 2% on account funding transactions |
Like Revolut Business, Wise also offers multi-currency accounts. It lets you hold money in 55+ currencies. This account can be used just like a traditional bank account, and you can use it to sell online and receive direct vendor payments.
Moreover, the debit card issued with the account can also be used to incur expenses in any currency. This does away with the hassle of complex currency conversions.
Your employees can spend in multiple currencies with Wise business debit cards for employees. You can get unlimited cards with a nominal one-time fee of £7 for each new card and £2.50 for replacements. You'll even have full control over spending limits, and change roles, permissions, and approvals.
Receiving international payments with Wise is also pretty straightforward, and support is available for nine currencies. Bill your customer in their local currency and pay in your own domestic currency.
You can also create payment links for your clients. Click "request a payment," enter the amount and currency, and send the link to your client. They can click directly on it and make the requested payment without needing your bank details – it doesn't get easier than that.
Another thing we love about Wise is its convenience. You can make international batch payments with just a single click, and you can even automate your transfers through an API integration. With all this functionality, though, some users have reported difficulty with getting the customer support they need.
Pros
Low exchange conversion rate
Lets you hold amounts in 55+ currencies
Handy international batch payment feature
Request payments via a link without needing bank details
4. Citi — Provides Dedicated Small Business Bank Accounts For Those With Limited Needs
Citi offers three types of business accounts for small businesses and one account for large businesses. All these accounts can be opened with a minimum deposit of just £1 and vary on the number of monthly transactions allowed.
You can opt for the Interest Checking Account, for example, if you have less than 25 transactions in a month. The benefit? Unlike any other Citi account, you can earn interest on your deposit balance.
Citi also allows businesses to deposit cheques from mobile devices. Sign in to your Citi mobile app, select the account you want to deposit the cheque to, sign on the back of the check, click an image of both sides of the cheque, and submit it.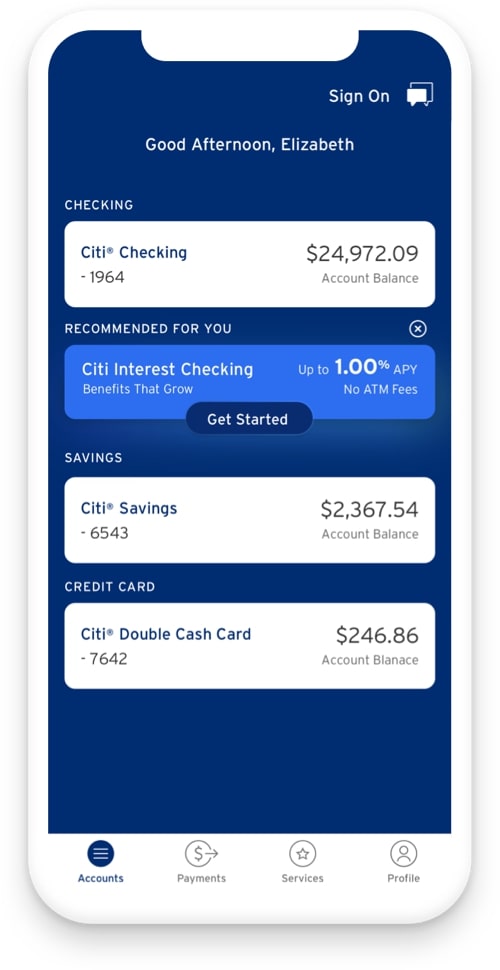 | | | | | | |
| --- | --- | --- | --- | --- | --- |
| Best For | Monthly Fee | Minimum Account Balance | Annual Percentage Yield | Sign Up Bonus | Cost/Cash Deposit |
| Small businesses with limited transactions | £75 – CitiGold Current Account | No fee for accounts over £150,000 | 0% | N/A | N/A |
You'll then get a confirmation email once the deposit is credited to your account. These hassle-free functions make it one of the best banks for small businesses.
Citi also offers an interesting deposit bonus program where you can earn £2,000 or more. The higher the deposit amount, the higher the bonus. For example, a deposit between £20,000 and £75,000 will earn you a £750 bonus.
The minimum qualifying deposit stands at £5,000, for a bonus of £2,300, which should be deposited within 30 days of opening the account and maintained for 60 consecutive calendar days.
Citi facilitates international trade with a Letter of Credit. These are a form of guarantee issued by banks for clients involved in import-export transactions. If the importer defaults on payments, the bank becomes liable to clear the dues.
Citi offers three types of LCs – a traditional LC, a standby LC, and confirmed LCs. You can get one as per your exporter's needs and your own creditworthiness.
Pros
Great sign-up bonus of £2,000
Facilitates international trade through Letters of Credit
Allows cheque deposit through an app
Provides one of the best small business bank accounts
Cons
Lacks employee spending controls
5. Mettle — Great Accounting Solution Packaged with a Bank Account
Mettle offers both a business bank account and an accounting tool at the same time by integrating with FreeAgent, an award-winning accounting software product.
Unlike other business bank account providers, where you may have the option to integrate an accounting tool, FreeAgent is available by default with every Mettle account at no extra cost. You'll be saving £150 per year.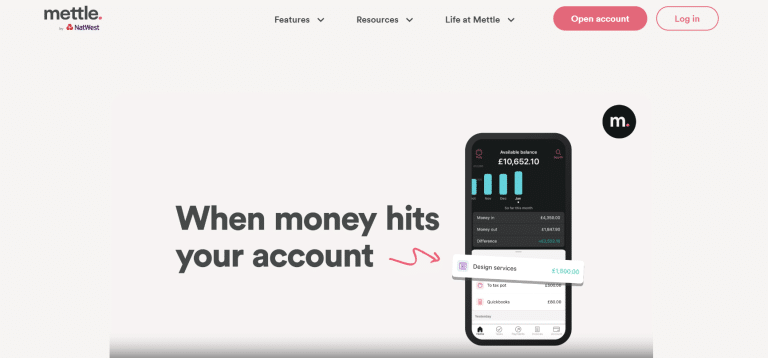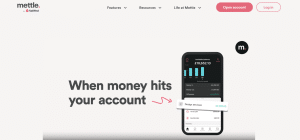 | | | | | | |
| --- | --- | --- | --- | --- | --- |
| Best For | Monthly Fee | Minimum Deposit | Annual Percentage Yield | Sign Up Bonus | Cost/Cash Deposit |
| Accounting | 100% free | £10 | N/A | N/A | Free |
With FreeAgent, you'll get daily to-do lists. Here, you can keep track of payments that have to be made and invoices that need to be sent out.
All your invoices will be categorized under "In" and "Out" depending on who's sending whom. There's also a label telling you how many of your invoices are overdue. At a glance, you'll be able to see every remaining task for the day.
Keeping good care of finances also makes tax season very simple. It helps you manage your paper receipts, too. All you'll have to do is take a picture and upload it to your Mettle account in PDF format.
Records for other digital transactions will be available already on Mettle. Before closing the account for the year, you can turn on auto-match so each of your payments is matched with the invoices.
You can also reconcile multiple payments to a single invoice and vice versa. However you want to tally your account, Mettle is equipped to handle it. If there's one drawback, it's just the lack of interest on savings.
Pros
Easy account reconciliation
Helps you match payments to invoices
Simplifies tax season by keeping track of every penny
Free access to the FreeAgent accounting tool
Cons
No interest on money left in pots
6. Tide — Hold Up To Five Business Accounts For Free
Tide lets you get started for free, which is great for those who are just starting out. In fact, you can hold up to five business bank accounts on the free plan, which is pretty impressive when compared to other service providers.
There's lots of flexibility, and you can also invite your team onboard and give them read access. Scheduled payments is another great feature, enabling you to line up payments in advance.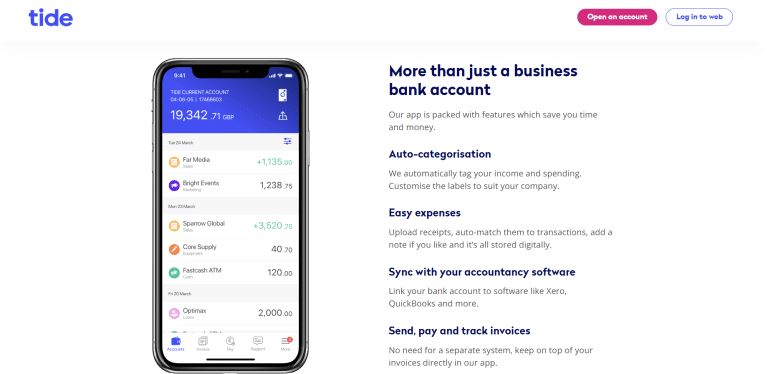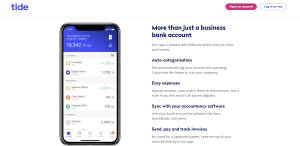 | | | | | | |
| --- | --- | --- | --- | --- | --- |
| Best For | Monthly Fee | Minimum Deposit | Annual Percentage Yield | Sign Up Bonus | Cost/Cash Deposit |
| Generous free plan | £9.99 + VAT/month | £2.50 for post office deposits | N/A | £50 reward if you refer a friend | Post Office – 0.5%PayPoint – 3% |
Tide's biggest USP is its exclusive member perks. For instance, you get a lot of tools for free. Auderli – a product that helps you organize your documents, can be accessed for free by Tide users.
Noissue, a company that helps you create sustainable and custom packaging for your brand, can be accessed with a 10% discount from Tide.
Depending on the plan you choose, you can get 20 to unlimited free transfers a month, with a 20p per transfer fee on the free plan. ATM withdrawals are charged at £1 per transaction, but other uncapped, which is quite reasonable.
Tide's assistance goes way beyond money, though. It's one of the few business bank account providers that provide legal advice. That's right, it has a dedicated legal helpline that runs 24/7.
With this, you can seek advice on business law, employee law, and commercial law, among other areas of expertise. Please note, though, that this service is provided by Irwin Mitchell LLP, a partner of Tide, and not Tide itself.
Pros
Comes with a great free plan
Legal advice provided 24/7
Exclusive member perks
Reasonable fees for ATM withdrawals and transactions
Cons
Only 0.5% cashback on the Tide card.
7. CashPlus — Popular Bank for Startups That Helps with Registration and Credit Building
CashPlus is ideal for new businesses at the pre-launch phase and can help you with the legal aspects of forming a new business. If you share a few details about your company, CashPlus will register it for free, covering the £12 incorporation fee for registering a new business.
Now that your business is ready for the market let's talk about its business bank account. The biggest challenge any new business faces is building credit. Without a good credit score, you won't qualify for good interest rates on loans. To help you, CashPlus offers a Credit Builder service.


| | | | | | |
| --- | --- | --- | --- | --- | --- |
| Best For | Monthly Fee | Minimum Deposit | Annual Percentage Yield | Sign Up Bonus | Cost/Cash Deposit |
| New businesses about to launch | £9/month | No minimum deposit | N/A | N/A | 0.5% per deposit |
With this feature, CashPlus will give you an interest-free loan – a credit builder loan – and you'll have to make regular payments to show you're a reliable borrower.
You only have to make these payments for 12 months, and they'll be taken as your account fees. This way, you won't have to set aside a separate fund each month just for the loan.
One thing that slightly bothered us was the high transaction fees in the free plan. Each ATM withdrawal costs £3, and after the first three transactions every month, you'll have to pay a 30p charge on all money transfers.
Luckily, this will all go away if you pay a fee of £9/month. Then, you'll get unlimited free ATM withdrawals, both in the UK and abroad, and 20 free money transfers every month.
Pros
Great credit builder feature
Helps you register your business for free
Integrates with best-in-class accounting tools
Free ATM withdrawals from the UK or abroad on the paid plan
Cons
Transaction fees on the free plan are too high
8. Monzo — Simple, Error-Free Tax Management with Virtual Money Pots
Monzo is a fully regulated UK bank that follows the same rules as all UK high-street banks. If you're looking for a reliable bank to open your business account, Monzo is the way to go.
Tax management is super simple with Monzo's Tax Pot feature. Under this, a percentage of money from all your earnings is set aside in a separate account. For example, you can choose to set aside a certain percentage of each transaction as tax funds.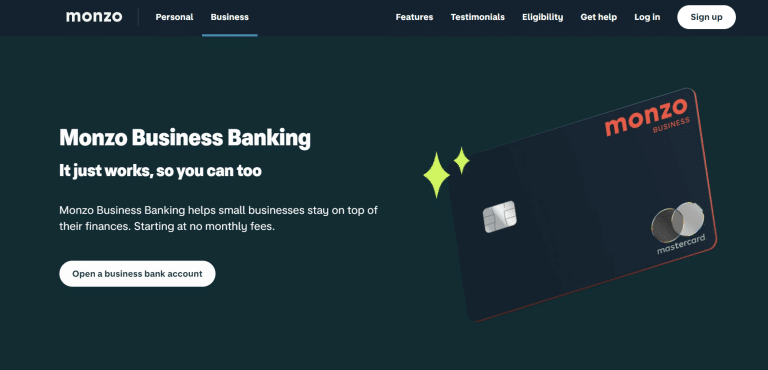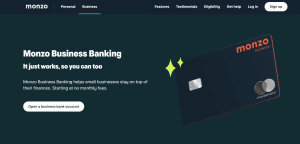 | | | | | | |
| --- | --- | --- | --- | --- | --- |
| Best For | Monthly Fee | Minimum Deposit | Annual Percentage Yield | Sign Up Bonus | Cost/Cash Deposit |
| Effective money management | £5/month | No minimum deposit | 1.60% AER interest | £5 for referring a friend | £1 per deposit after free deposit each month |
Monzo lets you create sub-accounts under your main account, called pots, where you can set money aside. For instance, you can save money and earn interest on it through the Monzo Instant Access Savings Pot. There's no monthly minimum deposit required, and you get 1.60% AER interest on the saved funds.
If you choose the pro plan, you also get many exclusive perks that help you take your business forward. For instance, every Pro user gets six months of free access to the Xero accounting tool.
Monzo is also one of the few service providers on this list that directly offers loans. You can get one loan on your personal account and one on your business account.
The service can also handle cash and cheque payments. You can post cheques to Monzo for free, and you can use PayPoint for cash payments of £1 to £1,000 every six months.
Pros
Dedicated tax savings pot
Six months' access to Xero for free
Can handle cheque and cash payments
Offers you loans directly with no third parties involved
Cons
Free plan doesn't support business accounting or virtual cards
9. Anna — Offers 1% Cashback on All Purchases Along with a Pay-As-You-Go Pricing Model
Anna's flexible pricing is its biggest USP. You can choose to only pay for services you use, rather than paying a monthly fee. This includes a 1% fee for currency conversions, a 1% commission on payments received through payment links, 20p per bank transfer, and so on.
Once you move to the business plan, you get a hybrid model where these activities are free up to a certain limit, and then you have to pay a fee. For instance, you get 50 free transfers a month, after which you have to pay a 20p per transfer fee.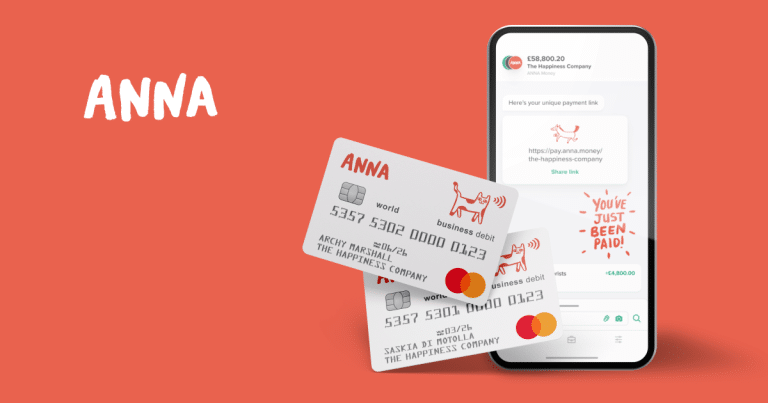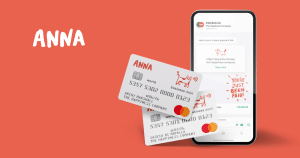 | | | | | | |
| --- | --- | --- | --- | --- | --- |
| Best For | Monthly Fee | Minimum Deposit | Annual Percentage Yield | Sign Up Bonus | Cost/Cash Deposit |
| Flexible pricing | £14.90+VAT/month | No minimum deposit | N/A | £100 for referring a friend | 1% per deposit |
If you move to the Big Business plan, you get unlimited bank transfers, ATM withdrawals, payment link usage, and pots, as well as free debit cards, among other benefits, while the currency exchange fee goes down to 0.5%.
Regardless of the plan you choose, you'll get 1% cashback on every payment you make through Anna. It might not seem like a lot at a glance, but if Anna is your primary payment mode and you're spending £500 a day, your business can earn £150 just through cashback in a month.
Anna's plans are divided into two groups – Business Accounts and Business Tools. Business tools, separate to the accounts details described above, are available for a fee and include automatic VAT calculation, invoice creation, and receipt management.
They also allow you to invite your accountant on board and give them access to all the data from your account. If you don't have an accountant, you can chat with Anna's in-house tax experts whenever you need.
Pros
Flexible pricing model
Affordable exchange rates
Access to tax experts 24/7
Big Business plan offers unlimited use
Cons
Business tools and business accounts are sold separately
10. Starling Bank — Makes Migrating Easy with its Switch Guarantee
Starling Bank stands apart from the competition by charging zero transfer fees. Most business bank accounts require you to pay a small fee for every money transfer and ATM withdrawal unless you choose their most expensive plan.
But with Starling Bank, you never have to pay any fee for monthly usage, UK-bound transfers, or ATM withdrawals.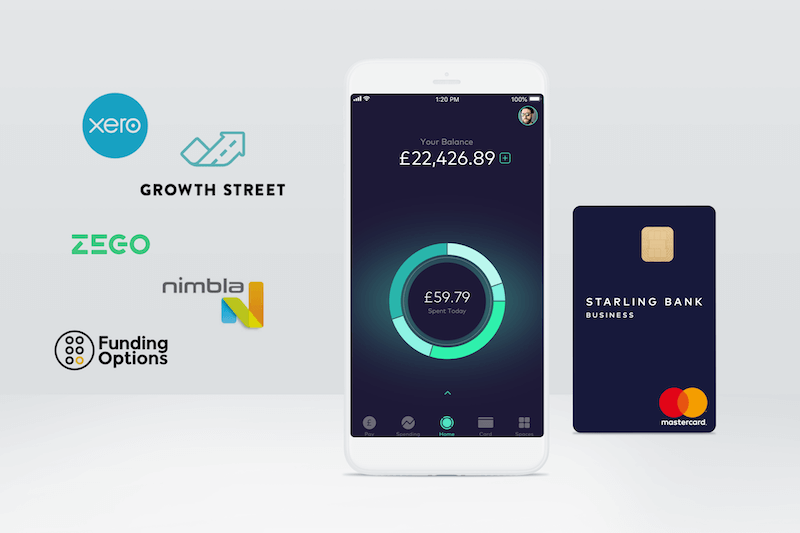 | | | | | | |
| --- | --- | --- | --- | --- | --- |
| Best For | Monthly Fee | Minimum Deposit | Annual Percentage Yield | Sign Up Bonus | Cost/Cash Deposit |
| Businesses on a budget | No monthly fees | £3 | 2.50% | Free National Trust day for a referral | 0.7% |
In fact, you don't even have to pay any transaction fee for payments abroad. Plus, you can run your business bank account in both USD and Euros, which is perfect for multinational businesses that have bases on both continents.
Moving to Starling Bank is simple, thanks to its Switch Guarantee. Starling will take care of transferring your funds to your new account and will close your old account, meaning you get a smooth transition while barely lifting a finger.
To help you maintain your cash flow, Starling also allows short-term overdrafts, going into the red and borrowing from the bank.
The process is pretty simple and is relatively affordable. Apart from the interest rate, which varies from 15% to 35%, you won't have to pay any other fee. If you accidentally go above the agreed overdraft limit, Starling won't charge you a fine. However, your payments may not go through if you don't have the funds to cover them.
Pros
In-app fee-free check deposit
Allows overdraft for a small fee
Switch Guarantee simplifies transitioning to Starling
Lets you open business accounts in both USD and EUR
Cons
Doesn't support credit cards
Whеrе to Gеt thе Bеst Frее Businеss Bank Accounts
Wallester is one of the best options for free business bank accounts. It offers an unlimited number of physical cards and up to 300 virtual cards on its free plan, so you can streamline operations and enable your employees to handle spending.
While free business accounts can be a valuable choice for small businesses and startups seeking to minimize costs, weighing up the advantages and potential limitations is essential.
It's crucial to read the terms and conditions carefully, as some free accounts may have restrictions or fees for certain services.
Paid business bank accounts, on the other hand, typically offer more extensive features and benefits, such as higher transaction limits, dedicated customer support, and access to a wider range of financial products.
Key Factors to Consider When Choosing the Best Business Account
Wondering how to zero in on the best business account? Let's explore the key factors you need to consider, whether you're looking for the best bank accounts for online business or the best business bank accounts for sole proprietorship.
Fees and Requirements
Fees, such as monthly maintenance charges, transaction fees, or minimum balance requirements, can add up. You can avoid unexpected costs by understanding your account's fee structure and ensuring it matches your transaction volume and cash flow.
Additionally, meeting the account's requirements, such as minimum balances, may help you avoid maintenance fees and ensure uninterrupted access to essential banking services. Naturally, the best-value business bank accounts will have pretty reasonable fees.
Interest Rates
While traditional business accounts typically offer minimal or no interest, some banks may provide interest-bearing options. These can be particularly beneficial if your business maintains a substantial balance in its account.
By choosing an account with a competitive interest rate, you can earn extra income on your idle funds, helping offset account maintenance fees or other banking charges.
Location
Selecting a bank with local branches or a strong regional presence can be advantageous, as it provides in-person assistance, access to ATMs, and the convenience of easily depositing cash or cheques.
Furthermore, regional banks better understand the local business landscape and can offer tailored solutions and expertise.
However, if your business operates primarily online or across multiple regions, a bank with a broad national or international presence may better suit your needs, allowing you to access your accounts and conduct transactions regardless of location.
Mobile App
A robust mobile app offers convenience by allowing you to manage your business finances on the go. With features like mobile cheque deposits, fund transfers, and real-time account monitoring, you can streamline your financial tasks and make quick decisions wherever you are.
Additionally, a well-designed mobile app enhances accessibility and efficiency, saving valuable time and enabling you to stay connected to your business financial management effortlessly.
Support
Whether you encounter issues with your account, have questions about transactions, or require guidance on financial matters, having access to responsive and knowledgeable customer support can save you time and mitigate potential disruptions to your business operations.
A bank that offers robust support, such as 24/7 helplines, online chat, or dedicated business banking advisors, can provide valuable assistance, helping you navigate any challenges and facilitating a smoother banking experience for your business.
Integrations
Integrations allow your account to work seamlessly with various financial software tools, making tasks like expense tracking, payroll management, and financial reporting more efficient.
This not only saves time but also minimizes the risk of errors. Selecting an account that integrates well with your existing tools and software can enhance productivity, accuracy, and overall financial management. If you're in retail or services, being able to connect POS systems to your account could make a big difference.
How Many Business Bank Accounts Should I Have?
The number of business bank accounts you should have depends on your business's complexity and financial needs.
For many small businesses and startups, a single business account may suffice, offering a convenient way to manage daily transactions and keep finances separate from personal funds.
However, you may benefit from multiple accounts to streamline financial management as your business grows.
Common additional accounts include a business savings account to accrue interest on surplus funds, a merchant services account for processing card payments, and a dedicated tax account for setting aside funds for taxes.
How to Open a Business Account Online – A Quick Guide
Opening a business account online has never been easier, and here we will walk you through the essential steps, using Revolut Business as an example.
Step 1: Visit the Revolut Business Website and Select a Plan
Go to the official Revolut Business website and choose the type of business account you need. Revolut Business offers two types of account options for various business sizes and needs, such as Grow, Scale, and Enterprise.

Step 2: Create a Corporate/Freelancer Account
Depending on the nature of your business, select the type of account you want to operate.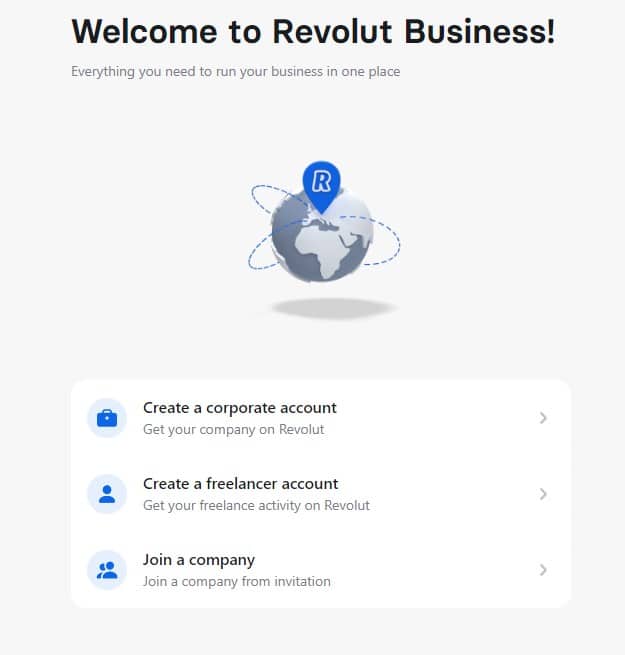 You'll be asked to provide essential information about your business, including its name, industry, and location. Ensure you have all the necessary information, such as your business registration details.
Step 3: Complete the Application
Fill out the online application form with your details and the required business information. You may also need to provide identification documents to verify your identity.
Step 4: Verification Process
Revolut Business will review your application and may request additional documentation for verification. This process typically involves taking a selfie on the Revolut Business website.
Step 5: Account Activation
Once your application is approved, you will receive access to your Revolut Business Account. You can then download the Revolut app, log in, and use your business account for various financial transactions.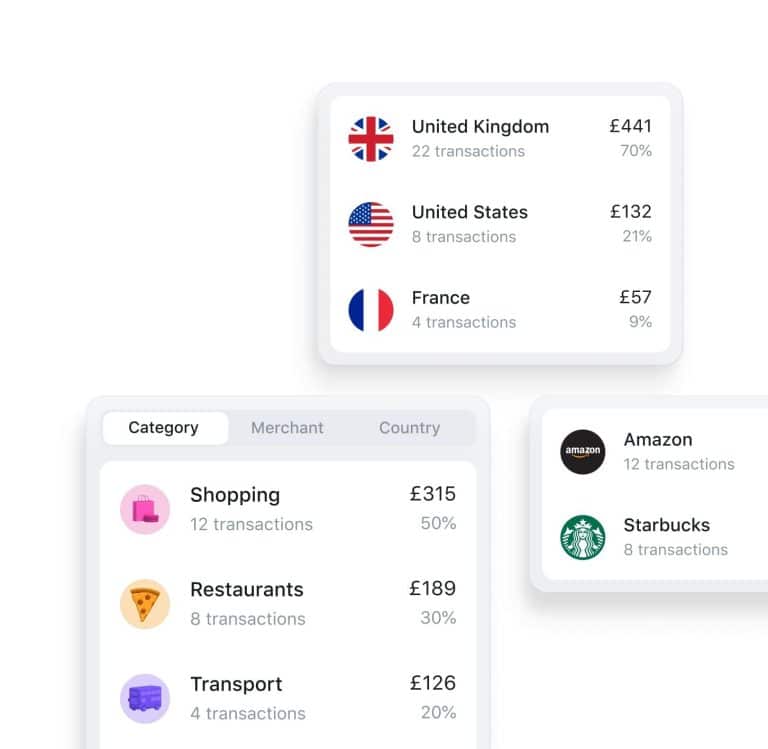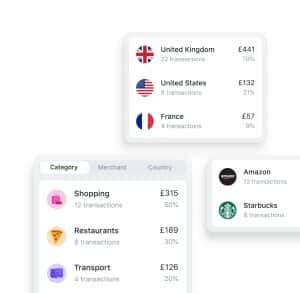 More Business, Accounting, and Financial Tools
Your business bank account is only the first of the financial tools you'll need to manage your operations. Here are links to our guides on other key financial and business management software:
Conclusion – What's the Best Business Bank Account to Get in 2023?
Our list of the best business bank accounts includes something for everyone. Whether you need a account to manage day-to-day business operations or are looking to streamline your employee spending with robust card controls, you'll find something to your liking on our list.
No matter your specific needs, though, you can rely on Revolut Business. Known for its multi-currency accounts, you can make quick cross-border transactions without any hassle.
Revolut Business also allows you to book forward contracts to lock in profit from exchange rate fluctuations. You can also earn up to 4.25% APY on your idle funds – so try Revolut Business now.
Online Business Account FAQs
Which bank is best for business banking?
What are business bank accounts good for?
Which bank is the fastest to open a business account?
Can I use any bank account for my business?
Is money safe in a business bank account?
What banks do free business banking?
References