The best expense management tools are an invaluable addition for individuals and businesses looking to streamline their expenses. They can simplify the complexities of monitoring, controlling, and optimizing financial transactions. Expense management solutions often provide features like reporting, budget creation, receipt scanning, and more, which can help organizations with cost-cutting and making better business decisions.
Finding the perfect expense management software can be overwhelming, though, as there are dozens of providers to choose from. To help you make an informed decision, we've prepared a list of the top tools to help with your business's financial management this year. Keep reading to learn why Revolut Business stands out as our top pick among the best expense management tools.
The Best Expense Management Software Solutions Ranked
Here are our top online expense management picks for this year, with a practical breakdown of their features to make choosing the right one for your business easier.
How Do Expense Management Solutions Work?
Expense management software helps you take control of your financial expenditure by automating and streamlining expense management. It starts by categorizing the data you enter, whether manually or automatically, allowing you to organize expenses into various categories or apply custom tags.
This leads to expense tracking, another business expenses software feature that gives you more insights into your spending. Depending on the capabilities of your software, you'll be able to track travel expenses, office supplies, meals, and more.
In addition, you can use custom expense tracking tags to specify employee expenses or total project costs.
These tools also allow you to set up approval workflows, budgets, and reporting – features that are crucial for financial control. Setting up approval workflows means specified expenses are submitted for review by a business expense manager or supervisor, ensuring adherence to company budgets.
Budgeting tools let you set budgets for specific categories and projects, with the software monitoring expenses to highlight overspending.
The best expense management software will also offer reliable reporting tools to generate detailed expense reports, offer insights into opportunities for cost optimization, and display expenditure trends.
In addition, they'll seamlessly integrate with the best accounting software and other business tools to enhance their capabilities and help you make better business decisions.
The Top Expense Management Systems Reviewed
Here, we'll review the best expense management tools and compare their features, pricing, pros and cons, and ideal use cases to help you choose the best expense management tool for your business.
1. Revolut Business — Overall, the Best Expense Management Tool in 2023
Revolut Business offers exceptional employee expense management features that automatically categorize and log expenses and turn them into real-time data and reports. In addition, it lets you control how much each team member can spend by issuing business debit cards, no matter how big or small your team is.
Ensuring your team has Revolut cards brings numerous benefits, including a unified view of your budgeting and expenses, spending limits, and the ability to block and freeze cards.
It also allows you to set up approval workflows. This means you and your team managers can send expense approvals, receive real-time spending notifications, and ensure every transaction aligns with your company's goals.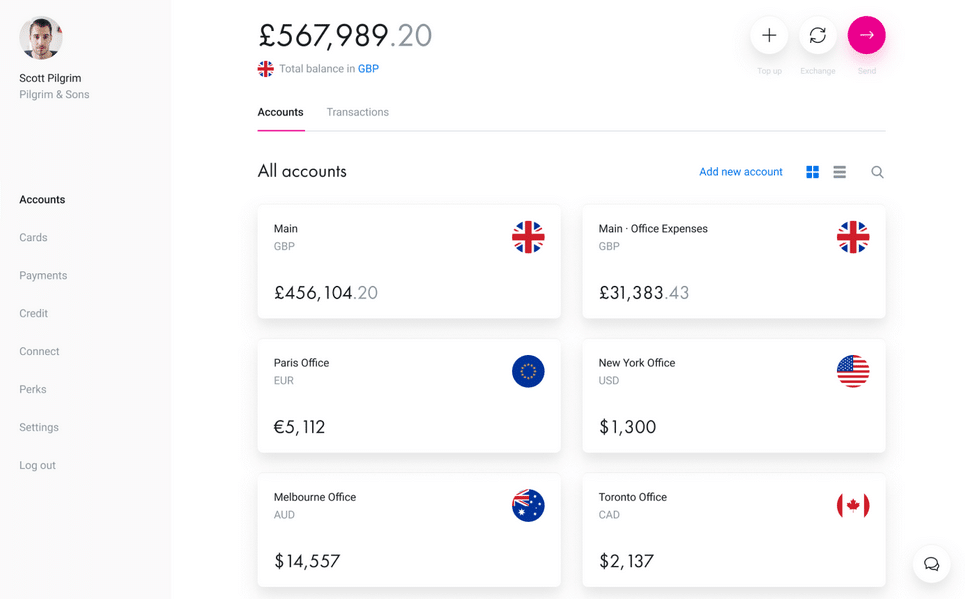 | | | | | | |
| --- | --- | --- | --- | --- | --- |
| Best For | Starting Price | Support | Smart Audit | Integrated Payments, Expenses, and Travel | Expense Capture Automation |
| International Payments | Free Plan / £19/month | 24/7 | Yes | Yes | Full |
Revolut Business offers more flexibility than traditional expense tracking tools. Depending on your plan, you'll unlock numerous benefits, including cashback and low-fee local and international payments.
Though you can't send cash deposits to your Revolut Business account, it has far broader capabilities than single-purpose services like Expensify and ExpensePoint.
In addition, you can hold and exchange 25+ currencies, including USD, euros, and sterling, and your team members will have access to local fees for 150+ currencies, making Revolut Business an exceptional pick for international businesses.
We tested the platform extensively and were impressed by its simplicity on mobile and desktop. You can set up expense labels, by project or location, and approving a transaction takes a single click. We also liked that team members can attach receipts to their expenses by uploading a file or snapping a photo in-app.
Although Revolut Business offers a comprehensive free plan, we suggest opting for one of its premium plans to access advanced features, such as spend analytics. It lets you track and forecast spending by account, period, or team members, resulting in better business decisions and insights.
Pricing
Revolut Business offers free and paid plans for businesses and freelancers looking to improve their expense tracking and access low transaction fees for local and international payments. Freelancers can access its features for free, while growing businesses can get expense approval features for £19/month.
Choosing any business plan lets you set up up to 200 virtual company cards or up to three plastic company cards per team member, and you'll get one or more complimentary metal cards.

Pros
Comprehensive free plan
Local spending in 150 currencies
Easy-to-use approval workflow features
Intuitive interface
Exceptional spending control via in-house debit cards
Cons
You can't make cash deposits into your Revolut Business account
2. Wallester Business — Streamline Budget Allocation and Monitor Corporate Expenses
Wallester Business is the best expense management system for businesses looking to improve their budgeting and resource allocation. It lets you create cards for teams and projects to prevent overspending and enhance corporate expense monitoring.
This makes it an ideal pick for large businesses looking to optimize the cooperation between different departments. Like Revolut Business , it has an impressive set of features, though the starting price is a fair bit higher.
Wallester Business lets your financial department reconcile expenses in real-time, providing instant card funds access for employees. In addition, they can create financial reports with a single click to quickly analyze your business's spending on different categories, including projects, business trips, and more.
| | | | | | |
| --- | --- | --- | --- | --- | --- |
| Best For | Starting Price | Support | Smart Audit | Integrated Payments, Expenses, and Travel | Expense Capture Automation |
| Large Businesses | Free Plan / £169.95/month | 24/7 | Yes | Yes | Full |
Wallester Business has well-designed mobile apps that extend its expense management features to users on the go. They allow you to capture receipts and invoices, submit expenses, and track employee spending while away from the office.
In addition, you can set up Wallester Business to notify your employees to upload their invoices to the platform when they complete a card transaction.
This business expense management tool integrates with numerous business-oriented services, including the best HRIS software for employee data management.
Besides letting you store invoices on its platform, it integrates with accounting tools, minimizing the need for manual data entry and saving you dozens of administrative hours monthly.
Although Wallester Business offers a great free plan, it lacks some of its best features, including a dedicated account manager, push and email notifications, and detailed analytics.
However, you can use its free version to test its interface and basic features before committing to a subscription – and you get unlimited physical cards with the plan.
Pricing
Wallester Business offers a free plan and three subscription tiers for its services. The free plan suits smaller businesses looking to improve their expense management, while its premium plans cater to larger companies.
Although relatively expensive, Wallester Business lets you create unlimited sub-accounts to improve your financial management, and the Platinum and Enterprise plans give you access to its detailed analytics features.

Pros
Official VISA principal member
Feature-rich
Reliable customer support
Unlimited physical cards
Policy compliance features
3. FreshBooks — Beginner-Friendly Expense Management Solution
FreshBooks is widely known as one of the best invoicing and accounting tools on the market, but it also excels at expense management. It offers comprehensive expense reporting for small business owners, freelancers, and self-employed professionals, among other advanced features to streamline expense-related tasks.
The platform has an intuitive design that makes attaching receipts, categorizing expenditure, and recording expenses a breeze. While testing its features, we found the accessible layout to be ideal for beginners, and we instantly got the hang of its in-app receipt capturing, eliminating the need for manual data entry.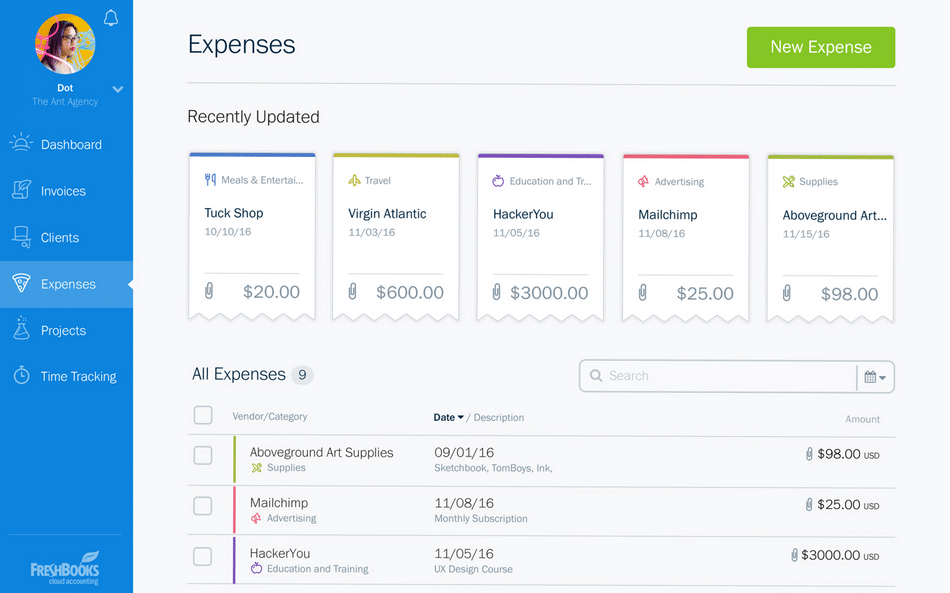 | | | | | | |
| --- | --- | --- | --- | --- | --- |
| Best For | Starting Price | Support | Smart Audit | Integrated Payments, Expenses, and Travel | Expense Capture Automation |
| Small Businesses | £6/month | 24/7 | No | Yes | Full |
FreshBooks lets you track almost all business-related processes with time tracking, project management, expense tracking, and invoicing features. That means you'll always know your employees' billable hours, project progress, overall expenses, and what payments to expect.
The centralized platform ensures all its features seamlessly integrate. For example, you can specify how long your employees worked on a project in an invoice with a single click.
Connecting your bank account and cards to FreshBooks is a simple process that ensures automatic account updates with your most recent spending.
It also offers automatic mobile receipt scanning that auto-captures totals, vendor information, and taxes. These features ensure your business dashboard is always up-to-date, allowing you to make better business decisions – though there are naturally fewer built-in banking capabilities than with services like Revolut Business .
Its intuitive expense categorization is made with tax in mind, meaning tax filing will be a breeze with FreshBooks. Besides simplifying taxes, FreshBooks lets you mark your business expenses as being billable, automatically placing them on your next client invoice.
Pricing
FreshBooks offers four subscription tiers, including Select, a custom plan for larger businesses. Its cheapest plan, Lite, is great for freelancers and microbusinesses, while Plus and Premium cater to small and medium-sized companies.
Opting for Plus or Premium unlocks numerous advanced features, including mobile mileage tracking, financial and accounting reports, and automatic expense tracking.
Pros
Excellent for first-time business software users
Reliable customer service
Numerous third-party integrations
Well-designed mobile apps
Tracks project profitability
Cons
Additional team member seats are expensive
4. Zoho Expense — Simplifies The Entire Travel Booking Process
Zoho Expense belongs to a massive library of Zoho business tools, providing impressive scalability and customization. Its expense reimbursement software capabilities let your employees enter data in several ways, including receipt capture, emailing receipts, and synchronization with corporate or personal credit cards.
In addition, your employees will have access to the platform via their preferred devices' browsers, including those on desktops and mobile phones. Unlike most of its competition, Zoho Expense also has an add-on for Google Chrome, which lets its users clip a portion of a webpage and use it as a receipt.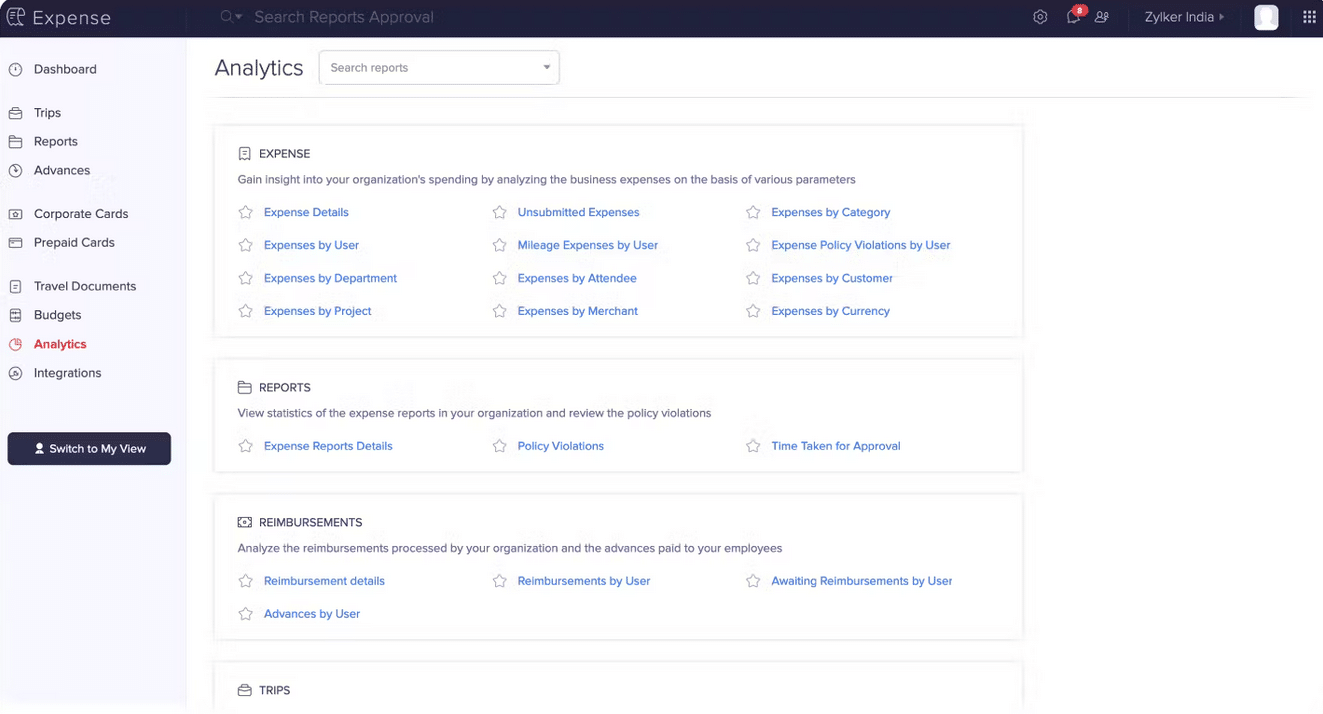 | | | | | | |
| --- | --- | --- | --- | --- | --- |
| Best For | Starting Price | Support | Smart Audit | Integrated Payments, Expenses, and Travel | Expense Capture Automation |
| Travel Expenses | Free / £10/organization/month | 24/7 | Yes | Yes | Full |
Although it has a comprehensive free plan, most of its advanced features unlock once you start paying a monthly subscription. One notable feature its premium users have access to is automated reminders.
Automated reminders will let you know if you forget to add a receipt to a report, ensuring you track expenses correctly.
In addition, free users won't have access to its multi-level approvals, a feature that lets you create approval rules based on the amount. For example, you can create a rule where a manager can approve a report if it's under the specified amount, while it requires the approval of a vice president if it goes over the amount.
Besides making it easy to approve expenses, Zoho Expense also simplifies flagging them for violations, as it will automatically detect duplicates and anomalies.
Zoho Expense stands out from the competition with its superb integration with other Zoho apps and third-party software. You can find one of the best project management solutions in its lineup of business tools, in addition to CRM, accounting, and other software.
Pricing
Zoho offers its services via six plans, including a free-forever plan with numerous features. Although freelancers and micro businesses can benefit from the free solution, its limitations make it unsuitable for scaling firms and larger businesses.
These limitations include the lack of travel expense management and a limit on receipt auto-scan. We suggest opting for its Premium or Ultimate plans to unlock more of its travel and expense management features, multi-level approvals, and custom approval workflows.
Pros
Numerous third-party and in-house integrations
Impressive platform customization
Comprehensive free plan
Excellent help resources and support
Built-in mileage tracking
Cons
Most travel management features require the most expensive plans
5. Xero — Painlessly Reimburse Expense Claims
Xero makes reimbursement a straightforward process by allowing you to assign user roles to your team members, including submitter, approver, and admin.
Submitters are the employees who want their money reimbursed, while approvers can edit, approve, or decline their claims. Assigning an admin role to a team member will let them run expense reports and edit approval settings, in addition to the permissions of an approver.
Your employees can track their expenses with the Xero Expenses mobile app, which lets them turn on mileage tracking and auto-fill expense claims from receipts. Xero will notify the approvers and admins when an employee submits a claim, making the process quick and automating most repetitive tasks.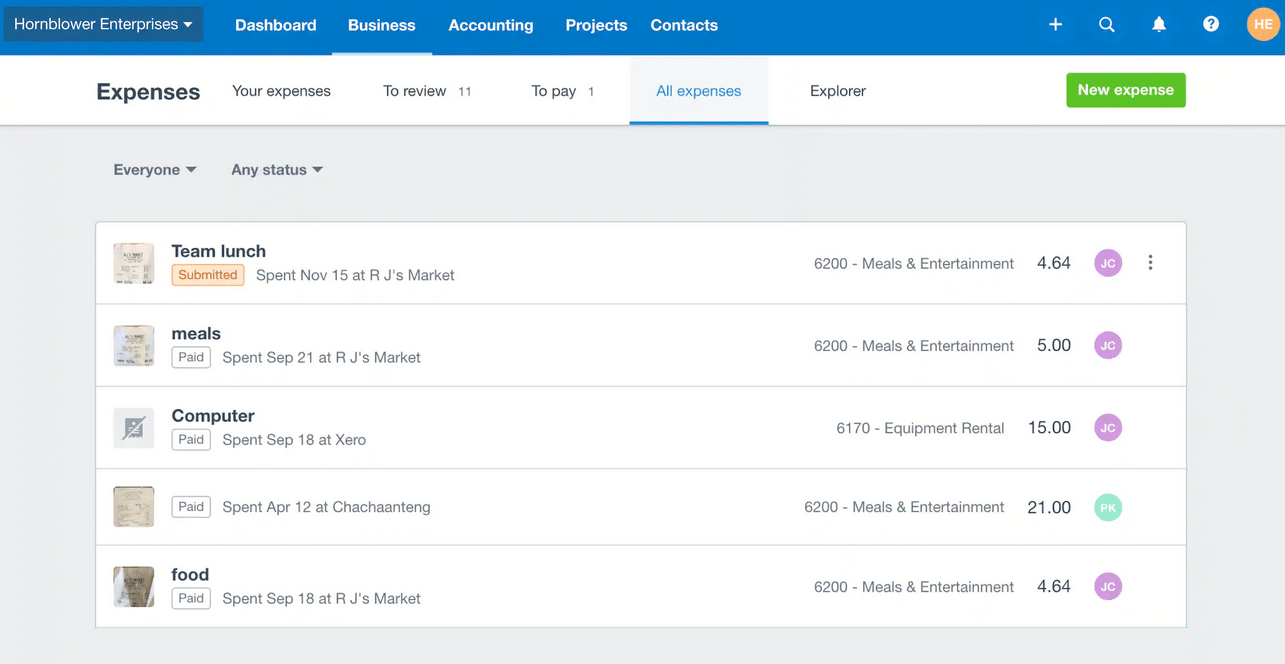 | | | | | | |
| --- | --- | --- | --- | --- | --- |
| Best For | Starting Price | Support | Smart Audit | Integrated Payments, Expenses, and Travel | Expense Capture Automation |
| Analytics | £15 + £2.50/user/month for expenses | 24/7 | No | Yes | Full |
Xero offers numerous comprehensive solutions for small businesses looking to improve their financial management, with the most notable ones being its analytics and bank reconciliation tools.
It will keep your account balances and financials up to date, allowing you to instantly confirm that its software recorded the transactions in your bank account, resulting in more accurate reports and making bank reconciliation less time-consuming.
Opting for one of its more expensive plans lets you use its bulk reconcile feature, automatically matching your transactions to existing invoices or bills. Its most expensive plan offers Analytics Plus, a powerful feature that provides invaluable business insights.
These insights include a cash flow prediction for up to 90 days, financial health reports, and basic project scenario planning.
Thanks to its up-to-date data and AI-powered analytics, Xero can help you understand your business's operating expenses and gross profit margin over a specified period.
This data is accessible within four date ranges, including last month, quarter, year, or year-to-date. If there's one drawback, it's that the UI could be a little easier to navigate.
Pricing
Xero offers its services via four affordable plans that you can try risk-free, thanks to its 30-day free trial. Although its two cheaper plans, Starter and Standard, offer invoicing, bill capturing, and short-term cash flow forecasting, its expense management features are a paid add-on.
Besides Xero's expense reporting software capabilities, Ultimate also unlocks advanced analytics, payroll, and task-tracking features.
Pros
Provides critical business views
Advanced analytics
Superb customer support
Bank reconciliation, even with its cheapest plan
Cons
User interface could be better
6. Sage Intacct — Comprehensive Expense Reporting Software
Sage Intacct is one of the best expense reporting systems that allows its users to gain better insights into their spending patterns, trends, and opportunities for cost optimization.
It streamlines expense reporting by allowing employees to enter their time and expense data from anywhere, instantly alerting managers to review and approve submitted timesheets and expense reports.
If the expenses are approved, they will automatically flow into Accounts Payable, and employees will receive reimbursements in their preferred currency.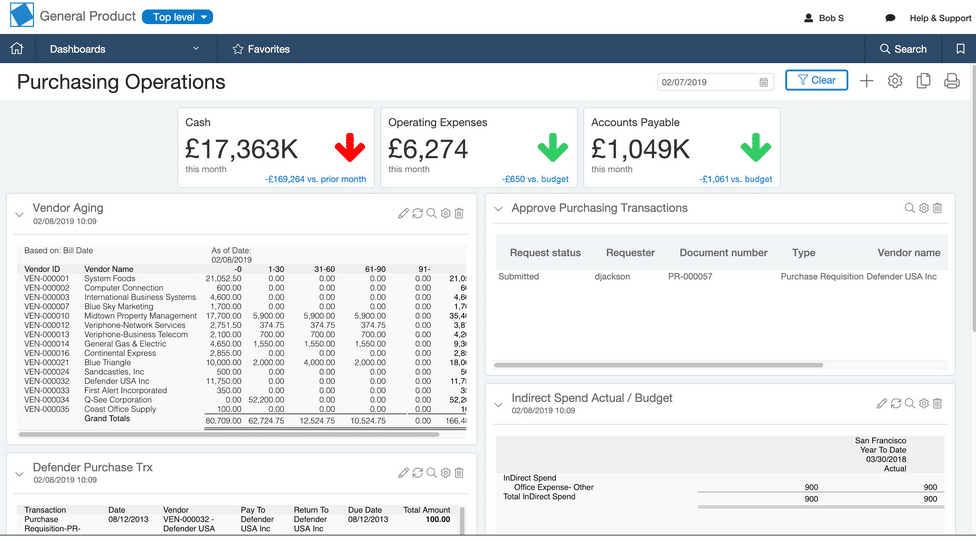 | | | | | | |
| --- | --- | --- | --- | --- | --- |
| Best For | Starting Price | Support | Smart Audit | Integrated Payments, Expenses, and Travel | Expense Capture Automation |
| Expense Reports | Custom | 24/7 | Yes | Yes | Full |
Sage Intacct simplifies revenue recognition and invoicing processes by utilizing your time and expense tracking data. You can quickly generate accurate invoices for projects, donors, or clients without a third-party app or manual data entry.
In addition, you can use its "Tag" system to categorize transactions with relevant business context, making quote-to-cash processes work with a single click.
Besides helping your team save time on administrative and repetitive tasks, sorting data with Sage Intacct makes it easy to differentiate where costs are going and get accurate reports.
These reports can be invaluable for budgeting, tax compliance, and financial analysis, providing in-depth insights into your business's health and cash flow.
However, like most feature-rich expense reporting systems, Sage Intacct has a slight learning curve and a high price point. Although it provides numerous help and knowledge centres, small teams should consider more user-friendly options, like Zoho Expense or FreshBooks.
Pricing
Sage doesn't disclose its pricing for the Intacct business expense tracking software online, so you'll need to contact its sales team for a quote. Getting a custom quote ensures the platform will suit your business's unique needs.
Pros
Industry-specific solutions
Onboarding and implementation assistance
Industry-leading expense reports
Fixed assets tracking
7. QuickBooks — Top Solution for Tracking Every Tax Deduction
QuickBooks is an exceptional online expense management solution for tracking income, expenses, mileage, and more. While most of its competition offers these features, QuickBooks goes beyond as a comprehensive solution to track tax deductions and generate tax reports.
It continuously updates its platform to stay compliant with tax laws and regulations, meaning you can rest easy knowing it calculates and updates tax deductions accurately at all times.
QuickBooks also lets you categorize your expenses to align with your business's specific industry or type, ensuring your deductible expenses are easily accessible during tax season.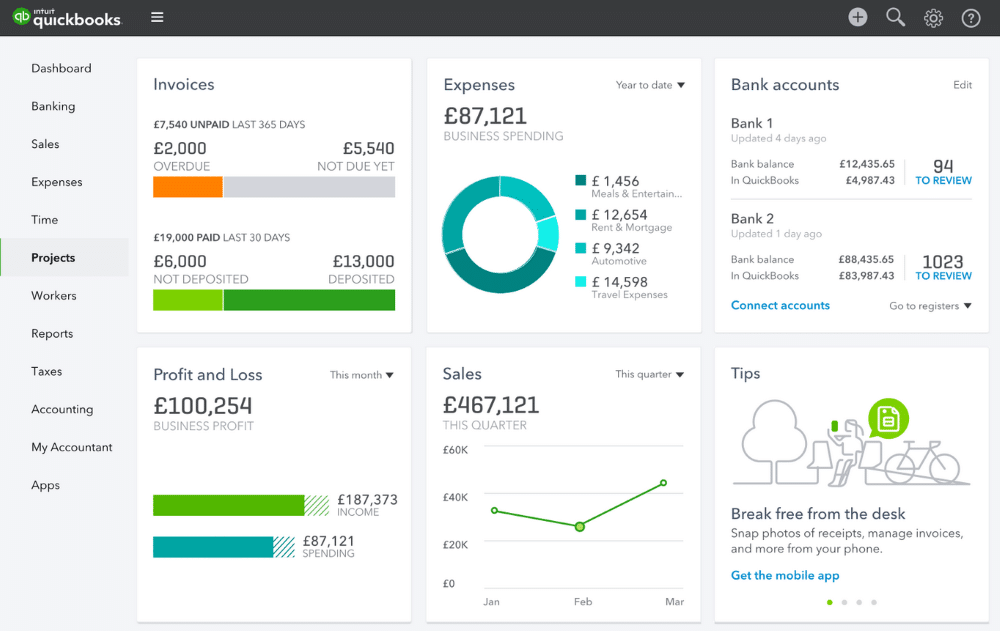 | | | | | | |
| --- | --- | --- | --- | --- | --- |
| Best For | Starting Price | Support | Smart Audit | Integrated Payments, Expenses, and Travel | Expense Capture Automation |
| Tax Deduction Tracking | £2.50/month, £10 after first six months | 24/7 | Yes | Yes | Full |
Unlike most of its competition, QuickBooks offers live-assisted bookkeeping. This add-on helps you stay on track for tax time and make better business decisions with expert advice. QuickBooks experts can assist you with categorizing transactions, reconciling accounts, and reviewing key business reports.
Its experts will help you automate QuickBooks to help your employees with repetitive tasks, minimizing your administrative hours.
Whether you opt for its expert assistance or not, QuickBooks will assist you with the initial setup, including connecting its platform to your bank accounts, automation, and a quick tour of its features.
That means you can securely import transactions from your bank, credit cards, PayPal, and other services, allowing you to automatically sort them into tax and expense categories and add custom tags.
We were impressed with how it handles onboarding for first-time users while testing its services, and we're confident it's one of the best expense management software solutions for small business owners, given its ease of use.
Pricing
QuickBooks offers six plans for businesses of all sizes, with most of its expense tracking features being available with the cheapest subscription. Its more expensive plans handle most business needs, and the platform integrates with popular business solutions, such as the best CRM software, for additional functionality.
Pros
Simplifies payments
Ensures tax compliance
Beginner-friendly
Inventory management with its more expensive plans
Cons
Workflow automation only with its most expensive plan
8. ExpensePoint — Detailed, Multi-Currency Expense Reports
ExpensePoint is a budget-friendly online expense reporting and tracking solution that works with multiple currencies and offers access via desktop and smartphone devices. That makes it an exceptional pick for employee expense management needs that doesn't break the bank for small businesses.
While its competition relies on Optical Character Recognition (OCR) technology to read and store receipts, Expense Point offers a unique approach to the feature.
Its Receipt Reader team will look at each receipt, manually transcribe the information, such as dates, vendors, and taxes, and provide the results. According to numerous user reviews, this process doesn't take much longer than OCR and always delivers accurate information.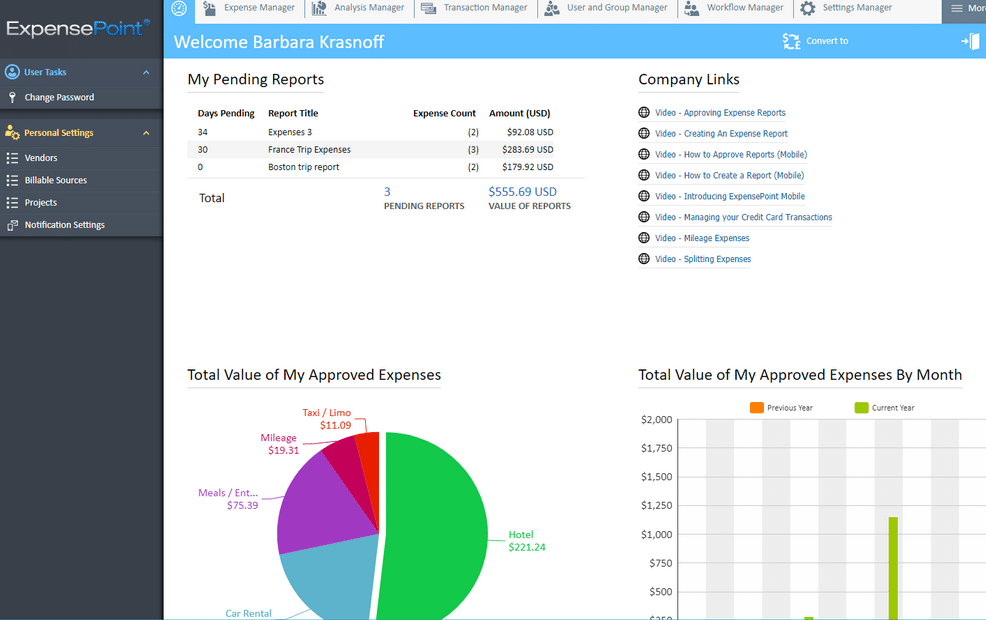 | | | | | | |
| --- | --- | --- | --- | --- | --- |
| Best For | Starting Price | Support | Smart Audit | Integrated Payments, Expenses, and Travel | Expense Capture Automation |
| Receipt Capture | £7/user/month ($8.50) | 24/7 | Yes | Yes | Full |
ExpensePoint goes in-depth with its corporate expense management and tracking features to help your employees adhere to company policies. For example, each expense category can have unique fields to fill out, ensuring your employees can explain certain expenses.
For example, if they buy company supplies from a new vendor, you can request a mandatory explanation before reimbursement.
Although ExpensePoint makes the setup process a breeze by providing expert assistance during its implementation and even offers free training for system administrators, its platform isn't as user-friendly as others.
We found its desktop apps a bit outdated, but the mobile apps are straightforward and deliver a decent expense management experience for new users.
However, ExpensePoint provides excellent customer support to help you overcome any potential issues with its platform. While it may take a while to master, its reporting and analytics tools provide in-depth insights into spending patterns, trends, and performance by department or employee.
Pricing
ExpensePoint has a single, affordable pricing plan that costs £7/user/month ($8.50) and grants you access to all its features. Its simple approach makes it an excellent choice for businesses with limited funds.
Pros
Customizable expense categories
Robust policy compliance features
Streamlined approval workflows
Cons
Interface could be more intuitive
The Best Tools for Business Expense Management Compared
Here's a master table to help you compare our selected expense management software providers head-to-head based on their pricing, services, and features.
| | | | | | | |
| --- | --- | --- | --- | --- | --- | --- |
| Expense Management Tool | Best For | Starting Price | Support | Smart Audit | Integrated Payments, Expenses, and Travel | Expense Capture Automation |
| Revolut Business | International Payments | £39.99/month | 24/7 | Yes | Yes | Full |
| Wallester Business | Large Businesses | £209.99/month | 24/7 | Yes | Yes | Full |
| FreshBooks | Small Businesses | £6/month | 24/7 | No | Yes | Full |
| Zoho Expense | Travel Expenses | Free / £10/organization/month | 24/7 | Yes | Yes | Full |
| Xero | Analytics | £15 + £2.50/user/month for expenses | 24/7 | No | Yes | Full |
| Sage Intacct | Expense Reports | Custom | 24/7 | Yes | Yes | Full |
| QuickBooks | Tax Deduction Tracking | £2.50/month, £10 after first six months | 24/7 | No | Yes | Full |
| ExpensePoint | Receipt Capture | £7/user/month ($8.50) | 24/7 | Yes | Yes | Full |
Key Features to Consider When Selecting a Business Expense Manager
Selecting business expense software for your company requires thorough consideration of the features that streamline expense tracking and management. After all, neobank solutions are revolutionizing financial services today.
Choosing the right fit for your business can be a pivotal change for efficient financial operations, whether for small startups or large enterprises. Here's a list of crucial factors to consider before you make a decision:
Integrations
Integrating other business services and third-party apps into your expense report software can connect various aspects of financial tracking, approval, and reporting to create a synchronized workflow.
Besides providing a more comprehensive view of your business's financial data and processes, a cohesive setup eliminates manual data entry.
For example, integrating accounting software with your expense management platform will automatically synchronize the data between the apps. That minimizes human-made errors, saves time, and ensures that financial information is always up-to-date.
Integrations can also improve your reporting and analytics capabilities by connecting expense data with other financial data. That can help you gain deeper insights into your spending patterns, make data-driven decisions, and identify cost-saving opportunities.
Features
Having comprehensive expense management features is crucial for enhancing control over business expenses and streamlining financial processes. Although most providers offer a similar feature list, there are unique benefits to each.
Consider software that combines expense tracking, reporting, and management with other comprehensive solutions, such as corporate cards or accounting features.
Look for features that reduce manual data entry and the likelihood of errors, such as automatic receipt capture and automations. For example, automated approval workflows streamline the expense submission and approval process, reducing administrative burdens.
In addition, look for travel expense software features and capabilities if you operate on a global scale and have frequent business trips. These features can simplify travel reimbursements and ensure employees adhere to the company's spending policies.
Cost
Understanding the software's pricing structure before you commit to a subscription is essential for businesses of all sizes. Most expense management software providers price their services via company-wide or pay-per-user subscriptions.
In addition, some providers have hidden costs, such as implementation and training fees or add-ons for some crucial features.
Consider services that offer free trial periods for their pricing plans, allowing you to test their features and interface before you commit to a subscription. That is especially important if you intend to subscribe to a more expensive pricing tier, as you'll want to confirm the additional features bring value to your business.
Customer Support
Look for user reviews that describe first-hand experiences with the platform, as the reviews often comment on the availability and quality of a service's customer support.
Consider expense management solutions with diverse customer support channels, including phone, live chat, or ticketing systems. The availability of a responsive and knowledgeable customer support team can significantly impact your experience with the platform, especially if it has a slight learning curve.
Ensure the support levels in your subscription plan are satisfying, as some providers offer fewer options for their cheapest plans. In addition, look for self-help portals, knowledge centres, and blogs, as these websites can provide plenty of information instantly.
Scalability
The scalability of expense management systems determines how well the software can adapt and grow with your organization's changing needs. It is crucial for long-term planning and ensures that you won't have to switch to a different provider at some point.
Look for solutions with numerous pricing plans that accommodate increasing user seats without experiencing performance issues. Scalability also involves customization options, including custom expense categories, workflows, and tags. Consider software that lets you tailor its platform to your specific needs as you grow.
How to Set Up Automated Expense Reporting
Setting up automated expense reporting with Revolut Business can enhance your financial tracking and reporting capabilities. Here, we'll provide a step-by-step guide on how you can get started with Revolut Business and begin automating its features.
Step 1: Create a Revolut Business Account
Navigate to the provider's official website and sign up for its business services. Filling out its short online form takes no more than 10 minutes, and Revolut Business may take up to 24 hours to review your application after you submit it.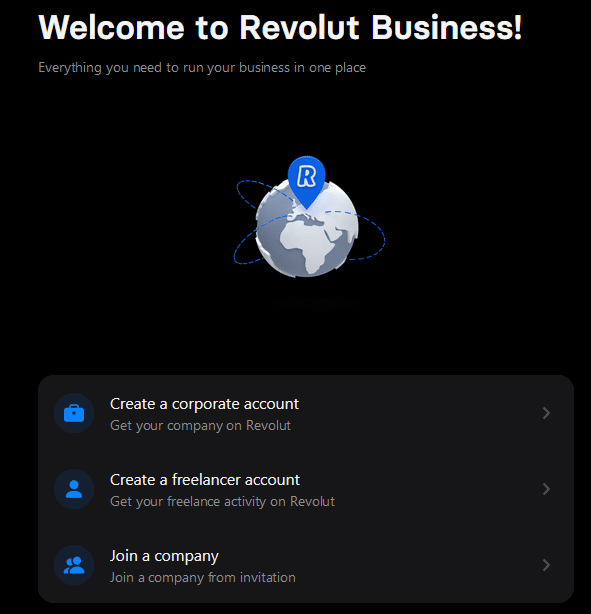 Step 2: Download the Revolut Business App
Install the Revolut Business mobile app on your smartphone. This app is essential for capturing and managing expenses on the go.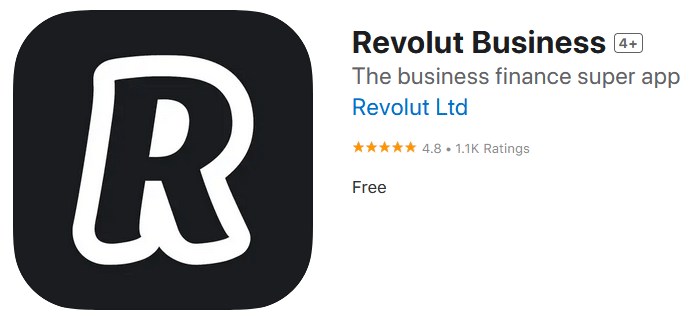 Step 3: Invite Your Team to the Account
Set up your team's in-app roles and permissions, company policies, and spending limits for each member.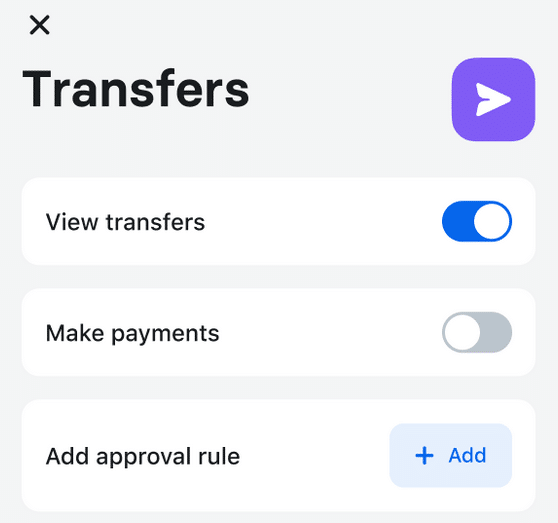 Step 4: Set up Real-Time Spending Notifications
Revolut Business will automatically notify you of your business's expenses after each card transaction. In addition, whenever your team members upload or forward a receipt by email, Revolut Business will attach it to the right expense. All that's left is to create payment approval rules and remind your team of the company's spending policies.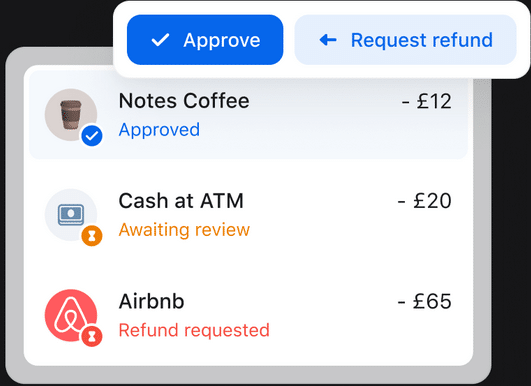 Business Tracking Software Guides
Businesses need to track numerous metrics besides expenses to improve their processes, including sales and customer data, inventory, employee productivity, and more. Here are some other business tools to consider for businesses of all sizes:
Conclusion – What's the Best Expense Tracking Software in 2023?
After thorough research, we're confident Revolut Business is the best choice for businesses looking to simplify expense management. It has feature-rich plans that make real-time expense tracking a breeze with tools like receipt scanning, approval workflow automation, and spending limits.
Revolut Business lets you hold and exchange 25+ currencies and provides a user-friendly experience via its modern, intuitive smartphone and desktop apps.
That makes it an excellent pick for small businesses looking for a straightforward expense management solution, and it offers plenty of tools for large enterprises with more requirements.
From advanced analytics and comprehensive expense reports to automatic expense categorization and logging, Revolut Business can help you streamline expenses and reduce administrative hours, no matter the size of your business. And thanks to its free plan, you can test Revolut Business risk-free today.
Online Expense Management Software FAQs
Why does your business need expense management software?
How much does expense management software cost?
Are expense management software features available for free?
Can expense management tools handle tax and legal compliance?
How do you integrate expense management with financial reporting?
Are expense management tools secure?
References