The financial world is full of products and options for customers to take advantage of. From trading platforms to debit cards, your average consumer is spoiled for choice.
But what if you could actually make money from steering others to online financial products? Thanks to financial affiliate programs you can earn a commission when you refer someone to a financial product and it can be a great source of passive income. They are not, however, all created equal and some give you more rewards for your efforts than others.
That's why we've scoured the market to find the best financial affiliate programs to sign up to and earn as you refer!
The Top Financial Affiliate Programs with the Highest Payouts
Looking for the best financial affiliate programs? We've got you covered with the very best options on the market that give you the most reward for the least time and effort!
Eightcap: Zero fees are required for initial setup and it has customizable marketing solutions for users.
CIT Bank: Between $25 – $75 commission per lead and several financial products available for customers to maximize investment.
BBVA: Up to $85 per qualified lead, offers money market account, free checking account, and CDs, and is also FDIC-insured
YNAB: Users can earn $6 for every person they refer and this goes up to $8 after 100 referrals and $10 for every 200+ referrals.
Empower: A $50–$144 commission for referrals that bring over $100,000 and payments are made every 30 days.
eToro: Over 3,000 financial instruments available and commission of up to $500 based on users' initial deposit.
Robinhood: $5 per lead and $30 per funded account, as well as access to exclusive events and beta testing of new features.
Acorns: $5 for both the referee and the affiliate, though it can only be used for investments on the platform.
WealthSimple: 5% commission off referee's spending and ongoing bonuses of up to $3,000
Experian: Long-running affiliate program with $8 for each person who signs up and between five and ten percent of their total spend.
Best Financial Trading Affiliate Programs Reviewed
In this section, we'll take you through the best financial affiliate programs and why you should sign up for them.
1. Eightcap Partners – $6 Per Lead, Over 3000 Existing Affiliates, and Hundreds of Financial Instruments to Choose From
Eightcap has been in operation for years and has since set up a financial affiliate marketing program with enviable benefits. For starters, there is no fee to sign up as an affiliate, only an application form and an integration process that is fairly straightforward. Once the form is submitted, you'll probably hear back in under a day and find out if you've been accepted.
If you are, you'll be given a trading link through which you can access both marketing and operational tools. In this sense, you'll enjoy support to help you source referees and increase your earnings. There is plenty of incentive for clients to get signed up; Eightcap Partners has over 800 financial instruments including crypto, shares, FX, and stock, as well as zero fees.
Eightcap Partners also gives users access to MetaTrader 4 and TradingView for their transactions and is regulated in several jurisdictions. These make the platform an easier sell to potential referees.
The onboarding process with Eightcap is notoriously seamless and can be very rewarding for affiliates. On average, you can expect to get $6 for every customer who signs up with Eightcap through its affiliate marketing financial services. But the company is also open to creating a custom compensation package depending on your own specific needs. On top of this, you also get a share of the revenue generated from these leads.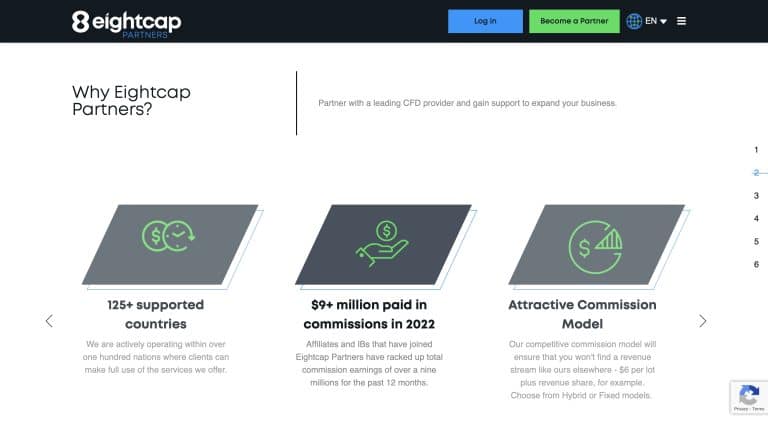 With all these considered, it comes as no surprise that Eightcap is so popular, having seen over 3,000 signups so far for its affiliate program. These affiliates also see a 40% conversion rate on average and in 2022 alone, the company paid out $9 million to affiliates in over 125 countries.
These payments are made through Wire Transfer and Skrill and are known for following a consistent schedule. Finally, Eightcap Partners has a dedicated customer service that is available in several languages including English, Mandarin, and Spanish.
Pros
Fast application process and no application fees
Over 800 financial instruments
An affiliate network in over 125 countries and $9 million paid out in 2022
Cons
Only wire transfers and Skrill are allowed for payments
Lower commission of $6 per lead compared to others
One of the biggest appeals of CIT Bank is the fact that it has so many products to choose from. On the personal product front, it has a 6-month CD at 5% APY, as well as short-term, long-term, and flexible savings solutions. There is also the option for eChecking accounts, Money Market accounts, and term, no-penalty, jumbo, and RampUp CDs.
CIT Bank also has home loans, financial education resources and is FDIC-insured. On the business end, it has services for accessing loans and for business solutions development like data integration, invoicing and merchant services.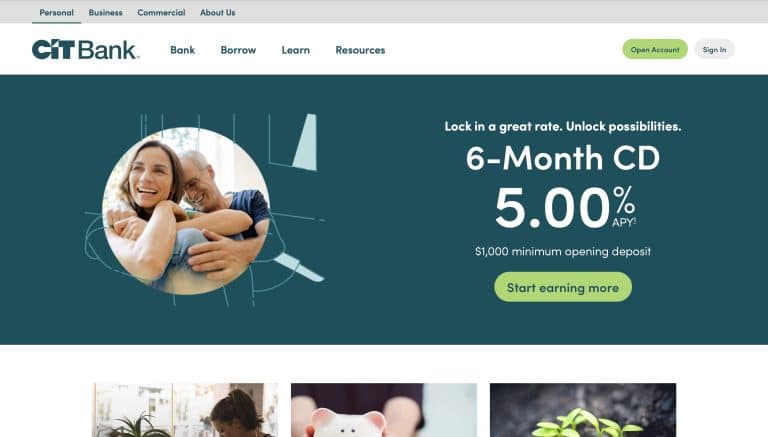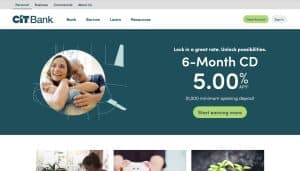 According to City Banker, CIT Bank is ranked as the top bank in America for humanizing the customer experience. It has also won the MyBankTracker's award for Best Money Market Accounts for 2021. Thanks to a combination of customizing its services based on individual customer needs and being accessible in terms of customer support, CIT Bank is a fairly easy platform to pitch to referees.
As a subsidiary of First Citizens BancShares, CIT Bank works with both individuals and businesses of various types. This is facilitated through its myriad of customer service options including email, chat, and phone calls.
This wealth of benefits extends to its Financial services affiliates as well. CIT Bank gives a $25 – $75 commission per lead, which is higher than most of the offerings you'll find in the market. Its website cookies also last for a 30-day period, which is standard for the financial affiliate program sector.
To cash out your affiliate earnings, you need to reach a threshold of $50, though this can be achieved in just 2 successful referrals. And when you do reach this threshold, you can withdraw your funds using ACH, Check, and Payoneer.
Pros
It is FDIC-Insured.
Several awards from City Banker and MyBankTracker
$25 to $75 commission on leads
Several financial products for individuals and businesses
Cons
Minimum deposit requirement of $100 to open account at CIT Bank
| | |
| --- | --- |
| Commission | $25 – $75 per lead |
3. BBVA: $85 Per Referral, No Sign-Up Free, and Multiple Account Types Available
BBVA is part of a larger international conglomerate which means that its offerings stretch across the globe. The company serves customers in the United Kingdom, Uruguay, France, Mexico, and many others. Customers who sign up can open accounts in both their local currency or foreign one and can even open accounts in other countries.
Some of the account types available include checking accounts, high-yield savings accounts, brokerage accounts, and money market accounts. And, of course, all these funds are FDIC-insured. There is also the option to take out credit cards, loans, and much more.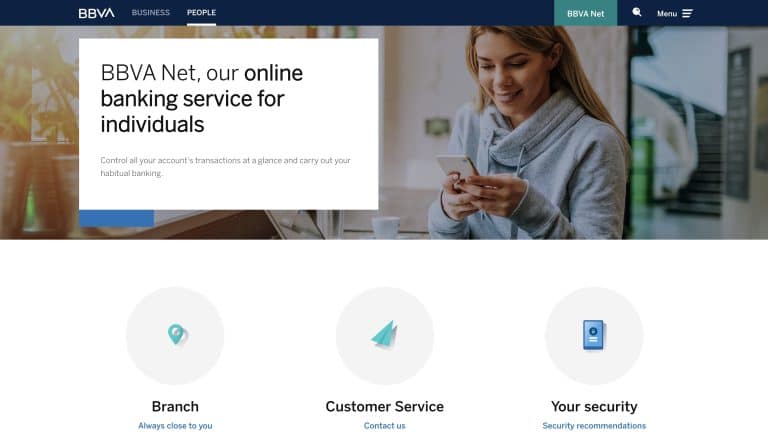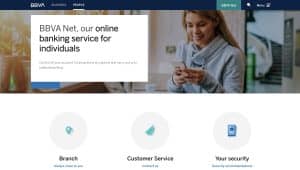 Businesses can also access short and long-term financing from BBVA, as well as investment banking and supply chain finance. And its finance affiliate marketers are not left behind either. For its USA site, you can earn as much as $85 per referral. This places it on the higher end of affiliate rewards and makes it a very attractive choice.
And because it has such a wide range of products, it can be easily marketed to just about anyone. You only need to apply for its affiliate program (no sign-up fee is needed) and you should get a response in a few days and hopefully start earning.
Pros
Available in multiple countries
FDIC-Insured
$85 per referral
Cons
Longer application processing times compared to other sites
4. YNAB: Money Management Tool With $8 Per Referral, A Dedicated Affiliate Manager, and Educational Content For Affiliates
Unlike a lot of the options on our list, YNAB (short for You Need a Budget) is not a digital bank but more of a wealth management and creation tool. Based on a popular money management philosophy, YNAB allows users to track their money across their different bank accounts in one simple app. This includes creating budgets, investing, making the most of their debt, and so on.
YNAB has a very robust affiliate program that lets you earn $6 for every referee of yours who signs up for a free trial. Once you get to 100 referees, this goes up to $8 and $10 when you get to 200. To get started with YNAB, you'll need to fill out its application form and while it is free, it does have some strict requirements to be accepted.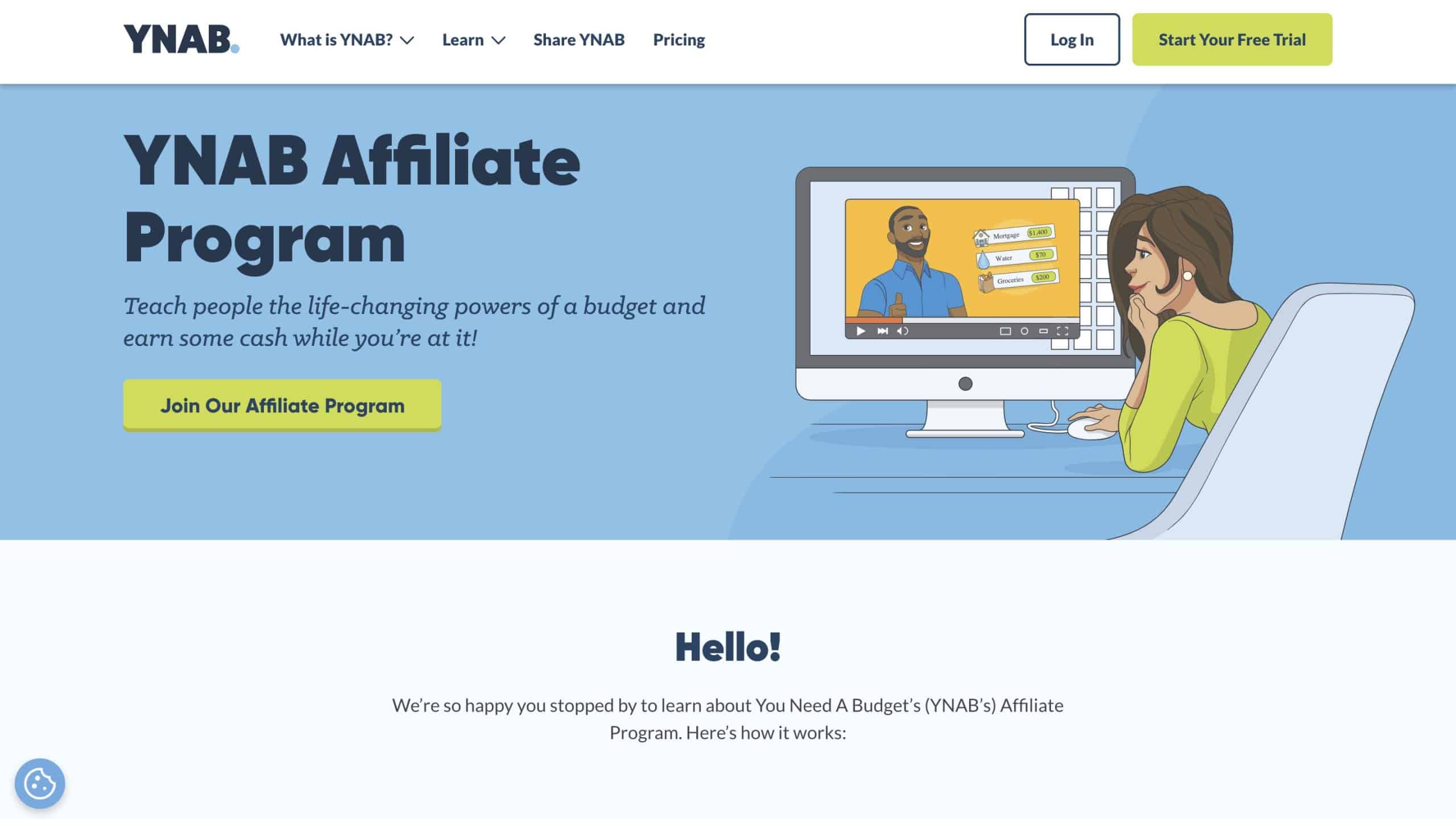 First, you need to have an audience of at least 25,000 and you must publish original content. If you do get into the program, YNAB offers many resources like an affiliate manager, tutorials and content to help optimize your referral funnels and a helpful dashboard. Considering how popular the YNAB philosophy is and the level of support it offers affiliates, it seems to be the best financial affiliate program on the market for content creators.
Pros
Commission continuously increases with more referees
Dedicated affiliate manager to support users
Educational content to help build audience funnels
Cons
Strict rules for affiliate programs such as a 25,000 audience size requirement
Lower commission per referee compared to others on the list
| | |
| --- | --- |
| Commission | $6 – $10 per lead |
5. Empower: $55 to $144 per Referee, SEC-Certified Advisors for Customers, but a $100,000 Investment Requirement
Formerly known as Personal Capital, Empower is a financial services platform that is specifically geared towards those looking to invest at least $100,000. It offers clients consultations with SEC-certified advisors as well as premium IRAs, brokerage IRAs, and investment accounts. It has prided itself on being one of the most respected retirement planning companies and deals with larger investment accounts.
Given that it's so high profile, it comes as no surprise that Empower gives some of the highest commission rates you'll find in the market. Affiliates need to apply and if accepted, can earn between $55 to $144 per referee. However, these referees have to meet a minimum investment threshold of $100,000.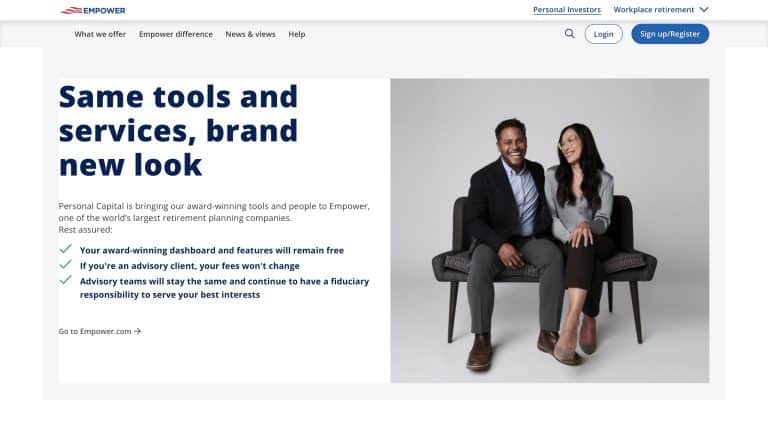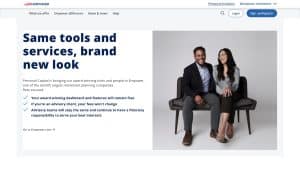 The good news is that Empower's affiliate program is accepted in virtually every country around the world and its cookies are valid for 30 days. It will also potentially be very attractive to referees given the fact that it has SEC-certified advisors in its fold.
Payments are made to affiliates within 30 days after being invoiced at the end of each month and can be made through bank deposits, cheques, and e-payments. However, you need to meet a $100 minimum earnings threshold to cash out your funds.
Pros
$55 to $144 commission for each referee
Payments made through bank deposits, cheques, and e-payments.
SEC-certified advisors available for customers
Accepted in every country
Cons
$100 minimum earnings threshold to receive commissions
| | |
| --- | --- |
| Commission | $50 – $144 per lead |
6. eToro: Matches Referee's Deposit Amount Up to $500, Affiliate Dashboard, and Over 3,000 Financial Instruments
eToro boasts over 3,000 financial instruments including stock, crypto, and forex and is one of the most popular trading platforms in the country. Its financial affiliate program (called eToro Partners) offers a lot of benefits and high earning potential. eToro also equips its partners with a helpful dashboard and marketing tools to promote their links.
Its commission system is not based on a fixed amount per sign-up but is based on the referee's transaction history. When a customer sets up a new eToro account with your referral link, you get a commission that matches their initial deposit, up to $500. So your commission could be a few dollars or hundreds depending on the person you refer, though they have to generate at least $10 in commissions for you to receive a payout.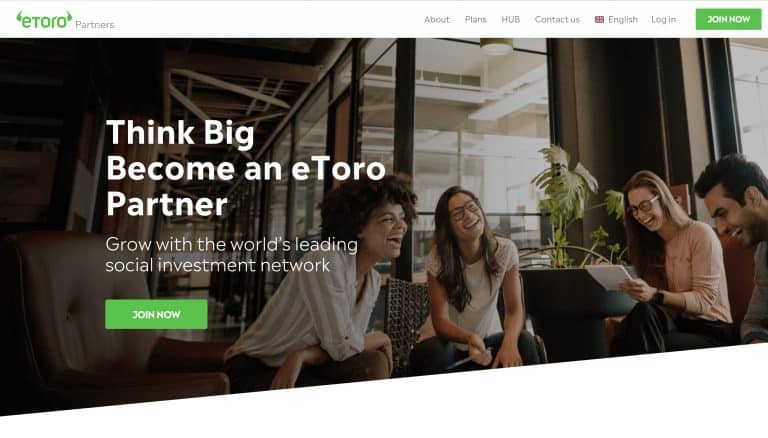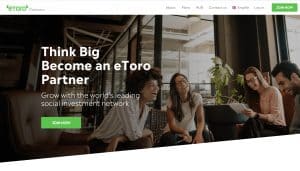 Different countries also enjoy different commission rates and are grouped into four tiers. This restriction also applies to what products you can't advertise; users in countries like Austria, Estonia, and Finland cannot promote crypto at all and those in Spain and the U.K. can promote crypto but with a few restrictions.
You have to have earned $100 in commissions before you can cash out through Neteller or Skrill and $500 to get paid by wire transfer.
Pros
The chance to earn up to $500 per referral
A dashboard and marketing tools to help promote your referral link
Payments made through bank transfer, Neteller or Skrill
Cons
$100 and $500 threshold to cash out through bank transfer, Neteller or Skrill
Inconsistent pay structure and promotional policies for different countries.
| | |
| --- | --- |
| Commission | Up to $500 per lead |
7. Robinhood: $5 to $20 Per Lead and Tickets to Exclusive Events for Affiliates
Robinhood boasts perhaps the best financial affiliate program because it gives perks outside of money to its affiliates. The process of getting started is pretty simple; you fill out a form through its website and if approved in a few days, you get a referral link.
Its pay structure works in two parts; you get $5 for every person who signs up with Robinhood using your link and $20 for everyone who signs up and funds their account. So in many ways, your earnings depend on how your referees choose to use their accounts. Though with its roster of financial instruments like no-fee crypto trading, brokerage accounts, and options investing, this should not be too hard.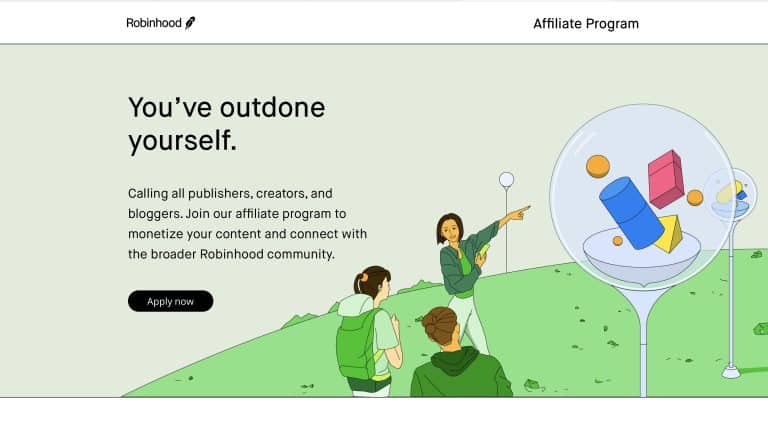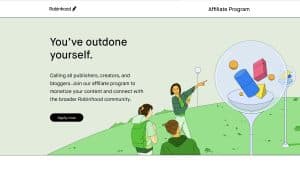 But money isn't all that you get; Robinhood affiliates get tickets to exclusive events throughout the year and get to beta-test the site's new functions. Its cookies last for a 30-day period and once you pass the $50 threshold, you can withdraw your funds to your bank account or PayPal.
Pros
Applications processed in a few days
$20 commission for funded accounts
Access to exclusive events and upcoming features
Cons
Only pays out through bank transfer and PayPal
| | |
| --- | --- |
| Commission | $5 – $20 per lead |
8. Acorns: $5 Per Referee Made As Investments to Your Acorns Account
Acorns is an investment platform that runs one of the more unique affiliate programs around. Anyone who is an Acorns user can begin referring others and only needs to navigate to their profile and copy their referral link.
Everyone who signs up through their link, gets $5. If the person makes an investment of at least $5, both them and the person who referred them will get $5. This is an extra benefit for everyone involved. There is a catch though; unlike other programs that let users withdraw their commission, Acorns' commissions are deposited into users' investment accounts.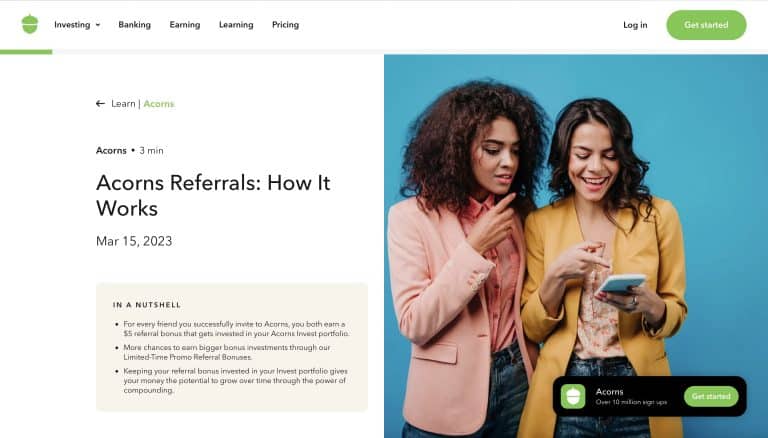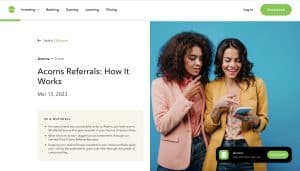 As such, they can't withdraw and spend the money but can use it to make investments on Acorns itself. But once all the promotional requirements are met, the bonus will be paid out within 30 days. On top of this, Acorns specializes in micro-investments, so even lower amounts of money can be invested with them.
Pros
No application is required.
Both the referee and the person who refers them gets a bonus
Cons
The reward of $5 is lower than others on the list
The commission cannot be withdrawn or used outside of Acorns
9. WealthSimple: Up to $3,000 in Bonuses From Referrals But No Base Commission Available
WealthSimple stands out among other financial affiliate programs because it has several options for both referees and affiliates to get rewards. There is an affiliate program that gives a unique referral link to those who are accepted. For this, there is a 5% commission on any products purchased by the referee.
On one hand, there is no baseline commission for referring people, but on the other, you could make quite a bit of money if you refer big spenders. And those who sign up from an affiliate link will randomly receive a bonus.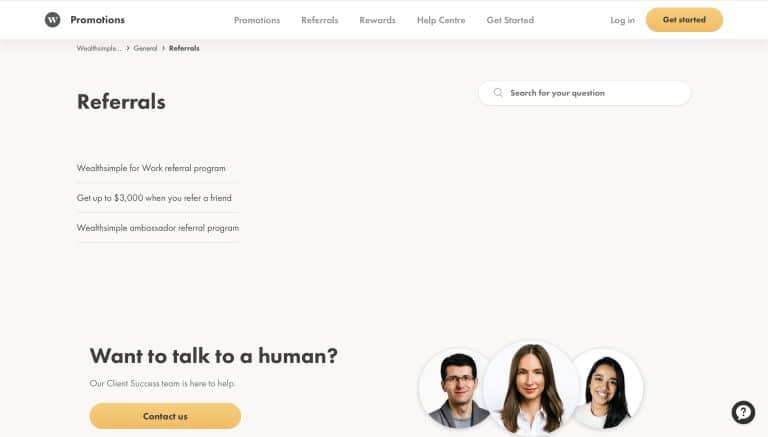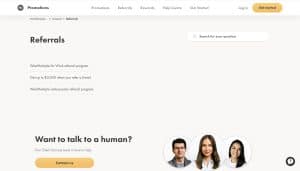 This bonus is between CAD$5 and CAD$3,000, though most people receive about CAD$10. WealthSimple also has seasonal promotions that give more bonuses to affiliates. One ongoing promotion gives a bonus of $5 and $3,000 with an average of $10 to anyone who refers a friend to the program.
The bonuses do not need to be spent on stock, crypto, ETFs, or any other financial product from WealthSimple.
Pros
Bonuses available for referees and affiliates
The potential to earn up to $3,000 in bonuses and 5% of referee spending
Several financial products are available including stock, crypto, and ETFs
Cons
No baseline commission for referring clients
| | |
| --- | --- |
| Commission | 5% of referral spend |
10. Experian: $8 and 5% to 10% of Referee Spending and an Accessible Dashboard
Experian is a credit reporting agency that processes the financial information for over a billion people. It has also run an affiliate program since 2004 that has attracted thousands of users. Getting started is quite straightforward; you only need to fill out a form to apply and once you do, you're given an affiliate link.
You'll also get access to a dashboard that will let you track your earnings and how well your link is performing.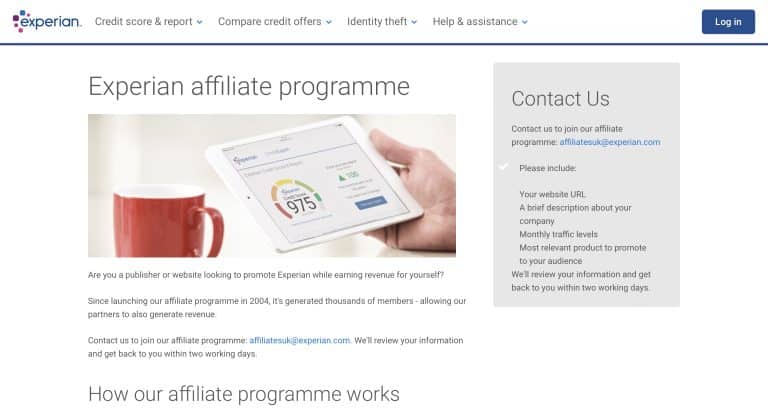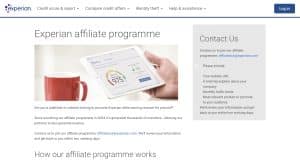 Affiliates earn $8 for each person who signs up and between 5% and 10% of whatever the referee spends on the site. Experian offers a free Credit Score, the chance to compare credit deals, and eligibility ratings to customers so marketing it to prospective referees shouldn't be too hard. Experian's cookies last for a 10-day period and payouts from the company are known to be rather fast.
Pros
5% to 10% commission on referee spend
Free credit score and other features for customers
Long track record with a 19-year affiliate program
Access to dashboard
Cons
Low cookie validity period of 10 days
| | |
| --- | --- |
| Commission | $8 and 5% to 10% of lead spend |
How Does Financial Affiliate Marketing Work?
One thing about the financial world is that it is very saturated. All sorts of companies have savings accounts, spending cards, investment schemes, and financial products that they want to advertise to customers. But even as they do this, they have to compete with hundreds of other companies for their attention.
One way to get customers' attention is through word-of-mouth as research shows that it is one of the most effective marketing techniques. This word-of-mouth can come from all sorts of sources and a single person evangelizing a financial product can convert multiple new customers.
This is where financial affiliate marketing comes in. Those who sign up to be financial affiliates with various companies essentially advertise these products to new people to get them to sign up. This can happen in several ways. Some companies give each affiliate a link to distribute to prospective customers and everyone who signs up from this link counts as a conversion.
In other cases, they're given a referral code that the new user will input when they sign up and this also counts as a conversion. And for every successful conversion, they get a commission.
This commission varies from one company to another but it is usually a fixed amount per customer and sometimes a percentage of whatever they spend. In some cases, the person you refer has to spend up to a certain amount for you to get a reward (Empower, for example, gives rewards based on how many people open accounts worth $100,000 or more).
In some cases, like with YNAB, you can get a free subscription to the financial service by referring others.
Financial affiliate marketing has become quite popular in the last few years because it offers a way to build passive income and helps to spread the word about worthwhile financial products in the market.
Are Financial Affiliate Programs Worth it?
We've talked a lot about financial affiliate programs but are they worth it? Honestly, they are, because they offer several benefits.
First, they have very little startup cost. If you were trying to make money from trading stocks or selling products, you would have to invest some sort of capital and even then, there is no guarantee that you'd make your money back. However, financial affiliate marketing requires little to no startup cost.
Many of the best financial affiliate programs don't charge you to sign up as an affiliate. You just need to fill out a form and get your affiliate link or code. From there, you can start advertising the service to others and collect your commission.
It can also be rather low effort if well-optimized. Many affiliate marketers simply set up CTA buttons on their websites or on social media and with enough visibility, can secure a healthy stream of sign-ups without having to do a lot of promotion day-to-day.
This makes financial affiliate marketing a very good way of creating passive income that can last well into the future. And if you're signed up with the best financial affiliate program, you'll be getting anywhere from $25 to $85 per sign-up which can easily add up.
How Much Can You Earn From Financial Affiliate Marketing?
Wondering how much you can make from financial affiliate marketing? Well, it depends on a few factors. First, financial affiliate marketing is based on commission. You have to consider the business you are promoting. The best financial affiliate program is the one that gives you the best commission per referee.
Say you are able to convince 10 people a month to sign up through your affiliate link. If you were promoting an affiliate marketing financial service that gave you $25 per conversion, you could make $250 a month from that business alone. If you were signed up with multiple financial affiliate programs, you could make even more.
According to a study from VigLink, 65% of affiliate marketers made between 5% to 20% of their income from conversions. So, depending on how many people you're able to market to, you could boost your earnings quite a bit by leveraging financial affiliate marketing.
And, as platforms like YNAB point out, affiliate marketing can be especially good if you have an audience that follows you. Whether you're a public figure, content creator, or just a person who knows a lot of people, financial affiliate marketing can become a very lucrative passive source of income.
How to Pick the Right Financial Broker Affiliate Program for You
When it comes to picking the best financial affiliate program, there are certain things to keep in mind that will give you the best experience. Some of them are as follows:
Commission Rate
As you'll see from our list, financial services affiliates can earn a little or a lot depending on which business they sign up with. Some like Eightcap Partners pay a few dollars per lead and some like eToro could pay you hundreds.
Consider the amount of time and effort, if any, it takes to get a single conversion. You want to get the most benefit for your efforts and this means steering all potential leads to the highest-paying financial affiliate program possible. This is especially true if you're trying to turn financial affiliate marketing into a long-term passive source of income.
Payment Methods
It's not enough to simply promote your referral link and have people sign up for the Affiliate marketing financial services. You also have to consider how you will get paid after you've earned your commission. Most people already have certain payment platforms that they're used to like Skrill, PayPal, and so on.
The best financial affiliate program is ideally one that offers a wide range of payment methods to choose from. Some on our list let you withdraw your funds through one or two methods and some have many more. When choosing a financial affiliate program to sign up with, keep this in mind and make sure that your preferred method is available.
Resources for Affiliates
Even if you're a professional marketer, your journey to making money through financial affiliate programs will be much easier with the right resources. These include information about the platform you are marketing and what its main selling point is. Also, branded promotional materials to use in your marketing are always a plus.
Different financial affiliate programs offer different levels of resources and support; some have a DIY starter kit for affiliates and some have dedicated staff to help you with your journey. So, it is best to determine just how much support you think you'll need and go for a financial affiliate program that offers this and more.
Financial Instruments Available
At the end of the day, financial affiliate marketing is not just about you earning a commission. It is also about advertising the best financial affiliate program to your referees. The best is usually the one with a wide roster of financial instruments for them to benefit from.
And you'll see on our list that many of these companies have dozens if not hundreds of financial instruments available. These cover everything from saving money to investing in stock, crypto, and much more. The more quality options a business has, the more likely that people will sign up through your affiliate link.
So before choosing a financial affiliate marketing program, make sure that it has good-quality financial instruments.
Payment Terms
Different financial affiliate programs have different requirements for being able to make a commission and collect it. Some give their affiliates a commission if anyone signs up with their links while others only pay if the new customer makes a purchase up to a certain amount.
After the commission is earned, many will have a minimum earnings threshold that you have to meet before you can cash out. Depending on how many referees you anticipate you'll send their way and how much the site pays, a high earnings threshold or a minimum spend on the referee's part might be inconvenient.
So that you don't struggle to get paid, it is best to consider the payment terms of whatever site you're considering and have this guide your choice.
Conclusion
Financial affiliate programs can be a great way to earn a passive income while letting others know about different services available to them. Typically, you have to apply to one of these programs and if you're accepted, you'll be given a referral link through which others can sign up.
From there, you'll be paid for each new member who signs up with your link and sometimes, a commission based on how much they spend with the service. Financial affiliate marketing is also great in that it costs very little capital to get started with and can be done with little effort, essentially becoming a passive source of income.
There are several of these affiliate programs in the financial market and one of the best of these is Eightcap. With over 3,000 affiliates signed up and having paid out $9 million to affiliates in over 125 countries in 2022 alone, it has proven itself over the years. It has over 800 financial instruments in its roster and at $6 per conversion, could easily make any affiliate marketer a good return.
This is besides the fact that it boasts an average 40% rate of conversion for existing marketers and offers support for its users in several languages including English, Mandarin, and Spanish.
References
FAQs
What is an affiliate in Financial trading?
How much do Financial affiliates make?
How do I become a Financial affiliate?
What is the best Financial affiliate program?