Forex brokers are eager for new customers, and they're willing to pay investors who can help them find new accounts. A growing number of forex brokers now offer affiliate programs, which offer cash bonuses for every new trader who signs up for an account and starts trading.
In this guide, we'll take a closer look at how forex affiliate programs work and review the 10 best forex affiliate programs for 2023.
The Top Forex Affiliate Programs with the Highest Payouts
Let's jump straight into our list of the best forex affiliate programs to join today.
Vantage – Earn up to $800 per account and offer traders up to 1,000 instruments. Affiliates also receive access to the Cellxpert partner tracking software to manage leads and encourage conversions.
Eightcap Partners – Award-winning forex broker offering 800+ instruments and marketing tools to help onboard new clients. Earn a $6 commission per lot traded by referees.
Exness – Earn commissions for both leads and new accounts. Leads pay up to $45 each, while new accounts pay up to $1,850 each. Offers daily payouts, but no ongoing commissions for trades referees make.
XTB – CPA affiliate program offering up to $600 per referred trader. Also offers a spreadshare program with a commission of 20% of all trading fees earned from a client.
AvaTrade Partners – Get up to 50% revenue share for life from traders referred to AvaTrade. This program has paid out more than $250 million in commissions to affiliates.
FXPro – Revenue share program offering 55% cut of fees. Pays out $3 million per month to affiliates.
eToro – Massive global broker with more than 30 million users. Affiliates earn a 25% revenue share from forex, crypto, and commodity CFD spreads.
XM – Earn up to $10 per lot traded with no limits on commissions. Affiliates get a dedicated account manager, weekly payouts, and 24/5 support.
HF Markets – Free forex affiliate program offering up to $30 per lot traded by referees. Offers daily payments and advanced tools to track referrals.
IronFX – Earn up to $1,000 per referral, a $1,000 sign-up bonus, and up to $15 per lot traded. Also offers 6 payout plans for affiliates
What is a Forex Affiliate Program?
A forex affiliate program is a type of marketing scheme used by many forex brokers to bring on new traders. This type of marketing is extremely common. A report by Influencer Marketing Hub found that affiliate marketing is currently a $14.3 billion industry.
It relies on affiliates who partner with the forex broker and direct traders to open an account with the broker. If someone opens an account and makes a minimum deposit using the affiliate's referral code, that affiliate receives a commission.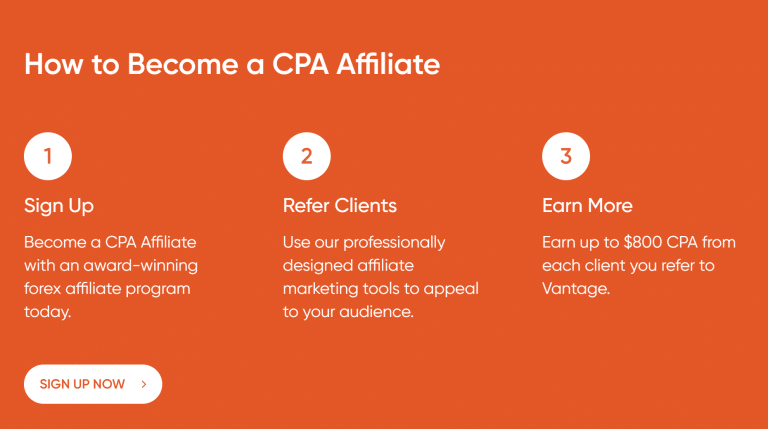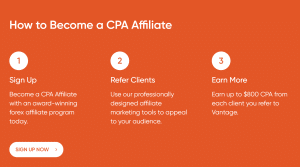 The affiliates who earn the most from these programs typically have large followings. They include:
Trading influencers
Professional traders who run an online trading school
Financial website and review platform owners
Traders who run trading signals and recommendation services
However, anyone can become a forex affiliate. Most forex brokers pay commissions for every new client who signs up, even if an affiliate only ever refers one new trader. So, a trader could make good money from an affiliate program just by signing up a few friends to a brokerage.
How Does Forex Affiliate Marketing Work?
Forex affiliate marketing typically entails signing up and receiving a referral code. This is a code specific to one affiliate that the broker can use to track which traders signed up because of that affiliate. To count, referees must enter the affiliate's referral code during the sign-up process.
For an affiliate to earn a commission, the trader signing up must meet certain conditions. These can include depositing a minimum amount, making a certain number of trades, or even trading a certain type of instrument. If the referred trader doesn't meet these conditions, the affiliate won't receive a commission.
How and how much affiliates are paid varies from one broker to another. Here are the two most common payout schemes:
Cost per action (CPA): Affiliates receive a fixed commission for each trader who signs up using their referral code. The amount paid usually depends on the trader's country, the size of their initial deposit, and what instrument they trade first.
Revenue sharing: Affiliates receive a portion (usually 10-50%) of the trading fees collected for each trade a referee makes. Revenue sharing payouts may only include trades the trader places in their first 6-12 months, or they could last for as long as the trader remains a customer at the brokerage.
Importantly, there's almost never a cost to sign up with an affiliate program. Traders who sign up to a broker using a referral link also don't pay anything extra in fees. So, these programs can be a win-win for affiliates and traders. Anyone who recommends a specific broker to another trader should consider signing up for an affiliate program and sharing their referral code.
One thing to keep in mind is that affiliate marketing by forex brokers isn't allowed in every country. In the US, the SEC has strict rules around affiliate marketing programs. Many forex brokers will not accept US residents as affiliates.
Best Forex Trading Affiliate Programs Reviewed
Let's take a closer look at the best forex affiliate programs available to join today.
1. Vantage – CPA Program Offering up to $800 Per Account and Access to Cellxpert Tracking Software
Vantage has what we think is the overall best forex affiliate program in 2023. This broker offers a CPA affiliate program that pays between $100 and $800 for every trader an affiliate signs up.
The exact amount an affiliate earns depends on the country that the referee is from. So, traders who want to earn more can focus their marketing efforts on Tier-1 countries. To earn a commission, referred traders must make a minimum deposit of $500 and trade 2 lots of any of the instruments that Vantage offers.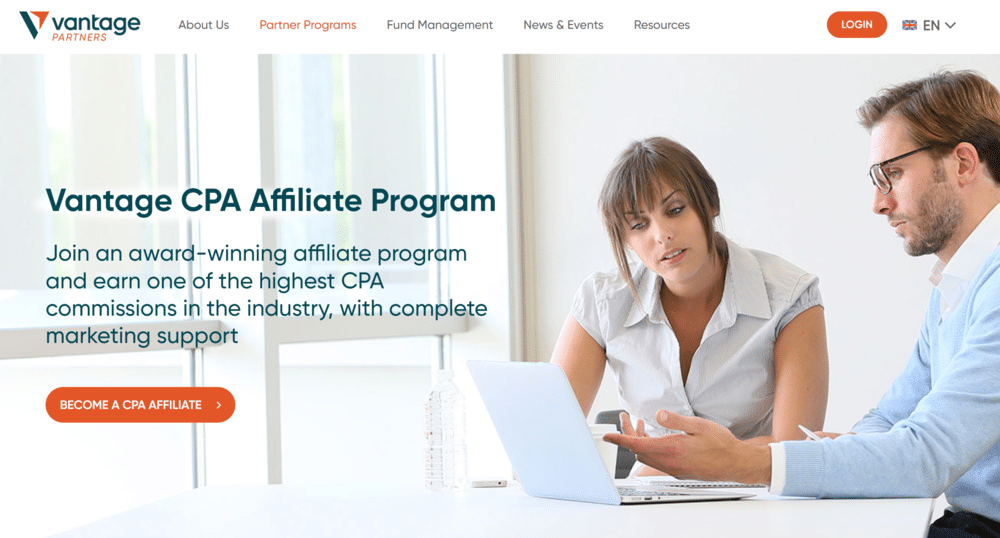 What really sweetens Vantage's CPA program is the broker's monthly bonuses for top-performing affiliates. Affiliates who sign up 30-49 traders in a month earn a bonus of $3,000, and affiliates who sign up 50 or more traders in a month earn a $10,000 bonus.
Another unique benefit of Vantage's affiliate program is that affiliates receive access to the Cellxpert software package. This platform is designed to help affiliate marketers find leads, monitor conversions, and track commissions. It's a powerful tool that can help Vantage affiliates significantly boost their conversion rates.
There's a lot that affiliates can recommend about Vantage to traders. The broker offers more than 1,000 instruments to trade including forex, commodity, and crypto CFDs. Vantage has some of the lowest trading fees in the industry and offers access to MetaTrader 4 and 5 alongside its own web and mobile trading platforms.
Signing up to join Vantage's affiliate program only takes a few minutes. Affiliates also receive 24/5 support to help them start earning commissions.
2. Eightcap Partners – Earn $6 Commission Per Lot Traded on More Than 800 Instruments
Eightcap Partners is another one of the best forex brokers offering a highly profitable affiliate program. With this program, affiliates can earn a $6 commission on every lot that a referee trades.
That adds up to a lot of recurring revenue, especially for affiliates who refer a large number of traders or who refer high-frequency day traders. Affiliates earn these passive commissions for as long as a referee remains an Eightcap client.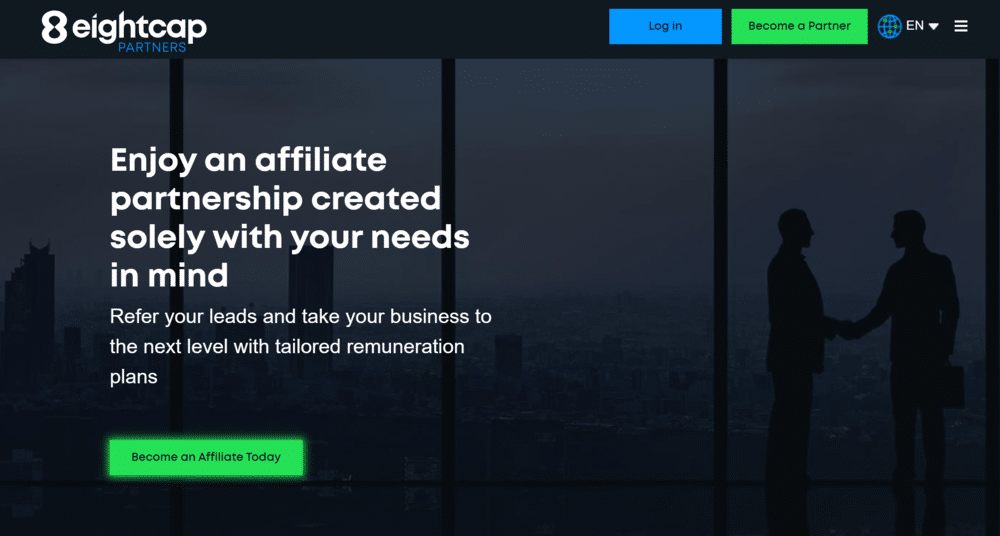 Eightcap Partners paid out more than $9 million to its affiliates last year. The minimum payout is only $100 and affiliates can withdraw their commissions via bank transfer or e-wallet.
The sign-up process to join Eightcap is straightforward. Prospective affiliates just need to fill out a registration form and they'll typically receive their unique referral code within one day.
Eightcap offers trading on more than 800 instruments, including CFDs for forex, indices, stocks, and crypto. The broker has won numerous awards and has wooed many traders with its best-in-class spreads.
Traders receive access to MetaTrader 4 and 5 along with TradingView, which are all among the top analysis platforms in the industry. Eightcap also gives traders free access to Capitalise.ai, a trading robot that can automate traders' strategies without requiring any code.
Affiliates receive marketing support to discuss all of these features, plus a simple and fast way to onboard referees to Eightcap. Overall, Eightcap offers excellent payouts and great support for affiliates.
3. Exness – Earn Up to $45 Per Lead and Up to $1,850 Per New Account and Get Paid Out Daily
Exness offers one of the highest payouts of any forex broker CPA affiliate program. When affiliates refer a new trader to Exness, they earn a commission of up to $1,850.
Referees only need to make a minimum deposit of $10 to generate a commission for affiliates. The minimum deposit to earn the maximum commission is generally $500-$600, depending on the trader's country of residence. That's in line with the requirements of other CPA programs, but it's nice that affiliates can earn even for traders who are just testing the waters with a small deposit at Exness.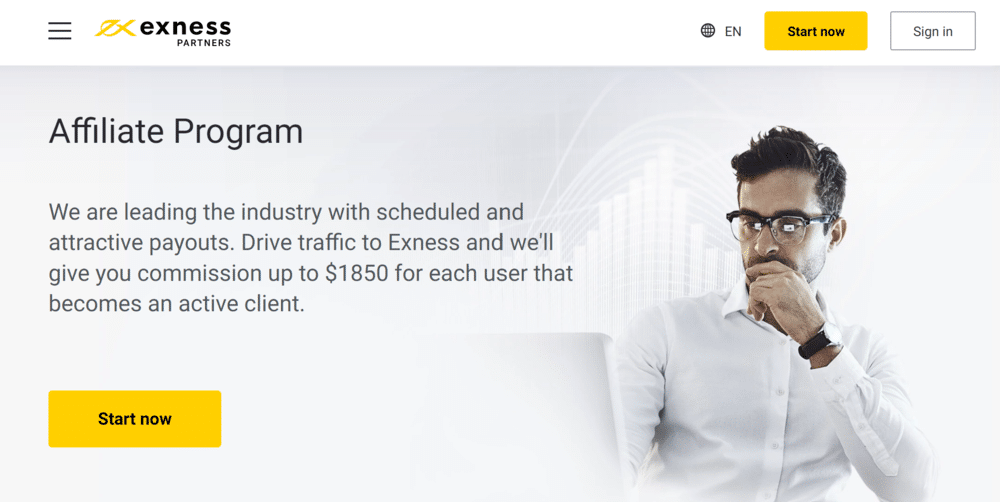 Exness is also unique in offering commissions for every new lead that affiliates generate for the broker. Leads don't need to make a deposit to Exness, only register for the platform using their email and phone number. Exness will pay up to $45 per lead depending on the trader's country. In most countries, affiliates can expect to earn $5-$10 per lead.
Exness helps affiliates succeed by offering detailed marketing materials and a real-time dashboard to track leads, referrals, and commissions. The broker also offers bonuses to incentivize its top affiliates, although it's not fully transparent about how to achieve these bonuses.
Exness offers 24/5 support for affiliates by live chat and email, but doesn't offer phone support.
XTB is another top forex broker with a very attractive affiliate marketing program. What's interesting about this affiliate program is that traders can choose how they want to get paid out.
Option one is a CPA program that pays a commission of up to $600 for every trader an affiliate brings to XTB. To qualify for a commission, the referee must make a minimum deposit of $400 when they join XTB.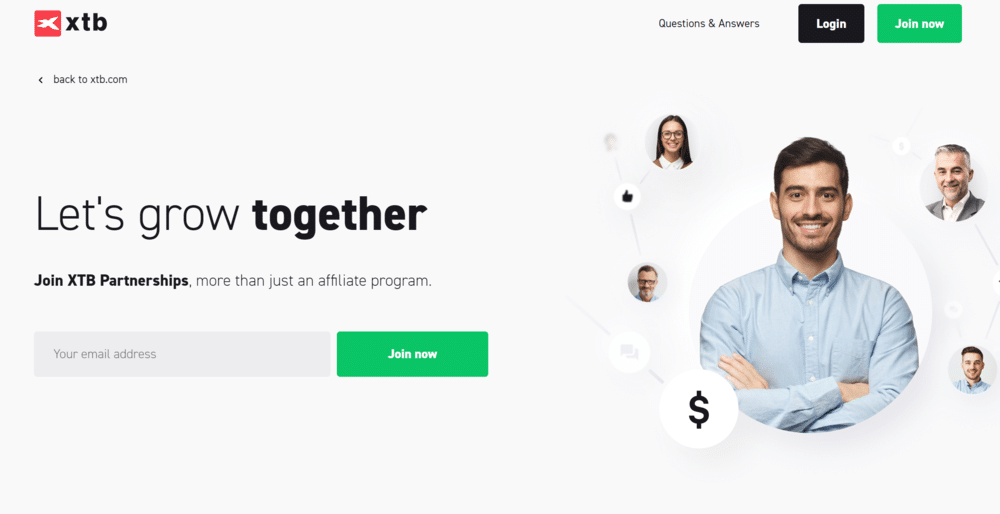 Commissions also vary based on what country the referee is from and whether their first trade is for forex, crypto, or stocks. The maximum commission for stock referrals is $50.
Option two is a revenue share plan that gives affiliates a 20% cut of trading fees from every trade that a referee makes. Affiliates earn the same 20% cut no matter what country the referred traders are from or what instruments they trade.
XTB offers thorough marketing materials and has a multilingual sales team that can help affiliates convert leads into XTB customers. The broker is also planning to roll out ads that affiliates can place on their websites and which will be customized with each affiliate's referral code.
XTB offers traders more than 2,200 CFDs to trade, making it one of the best brokers for trading selection.
AvaTrade has paid out more than $250 million in commissions to affiliates since the broker launched its revenue share program. That's a huge amount that signals AvaTrade takes affiliate marketing extremely seriously and will be there to support affiliates.
The broker offers a very attractive revenue sharing deal, giving affiliates 50% of the trading fees generated by their referees.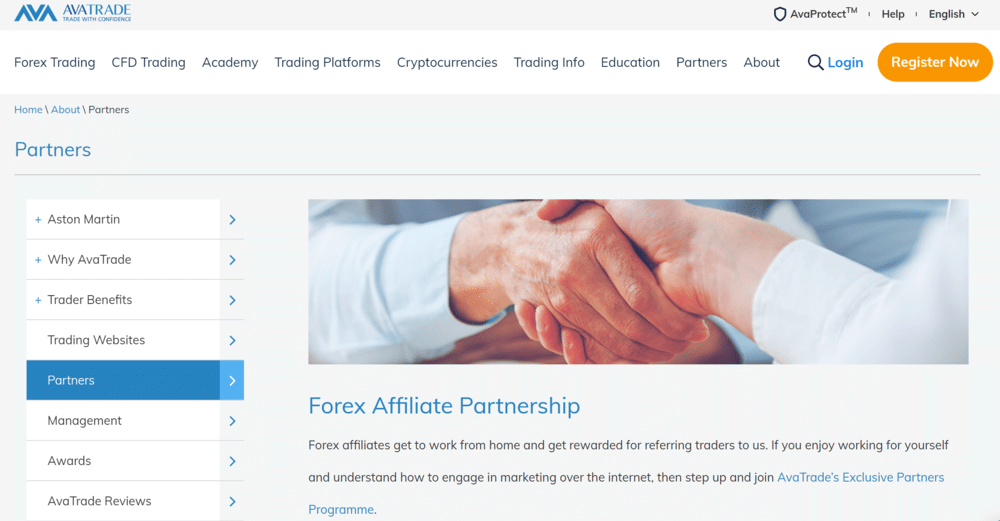 AvaTrade is one of the best low-spread forex brokers, so it can take a while for fees to add up. But the revenue sharing agreement is good for as long as a trader remains an AvaTrade customer, so this is a great deal for affiliates who are in it for the long term.
Affiliates who prefer a more instantaneous payoff can take advantage of AvaTrade's CPA program, which offers up to $1,000 per referral. AvaTrade also offers hybrid CPA and revenue sharing agreements for high-volume affiliates.
AvaTrade operates in more than 160 countries and boasts more than 200,000 customers. The broker offers multilingual support, websites in more than 20 languages, and access to several popular trading platforms. AvaTrade also has thousands of instruments available to trade, including vanilla forex options.
FXPro is a popular forex broker that offers both revenue share and CPA affiliate programs.
We're big fans of the broker's revenue share program, which offers a 55% cut of every referee's trading fees. It takes some time to start building up commissions, but the revenue share is good for life and it can bring in a lot of passive income after an affiliate signs up a few dozen traders.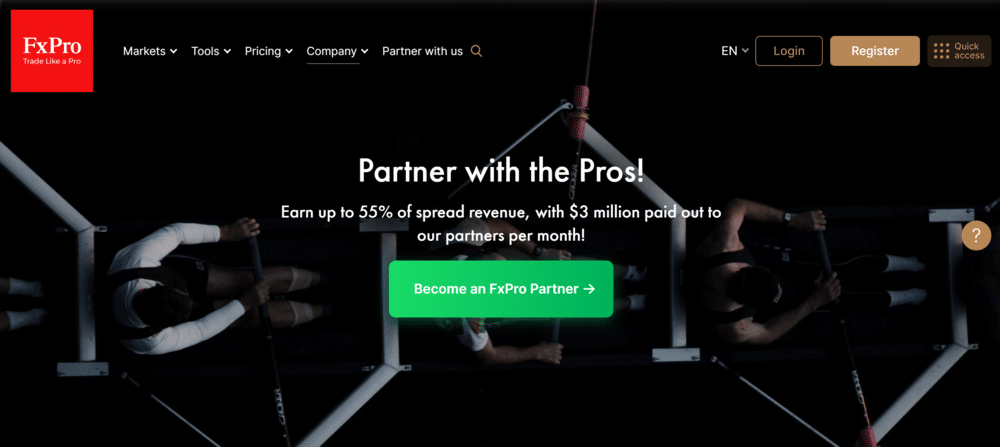 FXPro's CPA program is also attractive, offering up to $1,100 per trader who signs up for the broker.
FXPro offers an IB link builder tool to make it easy to create custom affiliate links in multiple languages and formats. The broker also gives affiliates access to detailed reports so they can see how much their referees deposited, how actively they trade, and more.
According to FXPro, the broker pays out more than $3 million to its affiliates every month.
eToro is one of the largest brokerage firms in the world with more than 30 million users. That's a lot of social proof that traders love this platform.
There's a lot to like. eToro offers trading on a wide range of instruments, including forex, cryptos, commodities, stocks, ETFs, and bonds. It also supports copy trading and gives traders access to proprietary research and social metrics.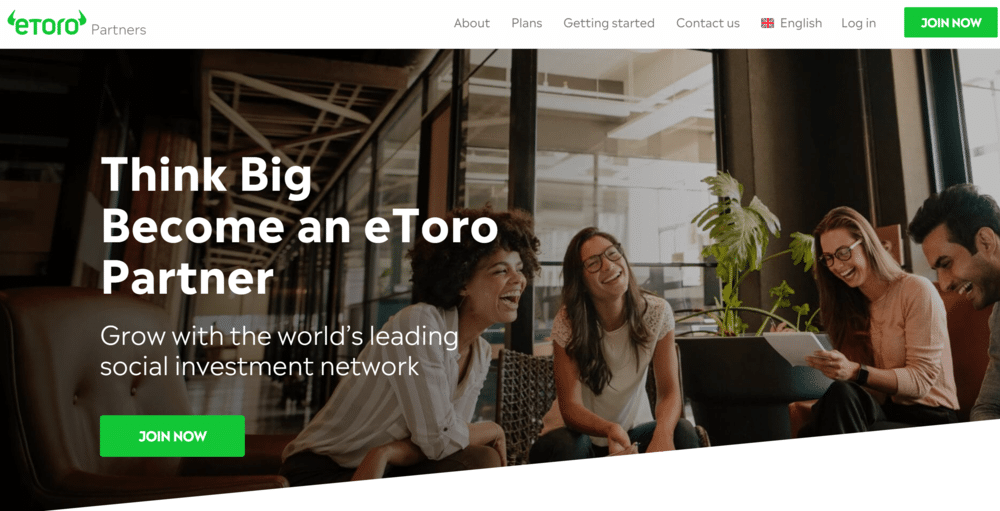 In part because of eToro's size, its affiliate program is slightly less generous than that of other brokers. Most affiliates earn a revenue share of 25% on forex, crypto, and commodity CFD trades. eToro has very low spreads, so these fees can take a while to add up.
The good news is that since eToro is so popular, it's relatively easy to convert traders to this broker. So, affiliates can rack up a lot of referrals quickly to boost their overall commissions.
8. XM – Earn up to $10 per lot traded with no limits on commissions. Affiliates get a dedicated account manager, weekly payouts, and 24/5 support
XM is another popular forex broker with a very lucrative affiliate program. The broker pays out up to $10 for every lot that an affiliate's referees trade. There's no limit on how much affiliates can earn through the program.
Affiliates get a number of benefits from XM, including a dedicated account manager who can offer coaching in XM's benefits and help affiliates increase their conversion rate. Affiliates can also get 24/5 support for other aspects of their account.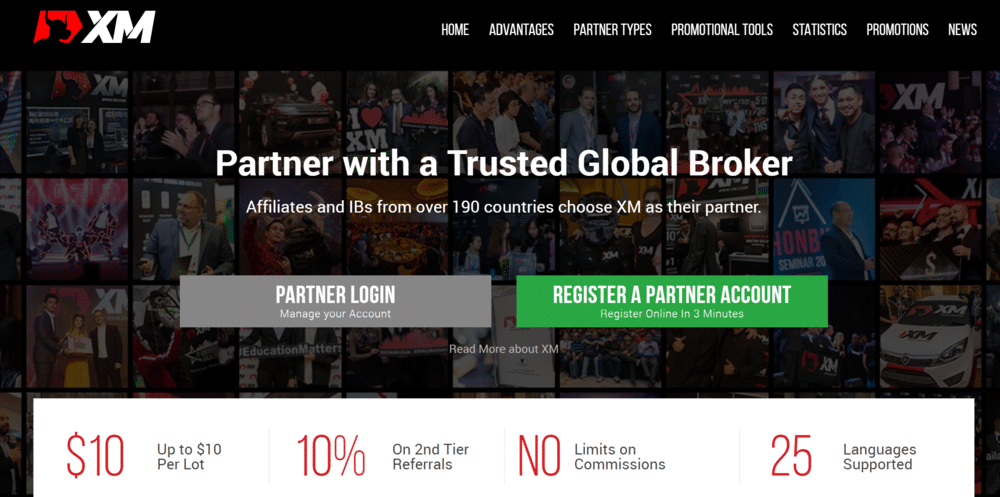 XM offers payouts weekly instead of daily, but the withdrawal minimums are low and there are many payout options. The broker makes it easy to track referrals and total earnings.
New affiliates can register with XM in just 3 minutes on the broker's website and get a referral code immediately. It's one of the simplest sign-up processes of any forex broker affiliate program.
9. HF Markets – Free forex affiliate program offering up to $30 per lot traded by referees. Offers daily payments and advanced tools to track referrals
HF Markets offers a massive affiliate payment of up to $30 per lot for every lot a referee trades. It's not easy to earn this maximum commission—traders need to move huge volumes of CFDs—but HF Markets has enviable payouts even in its lower commission tiers.
Another benefit is that HF Markets offers payouts for sub-affiliates. That is, if a trader that an affiliate signs up then joins HF Markets' affiliate program, the original affiliate will earn a payout for every trader their referee signs up.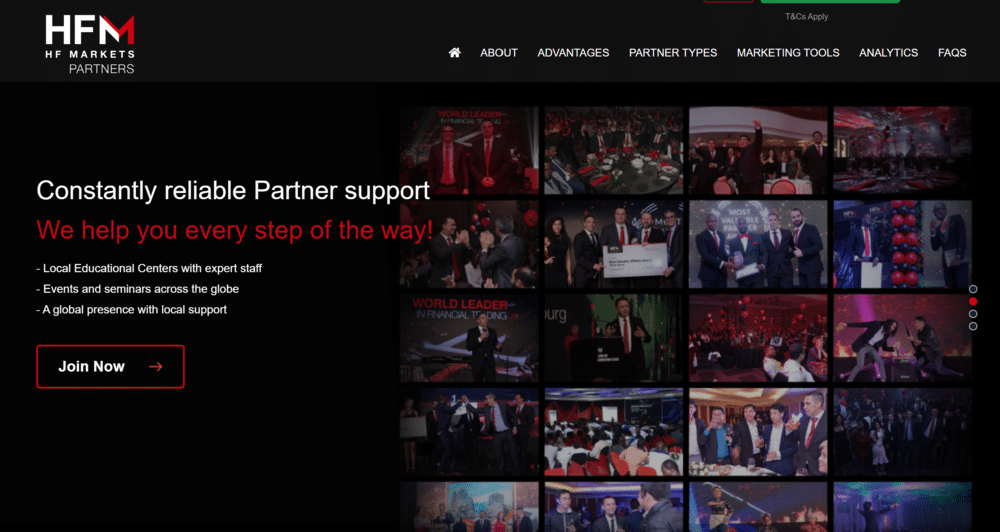 It's completely free to sign up for HF Markets' affiliate program. Affiliates receive daily payouts via bank transfer or e-wallet, and they can easily track their leads and commissions using a statistics dashboard.
HF Markets also offers 24/5 customer support in more than 25 languages. Affiliates also get access to a personal account manager to help them get started on the right foot.
10. IronFX – $1,000 CPA Referral Bonus Plus up to $15 Per Lot
IronFX is a fast-growing forex broker with an extremely generous affiliate marketing program. The broker claims a 40% conversion rate for leads and pays affiliates up to $1,000 for every trader they sign up.
On top of that, new affiliates can earn a $1,000 sign-up bonus for joining IronFX. Affiliates can also earn a rebate of $15 per lot on their referees' trades. All together, IronFX's offers have the potential to earn affiliates a lot of money. The broker has already paid more than $40 million to partners.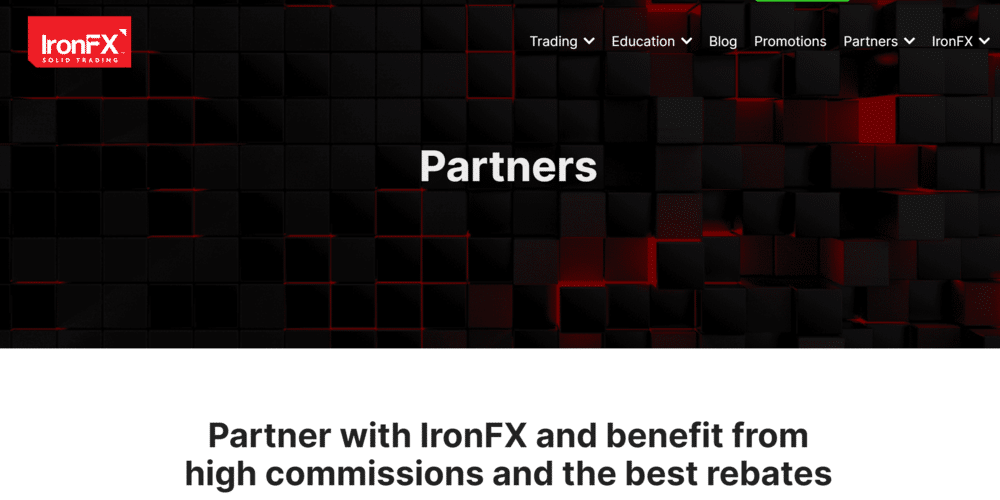 The even better news is that it's easy to access that money. IronFX offers 6 different payment plans for affiliates, including an option for daily payouts.
The broker also has a dedicated marketing studio where affiliates can craft custom ads, affiliate links, and more. A stats dashboard helps affiliates keep track of their performance and manage new leads.
Are Forex Affiliate Programs Worth It? Potential Benefits
Affiliate programs can be a great deal for affiliates. There's no cost to sign up and no fees. There's only upside potential for each trader an affiliate signs up.
Importantly, traders who sign up using a referral code never pay more in trading fees. So, there's no downside to signing up through an affiliate compared to signing up without a referral code.
Being an affiliate doesn't take much work. Affiliates just need to share their referral code when they recommend a specific broker. Anyone who runs a trading website can embed their referral code in an affiliate link, making it even easier to capture referrals.
The payout from forex broker affiliate programs isn't enough to change someone's life if the affiliate only signs up one or two people. But revenue sharing programs can generate a significant amount of revenue—even enough to replace a full-time job—if an affiliate signs up a large number of active traders.
How Much Can You Earn From Forex Affiliate Marketing?
The amount an affiliate can earn from forex trading affiliate programs varies widely. It's helpful to consider some of the different affiliate program commissions and how much they would pay out under different scenarios.
Let's take Vantage's affiliate program as an example. This pays out up to $800 per qualified sign-up. Say an affiliate encourages friends to join and 4 of them do. The affiliate could potentially earn a one-time payout of $3,200.


An affiliate's potential earnings are much higher if they have access to more referees. For example, a professional trader who runs a trading school might refer 2 new sign-ups per week. Over the course of a year, that would add up to $83,200 in referral commissions.
That's roughly in line with estimates from job site Glassdoor, which says the average salary of an affiliate marketer is $94,000 per year.
Revenue sharing affiliate programs offer less money right away, but potentially more money over a long-term span. An affiliate might only earn $1 or $2 per trade that a referee makes. But if that referee places one trade per day for 5 years, that could add up to nearly $2,000 per referred trader.
How to Pick the Right Forex Broker Affiliate Program for You
Choosing a forex broker to partner with is a big decision, so it's important to pick the right forex affiliate network. Here are some of the key things to consider when choosing a forex broker affiliate program.
CPA vs. Revenue Sharing
CPA affiliate programs offer large lump-sum payments upfront for every trader an affiliate signs up. The payouts can be quite large, but they're one-time payments.
This means that an affiliate has to keep signing up new traders if they want to keep earning money from the affiliate program. That might be possible for professional traders with large followings. However, earning steady revenue from forex affiliate CPAs could prove challenging for individual affiliates who are only referring a few friends.
Revenue sharing programs offer much smaller payments over long periods of time. These programs can end up paying out more per trader than a CPA affiliate program, but affiliates need to be patient.
One major benefit to revenue sharing programs is that they deliver recurring commissions from existing referrals. So, affiliates can keep earning even if they don't sign up any new traders after their initial push for referrals.
Marketing Tools
Many forex brokers offer marketing materials to affiliates to help them sign up new traders. These can include materials like:
Graphics to use on a website
Customizable affiliate links
Marketing email templates
Talking points about the brokerage's features
Printable brochures to hand out to traders
In addition, some forex brokers offer access to software tools like to help affiliates track leads and referrals. For example, Vantage gives affiliates access to the Cellxpert software, which is a popular program for managing referral leads.
Having access to marketing features like these can help affiliates refer more traders to a broker, which in turn increases the affiliate's commission payouts.
Broker Quality
Affiliates should firmly believe that the forex broker they've partnered with is the best broker available for the traders they're referring. So, it's important to consider a broker's overall quality and offerings, not just the quality of the affiliate program.
All of the brokers we included on our list of the best forex affiliate programs offer thousands of instruments to trade, low trading fees, and outstanding trading tools.
Still, there are differences between them that might make one broker better for certain types of trading. For example, we think eToro is one of the best crypto exchanges to use right now.
Affiliates are allowed to sign up for affiliate programs with multiple brokers. This can be a good way to recommend one broker for forex trading, another for commodity trading, and another for crypto trading.
Affiliate Support
Many forex brokers provide support for affiliates to help them improve their marketing techniques and refer more traders. This type of support can be very valuable, especially for individuals who are new to affiliate marketing.
Look for brokers that offer support over multiple channels, including by phone, email, live chat, and social media. It can also be helpful if support is available in multiple languages.
Conclusion
Forex broker affiliate programs offer a way to earn commissions by referring traders to a brokerage. We especially like the CPA affiliate program from Vantage, which offers up to $800 per referral. The broker offers more than 1,000 tradable instruments and 24/5 customer support for affiliates. Plus, affiliates receive access to Cellxpert to track leads and increase their conversion rate.
Sign up for the Vantage forex affiliate program to start earning money on every referral.
References
https://influencermarketinghub.com/affiliate-marketing-report/
https://www.sec.gov/files/rules/final/2009/34-60423.pdf
https://www.glassdoor.com/Salaries/affiliate-marketing-salary-SRCH_KO0,19.htm
FAQs
What is an affiliate in forex trading?
How much do forex affiliates make?
How do I become a forex affiliate?
What is the best forex affiliate program?