The best gene-editing stocks are having a moment this month with a Food and Drug Administration (FDA) advisory committee reviewing exa-cel, a gene-editing therapy by Vertex Pharmaceuticals and CRISPR Therapeutics. Exa-cel is being looked at as a potential cure for two genetic blood disorders – transfusion-dependent beta thalassemia (TDT) and sickle cell disease (SCD). The FDA is expected to issue a final ruling on the therapy to treat SCD by December. 
With the advisory committee not raising any particular red flags, exa-cel could be the first CRISPR (clustered regularly interspaced short palindromic repeats) gene-editing therapy to be approved. In response to the meeting, gene-editing stocks saw double-digit increases.
Gene-editing is showing a great deal of promise to treat the root causes of disease with single-dose therapies, using genomic data, that could reduce the long-term costs for certain diseases. The Institute for Clinical and Economic Review (ICER) says the therapy could be worth as much as $1.35 million to $2 million per treatment because it would end the need for long-term therapies for SCD or TDT.
10 Best gene-editing Stocks to Invest in 2023
This guide presents the 10 best gene-editing stocks for solid long-term gains, looking at which companies stand to benefit the most from growth in the sector.
CRISPR Therapeutics: The mid-cap clinical-stage biotech company has seen its shares soar more than 30% to start this month. CrisprTherapeutics (NASDAQ: CRSP), which as the name suggests, focuses on CRISPR gene-editing solutions, doesn't have any approved therapies, but it does have more than $1.7 billion in cash as of the third quarter, plenty to get exa-cel to the finish line and help market it. It also has other early stage programs in its pipeline, including blood cancer therapies CTX110 and CTX130.
Intellia Therapeutics: This mid-cap clinical-stage gene-editing company also uses CRISPR gene editing. Intellia (NASDAQ: NTLA), has  a lead therapy, NTLA-201, that it is developing in a partnership with Regeneron Pharmaceuticals (NASDAQ: REGN). NTLA-201 is being tested to treat transthyretin amyloidosis with cardiomyopathy, a rare progressive genetic disease that is usually fatal. The company got approval from the FDA last month to launch a phase 3 trial in NTLA-201. 
Vertex Pharmaceuticals: This large-cap biotech company has seen its shares jump by more than 8% this month, thanks to the news regarding exa-cel. The company already is on strong financial ground, thanks to its dominance in cystic fibrosis therapies. It also has a promising non-opioid painkiller, VX-548, in its growing pipeline.
Beam Therapeutics: The small-cap clinical-stage biotech company's shares are up more than 30% since the month started. One thing that separates Beam (NASDAQ: BEAM) is its base gene editing, considered a more precise form of genetic editing, with possibly fewer side effects. Beam's lead programs to treat SCD and  alpha-1 antitrypsin deficiency (AATD), a genetic condition that causes lung and liver damage, are in the early stages. 
Bluebird Bio: The small-cap biotech already has two approved therapies. Zynteglo is designed to treat TDT and Skysona is approved to treat cerebral adrenoleukodystrophy (CALD), a progressive neurodegenerative disease that affects children, causing damage to the myelin sheaths in the brain and spinal cord. The big catalyst for Bluebird (NASDAQ: BLUE), though, will be if lovo-cel gets the go-ahead from the FDA on Dec. 20 to treat SCD. ICER said that like exa-cel, lovo-cel would be worth between $1.35 million and $2.05 million per treatment. 
Agilent Technologies: The large-cap life services company didn't get much of a bump from the positive gene-editing news, with its shares up only 7% so far in November. Agilent (NYSE: A) isn't a pure-play gene editing stock because it makes materials that gene-editing companies use, including CRISPR bioreagents, next-generation sequencing library prep and sample quality control. 
Caribou Biosciences: The small-cap clinical-stage biotech company's shares are up more than 15% so far this month. Caribou (NASDAQ: CRBU) has the backing of Pfizer (NYSE: PFE), which recently bought $25 million shares of the biotech company. Caribou focuses on off-the-shelf CAR-T and CAR-NK cell therapies. The company has three pipeline therapies that are in early trials, including CB-010 to treat B-cell Non-Hodgkin Lymphoma. CB-10 has Fast Track, Regenerative Medicine Advanced Therapy and Orphan Drug designations from the FDA. There's also CB-011, which received Fast Track Designation from the FDA as a therapy to treat relapsed or refractory multiple myeloma, a cancer that forms in plasma cells, and CB-012, which is being examined to treat acute myeloid leukemia.
Regeneron Pharmaceuticals: The large-cap biotech company has several marketed products and a deep pipeline of more than 35 programs. The company is another stock that benefits from its gene-editing adjacency status, as it partners with gene-editing companies to complement its portfolio. Regeneron (NASDAQ: REGN) is working with Intellia Therapeutics on in vivo CRISPR-based gene editing therapies to treat neurological and muscular diseases. Regeneron also just bought Decibel Therapeutics (NASDAQ: DBTX), which it already had ongoing collaborations with, on gene therapy programs to target hearing loss.
Gilead Sciences: The large-cap pharmaceutical company, best known for its antiviral treatments for HIV and hepatitis, has several gene-editing collaborations with other companies as a way to find better oncology therapies. The company has a huge pipeline, including eight cell therapies.
Twist Bioscience: The small-cap biotech company is gene-editing adjacent as it has a DNA synthesis platform that is used by gene-editing companies. Shares for Twist (NASDAQ: TWST) are up more than 13% so far this month.
A Closer Look at the Top Gene-Editing Stocks to Buy
Let's take a deeper look at the case for investing in the above gene-editing stocks. Read on to find the best dividend stocks this month.
1. Crispr Therapeutics: Best Gene-Editing Stock to Buy Now
The FDA advisory meeting regarding exa-cel spurred the recent push for Crispr Therapeutics shares as the comments regarding the therapy were generally positive. While SCD is rare, it affects 100,000 people in the U.S. each year, according to the Centers of Disease Control and Prevention, and each dose of exa-cel could be priced as high as $1 million.

That's still a pretty good-sized target group and Crispr is slated to get 40% of the profits from exa-cel, with Vertex receiving the rest. On top of that, exa-cel has a solid chance of being approved to treat another genetic blood disorder, TDT. 

Crispr's pipeline includes 22 programs spread across four classifications: hemoglobinopathies, immuno-oncology, regenerative medicine, and in vivo approaches. The company, if exa-cel is approved by the FDA, gains a first-to-market advantage, both in profits to drive more development and in reputation among investors.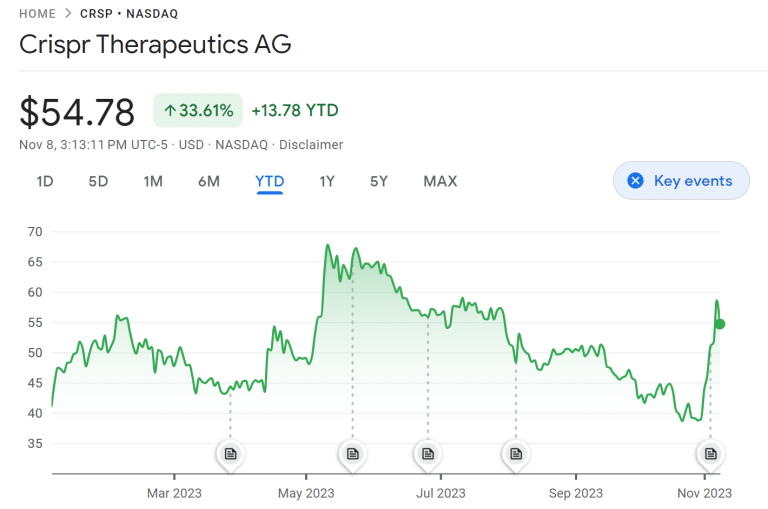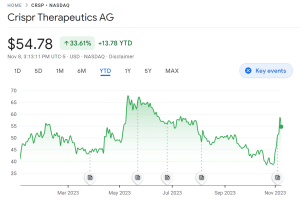 The company's expertise is echoed in its many collaborations. Besides Vertex, it is working with Nkarta Therapeutics (NASDAQ: NKTX), Bayer (OTC: BAYRY) and two private companies, ViaCyte,  and Capsida Biotherapeutics. As of the third quarter,  Crispr had nine-month collaboration revenue of $170 million, compared to $430,000 in the same period last year.
2. Intellia Therapeutics: Best Underrated Gene-Editing Stock
The clinical-stage gene-editing company's lead therapy, NTLA-201, has huge potential because its target disease, transthyretin (ATTR) amyloidosis, affects between 200,000 and 500,000 people worldwide. The company sees the market for ATTR therapies to be worth $11 billion by 2026.

The company recently got approval from the FDA to enter the therapy in a phase 3 trial. It's the first such test of a gene-editing therapy that has the potential to cure or treat a hereditary condition by changing patients' genomes. It is expected the trial will begin by the end of this year.

Intellia has more than 10 programs in its pipeline to treat diseases with a high unmet need and it uses CRISPR editing to create therapies. In the first week of November, the stock rose more than 24% but it is down more than 17% so far this year.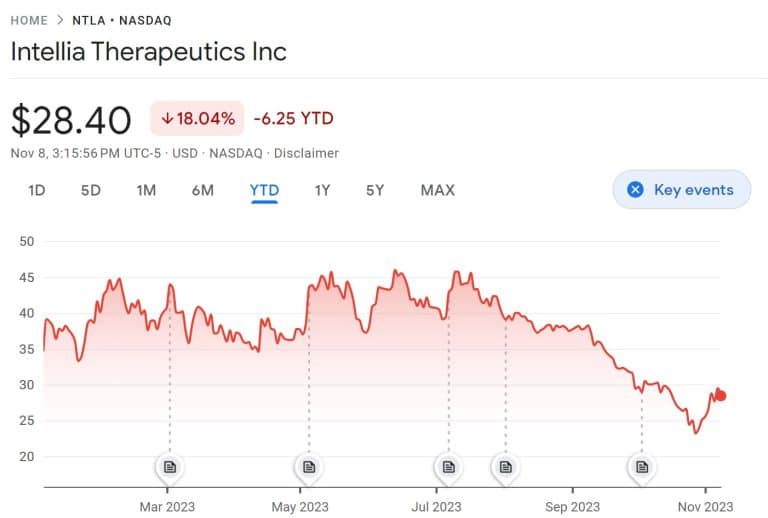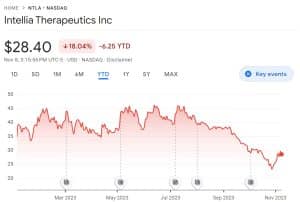 The company also has six collaborations, most notably one with Regeneron that it upgraded in October to develop two more in-vivo therapies tied to neurological and muscular diseases. In-vivo therapies are where a gene is edited to stop a disease.

The company, as of the second quarter, had $1.1 billion in cash. Its only revenue is from collaborations, and it reported $13.6 million in revenue in the quarter, down from $14 million in the same period a year ago.
3. Vertex Pharmaceuticals: Best Gene-Editing Stock for Security
Vertex has a big advantage over most gene-editing companies because it is already profitable, thanks to its domination of cystic fibrosis therapies. In the third quarter, the company reported revenue of $2.48 billion, up 6%, year over year, thanks to strong sales from CF therapy Trikafta. Vertex also reported net income of $1.035 billion, up 22% over the same period last year. 

The company also has huge cash reserves of $13.8 billion, giving it plenty of money to develop exa-cel as well as the other 14 programs in its pipeline. The company raised its 2023 CF revenue prediction from an earlier range of between $9.7 billion to $9.8 billion to $9.85 billion.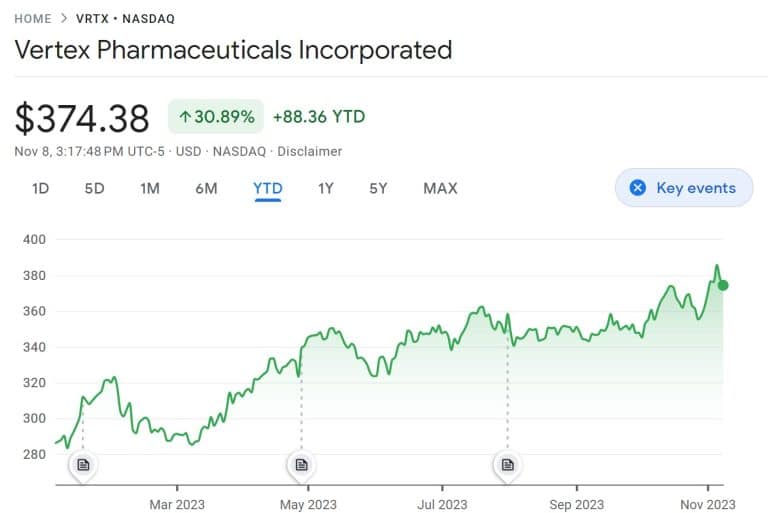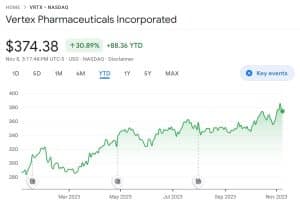 There's also quite a bit of interest in VX-548, which is in Phase 3 trials as a non-opioid painkiller to treat acute pain, as well as a phase 2 trial to relieve diabetic peripheral neuropathy. The results of both trials are expected early next year. If those go well, the market for the therapy could be huge, dwarfing any of its other therapies.
4. Beam Therapeutics: Base-Editing Sets it Apart
Beam's CRISPR base editing, which is considered to be more precise, with fewer off-target results, could set it apart in the industry. 

The company just extended its cash position into 2026 with a deal with Eli Lilly (NYSE: LLY) that gives Lilly the commercial rights to the base editing program to treat cardiovascular disease developed by Verve Therapeutics (NASDAQ: VERV). In return, Beam receives a $200 million upfront payment, a $50 million equity investment and is eligible for an additional $350 million in development-stage payments.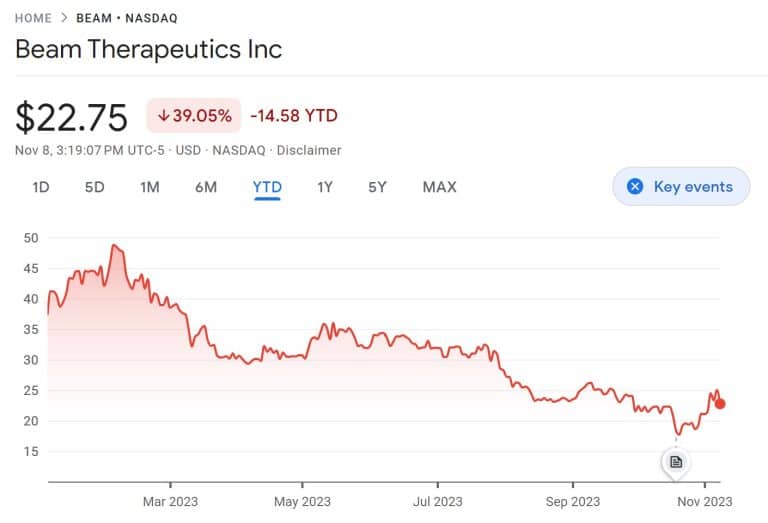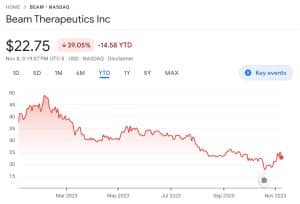 As of the second quarter, Beam had $1.1 billion in cash and a quarterly loss of $82.8 million.

The company has seven programs in its pipeline, led by BEAM-101 to treat SCD and TBD, as well as BEAM-201 to treat aggressive CD7+ leukemias and BEAM-302 as a one-time treatment to end AATD, with the potential for the cell therapy to treat lung and liver disease.

The company's base editing has attracted collaborations with Pfizer, Apellis Pharmaceuticals (NASDAQ: APLS), Sana Biotechnology (NASDAQ: SANA), Verve, Prime Medicine (NASDAQ: PRME) and Orbital Therapeutics.
5. Bluebird Bio: Lovo-Cel Could Change Company's Future
The company's shares are up more than 18% so far this month, but down more than 49% for the year. The impetus for the recent rise was the company's third-quarter earnings, which showed increased sales for Zynteglo and Skysona, with 22 patient starts across both programs. In the quarter, the company reported revenue of $12.4 million, compared with only $100,000 in the same period last year. 

The company also narrowed its net losses, albeit barely, losing $71.7 million in the quarter compared to a loss of $76.5 million in the third quarter of 2022. The biggest concern for Bluebird is its cash position. It reported it had $227 million in cash. Bluebird is looking to possibly sell a Rare Pediatric Disease Priority Review Voucher (PRV), if granted by the FDA, for $103 million to improve its cash situation.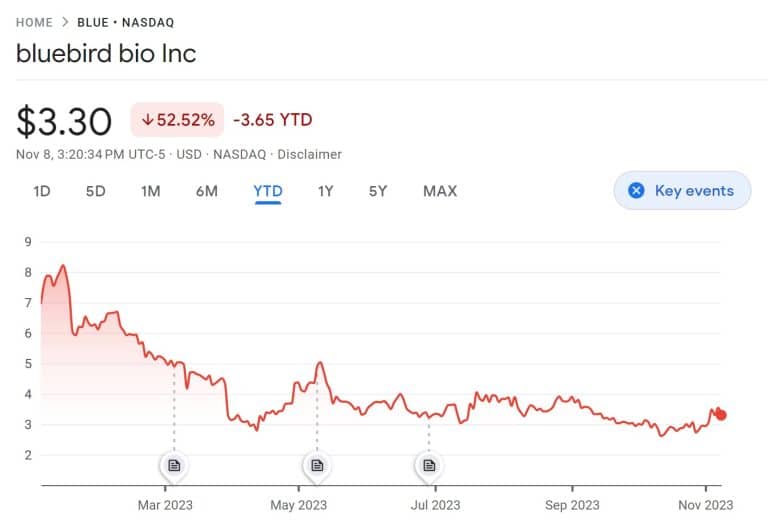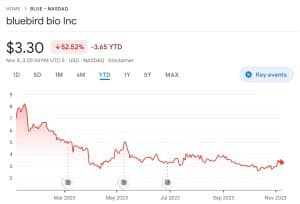 Next month, the company is expected to hear from the FDA regarding its approval toward a Biologics Licensing Application (BLA) for lovo-cel as a one-time treatment for SCD for patients 12 and older. The therapy's Prescription Drug User Fee Act (PDUFA) goal date is Dec. 20. While exa-cel is a CRISPR-based therapy, lovo-cel is a lentivirus-based gene therapy.

It works by placing a functional beta-globin gene into a patient's own stem cells, allowing them to produce healthy hemoglobin. If approved, lovo-cel would change Bluebird's financial situation significantly. Visible Alpha says there's a good possibility the therapy could generate $520 million in revenue by 2030.
6. Agilent Technologies: Solid Stock for Pick-and-Shovel Gene-Editing Investing
The company is poised to benefit regardless of which gene-editing biotechs fare well. Its connection to gene-editing is only part of its business, with the company having groups for Life Sciences & Applied Markets, Diagnostics and Genomics, and Agilent CrossLab.

In the third quarter, Agilent, citing lower business in China, saw revenue fall, but its profitability improved. It reported revenue of $1.67 billion, down 2.7%, year over year. Operating margin was listed as 29.3%, up 180 basis points compared to the same period last year. Earnings per share grew 7%, year over year, to $1.43.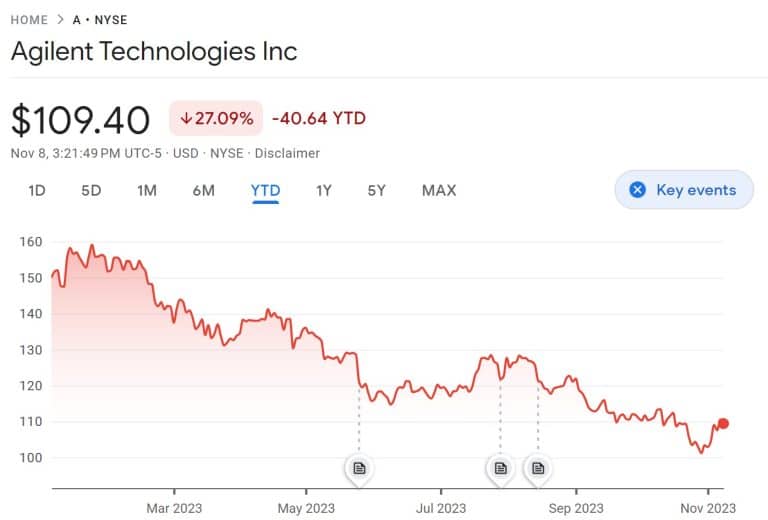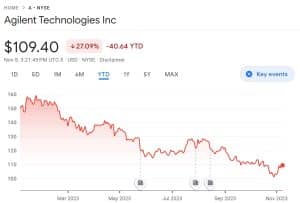 Agilent is also unusual in this list because it has a quarterly dividend that it has raised for 11 consecutive years, including a 7% bump this year to $0.225 per share, equaling a yield of around 0.83%.
7. Caribou Biosciences: High-Risk, High-Reward Stock
The company uses CRISPR editing to produce allogeneic "off-the-shelf" CAR-T cell therapies, using healthy donor cells to target cancer cells.

The company focuses on blood-related cancers by armoring the body to potentially improve antitumor activity. Its lead program is CB-010, which is in a phase 1 trial to treat relapsed or refractory B cell non-Hodgkin lymphoma. Two other therapies in phase 1 trials in the pipeline include CB-011 to treat relapsed or refractory multiple myeloma and CB-012 to treat refractory acute myeloid leukemia.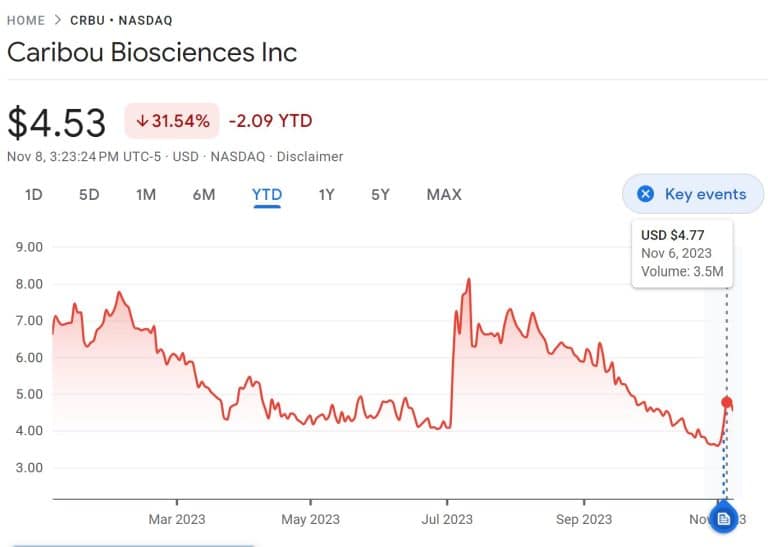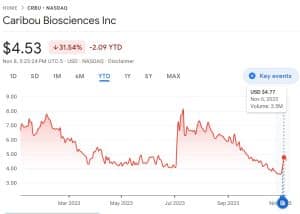 As of the third quarter, Caribou said it had $396.7 million in cash, enough to fund operations into the fourth quarter of 2025. The company had a net loss of $10 million in the quarter and reported $23.7 million in collaboration revenue, up from $3.3 million in the same period a year ago.

The company's main collaboration agreement is with AbbVie (NYSE: ABBV), but Pfizer has also recently become one of its main backers, making a $25 million equity investment in Caribou. 

The stock trades for less than $5 and its low cash position is a concern. However, considering the early success of its therapies, there's a huge potential upside for the stock.
8. Regeneron Pharmaceuticals: Balance Gives it Dependable Growth
Regeneron is dipping more than its toes into gene editing. The pharmaceutical company's financial strength gives it the means to see potential gene-editing therapies through to the finish line, and the company already has a sizable marketing staff.

In the third quarter, Regeneron reported revenue of $3.36 billion, up 15%, year over year and EPS of $8.89, down 24% over the same period last year, but that includes a one-time unfavorable impact of about $0.77 in EPS from an acquired in-process research and development charge.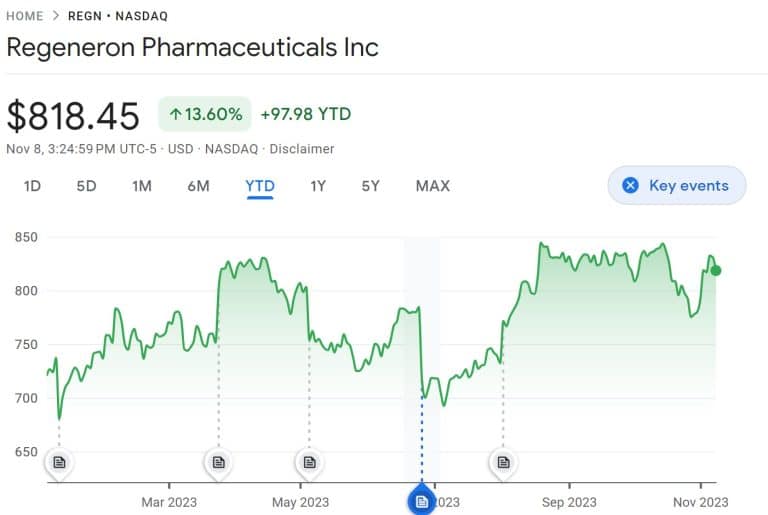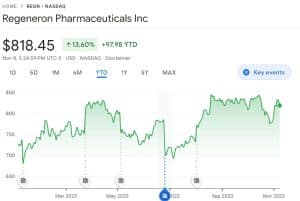 The company had a big approval in the quarter for Eylea HD to treat diabetic retinopathy and wet age-related macular degeneration, two of the leading causes of blindness. In the third quarter alone, the combination of Eylea and Eylea HD sales were $1.49 billion, including $43 million from the newly launched Eylea HD. The company is also seeing big gains from Dupixent, from which it shares sales with Sanofi (NASDAQ: SNY).

The drug is used to treat asthma, eczema, and some other inflammatory conditions. Overall sales from the drug were up 33% to $3.1 billion. The company's fastest-growing drug, though, was immunotherapy treatment Libtayo, which saw revenue increase 62% to $232 million.

The Regeneron Genetics Center is one of the largest genetics sequencing efforts in the world and the company just increased its CRISPR gene-editing collaboration with Intellia and the collaboration has already produced prospective therapy NTLA-2001 to treat ATTR.

Regeneron, in September, acquired Decibel Therapeutics, gaining the promising gene therapy DB-OTO, which is designed to cure hearing loss caused by mutations of the otoferlin gene.
9. Gilead: Company is Branching Out Beyond Antivirals
Like Regeneron, Gilead is a large-cap pharmaceutical company that is seeking collaborations to make sure it isn't left out of the gene-editing therapies game. Last month, Gilead company Kite entered into a research collaboration with EpiccrispR Biotechnologies that will use Epic Bio's gene regulation platform to find next-generation cancer cell therapies. Kite will use the platform as a way to change certain genes to enhance CAR T-cell functions.

Gilead already has a huge portfolio, including 61 programs in clinical trials.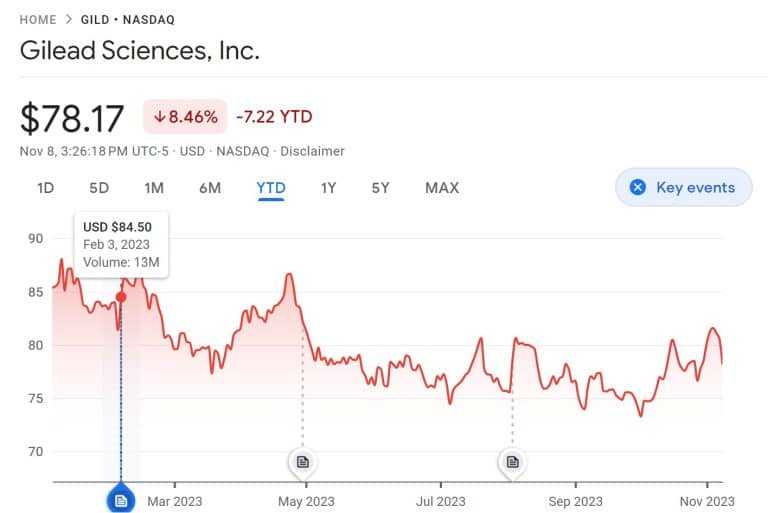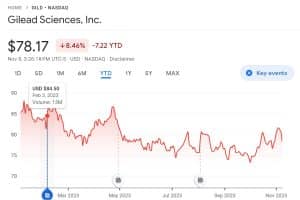 The company's financial strength will allow it to be patient in either developing gene-editing therapies or in purchasing them. In the third quarter, Gilead reported revenue of $7.1 billion, flat, year over year. However, if you take out sales from COVID-19 therapy Veklury, revenue would have been $6.4, up 5% compared to the same period last year. Gilead also said it had net income of $2.18 billion, up 21.2%, year over year. 

Gilead has eight cell therapies in clinical trials. The possibility of better engineering the company's growing oncology portfolio through gene-editing is what drove the Epic Bio deal. One advantage to Gilead is it offers a quarterly dividend that it has raised for eight consecutive years, which has a yield of around 3.86%, more than double that of the S&P 500 average yield.
10. Twist Biosciences: Risky Stock with Long-Term Potential
The company doesn't find gene-editing therapies but helps other gene-editing companies through its platform that synthesizes DNA on silicon chips instead of well-plastic plates, the traditional method of synthesizing DNA.

This increases the production speed of high-quality DNA. The company also recently launched a RNA sequencing portfolio. Like Agilent, Twist is more of a picks-and-shovels gene-editing stock. The company isn't profitable but seems to be headed in the right direction.

In the third quarter, the company reported revenue of $63.7 million, up 14%, year over year, but it also had a net loss of $57.4 million, a slight improvement over the $60.5 million it lost in the same quarter a year ago.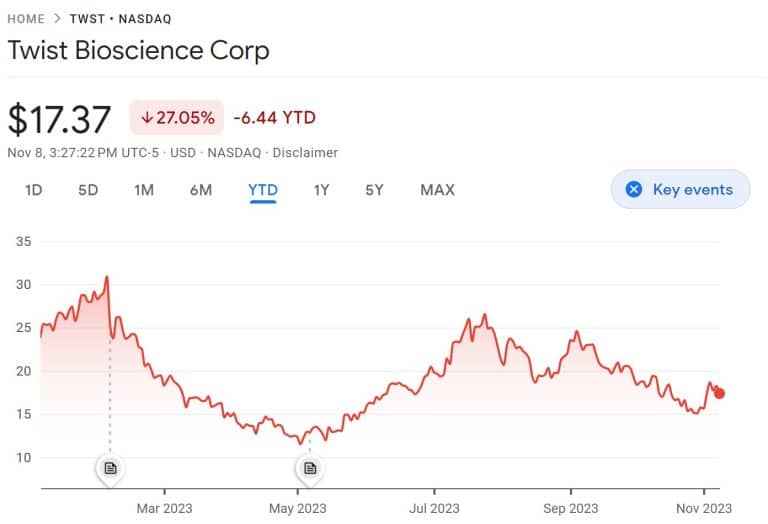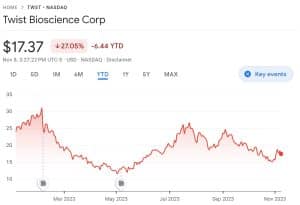 It makes sense that the more gene-editing grows, the more the need will be for Twist's synthetic DNA platform. It's encouraging that the company has an increasing number of collaborators.

Since the company released its third-quarter report on Aug. 4, the company signed an antibody discovery and licensing option agreement with Bayer, a collaboration agreement to find antibodies to fight immune-mediated inflammatory diseases with privately held biotech company IMIDomics and a drug discovery agreement with Ono Pharmaceutical (OTC: OPHLY).
What are Gene-Editing Stocks?
Gene-editing stocks are companies that are developing or using gene-editing technology, which has the potential to change medicine by correcting genetic defects, treat diseases that are caused by genetic disorders and create new therapies. These therapies work by modifying genes in living organisms.

There are pure-play gene-editing companies that are directly making therapies to correct genetic diseases, and there are other companies who help make materials used by gene-editing companies. There are also larger pharmaceutical companies that are beginning to, particularly through collaborations, develop a connection to gene-editing technology.
Why Invest in Gene-Editing Stocks?
According to a report by Grand View Research, the gene-editing market, listed as a $6.39 billion market in 2022, is expected to have a compound annual growth rate (CAGR) of 17.8 from 2023 to 2030. The rise is expected to be aided by government funding and an increasing emphasis from companies on treating and potentially curing genetic disorders.

The relatively new science has huge growth potential to not only treat diseases but cure them. That kind of revolutionary medicine has the potential to drive revenue and share growth. Investing in gene-editing stocks presents another opportunity for diversification, especially in portfolios that are heavily weighted toward traditional pharmaceutical companies.

The gene-editing therapies will be more difficult to copy than small molecule drugs and as such, present a greater moat for gene-editing companies. These companies also share the support of several governments, which could help speed gene-editing therapies to market.
What Are the Types of Gene-Editing?
CRISPR/Cas9 is the most widely used gene-editing technique today because it can efficiently make precise changes to DNA, rewriting the code of a DNA sequence. Essentially, CRISPR/Cas 9 is an enzyme that can be used like scissors to cut DNA, allowing the cell to repair the break by inserting, deleting, or replacing nucleotides.

Other common gene-editing techniques include TALENs (transcription activator-like effector nucleases), base editing, prime editing, and zinc finger nucleases (ZFNs).

Beyond the types of edits, some gene-editing processes are done in vivo and some are done ex vivo. The difference is ex vivo gene therapies involve removing cells from the body, modifying them, and placing them back into the body. With in vivo gene therapy, new genes are inserted directly into the body.
How to Choose the Best Gene-Editing Stocks
It's a very new field with very few companies that are profitable, so there's plenty of risk, but there's a big opportunity for growth as well. 

To choose the best gene-editing companies, look for those with large pipelines. Another strong sign is a number of collaborative agreements with larger companies, because that speaks well of a particular gene-editing company's expertise.

The barriers to approval for gene-editing therapies are high, so it's also important to look at gene-editing companies with either a strong cash position, or those who are already growing revenue, thanks to increased sales or collaboration revenue growth.
Are There Gene-Editing ETFs?
There are gene-editing ETFs that can take the guesswork out of investing in gene-editing companies and can add balanced gene-editing exposure to your portfolio. With most gene-editing stocks down this year, there are only a handful of gene-editing ETFs whose total returns year to date are down less than 12%.

Some of the more successful this year include the ARK Genomic ETF (NYSEMKT: ARKG), the Goldman Sachs Future Health Care Equity ETF (NYSEMKT: GDOC) and Franklin Genomic Investments ETF (NYSEMKT: HELX).
Where to Get Gene-Editing Stock Tips
We've established that finding the best gene-editing stocks to invest in is a difficult task. The process requires significant research and analysis, considering the number of companies that operate in this market.

To streamline the process, consider using AltIndex – which is one of the best alternative data providers. Read on to find out how AltIndex can help you become a successful gene-editing investor in 2023.
AltIndex Review – AI Stock Picks and Insights for Gene-Editing Stocks
Investors can use AltIndex, a subscription service that uses artificial intelligence (AI) and alternative data to help find gene-editing stocks capable of outperforming the market. AltIndex uses a variety of metrics that can be particularly useful in buying, or selling a gene-editing stock at the right time.

Once you've found several gene-editing stocks you are interested in, the AltIndex Stock Screener feature can help monitor the performance of the stocks on a watchlist.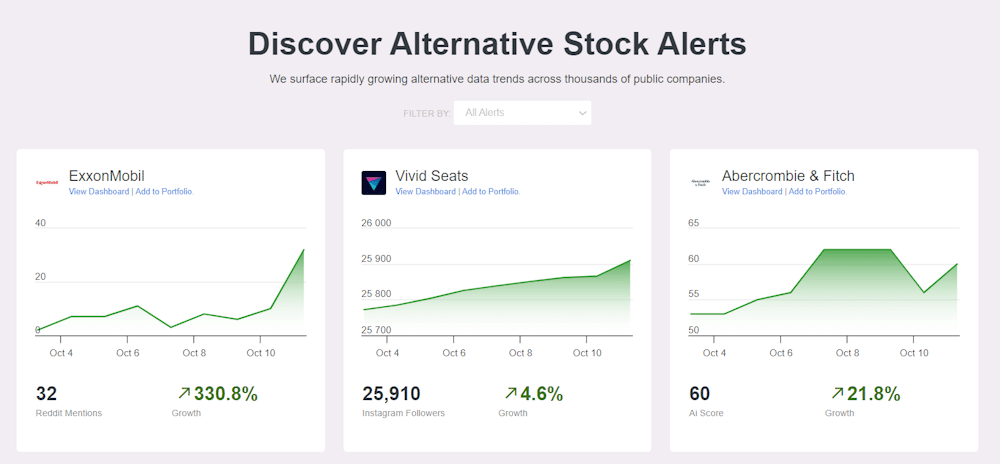 The watchlist can help you follow the stocks' performance, including alerts when AltIndex has new information regarding a stock, such as when a company announces positive clinical trial results or if it receives regulatory approval for a new therapy.

Another use of AltIndex is the company's price predictions tool to decide on a stock. The service uses AI-generation price predictions that could, say, predict when a gene-editing stock is overpriced, so that you may want to wait before buying the stock.

Gene-editing stocks are quite volatile because they are dependent on a new class of therapies and gene-editing stocks can rise or fall for reasons that have little to do with their current earnings. This is where AltIndex's various social-media metrics can prove helpful.

The company tracks billions of data points across news sites, web traffic, job postings and social media channels to find good investment opportunities, then assigns each stock a score of 0 to 100 based on market sentiment and other factors. Stocks with higher scores are considered better buys.

AltIndex's starter plan costs $29 per month and that comes with 10 AI stock picks every month. To use the services' more advanced features, the pro plan costs $99 a month and provides 25 AI stock picks every month. 

  
Conclusion
Investing in gene-editing stocks is best done with a long-term approach as the science is still in the early stages. There's little doubt that the ceiling for these stocks is quite high because they are helping to revolutionize medicine, in some cases potentially curing genetic disorders. The growing knowledge about the role of genes in various diseases, the increased demand for personalized medicine and increased investment in gene-editing research and development will drive the growth of gene-editing medicines.

However, there are plenty of risks because the science is so new and there are plenty of hurdles, both scientifically and in regards to regulatory agencies that could slow the progress of individual companies.

As in any other investment, the companies that will survive have solid financial backing to go along with gene-editing expertise. This isn't a zero-sum game, though, as there will be several winners as more gene-editing therapies are developed. The success that exa-cel is expected to have with the FDA is just the beginning for the industry.

 
References