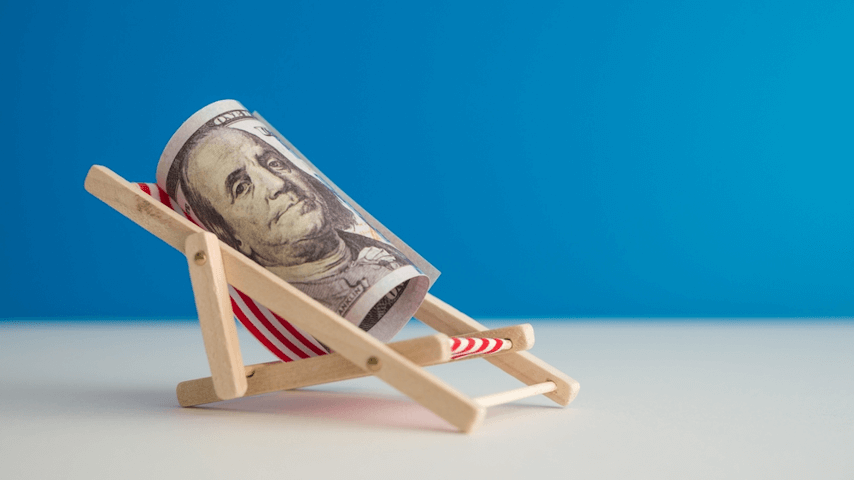 Passive income is one of the most sought-after income streams for investors. Not only is passive income generated with little to no effort, but the proceeds can be reinvested to create compound growth.
In this guide, we explore the best ways to make passive income in 2023. 10 proven methods are covered, ranging from dividend stocks and real estate to cryptocurrency staking and certificates of deposits.
10 Best Ways to Make Passive Income in 2023
The 10 best ways to make passive income in 2023 are summarized below:
Investing in Cryptocurrency: The cryptocurrency markets offer many different ways to earn passive income. This includes staking, yield farming, savings accounts, and airdrops. Although the risks are higher, cryptocurrency products can yield significant returns with little effort required. Diversification and risk management are crucial.
Day Trading: Although some effort is required, day trading is another great way to earn additional income. If you don't have any trading experience, there are plenty of ways to trade passively. This includes automated trading robots and signals. Oftentimes, you'll only need to place a couple of trades per day.
Dividend Stocks: Dividend stocks are super passive; simply buy, hold, and receive a payment every three months. You can buy individual stocks or invest in a dividend ETF. Either way, it's wise to reinvest your dividends back into the same companies, allowing you to benefit from compound growth.
Investing in Certificates of Deposits (CDs): Although CDs have historically paid low rates of interest, much better deals are now available. This is because of increasing interest rates, meaning CDs are forced to pay higher returns on savings. Many CDs are covered by investor protection schemes, offering a near-risk-free way to earn passive income.
Real Estate Investing: If you've saved enough money for a down-payment, real estate is one of the most stable ways to earn passive income. You'll be renting your property to tenants, meaning consistent income every month. This is in addition to appreciation, which you can realize when you eventually sell the property.
Affiliate Marketing: While some initial work needs to be done finding suitable products or services, building a website, and optimizing keywords, affiliate marketing can be a great passive income source. You'll receive a commission whenever somebody makes a purchase with your unique affiliate link. As your website attracts more traffic, you could be earning significant commissions.
Investing in REITs: A great alternative to traditional property investing, real estate investment trusts (REITs) are similar to ETFs. But instead of holding stocks or bonds on behalf of investors, REITs invest in commercial and residential real estate. As a REIT shareholder, you'll receive your share of rental payments. Unlike traditional real estate, REITs can be cashed out instantly during standard market hours.
Copy Trading: This innovative tool allows investors to trade assets passively. After choosing a trader to copy, all future positions will be mirrored in your own portfolio. This means you can sit back and allow expert traders to research the markets on your behalf. Copy trading platforms like MEXC require a small minimum investment and there are thousands of traders to choose from.
Bonds: While not the most exciting way to earn passive income, bonds offer consistent and predictable returns. You'll receive a coupon payment every 6 to 12 months until the bonds mature. The bond issuer will then return your original investment. Bonds are issued by governments and corporations, and yields will vary considerably depending on the terms and implied risk.
Peer-to-Peer Lending: If you have some spare cash lying around, consider lending it to borrowers. There are many peer-to-peer platforms in this space, meaning you'll be loaning capital to individuals or companies. Borrowers pay you interest on the loan, meaning the process is passive. It's important to diversify across many different loans, as there's always the risk of default.
10 Best Ways to Earn a Passive Income Explained
Read on for a much more comprehensive explanation of the best passive income strategies for 2023.
1. Invest in Cryptocurrency Products for High-Yield Passive Income
The cryptocurrency markets offer one of the best ways to generate passive income. In fact, there are many niche products within this space, each with its own risks and returns. Let's start with one of the easiest passive streams – cryptocurrency savings accounts. Just like a conventional savings account, you'll be lending your cryptocurrencies to an institution (like an exchange).
The cryptocurrencies could be used to fund collateralized loans or provide liquidity to trading platforms. Either way, you'll receive interest payments on your original investment. APYs can vary widely depending on the cryptocurrency. Bitcoin and other large-caps will get the lowest rates. Smaller-cap projects can yield over 100%.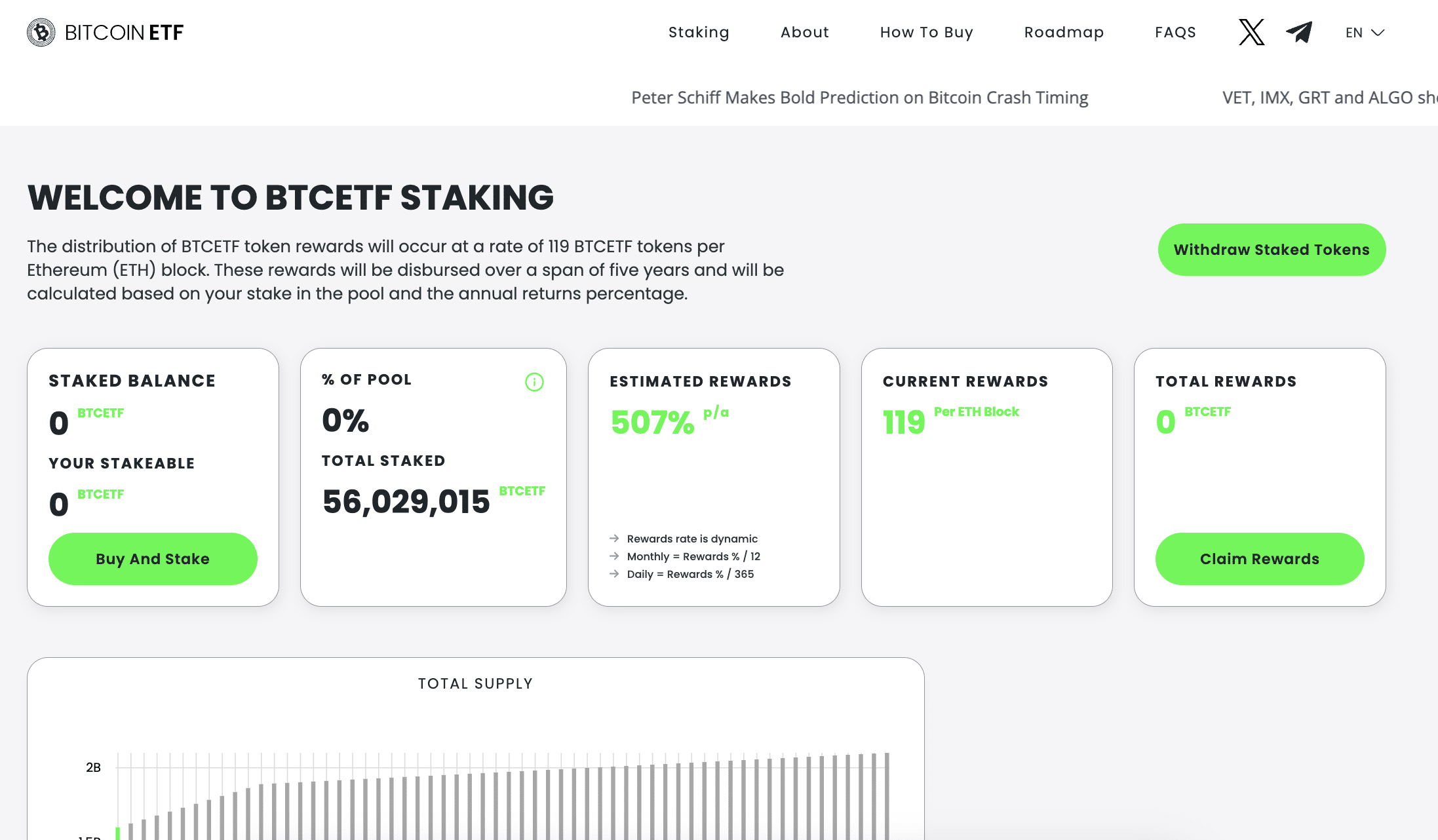 Next, there's cryptocurrency staking. You'll be locking your idle cryptocurrency tokens for a minimum number of days, earning interest in the process. New cryptocurrency projects typically offer the best APYs, as it's a way to attract investors. For example, Bitcoin ETF Token is currently offering staking APYs of 507%.
Another way to earn passive income from cryptocurrencies is yield farming. Put simply, you'll be lending cryptocurrencies to a liquidity pool. For example, if you provide equal amounts of Ethereum and Tether, you'll be funding the ETH/USDT trading pair. Whenever traders use this liquidity pool to swap tokens, you'll receive a small share of the fees. The best yield farming cryptocurrency platforms allow you to withdraw your tokens at any time.
Another area to explore is cryptocurrency airdrops, which distribute tokens to selected wallets for free. Airdrops are usually run by new projects that want to build their community quickly. After all, who doesn't want free tokens that could appreciate in the future? New cryptocurrency projects are also known to run giveaways.
The best crypto giveaways offer huge prizes to selected lottery winners. To secure a ticket, entrants need to hold a minimum number of tokens. Mining is another way to make passive income from cryptocurrencies. However, Bitcoin mining is no longer feasible for most, as the process requires expensive hardware and consumes vast amounts of energy.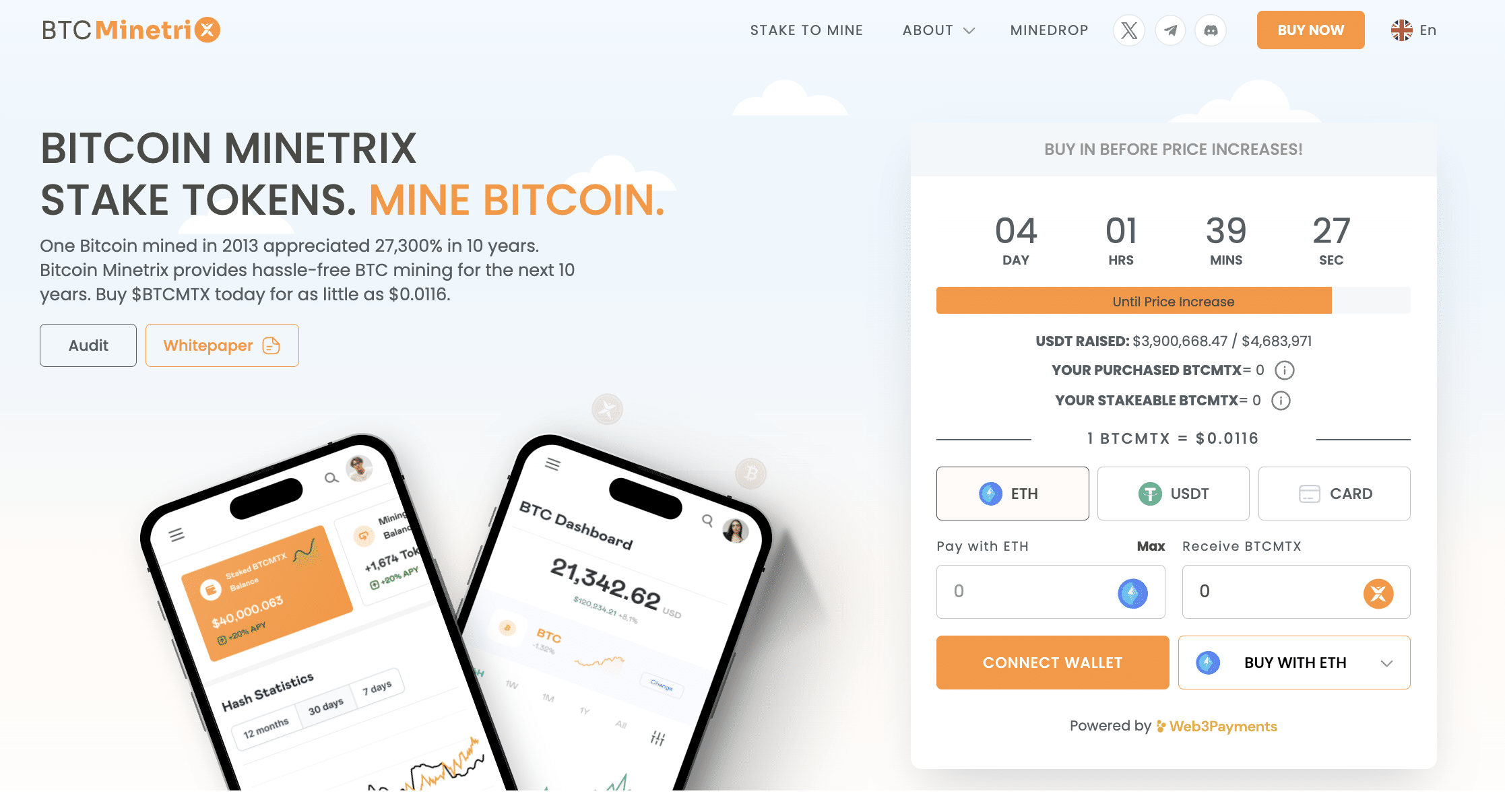 A popular workaround is to use a platform like Bitcoin Minetrix. Put simply, Bitcoin Minetrix allows people to mine Bitcoin remotely – meaning no hardware is required. Its stake-to-mine concept simply requires users to buy and stake BTCMTX tokens. This generates 'credits' passively, which can then be exchanged for Bitcoin mining power.
All that being said, one of the best ways to make passive income from cryptocurrencies is through token appreciation. This means buying cryptocurrencies and selling them for a much higher price. Although you'll still be required to do some research, the investment process rarely takes more than a couple of minutes. One of the hottest markets right now is cryptocurrency presales.
These are the cryptocurrency equivalent of stock IPOs. You'll be investing in a brand-new cryptocurrency before it's listed on exchanges. Not only do the best crypto presales offer discounts to early investors but they can generate huge gains in a short period of time. For example, after Lucky Block completed its presale in early 2022, it increased by over 6,000% in under a month.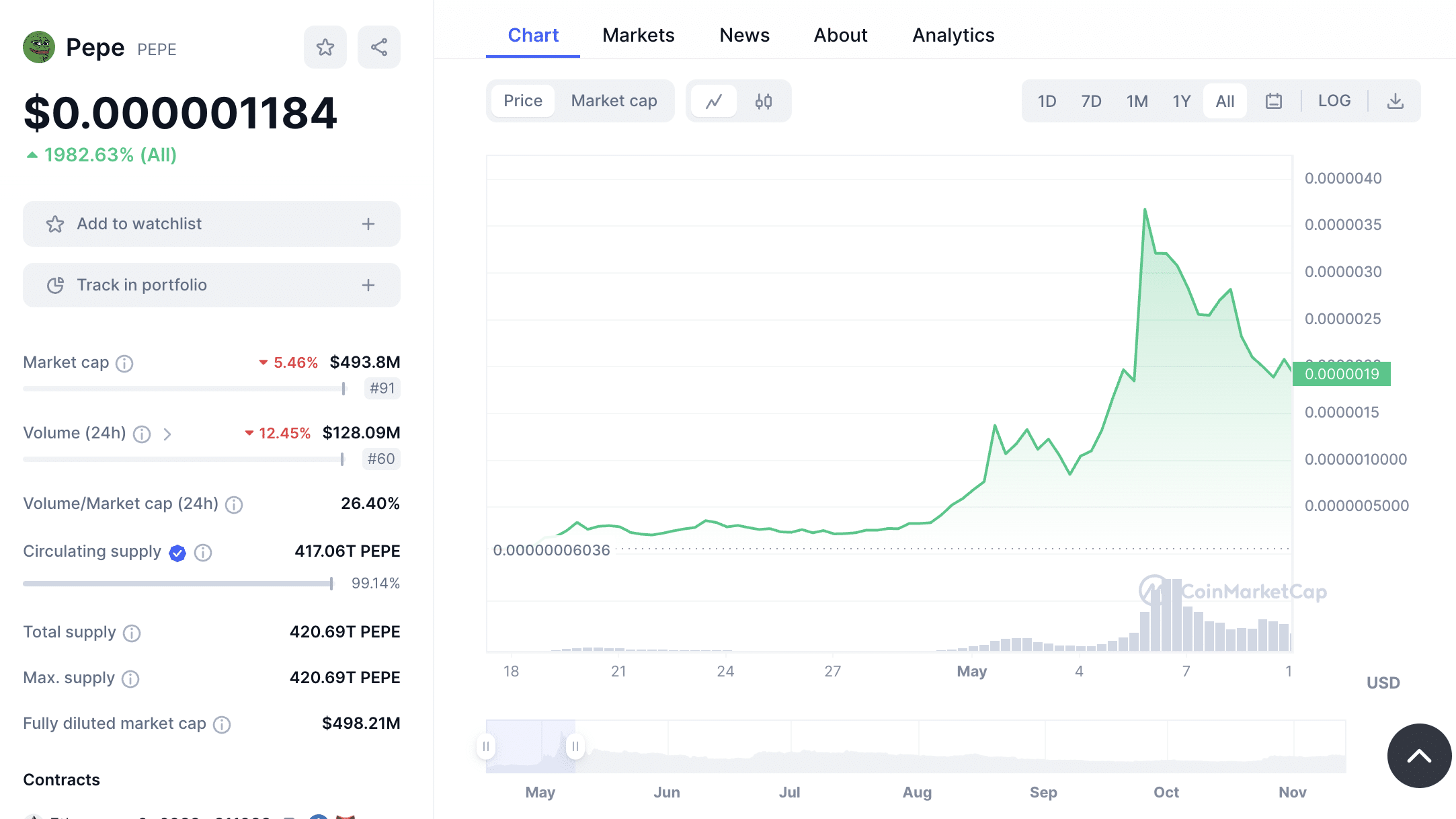 Tamadoge, completing its presale in late 2022, grew by almost 2,000% in just one week. And then there's Pepe. Although Pepe didn't have a presale, it grew by over 7,000% after launching in April 2023.
And finally, it's also worth considering a long-term buy-and-hold strategy. This means buying quality cryptocurrencies like Bitcoin, Ethereum, and BNB and holding them for several years. In doing so, you can target significant gains. After all, while Bitcoin was once worth under $1, it has since hit highs of over $68,000.
2. Day Trade Assets Online to Benefit From Market Volatility
Day trading is another option when exploring the best ways to earn passive income. On the one hand, day trading isn't an overly passive strategy, as you'll need to spend time researching potential market movements. What's more, you'll need to place orders when entering and exiting trades.
That said, some of the best day trading platforms support passive investment tools. For example, MetaTrader 4 (MT4) – which is compatible with hundreds of brokers, offers automated trading robots. Your chosen robot will operate around the clock, buying and selling assets based on pre-defined conditions.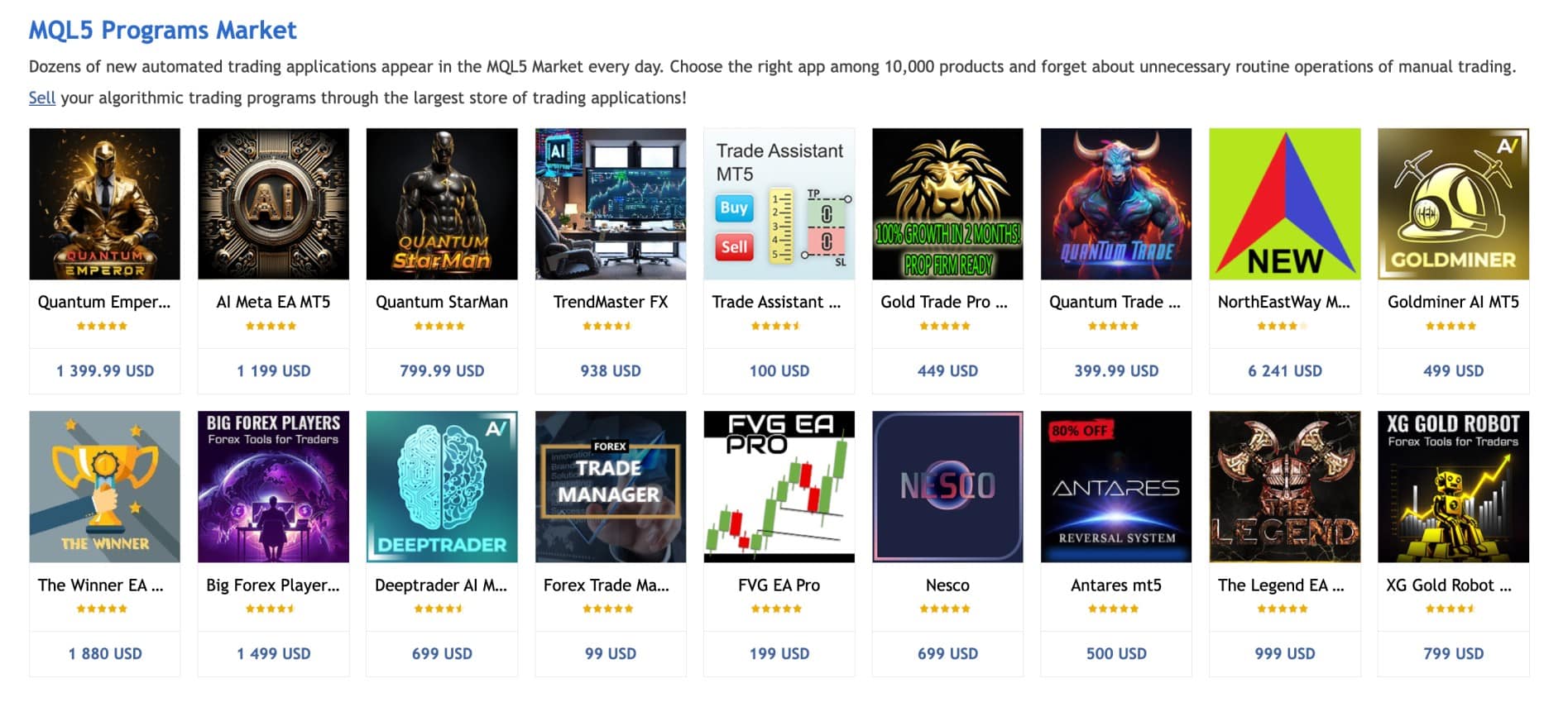 For example, the robot might buy a stock when its RSI reading falls below 30. Or, it might short-sell the S&P 500 when trading volumes create new 52-week lows. Either way, the robot will day trade assets on your behalf, meaning it's 100% passive. You can visit the MQL5 marketplace to find a suitable robot – there are many thousands to choose from at various prices.
Another way to passively day trade is to sign up for a trading signal service. Providers like Learn2Trade have a team of in-house analysts who research the forex markets on behalf of their clients. Learn2Trade sends a real-time signal when a trading opportunity has been discovered. Members are told exactly what trading positions to place with their broker.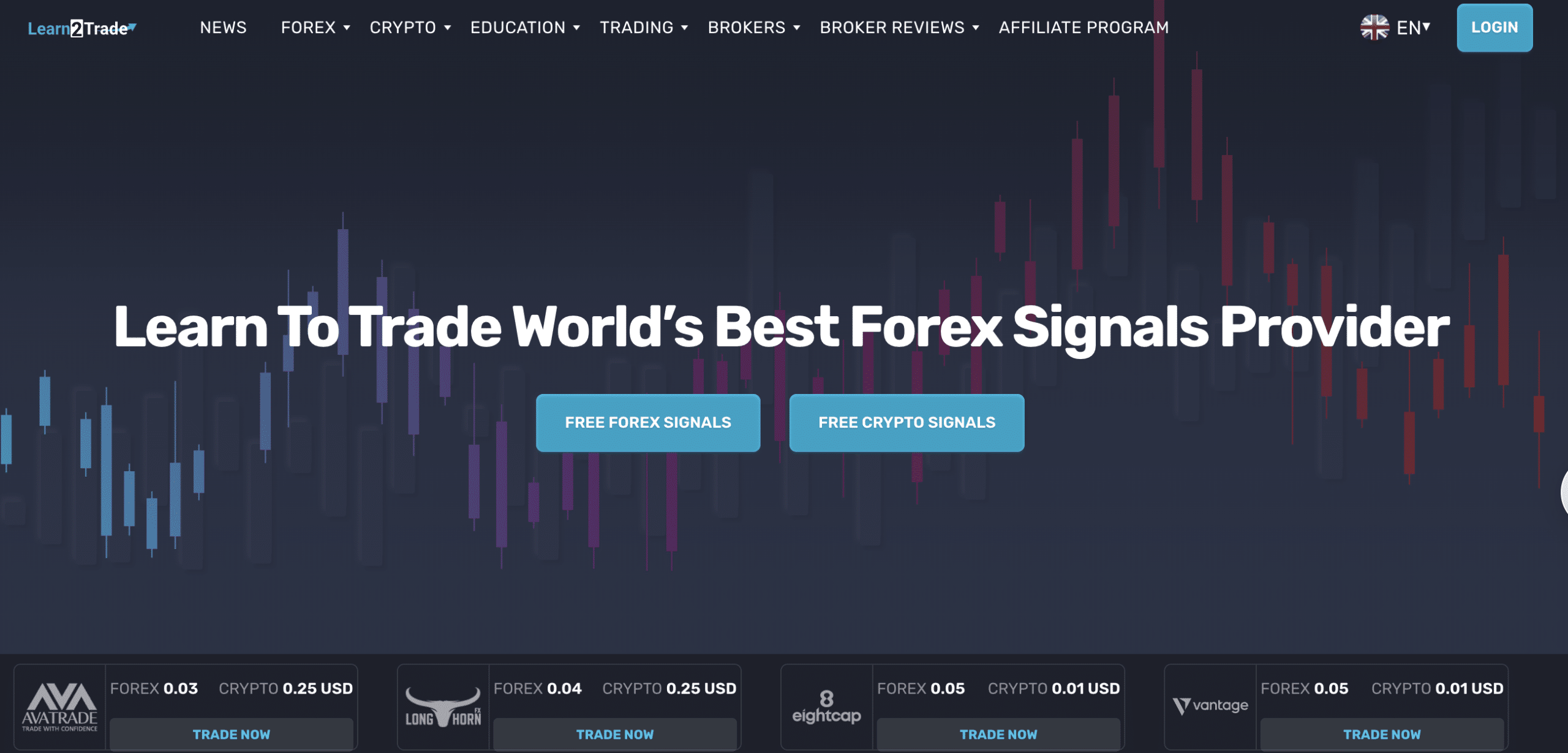 For example, the signal might tell members to buy EUR/USD at $1.0750. In addition, Learn2Trade signals provide a suggested stop-loss and take-profit price. When one of these orders is triggered, the trade will be closed automatically. This removes the need to manually watch the markets. Instead, you only need to spend a couple of minutes setting the signal suggestion up.
3. Build a Portfolio of Dividend Stocks and Receive a Payment Every 3 Months
Next up are dividend stocks, which is the easiest way to make passive income. In a nutshell, you'll be investing in established companies that share a portion of their retained earnings with shareholders. Irrespective of how many stocks you own, you'll be entitled to your share.
Do note that not all companies pay dividends. For example, Amazon has never paid a dividend, even though it's one of the most successful companies globally. Fortunately, there are thousands of stocks that do pay dividends. In fact, it's worth checking out 'Dividend Aristocrats'. These are companies that have increased their dividend payment for at least 25 consecutive years.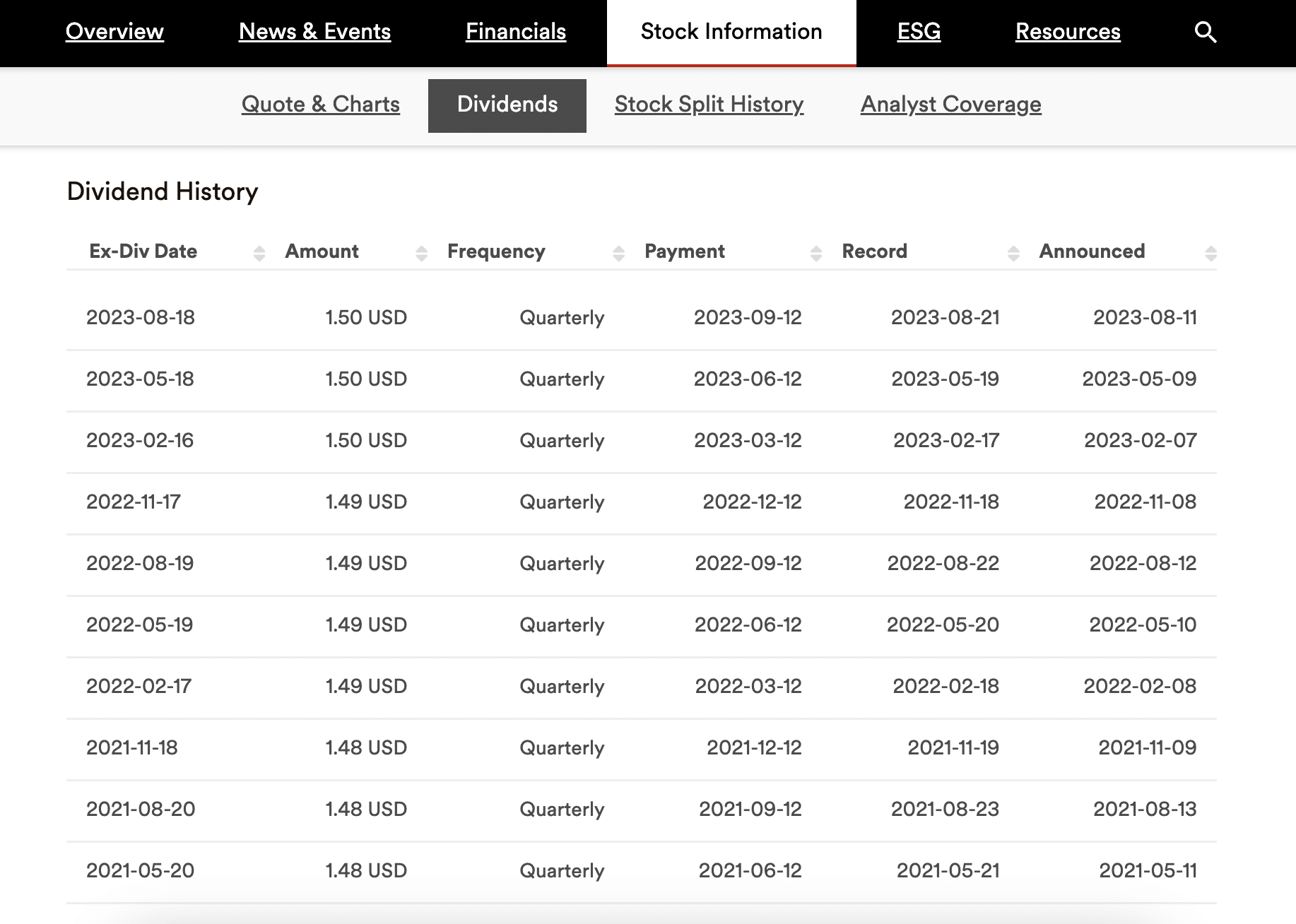 This was the case regardless of macroeconomic conditions, whether that's global recessions, pandemics, or war. There are also 'Dividend Kings', which have increased dividends for at least 50 consecutive years. Some of the dividend stocks in this category include Procter & Gamble, 3M, Abbott Labs, Kimberly Clark, and Pepsi.
Now, there's no guarantee that Dividend Aristocats or Kings will retain their status. Over time, increasing dividend payments may no longer be sustainable. With this in mind, it's crucial to create a diversified portfolio of dividend stocks from various industries. If you don't have a lot of capital to invest, you'll need to use a stock broker that offers fractional investments.
4. Invest in CD Accounts With FDIC Insurance for Near-Risk-Free Passive Income
If risk is your main concern, certificate of deposit (CD) accounts could be the best way to earn passive income. CDs are offered by most banks and are very similar to traditional savings accounts. That is to say, you'll deposit money into the bank and receive a fixed rate of interest.
However, the main difference is that CD accounts usually come with a minimum lock-up period. This could be anywhere from a few months to several years. During this period, you won't be able to withdraw your money without paying financial penalties. This means losing some or even all of your accumulated interest.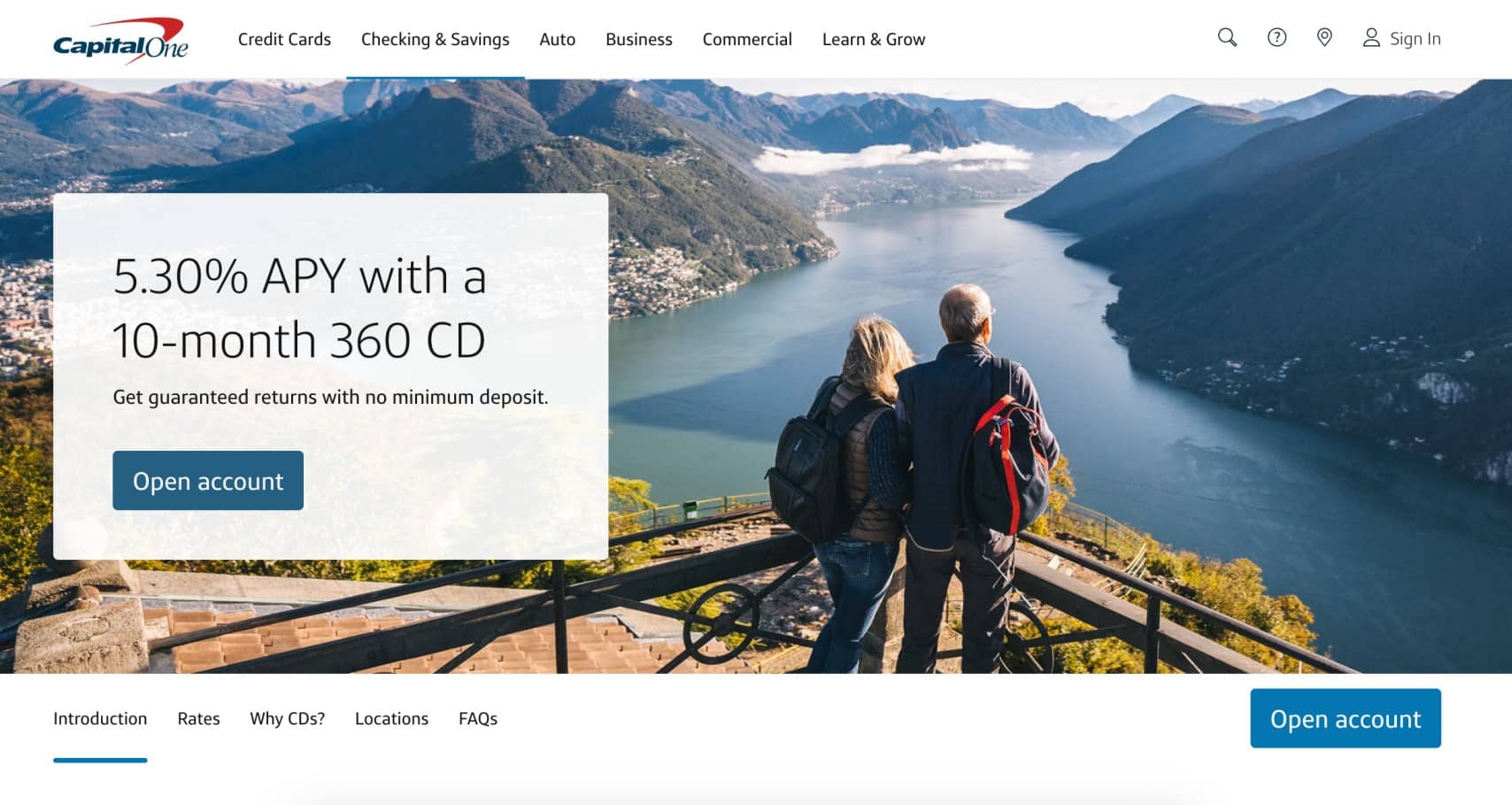 Therefore, you should avoid CD accounts if there's a chance you'll need the money early. Nonetheless, withdrawal restrictions mean that CDs offer higher interest rates than conventional savings accounts. What's more, APYs are a lot more attractive right now, considering ever-increasing interest rates. We found that many CDs are offering rates of between 5-6%.
In terms of risk, there isn't much to worry about if the CD provider is FDIC-insured. This is because the FDIC protects your cash balances up to $250,000 in the event the bank goes bust. CD accounts are also suitable for causal investors, as minimum deposit requirements are often very small.
Note: Those based outside of the US will likely have access to their own version of CD accounts. They might be sold under a different product name, but the process should be the same nonetheless. Contact your bank to see what options are available.
5. Invest in Real Estate to Receive Monthly Rental Payments, Forever
Not only is real estate one of the best ways to make passive income but also to build long-term wealth. If you don't have enough capital to purchase a property outright, you might consider financing. Mortgage rates will vary depending on where you live. Moreover, your country of residence can determine whether there are any government-backed homeownership programs.
For example, US residents have access to Federal Housing Administration (FHA) loans, which require a down payment of just 3.5% (terms apply). In the UK, there's the Help to Buy scheme, which has a down payment minimum of just 5%. Once you've purchased a property, you'll be able to rent it out to tenants. This means that you'll receive rental payments every month.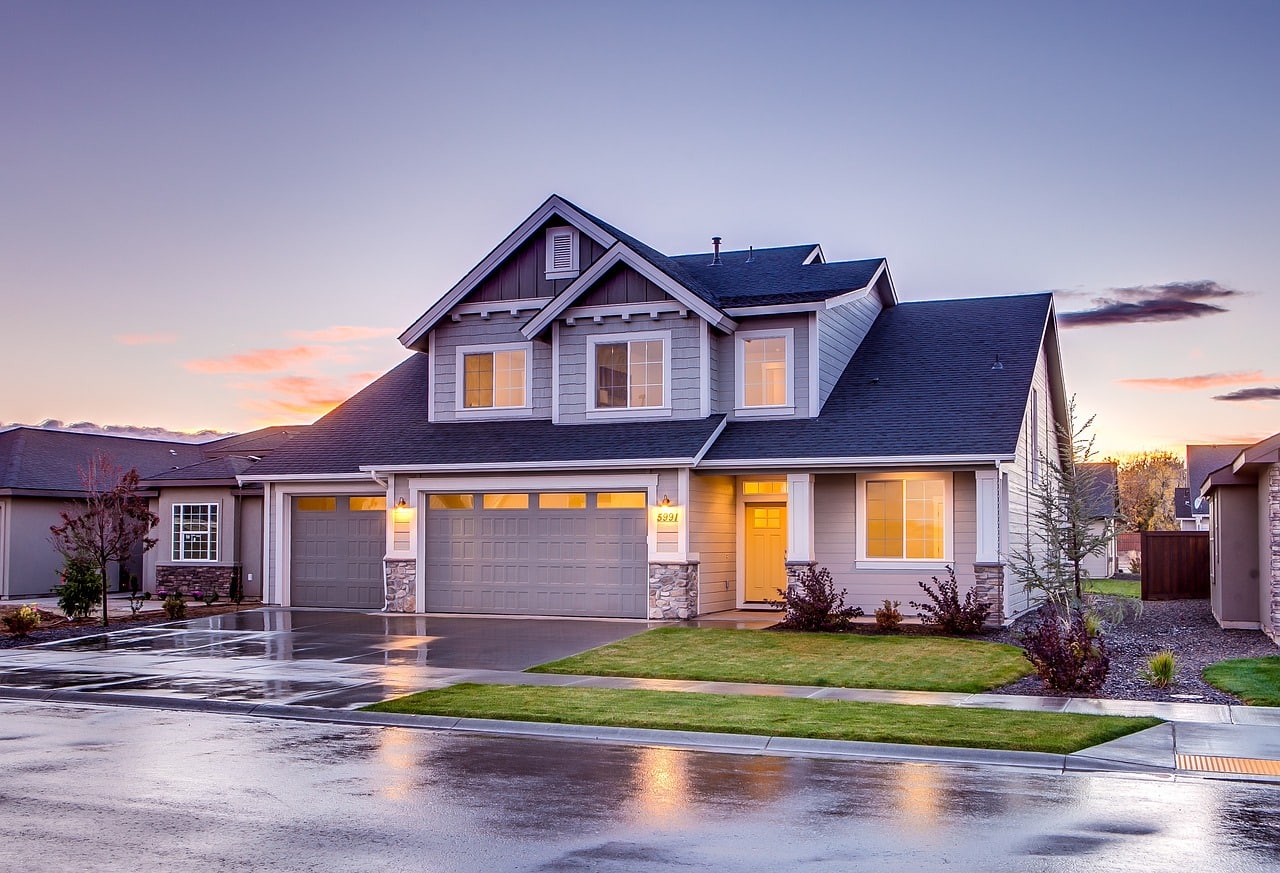 In some instances, this could cover the monthly mortgage repayments. Moreover, real estate is a store of value, so you'll also benefit from appreciation. House price growth will vary considerably depending on the market. Although real estate comes with a steady passive income stream, you'll also need to consider the drawbacks.
For a start, real estate isn't a liquid asset, meaning you won't be able to sell it instantly should you need access to cash. Moreover, you'll need to factor in the time and cost of managing the property, such as collecting rent or doing renovations.
6. Create or Buy an Affiliate Website That Generates Passive Income
Affiliate marketing is another option when exploring how to earn extra income from home. If you're new to this marketing niche, here's how it works. You'll be promoting specific products or services online, perhaps through reviews or guides. For example, suppose you write an article on the best VPN providers for 2023.
Under each review, you'll have a link pointing to the respective provider. If your reader makes a purchase, you'll receive a small commission. This is because your affiliate link is unique to you and your website. Therefore, the VPN provider knows how the client found them.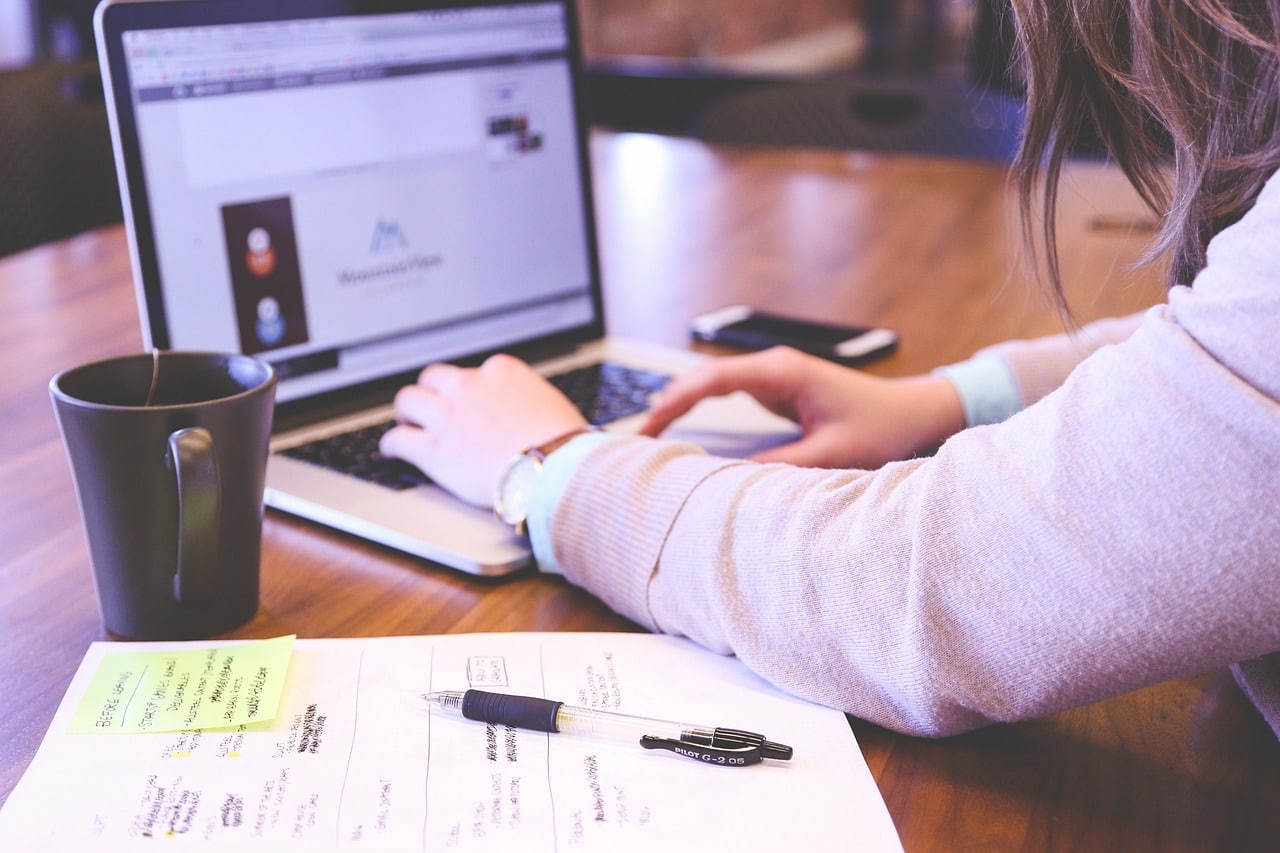 Affiliate marketing is a huge global industry. There are no limits to the type of products or services that you can market. Once you build a loyal following, your commissions can provide a steady flow of passive income. However, it can take time to build a successful affiliate marketing website.
You'll need to understand how search engine optimization (SEO) works. After all, there will be many other websites competing for the same keywords. Alternatively, you might consider buying a ready-made affiliate business. The costs will depend on how much monthly income the website is generating, among other factors.
7. Invest in Commercial and Residential Properties via REITs
Real estate investment trusts (REITs) are a great alternative to traditional property investments. This is because there is no requirement to purchase or directly own any real estate. Instead, you'll be investing in a REIT that purchases properties on behalf of its investors. Similar to an ETF, REITs trade on stock exchanges.
They're managed by large fund managers who determine which real estate investments to make. Some REITs invest in residential properties – usually multi-family homes or entire condo complexes. That said, many REITs also invest in commercial real estate. For instance, shopping malls, healthcare centers, warehouses, and office units.
Regardless of the underlying properties held, REITs are one of the best ways to make passive income. As a shareholder, you'll be entitled to your share of rental payments. Unlike conventional ETFs, REITs often make dividend distributions every month. You can then reinvest the dividend payments back into the REIT for compound growth.
Another benefit of REITs over traditional real estate is that investment minimums are very low. You only need to purchase one share, or a fraction of a share if using a suitable broker.
8. Passively Invest in Stocks and Other Assets via Copy Trading Tools
Copy trading is also one of the best ways to make passive income online via the best automated trading platforms. Put simply, this tool allows you to replicate the investments of an experienced and successful trader. In other words, you'll be copying every buy and sell order they make, passively. This means you can invest in stocks and other assets without any prior experience.
Copy trading is also ideal if you don't have time to actively research the markets. This is because your chosen trader analyzes the markets on your behalf. One of the best copy trading platforms is MEXC, with thousands of verified traders that can be copied.
Let's look at an example of how copy trading works and how it can help you generate passive income. Let's say you invest $4,000 into a stock trader. The trader buys Tesla stock, allocating 10% of their capital. Automatically, $400 worth of Tesla stock is added to your portfolio (10% of $4,000). Tesla stock has increased by 30%, so the trader cashes out.
Tesla stock is also removed from your portfolio. You passively invested $400 and made 30% returns. That's a passive return of $120.
9. Earn Consistent and Predictable Passive Income via Corporate or Government Bonds
Bonds are issued by governments and corporations as a way to raise capital. Those purchasing bonds will be entitled to coupon payments until they mature. Payments are usually made every 6 or 12 months, depending on the issuer. Once the bonds mature, you will receive your original investment back. This is known as the 'principal'.
Just like conventional loans, bond yields are dependent on the implied risk. Not only in terms of the issuer's creditworthiness but also the time frame. For instance, if you purchase bonds issued by the US government, the risks are virtually non-existent. The likelihood of the US government not meeting its bond payments is close to zero. Therefore, you should expect lower yields. Now consider bonds issued by a small-cap company.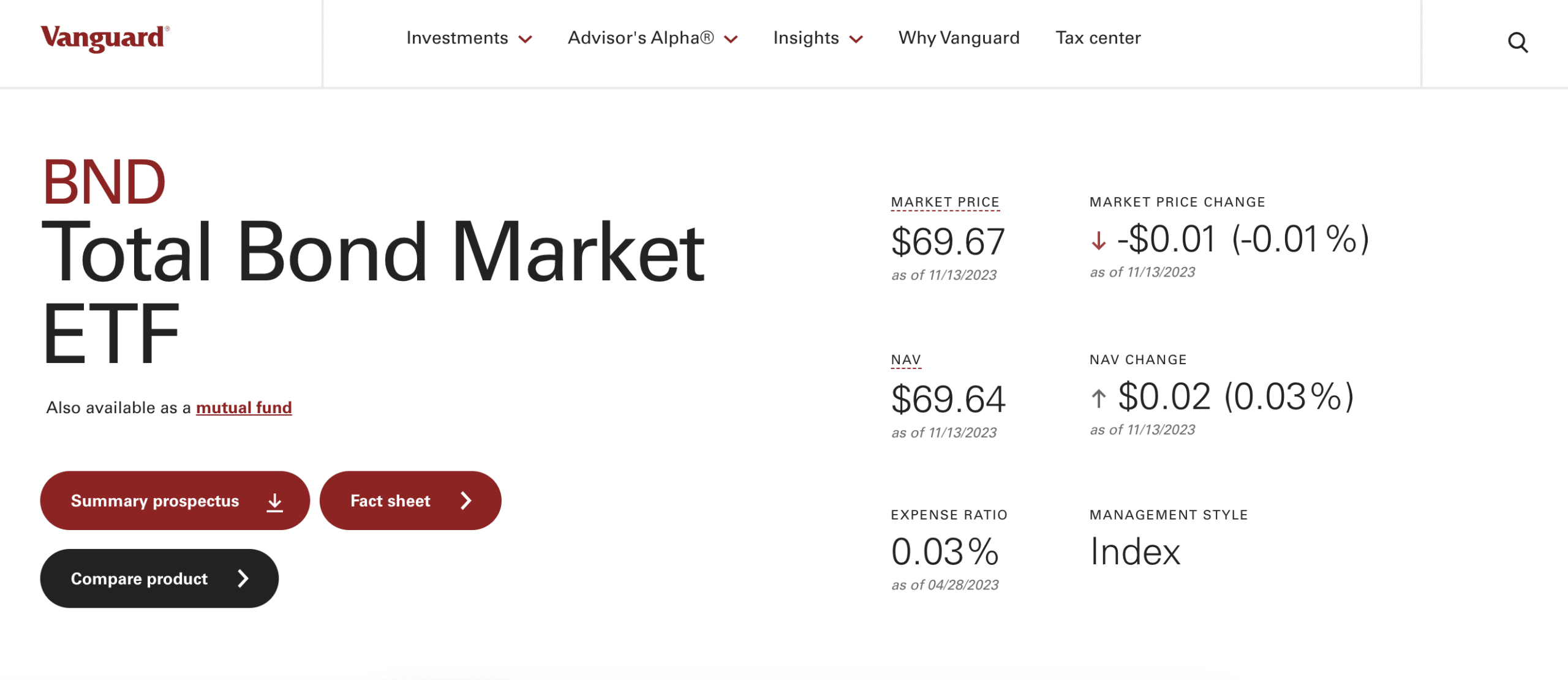 The risk of default is considerably higher, meaning you should expect higher bond yields. If the bond issuer does default, this means you won't receive your principal back. As such, rather than putting all of your eggs into one basket, you might consider a bond ETF. The ETF provider will buy and hold thousands of bond instruments.
This might cover a blend of government and corporate bonds, ensuring that investors are well-diversified. Bond ETFs make distributions like any other fund – usually every three months. This means you'll receive quarterly payments for as long as you're invested. Best of all, bond ETFs are liquid, meaning you cash out at any time. This isn't always possible when holding individual bonds – especially those issued by corporations.
10. Loan Money to Borrowers via Peer-to-Peer Lending Platforms
Another popular passive income stream is peer-to-peer lending. You'll be loaning money to borrowers online, either to individuals or companies. Borrowers pay interest on the loan, just like they would when lending capital from a bank. However, you play the role of the bank, meaning you receive the interest payments.
The peer-to-peer lending process is completely passive. Your chosen platform will have its own vetting procedures in place. For instance, individual borrowers might need to have a minimum credit rating, while companies could be required to borrow against collateralized assets. Repayments are made to the peer-to-peer platform, which is then credited to your account.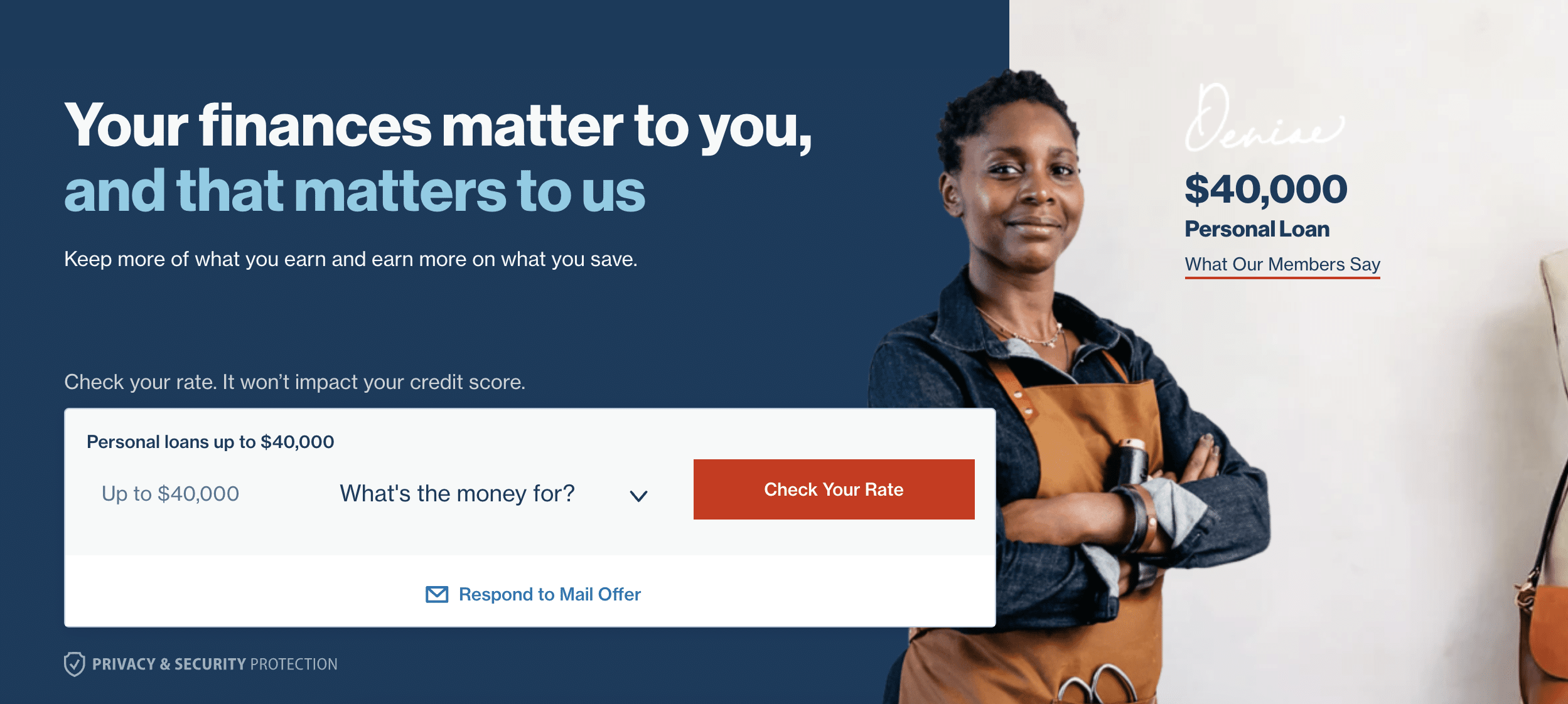 You could then reinvest the interest payments back into new loans. This means you'll be lending out more capital without needing to make another deposit. In turn, you'll receive additional interest payments. Peer-to-peer lending platforms usually offer much higher APYs than CDs or savings accounts.
However, you won't benefit from any investor protections, such as the FDIC. This means the risks are also higher. If too many borrowers default on their loans, the peer-to-peer platform might not have enough capital to repay lenders. Therefore, the best passive investment strategy is to split your investments across many different peer-to-peer platforms.
What is Passive Income?
Passive income is a form of income that requires little to no effort. In simple terms, passive income is earned 'when you sleep'. For example, consider a real estate investment that generates rental payments. Every month, you'll receive a new payment from the tenant, meaning it's being earned passively.
Similarly, investing cryptocurrencies into a savings account is also passive. You'll receive interest payments periodically (typically daily or weekly) for as long as the cryptocurrencies are held in the account. This is also completely passive; the only effort required is buying and transferring cryptocurrency tokens.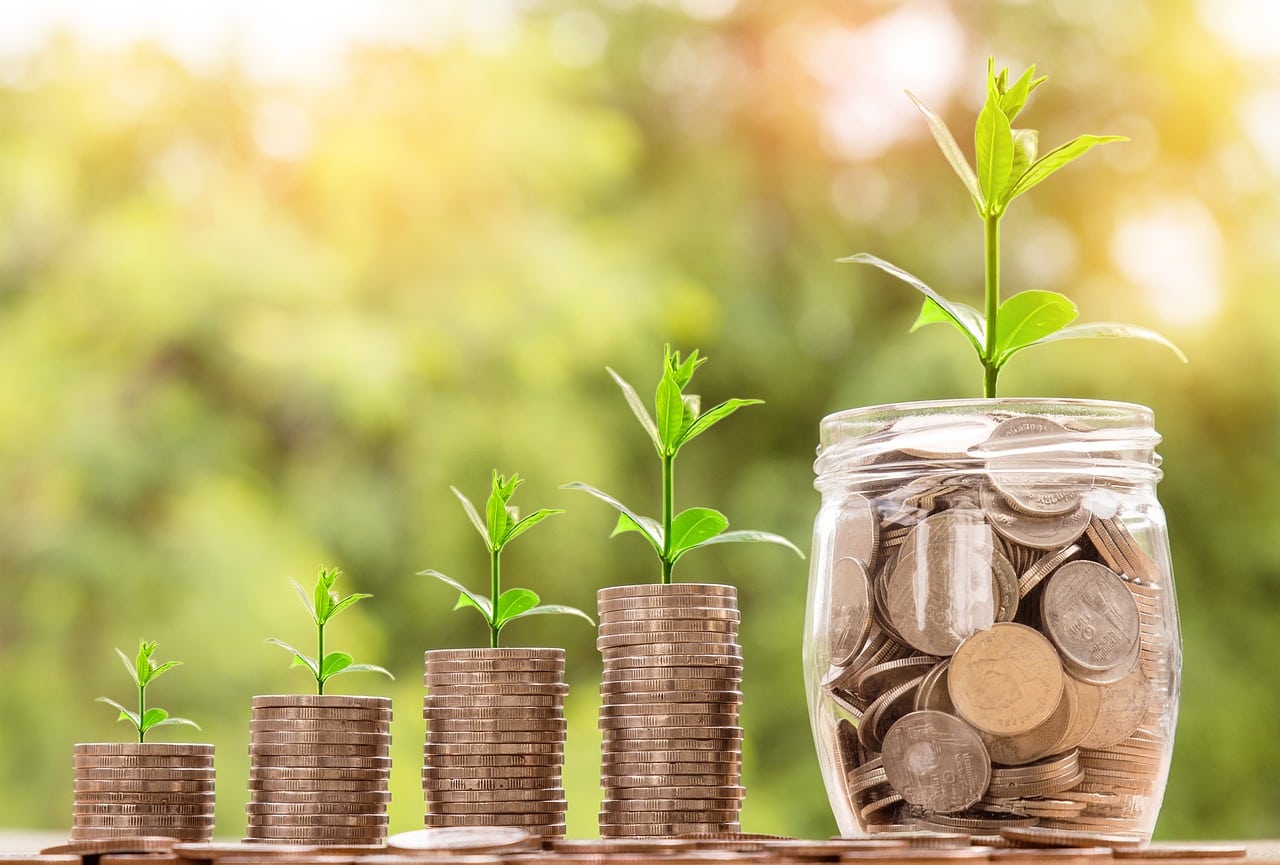 Not only is passive income ideal for time-starved investors, but it enables them to compound their wealth. For example, consider an investor holding a portfolio of dividend stocks. Every time a payment is received, they can reinvest the funds by purchasing more dividend stocks.
This means the next payment will be higher, as the investor holds additional shares. By repeating this process religiously, you can increase your wealth at a much faster rate. Ultimately, it's wise to have as many passive income streams as possible. This will reduce the risk of loss and ensure you're prepared for all market potentialities.
When is Income Not Considered Passive?
Income isn't considered passive if it requires too much activity.
Sure, there will always need to be some level of input to generate passive income, but this should be kept to a minimum.
For example, getting a second job isn't passive, as you're required to work.
Similarly, some asset classes do not generate income, especially commodities like gold and silver. Instead, the only way you can make money is if commodities increase in value.
Passive Income Tips for Novices
Here are some tips on how to earn passive income
while mitigating the risks.
Consider the Risk-Reward Spectrum
The majority of passive income streams require an upfront investment. The returns you can make on your investment will be determined by the risk.
For example, cryptocurrency-related streams, such as staking, yield farming, and savings accounts can pay very high returns. However, cryptocurrency prices are volatile. If the value of your cryptocurrencies declines, your passive income stream can result in a loss.
At the other end of the spectrum, CD accounts come with minimal risk. If the account is covered by a deposit protection scheme (like the FDIC), your investment is covered even if the bank goes bust (up to the maximum limit). However, as the risks are low, so are the passive returns available.
Therefore, you should consider what passive income returns you want to target and how much risk you're willing to take to get there.
How to Generate Passive Income With No Initial Funds
Wondering how to earn passive income online without investment funds?
One option available to homeowners is to rent out a spare room. You might consider a short-term rental platform like Airbnb, which generally offers higher yields than long-term contracts.
If you're not a homeowner, you might consider building a website in a niche you're interested in. Once you've attracted a following, you can begin recommending products or services to your readers. Whenever they make a purchase, you'll receive an affiliate commission.
Another method is dropshipping. You'll be selling products online without needing to purchase or store the items upfront. When a purchase is made, the dropshipping company will distribute the product directly to the buyer. Your profit is the difference between the cost and sale prices.
Diversification
Diversification is very important when exploring the best passive income methods. Just because an investment is generating income, this might not always be the case. For example, suppose you invest all of your capital into a corporate bond.
If the company runs into financial issues, it might not be able to repay the principal investment. However, if you were invested in dozens of different bonds, one default might not impact your portfolio as negatively.
Diversification is even more crucial when investing in higher-risk assets like cryptocurrencies. Instead of putting all of your eggs into one cryptocurrency, it's best to diversify across many different projects.
For example, you might consider brand-new cryptocurrencies like Bitcoin Minetrix and Bitcoin ETF Token. And then more established cryptocurrencies like Bitcoin, Ethereum, and Cardano.
Compound Growth
We briefly mentioned how compound growth can amplify your wealth-creation efforts. This is because instead of withdrawing your passive income, you'll be reinvesting it.
This means you'll be accumulating more assets without needing to deposit additional funds. And these additional assets will also earn passive income.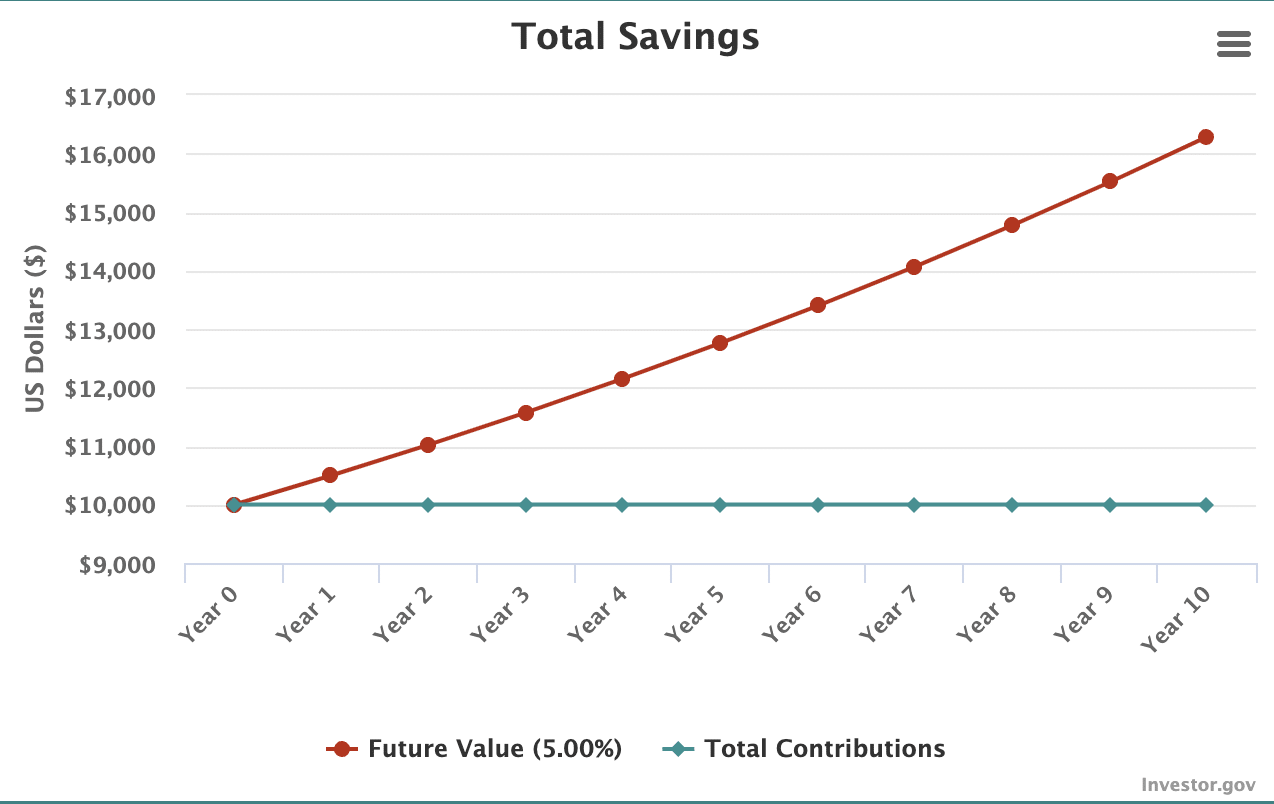 Let's look at an example of how compound growth works:
Let's say you buy $10,000 worth of dividend stocks. To keep things simple, we'll say the dividend stocks yield 5% per year and distributions are made annually.
After the first year, you would have received $500 in dividend payments. You use the $500 to buy more dividend stocks, meaning you now have $10,500 worth.
After the second year, you receive 5% worth of dividends on your $10,500 stock holding. Therefore, your dividend payment this year is $525. Again, you reinvest the dividends, meaning your stock holding is now $11,025.
If you repeat the above process for an additional 8 years, your portfolio will be worth $16,288.95. Without reinvesting your dividends, your portfolio would still be worth $10,000 (your original investment.
The above example highlights the importance of compound growth when receiving passive income. Crucially, the original $10,000 investment grew to $16,288.95 in 10 years without any additional contributions. This means that in year 11, your 5% dividend payment amounts to $814.44. Initially, it was just $500.
How We Ranked the Top Methods for Earning a Passive Income
We'll now discuss our methodology when ranking the best passive income strategies for 2023.
Upfront Investment
First, we considered the initial upfront investment required to generate each passive income stream. This can vary considerably depending on the asset class.
For example, those on a budget will be suited for cryptocurrencies or dividend stocks.
The minimum investment requirement at major crypto exchanges can be as low a few dollars.
Not only is this ideal for budget-conscious investors but diversification strategies.
For instance, a deposit of just $100 could get you multiple different cryptocurrencies and dividend stocks.
Conversely, some passive income methods are only suitable for those with a large cash balance. This includes traditional real estate investing, as you'll either need to purchase a property outright or cover a down payment.
Similarly, corporate bonds often come with a high minimum. Some brokers require bonds to be purchased in lots, which can be a significant upfront investment. So, when exploring the best ways to make passive income, you'll first need to assess your personal budget.
Yields
After evaluating affordability, consider what returns you want to make from a passive income investment. This should be viewed in percentage terms, based on the amount being invested.
For example, suppose you have $1,000 and you want to make $100 per year.
This means you'll need a passive income stream that yields at least 10%.
In this instance, you'd need to consider higher-risk products, such as peer-to-peer lending or cryptocurrency staking.
It's important to be realistic with your expectations. The most successful investors take a slow and steady approach to building wealth. Just remember – you can compound your investments by reinvesting your passive income. This will help you grow your wealth much faster.
Risk
Risk also needs to be considered when choosing passive income methods. If you don't feel comfortable taking too much risk, you should expect a lower rate of return.
For example, US Treasury Bills come with limited risk, as they're backed by the US government. Right now, you'll get 5.35% on a 12-month maturity. The only way you'd lose money is if the US government was unable to meet its bond repayments.
Now let's consider a higher-risk option like cryptocurrency staking. TG.Casino – a newly founded Telegram casino, is offering staking APYs of 265%. So, after one year of holding, a $1,000 investment would yield $2,650 in passive rewards.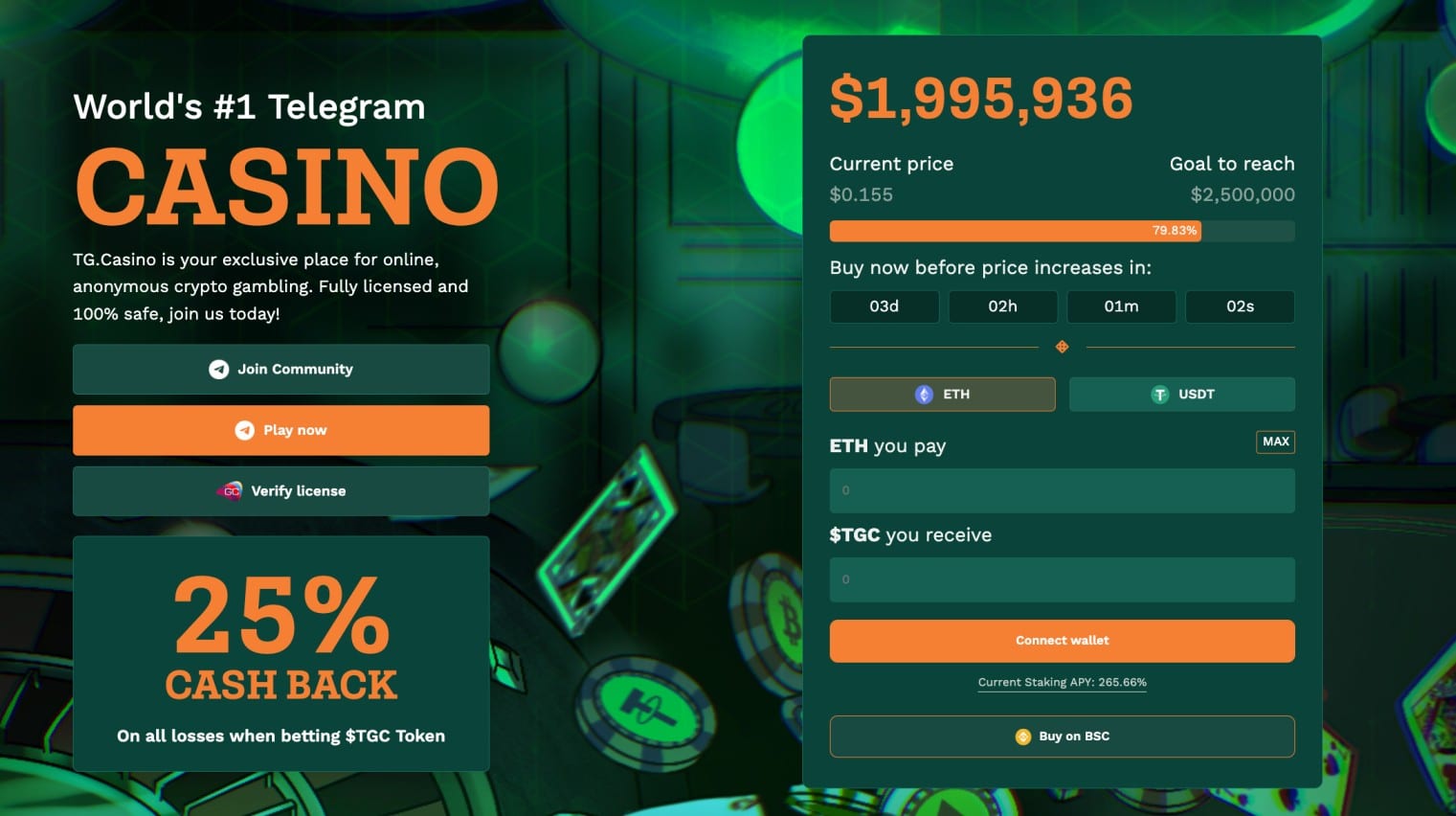 However, the rewards are paid in TGC tokens, which are native to TG.Casino. Therefore, your portfolio value will depend on the price of TGC, which will rise and fall like any other cryptocurrency. Crucially, TG.Casino is a risky investment, but the returns could be significant.
Liquidity
We also assessed liquidity when ranking the best ways to make passive income. This refers to the ease (or difficulty) of cashing out of the investment at a moment's notice. Highly liquid assets are much preferred, as you can sell them at the current market value at any time.
For example, dividend stocks are one of the most liquid options to consider.
You can sell your dividend stocks whenever the markets are open.
In addition, the cryptocurrency markets never sleep, meaning you can sell tokens at the click of a button.
However, newer projects will have less liquidity than large caps like Bitcoin, so bear this in mind.
Now consider a passive income product like real estate. It can take several months to find a buyer willing to meet your valuation. You'll also need to factor in closing times, which can take another couple of months. Until the deal is closed and the funds are received, you won't have access to the capital.
Time Commitment
The best passive income methods require little to no time commitment. This means you can sit back and allow your money to work for you.
For instance, depositing money into a CD account requires no effort at all. You'll continue earning interest for as long as the CD account is funded. This is also the case with bonds, dividend stocks, REITs, and copy trading.
However, some passive income streams require more effort than others. This is especially the case when no upfront investment is required. For example, affiliate marketing requires a lot of time commitment when starting out.
Only when the website begins generating income can it be considered passive. Even then, you'll need to maintain the website, in terms of customer support, SEO strategies, and content creation.
Is Passive Income Taxed?
Passive income is taxed the same way as any other form of income. This means any returns you make should be added to your income calculations for the year.
For example, suppose you earn $40,000 from your full-time job.
In the same year, you earn $4,000 in passive income.
This means your total income for the year is $44,000, which will be taxed accordingly.
Do note that other forms of investment returns are taxed as capital gains. In most countries, capital gains are only taxed once the asset has been disposed of.
For instance, suppose you own dividend stocks. While the stocks are held, your dividend payments will be taxed as income. If you sell the dividend stocks for more than you originally paid, the profit will be taxed as capital gains.
Conclusion
We've revealed the best way to make passive income in 2023, exploring the potential risks and returns for each method. Overall, we found that the best option to target high-yield passive returns is crypto presales.
You'll be investing in a brand-new crypto project before it launches on exchanges. We like Bitcoin ETF Token, which will benefit from the SEC's first Bitcoin ETF approval. Investors can secure an immediate upside of 30%, based on the current presale discount available.
References
FAQs
How can I make $1,000 passive income a month?
What is the fastest way to earn passive income?
What earns the most passive income?
How do beginners start passive income?
What is the easiest passive income method?