Scorpion Casino (SCORP) has proven time and again to be a project and token for the future. The SCORP presale has consistently been hitting milestones, now crossing $1.2 million. Investors are clearly taking to the vast offerings and rewards in the ecosystem.
What are those rewards and features exactly? We detail these so you can enter the presale before it runs out – which looks like it's going to happen very soon.
All-Encompassing Offerings For Gamers on Scorpion Casino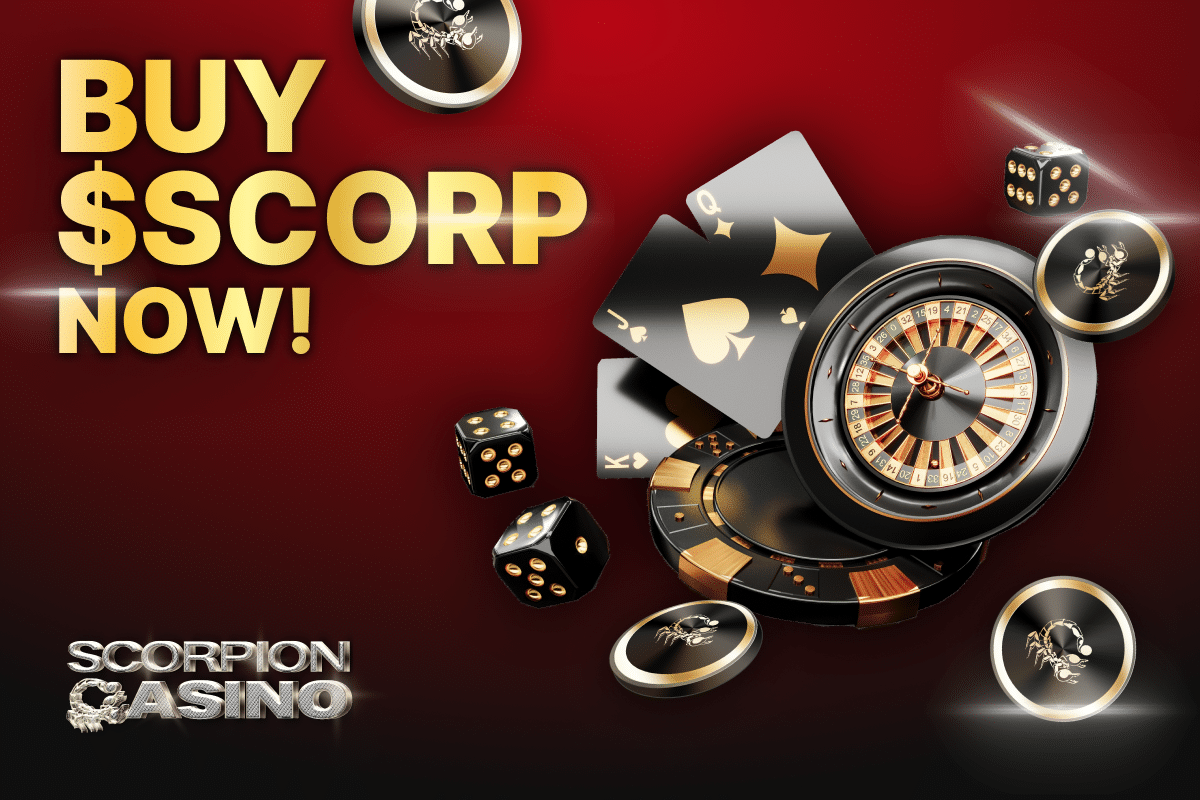 Scorpion Casino assertively portrays itself as a cutting-edge gaming platform that smoothly integrates cryptocurrency and blockchain technology with a wide variety of games and alluring features that cater to players with different skill levels and interests.
The Scorpion Casino gaming platform, the affiliate program, and the SCORP token serve as the three main cornerstones of this effort. Before getting into specifics about the ongoing presale period, we will thoroughly analyze each of these components in the conversation that follows to ensure you have a thorough grasp. This guarantees that you are aware of the possibility of your involvement.
The Scorpion Casino platform, which serves as a center for amusement, has a large selection of games that are intended to capture the spirit of excitement. Scorpion Casino ensures that its fully licensed games provide a top-notch entertainment experience by partnering with reputable software developers like Evolution, NetEnt, Play N Go, Novomatic, EGT, and AMATIC.
The affiliate program serves as a successful referral system, rewarding participants with sizable incentives (and this is only one of many ways to earn rewards!). By recommending others and participating actively in the ecosystem, users can easily earn substantial incentives.
The SCORP token also serves as a reward mechanism in addition to its twin function as a governance token. This token gives users the ability to exercise their right to vote on significant choices affecting the platform's course in the future. Naturally, they will also receive payment in the form of these tokens in exchange for their efforts and active participation.
SCORP Presale Is Selling Out Quickly
🌟 Did you know? Many online casinos have loyalty programs that reward players for their continued patronage.

Join @ScorpionCasino and unlock exclusive perks as a loyal member! 🎁✨ #VIPClub #RewardProgram #crypto #blockchain #casino #onlinegambling #presale #ido #poker…

— Scorpion Casino (@ScorpionCasino) September 28, 2023
Due to its variety of beneficial features, the Scorpion Casino presale has drawn attention across numerous social media channels for a considerable amount of time.
In terms of presale information, SCORP is now valued at $0.018, with a target listing price of $0.05. SCORP tokens can be purchased by potential investors using ETH, USDT, and BNB. One billion SCORP tokens are available in total, of which 280 million are put aside for the present presale and another 300 million are reserved for affiliate rewards.
The current presale patterns point to a positive future and suggest that the overall presale objective of $2 million may be easily attainable. The alluring rewards awaiting both presale investors and participants in the larger gaming ecosystem are the cause of the spike in interest surrounding SCORP investments.
For instance, a wave of enthusiasm is sparked by the allure of a stunning 500% bonus provided to presale participants. Additionally, investors who contribute $100,000 or more may be eligible for a sizeable 40% extra credit, providing a sizable opportunity for returns.
The Elite Scorpion Members Club, which offers extra privileges including VIP service, cashback awards, improved staking incentives, and a larger allocation of SCORP tokens, adds to the allure.
Holders of SCORP tokens profit from a number of benefits. Through a variety of avenues, they have the ability to produce passive revenue. Tokens from SCORP grant access to free games and weekly bonuses. Notably, the SCORP symbol is essential to the affiliate program of the site, supporting its referral and compensation system.
The offerings don't stop there, either! The daily staking rewards program at Scorpion Casino, which offers investors the chance to earn up to 10,000 USDT, has been smoothly linked with a staking pool system. Participants in the presale stand to gain from the recently introduced staking pool as well. Holders of the Gold membership NFT will also benefit from increased benefits that include SCORP and USDT tokens.
As the team revealed the SCORP token vesting structure, interest in public discussions has more recently increased. The initial 10% of this plan becomes available 24 hours after launch, with the remaining 10% spread out across 10 phases. There are then 10-day breaks between each succeeding level.
Conclusion
In the world of cryptocurrency gaming, Scorpion Casino stands out because it provides a special range of opportunities and prizes that are unmatched by rival ventures. It's a venture that is genuinely unique and investors see this clearly. To keep up with the project and make the most of the opportunity, check out both the SCORP presale and the social media sites.