The best laptop cooling pad can help dissipate the excessive heat your laptop produces, allowing it to perform better and preventing issues caused by overheating. Besides keeping even the most powerful machines cool while playing, the best laptop cooling pads actually let you do much more. They come with adjustable height and RGB settings, and some even have USB ports, smartphone stands, and more.
There are a lot of laptop coolers to choose from, so we created a list of the best picks for this year to help you make an informed decision. In this article, you'll learn why Havit HV-F2056 is the best laptop cooling pad in 2023 and how its competition compares.
The Best Laptop Cooling Pads Ranked
We're confident you'll find a cooling pad that suits your laptop with our list – no matter its size or how you use it – as we've included products with a variety of different designs and features. Here's our list of the best laptop cooling mats for 2023:
Havit HV-F2056 — Overall, the best laptop cooling pad with near-completely silent fans, making it excellent for work.
KLIM Wind — Budget-friendly laptop mat with excellent ergonomics that make it comfortable for use in bed or on your lap.
TopMate C11 — Excellent adjustability with five different height settings and a mobile phone stand.
TECKNET N8 — Sturdy and portable, thanks to its metal mesh surface complemented with plastic and rubber components.
PCcooler PC-R5 — Superb airflow, thanks to its five powerful fans and stainless steel honeycomb mesh design.
KeiBn A8 — A sleek design with LED strips circling the laptop cooling pad and ten full RGB modes on offer.
Thermaltake Massive 20 RGB — Ideal for gaming laptops with a 200mm silent fan for optimal airflow and thermal performance.
Targys Chill Mat — A minimalistic design that suits offices, with four USB ports and velcro straps to improve peripheral cable management.
Reviews of the Best Cooling Pads for Laptops
Here, we'll review the laptop cooling stands from our list and their size, pricing, number of fans, and other helpful features.
1. Havit HV-F2056 — Overall, the Best Laptop Cooling Pad
The Havit HV-F2056 is ideal for freelancers and for office use, and its three large fans have an excellent design that allows them to run smoothly and quietly.
In addition, it's easy to carry and is compatible with most laptop models, including Macbooks. You can use it for laptops up to 17″ in width, which will cover all but the largest models.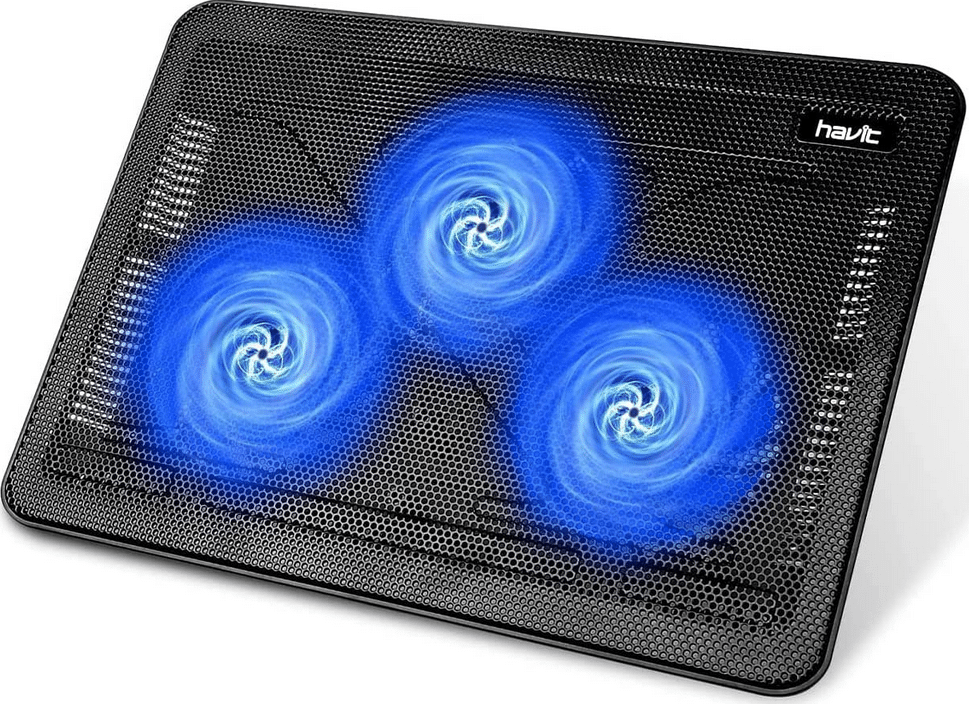 | | | | | | |
| --- | --- | --- | --- | --- | --- |
| Price | Pad Size | Fans | Max Laptop Size | Weight | RGB Lighting |
| $39.99 | 14.96 x 1.18 x 11.02 inches | 3 | 17″ | 1.54 Pounds | No |
The Havit HV-F2056 features two foldable feet for adjusting its height, allowing you to angle your laptop. That means you can align your laptop's screen with your monitor or adjust its position so it's better for typing.
You can power the Havit HV-F2056 by plugging it into your laptop using a USB cable, so it doesn't need any external A/C power supply. However, it comes with two USB ports, which means you'll still have one extra USB port after plugging the mat into your laptop.
It has an ergonomic design with a non-slip mesh surface that keeps your laptop in place, which is helpful if you like to position it in your lap while you work or stream videos. While the metal mesh cover is durable and seems heavy, this cooling pad weighs only 1.54 pounds, making it easy to carry wherever you need.
Besides your laptop, you could also use this cooling pad with other hardware, such as video gaming consoles. And while the Havit HV-F2056 has no RGB support, it features simple blue LEDs that help you tell if it's on at a glance.
Pros
Sleek and portable
Adjustable height
Excellent pricing
Superb airflow
Wear-resistant surface
Cons
No cable management channels
2. KLIM Wind — Budget-Friendly Laptop Mat
The KLIM Wind has four fans with up to 1,200 revolutions per minute (RPM), capable of cooling your laptop in less than a minute, according to KLIM.
Besides having perhaps the best cooling fan setup for budget-conscious users, this cooling pad supports almost all laptop sizes. Thanks to its four fans, it can effectively cool laptops from 11″ to 19″. Although laptops over 17″ will slightly exceed the width of this cooler pad, it can keep them perfectly stable thanks to its two frontal pegs.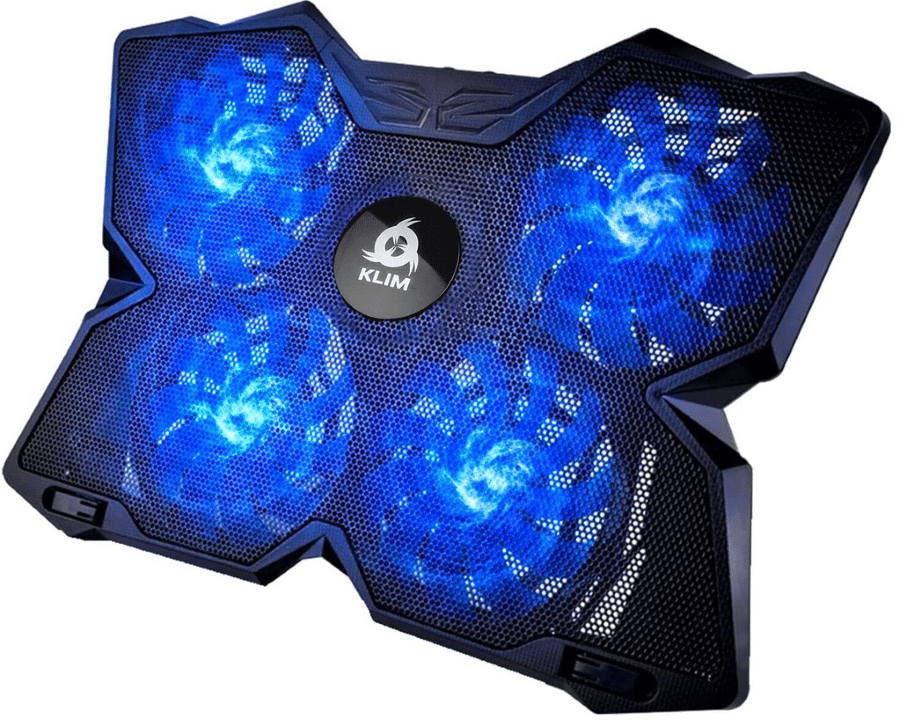 | | | | | | |
| --- | --- | --- | --- | --- | --- |
| Price | Pad Size | Fans | Max Laptop Size | Weight | RGB Lighting |
| $23.15 | 15.79 x 10.71 x 1.22 inches | 4 | 19″ | 1.6 Pounds | No |
Resource-heavy programs such as computer games can lead to your laptop dangerously overheating, so it's important to use a cooling pad that can quickly stabilize your computer. For just a bit over $23, the KLIM Wind can help you cool down your laptop and extend its lifespan.
Its metal mesh structure enhances heat dissipation and provides stability for your laptop. The mesh also complements the powerful four-fan setup by ensuring proper airflow without compromising the pad's durability. It allows the built-up heat from your laptop to escape while the fans continuously supply a fresh stream of cool air to prevent thermal throttling.
Despite its powerful cooling capabilities, this laptop cooler operates quietly, ensuring a calm environment for working or gaming. It also features an ergonomic design with adjustable height settings and two frontal pegs that prevent your laptop from slipping.
While it provides an excellent solution for budget-conscious users, it only has two USB 2.0 ports and doesn't come with RGB lighting.
Pros
Great build quality
Silent fans
Compatible with most gaming consoles
Height adjustment
Wide compatibility
3. TopMate C11 — Excellent Adjustability
The TopMate C11 is an outstanding choice for gamers, as its six fans are capable of speeds of up to 2,400 RPM, ensuring even the most advanced laptops are running efficiently and safely.
The pad offers five height adjustments and a smartphone stand, making it a great pick for office workers and freelancers – and it's one of the best gaming laptop cooling pads.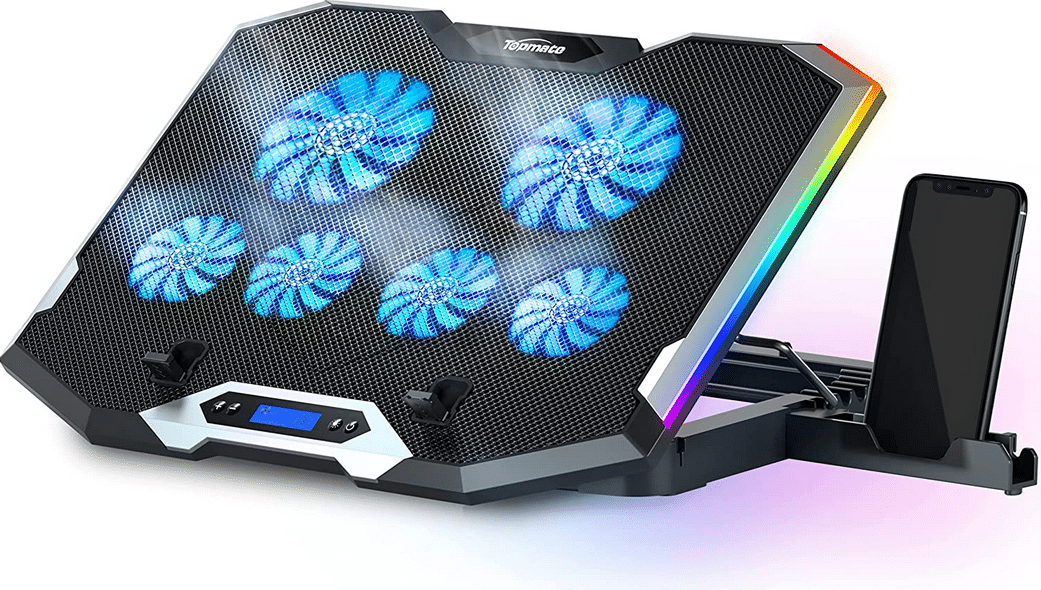 | | | | | | |
| --- | --- | --- | --- | --- | --- |
| Price | Pad Size | Fans | Max Laptop Size | Weight | RGB Lighting |
| $31.69 | 16.14 x 11.65 x 1.69 inches | 6 | 17″ | 2.4 Pounds | Yes |
The TopMate C11 has two large and four small fans with capacitor components to operate at low noise levels. It also lets you choose between three fan modes, with the first option activating all six fans, the second activating only the small fans, and the third turning on the two large fans.
On the front side of this laptop cooler, you'll find an LED screen that displays fan speeds, allowing you to make adjustments and read fan settings at a glance.
This cooling stand has extended RGB light bars on its sides, which you can configure via its seven RGB modes. In addition, you don't need to navigate through software to turn the RGB lights on and off, as it has a designated RGB power button on the front of the cooler.
Although it's not an ideal laptop desk for bed use – since it weighs 2.4 pounds – the TopMate C11 offers excellent balance and customization.
Pros
Quiet operation
Well-placed LCD screen
Powerful fans
Built-in phone stand
A great cooling pad for gaming laptops
Cons
Not as durable as its competition
4. TECKNET N8 — Sturdy and Portable
The Tecknet N8 is an inexpensive choice for users that often travel as it is lightweight and sturdy, making it easy to move around in your backpack.
In addition, all you require to power this laptop cooler is a USB cable, making it hassle-free to transport as you don't need additional components. Although that means you'll be using a USB port on your laptop to power it, the Tecknet N8 provides two USB ports to make up for that.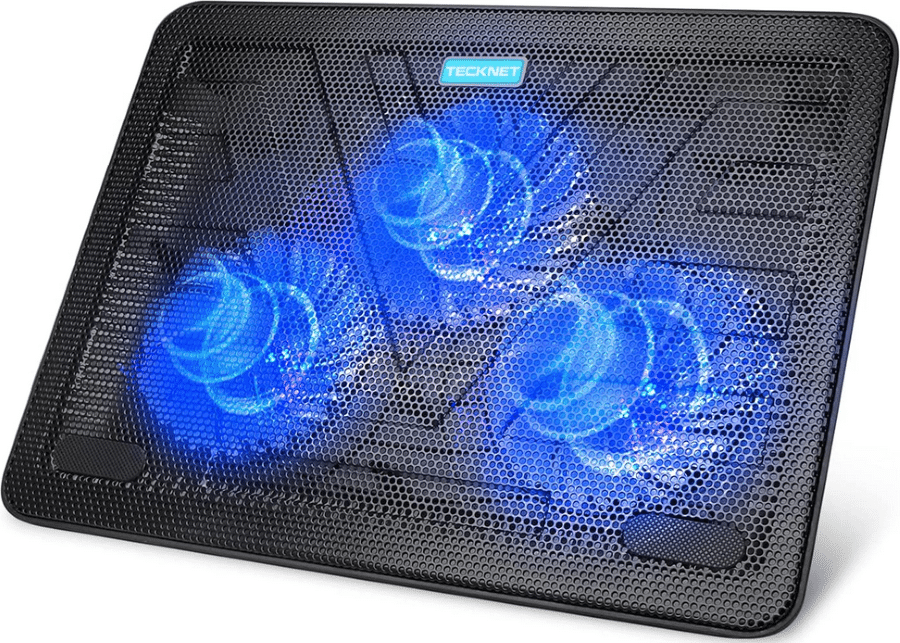 | | | | | | |
| --- | --- | --- | --- | --- | --- |
| Price | Pad Size | Fans | Max Laptop Size | Weight | RGB Lighting |
| $23.99 | 11.02 x 1.06 x 14.96 inches | 3 | 17″ | 1.44 Pounds | No |
This cooling pad has two adjustable legs that give it an ergonomic boost on flat surfaces, which helps reduce joint fatigue and offers a better typing and viewing experience. Although it offers no unique features, the Tecknet N8 boasts three whisper-quiet 118mm fans that will effortlessly assist your built-in laptop fan in cooling the components.
Like other budget laptop coolers, the Tecknet N8 lets you know it's active by shining a blue light under the fans.
While the Tecknet N8 can be an excellent lap table for your computer, it's not the best option for heavy laptops. Although it can support laptops from 11″ to 17″ in size, some users have complained that heavier laptops can melt the rubber pads designed to keep your laptop from slipping.
This laptop cooler is ideal for work and home office use, but gamers using heavier laptops might want the TopMate C11 or the Thermaltake Massive 20 RGB over it.
Pros
Budget-friendly
Adjustable pitch
Excellent cooling performance
Portable
Cons
Not the best option for heavier laptops
5. PCcooler PC-R5 — Superb Airflow
The PCcooler PC-R5 supports 12″ to 17″ laptops and allows you to adjust its height and the speeds of its fans.
It has four high-speed 85mm fans that go up to 1,400 RPM and one silent 110mm fan with 1,100 RPM that evenly covers the bottom of your laptop. It also helps you avoid back and neck pain by allowing you to position your laptop to improve your gaming posture and ergonomics.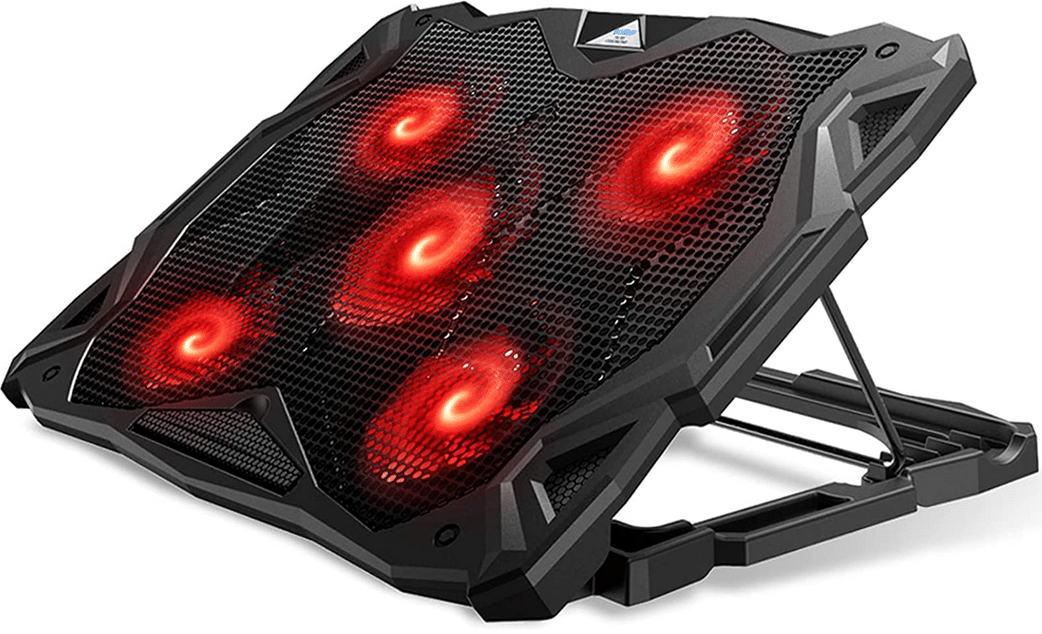 | | | | | | |
| --- | --- | --- | --- | --- | --- |
| Price | Pad Size | Fans | Max Laptop Size | Weight | RGB Lighting |
| $25.99 | 15.75 x 1.3 x 11.8 inches | 5 | 17″ | 2.09 Pounds | No |
This cooling pad is compatible with most laptops, thanks to its adjustable and secure grip system and non-slip mat. That means your laptop won't slip from this laptop fan stand at any angle, allowing for excellent viewing experiences.
Besides laptops, this cooler is ideal for tablet users that need to run resource-heavy art programs for work. In addition, it lets you adjust its fan speeds, allowing you to reduce or increase its cooling power.
The PCcooler PC-R5 provides two USB ports, allowing you to use one to power it while the other one is free for your peripherals. However, some users complain that its USB ports are loose, which results in cables slipping out without much force.
Thanks to its modern design and well-placed red LED lights, this laptop cooler is an attractive choice for gamers that require a reliable solution for high-end laptop cooling.
Pros
Durable
Stepless fan speed regulation
Ergonomic design
5mm iron bracket adds to stability and structure security
Cons
Noisier than some of its competition
6. KeiBn A8 — Ten Full RGB Modes
The KeiBn A8 has a 9mm wide LED strip that encircles this cool mat, allowing for unparalleled RGB customization and display.
It has a sleek and modern design, usually found with much pricier laptop coolers, with an LED display and well-designed buttons. The built-in buttons control its power, fan speeds, and RGB modes.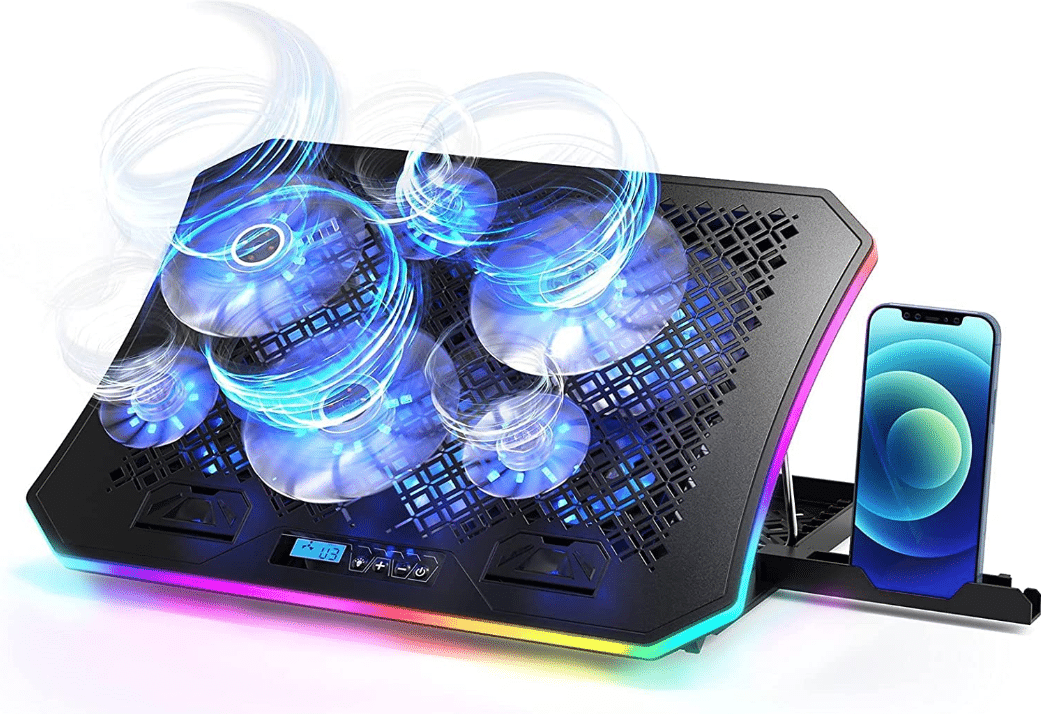 | | | | | | |
| --- | --- | --- | --- | --- | --- |
| Price | Pad Size | Fans | Max Laptop Size | Weight | RGB Lighting |
| $29.98 | 16.33 x 11.81 x 1.37 inches | 6 | 18″ | 2.6 Pounds | Yes |
You can pick between three fan modes, six fan speeds, and 10 RGB profiles, meaning you have maximum control over how it looks and works. In addition, it offers more height settings than its competition since it allows you to pick between seven different angles.
Although it has an overall high-end feel and look, some users pointed out that its phone holder feels out of place, as it's flimsy and unable to support heavier phones.
Pros
Excellent airflow
Two USB ports
Works as a lap table and cooler
7. Thermaltake Massive 20 RGB — Ideal for Gaming Laptops
The Thermaltake Massive 20 RGB uses a single 200mm fan to deliver excellent cooling performance with adjustable fan speeds.
Thermaltake cases are well-known for their excellent out-of-the-box airflow, which is why the best gaming PCs often use them, and the company's laptop cooler on our list matches that. This laptop cooler excels at dissipating excessive heat, even from the most advanced gaming laptops, during extensive gaming sessions.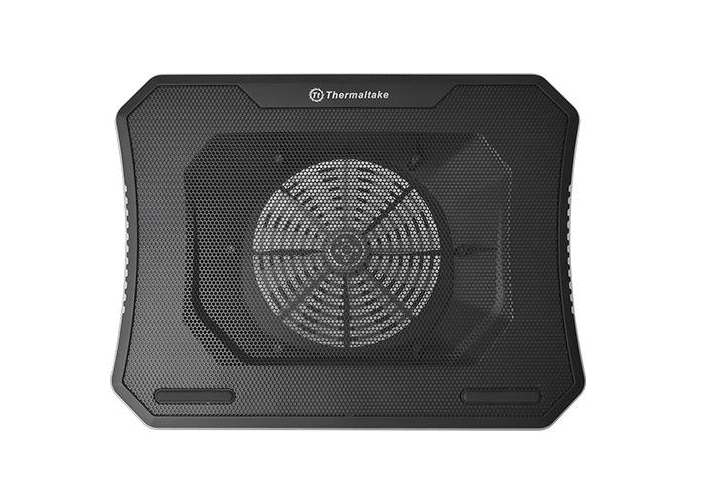 | | | | | | |
| --- | --- | --- | --- | --- | --- |
| Price | Pad Size | Fans | Max Laptop Size | Weight | RGB Lighting |
| $65.99 | 18.5 x 14 x 1.5 inches | 1 | 19″ | 3.38 Pounds | Yes |
In addition, you can use its back legs to switch between three adjustable height settings that improve airflow and provide the best viewing angles. However, it only has two small rubber bands that might not be enough to stop heavier laptops from slipping at an angle.
Besides its excellent cooling capabilities, it features a Light Mode button that lets you pick between five RGB modes: Wave, RGB Spectrum, Pulse, Blink, and Full Lighted. All in all, it's one of the best cooling pads for gaming laptops.
8. Targys Chill Mat — Minimalistic Design
The Targys Chill Mat is an easy-to-use laptop cooling stand with a comfortable design and a modern look.
Although it has a sturdy and durable construction, this laptop cooler weighs only 2 pounds, making it easy to carry and use at work or home. Besides being lightweight, it's easy to keep on your lap for hours, thanks to the neoprene material on the bottom that acts as cushioning.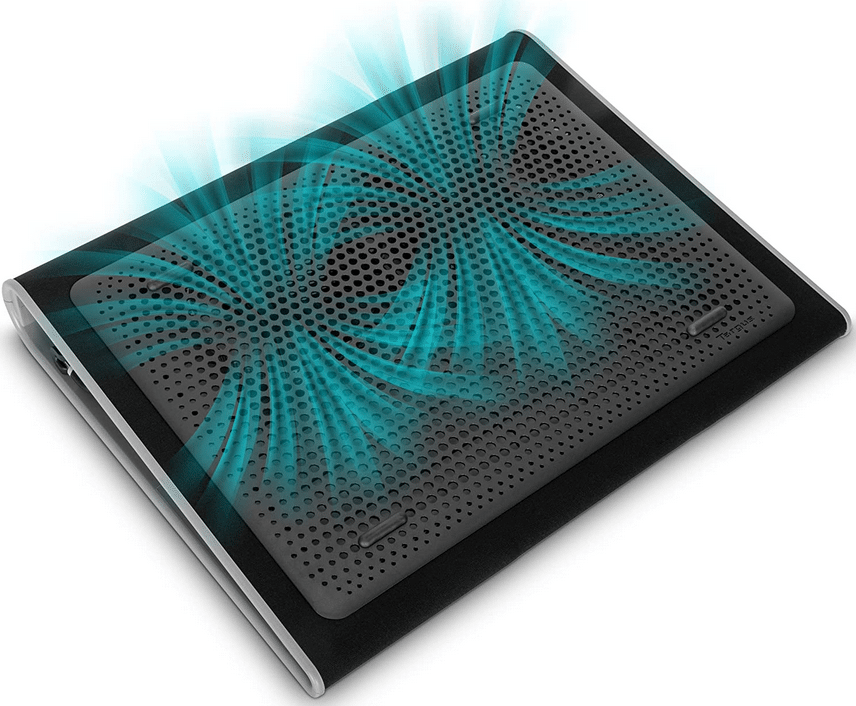 | | | | | | |
| --- | --- | --- | --- | --- | --- |
| Price | Pad Size | Fans | Max Laptop Size | Weight | RGB Lighting |
| $60.91 | 2.2 x 15.1 x 12 inches | 2 | 17″ | 1.99 Pounds | Yes |
Unlike its competition on our list, this laptop cooling mat offers four USB ports and an effective cable management solution. That means you can neatly connect multiple peripherals to it without creating a mess on the table.
However, while this laptop cooler provides unparalleled comfort, it lacks some advanced features its competition offers, like fan speed controls.
Pros
Great for in-lap use
Soft exterior
Built-in USB power cable
Comparison of the Top Laptop Cooling Stands
Let's see how these laptop coolers compare head-to-head in a master table that will help you quickly review their pricing, size, weight, and other features.
| | | | | | | |
| --- | --- | --- | --- | --- | --- | --- |
| Laptop Cooler | Price | Pad Size | Fans | Max Laptop Size | Weight | RGB Lighting |
| | $39.99 | 14.96 x 1.18 x 11.02 inches | 3 | 17″ | 1.54 Pounds | No |
| | $23.15 | 15.79 x 10.71 x 1.22 inches | 4 | 19″ | 1.6 Pounds | No |
| | $31.69 | 16.14 x 11.65 x 1.69 inches | 6 | 17″ | 2.4 Pounds | Yes |
| | $23.99 | 11.02 x 1.06 x 14.96 inches | 3 | 17″ | 1.44 Pounds | No |
| | $25.99 | 15.75 x 1.3 x 11.8 inches | 5 | 17″ | 2.09 Pounds | No |
| | $29.98 | 16.33 x 11.81 x 1.37 inches | 6 | 18″ | 2.6 Pounds | Yes |
| | $65.99 | 18.5 x 14 x 1.5 inches | 1 | 19″ | 3.38 Pounds | Yes |
| | $60.91 | 2.2 x 15.1 x 12 inches | 2 | 17″ | 1.99 Pounds | Yes |
How Do Laptop Cooling Pads Work?
Most laptop cooling pads are powered via a USB connection with your laptop. Although that means it will use one of your laptop USB ports, every laptop cooling pad on our list comes with at least two USB ports, meaning you won't lose connectivity.
Laptop coolpads work by providing additional airflow to the laptop's underside, which results in cooler temperatures for its CPU, GPU, and other crucial components. This helps to prevent your laptop from overheating by giving it enough space and ensuring its air vents are never blocked. For example, placing your laptop on your bed or a pillow prevents its air vents from releasing hot air, which can damage your laptop's components and reduce its performance.
Besides allowing your laptop to freely push out the hot air generated by its components, a laptop cooler will draw in cool air from the surroundings and blow it directly onto the bottom of the laptop. That creates constant airflow that helps maintain optimal temperatures inside the laptop and prevents overheating.
Cooling your laptop isn't the only task a laptop cooler successfully performs. It can also help you improve ergonomics by providing a more comfortable typing and viewing position if it has adjustable height settings. In addition, some laptop pads have smartphone stands that can free your hands in a call, and RGB lighting, which gamers can appreciate.
How We Ranked the Best Cooler Pads for Laptops
While overheating is a common problem with cheap laptops with low-quality build, high-end models are not immune to this issue either. As newer models see an increase in
silicon chips
and flashy new components, they are prone to overheating more than ever, especially when they get old.
And there's a world of choice when it comes to cooling your machine, whether you're researching a Targus device or you're looking into the finer details of MSI fan control.
While the best antivirus software can keep your laptop clean on the inside, having a reliable laptop cooler is equally important. Choosing the best laptop cooling pad depends on your laptop's size and weight and your personal preferences. However, there are some crucial factors to consider while making the decision.
Here's what we looked for while creating our list:
Performance
The primary purpose of a laptop cooler is to effectively enhance its cooling performance, which means you should look for laptop pads with powerful fans and good airflow. Consider the number, speed, and size of its fans and how well they can dissipate heat from your laptop.
However, while multiple fans are an excellent choice for gaming laptops, consider the noise level they produce, as it can be distracting. Overall, prioritize a laptop cooler that won't impair your work or gaming habits while effectively maintaining your laptop's temperature within safe limits.
Compatibility
Not all laptop coolers are compatible with every laptop model, making compatibility a crucial factor to consider. Ensure that the cooler you plan on purchasing fits the size and design of your laptop.
Besides physical requirements, check for any software limitations that might prevent you from connecting the cooler to your laptop. Some coolers have specific software or driver requirements, so you should always check the manufacturer's specifications and information hubs to ensure seamless integration with your laptop.
Ergonomics
Look for a laptop pad made of material that's nice to the skin if you intend to have it in your lap. You should also ensure it has adjustable height settings that provide comfortable viewing and typing angles and improve airflow.
That can help reduce the strain on your wrists, neck, and shoulders during extended laptop use. In addition, a well-designed laptop cooler should have rubber strips or front pegs that prevent your laptop from sliding.
Portability
This is a crucial factor to consider if you frequently travel with your laptop or commute to work. Look for lightweight, slim laptop pads that are easy to carry or put in a backpack.
Consider the size and dimensions of the cooler to ensure it will properly fit alongside your laptop. In addition, you should ensure that your laptop cooler is USB-powered, as that removes the need to carry an additional charger.
Noise Level
Look for models that advertise low noise levels for a more comfortable working or gaming environment. In addition, consider laptop pads with adjustable fan speeds because that allows you to balance fan speeds and noise output.
Coolers with large fans or advanced fan technology, such as low-noise or silent fans, can help minimize noise levels. However, it's hard to trust every manufacturer, so careful research of user reviews might give you a better insight.
Build Quality
Well-built laptop coolers have better longevity and durability and provide reliable cooling performance over an extended period. Look for coolers with metal and sturdy plastic parts, as they are more resistant to wear and tear.
In addition, you should consider the quality of the fans and other components, including buttons, LED displays, RGB strips, and power connectors.
USB Ports
Most laptop coolers have two or more USB ports to compensate for the one they use on your laptop or provide more connectivity for your peripherals. In addition, some advanced models offer cable management solutions you can use to keep your desk tidy.
You should check how many available USB ports are on your laptop and decide accordingly. For example, buying a laptop cooler with no additional USB ports while you have only one USB port available on your laptop will leave you with no alternatives after you plug it in.
Pricing
Consider the value you get for your money while choosing a laptop pad. Look for a solution that fits your budget without sacrificing build quality and features. We suggest investing in a mid-range laptop cooler, such as the Havit HV-F2056, since they provide the best long-term performance and durability.
User Reviews
Our reviews for the best laptop coolers are informed by user reviews because it's important to consider how these devices work in practice in the real world. Reading reviews and user feedback can provide a unique insight into the performance and reliability of any hardware, including laptop coolers.
Pay attention to reviews that comment on their build quality, airflow, noise levels, and overall performance. In addition, try to find reviews from users with the same or similar laptop models as yours to get valuable insights into how it might perform for you.
Conclusion – What's the Best Laptop Cooling Pad to Buy in 2023?
Although there's no one-size-fits-all cooler for every laptop, we're confident our list has a solution for everyone.
Our top pick this year is the Havit HV-F2056, a powerful laptop cooling solution that's effective for even the most red-hot gaming machines. It has two adjustable height settings, LED indicators, two USB ports, and three impressive fans. In addition, it weighs as little as 1.54 pounds and has a slim profile, making it an excellent solution for traveling and commuting.
Besides its excellent performance, this laptop cooler feels well-built and sturdy, and it prevents your laptop from slipping even when you put it at an angle. Its adjustability allows you to create an ideal airflow, which minimizes the strain on the cooler and the laptop's internal fans, resulting in almost noise-free operation. Overall, the Havit HV-F2056 offers the most value for your money this year and can effortlessly keep your laptop cool.
Laptop Cooling Pad FAQs
Do laptop cooling pads really work?
How many fans should a laptop cooling pad have?
How long do laptop cooling pads last?
What is the quietest cooling pad?
How much is a good cooling pad?
Do cooling pads extend laptop life?